Hello my dear readers.
One of the really good American inventions are support groups. There are many of them:
Alcoholics Anonymous,
Narcotics Anonymous,
Gamblers Anonymous
Cocaine Anonymous
Marijuana Anonymous
Overeaters Anonymous
Nicotine Anonymous
Debtors Anonymous
S/ex Addicts Anonymous
S/exual Compulsives Anonymous
Co-Dependents Anonymous
Food Addicts Anonymous
Chemically Dependent Anonymous
Ferrets Anonymous
Former Workaholics Anonymous
Cannibals Anonymous
Type "anonymous" in Google and you will find even more of them. It is really a good idea for a person who feels that he or she is weird, crazy, not like everybody else, to go to anonymous support group to find that he or she is not alone. I really need a travel addicts anonymous support group.
I did not travel for 4 months and this is too long for me. I knew, a normal person would say: "four months without travel, so what?" Only those who are travel addicts themselves will understand me. Actually I have found like minded people at http://www.avp.travel.ru/. The Internet site of Russian hitchhikers. They hitchhiked across entire African continent and obviously encountered a lot of troubles and real dangers. When they described their ordeals to a group of normal people, these people exclaimed "why did you do that to yourself?" It puzzles them, why somebody would torture himself in such a way. Finally one of the listeners found the explanation: "They are travel fanatics!!!" Oh, travel addicts, this explained everything! I would recommend to everybody who understands Russian to take a look at their site. Some stories are amazing, like the story of China travel "On a wild Ass' trail" by Vladimir Dinets, available in English at http://hotcity.com/~vladimir/epanda.htm. Vladimir's credo is: "Life is worth living only while you are capable of traveling" In two weeks I will start to travel again. This time mostly inside Russia. I plan to go from St. Petersburg to Onega Lake, Kizhi, then through city of Kargopol to Archangel on the White sea, then to Solovetsky Island and to the Kola peninsula. Another trip I plan to do is to the Altay mountains and Mongolia. This one is questionable because Russia closed border crossings with Mongolia due to SARS.
I plan to continue to send my travel notes to you, but I am thinking about switching to Yahoo Groups because I have about 150 readers while Yahoo allows to send E-Mails only to 100 addresses. Yahoo groups are free of charge, but Yahoo sends so many annoying commercials. They would better charge users, instead of bombarding them with these commercials. I probably will have to swith anyhow. I will let you know later. I put some of my old pictures on the Internet. You can take a look at them at http://photos.yahoo.com/mumzhiu
Attached are
Alex Mumzhiu
McLean Virginia USA
May 18, 2003
Map of my trips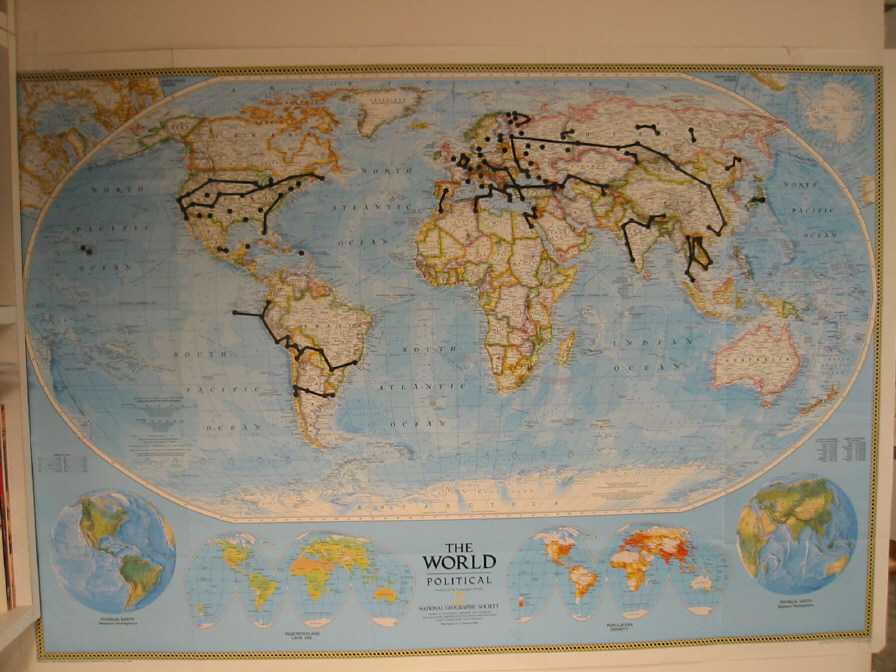 List of my trips
| | | | | | |
| --- | --- | --- | --- | --- | --- |
| 1 | 1949 | July | Lake Seliger, Russia | 14 days | Camping |
| 2 | 1952 | July | Karelia, Russia | 10 days | Hike |
| 3 | 1953 | July | Caucasian Shore, Russia | 30 days | Civil |
| | | | COLLEGE STARTED (1954) | | |
| 4 | 1956 | Jan | Karelia | 10 days | Ski |
| 5 | 1956 | July | Across Ural Mountains | 21 days | Trek, Raft |
| 6 | 1957 | Jan | Karelia, Russia | 14 days | Ski |
| 7 | 1957 | June | Central Kola penensula, Russia | 21 days | Wooden raft |
| 8 | 1958 | Jan | Western Kola penensula | 21 days | Ski |
| 9 | 1958 | July | Mountaneering School, Caucasus | 30 days | Mountaineering |
| | | | COLLEGE FINISHED | | |
| 10 | 1959 | July, Aug | Kiev-Lvov-Odessa-Crimea, Russia | 60 days | Motorized Bike |
| 11 | 1960 | July | Around Crimea | 30 days | Trek |
| 12 | 1962 | July | Caucasus, Mountain Trek, Planned trip | 20 days | Mnt hike |
| 13 | 1963 | July | Caucasus, Mountain Trek, with Shrago | 20 days | Mnt hike |
| 14 | 1964 | July | Mountaneering School Altay Aktru, Russia | 30 days | Mountaineering |
| 15 | 1965 | June-July | Lower Tunguska, Siberia, Geological Expedition | 60 days | Motorized Raft |
| 16 | 1968 | July | Seletskoe, Zaonejie, Russia | 30 days | trek, bike |
| 17 | 1969 | July | Across Caucasus to Black Sea Shore to Anapa | 30 days | Mnt hike |
| 18 | 1970 | July | Karelia to White sea | 30 days | canoe |
| 19 | 1971 | July | Mountaneering Camp, Besengi, Caucasus | 30 days | Mountaineering |
| 20 | 1972 | July-Aug | Far East Geological Expedition Amur River-Tatar Strait. | 45 days | All Terrain Vehice |
| 21 | 1973 | July | Around Azov sea, canoe with sail | 30 days | canoe |
| 22 | 1974 | July | Around Azov sea, canoe with sail | 30 days | canoe |
| 23 | 1976 | June-Aug | Altay Surveying Expedition, Russia | 60 days | horse |
| 24 | 1977 | June-Aug | Altay Surveying Expedition, Russia | 60 days | horse |
| 25 | 1978 | June-Aug | Aldan Surveying Expedition, Russia | 40 days | trek |
| 26 | 1979 | July | Altay, independent expedition | 10 days | trek, white water |
| | | | MOVED TO USA | | |
| 27 | 1981 | July | Michigan Upper Penensula, USA, car | 8 days | car |
| 28 | 1982 | July | Detroit, USA-Nova Scotia, Canada | 20 days | car |
| 29 | 1983 | July-Aug | Around USA, car | 30 days | car |
| 30 | 1990 | July | Virgin Islands, BVI, camping | 14 days | camping |
| 31 | 1991 | July | England, Israel | 14 days | civil |
| | | | TRAVEL ON FOLDING BIKE STARTED | | |
| 32 | 1994 | July | Paris,Brussels,Antverp, Amsterdam,Cologne,Luxenburg | 7 days | bike,public transp |
| 33 | 1994 | Aug | Hawaii | 21 days | car |
| 34 | 1994 | Dec | Thailand, Malaysia, Burma | 21 days | bike,public transp |
| 35 | 1995 | Mar | Arizona, Baja Peninsula (Mexico) | 14 days | car |
| 36 | 1995 | May | Alps (Switzerland, France, Italy) | 7 days | bike,public transp |
| 37 | 1995 | Sept | Sweeden, Russia | 7 days | bike,public transp |
| 38 | 1995 | Now | Mexico | 7 days | bike,public transp |
| 39 | 1996 | Oct | Rio De Janeiro , Brazil | 10 days | bike,public transp |
| 40 | 1997 | Feb | Italy | 10 days | bike,public transp |
| 41 | 1997 | May | Denmark Germany | 10 days | bike,public transp |
| 42 | 1997 | Sept | Spain Morocco | 10 days | bike,public transp |
| | | | LAID-OFF, LONG TERM TRAVEL STARTED | | |
| 43 | 1998 | Sept | Agentina, Chile, Uruguay | 10 days | bike,public transp |
| 44 | 1998 | Nov | Mexico, Cancun, Cozumel | 14 days | scuba |
| 45 | 1999 | Apr | Israel,Egypt,Jordan | 30 days | bike,public transp |
| 46 | 1999 | June | Russia, Estonia, Finland | 30 days | bike,public transp |
| 47 | 1999 | Sept, Oct | Japan | 40 days | bike,public transp |
| 48 | 2000 | Jan, Mar | Thailand, Cambodia, Vietnam,Laos | 60 days | bike,public transp |
| 49 | 2000 | 5.24-7.6 | Russia, Turkey, Bulgaria, Romania, Hungr, Check, Austria | 43 days | bike,public transp |
| 50 | 2000 | Sept-Dec | Tibet, Nepal, India | 103 days | bike,public transp |
| 51 | 2001 | Apr | Mexico | 10 days | bike,public transp |
| 52 | 2001 | Jun-Nov | Russia, Estonia, Finland, Ukraina, Mongolia, China, HK | 152 days | bike,public transp |
| 53 | 2002 | Mar-July | Tunis, Ital,Greece,Turk, Georg, Armen, Azerb,Kazak,Uzbek | 132 days | bike,public transp |
| 54 | 2002-3 | 11.2-1.20 | Equador, Peru, Bolivia, Brazil | 80 days | bike,public transp |
List of visited countries
| | Country | Year | | Country | Year | | Country | Year |
| --- | --- | --- | --- | --- | --- | --- | --- | --- |
| 1 | Argentina | 1998 | 23 | France | 1994 | 45 | Mongolia | 2001 |
| 2 | Armenia | 2002 | 24 | Georgia | 1953 | 46 | Morocco | 1997 |
| 3 | Austria | 1979 | 25 | Germany | 1997 | 47 | Nepal | 2000 |
| 4 | Azerbaijan | 1962 | 26 | Gibraltar | 1997 | 48 | Netherlands | 1994 |
| 5 | Belarus | 1968 | 27 | Greece | 2002 | 49 | Paraguay | 2002 |
| 6 | Belgium | 1994 | 28 | Hong Kong | 2001 | 50 | Peru | 2002 |
| 7 | Bolivia | 2002 | 29 | Hungary | 2000 | 51 | Romania | 2000 |
| 8 | Brasil | 1996 | 30 | India | 2000 | 52 | Russia | 1937 |
| 9 | Bulgaria | 2000 | 31 | Israel | 1991 | 53 | San Marino | 1992 |
| 10 | Burma | 1994 | 32 | Italy | 1979 | 54 | Slovakia | 2000 |
| 11 | BVI | 1990 | 33 | Japan | 1999 | 55 | Spain | 1997 |
| 12 | Cambodia | 2000 | 34 | Jordan | 1999 | 56 | Sweden | 1995 |
| 13 | Canada | 1980 | 35 | Kazakhstan | 2002 | 57 | Switzerland | 1995 |
| 14 | Czech Republic | 2000 | 36 | Laos | 2000 | 58 | Thailand | 1994 |
| 15 | Chile | 1998 | 37 | Latvia | 1967 | 59 | Tunis | 2002 |
| 16 | China | 2001 | 38 | Lithuania | 1967 | 60 | Turkey | 2000 |
| 17 | Denmark | 1997 | 39 | Luxembourg | 1994 | 61 | Ukraine | 1947 |
| 18 | Ecuador | 2002 | 40 | Macao | 2001 | 62 | Uruguay | 1998 |
| 19 | Egypt | 1999 | 41 | Malaysia | 1994 | 63 | USA | 1979 |
| 20 | England | 1991 | 42 | Mexico | 1983 | 64 | Uzbekistan | 2002 |
| 21 | Estonia | 1967 | 43 | Moldova | 1975 | 65 | Vatican | 1979 |
| 22 | Finland | 1999 | 44 | Monaco | 1979 | 66 | Vietnam | 2000 |
Hello my dear subscribers,
I received several interesting responses to my previous TN. A lady from Germany who is a travel addict herself wrote that unlike other anonymous groups we (travel addicts) won't focus on how to get rid of our addiction. We will focus on how to feed it. Gentleman from England wrote that while I (Alex Mumzhiu) developed a travel addiction, he developed an addiction to my Travel Notes and after 4 months of their absence he feels withdrawal symptoms. OK, soon you will get plenty of them.
Tomorrow I am leaving to my next trip It is not only my travel addiction, that drives me. I have to travel for health reasons also. Life in America is pretty unhealthy. People in the not so prosperous countries walk for groceries, walk to
work, run after overcrowded buses and fight with others to get inside. This provides them with much needed amount of daily exercises, the natural way. Americans almost do not walk. They go everywhere by car. Every task which requires even a small muscular effort is mechanized or automated. Even two story buildings have an elevator. This, along with abandons of food produce an un-intentional result. Americans became fatter and fatter. Dedicated people with strong will, would wake up earlier and go for a jog, go to gym and eat, not tasty, but healthy vegetables. This way they stay in shape. Ordinary folks don't do that and get fat. A Stunning 70% of Americans are overweight.
This is an unexpected result of a sincere efforts to make people's live better and easier. I did not get overweight yet, but I definitely got out of shape during four months of sitting in front of the computer and traveling between the computer and the fridge.
As I wrote before I plan two trips. One trip to the South, to the Altay region of Russia and Mongolia. The other trip to adjacent parts of Russia, Norway and Finland at the North. Map of this second trip is attached. It will start from Petrozavodsk on Onega lake and continue through Zaonejie (land behind Onega lake) to city of Archangel'sk. I worked in Zaonejie in my summer vacation in 1968, I collected resin from pine tries (jivitsa). I earn 130 rubles for one month, which was rather modest pay for this tough work. But I spent a month in the magnificent forest and lived with my mother in a half abandoned but still pretty picturesque Karelian village. My wife came on a weekend from Leningrad and made a painting of the wooden church standing right in front of house where I lived. Picture is attached. I really want to see what happened with these places in 35 years. From Archangel'sk, I will take a ferry to Solovetsky Islands, another remarkable place with deep historical roots. From Solovetsky Islands I will go to Murmansk and across the Noway border to Northern part of Norway, to see fjords. And then down through Finland to Helsinki.
It will be mostly a camping trip. I already packed my backpack. It contains everything for camping: tent, sleeping mat, sleeping bag and a small pot. Also it contains an outfit for visiting opera and ballet in St Petersburg and it weight 20 lb (9 kg)!!! Well, outfit for visiting theaters is just one fancy shirt. In Russia it is OK to go to theater in jeans and sneakers. It is especially useful for me, because I ride bike to theaters, fold it and give it in a bag to cloakroom, and pay extra 5 rubles if the cloak lady is displeased. After the theater I unfold it and ride away.
Cheers
Alex Mumzhiu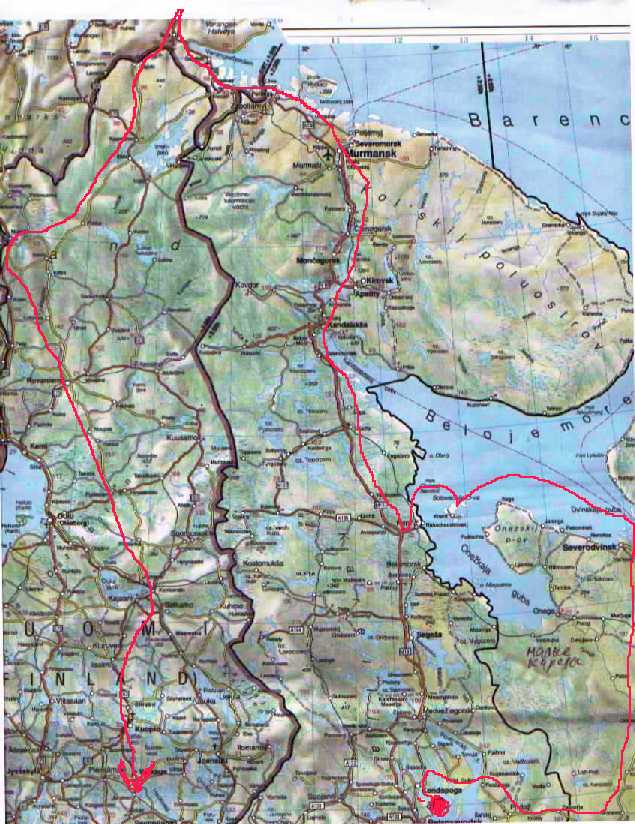 Map of my trip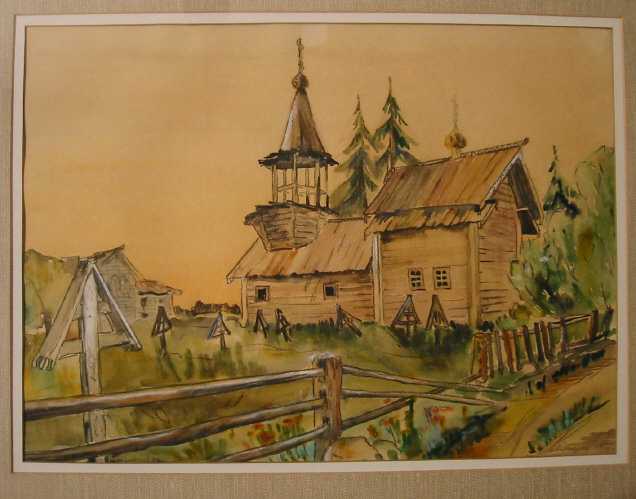 Wooden church from Zaonejie
June 6 2003
Washington USA
TRAVEL NOTES FROM SANKT PETERSBURG
BALLET
I helped to arrange an experience of cultural events for a group of four relatively young people (20-30 range) from America. Two of them happened to be my children. Every foreigner coming to Russia is supposed to see a ballet. Half a dozen theaters in SPB (St. Petersburg) show the ballet Swan Lake. Our schedule was tight and we did not have much choice, so we went to see the Swan Lake at Tovstonogov Great Dramatic Theater. The music was great, decorations and costumes too, but ballet performance... I realized that ballets which I saw before, mostly in Russia, were excellent. This ballet performed by a group called SouzBaletExport or something like this, was targeted for foreigners. I do not know about Europeans, but in America ballet and caviar are exotic and expensive Russian products with which normal people are not very familiar. So most people attending performance were very happy. I was happy too because it helped me to understand the difference between good and bad ballet performances. You have to experience bad things in order to appreciate the good ones.
OPERA
We went to see the opera La Traviata. It was not specially made for export and it was good. Opera as well as ballet are not American favorite arts, so I have to give some explanations to my group. Most difficult was to explain what "courtesan" means. The main character of opera La Traviata, Violetta Valery, is a courtesan. It was difficult to explain to people growing up in puritanic American society, the values of French High Court. In French High Court adultery was the way of life. In America, the president was almost impeached for adultery. I told them that a courtesan is something between a call girl and escort service lady. I love La Traviata and remember most of the melodies by heart. I can even sing most of the songs, because in Russia the operas are performed in translation to Russian language, so it is easy to remember the words. I am not such an opera lover, every person of my generation can do the same. And here is the explanation of this phenomenon: There used to be a so called "radio" in every room of every house in Russia. Actually it was not a real radio, it was a loudspeaker connected by wires to central facility, which broadcast news, information and entertainment to the entire country. It was a great tool for communist propaganda and brain washing, almost on an Orwelian scale. However propaganda cannot go on for 24 hour per day. Some music and songs were broadcasted in between. And the opera was broadcasted very often. Communists did not like rock and jazz which, they believed may have bad bourgeois influence on Soviet people. But opera was OK.
TICKETS
In Russia there are two types of tickets: for Russians and for foreigners. Difference in price is up to 20 times. For example, Russian ticket to Hermitage is $0.50, foreigner's ticket is $11. I think it is fair and reflects the difference in the income. If they would make the price the same, foreigners will go almost for free and Russians will not be able to see their cultural treasures at all. People in my group were not rich and prices quoted as above, especially if they were compounded for several events, were too high for them. So we tried to cheat the controllers. Using advice from our Russian friends we developed a technique which work almost 100% of the time.
First, you should have a gloomy facial expression , no smiles.
Second, white socks and white undershirts should be not visible. You can uniquely identify Americans anywhere in the world by white socks. Also it doesn't matter how hot it is, an American man will wear two shirts, normal shirt and undershirt.
We arrange our group in such a way that the most Russian looking person goes first, and I am waving tickets in hand at the end of the group. And most American looking persons were hidden inside the group.
It works fine. Only one time, when we try to enter Saint Isaac's Cathedral most American looking guy was caught. He had to buy a ticket for foreigners and his Russian ticket may be returned to the cashier. However cashier refuse to take the ticket. I offered the ticket to people standing in line. Obviously nobody wanted to buy it because the ticket may be counterfeited or expired. Than I offered the ticket to people standing in line for free. Nobody wanted to take it. I went along the line and shouted: "Who wants a free ticket, who wants a free ticket" Nobody wanted it. Eventually one lady, who looked rather like Japanese, not Russian, took it. It was a pretty interesting experiment. Russians are so incredibly suspicious. They have the reason for this, they were cheated so many times in the past. It also indicates how difficult it is to create a new business in Russia. All these Intels, Microsofts and Fords were started on borrowed money.
BIKE RIDE
Most enjoyable thing for me in SPB is night bike rides. It is quiet, no traffic, and the entire city is illuminated by the magic light of white nights. I wanted to show it to my companions. But it was not easy. There is no bike rent in SPB. To find four bikes was not an easy task. In America you can find a few rusting bikes on every backyard. They were bought for children and as soon as bikes became inoperable, mostly because of flat tire, they are left to rust. After children are grown
up, parents sell bikes on garage sale for a few bucks. If you inflate the tires and spray the chain with WD-40 the bikes are OK again. I was able to find only three bikes so we rode in turn. It was great. However in order to ride bikes in SPB
you have to understand the mentality of local drivers. A car is still a luxury here, which most people cannot afford. So, every driver is a superman and he feel it is insulting for him to break for these jerks who are still walking. I was almost hit by a car here. I tried to cross the road in front of a car. I know that he would not break just for me alone, but I thought it would be reasonable for the driver to slow down for me in the situation where a few yards later he has to slow down and stop for the red light. But my logic was wrong. He almost hit me and then braked hard for the red light. Riding a bike during the day is safe because cars are stopped in traffic jams and I even had the sadistic pleasure of doing slalom on bike around these super-macho a-holes stopped forever in the endless traffic jam.
GENERAL NOTES
In spite of some efforts in last years, Russia is still much less tourist friendly (for independent travelers)than such countries as Laos, Vietnam or Thailand. It started with idiotic rule of foreigner's registration. Except for Nigeria and former Soviet Republics of Central Asia nobody as far as I know require such registration. The process of registration used to require up to two days. You have to stay in line to OVIR. Than stay in line in bank, fill out 6 identical forms and pay amount in rubles equivalent to $ 0.05. Now it is much faster. There is only one laundromat in SPB. I already told you about bike rentals. Hovewer the main problem of Western tourists is their wrong mind set. Russians plan everything in advance. But Westerners expect that everything will be there when they need it. A Westerner starts to look for a restroom only when he really needs it. But line in women's restroom in Petergoff was one hour long... Well after all this criticism I should say that the center of the city was perfectly restored for 300 year celebration. I love Sankt Petersburg in any condition but I should admit that when restored it looks better
Alex Mumzhiu
Sankt Petersburg, Russia
June 19, 2003 11:30pm
Konstantinovsky Palace
I went to a concert of a popular Russian bard Timur Shaov. Tickets price was $7, pretty high for Russia, and all tickets were sold out. Please read later about Russian passion for bards. I asked incoming people for an extra ticket and eventually bought one. I took my seat and heard a familiar voice behind me. It was my old friend Ed B. who lives in Albuquerque, New Mexico; an incredible coincidence. He, and his Russian friends invited me to join them the next day to visit the State Congress Palace in Strelna which just recently was visited by 20 presidents including George Bush. It can be visited only by organized groups, 15 persons per hour. The palace, also known as Konstaninovsky palace was restored in two years for a price of $250 million. Peter the Great planned to build the Russian equivalent of the French Versailles here, but later switched to Peterhoff because the landscape in Strelna is bland and featureless. The landscape has not changed from Peter's time and it is still un-inspiring. Anyhow president Putin decided to re-build a State Palace here. The tour guide many times showed us projects which were started by Peter the Great and finished by Putin. I guess the major motivation for for Putin to build a state palace here was exactly this. He like to be mentioned as a person who finished Peter's projects.
Pushkin's mountains
I bought a two days tour to visit Pushkinskie gori (Pushkin's mountains) in the coming weekend for $40, including hotel, transportation and food. As usual I took a look at Lonely Planet book which is the best source of information on where to stay and where to eat, how to get there and so on. LP usually provides a historical and cultural background, written in a way that is digestible to its readers. Here is a quotation from the LP book, "Russia, Ukraine and Belarus" second edition page 395:
"For visitors to Russia, the veneration and attention enjoyed by the bards is hard to understand, and all the fuss the country makes over its wordsmiths sometimes borders on the absurd"
"One doesn't have to be in Russia very long to realize that poets are to this country what baseball stars and presidents to the USA" "On the whole, the poets- from Pushkin and Lermontov to Pasternak and Brodsky-have been heavy drinkers, gamblers, womanizers and troublemakers. Nevertheless, school children bring flowers to their graves and can recite their poems before they know how to read"
They also noticed that Pushkin was a womanizer and foot fetishist.
Lecturing service
I am here already for 20 days and some things started getting on my nerves. All sales people are on a lecturing mission here. When you ask sales ladies how much something costs, she would not tell you just the price of the product. She will tell you "Young man don't you see the price on all products on display in front of you?"
If you ask in a cafe/restaurant/bar, "do you have tea?" They will not tell you Yes or No. They will tell you "Young man don't you understand that this is cafe/restaurant/bar and we supposed/not supposed to have tea
Some statistics
I read in English language newspaper "St. Petersburg News" that the drop in amount of tourists visiting St Petersburg on 300 years anniversary was compatible only with drop after Sept 11 2001. Many hotels were 50% empty. Reason for this are different bureaucratic bottlenecks, Such as this: Petersburg airport supposed to be closed for one day to welcome presidents, and ordinary visitors have to postpone their flight. This was not a problem, real problem was that many visitors had their visa expired and it has to be extended. Which is not a simple process. All these bureaucratic hurdles which make sense in the past, when every visitor was considered as potential spy, looks like absurd theater now.
Alex Mumzhiu
St Petersburg Russia
June 26 7pm
Pskov, Pushkin Hills
As I told you I bought a bus tour to Pskov, Izborsk, Pecheri and Puskin Hills, about a 5 hour drive from SPB. I was told to come at 7:00 am sharp. The bus left at 8:00am. The toilet in the bus did not work. The toilet on the street did not have paper. Lonely Planet book came to help... as always. Before tour guide started her presentation, she recommended to tourists not to drink (water) because the difficulty with toilet facilities. I remember those Western tourists who always carry a bottle of water with them; not in Russia. The tour itself was not as bad as it could be, keeping in mind that there were tour groups in front of us and behind, so you could listen to your tour guide or the next one. What surprised me was Pushkin's posmertnaia maska (a wax mask of Pushkin's face, made after his death). I obviously saw his mask before I moved to America. However, only after I spent 20 years in America and became familiar with different types of black (Negro) faces, did I recognize some familiar Negro features in Pushkin's face. You can easily meet such face in Washington DC. Pushkin predecessor Gannibal was black.
I got a real feelling for these majestic places when I came in the evening, alone, on my bike. I rode from the tourbaza (tourist hotel) to Michailovskoe, than to Trigorskoe than back to the tourbaza. Even though, I was the only person in Michailovskoe, the guard told me do not ride my bike. So I rode it in the hills and fields surrounding Pushkin mansion, where Pushkin rode his favorite argamak horse. Nothing interferes with inspiration coming to me from these places, which are so magical to everybody who loves Pushkin. I am sure if there were bikes available in Pushkin's time, he would prefer to bike. Horses are living creatures and require some attention. Bikes don't need hay, don't fart and don't say "neigh" (igo-go). Three days later I rode my bike near Marsovo Pole (Mars square) in Saint Petersburg and challenged the girls who offered horses for rent there, to a race. I wrote about these girls two years ago, do you remember? One girl took the challenge and we made a race along the edge of a field. I rode my bike on asphalt, she rode the horse on a dirt road. A horse cannot run fast on asphalt. We finished simultaneously.
My friend gave me a book written by Sergei Davlatov "Zapovednik" (Reservation), written about the Pushkin memorial complex. Davlatov worked there as a tour guide. So I tried to visit some places which Davlatov mentioned, mostly low key restaurants where he got drunk. Amazingly everybody here knows Davlatov's name and some remember him. My group left Sunday afternoon. I stayed and rode my bike in the evening of that day and planned to ride it the next morning also. But it was pouring rain and I decided to go back to St. Petersburg. There were not many people in the streets. I met two Gypsy girls and they explained to me, how to get to the main road. They asked me where I was from. I said from Washington. They were impressed. One offered me to tell my fortune. Another offered me a date for tomorrow, but I decided to return to SPB. There were no buses. So encouraged by very popular Russian hitchhiker site http://www.avp.travel.ru/ I decided to hitchhike to Pskov. When I reached the main road I was completely soaked. It is OK to be wet when you are moving. It is like being in a wet scuba suit. When you are not moving you start to freeze. No one stopped for me for an hour and I was ready to go back to the hotel. Suddenly, a small passenger car stopped and took me. It was a Pskovian family from a nearby village. They spoke with an incredibly heavy Pskovian accent, which has always been the subject of jokes. They made a huge loop to bring me to the highway, very good people. The next car which took me to Pskov was a big truck (Kamaz), which carried logs, a driver had cigarettes, I had vodka. We had a good time. He told me his interesting story, and I understood the main advantage of hitchhiking: you systematically meet a good people. Bad people do not stop for you!!! I was in Pskov 35 years ago on my honeymoon, or more properly to say honey-weekend. Pskov seemed to me a sizable town at that time. On a bike it is petty small. Bums on the streets sell porchini mushrooms (belie gribi), $1.50 for a large bunch. I had porchini soup in a local restaurant, which I could smell from a distance. Pskov is the center of mushroom country. My bus tour stopped in Pskov two days ago and we visited Pskov Kremlin, again, in large group with other tour groups around. Riding bike along river Velikaya in the evening was much more pleasant and romantic experience. Pskov is in a much better shape then other Russian provincial cities.
Alex Mumzhiu
Saint Petersburg Russia
July 3 7 pm
I wrote to you about Russian writer Sergei Davlatov, whose book about Puskin memorial complex I read in Pushkin Hills. I have found that I have a lot in common with him.
Contrary to common opinion he was not a dissident back in the Soviet Union. However he had a capability to systematically get into the wrong place at the wrong time. An already printed book of his stories was destroyed in Tallinn simply because the government decided to make next round of tightening of strict controls over the press. I also had this capability to get in the wrong place at the wrong time. The most funny of my misdemeanors was this, as quoted from my KGB file: "Interrupted the movement of foreign oceanic ships on the Azov Sea (being in a canoe)"
Davlatov complained that they did not allow him to travel even to Bulgaria, which was the easiest foreign country to get permission to travel to. I also was not allowed to travel to Bulgaria.
While Davlatov served in the army, he worked as a guard in prison camps for the most dangerous prisoners. He wrote that he invented for himself the exercise, which he called training in bravery. He walked alone at night through the area of camp where prisoners were allowed to walk free. This is a pretty good idea. Bravery, as well as any other skill, can be trained. An untrained person, if he gets in a dangerous situation can get panicked, because fear is not a good adviser.
I also did similar things and mainly for the same reason. For example, in 1997 I got lost (on-purpose) in Naples (Italy) in a rented car. I left my map in the hotel, on-purpose too. The goal of this exercise was to maneuver the car through this most crazy Italian city, surrounded by crazy Italian drivers and eventually to find my way to my hotel, which is what I did. Well I should add that in order to make this exercise more difficult I had couple drinks.
Yesterday I had the inspiration for such an exercise again. Without a map, I rode my bike well after midnight to the area near and behind the Leningrad sea port. This area used to be dangerous in the past. In the North-West portion of the port, I found a deep tunnel. I did not know where it went. Anyhow, I rode in it and got to a great place about which most people who live in SPB do not know. This place is called Kanonersky Island. This island is located behind the sea channel through which sea ships come to SPB port. The only connection the island has with the rest of the city is trough this deep tunnel which goes under the sea channel. It should be one of the best kept secret here in SPB. It has the best uninterrupted view of the Gulf of Finland. Gigantic oceanic ships move slowly ind almost soundlessly through the channel. Amazing place. I would advice these of my readers who live in SPB to visit this island.
Alex Mumzhiu
Sankt Petersburg Russia
July 10 2003 1:30am
This endless rain make me to change my plans again. In an hour my friend Vladia D. and I will go by train to Barnaul (Russian Altay). We will go down along Chuiskii tract to Mongolian border, cross to Mongolia and visit Mongolian Altay, Than my friend will be back and I will continue to China
Alex Mumzhiu
Moskow Russia
Kazanskii Vokzal
July 18 2003 7pm