The train from Moscow to Byisk takes 63 hours and costs $40.My friend Vladislav D. and I prefer hard sleeper without separate rooms (platskartnii vagon). Our closest neighbor, a 16 year old girl fed us with food carefully supplied for her journey by her parents and told us a bunch of stories about her tough life. From Byisk we took a bus to a remote corner of Altay, village Yst-Koksa. The bus ride was 10 hours long and cost $8. After initial fight for seats the atmosphere in the bus became peaceful and friendly. Especially touching was the care which the entire bus took care of a straw hat of a young lady from the old believer village Mylta.
Old believers came there 300 years ago to escape from religious persecution. It used to be a very remote corner of the Russian empire, where the old believers can continue their lifestyle, which is similar to the Amish. Old believers brought here the famous Russian painter and philosopher Nikolai Rerih in 1923. Rerih is very popular in Russia, especially in Siberia. See http://wwww.sibro.ru Not far away from Mylta, is the village Upper Uyimon, where Rerih spent a couple weeks in 1923. Now, there are two Rerih's museums in Upper Uyimon. We visited both. Old believers believe that mythical Belovod'e (Shamhbala) is located somewhere near Upper Uyimon. Shambhala, according to Tibetan Buddhists is a magical place where our world is connected with HEAVEN. See also http://english.pravda.ru/science/19/94/377/10134_shambala.html
We spent the night in Rerih's commune and learned a lot about Rerih's philosophy. The leader of the Commune, a charismatic man, Michail Petrov told us that Upper Uyimon, because its closeness to Belovod'e, will become the place from which rebirth of Russia and the entire world will start. Commune members also fed us with excellent honey and milk, which they produce on their farm.
From Rerih's commune we continued our way to our own holy place. 24 years ago my companion Vladislav D., myself and our other friend, the late Mark K. swam across the Katun river in search for shilajit. This is another story for which I do not have enough time now. Those who are interested can take a look at www.sdrshilajit.com on the Internet. Katun is a very fast and cold mountain river, so we brought fins, masks and snorkels with us in order to cross the river faster and not get frozen in the icy water.
Our way from last village Tungur, along the Katun river was hilly, ups and downs, ups and downs . We developed a pretty convenient way of travel. We go together uphill. But downhill I took two backpacks and rode down until the bike stopped.
We camped near the place where we crossed the river 24 years ago. We had dinner with good drinks. We remembered our trip and our friend Mark. It was very emotional moment. I did not expect that I will be able to get here again.
The next day we took a long trip back to Chuisky tract and along it to the Mongolian border. We rode by bus, hitchhiked in cars, and I rode my bike. One ride was pretty interesting. We stopped a heavy drilling truck. Two workers and a driver invited us to join them in the cabin, which was supposed to carry only three person. So my friend and I were half laying half sitting on the dashboard. The entire team was completely drunk. The truck was driven in the middle of the road. It was huge and had the upper hand on the road. The driver was in a good mood and wanted to entertain us. With every approaching car he asked "do you want me to drive it off the road?" We tried to convince him not to do it with this car, but when the next car approached he asked again do you want me to force him off the road?" On the last step of our journey, a small passenger car stopped for us, but could take only one person, so Vladia took it and I continued on my bike. When night approached I decided to camp on a river bank. I found a pretty site near a river, behind picturesque rocks. There was something peacefully and biblical in this place. I boiled water to make a cup of packet soup and suddenly a little kid (a young goat) came to my site. Keeping in mind my pastoral surroundings, I probably should say that God sent me this kid. But I was not sure if it was for my dinner or just as a good sign. Well, I decided to spare the kid and have a packet soup instead. The next day I rode my bike to the village of Kosh Agach where my friend waited for me. Kosh Agach, used to be a dirty remote village, now it has the Internet. While I was writing this Travel Note somebody stole my bicycle computer (trip computer). This is the first episode of this type in my entire travel history. I reported it to police, but I doubt they will find it. Tomorrow we will go to Mongolia
Alex Mumzhiu
Kosh Agach
Altay
Russia
July 28 2005 2:30pm
I would like to start this note from slogan which is very familiar to every Russian: "Thanks to brave Soviet border guards" Border crossing to Mongolia is very tough and because of it Mongolian side is saved in its original shape. There few tourists here. Small town Olgiy is consumer paradise. I bought here a down jacket, windbreaker, pants, cowboy hat, glows and something else for less than $20. Dinner for two cost $0.80. Tomorrow Vladia and I will start 7 days trip on Jeep to Mongol Altay National park. Park contains magnificent mountain Tavan Bogd, located at point where Russian, Mongolian and Chinese borders joined together. Cost of hiring Jeep with driver for a week is $150. Yesterday we spent evening with two New Zealand mountain climbers who came here to climb this mountain. One of them lady from Christiantown, New Zealand, her name is Lidia. She is first women which climb Mt. Everest without oxygen and without permit. Local people are mostly Kazakh Muslim. We like them very much. They are quiet, polite and friendly. When you came to a shop nobody pay attention to you; so big difference with their Muslim brothers from such countries as Morocco, Egypt or Turkey.
Picture related to my previous Travel Note:
1. Members of Roerih commune of Lower Uyimon. Sitting man is my companion Vladia D. Fancy bike was presented to Roerih commune by foreign supporters.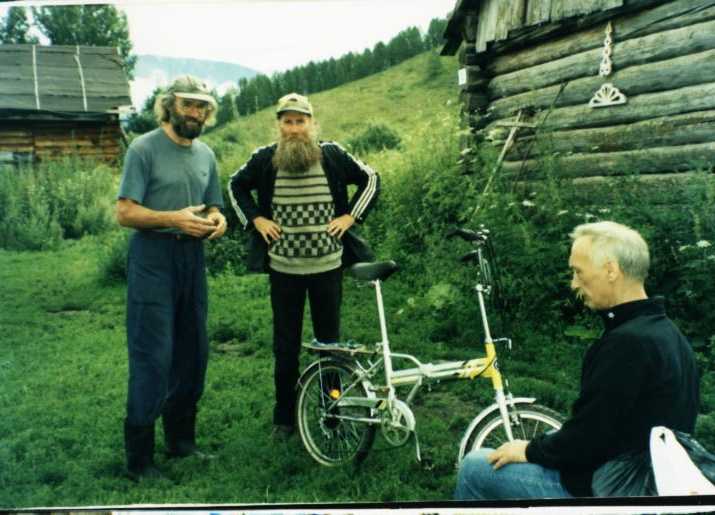 2. Alex Mumzhiu inside Roerih commune house, studying sacred texts. Above on the right Tibetan thanka, on the left Russian Orthodox icon.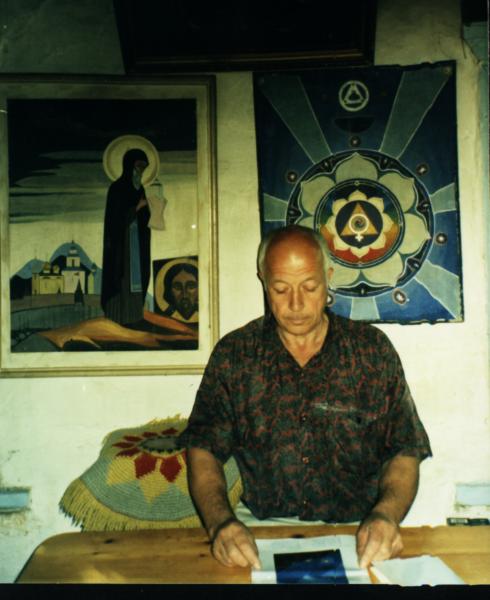 3. Vladia D. is drinking milk in village Upper Uyimon. Upper Uyimon is place closest to Shambala (Paradise on Earth) Russian Old Believers call Shambala the Belovod'e (Great White Brotherhood) It has nothing to do with white race.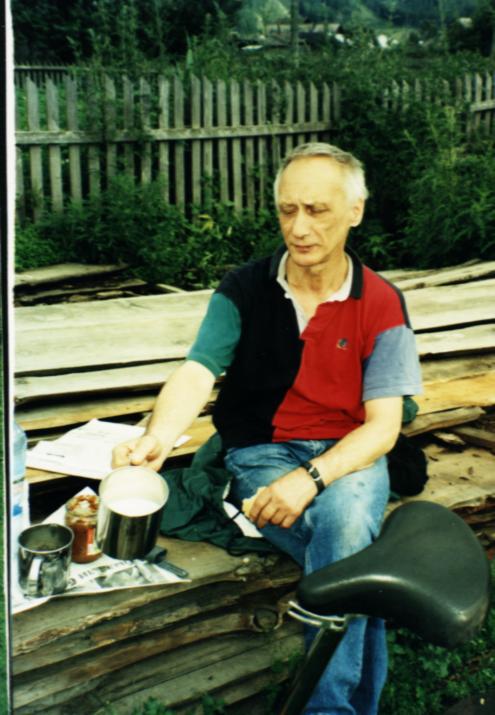 Alex Mumzhiu
Olgiy Mongolia July 31 2003
8pm PS
Attention of these who sent me letter through AlexTravel Yahoo Groups. Please sent me your letter directly to mumzhiu@yahoo,com. Letters get lost in yoahoo group sometimes
1. Crossing mountain river on a way from last village Tungur toward our old (24year old) camp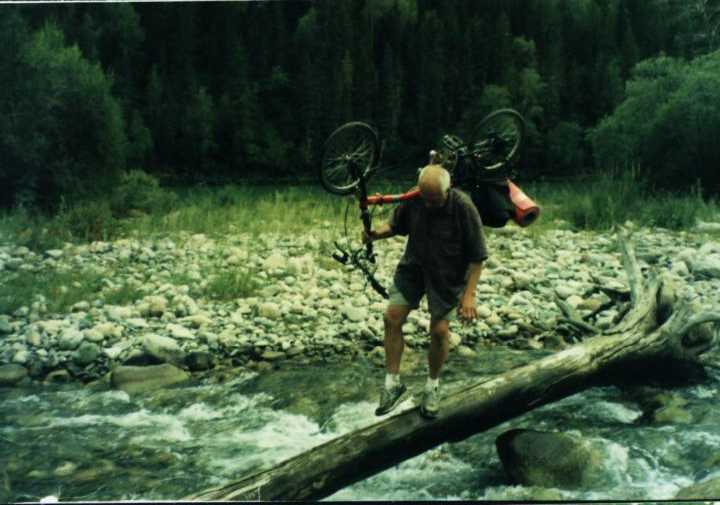 2. Going downhill with two backpacks. Hooray to Brompton!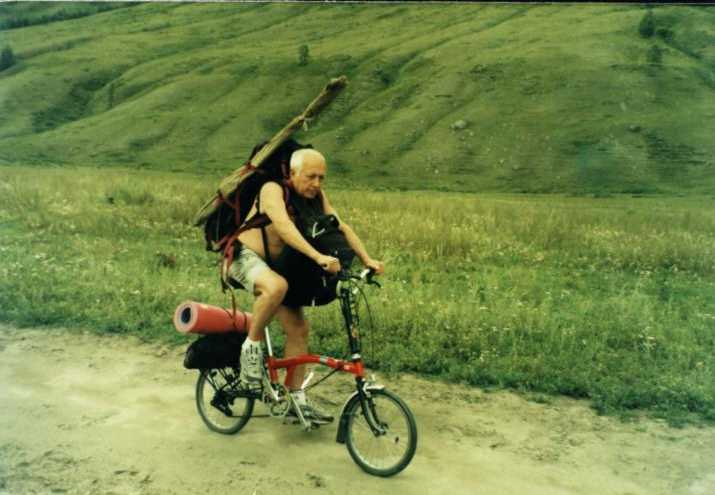 3. Camping on the bank of river Chya, where a kid (small gaot) visited me
The day before departure (Aug 31 03)was very busy. We were buying food and necessary supplies for our little expedition. We bought a large bag of firewood, obtained permission to go to Altai Tavanbogd National Park ($3 per person per day), obtained permission to go to the border area from border guards. A little problem came up when we tried to find a skillet. It is an unknown device in Mongolia. We needed a skillet to fry fish, which is supposed to be plenty. I used to go to geological and surveying expeditions in the past and these pre-expedition preparations were pretty exciting for me.
In the first day we drove to the last point in the park where cars are allowed. We spent the night in a Kazakh's ger (urt) for $3 per person. The next day we rented horses from a local Kazakh man for $5 per person per day and started to ride toward the Tavanbogd Uul (Five Saints) mountain massiff. It was great. We were alone there. There were no people around. There were no symbols of civilization, such as plastic bags and Coke cans. Only birds and some animals whom Vladia easily identified. Vladia is a very knowledgeable amateur biologist. By mid day we approached the mountain massif made of five peaks - the highest of which is Khuiten, 4374m (Russian readers try to pronounce it). Scenery was magnificent: snow covered mountains, 19km long Potanii Glacier, turquoise lakes down in morenas and again nobody except the two of us. There are not so many places like this left on Earth.
Troubles started on our way back. First we got lost. Fortunately we met a local kazakh herdsman who offered to accompany us down to the place where we spent the last night. When I tried to communicate with him, I moved my hands probably too fast. My horse got scared and started to buck. It was like in a rodeo. I held as much as I could and eventually fell down. I hit the ground with my butt. My body was in a perfect position for falling, forming the letter "V". I was not hurt at all. Fortunately I fell on a small path of grass surrounded by stones. If I had hit the stones it would be a different story. Soon Vladia developed symptoms of high altitude sickness. He felt bad and was vomiting periodically. When he got down from the horse for the next vomiting, I and the Kazakh man approached him. I handed a cigarette pack to the Kazakh man and this gesture scared my horse again. She rushed ahead like crazy. The Kazakh man shouted something to her which she understood and she stopped abruptly. I flew over the horse's head and hit the ground with my forehead... hard. Fortunately it was again on a little patch of grass where my forehead hit the ground. My face was not so lucky and was scratched pretty severely. I was disoriented for a while, but otherwise OK.
It was a surreal picture. Vladia and I were laying down next to each other. Vladia was vomiting and I was bleeding from my face. Our horses were roaming around. The Kazakh man caught our horses and we continued on our way down, very slowly.
The next two days we moved to the lakes area and Vladia was fishing on the lake shore. He caught enough fish for a good dinner.
The next day started very slowly. Our driver went to collect berries. When we start to drive eventually, it was pretty late. We do not know where to go and driver had no suggestions. Everybody get a little irritated. Eventually we stopped to ask for suggestions from a huge local man. He spoke pretty good Russian and showed us a big fish which he just caught in a nearby river. We decided to stop there. He presented the fish to us for dinner. We responded with offering two bottles of vodka. I made a fish soup. He brought his lovely wife and we had a very good time. The man we met, his name is Bokenbay, was vacationing with his wife, Ainur at his father's urt. He, himself, was an international class boxer. He won first place in the European boxing championship in 1991 for heavy weighters. He represented Mongolia. His wife is a ballerina in a local Kazakh theater. We spent the night in his urt. He killed a sheep in our honor. The next day he took us to a pretty place not far away from his father's urt. There was a perfect mountain view there, nice waterfall and again nobody except for us. We had a picnic and made sish-kebab This time we brought four bottles of vodka altogether and again we had a veryyyyyyyyyyy good time. In order to have a real friendly and warm relationships with locals, the traveler to these Russian influenced parts of the world has to drink vodka. Nothing you can do about it... Next day we drove back to Ulegey. Our trip was 7 day long, covered 600km and cost $180. ($0,30 per Kilometer)
Somebody asked me why I always show prices. I do it on purposely for these of you who wanted to travel but think that they cannot afford it.
Our sleeping bags were not so warm for very cold night here so we stay overnight in urts. First thing incoming person is offered here, is salted tea with milk and some snakes, consisting from 2-3 sorts of "cheeses" and little buns. Taste range from OK to awful. Hygiene mostly was very bad. We afraid to offend hosts by refuse and on second day Vladia developed stomach problem. This problem last until our return to Ylegey, where local doctor prescribed Vladia antibiotic, which quires problem at once.
Attachment:
It should be good pictures but I will sent them later
PS:
My Brompton bike did not survive the heavy abuse and its frame broke. Bikes purchased in England Or US have lifetime warranty on frame, but my bike unfortunately was purchased in Japan.
This circumstance result in radically changes my plans. Vladia returned to St. Petersburg. I am in city of Novosibirsk now, and in 1 hour I will go by train to Vladivostok and from there to Kamchatka peninsula. Train to Vladivostok will take 4 days I will arrive in Vladivostok Aug 18 in the evening dont expect E-Mails before
Novosibirsk Russia
Aug 14 2003
5:30pm
Alex Mumzhiu
My dear readers,
I apologize for not answering your letters in the past. On the border of Russia and Mongolia Internet was extremely difficult and I sent only Travel Notes It is amazing that Internet was available there at all. Last pictures I was able to sent to you only because somebody bring his own scanner to Internet cafe and I begged him to scan mine pictures also.
So on first picture is goat which was not sent to you by mistake before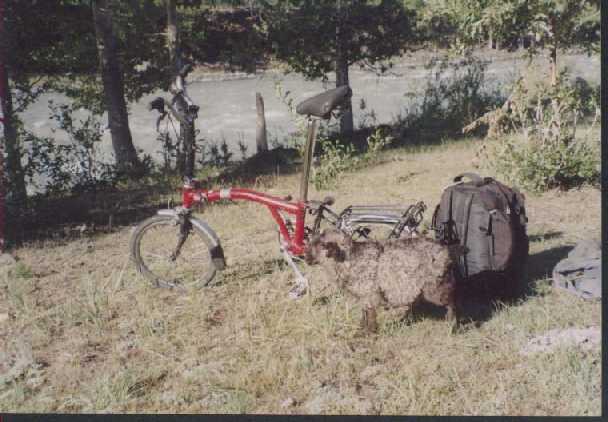 On second picture is Alex on horse before failing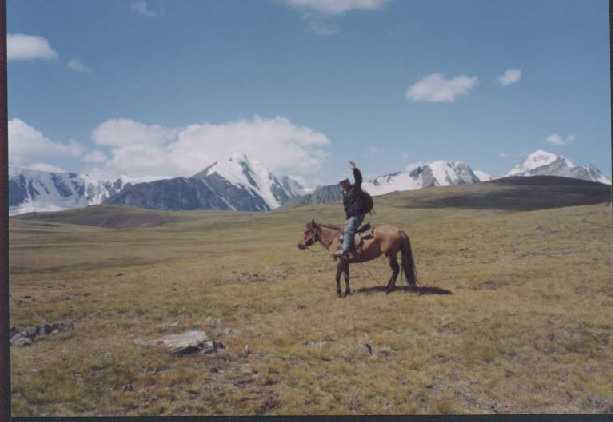 On third, after,.. with Vladia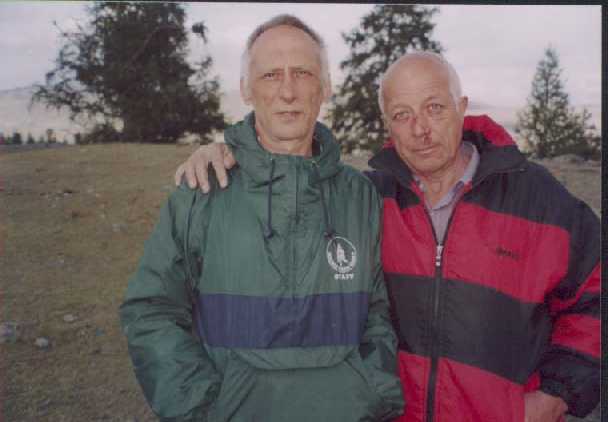 Alex Mumzhiu
Vladivostok Russia
Aug 19 2003 8:39pm
ANNOUNCEMENT
As most of you already know My Travel Notes for this trip are available at
http://groups.yahoo.com/group/alextravel/
Site is open and anybody can access it. And anybody can subscribe and receive TN at his or her mail box.
THIS IS NEW:
Yahoo announced that they will not store pictures anymore, starting from Aug 20 and old picture will be removed. However when they will sent you my E Mails, attachments will be included as it was in the past.
My dear readers,
I already wrote to you a couple times about terrible Russian drivers. Now this topic turned tragic. My two closed friends were hit by a car in St Petersburg. One died, another is in the hospital. As a result I lost interest in writing my funny Travel Notes. However in respect to many readers who like my notes and wait for them, I am sending Notes which were already written and edited before.
FROM MONGOLIA TO RUSSIA
Border crossing from Mongolia to Russia took almost an entire day. Next day Vladia left to St. Petersburg. I decided to visit Djazator, a village located 100 mi from Chyiskii tract. I spent two summers there in 1975-76 working for a surveying expedition as a mountain climbing instructor. Just one month ago a new law was introduced which requires special permission from border authorities for those who want to visit Djazator. Not me, not people whom I hitchhiked with, local Kazakhs, had this permission. These Kazakhs, who live in Djazator, left Djazator the day before for shopping and they were returning to their home. A woman was crying, because she left a small children at home. However, the boarder guard was unmoved. He received firm order: "No one without permission." In more civilized places they would allow first time offenders like these Kazakhs to return to their homes, at least. Well, this is how Russian authorities create problems for themselves.
The next day I went to another place memorable for me, to mountaineering camp Ak-Try. I was there in 1963. The road to Ak Try is very long and bad, the first part was by car, the second by horse. This time a big horse carried me and the horse owner. When we reached Ak-Try it was sleeting there. I was allowed to stay in abandoned building. But not for free, for $3. Commercialism is flourishing there. After Russia lost Caucasus, Karpati and Pamirs mountains, after the USSR broke up, the Altay is left as the only mountain area in Russian territory. There are a lot of developments there, and they are very commercialized, well, Russian style.
I reached Novosibirsk in a couple days and bought kupeinii (separate room) ticket to Vladivostok for $120. This time I was not so lucky with my cabin mates. It was a (jlob) redneck couple with a 4 year old boy. They were non-stop disciplining their boy by shouting at him and kicking him. Between themselves they also communicated mostly by shouting. Trip took 4 days and 5 nights. So I was very glad when the train eventually reach Vladivostok.
VLADIVOSTOK
Vladivostok looks nice and the people, especially the women look nice. It continues until you hear how they talk. Most of them speak with heavy malorossiiskim (redneck) accent. They "kushaut,", "lojut" (some examples), and every second word they use is a four letter word (mat). I understand now why Russian writers talking about Siberia like to emphasize if a person is "potomstvennii", or generational Siberian. Most of the people here are first or second generation and came here through "Orgnabor" (government sponsored relocation program) which explain their accent as well as beauty of women. Orgnabor heavily recruit people from Ukraine. I purchased a folding bike here because I cannot be without a bike. Its frame broke on the second day. Then I bought a second ordinary bike, which is OK so far.
Vladivostok is located on a peninsula between the famous Golden Horn bay and Amur bay. Golden Horn is very polluted because of the port. Amur bay is pretty clean. I bought a mask and dove not far away from the city beach. To my surprise I found an abundance of sea life. I found several gigantic oysters and tons of very big mussels. I took them to my hotel and boiled them. They were great! Local people don't appreciate seafood. The only sea food available here is salad from sea cucumbers, which they call kukomaria.
My dream was to continue my trip to Kamchatka peninsula on a merchant ship. There are no passenger ships between Vladivostok and Kamchatka. A couple days ago I tried to get on a ship. I was told "no way". They said, the merchant ships will not take passengers anymore.
Today I made a second attempt and used all my people skills, and hooray I was accepted. This evening I am leaving on a big merchant ship "Pacific Star" for a 5 day, $120 trip to Kamchatka.
Attachments: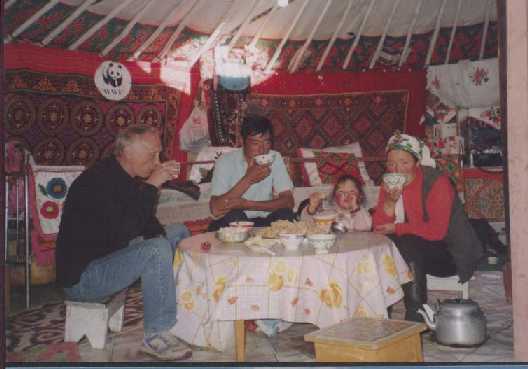 Vladia drinks salted milk tea in yurt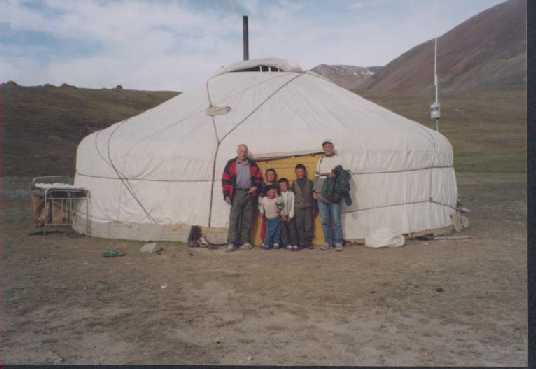 Alex and Vladia in front of yurt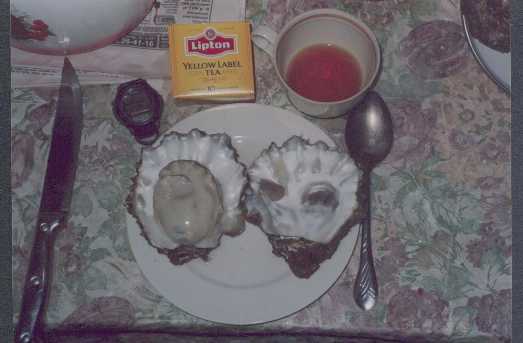 Oyster dinner
Vladivostok Russia
Aug 24 2003 3 pm
Alex Mumzhiu
Trip to Kamchatka took much longer because of militaryexercises on our way. Most remarkable episode was my first experience in surgery. I successfully put stitchon the wound on the finger of my left hand, which was damaged by heavy ship door. Now it is OK.
Sept 2 2003 5pm
Petropavlovsk Kamchatskii Russia
ANNOUNCEMENT:
Olga Pavlova translated my notes in RUSSIAN. See them at: http://nnberg.narod.ru/mumzhiu/
KAMCHATKA
(This is my last report about the trip from Mongolia to Kamchatka, June-Sept 2003)
ANNOUNCEMENTS:
1. The most convenient Internet site to see my Travel Notes, bromptonbike, changed it's name to foldabikes. Look at it at: http://www.foldabikes.com/CurrentEvents/Story/TravelStories.html
2. My latest Trip Notes were translated into Russian by Olga Pavlova and is available at: http://nnberg.narod.ru/mumzhiu/
The translation is sometimes better than the original!
3.It is always difficult to choose which photo to send because Yahoo allows only three pictures to attached. From now I will put all pictures in my Yahoo Photo Album, which is open to the public and is available at: http://photos.yahoo.com/mumzhiu All pictures related to this issue are in Kamchatka folder.
KAMCHATKA
I came to Kamchatka aboard the merchant ship "Pacific Star" on Aug 29 2003. The Pacific Ocean was very pacific and as a result, the most memorable event of the trip was a little surgical operation, which I did on myself, by putting a stitch on my cut finger. A disgusting picture is in the Kamchatka folder mentioned above. Kamchatka is synonymous with the end of the world in Russia, and I visited the village at the end of the road in Kamchatka. The village is called Esso, which has nothing to do with the Esso oil company. I came to Esso by bus, then crossed the Kamchatka peninsula to Kluchevsk by bike and returned to Petropavlovsk by bus again. I slept overnight in a forest by the fire. Local people told me that I am crazy and bears may come and kill me. But my friend Vladia D. told me that Kamcatka's bears are good and well behaved creatures, and I trusted him. My food ration consisted mostly from mushroom soup. There was an incredible amount of excellent mushrooms there, see the picture. The village of Esso is the gem of Kamchatka and is the subject of interest of half a dozen international ecological and UNESCO committees. Many enthusiasts devoted their life to that remarkable place. They even have a large and good Internet page, however it cannot be accessed the normal way, it should be downloaded from the UNESCO site: http://www.iucn.ru/download/spring.zip Common feeling there is this: "Moscow forget about us. If Canada will not help, we will perish". Esso is in much better shape than the rest of Kamchatka, where unemployment is very high and it results in crime and poverty. In spite of it, most of the people I met are furiously patriotic and proud of Kamchatka. I can compare them only with Texans. I took a helicopter tour to Geyser Valley, the major Kamchatka attraction. One day tour cost $250. None of the many Kamchatians I met, was in Geyser Valey they cannot to afford it. It is a great place, which reminded me Yellow Stone park but smaller and less developed. Which is good.
On my last day in Kamchatka I almost froze to death because of ... language problems. In India, China, South America and so on I never had problems with languages. Here in Kamchatka, while they speak normal Russian language, they have some small differences in the meaning of the words. I got to the high altitude of Multinsky volcano, where the Unique Geothermal Electrical Station is located. There was a cyclone and wind with snow was terrible. I asked passing drivers if they can take me down to the village Paratunka which is at the bottom of the volcano. They said NO. Only after several attempts I realized that they cannot take me to Paratunka, but can take me to the village Nikolskoe, next to Paratunka, but also located well below in a livable zone far away from that terrible storm.
Alex Mumzhiu
Washington USA
Nov 22 2003
PS: I am at home already for two months, which is too long for me. Don't laugh, I found support from very un-expected side: Famous model Lauren Hutton also cannot stay at home more than two months in arow and also travels to wild places for six month per year, see http://www.aarpmagazine.org/entertainment/Articles/a2003-10-14-hutton.html
So in my next TN I will tell you about my next trip
Attachments: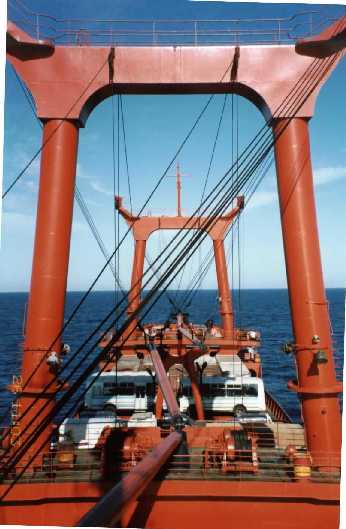 1. Merchant ship "Pacific Star" on which I sail to Kamchatka.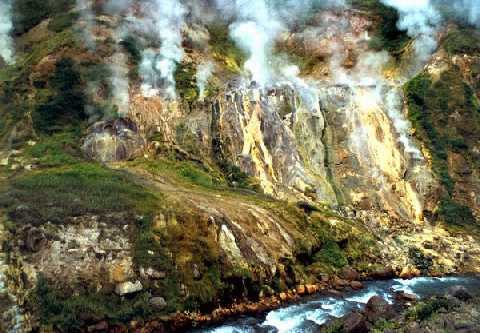 2. Geyser Valley, Kamchatka.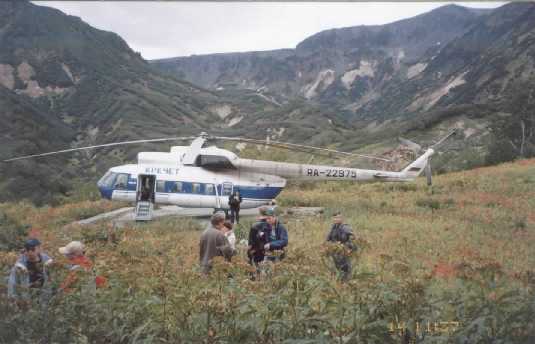 3. Helicopter tour to Geyser Valley.