Travel Notes on trip from New Zealand to Thailand 2008
My Dear Readers,
Feb 8 I will go to my next trip from New Zealand to Thailand, map is attached. My route through New Zealand, Australia, Singapore, Malaysia and Thailand is more or less clear. Indonesian route is still not defined yet.
I want to go to Papua and photograph these guys with my bike, see picture. But visiting Indonesioan province West Papua is not easy these days.
I will be in NZ from Feb 15 to Feb 25. I will circle South Island, but probably will not have time for North Island.
In Australia I will travel along East Coast and definitely visit Great Barrier Reef. I also hope to see Uluru (Ayers Rock) in the middle of continent.
I plan to visit Perhentian Islands, on the border of Thailand and Malaysia. It is my favorite place for snorkeling and spearfishing.
While I studied guidebooks in preparation for my trip, I found something new in the terminology of political correctness. Lonely Planet always was very sensitive to the needs of gay and lesbian community. Now the definition is extended. Now it is called: "gay-lesbian-bisexual-transgender-intersex (GLBTI)." See Lonely planet Australia 13th Edition page 499. It is such a discrimination! Where are zoophiliacs, necrophiliacs and pedophiles?
I was accepted to Traveler's Century Club. I hope their certificate will help me in some ambiguous situations, such as requirement to provide round-trip airline tickets. Indonesia and NZ are very strict about it. But I prefer to travel from A to B in old fashioned way... overland.
Alex Mumzhiu
Washington USA
Jan 28 2008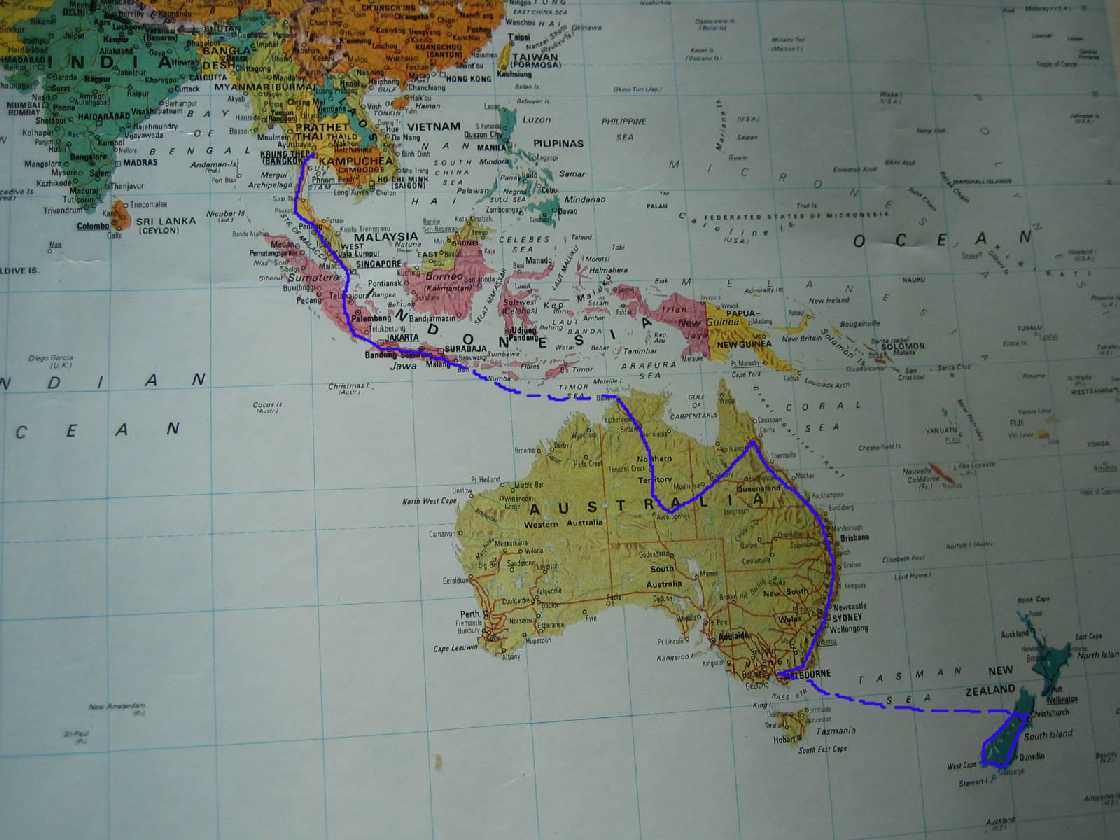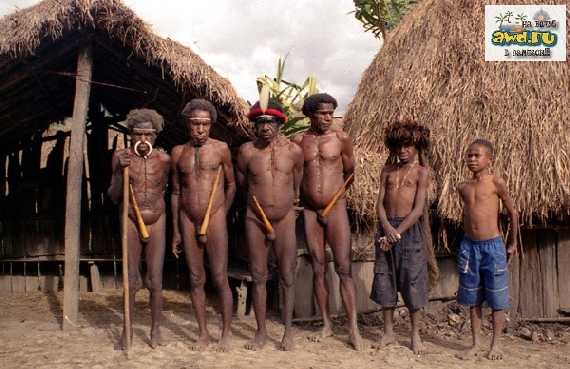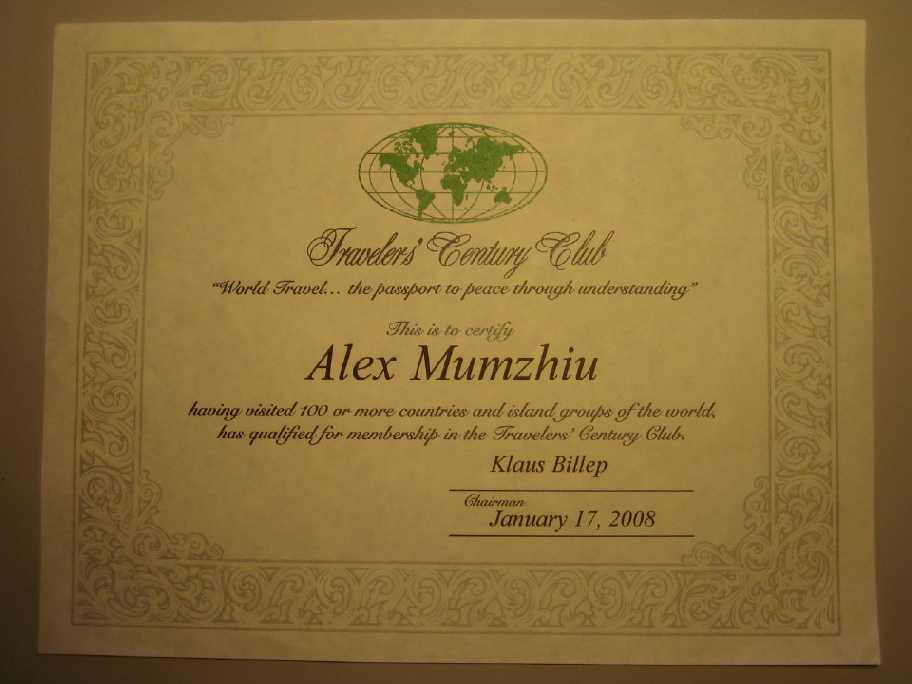 Travel Notes from Australia
My flight from San Francisco to Sydney was 14 hours long. Food was good, drinks unlimited. I am ready to fly like this two times longer. The only problem, my neighbor was 300 lb or more. He barely fits into his seat, but his fat squeeze to my seat. On my way from Washington to SF I had two neighbors like this. I should avoid American airlines like the plague. Why airlines charge us for any extra pound of baggage, but guy who weighs 300 lb and that one which 150 lb pays the same money. They should charge passengers by weight. It will be also good incentive for overweight to loose weight.
Next day I rented a car for $120 for three days and went to Great Ocean Road. I usually do not have any jet-lag. But steering wheel is on wrong side and traffic is on wrong side too, terrible. As a result a few times I rode on wrong side of road. It was shock. But even bigger shock was Australian prices. Beer- $7, Hamburger- $6. Bottle of vodka- $38, Pack of cigarettes- $14. Internet- $5, Hostel "Base" in which I stayed first night in Melbourne in 8 bed dorm-$28. They even charge for backpack which I left for couple hours after checkout, just $2 per hour. They like to put this "just" as if it reduce amount of ripoff.
Thinking like this I rode Great Ocean Road. Road was OK, but not as outstanding as it described in brochures. Another ripoff I thought. Then I reached 12 Apostles National Park and my jaw dropped. I like sea/ocean places and saw many, but this was something outstanding. I had never seen such a spectacular demonstration of power of natural forces. Strong wind and huge waves carved fantastic figures from the tall shore made from soft sandstone. Ocean was strikingly blue. Bluer than any ocean water I have ever seen. It is saltier also. Sun in Australia is also brighter than in other places. I heard that ozone hole is located above Australia.
The 12 Apostles, by the way is not most impressive site of Park because apostles(small vertical islands) are located away from the shore and waves go around of them. It is many sites in the park. The most impressive are these ones where big oceanic waves crash to the shore with terrible noise in which I heard music, probably Beethoven. Sites are far away from each other, so folding bike was very handy. Many people were envious. I rode all sites two times, in the evening of one day and in the following morning. So now my feeling about Australia has changed.
Hotel prices around the Park were sky high and hostels were full. So I slept two night in car, which I don't mind. For these who will be in the same situation I recommend nice place 0.5 km before F... called Reed Creek. I parked in the bushes. So my car was not visible from the road. It also has nice access to the beach under the bridge over the creek. On third night on my way back to Melbourne I stayed in Apollo Bay town in hostel called Apollo Bay Backpackers ($22), runned by nice Irish lady. Hostel is very very good. I recommend it. I was so glad to swith from car to bike. Bike is much nicer and many times more safe way of travel. I took overnight rtain to Sydney, where I am now. In the evening I will fly to NZ
Alex Mumzhiu
Sydney Australia
Feb 15 2008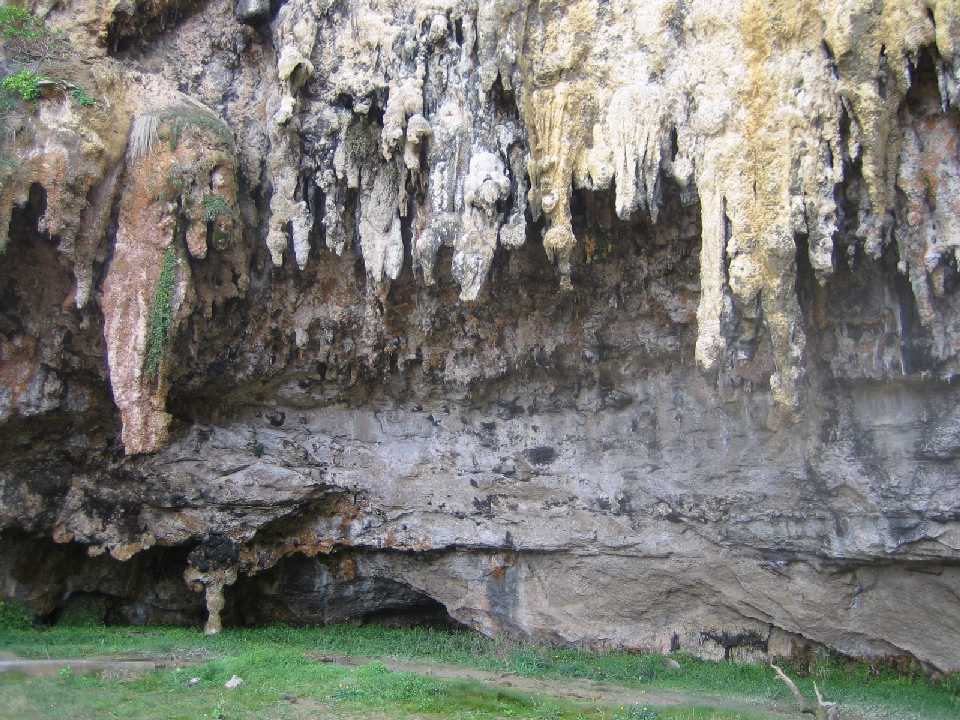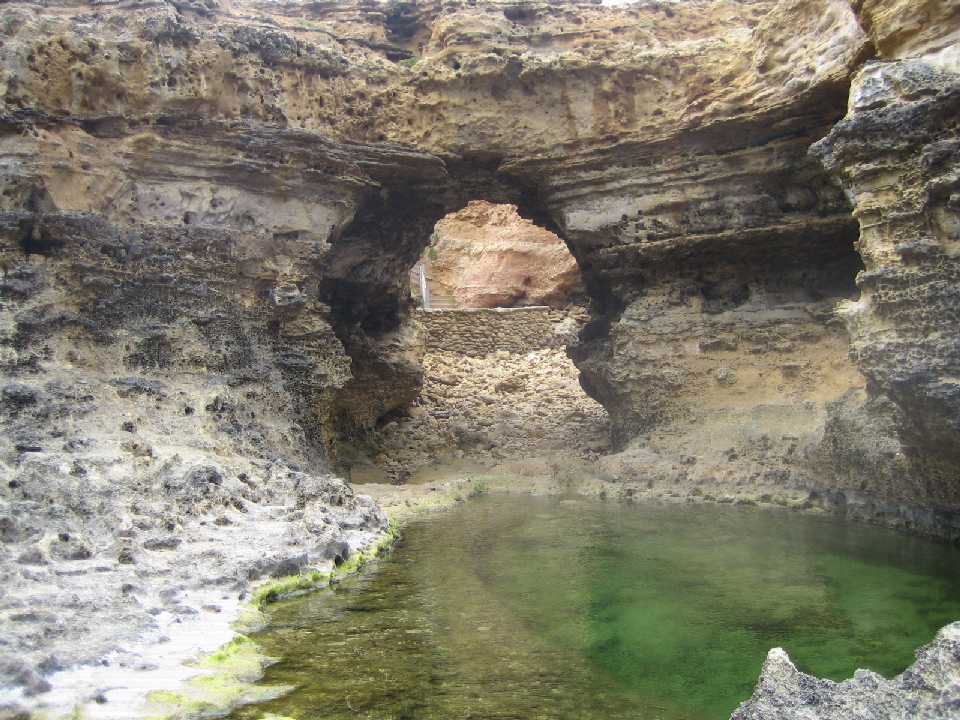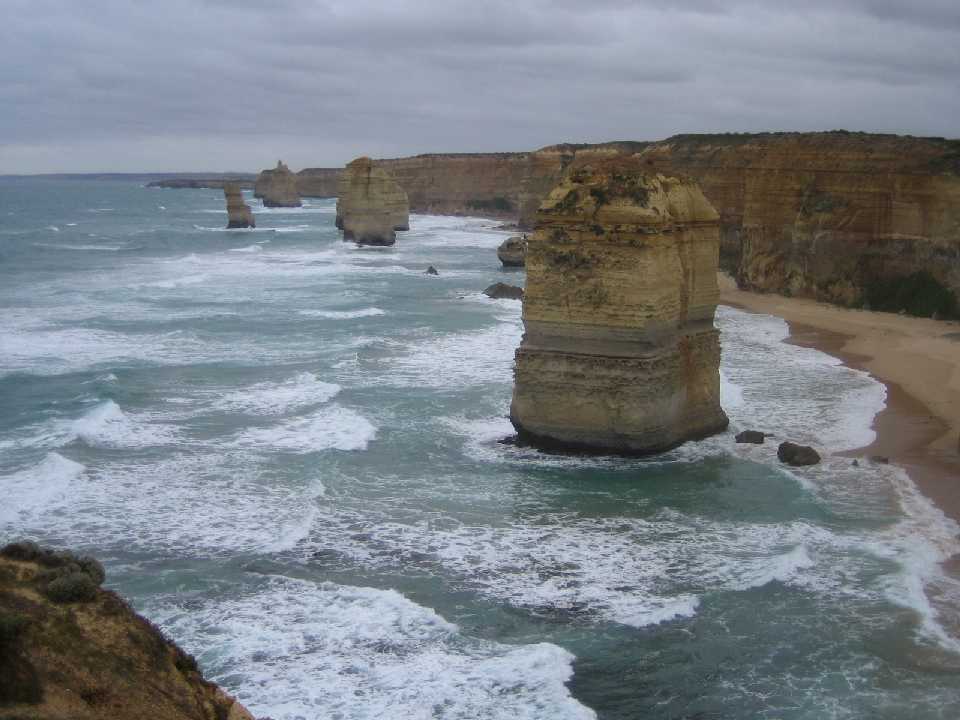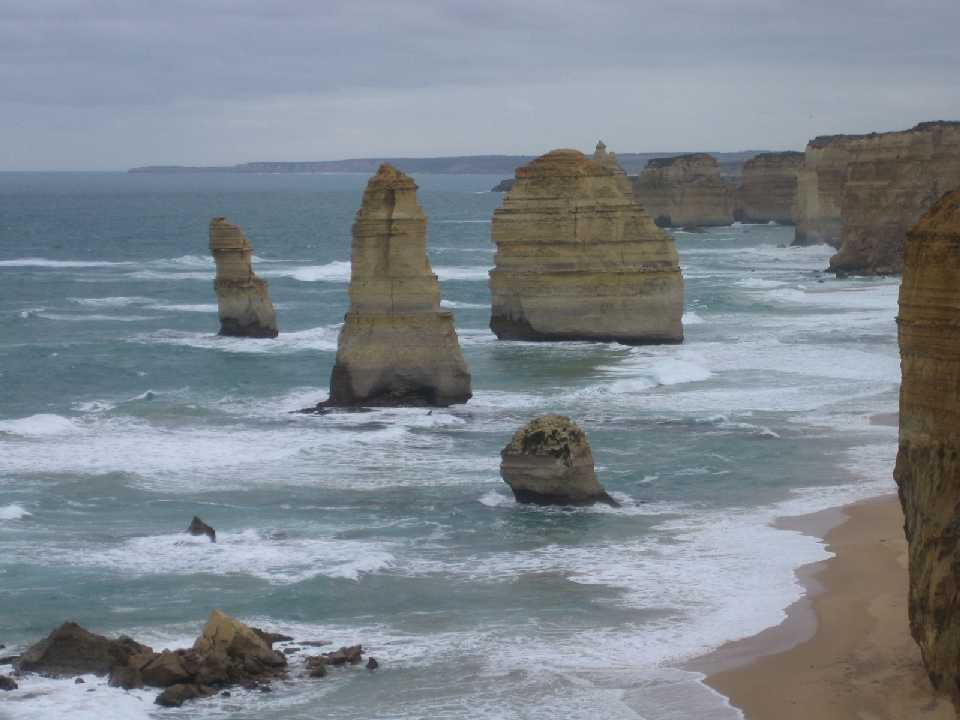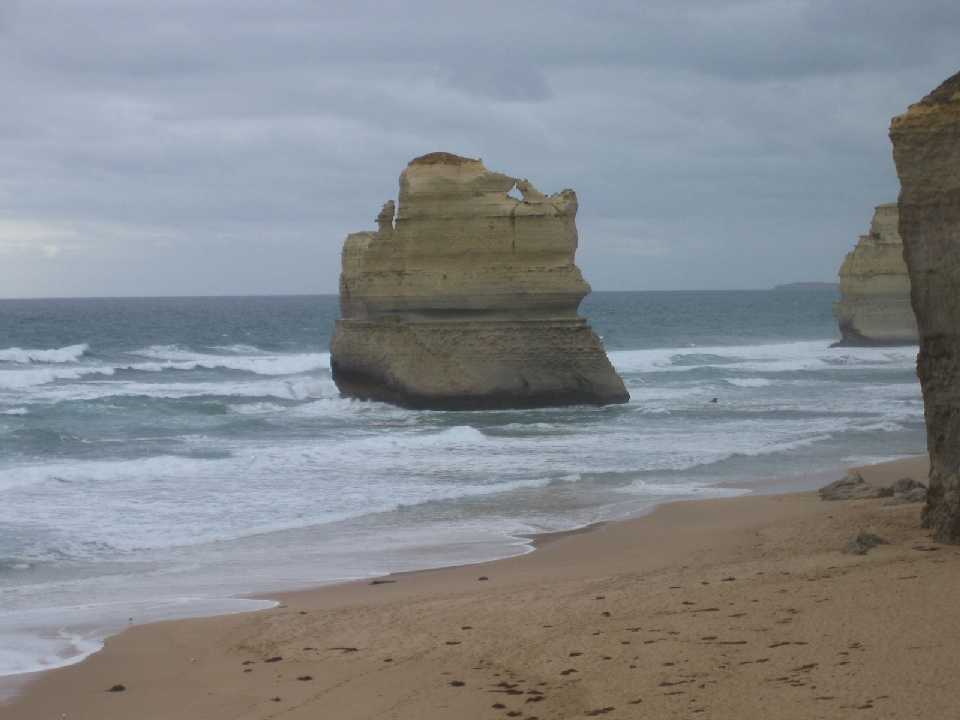 Travel Notes from New Zealand
New Zealand is beautiful country. Why did I devoted to it only 10 days from my 3 months trip? The answer is deep in my own mentality. As most of people from the Soviet Union I am very suspicious of propaganda. Whatever I read about NZ before my trip sounded like propaganda. The more I read more suspicious I got.
In fact NZ is really wonderful country. It has most blue water, most green forest and most clean air. After I realized my mistake I extended my stay in NZ for 10 more days.
NZ however is not easy to travel for impulsive traveler as myself. You have to know exactly where you are going and have to make a reservations for everything in advance. Hostels, most popular trips, even ferry are fully booked. If you do not want to travel in organized tours with everything reserved, you have to travel by car or camper.
It is stupid to rent a camper for one person, so I rented a car. And as everything is full I slept in car. It is not so bad as it sounds, especially if you organize you sleep carefully. I push driver seat forward as far as possible and reclined it, push passanger seat backward, and put my stuff in the middle. After this if you sleep diagonally you have almost perfect orthopedic bed. I have tent, but why to bother with erecting tent, while I already have much better shelter. In nine days I slept in bed only one night.
NZ is very flourishing country also. Most of trees are unknown. But I found here Russian favorite tree RIABINA. In Russia it is thin anemic tree. Here it is big and powerful one. But berries are the same. If you put them in vodka, it becomes a wonderful drink. Another culinary discovery are long neck clams. It is delicacy in America and it is eaten raw. Here there are tons of them on the ocean shore and Kiwis (new Zealanders) don't eat it raw.
Attached:
Map of my trip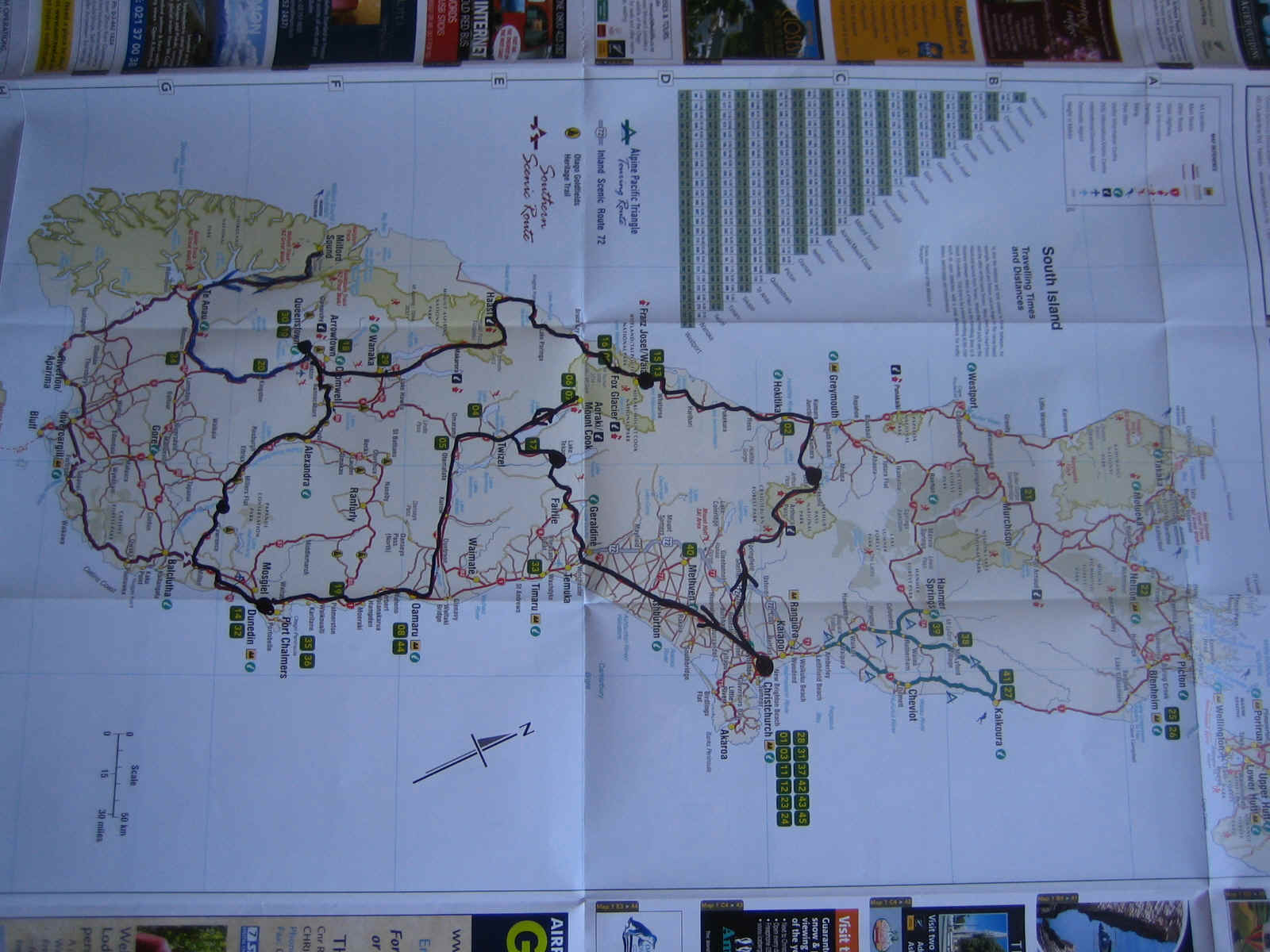 I did bungy jump. For my age group it is free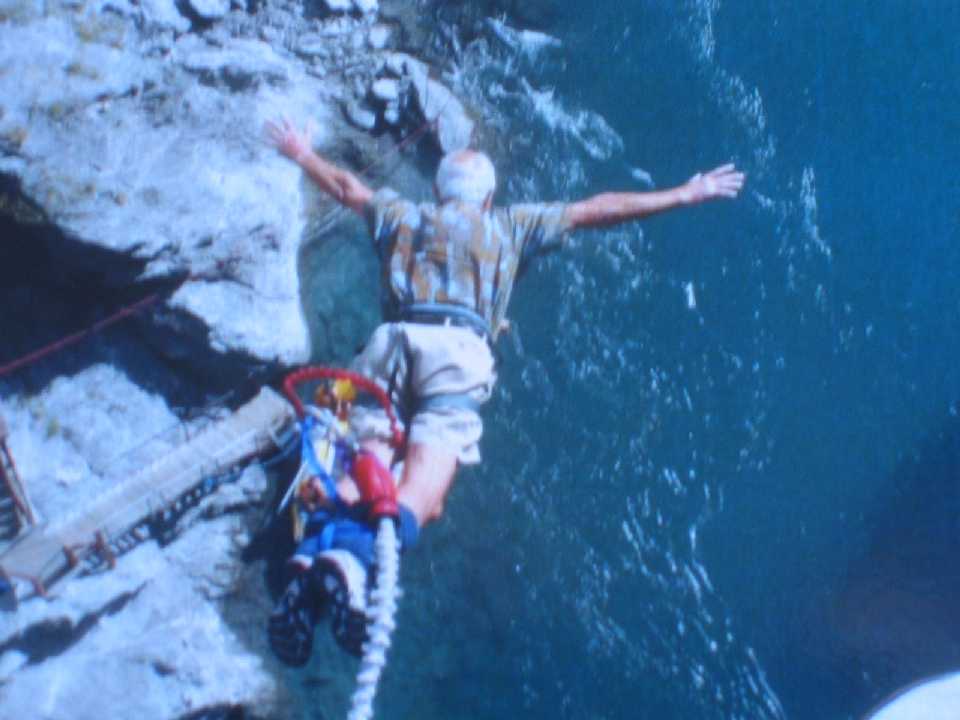 Riabina tree (sorry I do not know English name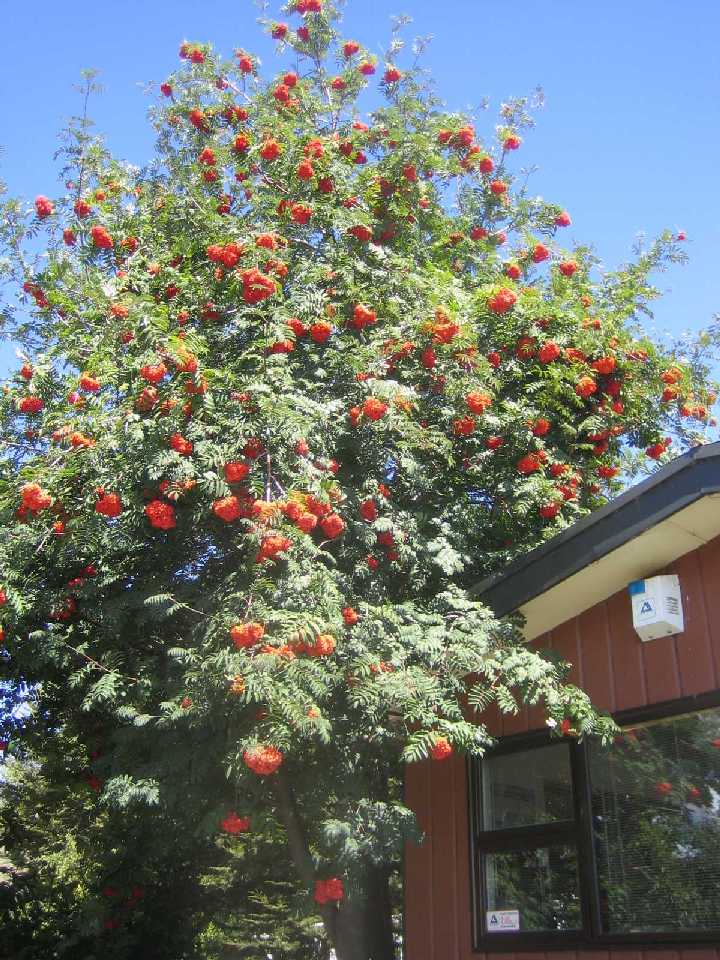 NZ forest of fern trees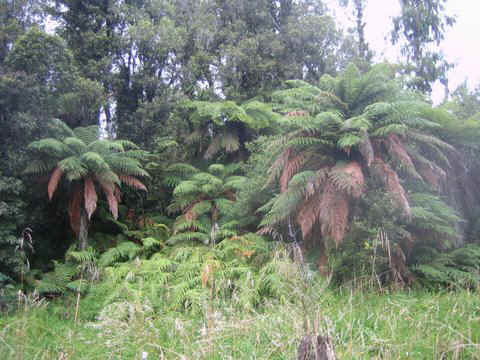 It is where "The Lord of the Rings" was filmed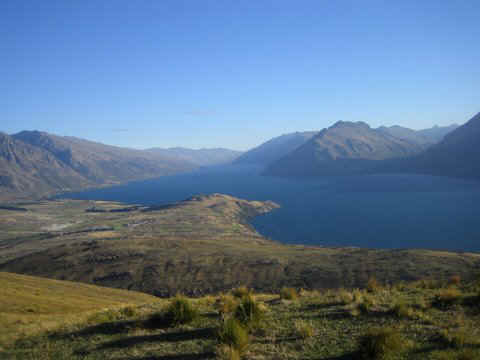 Milford Sound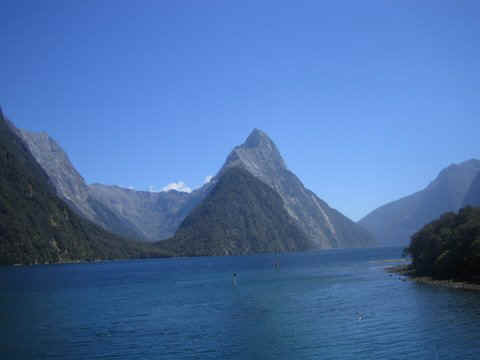 Christallographic phenomen. They are natural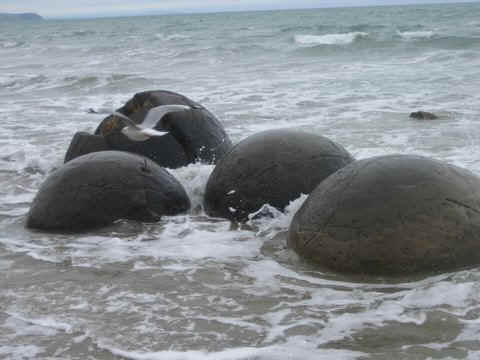 Clouds above NZ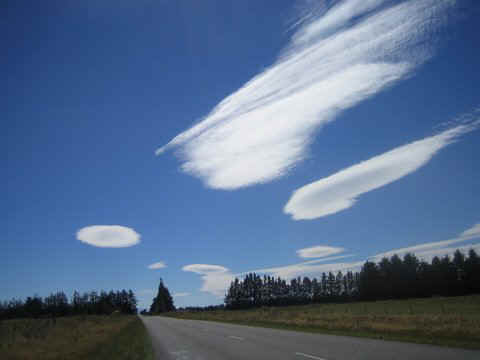 Fur seal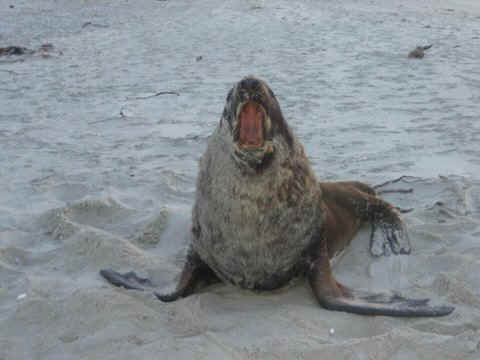 Alex Mumzhiu
Wellington North Island NZ
Feb 27 11:45pm
Travel Notes from NZ North Island
Most funny thing I did on North Island was zorbing in Rotarua town . See picture. A Zorb is made of two plastic spheres one inside the other. The space between the spheres is hermetically sealed. When air is pumped in, the external sphere expands and through numerous strings pulls the internal sphere to expand too. The operator puts some water inside the internal sphere, the rider gets inside, the door is closed and you roll down the hill. As the ball rolls down, the rider who sits on the bottom slides on water inside the sphere. I enjoyed the ride, but even more I enjoyed the ingenuity of this device. I have read about possibility of using zorbs to allow people to jump from burning skyscrapers or even use them instead of parachutes.
Another attractions on North Island are kauri forest and kauri museum. Amazing kauri tries used to cover most of the North Island. A mighty logging industry was developed in 19th century to harvest them. Now only park and museum are left. Museum is outstanding, see picture. They recreate entire working sawmill of 19th century with working machinery inside the museum. It was especially moving for me because I spent my early childhood near sawmill in Siberia (SevUralLag)
Very interesting thing on North Island was Waitomo Glow Worms Cave. Tiny creatures who live on the cave ceiling secrete thin sticky threads hanging down from the ceiling. In order to attract small insects whom they eat, the glow worms have small LED-like source of light attached to the thread. As you enter the cave you feel that you get into another universe with sky full of unknown and mystical stars, amazing attraction. It is so easy to imitate it, by the way. Chinese should do it. As I noticed during my last trip to China, they like to imitate natural phenomenas.
Near Rotorua there are several superb volcanic/geothermal sights with all assortment of associated things like geysers, boiling mud pits, multicolor karts lakes and streams, see pictures. They are very good. I would say on the same level as Yellowstone National Park
I was unable to go through famous Tongariro walk because its walkable, not bikable. Walks are very popular in NZ. Most popular, such as Marlborough Sound Walk are booked for 2 years . Unfortunately this exercise is not for me.
As I wrote you before, traveling my style is not easy in NZ. I changed my flight itinerary 2 times and payed fine 2 times. Eventually I went North from Christchurch by bus and ferry to Wellington, hired car in Wellington, returned it in Auckland and flew to Brisbane from there. The only agency having some cars was Avis. I ordered cheapest and smallest car, it still was close to $100 per day. When I came to take a car, they did not have it and they gave me this shiny, black, new beauty for the same money. See picture. It was Mitsubishi Lancer.
Driving in NZ is not fun. Roads are narrow and mostly have no shoulders. Buses and trucks drive almost on dividing yellow line, few centimeters from your forehead, because steering wheel is on right. Most hotels managers go home at 5. So tourists get out of roads by this time. It was my favorite time to drive from five till darkness at nine. At this time I can drive slowly and enjoy sightseeing. Then, I quickly found place to park and sleep. From 17 days I spent only 3 days in bed. It is not for everybody. You have to be a real bum inside to live like this.
As I drove, I listened to radio and get used to NZ accent. One day, it was all day discussion on the topic of previous day 60 minutes TV show. The topic was why NZ's young women are the most promiscuous in the world. The program host offered interesting explanation. She said " While it is so clean, safe and with no "consequences", then why not?" Really NZ is most safe, clean and deceases free country in the world. In Wellington lots of people walk the streets barefoot.
We know many examples of how seemingly good and logical actions resulted in unexpected outcomes. When wolves were completely eliminated, the population of caribou exploded and also became very unhealthy. Wolves kill mostly sick animals. When immunization and modern medicine was used in many African and Asian countries they experience the population explosion with all associated problems. So under the same token it is not surprising that most safe and cleanest county in the world became most promiscuous one.
In conclusion, NZ is beautiful country. Contrary to common opinion, I think that the North Island is not less interesting then South, mainly due to its volcanic and thermal water sites. People of NZ are very welcoming, kind and generous. However NZ Is very very expensive. Even their native kiwis and green mussels are twice more expensive then in US. One New Zea-lander explained to me that big international companies set prices to level appropriate for Japanese and European tourists (Americans not mentioned). As a result New Zea-landers suffer most. Probably 50% of tourists here are Japanese.
So I am glad that I visited NZ, but probably will not came again. It is difficult and costly to travel here my style, without fixed schedule and reservations. There are too many tourists here and honestly it is too civilised for my taste.
Alex Mumzhiu
Cairns Australia
March 14 2008 9pm
Tomorrow I will fly to Indonezia
PS: My Dear Readers, I am so thankful to you for your letters. I need them so much as a substitution for human communication, which solo travelers lack. Actually, I have less communications here than in Western Africa. In Africa, if you meet another traveler, not to mention bicyclist, you are instant friends. Here 2/3 people on the street are tourists. So nobody rushes to hug you.
So thanks again for your letters and excuse me for not answering. With most of my time in NZ spent behind the wheel and high price for Internet I cannot answer. However I will try to answer most of them now:
Galina B, thank you for invitation, but I cannot stopover in San Francisco because my return trip from Bangkok is through London. So my trip is actually round the world trip. And I got this wonderful trip practically for free, on frequent miles. How? I read carefully and responded to tons of junk mails with offers from airline companies which most of people throw away.
Katia A, I travel mostly alone because I cannot walk due to bad ankle. So my partner also should be on folding bike. Unfortunately, it is not many serious folding bike travelers.
Channel W, thank you for your letters and for publishing my stories on your site
Robert M, sorry for overflowing your mail box. I removed you from my mailing list. I cannot sent you notice on when "foldabikes" will post my Notes, because I do not know it myself, usually, soon after I send them. Take a look periodically on their site: http://www.foldabikes.com/CurrentEvents/Story/TravelStories.html
Many readers who responded on my bungy jump, it was not scary. It was at the site where first bungy was established - Kawasay. It is only 43 meters and it is in wide open space, from the bridge. I could jump there every day. My first bungy, at the border of Tibet and Nepal was much more scary, because it was in a narrow gorge.
Vera G, I recently fly on such no frill airline. Its name is Pacific Blue. I asked stewardess for cup of water. She offered me to buy a bottle.
Harry, I probably will leave Australia rather sooner than I planned. It is even more overpriced and overbooked than NZ, with clear indications that many companies abusing their "seller market" situation. In my hostel in Brisbane, for example they have communal kitchen. But you have to rent untensals. Fortunately I have my own spoon and mag
Attachment
This zorb just finished its ride. Operator opened it for rider to exit.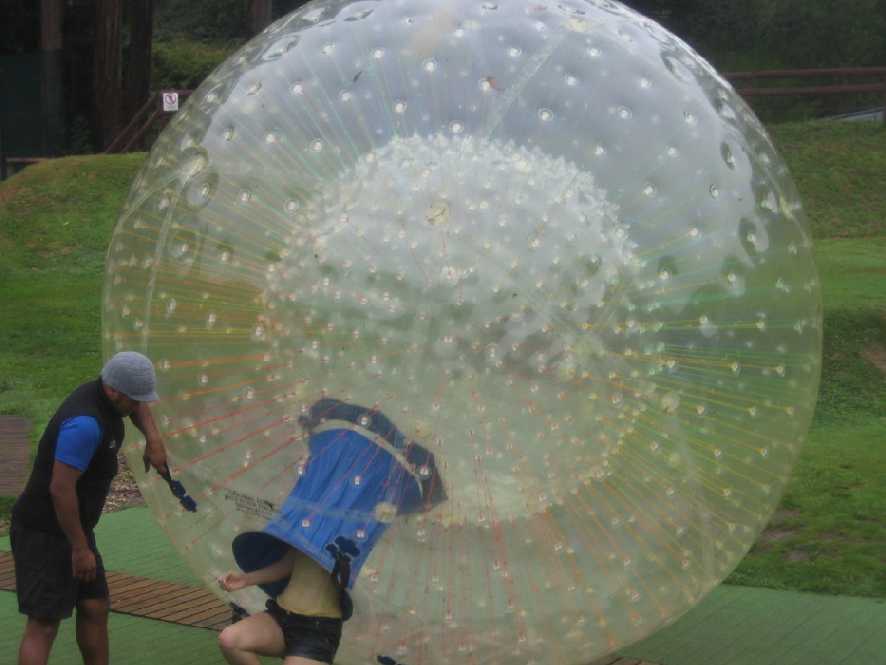 This is in kaury museum. Kaury log is loaded on railroad platform for transportation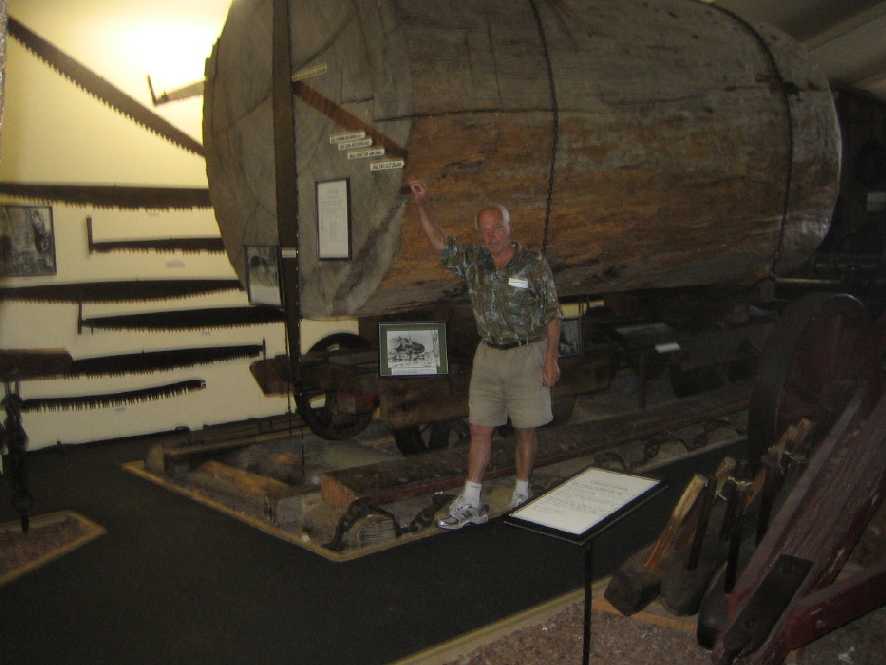 Glow worms cave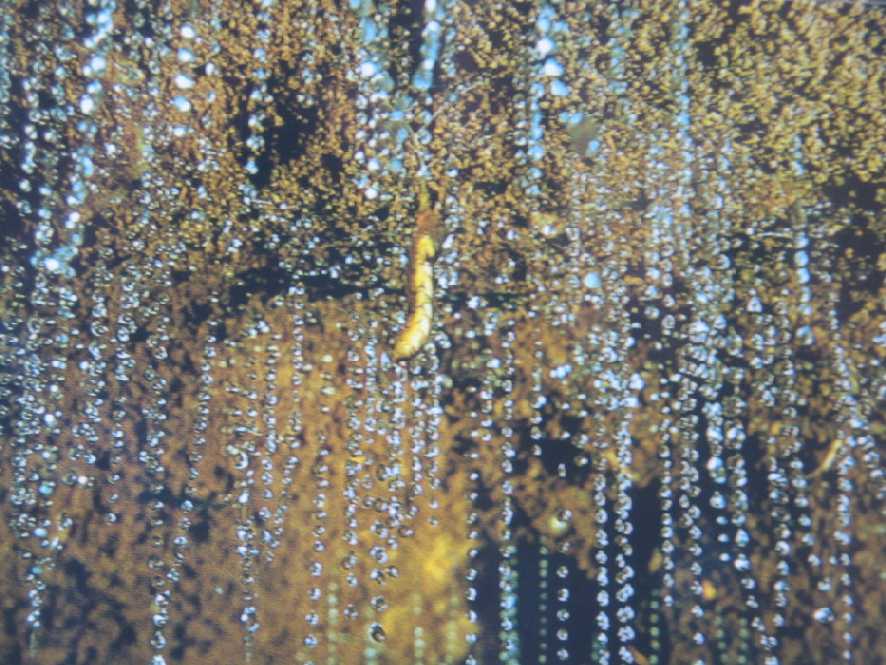 Different Thermal water sites. I forget my camera so it is from post cards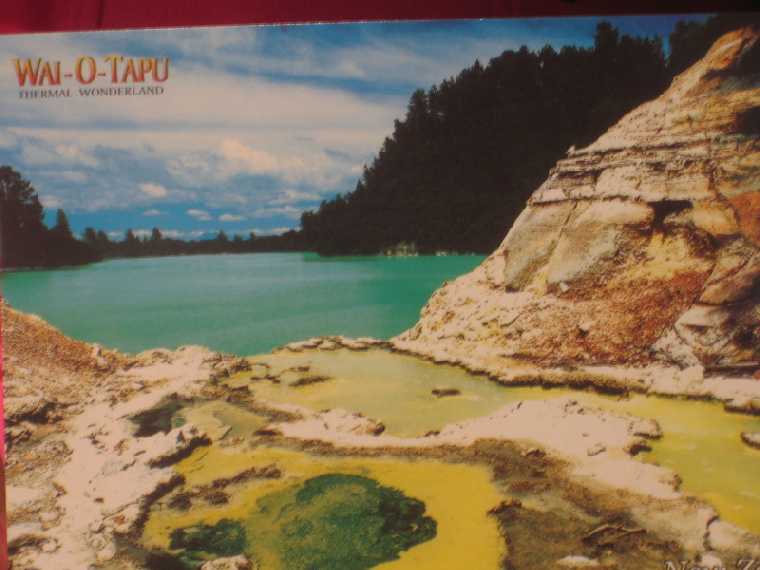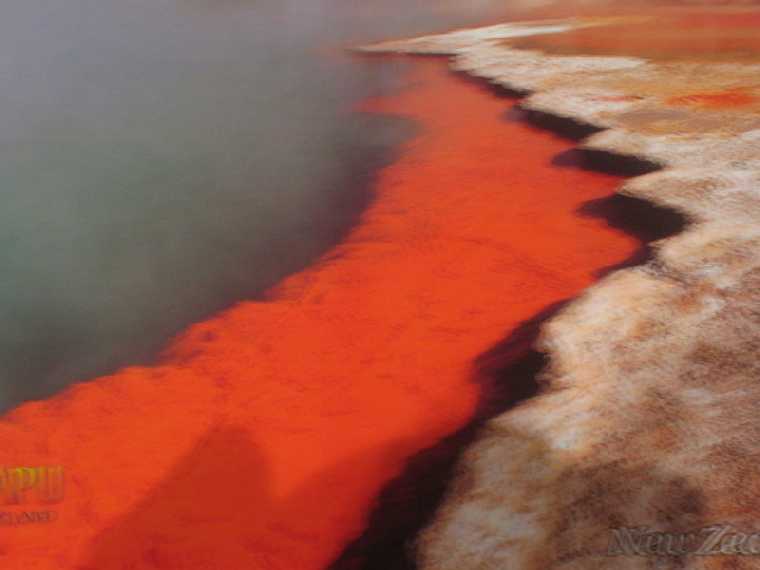 This is my rented car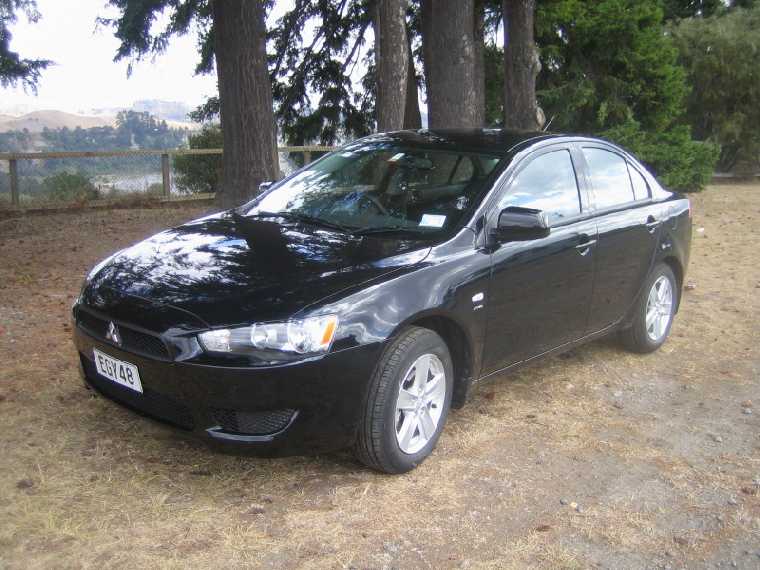 Auckland observation tower. It is about the same tall as Eiffell tower.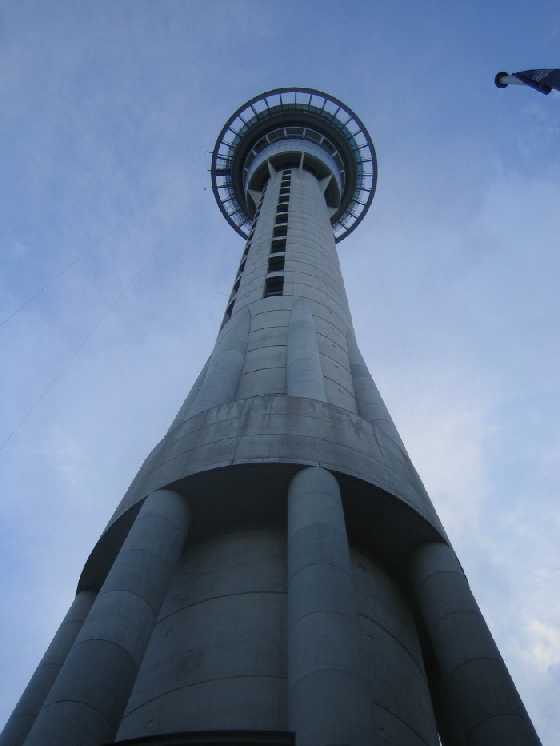 Travel Notes on Australia #2
I did not spent much time in Australia. From Melbourne I took a train to Sydney, spent day in Sydney, made a picture of Opera House and flew to NZ. From NZ I flew to Brisbane, got a necessary picture with koala and flew to Cairns, took a diving trip to Great Barrier Riff and got a picture with gigantic sea cucumber at 10 meters below. Great Barrier Riff is great by the way. And after this I flew to Darvin and then to Bali, Indonesia.
Australia is country of reservations. Even for bus from airport to city and for Internet you have to make a reservations. Australia is overwhelmed with tourists and businesses serving tourists are not so eager to serve them best way. Check-out time in most hotels is 10 am, and even 9:30 am. Internet is charged by half an hour. So I always was in rust. In rush to exit hotel before check-out time, in rush to finish use of Internet in order not to pay hefty price for next half an hour. And mostly in rush to leave country before Easter when already high price for airline ticked jump to next very high level.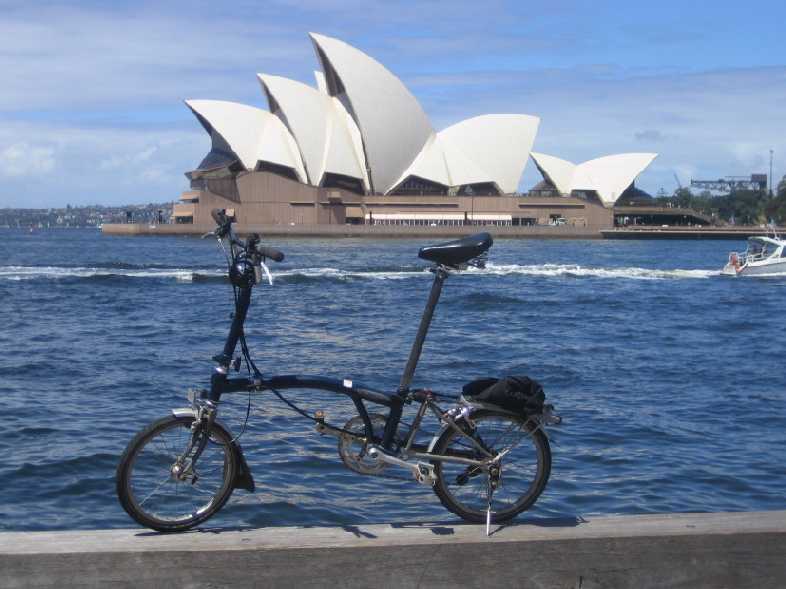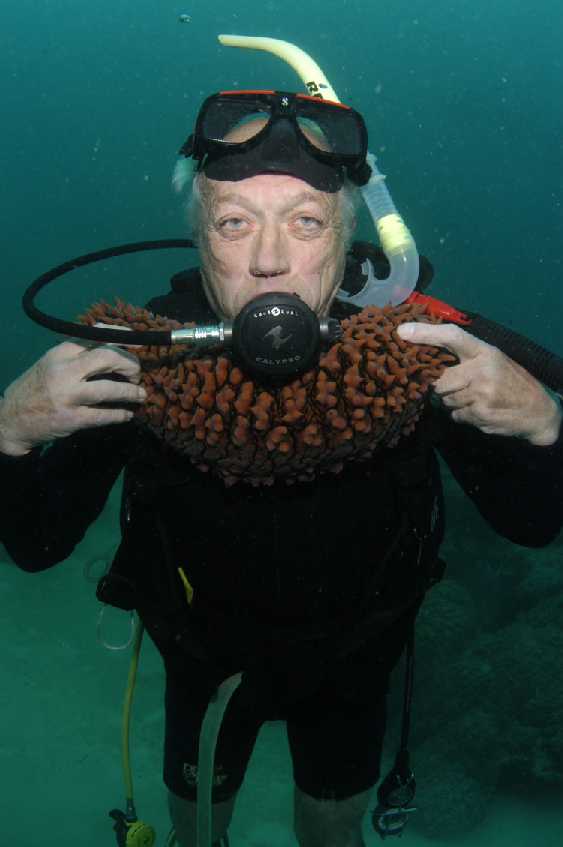 Alex Mumzhiu
Bali, Indonesia
Mar 27 2008
Travel Notes on Bali
Bali is such a contrast to Australia. The ocean is warm with no deadlyjelly fish. So you don't have to wear a wet-suit. My hotel room in New Arena Hotel, Kuta, Bali with AC, TV and view on swimming pool, see picture, cost $15, half of price of dorm bed in Australia. Dinner cost $3, the price of Lipton tea in Australia. Entire Bali Island is covered by layers of unique Balian culture. There are more temples here then houses. Bali is sometimes called paradise on Earth. Yes it is.
My hotel is located near memorial to 200 people killed in 2002 explosion. In-spite of this powerful reminder of local sensitivity, Western girls wear strings barely covering you know what... But explosion was done not by Balians. They are Hinduists and cannot harm a fly. It was done by Jemaah Islamiyah an Islamic terror group, which wants to stop Western influence on this largest Muslim country in the world.
I went to several snorkeling sites near Kuta. The only good one is located at Nusa Dua peninsula occupied by several luxury hotels. Only white European looking people (not necessary living in hotels) are allowed in this area. Locals are not allowed. Ocean is clean there. In other places it is not. Like elsewhere in Asia locals prefer to throw garbage on the ground and in the sea.
From Kuta I went to Ubud. It is cultural center of Bali. It is absolutely saturated with culture. There is no piece of stone or wood not covered with carvings. It reminded me of a joke. A lover visited Chanel owner's wife. Suddenly husband came. She put lover in the case with samples of perfumes. Two hours later, when husband left, lover who spent two hours smelling best perfumes exited and exclaimed: "Oh, let me smell a piece of shit!" Ubud is so saturated with art and culture that you sometimes feel like that Chanel lover. It is too much.
From Ubud I took bemo (minibus) to two diving sites Amed and Tulamben. It is several villages near Amed, so consequently there is some junk in the ocean. Tulamben is good, very good. I stayed in $7 hotel room, 20 meters from the shore. 20 more meters by swimming the American Navy ship Liberty, torpedoed during WWII was lying on ocean floor. It is covered with corals and surrounded by tons of fish. When I dove I was surrounded by a huge school of jack fish, like a cloud. I did not see anything around me except for fish.
From Bali I went to Lombok, which is nothing compare to Bali. I stayed at Island Gili Travagan near Lombok, which supposed to be diving/snorkeling haven. It is not. Then, I took two days bus/ferry trip to Flores Island to see Komodo Dragons on nearby Komodo Island. Ferry was OK, but bus travel was torture. Komodo Dragons are biggest lizards on Earth. They weight up to 100 kilogram and hunt on water buffalo. They do not kill them. They bite them and infected them with deadly bacterias living in their mouth. In two weeks buffalo die. Dragon fallow buffalo during this time. As buffalo die, dragons eat them. They are quite scary. Nobody will be willing to have such pet. From Flores/komodo I returned to Bali and tomorrow will continue my trip. I plan to visit Java, Sulawesi and Borneo
Attachments
1. View from my hotel room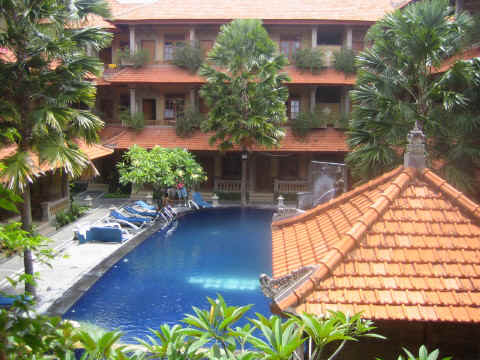 2. Memorial of 200 people killed in 2002 explosion.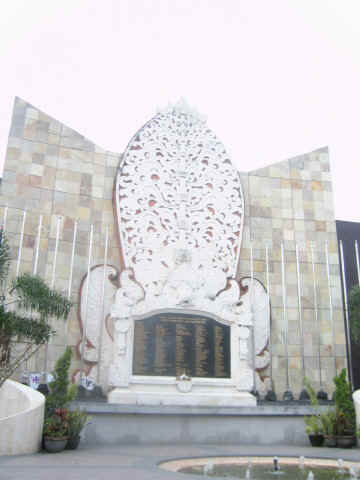 3. Local fruits: durian, mangustine, jack fruit, rambutal, lechee, dragon fruit. No apples or pears.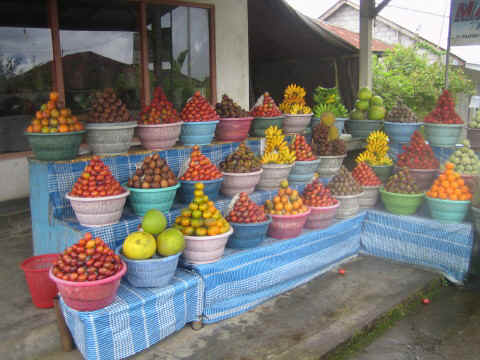 4. It is hot in Indonesia
5. Monkey dance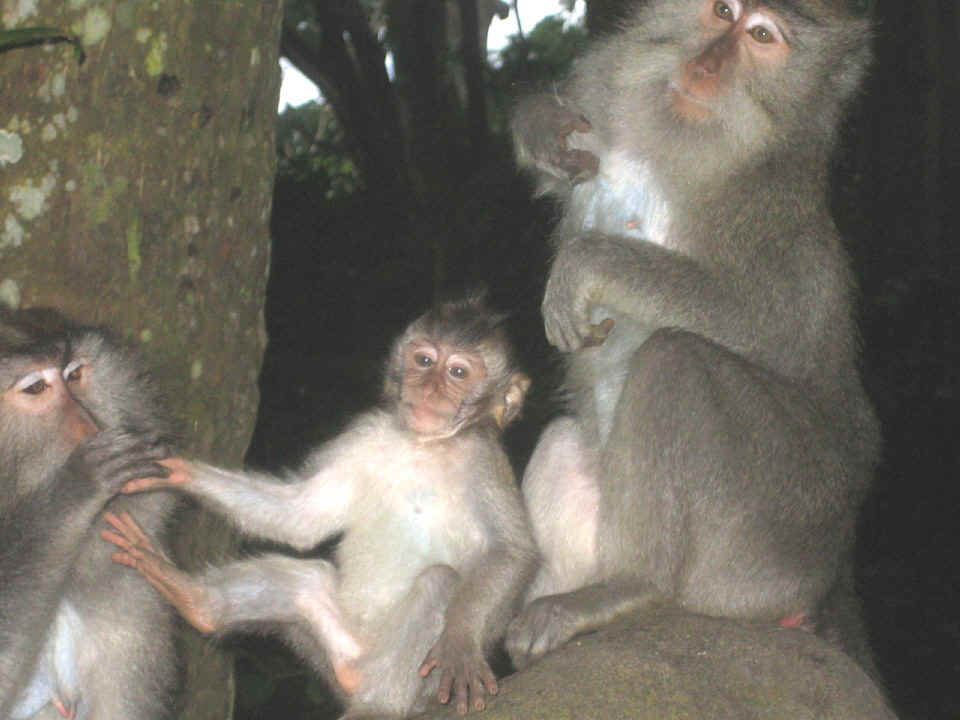 6. Komodo dragon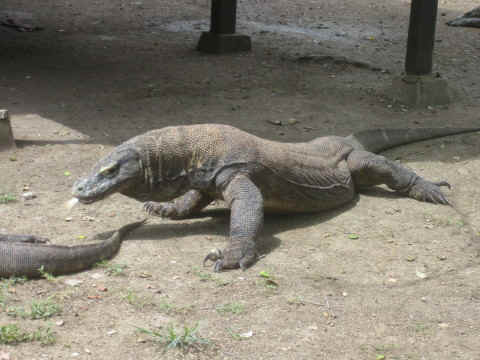 Alex Mumzhiu
Kuta, Bali, Indonesia
Apr 11 2008
My Dear readers,
I am sorry for very late report. My trip is finished. I am at home. After Bali I visited islands of Flores, Java, Sulawesi and Borneo in Indonesia. After Indonesia, through Sultanate Brunei and Malaysia I went to Thailand and fly home from Bangkok, see map.
I had mixed expectation for Indonesia before my trip, due to all that negative information, which was collected for years. This includes Asian currency crisis of 1997, bomb explosions in Bali and Jakarta, tsunami; and very gloomy US State Department warning on Indonesia. What I found was quite different from what I expected: an absolute safety, very friendly people, and sometimes pronouncedly respectful attitude toward traveling white mister. It doesn't matter that mister was traveling on bike. Also country is full of natural and cultural wonders.
I cross island of Bali mostly on bicycle than took a ferry to Java. Before that I swam around Pulau Menjagan, which has nice corals, but no big fish. On Java I visited Bromo Volcano, which looks like classical, textbook volcano. It was quite cold at the top and Japanese tourists asked me to have picture with them, because I was the only tourist in shorts. After Bromo I went to cultural capitol of Indonesia, Yogyakarta to visit Borobudur and Prambanan. Borobudur is conceived as a gigantic three-dimensional mandala. At Borobudur young woman asked me to have photograph with her. Why? I do not know, probably because I was seen as a specimen of rare white minority. See picture.
From Yogyakarta I took a train to Surabaya. To my surprise trains in Indonesia are quite civilized, more civilized then in Thailand. In the middle of the city Surabaya a big Soviet built submarine is standing as a monument of former Soviet-Indonesian friendship.
From Surabaya I took Pelni ship "Tidar" to Sulawesi. Ship was sailing from port Fak Fak to port Tarakan. Pelni ships are known between travelers for their uncomfortability. Traveling in economy class in fact would be quite uncomfortable as thousands of people are crammed into the ship hold. As an experienced traveler I bought economy ticket and on the ship upgraded it for first class for a symbolic price. First and second class were almost empty.
Funny letter "K" shaped island Sulawesi, formerly Celebes, attracted my attention from early childhood, from the time I saw world map for first time. It always seems to me that it should be very mysterious and exotic place. And indeed it is. In the middle of Sulawesi island, the region called Tona Toraja is located with main city Rantepao. At first it surprises you by their strangley shaped houses. Torajan necro-centric culture is targeted for afterlife. They believe that in afterlife, as well as in this (current) life, that person who has more water buffaloes, will be a boss. So their major economic activity is to raise buffaloes in order to sell them for funeral sacrifices or to sacrifice them on their own funeral. Funeral is not sad event. It is cheerful event, because the deceased is going to the better world. I attended one funeral, see pictures.
From Tona Toraja I flew to Manado on NE corner of Sulawesi's letter "K". I swim around Bunaken Island with hired motor boat as a supporting vehicle. It took entire day. The motorist said that he had never seen such a crazy snorkeler. Usually people took snorkeling tour for few hours. It is quite nice corals on flat bottom around Bunaken. But my favorite underwater topography is different, more partitioned with grottoes and caves, like at Costa Rica's Pacific shore.
From Manado I flew to Balikpapan located at Kalimantan province of Indonesia on Borneo island. From Balikpapan I flew to Tarakan and then sailed to Tawau, Malaysia. On flight to Tarakan there were only two foreigners, me and a very old and very emotional lady. She went to Tarakan to visit grave of her brother who was killed during bloody fighting between Japanese and Australians at the end of WWII. He was 20 years old.
My goal in Malaysian province Sabah was to see famous diving resort Sipadan. As I learned at Semporna, starting point of tours to Sipadan, all diving tours to Sipadan are booked for weeks ahead. So I booked diving tour to another island Mabul from Uncle Chang diving company. When I already was at Mabul it turned out that one place in snorkeling trip to Sipadan is available. So I exchanged my diving trip on Mabul to snorkeling trip on Sipadan. It was great. Snorkeling was even better than diving at Sipadan. At one moment I was surrounded by 5 turtles, 6 tunas, big school of jackfish and tons of other fish which name I do not know. On my second day at Mabul Island I swam to retired oil rig. It was located less than one kilometer from the shore. I reached it very quickly. When I was ready to swim back I realized why. It was very strong current. I would not be able to swim against such current. Fortunately a motorboat noticed me and took me back to the shore.
From Sipadan I went to Kota Kinabalu, city in province of Sabah, Malaysia. What can you expect from city with such a name? In fact it is quite nice town with interesting sites around, such as biggest flower in world, Rafflesia Arnoldii, one meter in diameter. I did not see it, I went to Sultanate Brunei instead. Sultanate citizens have quite comfortable life. They are Muslims, but not very orthodox. Some women cover heads, some not. They even have Internet cafes there. Those who are working are mostly Filipinos, who are attracted to Sultanate by its no tax policy.
In two weeks I will fly to Russia for my next trip with my son.
Washington, USA
May 31 2008
Alex Mumzhiu
Attachment: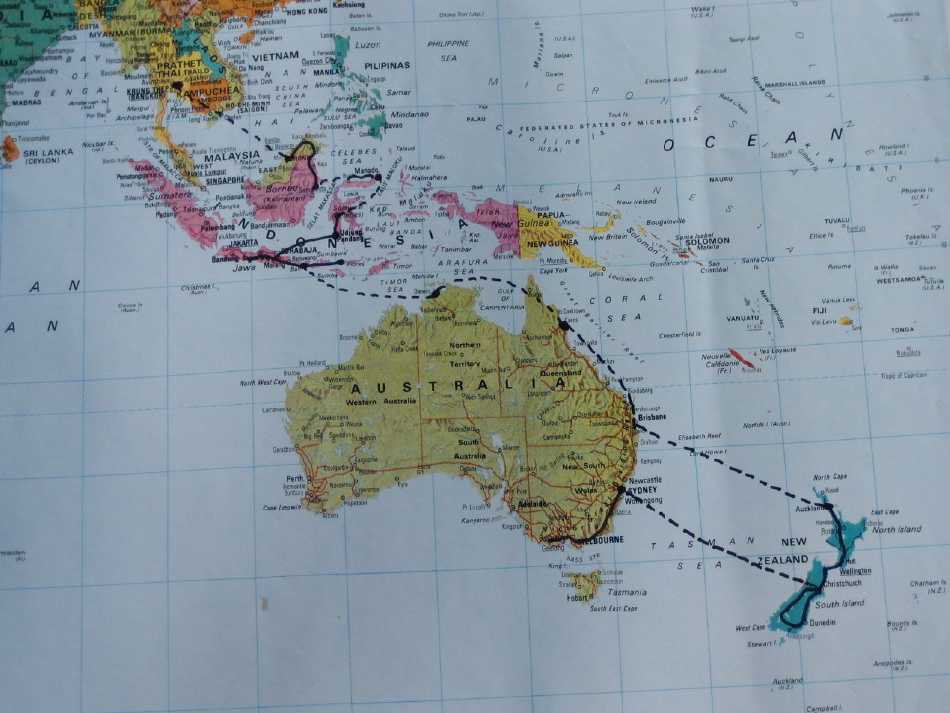 1. Map of my entire trip.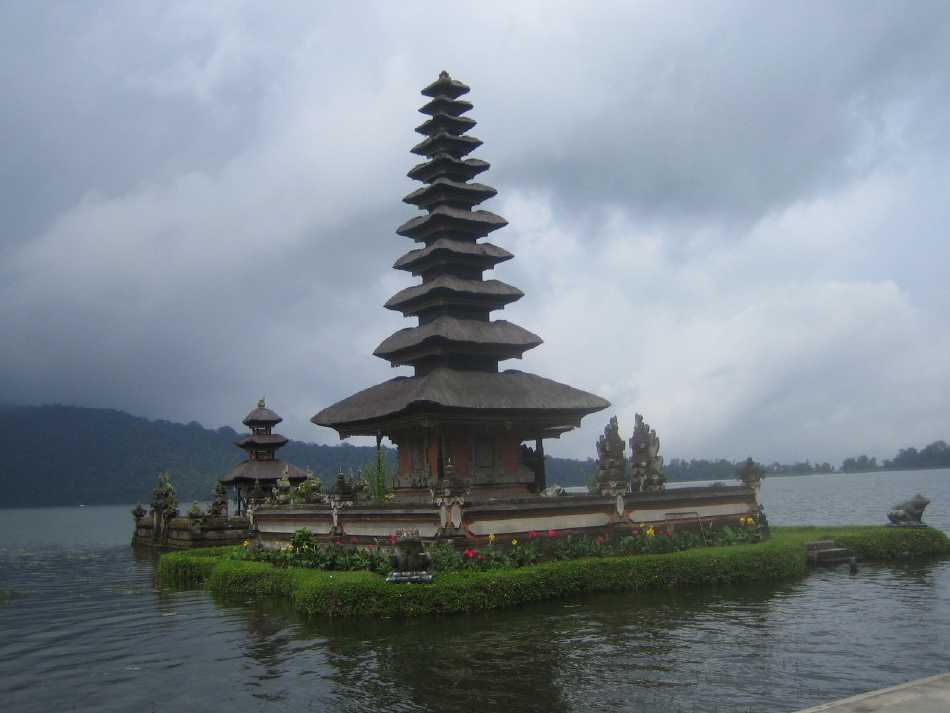 2. Bali.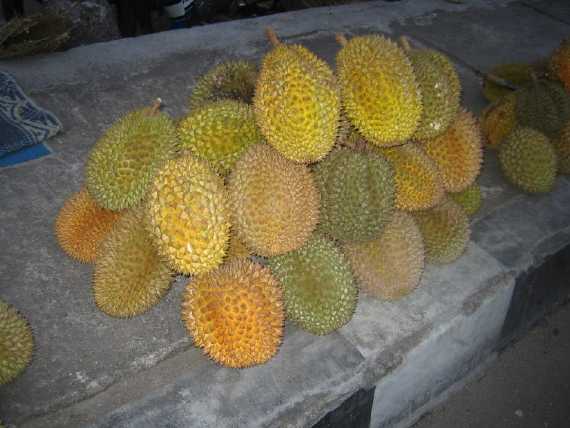 3. Durian my favorite fruit.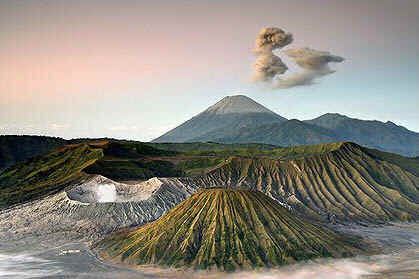 4. Volcano Bromo.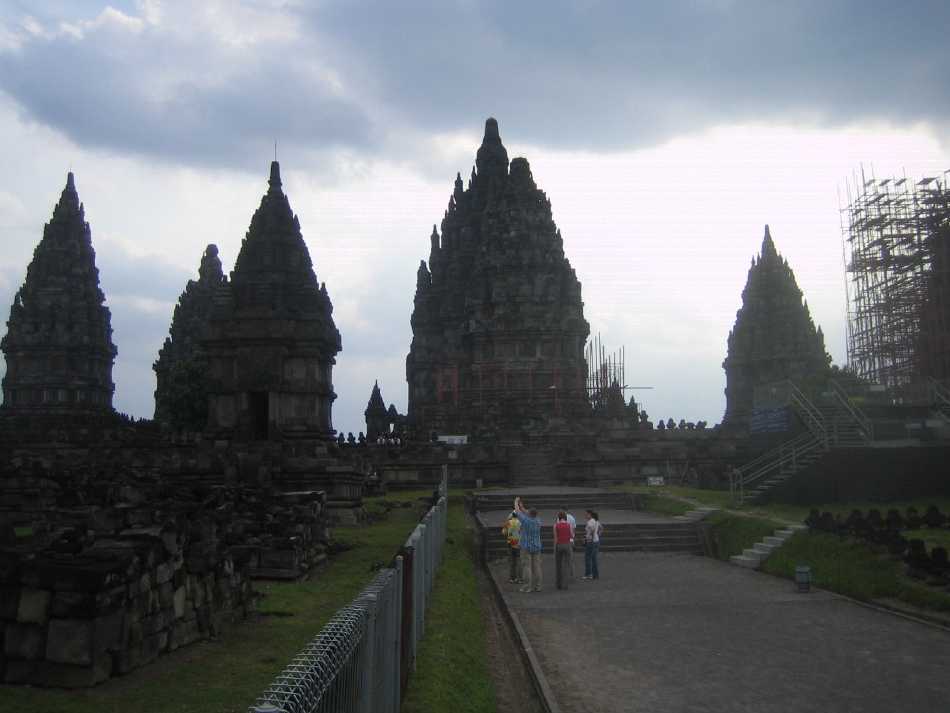 5. Prambabnan.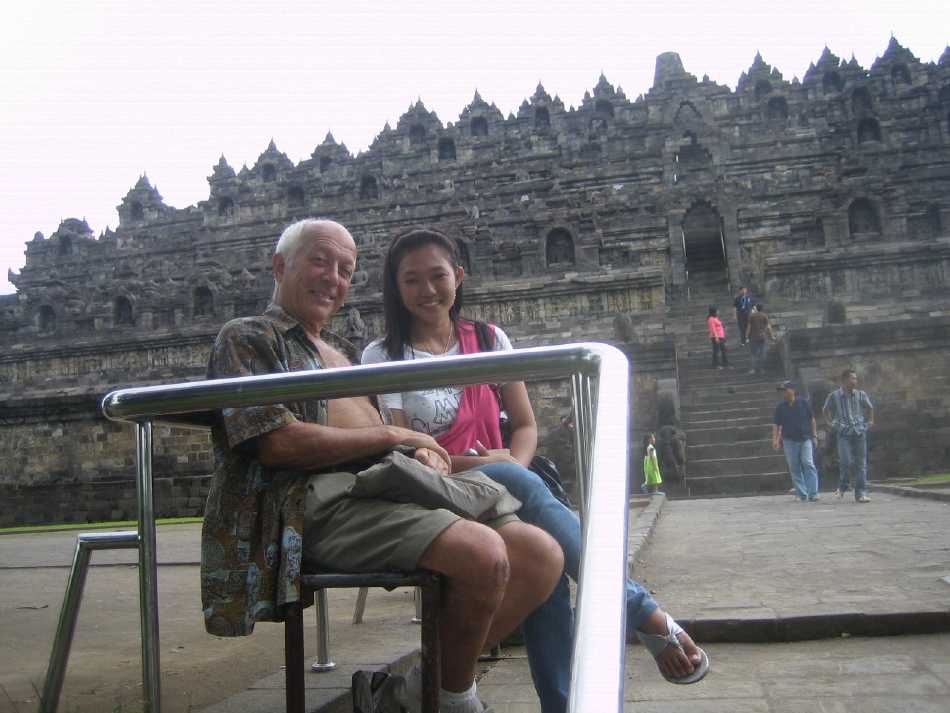 6. Borobodur.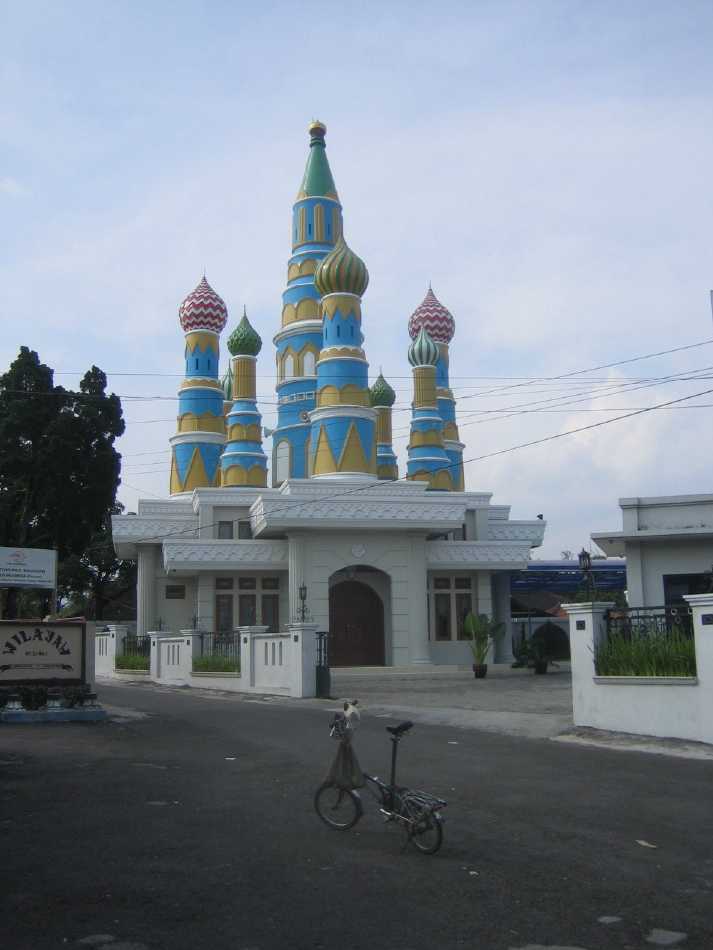 7. Mosque in Yogyakarta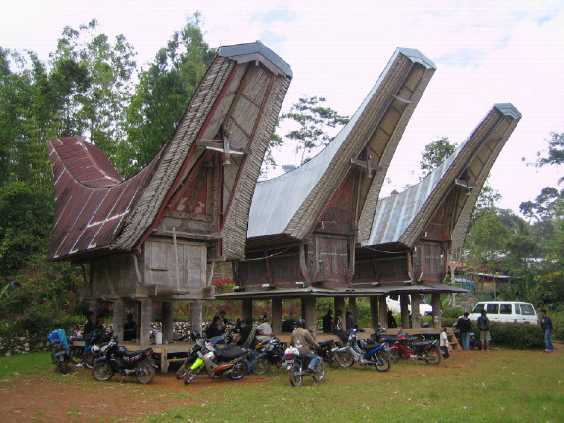 8. Tona Toraja houses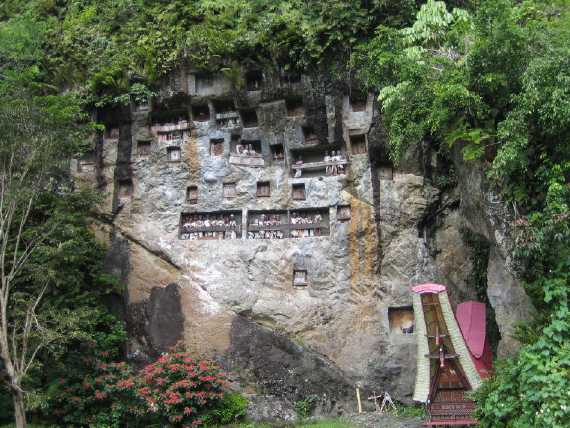 9. Tona Toraja cemetery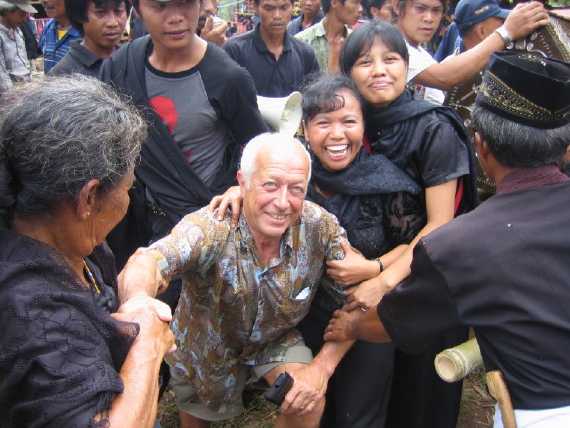 10. Tona Toraja happy funeral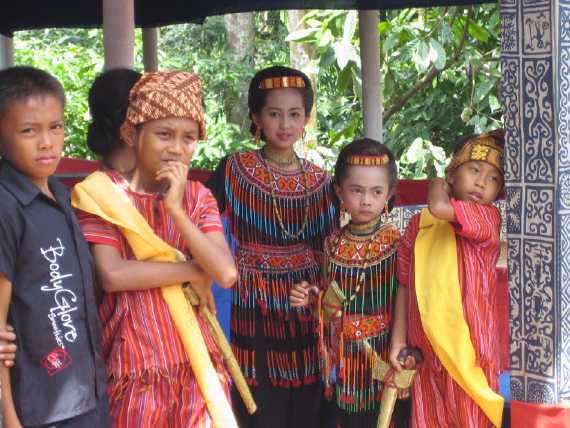 11. Children of deceased person.