Travel Notes
My Dear readers,
I received several letter from you inquiring where I am and how I am. I apologize for my long silence. I finished my Amazon trip. From Isla Margarita, Venezuela I went to Mendoza, famous for its adventure sports. Unfortunately I cannot participate in them because my hand wounds after car accident were not healed yet. From Mendoza I went to Bogota, then flew home.
Main conclusion from my Amazon trip, as I already wrote, is this: Upper Amazon, one of most mysterious places on Earth, is surprisingly easy to reach. Practically you can reach Leticia, Columbia from USA in one day and for quite modest amount of money. I definitely will go there again and will finish that part of my trip which I skipped: Leticia - Iquitos - Coca - Quito. I also would like to visit the most colorful river in the world, located in Columbia, see attachment. Thanks AK for this information.
Dangers associated with bike riding.
I always tried to promote advantages of traveling on bike, especially on folding bike. But it will be fair to inform you also on danger associated with bike riding. Recently I witnessed terrible accident as person riding with me fell from the bike and knocked out front teeth. This accident proved how important is to be skilled in falling from the bike, not only in riding bike. It does not matter how carefully you ride, accidents happen. In every one of my trips I fell a few times.
I do not think it is possible to learn the skill of proper falling later in your life, if you did not learned it in childhood. I was fortunate to attend sambo lessons (Russian version of judo) for several years when I was a kid. They taught us how to fall properly. Every lesson started from drill on proper falling. You stand with closed eyes and somebody unexpectedly push you very hard. You have to fall properly. The purpose of these exercises was to develop the skill of falling to such degree that it has became your automatic reaction, similar to that one which cats have. This skill saved my bones and may be my life many times. Unfortunately not everybody is so lucky. I heard stories of people seriously injured and even killed in bike accidents.
I am in St. Petersburg, Russia and soon will go to my next trip, of which I will send you separate TN
Alex Mumzhiu
St Petersburg, Russia
July 5 2010
Travel Notes on French/Italian Rivieras
(Rivieras on a shoestring)
First time I saw the Italian Riviera was in 1979 from the train and I was very impressed. I decided to visit these wonderful places somewhere in the future. Next, I planned to visit it in 2002 during my trip from Tunis to Russia:
http://www.foldabikes.com/CurrentEvents/Story/tunisia.html
But I did not. So, now I will make another attempt. To visit the most expensive place of Europe in the middle of tourist season is a big challenge. But I hope my considerable experience will help me to do it and to prove that Rivieras are affordable not only to rich and famous but also for an American Social Security recipient.
In preparation for the trip I bought chapters on French Cote d"Azur and Italian Ligurian Coast from Lonely Planet pick and mix dept:
http://shop.lonelyplanet.com/Primary/Product/Pick_and_Mix_Chapters.jsp
And I learned that all these super luxury places like Nice, Cannes, Monte Carlo, San Remo, La Spezia and so on have quite affordable hostels.
Next, I got a consultation from the expert on these places who also travels on folding bicycle - Romanycz. Romanycz started to visit these places a decade ago as a penniless mathematician from former Soviet Union. His Internet site contains priceless advices on locations of Hotel Romanycz (HR). This is how he calls hidden places where you can pitch a tent and detailed advices on bicycle travel in the area
http://romanycz.travel.ru/2002/02/c1.htm

I already bought ticket on bus from St. Petrsburg to Munich on July 9, leaving SPB at 8 pm and arriving at Munich July 11 at 2 pm. It is long, but cheap only $120. I do not mind long bus, train, airplane rides. I have a medicine which helps to shorten long trip. I guess you know that medicine.

Attachment:
Map of my trip is in attachment, roughly from Livorno to St Tropez

PS: AR, name of most colorful river is Cano Cristales
PPS: My snorkeling stuff and sling I left at home. I doubt there can be such a coincidence, but if somebody travels from USA to Russia before July 9, I would like to ask you to bring my stuff
Alex Mumzhiu
July 6 2010
St Petersburg, Russia
Travel Notes on French/Italian Riviera on shoestring
My Dear Readers
The purpose of this trip is to prove that an ordinary person can travel through the French and Italian Riviera and does not have to break the bank. So I will provide prices for main expenses.
I started from St. Petersburg. Bus to Munich on www.Ecolines.ru was $120 and took 40 hours, two night in bus. It was not bad, especially first night, when I was able to put my term-a-rest on floor and sleep in horizontal position.
From Munich I took overnight train to Rome for 60 euro. It was terrible. It was hot. Air conditioner did not work very well and windows were not possible to open. Everybody struggled with gravity in these airplane type seats. Why are contemporary German train wagons so much worse then in century old Russian trains? In the same size compartments, everybody can sleep horizontally in Russian trains, as it has 6 shelves. Approaching Rome I found that in bicycle compartment people sleep on the floor, but it was too late.
In Rome, as I know from my previous experience, it was always possible to find a bed in hotels North from the train station. The area was not safe before, but prices were low. Not anymore. The area became safer and prices went up. I found a hotel for 50 euros at
Via del Mille 64 Hotel Florenza tel 06.490519
It is two more small hotels in the same home Rome is great! But it also was very hot. There is very good supermarket inside train station building by the way.
Next I went to Florence. I found good hotel 2 minutes from Duomo and 3 minutes from train station.
Hotel www.hotelaldobrandini.it Piazza Madonna degli Aldobrandini 8 tel 055 21 18 66
Price 30 euro. They always have rooms available. Why? Because the entrance is obstructed by a construction site and nobody can find them.
Rome is Great, but Florence is closer to my heart. My family spent 2 months in Florence in Russian curch (attached) on our way to the USA 30 years ago. When I saw Florence Duomo again, now with all my traveling experience, I thought that it is most beautiful building I ever saw, except for Taj Mahal. Next day I went to Sienna and I should say that Sienna's Duomo is even better.
Next I went to village Manarola one of Cinque Terra five villages. I had a reservation in the only Chinque Terra hostel
Price is 23 euro. It is located in building in which was parochial school before. It was built by paranoid safety addict. In toilets, showers, near the beds, everywhere the ropes were hanging from the ceilings with big signs in red "ATTENTION, ALARM WILL SOUND" But otherwise it was OK.
Chinque Terra (CT) is blown out of proportion. La Specia and Genova is considered by many visitors only as jumping off points for Chinque Terra. CT is OK, but it is also classical example of marketing magic. In my opinion La Specia is the most interesting place in Chinqua Terra area. It is very Italian, nice, unhurried town, without tourists unlike Chinque Terra which is swarmed with tourists. I rode my bike by the way on two segments of famous CT walking path. It was OK for me, but less experienced bicyclist may have problems
I rode bike from Sestri Levante to Chaivari. It is the only part where the road runs near the sea and not in the tunnels. From Chalvary I took a train to Genoa
I am in Genoa now. I love this place. It is multi level city, full of magnificent architecture. I stay in very descent hostel for 17 euros
Ostello Genoa
tel 0102422457
I will stay in Genoa and will make radial trips by bike and train to such juicy Places as Savona, Rapallo and Portofino and return to my hostel for overnight.I found cheap and good Internet cafe in Genova at
Via Della Maddalena 44R (off from Via Garibaldi)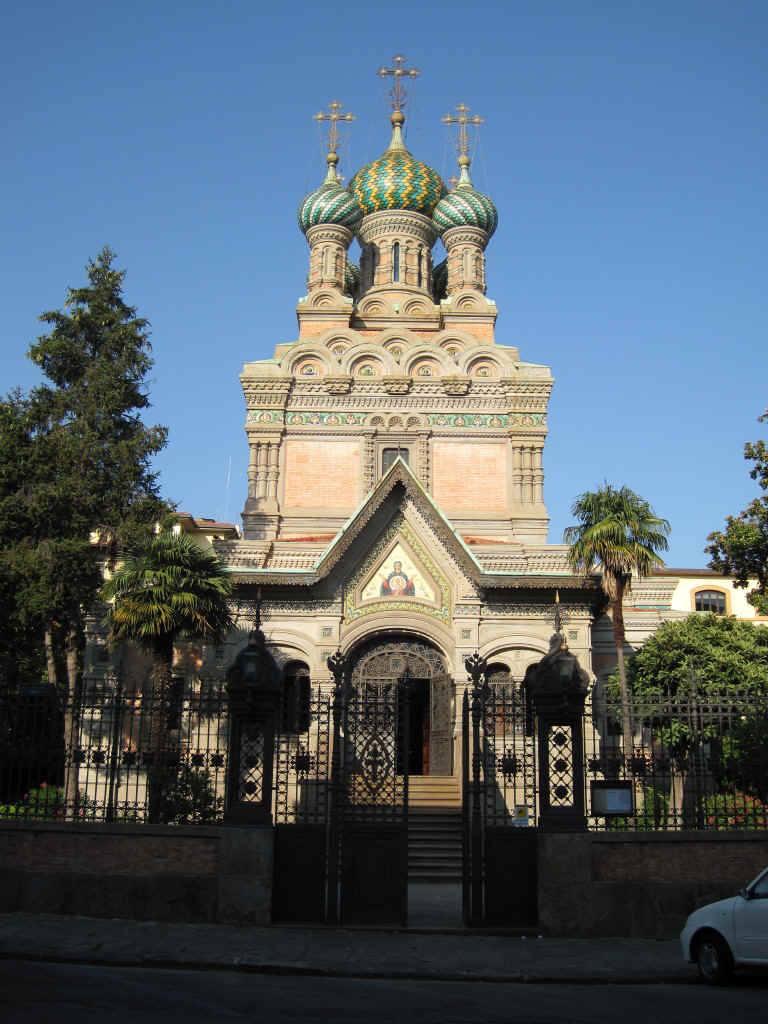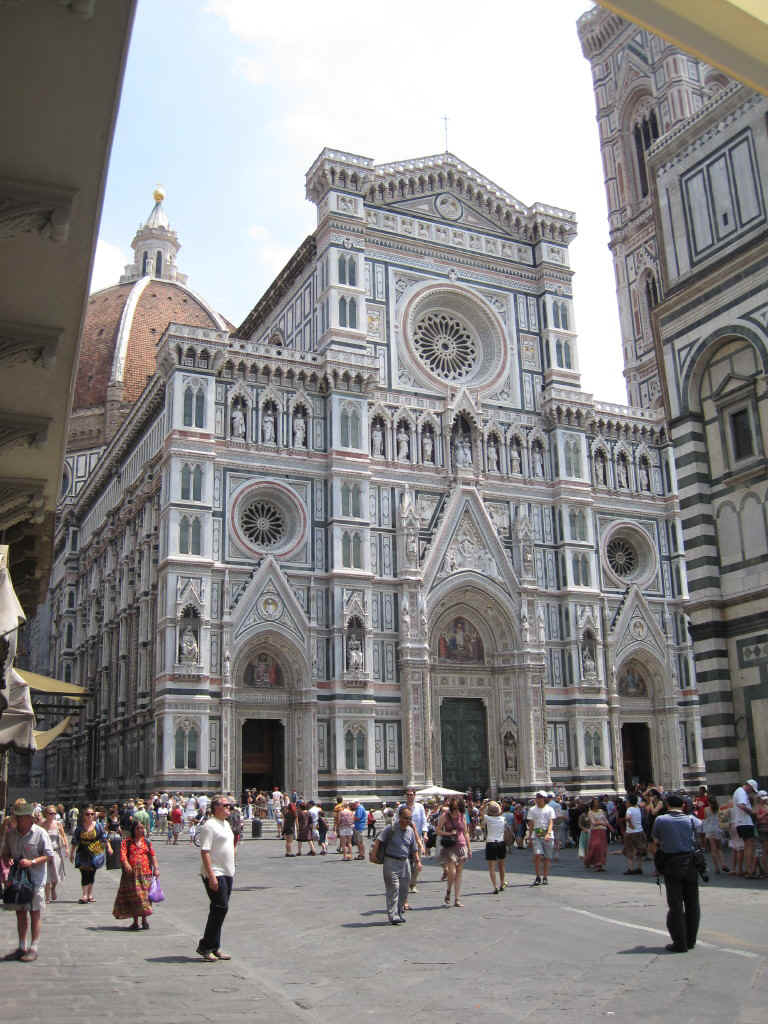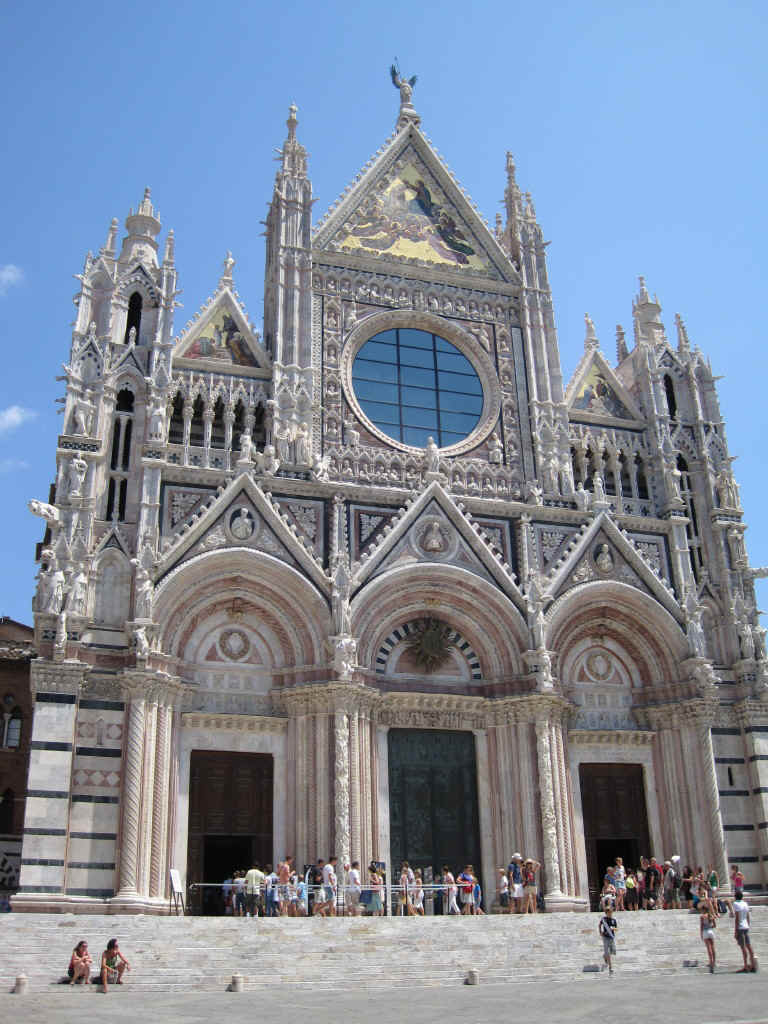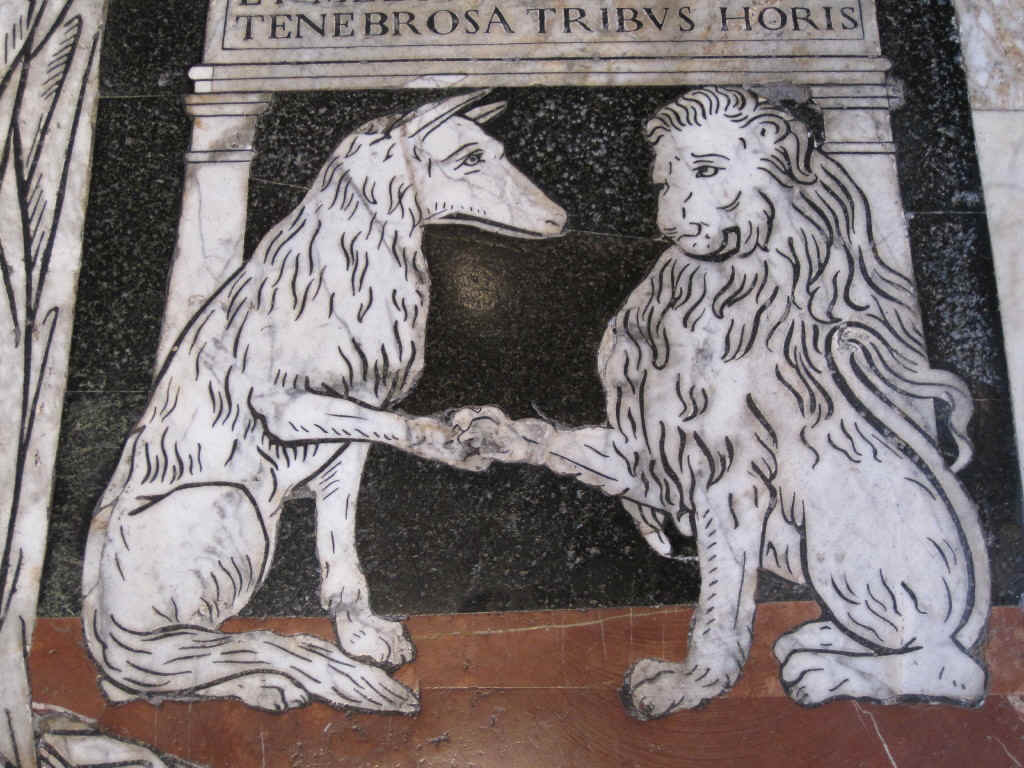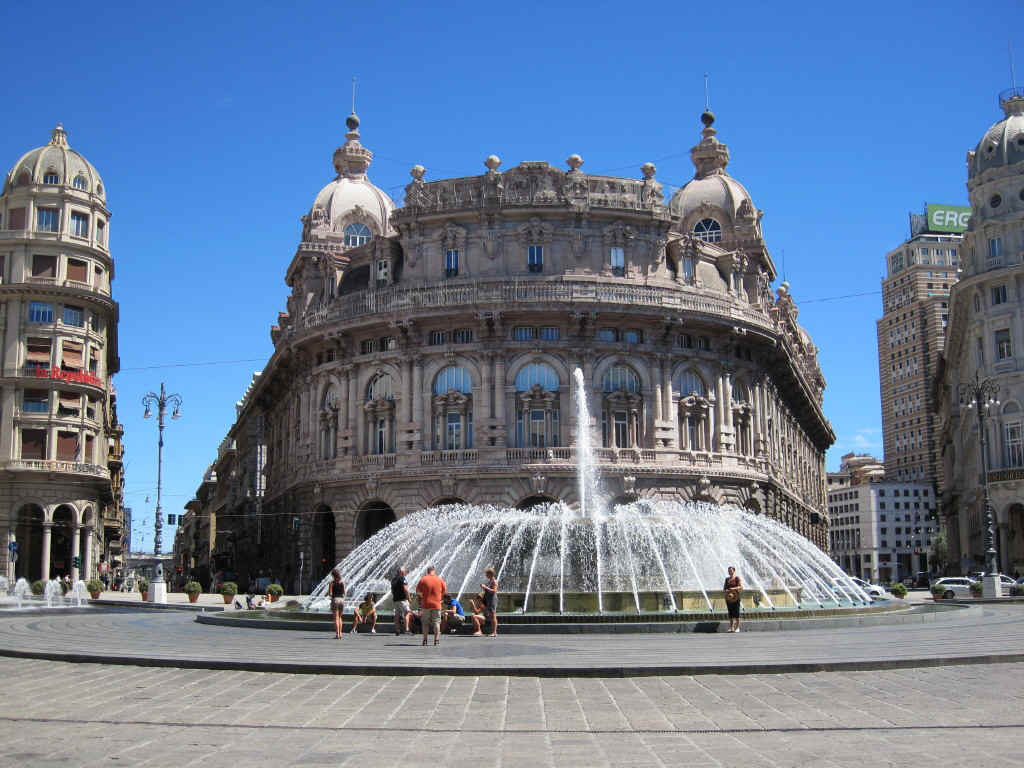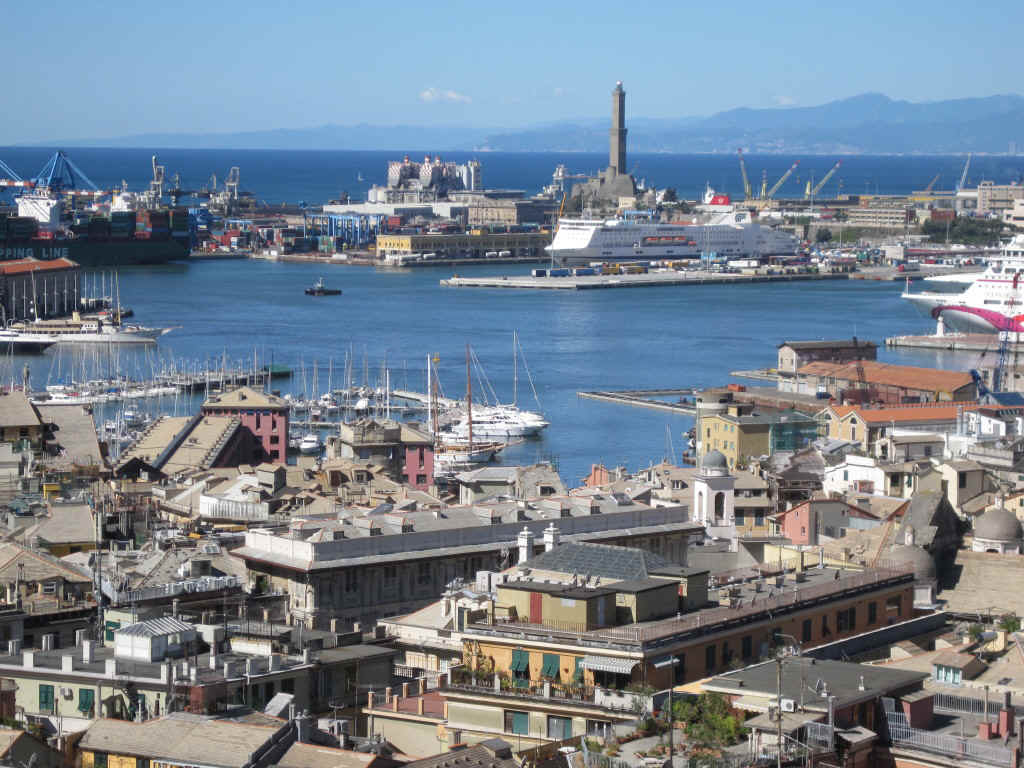 Alex Mumzhiu
July 27 2010
Genoa Italy
Travel Notes on my arrest by Guardia Costiera
I planned to investigate the possibilities of snorkeling around the Genoa and took mask and snorkel with me. I went to La Lanterna (lighthouse) which is also symbol of Genoa. From Lanterna observation point it was another staircase, entrance to which was fenced. I crossed this fence and got to higher and much better observation point, where I was alone, as normal tourists do no cross fences.
I decided to have my lunch there. I rarely eat in restaurants, not only because of price, but mostly because tasty and high cholesterol Italian food is not good for me. I had a stroke 6 months ago. Lanterna is best place for picnic lunch. All town is down below and you are alone above it.
From this perfect observation point I noticed that entire area of Genoa port is protected by a long sea wall, as you can see from attached photo. It should be clean sea water behind this wall, I concluded. But you should cross channel through which ships are coming and going into Genoa port. It was a little bit crazy, but I decided to cross it anyhow. It was not for the first time I was crossing sea channels. Long ago, back in USSR, I crossed sea channel in Finnish Bay, through which ships came to Leningrad port. It was very cold winter and canal was frozen at this time. I crossed it from Ylianka region where I lived to Gavan region, where my friends lived. I was on skis. It was very cold and if ice broke, I would definitely freeze. Why am I still doing such strange things?
Water on the opposite side of the sea wall was really clean and it was decent amount of fish there. When I climbed back from the sea onto the sea wall, I was met by three Italian Coastal Guards, who took me to very nice ride by their boat across the Genova harbor to the Guardia Costiera Station. Chief of Station came to talk with me. He told me that it is very dangerous to cross sea channel and I was first person, he knows, who did it. Soon he noticed something and asked if I speak Russian? I said "da" and we started to speak in Russian. He studied Russian in University and love Russian literature of 19th century. He was glad to practice his Russian and we talked a little about different matters. I gave him my card showing map of 119 countries which I visited and Internet address of my Travel Notes at:
http://www.foldabikes.com/CurrentEvents/Story/TravelStories.html
At the end he vigorously shook my hand. All my Coastal Guard arresting team also shook my hand. Such an interesting story.
The other day I went on train to Rapallo and rode bicycle to Santa Margherita, then to Portofino. Portofino is very small place. It is almost nothing there except for really fine porto. It used to be hangout of Greta Garbo, Elisabet Taylor, and many other celebrities. I do not think any celebrity visit Portofino now. It is swarmed by bus/boat loads of tourists walking in columns with tour-guide in front. Rapallo and Santa Margherita are nice upper class resorts. But my favorite is Camogli. It is less popular then above mentioned ones because, I guess, its awkward sounding name. It is smaller then Rapallo and St Marg and do not have that flashy luxury. It is more Italian. And It has perfect wave breaking wall made from big stones from which it is possible to spare-fish.
Bad news: After auto accident in Brazil I exchanged my broken wheel with one of my old wheels having 3 speed Sturmey Archer hub. Its speed changing mechanism failed today. So, I have now one speed bicycle. When I stopped to investigate what happened, I noticed garbage container with walking stick standing near it. It was walking stick with elbow support. I tried it. It was perfect. I have difficulty walking long distances in places where I cannot ride bike, especially in airports between security checks and gates. With this stick it will be much easier. It is amazing how my guarding angel is protective for me!
Attachments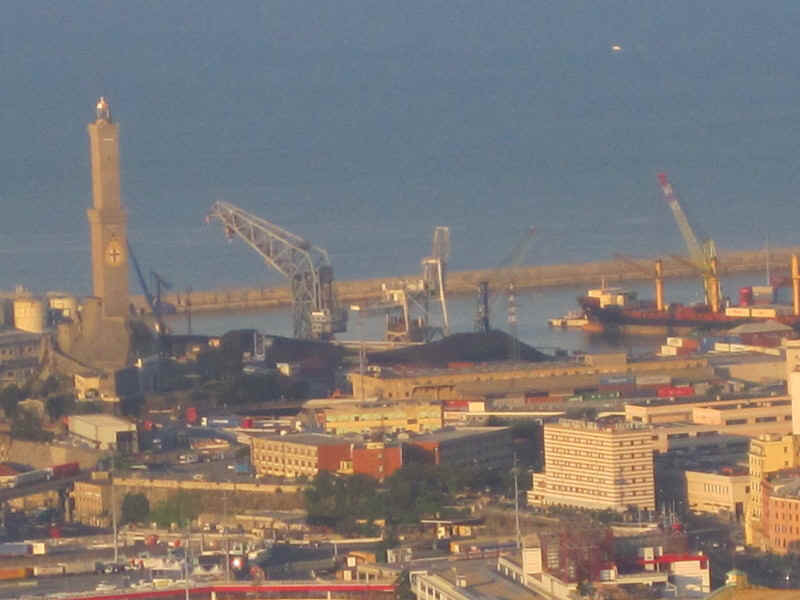 1. Lanterna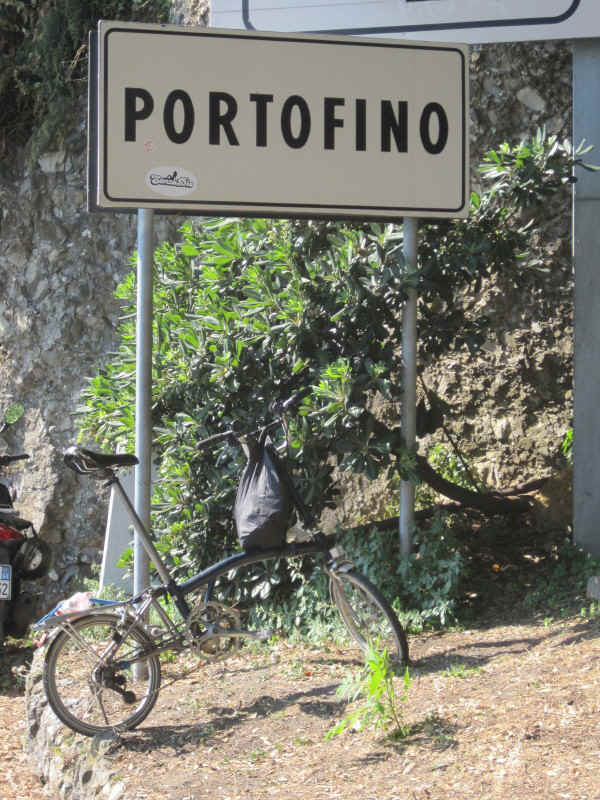 2. Portofino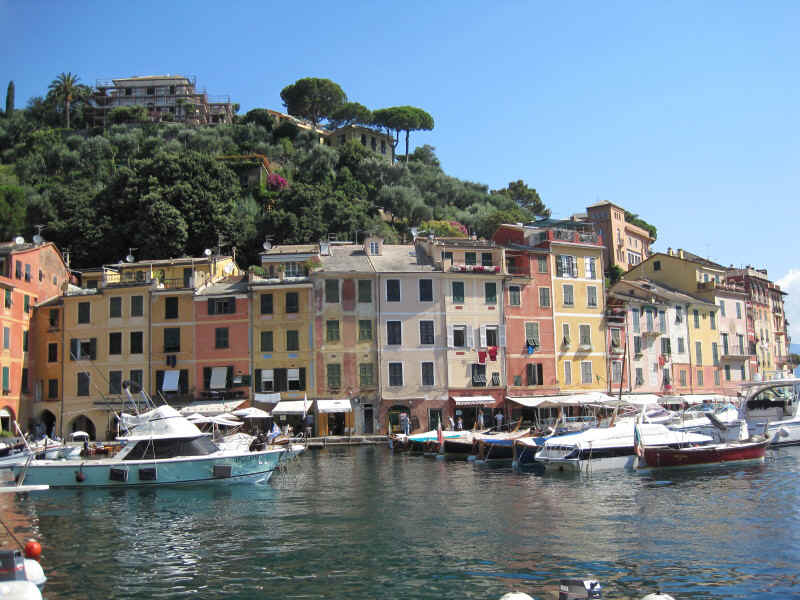 3. Portofino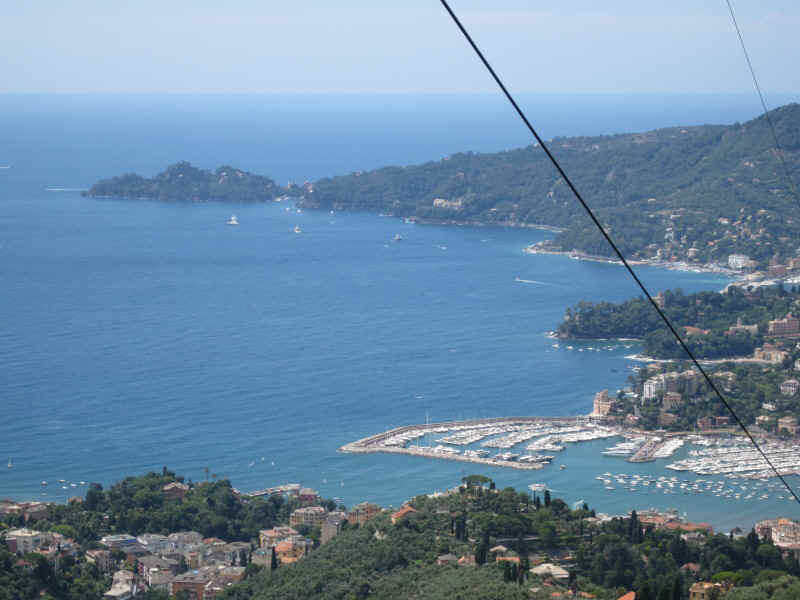 4. St Margarito/Portofino bay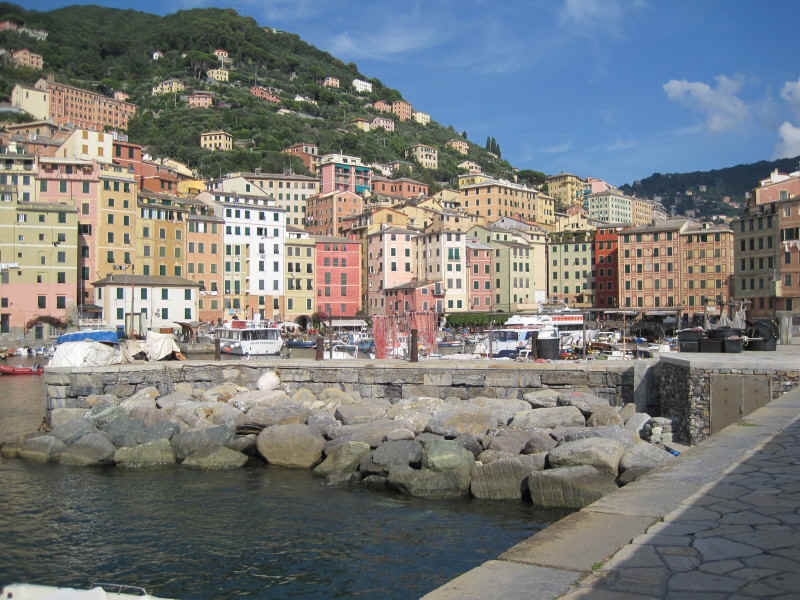 5. Camogli
Alex Mumzhiu
Aug 1 2010
Genova, Italy
Travel Notes of family story associated with Nice
It happened before WWI. A cousin of my father named Valentina (Wally) Poberejnik ran away from her home in the village of Kyrtovka near Odessa, now Ukraine and stayed in Odessa with her aunt Matrona Babii, who is also my grandmother. She worked at a grocery store selling milk. When WWI started and Germans occupied the Capital of Romania, Bucharest the Mayor of Bucharest with his family escaped to Odessa. His son George Bellu met Wally, probably in milk store, and fell in love with her. She was young and pretty. During their stay in Odessa the Mayor and his family were blackmailed by some notoriously known Odessian bandits, like Benia Krick. One time the entire Mayor's family hid in Kyrtovka with Wally's family.
When WWI ended the Mayor and his family returned to Bucharest with Wally too. They lived like husband and wife and participated in luxury entertainment of Romanian high society. I saw a picture of Wally riding horses with the Romanian queen. They cannot get married because she was simple peasant daughter and he was noble Romanian aristocrat. George was a big money waster and wasted his estate. Then, in order to improve his finances he got married to a rich woman and dumped my poor aunt Wally in Nice, where he bought a villa for her. He supported her and visited her from time to time. After WWII, when Soviet power came to Romania, George worked as a janitor in his own mansion and Wally, in turn, helped him by sending money.
My grandmother and Wally communicated with each other all their lives through mail. When my grandmother became old she moved-in with my father. My father prohibited her to correspond with Wally. As every Soviet citizen he filled out many questioners, where he should indicate if he has any relatives abroad. He wrote NO. If the authorities found out that he was lying and in fact he had a relative abroad, he would be in big trouble. He may lose his job of manager of construction dept of Institute Gipronikel. He would never get this position, if it was known that he has a relative abroad. He also was son of executed "enemy of people", a fact which he also hid for all his life. I think he lived quite nervous life, as one anonymous call can ruined all his life. My mother and father were as divorced and I lived with my mother.
So, in order to continue their connection, my grandmother and my aunt Wally communicated through me. I sent grandmother's letters to Wally from my home address and Wally sent letters to grandmother to my address too. I had nothing to loose, as my KGB file was full of fantastic stories, most of which were fiction, but this is different story.
When my family stayed in Florence on our way to America in 1979 Wally visited us, see pictures. I also visited her, illegally crossing the Italy - France border. At that time it was a real border, but I was experienced in such type of things. I stayed in Wally's villa. It was located in part of Nice where many overthrown princes, viconts and aristocrats lived, Boulevard de Combroi. Wally complained that her neighbor, an Arab sheik visited her with all his servants drank tea, ate cookies and left only his national flag. Wally lived almost till 100. She survived on a reversed mortgage program, which the French government had at that time. I visited her former home the day before yesterday, see picture. New people live in this home and they do not know anything about the past.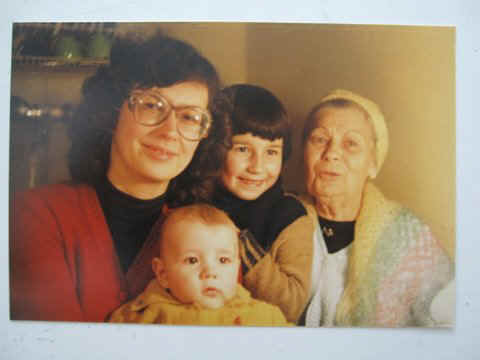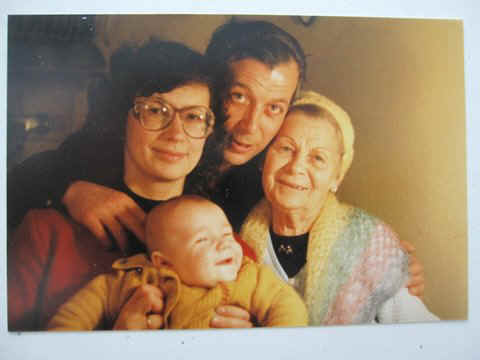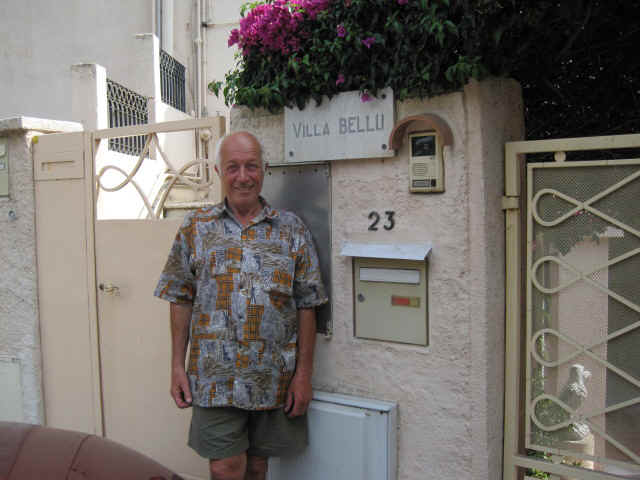 Alex Mumzhiu
Nice, France
Aug 11, 2010
Travel Notes on Camping in Nice
I always had a passion for geographical exploration. But because the world is mostly explored, I did my discoveries on a small scale. I reported to you some of my findings:
Good spots for camping in Costa Rica and Panama
Excellent hidden campground in Yucatan
Jungle trek at "escolera", Venezuela
Camping spot in Florida Keys, near which I was bitten by shark
Now I will describe to you my best finding: Camping spot in Nice. Hostel in Nice (18 euros) was not as good as the hostel in Genoa was. Also they asked me to leave for one night, from Saturday to Sunday because they were booked.
And again with my incredible luck, just day before being evicted from the hostel I discovered this wonderful place. It is located at the source of a creak. The area, of size about 70 X 30 meters is surrounded by thick and tall stone wall, see picture. It is a filtration station for that creek, which was abandoned decades ago. It has wonderful view on entire Nice below. It has massive door which can be locked. There is no sign of recent people's presence, no toilet paper, no plastic bags, no Coca Cola cans and so on. It is a lot of graffiti, by the way. While it is inside the city of Nice, the way to it is a little bit tricky, and people are probably not very curious. Walkers and joggers follow specially marketed routes and they do not like to wander around. So, I stayed there for ten nights and did not see anybody.
That curiosity, or passion for geographical discoveries is not only my personal feature. In my young years it was in the air. We sang songs about travel to remote places, our heroes were geologists and surveyors. Every college had a big tourist club. A term "tourist" has nothing to do with current meaning of this word. We traveled to remote corners of Soviet Union through wilderness on multi-day self-supporting trips. I was a president of my college tourist club. Many people get tempted by five star luxury, but for me the tent is best hotel.
My trip is finished I am in St. Petrsburg. During my trip I visited Italian and French Rivieras,
Specifically in Italian Riviera I visited:
La Specia
Chinque Terra
Rapallo
Santa Margherita
Portobello
Camogly
Genoa
Savona
San Remo
In French Riviera:
Menton
Monte Carlo
Nice
Antibes
Cannes
I found it is the most convenient to stay in Genoa and Nice and visit other places by train, bus and bike. Folding bike is very useful as you can take it to bus and train.
My favorite places are Genoa and Nice. I prefer big towns. Small towns may be nice. But on bike you crisscross them in all directions in a couple hours, and there is nothing to do there after this.
I stayed in Chinque Terra hostel for 4 nights, Genoa hostel for 10 nights and Nice hostel for 4 nights plus 10 days camping in Nice. My trip was quite inexpensive. It costs about the same money as my trips to SE Asia or South America. So, the results of this experiment is this:
YOU DO NOT HAVE TO BE A MILLIONAIRE TO TRAVEL IN RIVIERAS
Alex Mumzhiu
St Petersburg, Russia
Aug 25 2010
PS: I do provide exact location of my Nice camping spot, but I will give it on personal request at my email address: mumzhiu@yahoo.com
PPS: All Travel Notes on this trip are published at: http://www.foldabikes.com/CurrentEvents/Story/TravelStories.html