Travel Notes from Bangkok
My dear readers,
I am in Bangkok again. This is my 4th courier trip to BKK. This time it is most expensive $300 r/t. Last one was free. The price depends on shortness of notice. This time it was emergency landing in Anchorage, Alaska. It was medical emergency, somebody had heart attack. I barely get to my connecting flight from Tokyo to BKK. I jumped in the plane in last moment, and teared off my backpack strap on the way.
Bangkok became even more civilized, but it did not lost its nice character. People here are really, genuinely friendly. It was several examples. Let me give you just one. My bike's chain fell off and I went to hotel's parking to fix it. Soon parking attendant rush to me, to tell me that I should not do it here, I guess. But I was wrong, he brought to me some paper towel to wipe off my hands.
My plans are:
To fly to Kota Kinabaly on the Eastern corner of Borneo, and dive at Sipanan Island. Than go along Northern shore of Borneo through Brunei to Kuching on the Western part of the island and fly from there to Singapore. From Singapore I will go overland through Malaysia to Thailand and eventually to Bangkok.
I plan to visit Malaka, Kuala Lumpur and famous Taman Negra Jungle park in Malaysia. After crossing to Thailand I will visit Ko Lipe island in Tarutao National Park.
My return flight is on Apr 12
As always, I ask those of you who know these please give me your wise advice.
Alex Mumzhiu
Bangkok Thailand
Mar 20 2006 1pm
PS: I cannot stop singing song: "V Bananovo Limonnom Singapure..." (Popular Russian song about Singapore)
Right after my last visit to Thailand it was hit by tsunami. Past summer, after I visited Northern Pakistan it was hit by earthquake. May be I should better stay at home. I do not want to damage Singapore.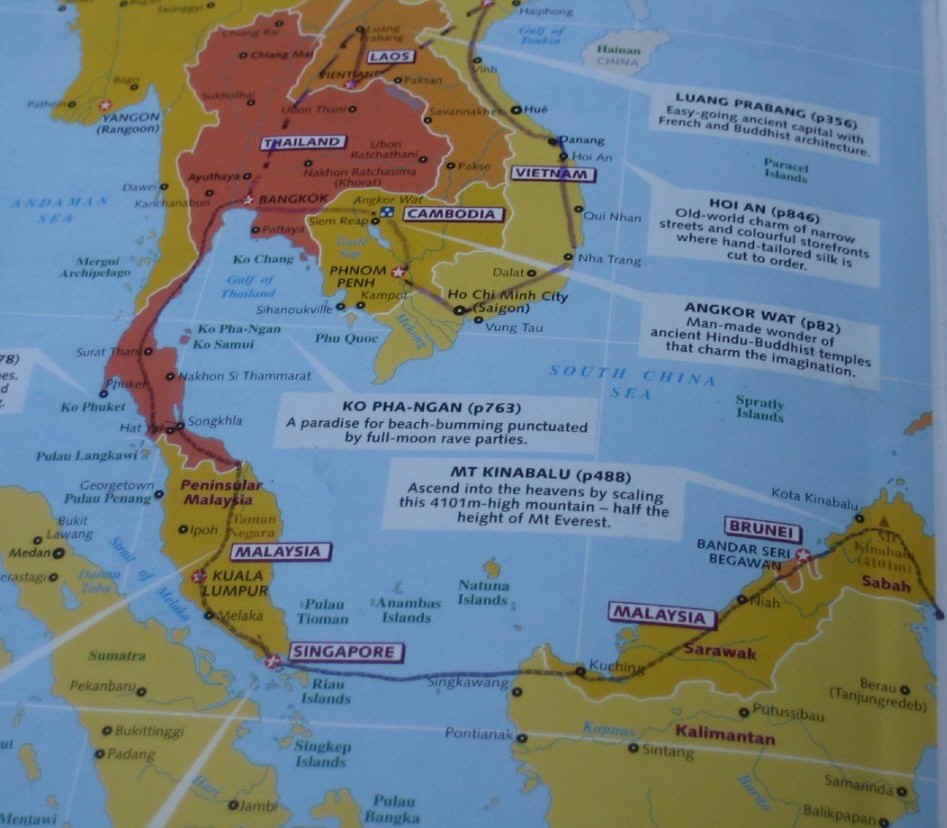 Travel Notes from Penang
I am in Georgetown, Penang Island, Malaysia.
I was here before, in 1994, during my first courier trip and it was my first serious trip on folding bicycle also. At that time I did not know about the existence of good tour-books like Lonely Planet. I used something like Fodor, which is stupidest of all, as I now understand. I rode by bike 30 km from airport to town because I was unable to figured out which bus is right. I did not know that I could find reliable information about hotels in tour-books and I rode bike around the towns looking for hotel. I also did not know about existence of backpackers community. It is so easy to travel now with all the knowledge I acquired.
I liked Georgetown then and I confirmed it again. Georgetown is one of my favorite cities. When you are thinking about Asian cities, first thing you expect is overpopulation, air pollution, desperate poverty. Georgetown is different. It doesn't have ugly features of other Asian cities like fast and chaotic traffic, junk rotting on the streets and large numbers of beggars. It respects its English heritage, everybody speaks good English here. In-spite of fair amount of tourists, it manages to preserve its unique character. It has interesting historical sites and significant amount of magnificent and exotic buildings. And in-spite it is very convenient, easy and cheap for the tourists it is undoubtedly very Asian city in a best sense. Go to Georgetown, Penang you will not be sorry!
Georgetown has significant amount of Muslims. And has become clear why Muslim men become suicide bombers. Young, blond Western women with golden suntanned shoulders and legs present such a contrast to sweaty, covered in bunches of clothes Muslim women... Young Muslim man definitely want to have one of them. But the only way to get them is from prophet Mohamed... after suicide attack. It is not joke. I read serious research which indicates that this is main reason why young Muslim men become suicide bombers. Maybe it will be a good idea for President Bush to parachute young Western women to Muslim countries instead of bombs. I am sure he will find enough volunteers.
I changed my initial plans because ticket to Borneo was three times more expensive than I was told. And I probably will not have time to fly to Borneo at all. So I started my trip from the opposite direction. I went to island Ko Lipe at Tarotao Marine park, Thailand. I like being at the sea. But when I am asked the question what do you like particularly... being on beach, snorkeling or diving, I have difficulty to answer. What I like does not fit to any of these categories. It probably should be called something like Robinsoning. I like to explore uninhabited islands, take long swims around them with only a bottle of fresh water, knife, matches and spear gun. And I like to get my lunch from the sea. From Ko Lipe I went to less populated island Ko Adang and swam for two days. One day I swam on the left from the only small settlement on the island, another day on the right. One day for 8 hours another for 6. As a result my back and head are pretty strongly sunburned. My hands are covered with lots of small wounds from the interactions with corals and prickly sea creatures. I did not see any sharks around, but I managed to wound a large morey eel. Unfortunately after an intense fight it escaped, so my lunch was limited to a few small fishes and small lobster which I baked in the hot ashes and a couple of conchs which I ate raw. Sea urchins don't taste good here.
I know that some of my environmentally concerned readers will condemn me.
Well, most damage is already done by locals who travel on motor boats to remote places, use powerful underwater guns and dynamite and they practically eliminated all large fish near shores in order to satisfy urge for seafood of these otherwise environmentally concerned tourists
Next day I went to Ko Lipe and take course in deep water diving. Now I have a certificate. Ko Lipe, according to general opinion is next big thing like Ko Phi Phi or Phuket. Now it is on the way, so there is a lot of chaotic developments there, obviously without any plan, lots of garbage and environment degradation. Island itself and surrounding sea are pretty however.
After Georgetown I will go to Kuala Lumpure and Singapore. I need some time away from the sea to let my wounds heal. On my way back I will visit prettiest of Malaysian Islands, Perhentian Islands and will do my favorite Robinsoning again.
Attached are
Cheong Fatt Tze Mansion

Oldest mosque, built by Indian Muslim

Ferry to mainland

Statue at port

Port Tower

Container ship in Penang Harbor
Alex Mumzhiu
Georgetown
Malayzia
March 29 2006 1pm
Travel Notes from Kuala Lumpur and Singapore
Another childhood dream (mechta idiota) got fulfilled. I visited Singapore.
I learned about Singapore when I was 5 years old. I was in village Azanka, Sverdlovsk region, deep in Siberia. I was sent there with my mother when Germans approached Leningrad during WWII. Azanka was surrounded by prison camps where political prisoners of Stalin era were kept. My mother worked as an accountant in prison camp. It was gossips in Azanka that famous singer Pichkovsky sang his favorite song "In banana lemon Singapore" at local makeshift concert (kontsert samodeiatelnosti) in one of the surrounding camps, where he served his term.
Lemons were rare delicacy there. But for sure nobody ever tried bananas. I tried them for first time only when I entered USA. It was impossible to imagine more remote place from frozen Siberian taiga than that "banana lemon Singapore". From that time I had special interest in Singapore.
Singapore is great. It is very modern, very civilized and at the same time very Asian city. Hotels are quite expensive here. But with help from Lonely Planet I found single room for $18, very small, but with aircond and sink. It is on 171b Bencoolen St. Name is Hawaii Hostel. It was in old LP book which I saved from my previous attempt to visit Singapore 10 years ago. Latest LP does not list it. By the way LP became much worse than before.
I have a rule. When I travel I do not eat familiar food, I try only new food.
Singapore is great in this sense. I tried all sort of terribly sounding Chinese food, like 1000 year old eggs and so on, survived so far.
Before I visited Singapore I visited Kuala Lumpur.
Petronas Towers are great. Aquarium is better than in Singapore. It seems that Malaysia spent a lot of efforts to proof that it is not small. Mal is small in Russian. Malaysia made an impression of pretty prosperous country. They enjoyed more that 10 years of 8% of annual growth. People are friendly and nice, but not very sophisticated. Nobody, I asked, was familiar with method of presenting Earth surface on a map.
It is amazing that Russia with its rich cultural and scientific tradition and with its educated population is still sitting in ..... (v derme), while small Malaysia is so prosperous .
Photos from Kuala Lumpur:
Alex Mumzhiu
Singapore
Apr 3 2006 2pm
Travel Notes from Perhentian Islands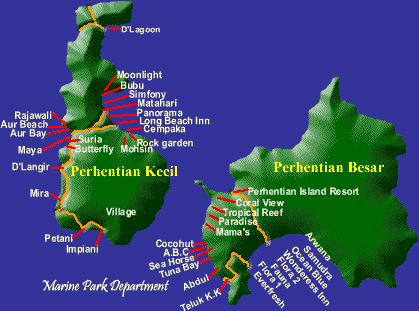 From Singapore I took an overnight train to city of Kota Bharu located on the shore of the South China Sea at the border of Malaysia and Thailand. And from there I went to Perhentian Islands, see picture below.
What I read about these islands was very promising. But the reality exceeded my expectations. Perhentians are now my favorite place!!!
I stayed at Mama's Resort at Perhentian Besar Island. The decent clean room with bathroom and fan cost $13.
Next morning I rented a kayak for $7 and take a trip around the island, counterclockwise. The length of this trip was about 15-20 kilometers. Eastern part of island is uninhabited and covered with impenetrable jungles. Shores are rocky. There are no beaches. This is why this part of island is completely uninhabited. People build bungalows only on the beaches. In several places huge boulders formed the shoreline. The same pattern continues into the water. The space between these boulders became underwater grottoes and caves. And these underwater cavities are favorite places for large fish to congregate.
Once I anchored my kayak and dove in one of these grottoes. In the middle of the large grotto the monstrous size fish was standing, just standing, not moving. It was a giant grouper, the largest bony fish in the world, also known as Goliath-fish or Jew-fish. These names do not fit very well because Goliath was not a Jew.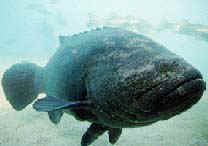 As I rushed to it, the fish slowly moved to the other exit from the grotto. I cannot follow it because I did not have enough air in my lungs. I saw three more giant groupers that day. Also I saw sharks, huge Napoleon fish, large puffers and two large sea turtles having s-x in the water. It was difficult for them. Imagine having s-x with washtub attached to your back. I replace (e) with (-) in order to let my e-mail to go through firewalls
By the end of the day I came to the little beach located just below Northern tip of the island on the Eastern side. It was very small, about 70 meters long. This is why there were no bungalows there. There was no trace of any human presence also. It was small fresh water creek and the wall of impenetrable jungles behind the narrow sand beach. The ideal place. It would be nice to spend the night there, but I did not have anything with me except for knife and matches. However there were some mosquitoes at night on island, so sleep without tent would be not fun. I had a dinner with a few fish I baked in the fire. I came back into my hotel in the darkness, completely pooped, but happy to realize that I discovered the best Robinson place I have ever seen.
How to get there:
From Bangkok take an overnight train to Sungai Kolok border town with Malaysia, first class $44 second $22, 20 hours. Cross border and take a taxi to Kuala Besut $14, 2 hours. Take boat to Pulau Perhentian $6, half an hour
My trip is finished. I am at home.
Chao.
Alex Mumzhiu
Washington
USA