Travel Notes from South America
My Dear Readers,
On Jan 17 I am going to my next trip to South America. I will start from Lima, will go down South along the Pacific Coast to Tierra Del Fuego, then return along the Atlantic Coast to Buenos Aires. Surprisingly my open jaw airline ticket from Washington DC cost me only 35,000 frequent miles on American Airlines.
At the beginning of my trip I will fly to Easter Island from Lima. This portion of my trip is especially exciting. Easter Island is the place to which Thor Heyerdahl sailed on his Kon Tiki raft from South America in 1947. His book was tremendously popular in Russia. It was practically on every bookshelf. Russia was just out of a devastating war. Life was harsh and difficult, and a book about sailing through tropical seas to an exotic island was something out of this space. For Russians then, nobody could even dream of visiting Easter Island. It was less possible then walking on the Moon. And now I will visit it! I saw Thor Heyerdahl when he made a presentation at the National Geographic Society in Washington DC in 1997. It was amazing, it was almost like seeing Charles Darvin alive.
During preparation for my trip I found that the trip reports of Russians published at: http://travel.awd.ru http://avp.travel.ru
are the most valuable, because they are completely free from political correctness of any kind, which cripples most Western tour books. But I found a big difference in my approach for the trips with theirs. As an inheritance from the old Soviet mentality, they are very concerned about reservations. I never make any reservations. I stay in every place as much as I want, and I adjust my routes in accordance with the situation. It is usually no problem to find a room for one person anywhere, especially when you have your own transport-bicycle. This is the main pleasure of my way of travel, by the way. However, you have to be ready to spend the night in the car or on a garden bench. It happened not very often, and my unrestricted freedom of travel was definitely worth these little inconveniences. During my South American trip I will travel by bike, bus or train, no airplanes.
Alex Mumzhiu
Washington USA
Jan 4 2011
HAPPY NEW YEAR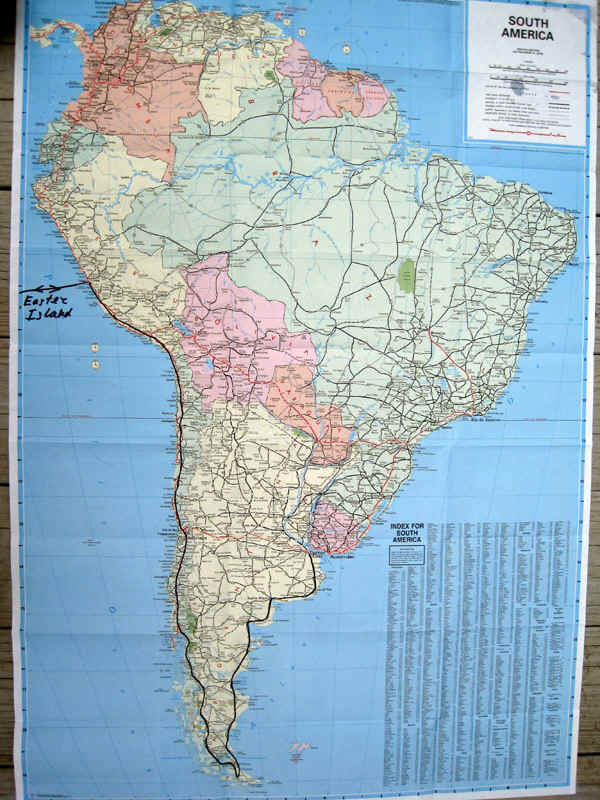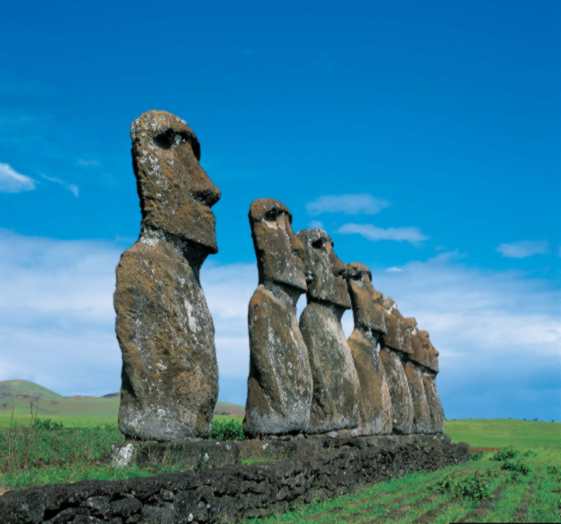 My Dear Readers,
I cannot start my Travel Notes without commenting on world events. A terrorist act in Domodedovo Airport became one of the events which falls in the same familiar pattern. American FBI and CIA catch potential terrorists before the explosions happened. They do it mostly by watching their private massages on Facebook, Tweeter, Yahoo and mobile phones. Russians, who are not known for being advocates for privacy protections, did not catch the terrorists before the explosion, which results in terrible loses.
Revolution in Tunis and Egypt brought to my memory my trip to Tunis of 2002.
http://www.foldabikes.com/CurrentEvents/Story/tunisia.html
This is some quotation from that report:
"Actually, the general population of most countries of the Middle East want a more radical version of Islam to be implemented. And governments have to apply very tough, un-democratic measures to prevent their population from self screwing (samoistiazania). Most notable examples are Egypt and Algeria. If governments don't do this, all these countries would be under Taliban type government by now. This brings an interesting point. Is it always good to do what majority of people want?.....
....I have to re-iterate my point. Ayatola Komeni was put in power by popular uprising. Algerian and Egyptian governments use all sorts of un-democratic tricks to suppress the Islamic fundamentalists. If there would be proper and fair elections in these countries, then Islamic fundamentalists would win the majority of votes. Islamic fundamentalism has sort of fatal attraction for the population of that region, similar to that attraction which ideals of Communism had to people who did not try them in practice"
It looks like Radical Islam will be most probable alternative to stagnated corrupted regimes which run Tunisia and Egypt for tens of years. Western style democracy with its freedom of pornography, homosexuality and freedom for women to demonstrate their body parts is un acceptable to Muslims
After this comment i can start my Travel Notes. I did not like Lima in my South America trip of 2002/3 and I wrote about this in my TN. I even got angry reply from one Limeno (citizen of Lima), who probably found me through Google. I have to admit that I was wrong. Lima is a big and interesting city, in which you have a lot to explore. It is my type of city. It is also quite cheap, my excellent hostel, "Home Peru" is $8 and food is quite good and also cheap here, seviche from street vendors $2.
I arrive at airport at 6am and rode to Miraflores across the entire city. This is the best part of every trip. As a mountain climber who is conquering a new mountain, I have a new city in front of me to explore, to understand its spirit, soil, it?s personality. Poor guys who got airport to hotel transfer. They are missing the most interesting part. From my (specific) point of view, Lima is safe. It is safer then Vienna, because there are no bike paths here with crazy bicyclists speeding on them. As you may remember I was hit by one of these bicyclists in Vienna in 2009
From Lima I flew to Easter Island for 5 days, which left me three full days for island exploration. This amount of time is about right for Easter Island. I spent 1.5 days on sightseeing and 1.5 days on snorkeling. I circled the island on a motorbike and saw all major sites, with plenty of moais. They are quite impressive. Even more impressive is how people of the stone age were able to make and transform them weighing up to 100 tons over tens of kilometers. There is no puzzle here anymore. Everything about manufacturing and transporting moais is understood. They cut them from relatively soft volcanic tuff with sharp obsidian cutters using stone hammers and transport them by rocking them in the upright position. It can be done now, but what tremendous DEDICATION it required.
The island is located in the middle of the Pacific Ocean and waves are monstrous there. So there is no way to snorkel in the ocean here. But while I rode the motorcycle around the island I found a pretty large natural harbor half way between town Hanga Roa and Rano Raraku with a quarry, where moai were produced. Place called Ahu Akahanga. Underwater scenery was not very impressive there. Obviously it is not often visited by snorkelers, because I found ancient cognac bottle there, in attachment. The following words were imprinted on the glass of the bottle covered by thick layer of calcium growth.
CONAC
CEPE de ORO
TRAVER
Now I do not know what to do with this bottle. To carry it over my entire trip or throw away.
Contacts with western civilization were disastrous for the island population, which, through slavery and disease, had decreased to approximately 110 mostly older people by the turn of the century. Only 36 of them had children. So absolute majority of people are not original inhabitants.
To my surprise when I talked in the tourist bureau with a lady who worked there, I noticed that her nose is exactly the same shape as a moai`s. She definitely was the offspring of these people who build those amazing statues. Interestingly enough, the female version of moai was not ugly, rather pretty. I felt so sorry that I did not have camera with me.
The worst thing Western civilization did to the Island is the hole in the ozone layer above the island. The sun is tremendously hot here. For my motorcycle trip I wore a long sleeve shirt and helmet. However the uncovered portion of my face, below eyes, and hands were terribly burned. The rest of the time I was wearing winter gloves which I took with me for Southern tip of South America.
Easter Island is sometimes ridiculously expensive. Coffee and fried eggs for breakfast cost $14 at street cafe. Ticket to museum at Rano Raraky cost $60. On the other hand, a round trip airline ticket on LAN airline was only $390. I stayed in a campground right at the ocean shore for $10 per night. The campground had a good kitchen where most of the people prepared their own food to avoid paying ridiculous prices at restaurants.
I went on a traditional show-dance. To my surprise the scene was lit only from the back. So you barely can see faces and entire front part of body of dancers. Later I realized why. Dancers had some skimpy pieces of cloth on them, but their penises were not covered at all. It is a national tradition!
Attachments:
1-4 Moai from Easter Island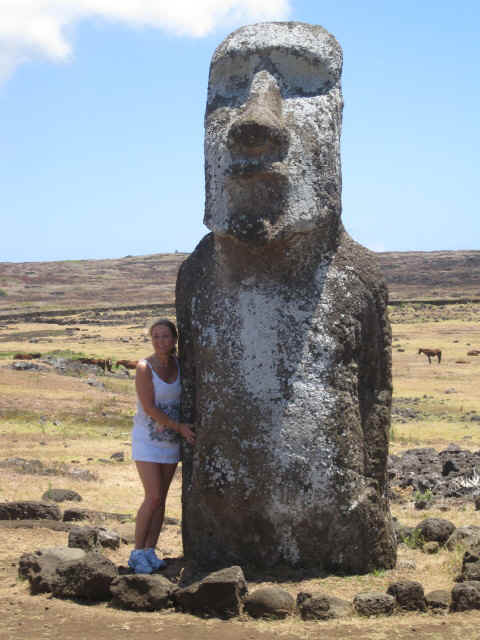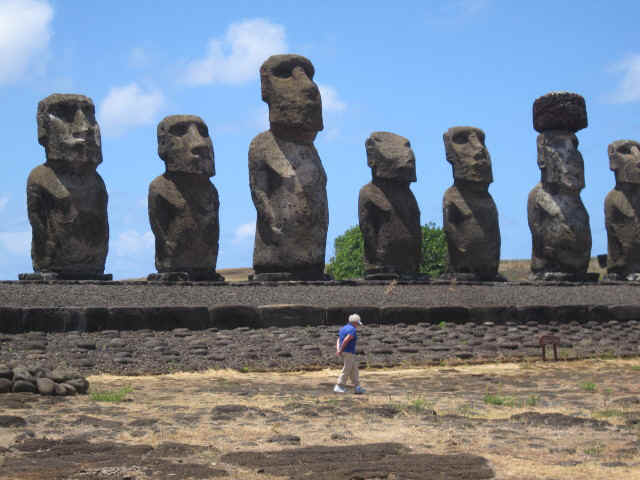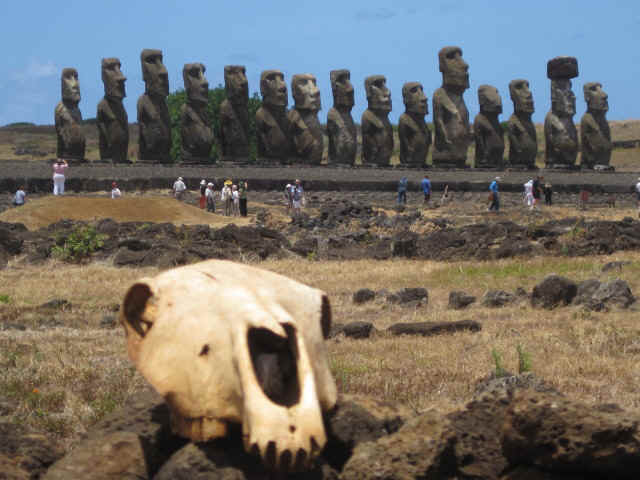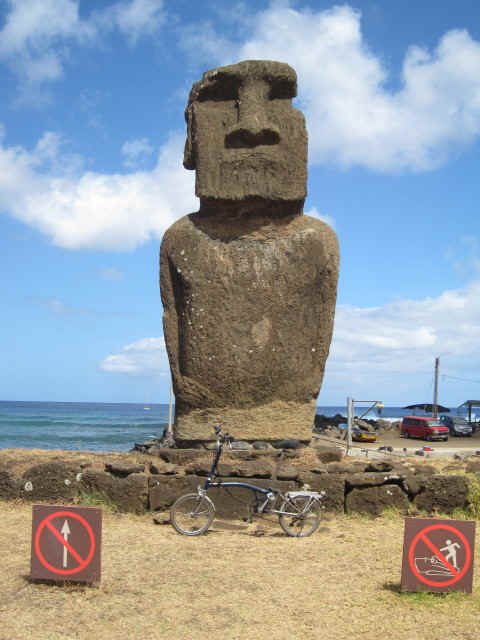 5. Old Cognac bottle I found during snorkeling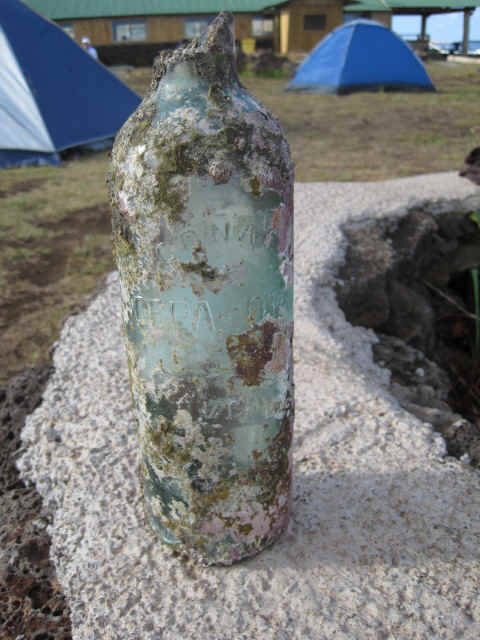 Alex Mumzhiu
Lima Peru
Jan 31 2011
11:20 am
Travel Notes from Chile
From Lima I took the standard Gringo trail: Pisco, Nazca, Arequipa. I skipped Michu Picchu, as I visited it in my last trip in S. America in 2003. Bus from Nasca to Arequipa arrived after midnight. Arequipa is known for robbery by fake taxi drivers. So I did not take taxi, I rode bike. It is nice to have your own transportation. Next day I rode bike down to the ocean half way. I hitchhiked back to Arequipa. Hitchhiking is the best way to meet local people, because those who pick hitchhikers are good people. I accidentally meet Californian half Japanese half Italian guy Adam, with whom I stay in Lima hostel. We communicate over the Facebook. But in every town I travel, I meet him accidentally, amazing.
When I crossed from Peru to Arica, Chile I was impressed by the difference between Peru and Chile. Peru is typical Latino American country, overpopulated, hectic traffic, air pollution. Chile is different. More white people in Chile also. Ironically, next day I got diarrhea. I eat breakfast at McDonald and for lunch I had chips with sausages, innocent stuff. My diarrhea was bacterial kind. Imodium and fasting did not stop it. Six day later I visit doctor who prescribed me Cipro. I always carry Cipro. This time I did not carry it because I plan to travel in civilized countries, Chile, Argentina. Doctor told me that North Chile is known for this problem. In fact I know one person who got the same problem in the same place, less then year ago.
I took bus from Arica to San Pedro de Atacama. I saw from window biggest copper mine in world, Chuquicamata. Bus arrived after midnight, I was half dead. It is difficult to travel on bus with diarrhea. All hostels were full. The only room I found was for $250, so I stay in camping for $8. I barely was able to pitch my tent. Later I realized that it was also high altitude influence.
San Pedro de Atacama, along with adjacent Altiplano area of Bolivia and Argentina, deserves separate trip, because in order to enjoy these places you have to be acclimatised for high altitude.
Then, I travel through Antofagasta and La Serena to Santiago.
My Dear Readers, Do you know how long Chile is? It is as long as distance from Northern border of USA till Southern point of Mexico, or from shore of Arctic Ocean on North of Russia till Southern border of Mongolia. I reached middle point Santiago.
Santiago looks like ordinary European city with ordinary European looking people in the streets. However, unlike Europe there are no Muslim woman with their burkas and chadors, so visible now in every European city. Also homeless dogs share the streets here with people and both respect each other.
My hostel is located near Salvador Allende museum. Allende was not popular with people of Soviet Union. People were afraid to impress hatred for Communist leaders of USSR, because it may result in severe punishment. But for communist leaders of other countries it was not so dangerous. So for the death of Allende, my coworker Alexei Kovalev wrote rather sarcastic poetry:
There is no hasienda
anymore for Allende
Cannot drink comrade
anymore lemonade
Next it was Valparaiso. I was there in Sept 1998. I was 61 year young. Six months before I lost my job. I worked for 13 years in very narrow field of color image recognition. I know it will be quite difficult to find another job. I was worried about the future. It seemed grim to me. It turns out the next decade became the happiest period of my life.
It was freelance courier trip to Buenos Aires. Soon after 9/11 this business disappeared, because couriers did not pack their luggage and even did not know what is in there, only the courier companies knew. So 12 years ago I took a bus from Buenos Aries to Santiago. At last stop before the border with Chile I exited the bus and started to ride bicycle uphill toward the border. I wanted to go down to Chile from the border crossing located at the height of Andean mountain range dividing two countries. It was heavy snow and wind. When I reached the border, the border guards were very surprised. They did not allow me to continue on bike and put me on the bus, which brought me to Valparaiso.
I am in Valparaiso now again. 12 years ago Valparaiso was a big and picturesque ruin, being depressed after the Panama Canal cut it off from importance. Now it is revived as a tourism center with chique boutiques, boutique hotels and shopping malls, loosing it`s character in a way.
Sea food is great here. Fish soup contain all sort of shells: mussels, conchs, scallops, clams, even abalones.
But my favorite are sea urchins, which I bought at the fish market and eat them raw. They are so big, each contains 10 portions of eggs for sea urchin sushi (uni).
Attached: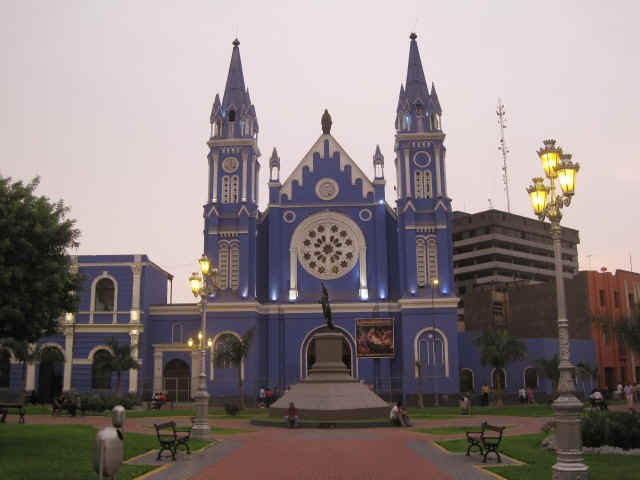 1. Lima Church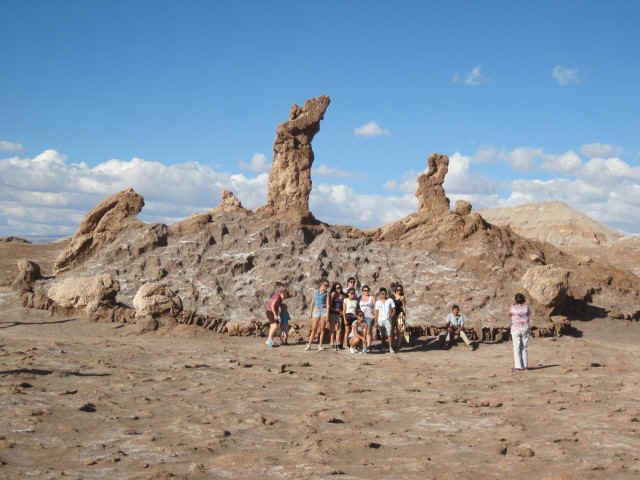 2. San Pedro de Atacama three Maries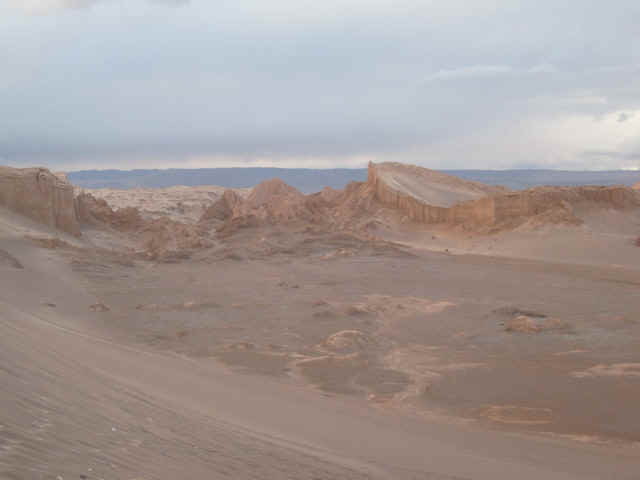 3. San Pedro de Atacama lunar landscape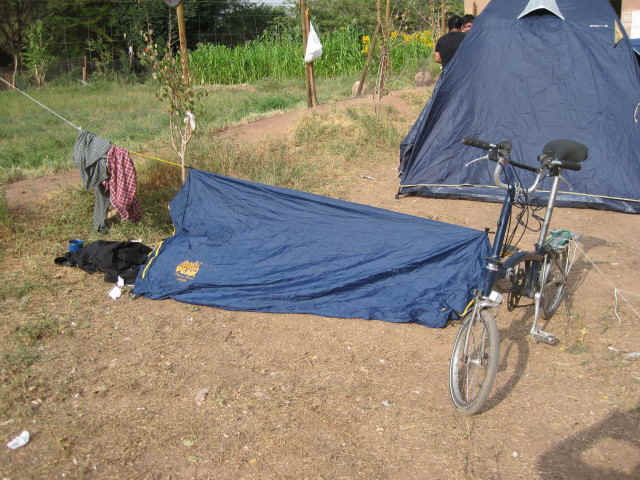 4. Camping at San Pedro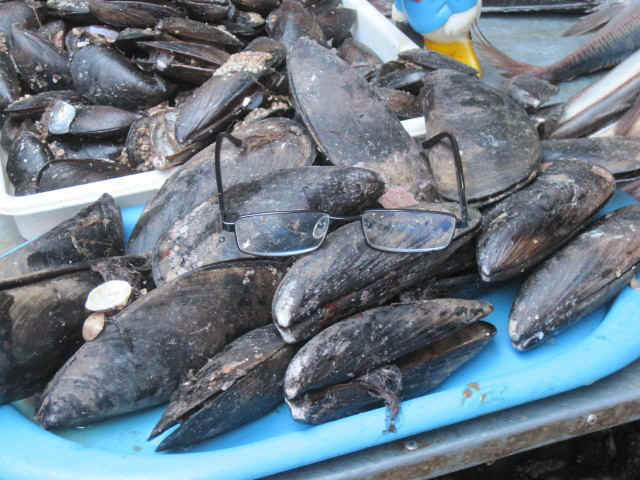 5. Valparaiso mussels
6. Picture at last stop before Chile border Sept 1998. Notice, bicycle is Dahon. I did not know about Brompton at that time.
PS: My Travel Notes from this trip are published at:
http://www.foldabikes.com/CurrentEvents/Story/ToSouthAmerica.html
Travel Notes on Patagonia
Patagonia was never on my list of places which I wanted to visit. Tibet was, but Patagonia was not. Why? I do not know. Maybe because the name of pOtogonia sound in Russian not very appetizing.
Now I went through entire Patagonia, both Chilean and Argentinian parts. This is a wonderful place. Maybe the last piece of untouched nature on Earth. The 70 meters thick glaciers are crashing into blue lakes. Intensively blue rivers surrounded by snow-capped mountains flow into emerald green valleys. Patagonia reminds me of New Zealand. The nature of New Zealand is also perfectly preserved. But New Zealand long ago became a Mecca for tourists. You have to reserve a place in hotels and hostels months in advance. Not in Patagonia. Good hostels, costing $12-15 are readily available.
Patagonia requires serious planning to navigate through it?s maze, because Patagonia was carved with many glaciers and it has myriads of lakes and fjords. It looks like Swiss cheese on a map. You have to combine buses and ferries for getting from one place to another. Also Chilean and Argentinian portions are very intermingled. So I have crossed the border 7 times during my trip through Patagonia. I visited most important attractions of Patagonia. It took a lot of calculations to select the most reasonable route. My route is quite logical, I think. So, I hope it can be useful for those who might be willing to visit Patagonia. Map is in attachment.
First of all, you should remember that the right time to visit Patagonia is January and February. In other times you will not see much because of clouds and fog. I was lucky as good weather extended into the first two weeks of March. But in second half of March it became much worse, a lot of rain. Second thing to remember is that the Carretera Austral is blocked by the constantly erupting volcano Chaiten. So you have to take a boat to get around it.
After finishing the Chilean part of my trip on which I reported to you before, I came to Bariloche, Argentina. Then it takes three 12-hour long bus rides to reach Ushuaia from Bariloche. Western, Argentinian part of Patagonia is flat and featureless pampa with some vicunas and alpacas grazing on it. It would probably be better to fly to Ushuaia. But my rule of travel is overland.
As I came to Ushuaia, I expected to see something gloomy, like Russian far North towns. Nothing like this. Ushuaia is touristy, but at the same time it is quite a charming town. Trips to Antarctica start from here. Last minute special costs $3050.
From Ushuaia I went North, to Punta Arenas, then Puerto Natales then to El Calafate. All three towns are typical mass tourism centers with it?s corresponding attributes. However Puerto Natales and El Calafate have first class attractions nearby: Torres del Paine Nation Park and Perito Moreno Glacier. For those who know these places, in Torres del Paine I made kind of shortened version of "W" path on bike. Last portion of which I skipped because wind was so strong that it was impossible to walk against it, not to mentioned to ride bike.
Perito Moreno Glacier is moving at the speed of 2 meters per day and front portion of it frequently is crashing into the lake. It is something that you can watch all day, incredible!
Next was El Chalten. It?s setting is dramatic. Bad weather has already starting to take its toll, but I managed to take a picture of famous Fitz Roy mountain. From El Chalten I got to Deserte Lake, from which it is possible to get to Southern point of Carretera Austral town
Villa O?Higgins. However you have to use two different ferries with irregular and unpredictable schedules. So I decided to get to Carretera Austral by long bus ride around, through the town of Perito Moreno, Ar and Chile-Chico, Cl, which took a day and a half. At the end of the second day I came to the town of Cochran on Carretera Austral. For my personal reason I cannot spent much time on Carretera Austral. I travel by bus only from Cochran to Coihaique, but what I saw was outstandingly beautiful scenery, mainly Baker river, probably the most bluish river in a world.
From Coihaique I went to Chacabuco port and I took ferry boat to Chiloe Peninsula. Bad weather was already in full swing with torrential rains and winds. My favorite town in Chiloe Peninsula is Puerto Montt, which I also briefly visited on Feb 22, one day before I started my Patagonia trip. It has best fish market with wide variety of shellfish, see attachment. Chinese and Japanese tourists went crazy as they see tons of abalones, and big jars of sea urchin eggs, both extremely cheap.
Alex Mumzhiu
Montovideo, Uruguay
March 29 2011
10:52 pm
Attachments: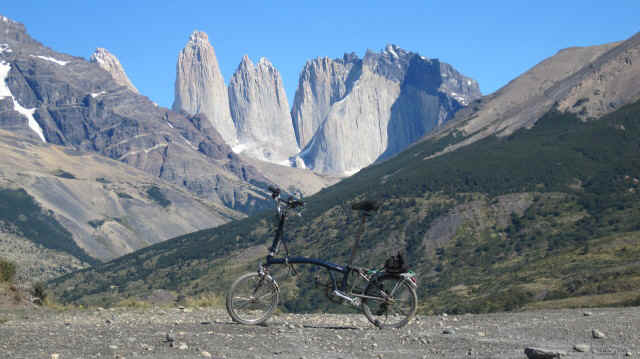 1. Torres del Paine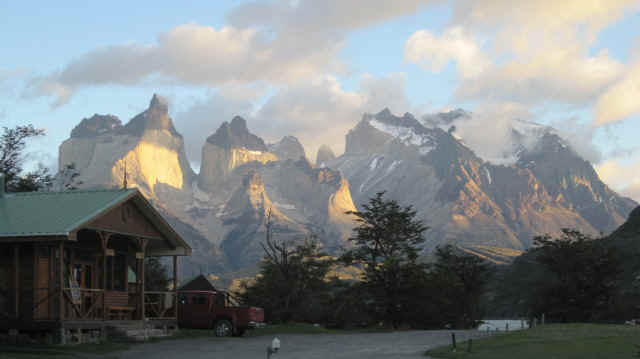 2. Torres del Paine 2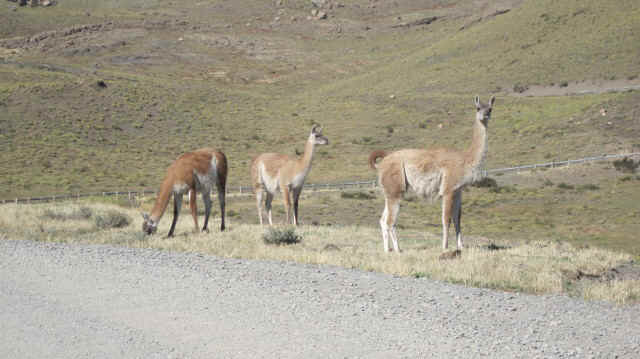 3. Vicunas or alpacas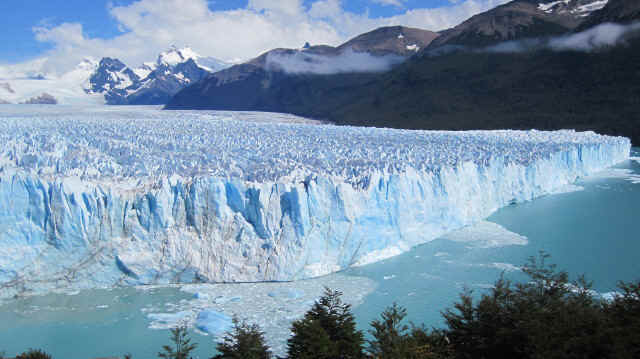 4. Glacier Puerto Moreno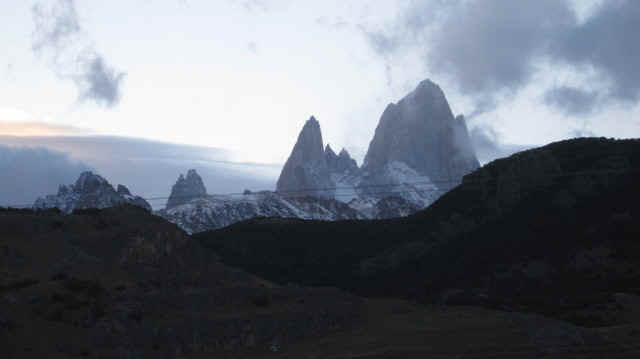 5. Fitz Roy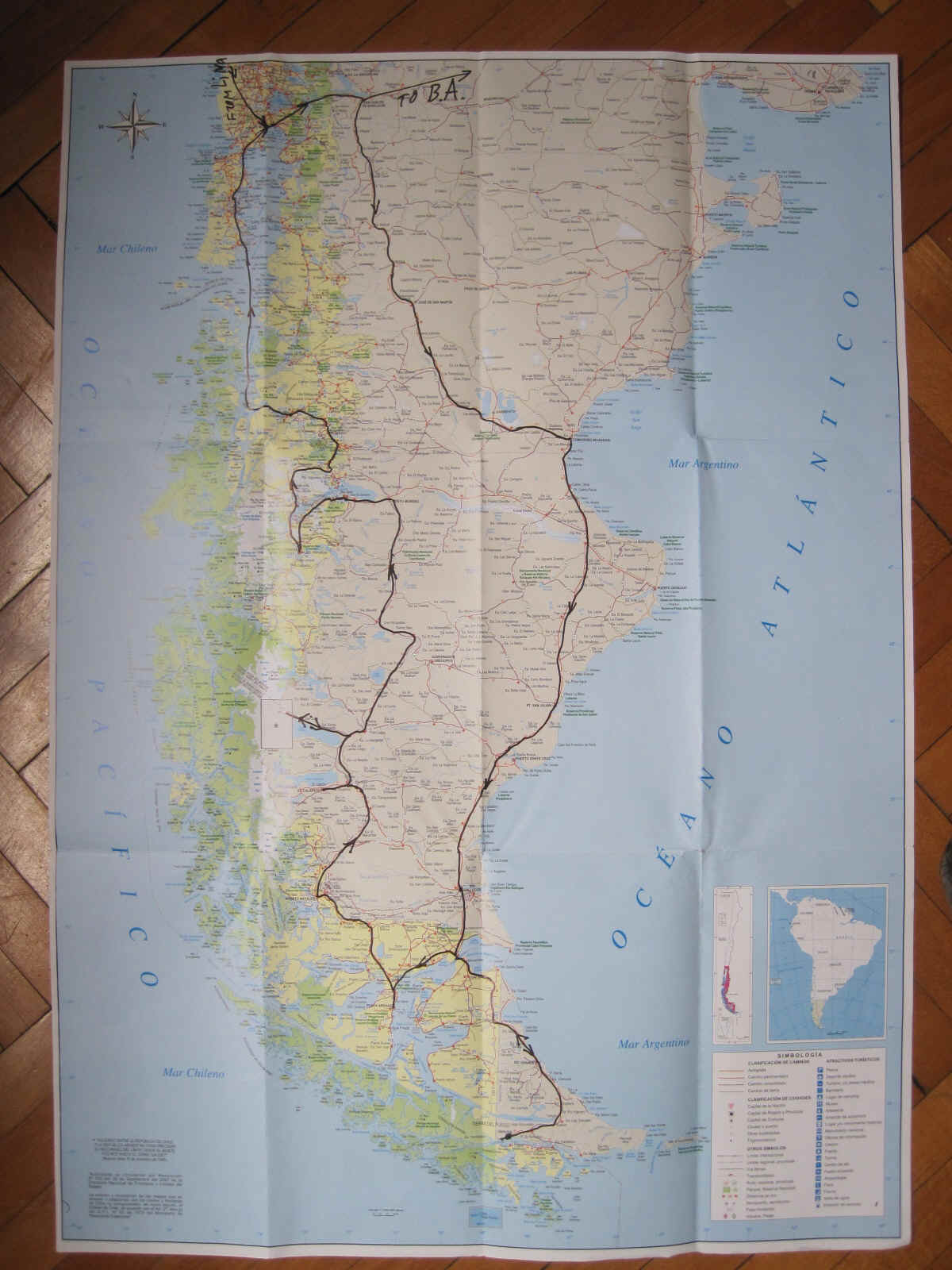 6. Map of my trip through Patagonia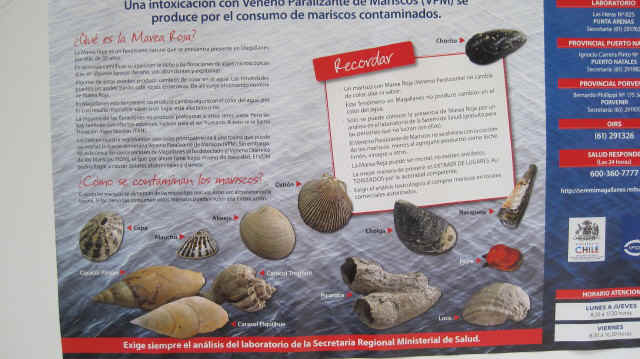 7. Edible shellfish at Puerto Montt