Traffic on Pan-Americana Highway after huge explosion, I wrote before, was restored and I decided not to go through the head hunters (head shrinkers) territory. They probably have never seen a folding bicyclist and may have a temptation to shrink my head as a souvenir. Instead I started long bus ride to Lima, Peru. However, before I will continue let me finish with Ecuador.
As a conclusion on Ecuador, I would like to tell you what is the most "useful" feature of that country for travelers, in my opinion. It is the closest to USA place where the high mountains are so easily approachable. There are about a half dozen of 5,000-6,000 m volcanos and highest is Cimborazo 6,310m. If you arrive at Quito airport in the morning, than you may be at the base camp, near the snow line, in the evening of the same day. Most of these base camps (refugio) have automobile access and sometimes public transportation. There are many companies which provide equipment and/or guides. Prices are very reasonable. Banos is in the center of that area and the most convenient place to start. It was a great temptation and if I had a good company I would probably try some mountain climbing in spite of my bad ankle. May be I will do it one day, if I convince somebody else.
It took five long bus rides to reach Lima. How longŋ About 9-10 hours each. Why did`not I fly? It is more expensive, and also I would miss some places which I wanted to visit. And it is against the rule of overland travel. I will not feel comfortable to say I went from Quito to Rio De Janeiro, if I fly part of the way.
I reached Peruvian border city of Tumbes with two day bus rides. I spent first night in city Cuenca which every tour book recommend to visit. It is really neat colonial city, but on bike I cross it in all direction before my 10 am bus ride to the Peruvian border.
Buses in Ecuador are OK, however they allow many peddlers to enter and they are going through the bus all the time and bother the passengers. Price is very cheap, 10 hour bus ride cost about $6.
From Peruvian border town Tumbes I took the King Service bus with Ormeno bus company to the next town Trujillo. It has reclining seats and food service. However it was 2.5 hours late and I arrived at Trujillo at 2:30am. What used to be spooky thing like arriving at unknown city, without hotel reservation in the middle of night, became a routine now. With Lonely planet book, compass and folding bike it is a piece of cake.
Trujillo is home of biggest in the world ancient mud brick town Chan Chan. It was two civilizations here before the Incas, Moche and Chimu. Chimu left this mud brick town, a huge area of crumbling mud walls. Moche left some soft porn sculptures which is in attachment.
These people were pretty damn in addition to using mud bricks (mazanki) which is not very good building material, they during 1400 year of their existence did not learn how to write and read and did not invent the wheel.
From Trujillo I took night bus to Huaraz, the center of Peruvian mountain climbing and skiing in Cordillera Blanca It was tough ride. All night I fought with gravity force in this damn semi reclining seat.
When bus arrived at Huaraz at 6am I felt the symptoms of full blown high altitude sickness. In addition to high altitude and sleepless night I did not eat for 4 days. When I have many days rides, I do not eat. First, I do not need much calories while I am just sitting all day long, second toilet along such rides are usually not very appealing.
On second day in Huaraz I was OK and decided to take a local micro bus to famous lake Lagunas Llangunuco and ride back down on bike. I took bus even higher to nearby pass. I do not take with me spare parts or tools because my bike is unbreakable. But when the bus is left I discovered that one of brackets which hold my bike together is gone. Mr Niche, why didnīt you made bolt holding that bracket un-unscrewable?
It was cold and windy on mountain pass at 4 km altitude and it was 40 km to the main road. Well, the necessity is the mother of all inventions. I figured it out that if I bent top of handle bar inside, not outside, than pressure which I apply will prevent handle bar steam from collapsing (see attachment). It worked, more or less. Road was rough and I felt over the handle bar many times, but I am very good at it. This very useful skill, how to fall safely, I learned in the kindergarten (almost), in middle school.
I took the course of Russian version of judo, called sambo, where they endlessly drill this useful technique. The mountains around were astonishing, one in attachment. I get back home safe. In my spare parts I have extra bracket.
The next day I took night bus to Lima. I bought 3 tickets for rear seat for $6 each and sleep like a king. Lima is terrible. Entire city smells with urine. The only good thing about Lima, is that the yellow fever shot is cheap and easy there. I got one and now I can go to Brazil legally, shot it required.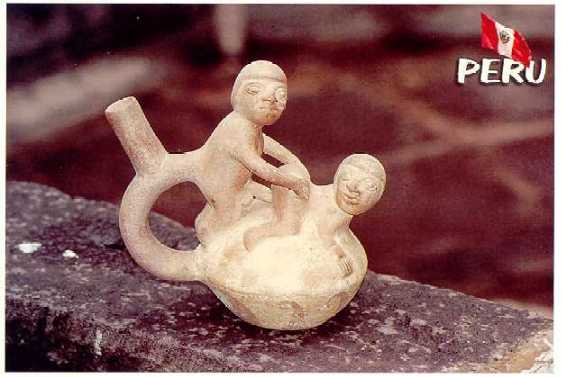 Moche pornography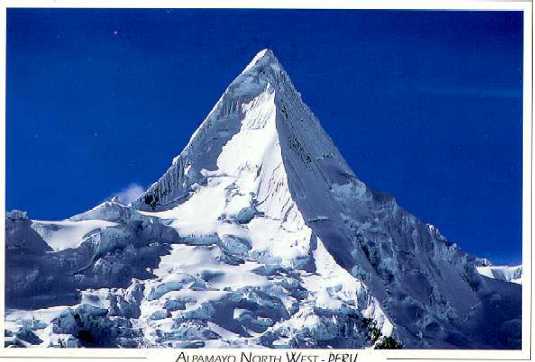 Mountain Alpamayo in Cordillera Blanka 5,947m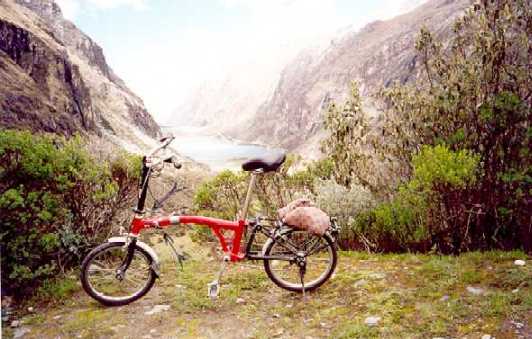 One bracket is missing
Ale Mumzhiu
Pisco, Peru
Nov 29 2002 10pm
I am in the middle of the famous gringo trail, Pisca-Nasca-Cusco. For notorious language abusers like N.O. I would like to emphasize that the letter "S" in a word Pisca is hard, not soft. Nasco is also easy to remember because it is the nick name for NASA and has the same functions, communicating with remote galactic. I will tell about this later.
Pisco is the starting point for visiting Ballerians islands. These islands remind me of Swiss cheese, see attached picture. My wife, who is an architect, would love this design, a lot of skylights. The islands are a home for miriads of birds and lots of sea lions. The islands are covered with thick layer of guano and the strong smell of urine appears in the air before the islands appears.
Nasca is an attempt to communicate with other civilizations before radio telescopes were developed. People of a civilization dissapeared more than 1000 years ago drove into flat ground, the navigation signs, air fields and figures of animals a hundred to thousands meters long. These figures can be visible only from airplanes or space, not from the ground. I took 35 minutes, $35 ride on 4 seat airplane. I was very exited, my neighbors not. Plane makes deep virages to show Nasca figures to passengers on both side of plane and people who are prone to sea sickness get sick.
History of preservation of these figures is also dramatic. In accordance with the Biblical rule "There is no prophet in his own land" (net proroka v svoem otechestve) the Peruvians did not value these lines and wanted to built houses and corn fields on them. The German women Maria Riche fight to preserve them and now she is Peruvian National hero.
There are no Gringos on the gringo trail. I met a lot of Germans, Hollanders, New Zelanders, Australians but no Gringos (USA citizens). Eventually I met one and this guy is a real gringo. He came here on a huge 1968 Chevy-van, converted to a mobile home. He left his home in Arizona and reached Manaus, on the Amazon river by roads, then he put his van on the barge and sail to Bolivia and from there he came to Pisco, Peru. See his picture in attachment.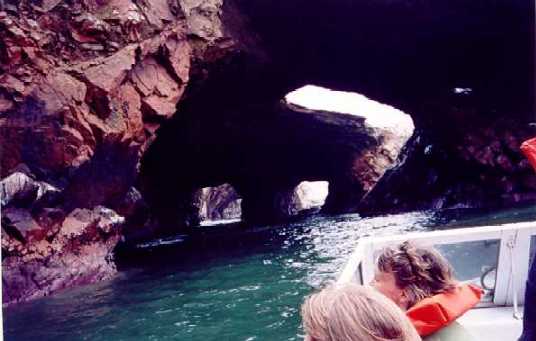 1. One of Ballerians island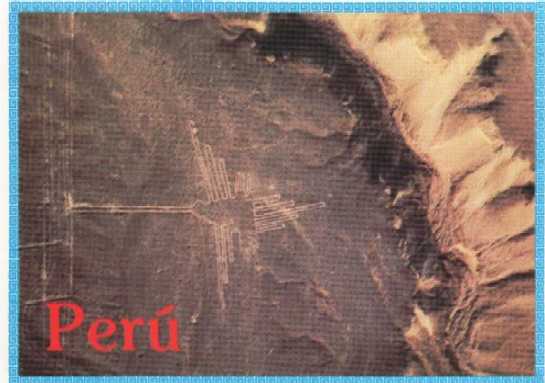 2. Nasca lines (hummer-bird)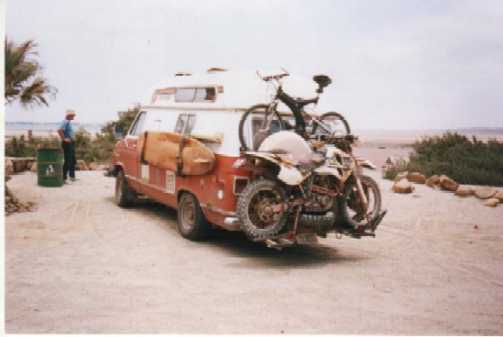 2. Gringo and his vehicle.
Alex Mumzhiu
Cusco,Peru
Dec 3 2002 10 pm
Machu Picchu
The beauty of Machu Picchu comes from its location. It is again as always location, location and location. Machu Picchu is located on a wide saddle between two mountains. The river valley is about 700 meters below. The surrounding mountains are about 700 meters above. The view is stunning. It is like with the Taj Mahal no picture and no words can help. You have to see it with your own eyes to apprechiate.
It looks like the Incas were hooked on the location, because the other features are not very good. There is no water. They have to take water from the river 700 meters below. No roads also. I don't even mention the absence of sewage and electricity.
I climbed the mountain Huayna Picchu (Young Peak) which is above Michu Picchu. According to the registration book in which every climber has to sign, I was by a large margin, the oldest climber from the time the record keeping started. Earlier in my life I always used to be youngest. I was youngest in my school class and in my college class. And now, more and more often I am oldest. I do not like it. It took me one hour to climb up, which is average time, and 0.5 hours to go down. I went down faster than average because I ran down. I was taught in mountaineering camps, always to run down, even on steep slopes. It is really the optimal way of descending.
Cocaine country
Cusco is located at an altitude of 3,400 meters, and anybody who comes here feels symptoms of high altitude sickness. The standard medicine, recommended even by the Let Us Go tour book is cocaine. In every restaurant they offer Mate Coca, tea with cocaine. They sell coca leaves in stores and in the street. They do not recommend tourist to take coca leaves out of the country because some countries (they laugh) may consider them as a narcotic. I bought a packet of coca
leaves for $0.30 and made tea in my hotel room. It had a pleasant taste but I did not feel any high or something like that.
Especially for non-Russian readers I have to explain how to make your own tea. You have to have little submersible electrical spiral (kipiatilnik) which allows you to boil a cup of water. Very useful, you can make your own tea or coffee any time. I carry two spirals for 110 and 220 volts, because different countries of S. America have different voltage. Russians don't need this explanation because every Russian takes such a spiral on trip.
Flat terasses surrounding Machu Picchu were built to grow coca leaves. Incas used them widely. They constantly were on drugs so to say. There are many Incas in the Cusco area, some of them look like people with mentall deficiency. As we know children of drug addicts can be defective. What to say if drug using was continued for generations.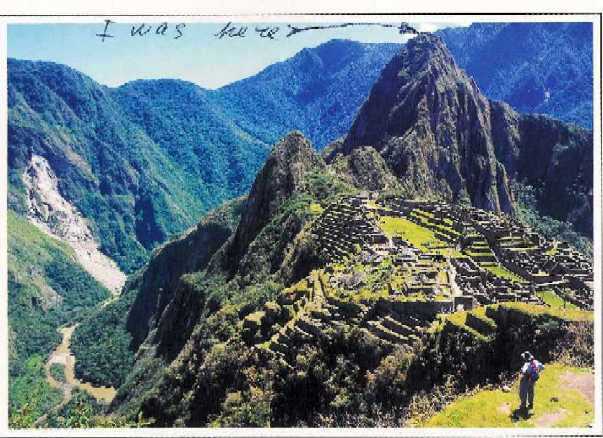 Machu Picchu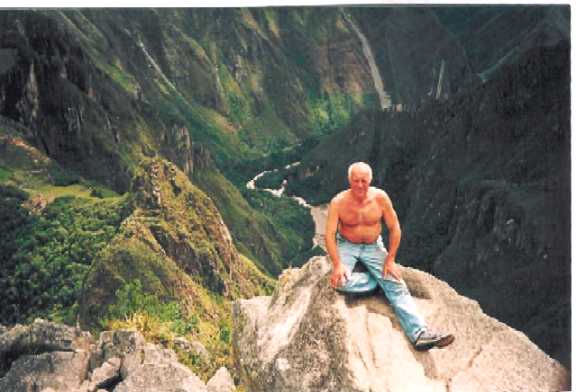 I am on the top of mountain standing above Machu Picchu. Machu Picchu is on far left, barely visible.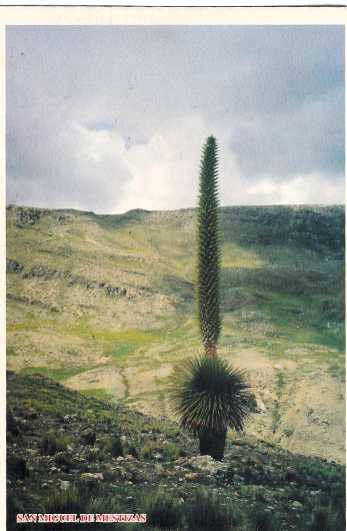 Plant Puya de Raymondi, which grow in Andes only. It grows up to 10 meter tall. Not very useful to put on windows of an average dining room.
Alex Mumzhiu
Arequipa, Peru
Dec 10 2002
10 pm
From Michu Picchu I took a long bus ride to Arequipa to see the deepest canyon and biggest condor that flies there. The two days bus tour to the canyon ($15) goes across a 4,800m pass before descending to the canyon, with vertical drops of 1,500m. A 4,800m is an altitude of Mount Blanc. I could not resist the temptation to ride it down on bike. In-spite of protests of my tour guide I exited the bus, unfolded the bike and went down. The lack of oxygen influenced my decision making and I put on gloves and long pants only after the second fall, a pretty bad one. The gravel road was awful and I came down covered with blood and dust. I spent all my stock of band aids and even bought some Gillette razor blades to make some small surgical operations. Everything is OK now.
From Arequipa another bus ride brought me to Puno, a town on the shore of Lake Titicaca. It is the highest navigatable lake on Earth, at 3820 m. Major attractions here are floating islands. Like Eskimos who make everything from caribou, Uros Indians make everything from totora reeds (trosthik). They make boats, houses, tea, clothes, all from the reeds. They eat it and most amazingly they make artificial islands, sort of predecessors of nowadays oil rigs. Island range from small for 2-3 houses to pretty large for a couple dozen houses with town plaza and observation tower. Ground is not shaky but soft. The boats they make are pretty sturdy. I traveled on one of them from one island to another with 20 other tourists. Two guys who made boats for Thor Heyerdall on which he tried to cross the Atlantic Ocean still live here.
To my surprise the lake is clean and the water is blue and very clear. I said to my surprise, because so many beautiful places on Earth, like Tonkin bay in Vietnam, or Guilin in China get trashed as a result of population explosion and poor sanitary habits of that population. The population here unfortunately has sanitary habits not much different than in other third world countries. Just the shores of lake Titicaca are not very populated.
Another bus Ride bring me to LaPaz, the capitol of Bolivia. City located on the inner surface of gigantic bowl. So when you stand in the center you can see entire city. I like it, nice city, better than two other capitols I visit before. LaPaz is highest capitol of the world, 3,632 m. Because of altitude it is cold. After I will finish this letter I will go North across Andes down to Amazon jungle. Road climb to altitude 4800m then drop 2,500 to city of Coroico. This is so called most dangerous road of the world. Lots of travel agencies here organize bike rides on this roads for about $40. I donīt need agency I will do it on my own bike. My backpack is only 6 kg and it doesnīt bother me. From Coroico I will take bus ride to town Rurenabaque, from there I will take jungle tour starting Dec 20 returning Dec24 for $100. Rurenabaque doesnīt have Internet, telephone only. So I have a last chance to wish you
A MARRY CHRISTMAS AND A HAPPY NEW YEAR
Alex Mumzhiu
LaPaz Bolivia
Dec 18 2002
10 am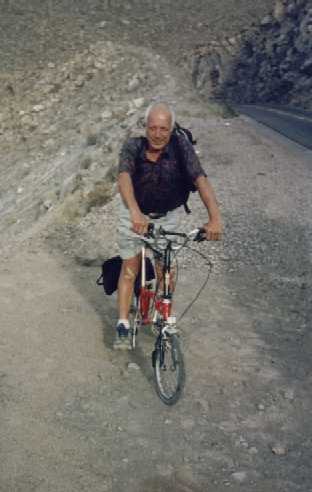 Coupe days after Arequipa decent, I still covered with band aids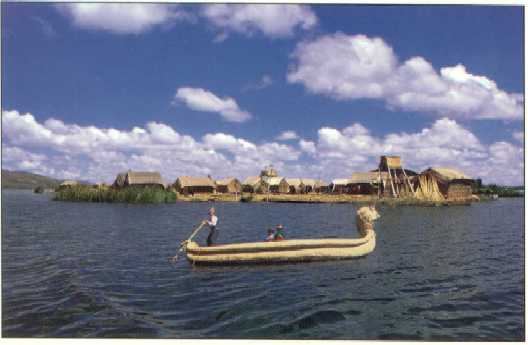 Titicaca floating islands. Reeds attached to side of island are floating ones. Water is 20 m deep here.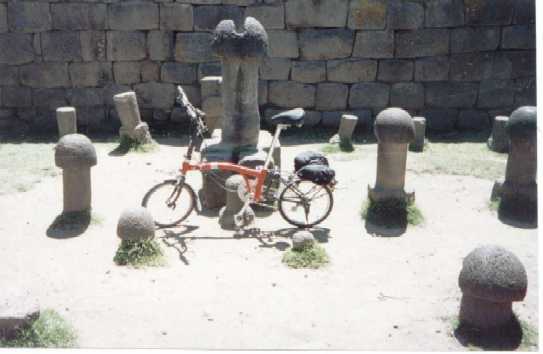 Another attraction of Puno are so called fertility fields. Russian will call them differently (sami znaete kak). It is interesting what seed they put in ground to produce such a harvest.
I am in the Amazon jungle town Rurrenabaque. It is a pretty nice jungle town. It reminds me in some sense the village of Listvianka on the shores of Baikal lake, which has asphalt roads and mixed drinks in every bar, but otherwise is a typical Siberian village. The same way the Rurrenabaque has the feel of an Amazon village, and Western influence did not make it too touristy, just a little bit. It is hot here. A nice change after many days of high altitude cold, which I experienced in Micchu Picchu and other high places. However the air is not muggy, like in Washington. Actually, the air is pretty dry, the clothes which I washed, get dry in a couple hours. I stayed in a nice hotel for $2.70. It is completely swamped in flowers, but it is the Amazon basin, so flowers are pretty tall, like small trees. Mango fruits periodically fall right in front of my hotel door.
On the way to Rurrenabaque I experienced what they call the most dangerous road of the world. It is really very dangerous for cars, but not for bicycles. Its carved from the vertical wall of a deep canyon. It is a one lane road and the width of road is just slightly wider than a car. It has some pockets, for passing. So when two cars met, one of them has to switch to reverse and go back till the previous pocket, where the incoming car can pass. It is really scary. Last week a bus with passengers fell, no one survived. After some bike travel I took a bus at one of the intermediate stops. It took 17 hours to reach Rurrenabaque. The bus was full and I was sitting between seats in the middle on the my backpack. The bus smelled terrible, I was the only Westerner there. I had to come this way to Rurrenabaque to see this much advertised most dangerous road. I will fly back to La Paz.
LOST IN THE AMAZON JUNGLE.
Pampa and Jungle tours are big business here. About a dozen tour companies have camps in jungles to which they bring tourists by motorized boats. They offer a standard range of activities such as swimming with pink dolphins, piranha fishing, sunrise and sunset walks and night alligator trips. On day number one, my group of 9 people went for an anaconda search. They went to a far remote forest and they walk too fast for my arthritic ankle. Also, I did not like this group walk with a guide in front and somebody in back. So I told them I will go back to camp and will go to the jungle on my own.
I had a huge experience with forests. I spent many summer vacations in Siberian and Far Eastern forests (taiga) in Geological expeditions thanks to my friend EB, the geologist. I love forests and I know them. It was very important for me to have a one on one, personal encounter with this super forest --- the Amazon Jungle, and I had it. I have read a lot about the Amazon Jungle but it is better one time to see... First, there are not so many blood suckers as I expected. Much less than in Siberian taiga. It is like on Karelian peninsula. Second it is not so hot. You are always under the shadows. So, in the hot afternoon in Karelian forest it is hotter. It is very difficult to move here. The forest is dense and criss crossed with vines. So it is very easy to get lost because you cannot go straight and always have to go around un-penetrable parts of the forests. I had a compass, which I always carry with me, and I knew the general direction of the river, so I wasn't supposed to get lost, but anyhow there were a few scary moments. I made a little fire and swam in the river to be sure, that I can do these normal things in the forest. River, by the way, was full of alligators and kaymans, so you have to carefully select the place to swim. The jungle was full of unknown and sometimes scary sounds. I was hypnotizedised by one sound which sounds like somebody being chocked. It became louder and louder and at the end, it sounded like a bears roar. The guide told me the next day it was monkey. I went toward this sound, which came out of a large tree. When I came under the tree the sound stopped. The ground under the tree was soft and covered with dead leaves. I layed down and fell asleep. I woke up because somebody shouted Alex, Alex. The guide with 4 support employees went to look for me. They were very serious and scared. I was the first tourist ever, that was "lost" in the jungle. Normal Western tourists do not go to the forest farther than the latrine without a guide.
The next day we had an activity called swimming with pink dolphins. The only person willing to swim with them was, you guessed it, me. My companions were afraid not only to swim, they were afraid to touch this water because there can be dangerous parasites there. This was in-spite of dozens of vaccinations they did before coming here.
This is a good time to explain the difference between Russians and most Westerners attitudes towards the forest. For the Russians, the forest is a friendly and kind thing. This comes from the folk stories, childhood trips to the forest for mushrooms and berries and so on. For the Westerners, especially Americans and English people (less to the Germans), the forest is full of dangerous and poisoness plants and animals and they do not want to touch them, needless to say, to put them in their mouth. They can do it only if they are properly packaged and sold at supermarket.
My companions were retty typical in this sense. There were 3 young but not pretty, ladies from somewhere in England and 2 more not so young but even less pretty ladies from London, who looked like bag ladies (nishenki) in-spite they were highly paid professionals. I guess it is London's fashion. These young ladies deserve much credit for their brave decision to go for a 6 month round the world trip, but instead of open hearts they went with hard upper lips and expect the rest of the world to fit the tough English standards of human behavior, table manners and sanitation. This is pretty typical by the way. They dreamt about showers, which they did not have for 3 days being on the shore of the river, and dream about peanut butter sandwiches. If you are so unadaptable, why torture yourself and go to the unfamiliar places.
The best activity was so called sunrise walks, which started with floating on a canoe (the motor was off) along the river before sunrise and listening to the sounds of jungle. It was great.
Next portion of my tour was with 4 independent travelers from Argentina, Israel, Sweeden and Sweetzerland. Independent are always the best. They were normal people, which don,t afraid to swim in the river drink alcohol which I, as always, had, and so on. We had a lot of fun. Last day remind me my Siberian expedition days. It was pouring rain, motor did not start. We all were wet and dirty. In Siberian taiga, it is thick layer of old needles on the ground, so you do not get durty. I also was bitten by gigantic ant (myravei ystrashaushii). It was more paifull then wasp bite.
But anyhow jungles are great, and I want at go to jungle one day on my own.
There is no film development facility in Rurenabaque so I sent you some old pictures.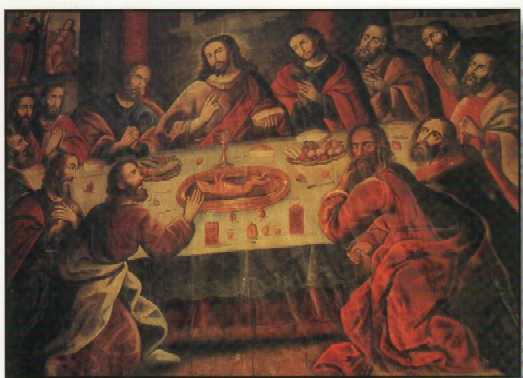 Last supper S. American style. In the middle of the table is gue (ginny pig) (Main cathedral in Quito and Cusco)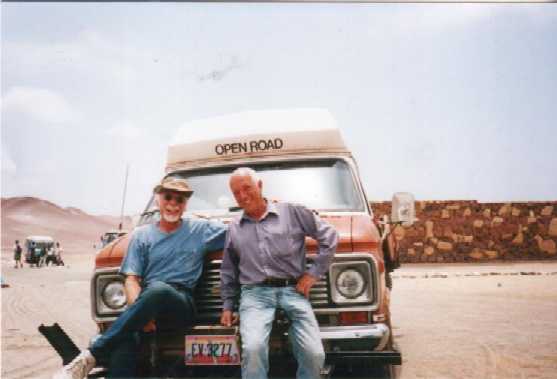 Gringo who travel through S. America on his 1968 Shevy Van. Pisca, Pery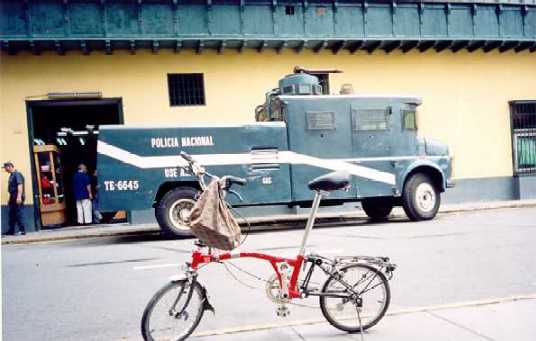 Lima polis car with water cannon. They would better use it to clean the city from the urine
Rurenabaque Bolivia
Dec 25 2002 4:30 pm
My plane to LaPaz should be at 6pm
MERRY CHRISTMAS AGAIN
Alex Mumzhiu
My dear readers I sent you my
HAPPY NEW YEAR
from the small town of Uyuni sitting on the shore of Saler de Uyuni. But before you will continue to read it, take a look at the first picture in the attachment. Something wrong in this picture!!!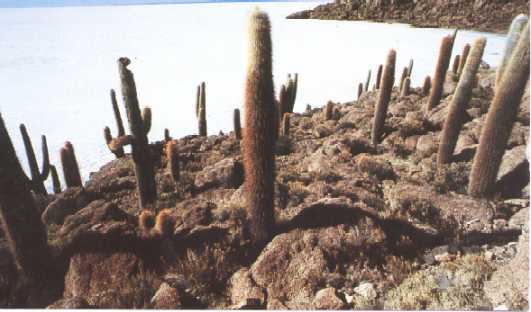 Cactuses do not grow on the shore of white polar sea. Right, it is not ice it is salt. Saler de Uyuni is huge 100x100 km salt field, 1-3 meter deep. Place with cactuses is the island in the middle of this salt field called ironically the Pescador Island. The close look at this salt sea is at the picture 2 in the attachment.
This is one of the wanders of the world, on my opinion. However, it is not well known. The reason is this: this place doesn,t have any tourist infrastructure. There are no 5 star hotels (no any stars), only very basic dormitory with "bathroom" outside. There are no roads appropriate for the comfortable tourist buses. This is why it is not advertised in glossy tourist booklets. This place is strictly for backpackers. So people who put their conveniences first, will never see it. Ironically the most picky are Russian tourists. They did not have any services for 70 years, so it is kind of exucible. However it is sometimes exceed all reasonable limits. I heart the opinion of Russian lady about Galapagos. She thinks it is not good because the service is not very good there!!! I myself, however, developed the way to handle these non adequate "restrooms". I did not eat for the entire 4 days trip, especially because we spent most of time in the car and did not walk much. As a result I lost all my American saving and returned to the weight with which I left Soviet Union 23 years ago. Many people I met, notice that the America is the country where the most of people are very fat. Unfortunately it is true, 65% are overweight. So these who want to loose weight come here, but India definitely the best choice for this purpose. Stone tree is on the last picture in the attachment.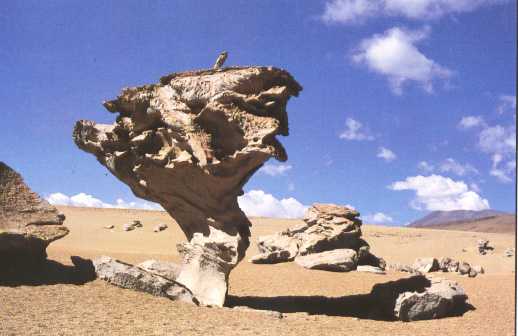 This is the result of wind erosion and the extreme temperature range in the high Andes (4000m), from minus 30C at night to plus forty during the day. We experienced these changes. It was pretty tough. Again, I wish you my dear readers
THE HAPPY NEW YEAR
Alex Mumzhiu
Uyuny, Bolivia
Dec 31 2002
9:43pm
My dear friends,
I apologize to these whom I did not answer yet, I will do it later. From Uyuni I went to Potossi, then Sucre and now I am in Santa Cruz, Bolivia. In half an hour I am leaving Santa Crus by train and will be in Brazil tomorrow.
I hope to take one more jungle tour to Pantanal from Currumba, Brazil. Pantanal is the most jungle Brazilian province. I should tell you that jungle impressed me most. You don,t have to be born in rural village to be forest lover. My friend and friend many of my readers NV was great intellectual and spent her life in large city, but she was a person who loved and knew forest as not many villagers do. I know she would be delightful to visit this super forest JUNGLE. And it doesn't matter how many animals you see. What is impress most is how tall and multi level is this, and also multiple connection of all inhabitants. It is very interconnected echo system. It is so sorry that Amazon jungle continue to be destroyed. I will write about it later.
Saler de Uyuni (dried salt lake)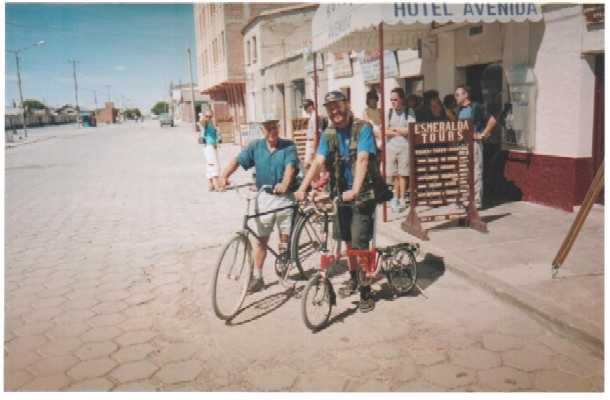 Polish man who travel around the world on tractor. On foto he is with my bike. I am with his, which is Russian bike Ural.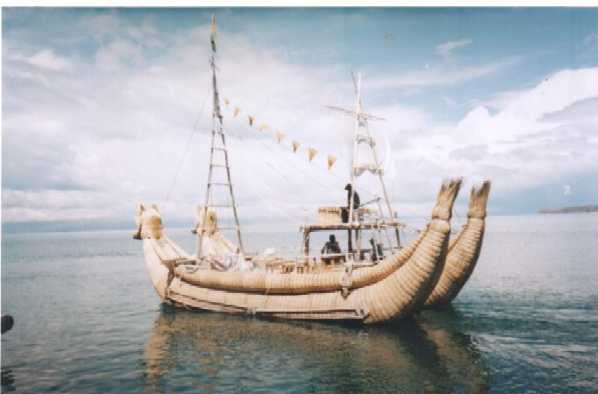 Lake TitiKaka
Alex Mumzhiu
Santa Cruz, Bolivia
Jan 7 2003 2:30 am
My dear readers I am in Rio De Janeiro, the final point of my trip. My return ticket is on Jan 20 2003
As I wrote before, from Santa Cruz, Bolivia I took 24 hours train to the border of Brazil and went into another jungle tour in Southern Pantanal, Brazil. It was disappointing, Bolivian tour was much better and also cheaper.
Than, I took another 22 hours bus ride to Iguasu fall. This waterfall is smaller than Niagara Falls but designed much better. There are three town at this multi border joint Brazilian, Foz Do Iguasu; Argentinian, Puerte Iguazu and Paragyaian Giuded del Este. I visited all three. Brazilian and Argentinian are for tourists.
Paragyaian, which has some sort of free trade status, is for business people. Town is full of crazy people who carry back and forth boxes filled with consumer electronics and HiFi stuff, which is very cheap here. To my surprise it was no single Russian there. I also change one dollar for 7,000 units of local currency and bought bunch of staff on it. I cannot spent all of it and exchange what is left for coins. But I did not buy electronics. I bought some snacks, drinks, fruits. I am not interested in this HiFi and Hi Tech stuff.
From Iguasu I took my longest bus ride (24 hours) to Rio De Janeiro. Buses in Brasil are comfortable and cheap. However they have their own problem (zakidoni). I take good dosage of my sleeping pills (bottle of vermouth) in anticipation of long night ride and fell asleep. Soon, I was waken up and told to leave bus for cleaning. Bus was clean, however. I exited bus and enter a shopping center. They gave me small piece of paper which I angerly thrown away. They invented this cleaning just to encourage people to go to this shopping center, I guess. Then I wanted to exit, they asked for that piece of paper. Merchants supposed to write there what I bought. It take a long time to proof that I bought nothing.
Altogether during my trip I travel on buses and trains for 264 hours (11 days)
Rio is great, but is also hot as hell. It is their August.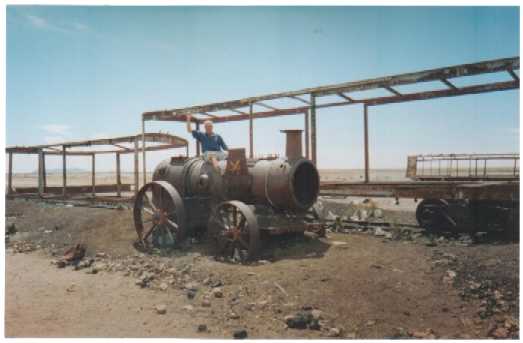 Train cemetery at Uyuni.
Iguazu Fall.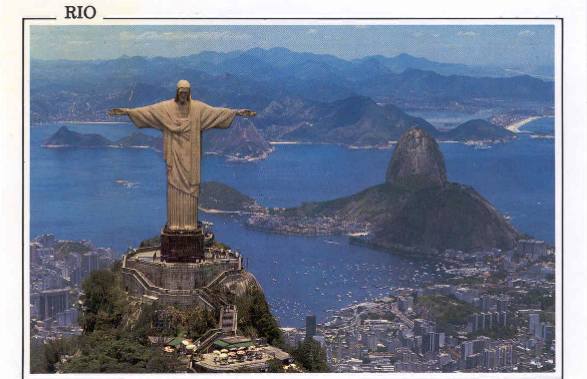 Post card of Rio De Janeiro. They call it edited image. They turn statue of Christ Redeemer on 180 degree
PS. Poxod.com published my trip reports at: http://www.poxod.com/hotline/bike.htm
Alex Mumzhiu
Rio De Janeiro, Brazil
Jan 18 2003 2pm
THIS IS MY LAST REPORT FROM THIS TRIP!
GOOD BYE.
My dear readers.
As you may remember I had a kidney cancer operation scheduled before my South American trip started. A laparoscopic operation of a partial nefrectomy was done on Jan 29. I was at home on Feb 1 completely OK. The biopsy had shown that, indeed, it was a cancer, but kind of a lazy, not very aggressive one.
In order to get to the hospital you have to answer a few formal questions, like before getting on an airplane. At the airport they ask you "if you packed your luggage yourself?". In the hospital they asked "Do you have a living will?" If you start to mumble, they help you. "You do not have it with you, but you have it at home right, right, yes?" In order to leave the hospital you have to answer "yes" to the question, "Did you have your bowel movement this morning?"
As I learned, the hospital is one of the most dangerous place to travel, much more dangerous than the Amazon jungle... I survived only because my friend S.E. who recently returned from the hospital told me his sad story. His penis is broken and does not perform any of its functions. He told me that they gave him a laxative after the operation and when he had the urge to go to the restroom, he forget about the bladder catheters, tied to his bed. He rushed to the restroom and almost tore off his penis. I was in a similar situation, but I remembered his experience every minute. I also had three catheters, one to the kidney, another to the bladder and one more to suck liquid from the operation area inside my belly and in addition, I had an IV machine (kapelnitsa) plugged into electricity. I also was given a laxative after the operation. When I had my urge, I pressed the button to call the nurse to ask her to disconnect the IV machine from the outlet. Nobody came. I pressed and pressed and pressed, nobody came. I started to knock on the wall, no reaction. When she came I lost my urge. After a few such exercises you feel like a balloon is ready to explode. However, I did not repeat my friend's mistake and as a result I have all my body parts intact.
It is such a contrast! A laparoscopic operation is performed from a computer screen through a few small incisions, without opening the body. It is a miracle of high technology and human skill. But after the operation care just stinks.
On the forth day, in the morning I was discharged and ready to go home, but my clothes as a result of a few miscommunications was not brought to the hospital. So I ran away from the hospital to a waiting car without shoes and in a hospital gown. When I called my son to tell him the exciting details of my escape, he did not laugh at this topic and said that it was just reported in the news that the Space Shuttle exploded.
This is really my last trip report. I felt the story would not be complete without this final chapter. You can find in an attachment the final map of my trip. It took 80 days and was 5,000 mi long. I visited 6 countries.
My trip reports are published at the site of North American Brompton bicycle dealer Channell Wasson http://www.bromptonbike.com/CurrentEvents/Story/TravelStories.html
At the site of Smirnov Outing Club in English http://www.poxod.com/hotline/bike.htm
In translation to Russian it is published at the site of Roman Zapatrin http://romanycz.travel.ru/citi/mumzhiu/tn.htm
Lasts year's trip report from Tunisia to Russia in translation to Russian is published at: http://www.bicycle.spb.ru/lyrics/mumzhiu/
The short story "Traveling to the youth" is published at the Internet site of my high school http://www.sch30club.spb.ru/mumgiu/ind1.html
I would like to thank all Internet site owners, publishers and webmasters for publishing my travel notes.
Thank You
Alex Mumzhiu
McLean, Virginia USA
Feb 6 2003 1pm

Map of my trip (click on the map for a larger view)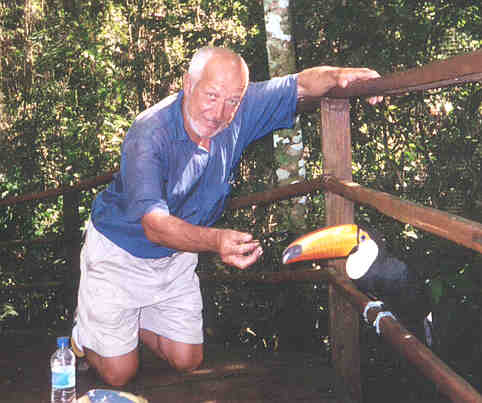 Tykan in Iguazy bird park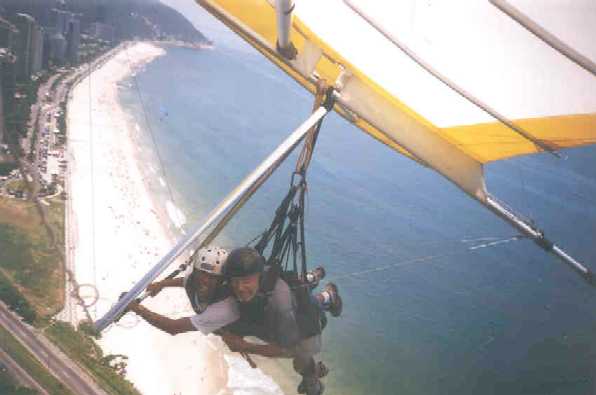 Handgliding in Rio De Janeiro