Alex Mumzhui with his Brompton on Silk Route to China
Click on the map for larger view

St.Petersburg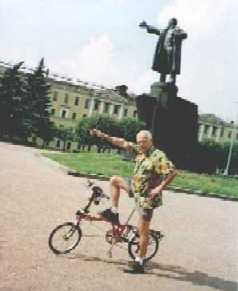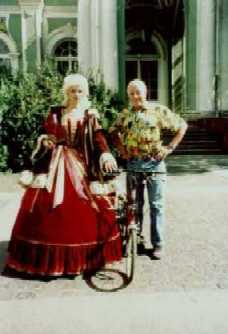 In front of Lenin Statue in St Petersburg Near Zimnii Palace
Moscow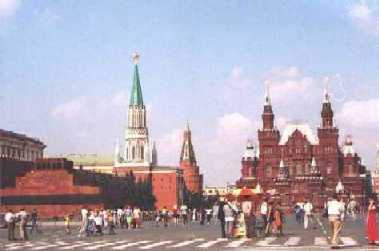 Moscow Oh Moscow, Moscow, at the train station it is still the same incredible mixture of homeless people, extravagantly dressed women, smell of urine, babushkas with cloth bags and bunch of exhausted travelers sleeping on the floor. I came in Moscow on bike for the first time. I did not feel the real scale of Moscow before. Now I get it. It is not as big as I thought. From all the cities only Tokyo is large even for the bicyclist. It was nice to see the Moscow again, but I did not feel anything close to that excitement close to tears (like my neighbor poet Osip Mandelshtamm wrote) which I felt in St. Petersburg. A tour through the Moscow for me was mostly visiting the places mentioned by the poets Okydjava and Visotsky such as Petrovka 38, Bolshoi Karetnii, Arbat moi Arbat. I stay in the last remnant of the Soviet past the Hotel Leningradskaia. In the past I never expect to stay here it was mostly for the Soviet elite. Now, half empty the hotel takes Russians for $25 and foreigners for $100. Hotel is still belong to the working class. In this case to these representatives of working class who work in the hotel. A security guard (vishibala) harasses guests for the passes, repair workers take an elevator before the guests. The restaurant is always empty. When I came in the morning for the breakfast I was met by very importantly looking metr-d-hotel (manager) who offered me a menu with extensive choice of drinks and firmennix blud (specials) with astronomical price tags. Coffee for example was $3. In normal Russian zakysochnaia (small restaurant) you can have full meal with the beer for this money. This hotel is in the Guinness book for the longest bronze chandelier (lustra). Interior are full of stucco and bronze. It was built in pompesnii (bad taste) Soviet style of 50-ties. I guess Guinness puts it in their book as a standard of pompesnosti. Moscow is the battlefield between still existing Soviet stablishments like my hotel and many new developments. I visited two Russian "all you can eats" called Drove (firewood) and Elki-Palki. Restaurants were full. Food was great, many Mid Asian and Caucasian dishes, osetrina, semga, price is $9. Commercial is funny. It says: "eat as much as you want, at least, now" Most of commercials in Moscow are insulting. Commercial for Fanta for example said "A garbage in your mind is not a substitute for the knowledge" Commercial for the cigarettes Kent shows a degenerative man with obviously criminal background who also teach you something. I would never buy a product with such commercials.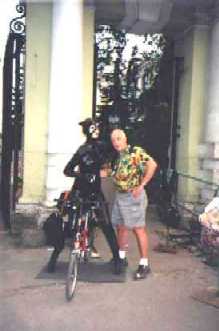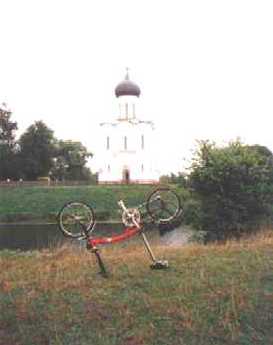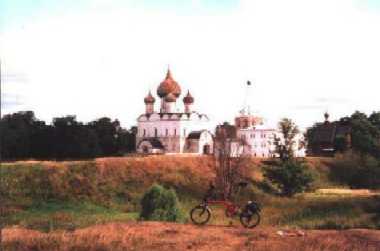 Moscow Golden Ring.
I bought a famous Golden Ring tour to visit 7 midlevel Russian cities: Vladimir, Syzdal, Sergiev Posad (Zagorsk), Pereiaslavl Zalesskii and others in 5 days for $130. It included food, transportation, hotel, and tour guides. Such prices exists only in Indochina.
Tour was excellent. Hotel was good. Food was not fancy by pretty decent. We visited several 12th century churches which survived Mongols including famous Church of the Intercession on the Nerl (Pokrova na Nerli). There is no automobile road to the church. So visitors have to walk one mile from the bus by dirt road. This is too much for me. For these who do not know that; the bike is actually my handicap vehicle, because I cannot stand or walk for the prolonged period of time, due to arthritis in my back and ankle. Fortunately my bike was with me so I ride to the church. However the spirit of old church had something against the modern ways of transportation and it broke my pedal. See attached picture. People in my tour group were mostly not from Moscow, but from the provinces as far as Eastern Siberia. There were few families with children. Several people in group were people with sort of old fashioned good Russian faces. These people who join this tour were obviously these who are interested in Russian history and culture. When we read endless publications about declining Russian production, army, industry, morality. About people loosing communistic ideals and having nothing to replace them, we expect to see very bleak picture of desinegrating country. People from my group also complained about bad conditions in their respectable places and bad behavior of its inhabitants, but they themselves, I should say, were pretty nice and decent people. I think in spite of current brain drain and assault on national genofond in Communistic era, the human recourses of Russia are not as exhausted as it seems to us, and because of it Russia has chance of revival
Pictures: Cat manekaen at the entranse to Dvorets Pionerov St. Petersburg; Nerli; Golden Ring
Different topic.
Tomorrow I will go by train to Odessa, then by ship to Turkey, then by bus/bike combination to Iran, yes to Iran. I learned that they give transit visa up to 10 days easily even to Americans. Then to Pakistan and China

Odessa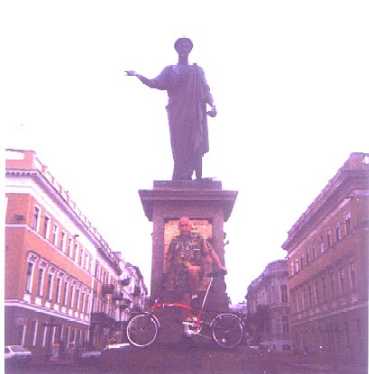 > I am in Odessa. My love to Odessa started in 1947 when my mother brought me to Odessa for the summer vacation. After gloomy and cold Leningrad, still not restored after the war, the Odessa looked like the fantasy land. In the first day I found on the beach a little dead crab. This incredible animal impressed me so much that I carry it all day long, in spite of my mother's protests. On the wall of my grand mother's kitchen was the saw from the sawfish which impressed me even more. But mussel pilaff which my grand mother cooked is still the most testiest food I ever had.
I haven't been here for 22 years, but I quickly remember how people in Odessa realated to each other, by sex. for example: "Jenshina, pochem vashi rachki" (Woman, how mich are yours shrimps). I think the Odessa is the same. The smell of sub tropical greenery at Primorski boulevard is the same. View on the port from the top of Potemkinskaya staircase is the same, the old Dilapidated baroque buildings on the Deribasovskay street are the same. Even the Gambrinus, the only beer bar I know, in which the live music is produced by violin is still the same. However, the violinist who always was an old Jew, now is not a Jew. All Odessian Jews probably moved to the Brighton beach, New York, where they form a "Little Odessa". Really, I did not see any Jewish faces in Odessa. Odessa without Jews- unbelievable. What the generations of anti-Semites were unable to achieve was achieved by the freedom of emigration. But will the Brighton Beach produce the same amount of world class writers, poets and musicians as Odessa did. I doubt about it. Only atmosphere of oppression and discrimination which forces Jews to work very hard to became the best of the best were able to produce them. An American freedom and equality will not do it. I went on 1 hour boat ride around the Odessa port. It was about the same route which my friend Vladislav D. and I did 30 years ago in order to test drive our folding canoe with the sail on which we plan to sail around the Black Sea. It was really brave endeavour, because even floating on inflatable mattress were considered as an attempt to sail to Turkey. We sail around Odessa sea port in front of oceanic ships leaving and entering the port and nobody stopped us, because nobody expect such strange and risky behaviour. In the evening we came to the shore and landed next to the boarder guards station where we were immediately arrested along with our craft. We were released later and came to my grand mother home without canoe. The canoe was released few days later and guards advised us to sail on internal Azov sea. We did, but were arrested again, not in that year trip, a coupe years later and in different company with Urii K.
Incredible story which happened with me on the Golden Ring near Moscow.
A lady from my college lives in one of these small cities which form Golden Ring. She worked as an engineer at the same plant to which she was assigned after graduation from the college. Now retired she survives on $30 per month pension plus some vegetables which she grow at nearby village. When I came she was not at home and I left the message saying that I am at Golden Ring Trip and will be back to Moscow next day. I did not leave any address because I did not know which hotel I will stay in. A couple days later she called me in my room in Leningradskaya Hotel. How did she found me? She did not tell. I can only guess. Every person arriving in Moscow, St Petersburg or any other Russian cities have to be registered with police. My hotel did my registration for me. There is no agency to which you can came and ask to locate somebody who came in Moscow. It is traditionally domain of KGB, now FSB and police. I can only guess that my friend, a usual Russian way, know somebody, who know somebody, who know somebody, who know somebody who work in this organisation. Imagine the task to find somebody who came to New York and stay in hotel, you do not know which. Combined force of FBI and CIA will not help.
Alex Mumzhiu
Odessa Ykraina
Aug 30 2001
10:30pm
PS TomorroW I will go by train to Krimea penensula
Picture: Founder of Odessa Duck Rishelie
My dear friends and subscribers, I decided to continue my trip. It was a difficult decision. Even while the President Bush asked us to continue to live the normal life, I would feel uncomfortable in such times to do something what can be classified as a leisure or pleasure. When you feel out custom forms during the borders crossing, all travels classified as a travel for business or a travel for pleasure. This classification always irritates me. My travels are not pleasure travel. They are more like travels of my friends, long distance bikers about whom I wrote to you before. One was arrested and expelled by Burmanize military authorities while exploring this semi closed country, another undertake incredible bike ride (veloprobeg) across Euro-Asian continent from Hong Kong to his native London, third took his bike to the trip across the African continent from North to South. Can it be classified as a pleasure activities? No, it looks more like climbing the Everest. And the same as with climbing the Everest the motivation for these trips is simply "because its there". While my trips are not so grand, they are the same kind. So with such explanation in mind and with support of my family I decided to continue my trip along Silk Road but this time not backward. In two hours I will be on train to Beijing (China) through Trans Mongolian Rail Road.
Because I touch this touchy subject I would like to tell you what travels means for me. First of all I always wanted to see the world. And only when I lost my job 3.5 years ago, with little chance to find another, I get a chance to realize this dream. Also, unexpectedly I found a pleasure in writing Travel Notes in order to tell my children, my family my friends and my subscribers about places I saw.
I attended recently here in St. Petersburg the concert devoted to the memory of Russian poet and singer Jurii Visbor. Many of his songs and songs of other popular in my youth year poets, were about far away exotic counties, seas and oceans which we wanted to see and explore. The large concert hall was full of people who know, love and sing these song. And I thought that in the entire hall, it were may be few people, or may be just me alone who was fortunate enough to realize these youth dreams. So sometimes I feel that I travel for myself and for these who wanted but were unable to do so (za sebia I za togo parnia).
St Petersburg Russia
Sept 29 2001 11:50am
Alex Mumzhiu

My friend from the St. Petersburg Yrii K. wrote to me: "Hi Sacha ! Is very glad, that these ZASRANCI have not hindered to continue to you traveling". Thank you Yrii. It is difficult in such times to be away from the home, and every news looks even more scary from the distance. However, while I am still traveling I am going to share with you, my subscribers, all my findings. These ones are from Mongolia. Ulan Bator, Mongolia is the most convenient crossing point between the Europe and South East Asia.This is why it is good place to meet the great travelers of nowadays, These guys who survived somehow from the times of the Great Geographical Discoveries. Two Englishman spot my Brompton bike in Ulan Bator Internet Cafe, and started talking with me. They were in a middle of their trip from London to Singapore on bikes. They biked from London through the all European Russia and Siberia to Ulan Bator, Mongolia. Their Internet site is: www.multimediamark.co.uk/cycleoverland . I am so sorry I met them just before my departure to China. Another guy stayed in the same 5 bed both sexes dormitory room as I in guesthouse "Nassan" in Ulan Bator for $4 per night. He and his team of two Australian and two Canadian started from the source of Selenga river in Mongolia on canoe and rubber raft. They sail to Baikal lake, cross it,and continue along Angara river to Yenisey. At some point they change the vehicle.They found an abandoned wooden rowboat, and to amusement of Russian villagers fixed it and continue their trip till they reach Dudinka where Yenisey fell into the Arctic Ocean. They had several interesting moments. At white water in the beginning of Selenga river one guy was separated from the rest of the team and arrived few days later at the border crossing point to Russia at Naushki with canoe, but without passport, food, any documents and shirt. Border guards gave him their formal uniform. The same team last year sail Amazon from source to delta.Their site is www.raftyenisey.com. I met German couple which traveled from Germany to Turkey, Georgia, Azerbaijan, Tyrkmenistan, Uzbekistan, Kirgystan, Kazakstan to Russia and then to Mongol border where I met them. Their Internet site is: http://www.tourdeasia.de/. My Russian friends told me that it is too dangerous to go to these Mid Asian countries, but these Germans biked through them just few months ago. I met them when they unloaded their bikes from the train at the border crossing to Mongolia at Nauski.I arrived at the same train. I asked them why they exited train before the border. They explained that they were told that the bikes are allowed in train everywhere except for the border crossing. Such a strange limitation, isn't it. The reason for this limitation we learned later. When the train crossed the border to Mongolia, a tons of boxes with illegal goods were thrown away from the train and big bulky bicycles really were on a way of people who handle these illegal goods. How they (Germans) get back on train with their bikes inspite of prohibition? I helped them. The chief border guard, the lady, was my friend and she allowed them as an exclusion from the rule to take their bikes back on the train. How does she became my friend? She removed me from the train three days ago and sent me back to Ulan Ude for the Mongolian visa, which I really don't need. Actually it was sort of a gray area, where the officer may decide ever way. So, when I arrived for the second time, she met me as an old friend. On a train from Ulan Ude to China I met the guy from the Israel who spent four months in Mongolia. He bought a horse (not rent) for $80 and travel alone (without guide) for many weeks. He stayed in nomad's gers and eat with them their food. In Gobi desert nomads love to eat marmots (syrkov) they are very tasty dish, but have one drawback you can get bubonic plague from them. Every year they have several cases of bubonic plague (it is not yours Anthrax) in Gobi. I asked him did you eat marmots? He said yes. But besides bubonic plague, are you sure they were kosher? He wasn't sure about it. These are the most interesting travelers I met in Mongolia.
On attached pictures:
1. Russian marketing ingenuity. Display of sexual aids in men's room at Yekaterinburg Train Station.
2. Mongolian junior monk on Brompton.
3. At Forbidden City Beijing China
If pictures is not here I will be sent later. It is very difficult to work with Chenese.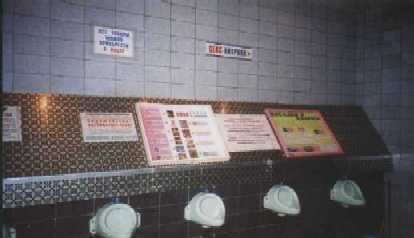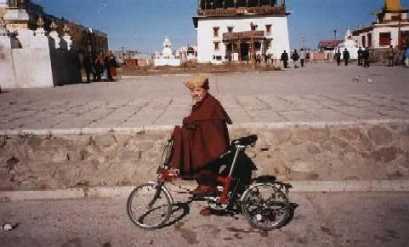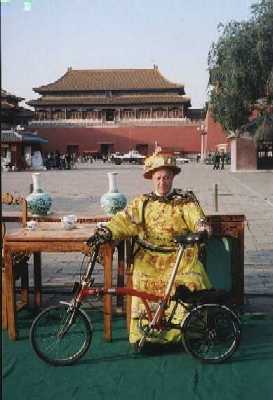 Alex Mumzhiu
Beijin China
Oct 1 2001
19:50

Little hijacking incident. Mongolia was for a long time under Soviet control and it acquired some Socialistic hobbits. The main Socialistic rule is this: It should be some sort of shortage, if not it should be created. This is the only way for these who distribute the goods to get some extra income. Tickets from Ulan Bator are notoriously difficult to obtain. It was no tickets to Beijing at railway station. However it was an agency there called. Intertour which promises the travelers to help. They helped me to buy ticket to Chinese border for extra $5 and promise to buy ticket from the border to Beijing, for which they taken money in advance, but give no ticket. When I and six other travelers exited at final station at Chinese border we were met with representative of Intertour who told us that our money was stolen so we probably have to buy another tickets. Our group consisted of one Mongolian man, who also speaks Russian, a guy from Israel, about whom I wrote to you before, two girls from Israel and two Japanese guys one of whom fortunately speak Chinese. Intertour representative speaks only Mongolian, so Mongolian guy translates his words in Russian and I translate it in English to rest of group. We decided to go to Chinese authority and explain them this story with help of Japanese man. It did not help, Chinese said it is not their business. When we called to Mongolia to guy who sold us tickets. After this we get first offer from our hijacker (Intertour representative): to deliver us to Beijing on bus. We refused, when he offered to sent us by sitting train, not sleeping for which we pay. After several steps we achieve the point where he offered 3 sleeping tickets and 4 sitting, but these who will sit will get also a refund of 100 yens ($12) It looked like we cannot get more, so we agreed on this offer. During the process of negotiation our team became very friendly and cooperative with each other. By the end we drink some vodka which I had (y nas s soboi bilo). And shout :Cheers, Lehaim, Na zdorovie and something else on Japanese which I cannot re-produce.
On the picture below is our group On another picture is entrance to Forbidden city with chairman Mao in front. On third picture I with Chinese girl. It is real girl not a toy. Her parents for some reason wanted to photograph their daughter with me.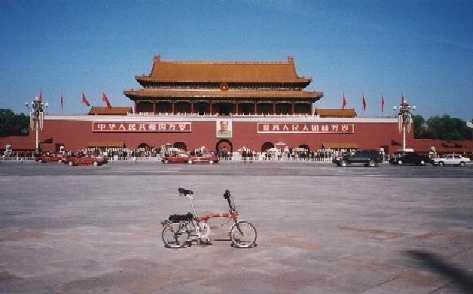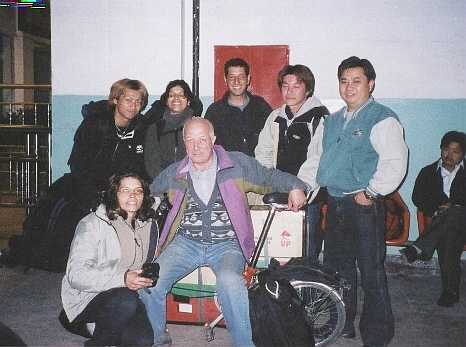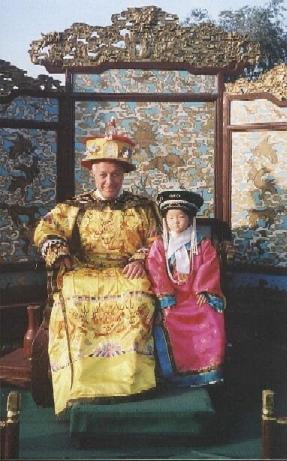 Alex Mumzhiu
Beijing China
Oct 20 2001
Continuation of Trans Mongolian train journey. I do not remember anything interesting in Ulan Ude except for unusually push i personnel in hotel Baikal where I stay. I would like to add few words about Russian, or more proper to say Soviet service. I told my friends in St. Petersburg how surprised I was, when I did not see many Russians in Crimea. And they told me that for the same money people now can go to Turkey or Bulgaria resorts and the service is better there. It surprised me. The Crimea is ten times more interesting then these places. Bad service, who cares!!! How can they be so sensitive and such sissies. After two months in Russia that service gets on my nerve too, especially in Siberia, which like in time machine, frozen in Soviet times. An entire army of service personnel such as hairdressers, public toilet attendants, cashiers, waiters and sales people use their position to insult, harass and torture their customers exactly the same way as it was during Socialism. Public service places have a number of reason to be closed exactly when you need them. Closed for lunch, for inventory checks, for re-training, for repair, for "yshla na basy" and recent new invention for technological breaks. All public services surprise by their inefficiency and plain stupidity. Rail Road cassas always have long lines, in hotels, they may have sometimes a hot water in shower, but then, they do not have cold one. If they have tea, then they do not have sugar and so on. So when I came to Ylan Bator (Mongolia) and asked lady at information desk for something, she smile to me. I was shocked. I already wrote to you that I stayed in Guesthouse dorm in Ulan Bator where I met so many interesting people. So I decided for the future that I always will stay in dorms. Private bathroom do not worth these contacts with interesting people, which I miss when stay in a single room.
Beijing surprised me by its cleanness. Chinese still dump garbage on the ground and spit, but the army of janitors works day and night and pickup an every used bus ticket, every butt. Central streets are absolutely clean. I did not noticed much pollution ever because people ride bicycles. Comparison with India which I visited a year ago was definitely not in a favor of India.
Hi, I am in Hong Kong, a miracle city. I came here on a train from Beijing, but I have to write, eventually, proper chronological description of my travel. Here it is: I started from St. Petersburg, Russia Sept 29 2001 by train. I had stops at Ekaterinburg, Irkytsk, Ulan Ude, Ulan Bator and Beijing. I actually buy tickets from point to point, because the situation with stopovers was not clear. My entire rail road bill was about $300. In Russia I traveled by 4 seat hard sleeper (kypeinii vagon) in China 6 seat hard sleeper. Contrary to my expectations Chinese train was surgically clean and
very well organized. Russian train was the same as it was 20, 30, 40 years ago, but it is OK. I spent 7 nights in trains before I left Russia. My neighbors were serious middle age men, mostly on business trips,mostly mid-level managers. Soon after leaving St. Petersburg the scenery behind the windows became the endless forests with abandoned collective farms fields overgrowned with small bushes and forests again. One of my neighbors look at the windows and exclaimed rhetorically: "Why do we need so much land. Why don't we give it to somebody else. It is good that at least republics are now separate. But it is still so much land" Most of my neighbors agree that in Soviet times, it was better, but they do not think of returning to those times. Those times are gone forever and will never return. They also don't have much sympathy to communists. One of my neighbors jobs was an installation the electrical generators in villages and small towns. He described a gloomy pictures of dying places where people usually have no work and at the same time are not able to do any business and still wait until government will provide for them. I had day long stop in Ekaterinburg, which didn't impress me. Unlike Moscow and St Petersburg, Siberian cities are pretty much still in Soviet time. Even places where the Tsar's family was murdered located near intersection of Rosa Luksenburg and Karl Libkneht streets. For some reason all Siberian cities have major streets named after these German Social Democrats having nothing to do with Siberia. I spent most of time at train station drinking beer and visiting that restroom, the picture of which I sent you before I did not stay in Irkytsk and take bus to Baikal lake. I stay there in the village Listvianka in the guest house (tyrbaza) for $0.60 per night in 50 bed dormitory, but I was alone there. Tourbook said that they even don't have running water in this dorm. It is true. Dorm manager show me there is the basket and few steps down is the biggest mass of fresh water on the earth. 1/7 of all fresh water on the earth, to be precise, is in the Baikal lake. The water is crystal clear and very cold. Listvianka is funny village. It is normal Siberian village, but with paved streets and many street advertisement in English. On the Baikal shore local people smoke the omyl (fish known only in Bailal). It was pretty good smoked, but salted even better. I do not remember anything interesting in Ulan Ude except for unusually pushi personnel in hotel Baikal where I stay.
Continuation in next letter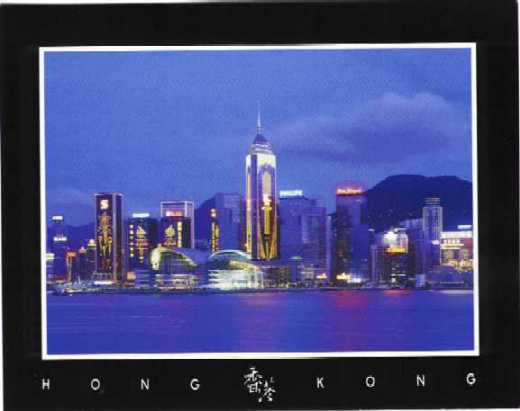 Honk Kong, I love this city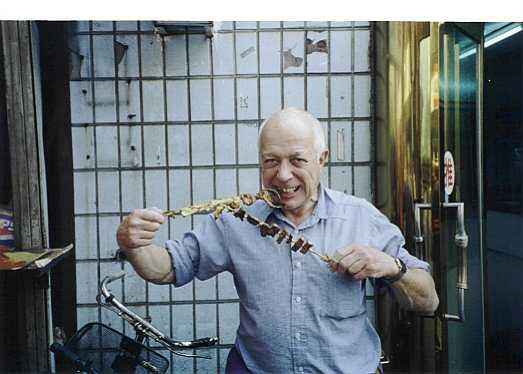 Guess what I eat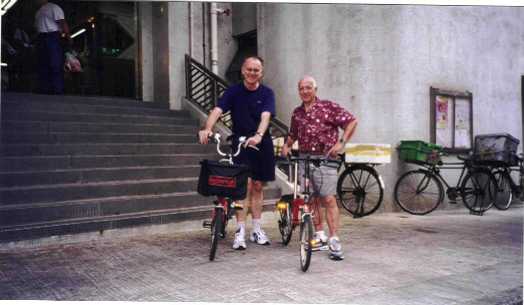 The only two Brompton owners in this hemosphere meet thanks to www.bromptonbike.com
ATTANTION NEW READERS! You can read my current Travel Notes as well as previous Travel notes From Mexico, South-East Asia and India-Tibet at Russian/American outing club "poxod" in English at: http://www.poxod.com/hotline/bike.htm Or at Brompton bike distributor site Bromptonbike.com at: www.bromptonbike.com/CurrentEvents/Story/SilkRoad.html and www.bromptonbike.com/CurrentEvents/Story/Tibet.html
Brompton is easy to read because they load entire story at once. But they skip some of my letters.Poxod however publish everything, but their site load each letter separately so you may have to wait for a while, especially if large pictures get loaded.
Alex Mumzhiu
Honk Kong
Oct 28 2001 12:30 pm
Honk Kong
What I read about Kong Kong did not impress me. But books did not describe what the major attraction of Honk Kong is. The city is build on the islands. These islands are not flat. These are steep peaks of mountains submerged in a water. So, city occupies mostly area near water and rest of mountains covered with tropical forest stay above the city. A considerable part of city is embarkments, like in St Petersburg. Different parts of city divided by oceanic straits, as wide as Neva river in St Petersburg, and the oceanic ships are flowing there. City also remained me New York a little bit, but it was built later and the shape of skyscrapers is more modern and lighting of the city at night is just astonishing. I felt in love with this city.
Pictures:
1. The Great Chinese wall. It is longer then from East to West coast of USA
2. A daughter carry her parents in Beijing. Very touchy. I wish my daughter carry my wife and me this way.
3. Dinner in ordinary Beijing restaurant under Stalin, Mao and rest of company.
Alex Mumzhiu
Honk Kong
Oct 29 2001
3am
My Dear Subscribers, My previous big trip to Himalayas, Nepal, India was going exactly as it was planned. This trip was not. I am in Hong Kong now. I will fly home Nov 19. So, I have 20 days left, which I would like to spent in Southern China. Tomorrow, Oct 31, I will go by train back to China to Guiling area, the most beautiful place on the Earth. according to my tour book. Is anybody has any suggestions on what should I visit in Southern China? If yes, please give, I will appreciate them. On attachment is Hong Kong seafood. I just eat one of these guys, prepared the Portuguese style in Macao restaurant. It was.... interesting.
Alex Mumzhiu
Hong Kong
Oct 30 2001 4:00am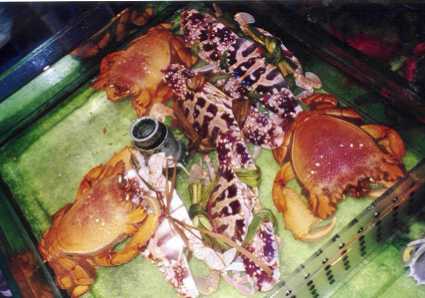 Hello everybody.
I am in Guangzhou. I read in a tour books and heard much fuss about Guangzhou and did not understand what is so special about this city until I found out that it's former name is Canton. Oh, Canton, it is different story, Canton opera, canonize food. Chinese believe that it is good to be born in Suzhou, live in Hangzhou, eat in Guangzhou and die in Liuzhou. I did not went to opera, but I went to Guangzhou's famous (or may be infamous) Qingping food Market. Oh boy, what they sell there; toads, snakes, tarantulas, tortillas, bugs, 40 legs caterpillars. It is known that they eat cats and dogs also, but cages with kittens and puppies were located between pet market and meat market so it was not clear are they intended for external use or internal. It also rise the question can you have your pet and eat it in the same time? Mainly, I do not understand why do they eat all that stuff, it is no hunger here. Tour book suggests that it was tuff times in the past when they developed taste for it. Guangzhou is also main transferring point for adopted Chinese girls. Right across from my hostel is the White Swan Hotel, which is full of American ladies with adopted girls. They pay up to $18,000 for adoption. Chinese are not allowed to have more then 2 kids, so these who want a boy have a choice to give baby girl for abortion or kill her. This create severe shortage of women in China. In accordance with old tradition and also with new market economy some Chinese man have to buy the girl for the position of wife. It is exist mainly in rural areas. Price range $200-$500. It is illegal trade, and dealers (who steal girls for resale) get publicly executed when caught. To prevent new wives from running away their Achilles tendon sometimes get cut. After all of this you may think that it is terrible place. It is not. Shamian Island (Guangzhou) where I stay is really very nice and civilized place.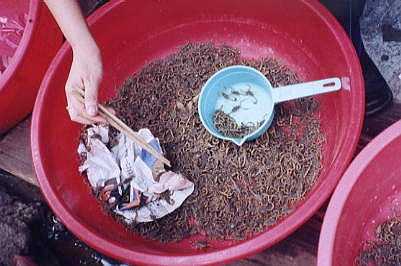 Sales lady carefully select best tarantulas for her customer.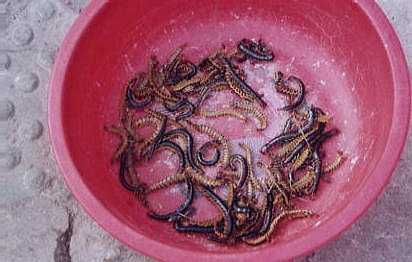 This is food too.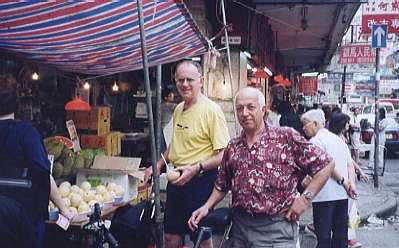 Bill (remember another Brompton owner) and I are selecting the food. Bill who is vegetarian selected a coconut. What I selected you will see in the next letter, because Yahoo doesn't allow more then 3 picture.
Alex Mumzhiu
Guangzhou China
Nov 1 2001 8:18pm
In my last letter I promised to tell you what food I selected. I always like to order "the specials". "Today special" was a juicy young baby snake, just 88 yanes per half a kilogram. ($9,99/lb) See attached picture.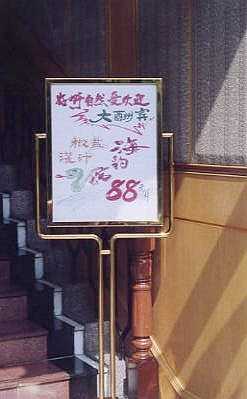 Traveling with Chinese. I already wrote to you about Chinese trains. They are very clean. The stewardesses in a crispy new blue and white uniform serving food and drinks. However, there are some problems there. The tourbooks call it staring. Like we may stare shamelessly at horses or dogs, the Chinese are staring at us because we are so different that it is not clear are we belong to the same biological specie or not. Man are mostly OK, the old ladies are worst. On my way from Mongolia to Beijing the old lady in my compartment was staring at me all the time when she did not sleep, like cat at mouse. She obviously did not understand my body language ever. When I move in my compartment and she was on my way, I try to move slowly and expect that she will let me go to where I want. I cannot tell her "excuse me please". She did not move and when I eventually touch her, she screamed. On my way to the Guilin all my compartment watched for me and comment. I do not know what they tell but probably it was like this:
"Look he lay down on the bench!"
"Look he open the book!"
"Look he turn the page!"
After the fifth page, the attention to me diminished a bit. But when I did something unexpectable, for example instead of turning the page, open my backpack, everybody get on alert again. With such remoteness, you may not expect much hospitality. Like Vietnamize, Chinese rather may take advantage of so different stranger. Nothing to compare with Russian hospitality, especially to foreigners. I eventually reach the point where I cannot see, smell and definitely eat Chinese food. For breakfast I ordered eggs with ham, but probably because it was done on Chinese skillet it smelled with Chinese smell and ham..., I do not know what animal it was made from.
Alex Mumzhiu
Guilin China
Nov 4 2002
10:30pm
Living in paradise
First I should thank my son Daniel for getting in this paradise. As you know I am a big fan of "Lonely Planet" tourbooks. But because my son Daniel already purchased "Let Us Go" tourbook I decided to give it a chance. "Lonely Planet" is better in all aspect except for one. "Lonely Planet" does not explicitally recommend really good places. They know, what because of enormous popularity of their books, the next year that place will be overrun by tourists. So they behave responsibly. The "Let Us Go" by contrast recommend places. "Let Us Go" highly recommended place called Yongsuo near Goilin. They said it has beautiful scenery, good and cheap housing, good food, friendly locals, good tourist infrastructure. I visited few such backpacker's paradise in the past. My readers may remember HoiYan in Vietnam and Pokhara in Nepal. So I take this recommendation seriously. The tourbook is failed to mentioned that the next to this backpacker's paradise in Yangsuo, the another place called "The Yangshuo Paradise Hotel" is located. This hotel was visited by every American President since Nixon, except for Reagan and Bush junior, and these guys will not go to bad place for sure. Yangshuo and Guilin both have incredible natural beauty. A thousands of limestone pinnacles almost vertically raise from the flat surface of earth. Climate is very moist here, so these pinnacles all over covered with vegetation. It look astonishing. Chinese believe that it is the most beautiful place on Earth. To say "the most" may cause heated polemics. I would say that this is one of most beautiful places on Earth for sure. Pictures of American Presidents and other celebrities are displayed in the lobby of Yangshuo Paradise Hotel along with their quotations, stating that this is more or less the most beautiful place on Earth. I cannot missed such opportunity and moved from my hostel to Hotel where 4 American Presidents stayed. Only in China the Social Security recipient can stay in such hotel, the price was only $43 per day. Hotel was half empty, only few buses of packaged tourist were loading and unloading with their usual elderly ladies with their walking aids such as canes and walkers, so my walking aid, which is folding bicycle, looked somehow inappropriate. I always puzzled where are their man, may be they travel as a backpackers.
Attachments
On attached pictures you can see 3 presidents and Henry Kissinger, I saved money on Clinton and did not buy an album with his picture. On another picture is the Yangshuo scenery with a fisherman using cormorants, the birds trained to catch fish for their master. I saw one day a couple dozens of photographers following the man with a large red flag. They went to the bridge above Li river and start to take the pictures of fishermans. It was International Competition on Cormorant Fishing. These who remember my notes from St. Petersburg may remember a picture of International Championship in "gorodki" I am lucky to get to such an important sporting events.
Alex Mumzhiu
Yangsuo China
Nov 8 2001
8:15pm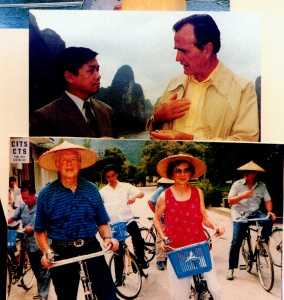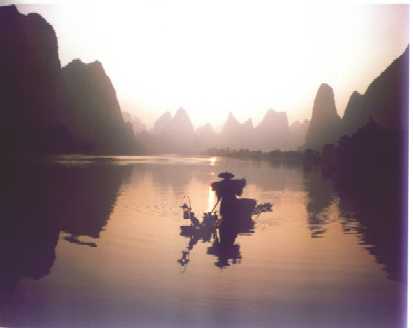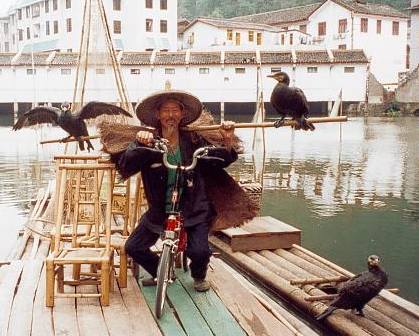 Chinese Socialistic Achievements. Everybody who visited China notice the great progress this country made in the last years. Huge country with breaknecking speed rush to the Modern World. Western observers with carefully selected words, prize the great achievements of Chinese people. But this is an achievements of Socialism! This is how it is presented by Chinese media on TV and in newspapers in English. And it is true. It is full blown Socialism here in China. I recognize its familiar features. You may be too, from my letters and pictures. After spectacular failure of 70 year long Socialistic experiment in the Soviet Union, the shares of Socialism fell to all time low, so to say. But, as with any experiment, the failure may result from two reasons. One, the concept was wrong, the second, experimenter was drunk. Chinese decided to try this concept one more time. And it is so good so far. And who is helping them? Vladimir Lenin once said that we (Communists) will hang the capitalists and they, the capitalists themself, will sell us the rope for this. So you, and me and the rest of the world, who buy all that stuff which is made in China helped the Chinese model of Socialism to achieve the great success which they enjoy now. Chinese behave more smart then Soviets used to do. They do not talk about an export of revolution at this time and do not help workers and peasants movements in Papua, New Giney or Central Africa. But China's socialism is strong as never before and they not going to change it to capitalism. They have good contacts and mutual cooperation with other Socialistic countries. Socialism has many advantages especially for countries like China, which always had something in common with anthill. Hovewer the Socialism is good until the good guy is on the top. The main drawback of Socialism with its one party system is that it doesn't have the proper system for feedback, in terms of the theory of automatic regulation (my college profession). If a wrong guy somehow gets to the top, It is very difficult to take him out. China wants to repeat the success of South Korea and Japan, they say this openly. However keeping in mind the size of the country, 1.3 billions of population and considerable natural recourses, with such speed of progress as now in 10 years China will be second world power after America or may be the same. How they will behave when they will became so powerful nobody knows.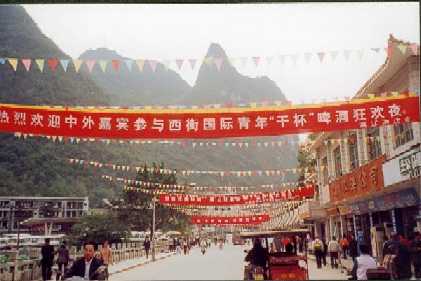 Red China. Yangshyo.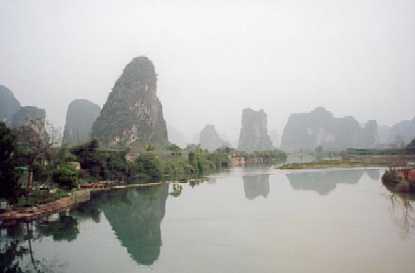 Yangshuo scenery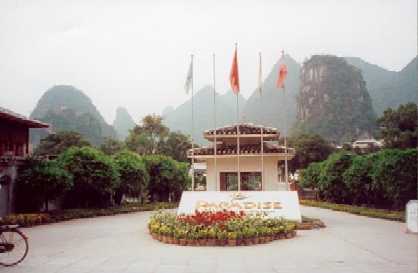 Yangshuo Paradise Hotel where 4 American presidents and I stay
Alex Mumzhiu
Nov 15 2001 12:30pm
Makau China
Interesting recollection on recent airplain crash. It was before the September 11 events, I read the article called "samoletopad" airplain-o-fall in the Russian newspaper. An author of this article addressed unusually high number of airplains which fell in Russia in previous month. He said, in the Soviet time in the special secret camps the professional aircraft engineers teach the large number of freedom fighters, muslim extremists, separatist, marxsists, maoists and other assholes (translation is mine), how to down the aircrafts, in a such a way that nobody ever find out why it happens. We lost track of them, he said. May be now they punishing us for Chechen war, author finished. Formula 1 racing. I am in Makau now. I told you before that I was lucky to get to international sporting events, such as Gorodki in St Petersburg and Cormorant Fishing in Yangshuo. Now I am really lucky, I watched a Formula 1 rally in Makau today. It was great. I bought ticket for $3 and was able to come to place where the drivers and mechanics prepare cars for start and where damaged cars (it was few) was delivered. My bike draw considerable interest there, by contrast may be.
Fan things about Chinese. Chinese do not understand us not only because the language difference but also because different mind set. So in order to be sure they ask questions. When you buy a hat, selected it, and ready to pay, they would ask: "one?" If anybody would buy two identical hats at once. When you order food in the restaurant and select soup, they would ask: "one?" again. If anybody will order two soups for himself at once. Sometimes they completely give up on any attempt of understanding us and even don't try to apply a common sense. When I order salad, soup and main dish. They bring a soup first, then main dish and then salad. It is low season and I am usually the only customer in cafe for breakfast. Anyhow, they bring my flied (fried) eggs almost cold, why? May be they do it on purposely. Ones I asked lady who speaks some English to bring my flied eggs hot, hot!, not cold. And miracle she bring them hot. Chinese as well as other people in SE Asia (except for Laotians)are very intense, when you came in store to buy something or just look around, the salesperson jump in front of you and start to put different products in front of your eyes and repeat bytifyl, bytifyl. I don't survive such sale presentation longer then few seconds. In Makau where I am now, it is different. Makau is more like Honk Kong, a bit more quiet.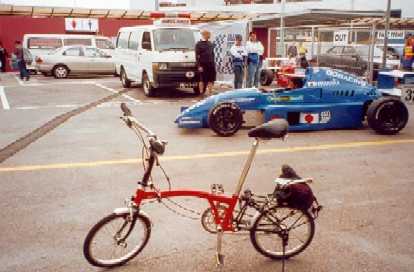 Brompton at Formula 1 race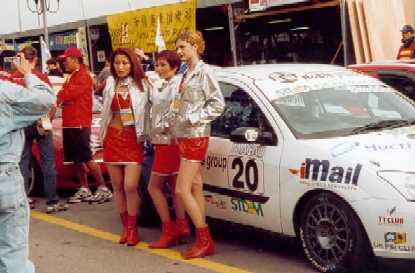 Models at race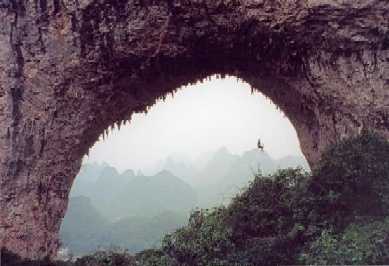 Mountaineering at Yangshuo (5.13 degree of difficulty, who knows what it means). Hanging from the selling of arch are stalactites.
Alex Mumzhiu
Macau China
Nov 16 2001 1pm