Travel Notes from Siberia
My Dear Readers,
friends and relatives, thank you for your greetings on my 75th birthday and for your contributions for my next bike. I already ordered the bicycle, see attachment. Titanium parts are in short supply, so I will get my bike when I will return from my summer trip. Then, I will sent you its picture.
Tomorrow, June 15 I will fly to Russia and my next trip will be in Western Siberia. This region attracted my attention for years. I will start from Vorkuta and finish in Omsk. Approximate map of my trip is attached. I will visit remains of Trans-Polar Railroad which Stalin wanted to built on the Siberian shore of Arctic Ocean. The same amount of people worked there as at Cheops Pyramid in Egypt. About 300,000 prisoners died there. More informations on this topic are at:http://en.wikipedia.org/wiki/Salekhard%E2%80%93Igarka_Railway
New bike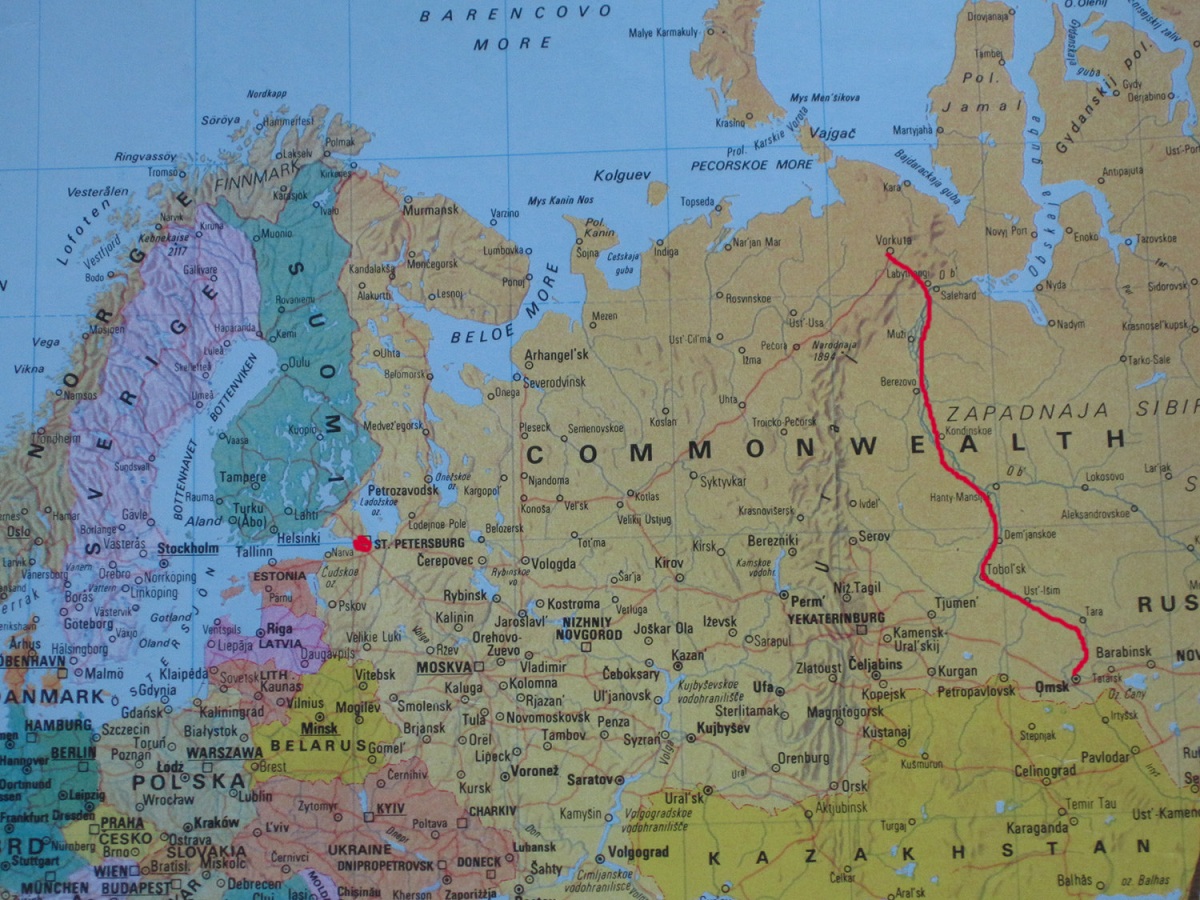 map

Alex Mumzhiu
June 14 2012
Washington DC

My Dear Readers

This my trip is quite different from these trips which became quite standard now-days, such as Thailand, Bali or Greece. I even was unable to obtain a descent map. Best map I found was laminated wall mounted map of Russia, from which I cut out the area of my interest. There is no tourists here. Not single one.

In peoples' memory Vorkuta is second after Magadan place of massive imprisonment of Stalin era. Every Russian knows the song:

Po tundre
po jeleznoj doroge
gde mchitsia skorii
Vorkuta Leningrad
.

Now I went through this famous railroad. It took 49 hours. Vorkuta is gloomy town. Not only because of its dark past. Entire coal industry is down, as oil and gas industry in nearby Salehard is booming. Many buildings abandoned or need repair. Town of Rudnik, from which Vorkyta was started is completely abandoned. Catholic cross standing in the middle of dead town is a memory of thousands Polish people who was sent here at the beginning of WWII and died. Strangely all street names and even street placards are saved from Soviet era, such as "Long live Communist Party of USSR" in attachment.

From Vorkyta I took the train to Libitnangy. The only portion of Stanin's dead railroad which is survived. It is one line road, so it took long time to wait and allow the train going in opposite direction to pass. It took 13 hours to travel 300 km to Libitnangy. We cross Ural mountains. From my train window I saw slopes of Ural still covered with snow, even in the middle of summer. When I was in college I participated in pretty difficult trekking trip across North Ural. And I dream about trekking in Polar Ural. But it never happened. Now, at least I saw it!

Two or three ferry ships cross Ob river 24 hours free of charge from Libitnangy to Salehard. Salehard starts from huge statue of mammoth in attachment. This area was populated by mammoths 30,000 years ago. Entire baby mammoth saved in permafrost was found nearby Salehard recently. It's name Luba. Big and pretty good exhibition about life of local mammoths is in local museum.

Unfortunately entire exhibition on Stalin's railroad was transferred to archive because of museum repair. But helpful museum personnel told me about condition of prisoners life and housing. Nice lady explained me meaning of different abbreviations. I told her that I know all of them because I lived on territory of prisoners camp during WWII. My mother worked in camp as an accountant. We were not prisoners. We were sent there from siege Leningrad.

Salehard is booming and quite nice oil town. It has been expanding recently a lot. So it was practically no reminds of Stalin's road in town. To see them one need to organize expedition in deep tundra. Recently on Russian TV on channel "My Planet" was shown movie "Russian Rail Roads". In this movie it was a lot of information on dead road. To obtain it movie-makers hired a helicopter.

Tomorrow I will take 2 days boat trip to Hanti-Mansiisk

Attachments: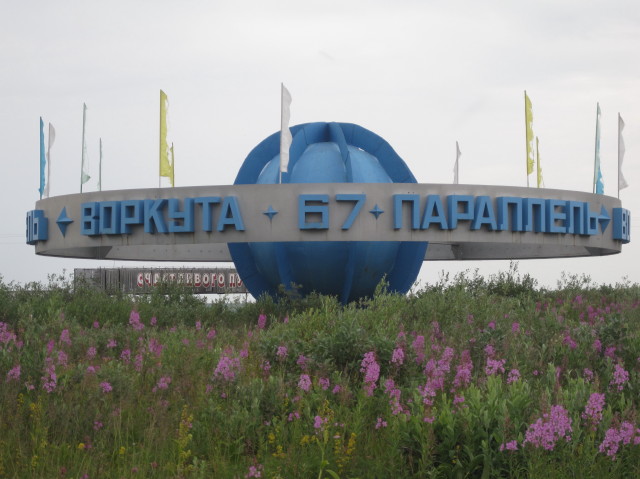 1. Vorkuta latitude 67 degree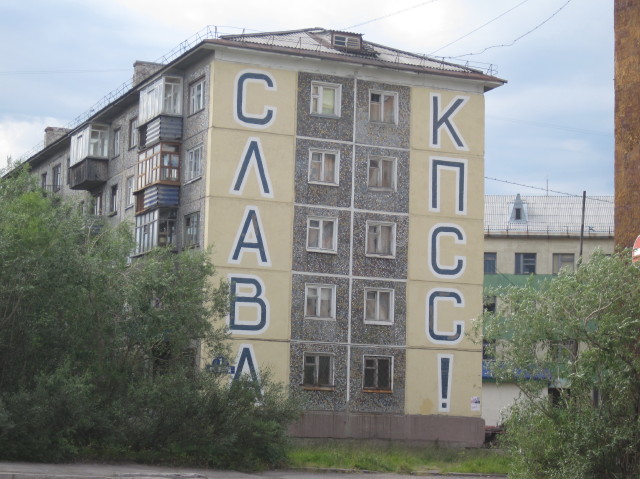 2. Old Soviet slogan on the street of Vorkuta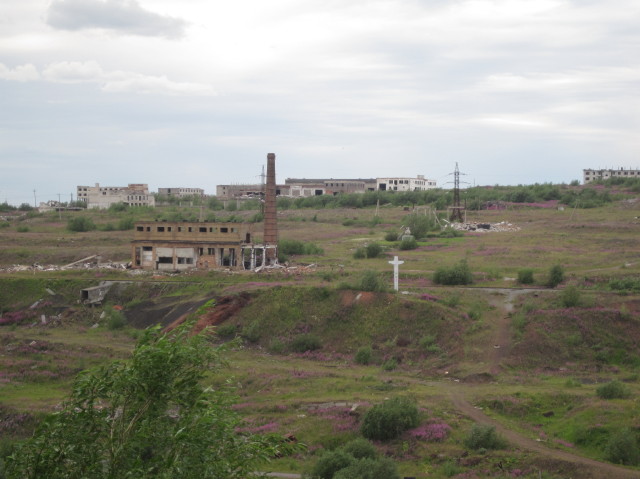 3. Abandoned town of Rudnik with memorial Catholic cross in a memory of Polish prisoners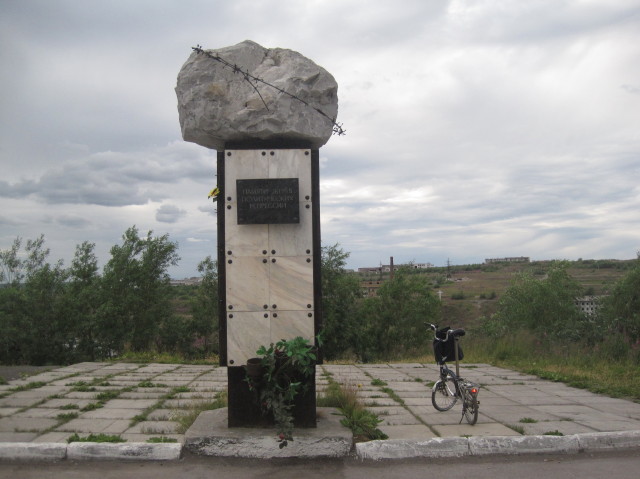 4. In a memory of victims of political repressions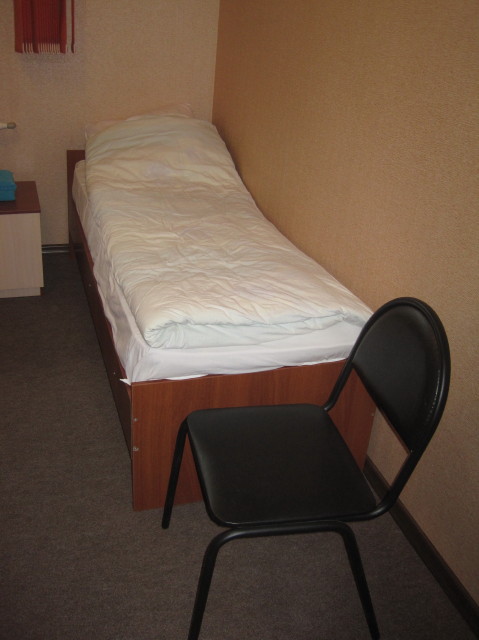 5 My bed in Vorkuta hotel, definitely not a king size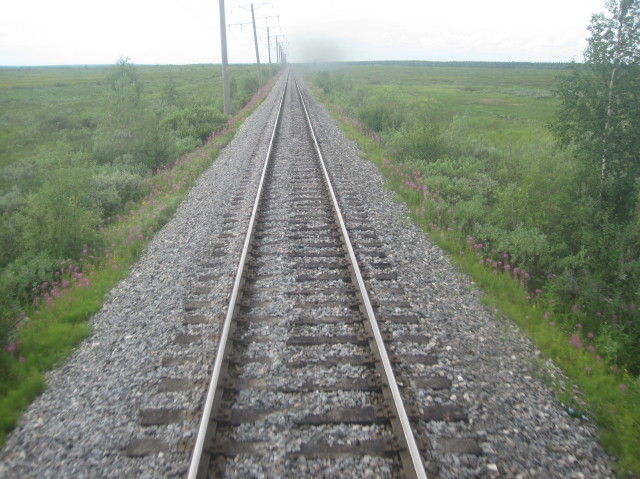 6. The only existing portion of Stalin's dead road: Chym-Labinangy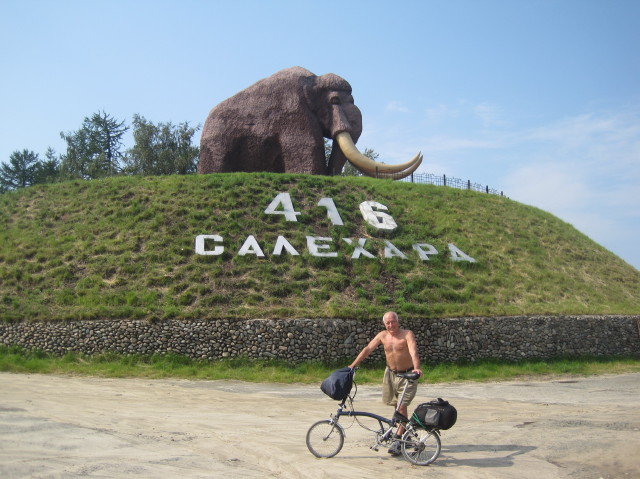 7. Salehard where mammoths used to live
Alex Mumzhiu
Salehard Russia
July 21 2012
5pm
My Dear Readers,
My last note was from Salekhard. From there I took a two day boat trip up the Ob river to Khanty-Mansiysk . Traveling on the Ob river was not much different from traveling on Amazon river. You see only thin line of land on the horizon and it is impossible to distinguish what is there, palm trees or birch trees.
Boat did not travel at dark and we stayed overnight in small town Berezov, where famous favorite of Peter the Great, prince Alexander Menshikov was exiled. Berezov is still a far remote place and does not have any road or railroad connections with outside world. It can be reached only by the Ob river.
Khanty-Mansiysk impressed me. I expected to see a shabby provincial town lost in the taiga. What I found was a nice and prosperous city, full of ultra modern and pretty good architecture. See two pictures in attachment. They hired well known Western architects. On second picture you can see the poet Pushkin in front of an ultra modern building. It was sign there: "Pushkin read to his wife his poem: I remember wonderful moment...". Soon after the installation had been completed, the sign was removed when it was discovered that Pushkin wrote this poem to his mistress A. P. Kern, not to his wife Natalya. Khanty-Mansiysk is surrounded by virgin taiga forest. While it was not mushroom season yet, I found a perfect red mushroom, see picture. I took it to my hotel and made cup of very tasty and aromatic mushroom sup.
Other three oil towns in the area Neftugansk, Surgut and Nizhnevartovsk are not as good as Khanty-Mansiysk. Neftuganskis is a small town on an oil deposit, filled with standard concrete building blocks. Surgut is big industrial city, which did not impress me too. Nizhnevartovsk is built on a huge oil deposit, Samotlor. This is poor child of Soviet urban designers. Streets are very very wide. It looks like city built for population which exceed current population 100 times. It was smog from the burning forest in Nizhnevartovsk and sun was not bright at all in the middle of day, see picture. There is an ultra modern train station in Nizhnevartovsk, which seems to be out of place in this otherwise unimpressive town.
Next was Tobolsk. Tobolsk used to be the capital of all Siberia. They try to save bits and pieces of old Tobolsk. You can see well decorated wooden houses between multistory concrete giants. But they are disintegrating from natural reasons, see picture. The Tsar Nicolas II was exiled to Tobolsk by Russian Provisional Government after his abdication on March 15, 1917. He and his family had a relatively comfortable life in the Tobolsk Governor's Mansion. After the Bolsheviks took the power in Nov 1917, he and his family were transferred to Yekaterinburg and killed on July 17 1918. To be King is a dangerous occupation. French and English Kings had the same fate. I visited the building where the Tsar's family stayed. Only the Nicolas II office is restored so far, see picture.
My last stop in this trip was Omsk. Omsk used to be the cultural center of Siberia. Magnificent Drama theater in the center of the city stands as a witness of that time. It looks like nowadays Omsk fell victim to the rough and ugly Russian new capitalism. Traffic is heavy and tough. Streets are covered with excessive, big and tasteless commercials, which sometimes cover historical buildings. It is quite different attention for the preservation of history in Omsk, compared with Tobolsk. Another funny example of bad taste is yogurt from Rasputin home village Pokrovskoe, which is not far away, in attachment. There is a 100 year old wooden Russian Orthodox Old Believers church in Omsk. There is a funny note in front of the church which describes dress code for visitors. Visitors have to be dressed in kaftans (man jacket). This type of clothes disappeared 100 years ago.
---
I would like to answer some questions from my readers:
To JD and HN:
Hostels are now mushrooming in Moscow and St. Petersburg, but there are none in Western Siberia. In most of Russian hotels they allow unrelated, but the same sex people to stay in the same room and pay for their bed only. Price 20-30 dollars. I always was the only person in the room.
Two days train ride as well as two days boat ride cost about 100 dollars.
I met the only one foreign tourist. It was in Berezov. He was crazy old German man. He did not speak Russian. He traveled a lot in Russia. He told me that it is easy to travel in Russia because there is no crime. When I found him, he was surrounded by local people trying to understand what he wants. He wanted to find hotel. In places where there are no tourists at all, local people usually very supportive to these who are brave enough to visit their remote place.
To RG:
I carry all my stuff in my backpack attached to the rear rack of bike with rubber bands. It is usually less then 12 kg, including 600 gr tent, sleeping mat and often mask, fins and snorkel. I took minimal amount of clothes and wash it during the trip. During trips I need sometimes to carry additional load such as water and food. I carry them in bag dangling from the handlebar. I do not use a front rack. Empty bags take no space, but a front rack is an additional piece of luggage to carry.
Attachments: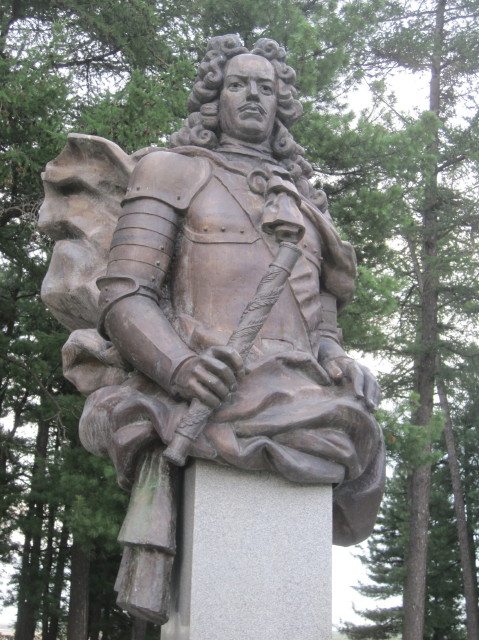 1. Statue of Menshikov in Berezov.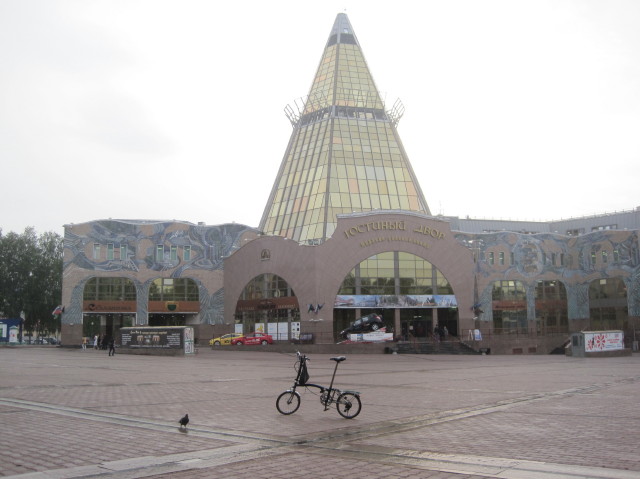 2. Khanty-Mansiysk shopping center.

3. Ultra modern multi-cultural center in Khanty-Mansiysk with statue of Pushkin in front.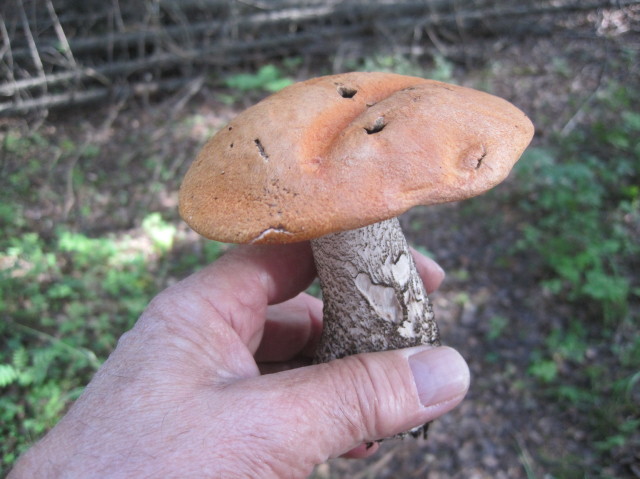 4. Red mushroom.

5. Smog in Nizhnevartovsk.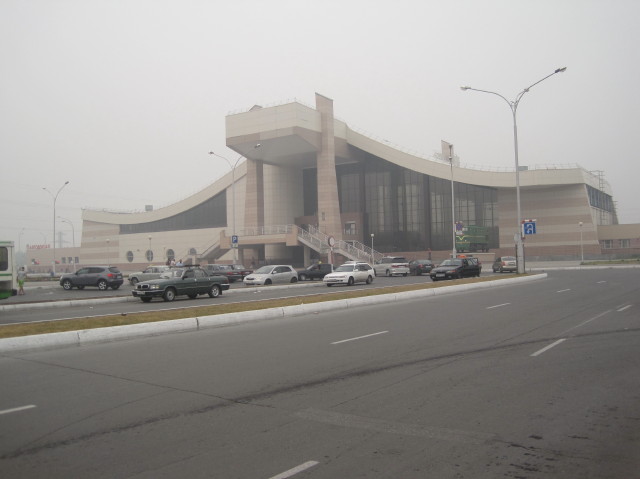 6. Train station in Nizhnevartovsk.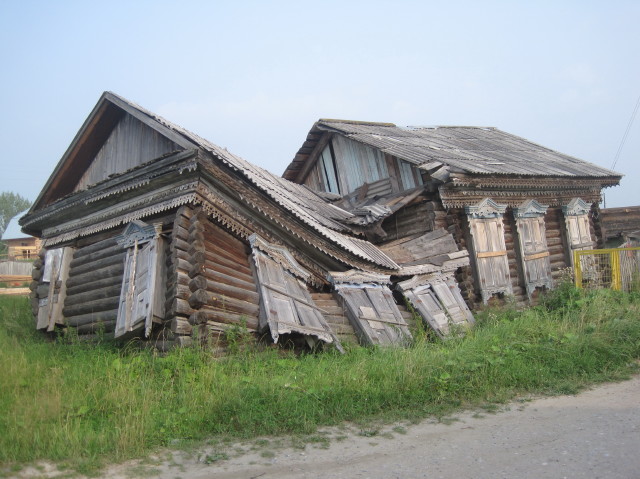 7. Old Tobolsk.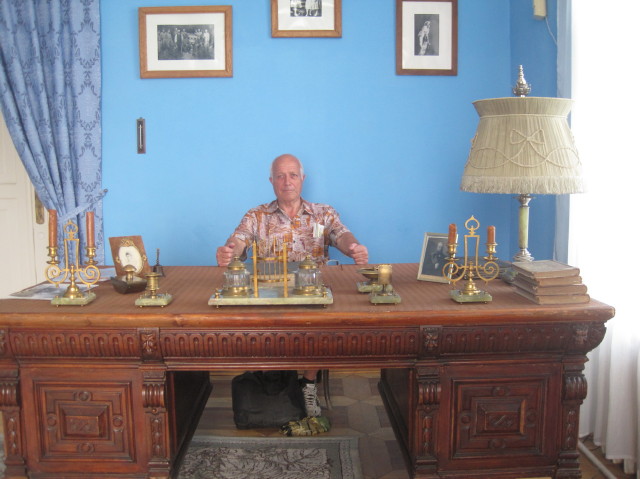 8. Nicolas II office in Tobolsk.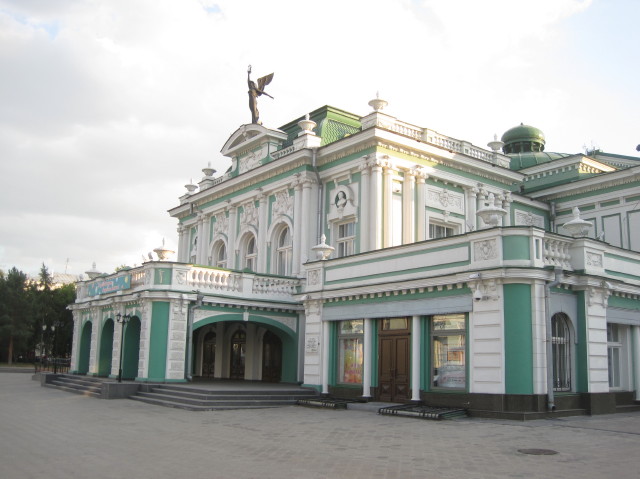 9. Drama Theater in Omsk.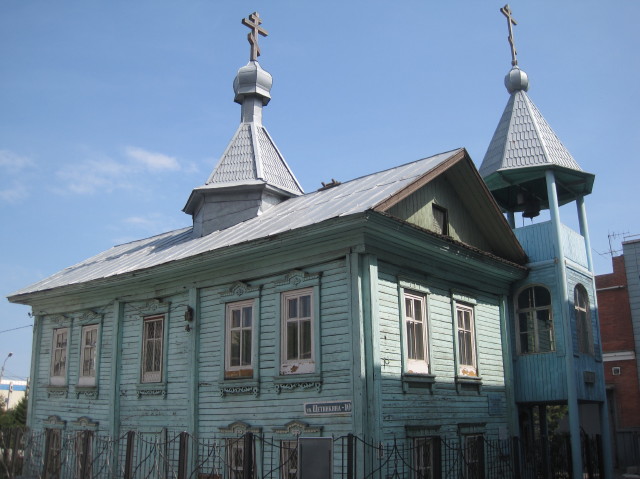 10 Old believers church in Omsk.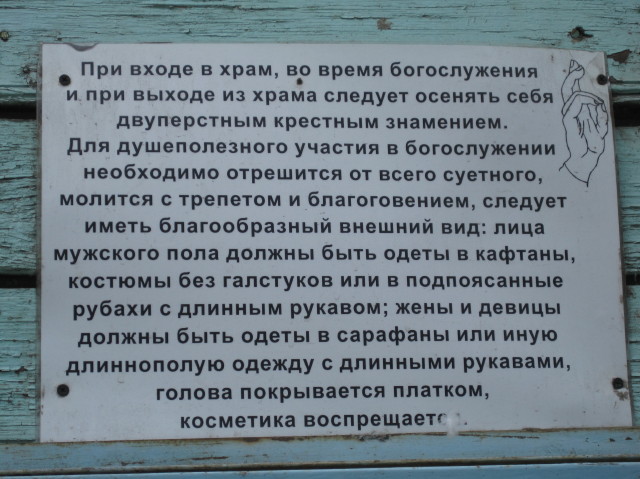 11. Dress code for old believers church.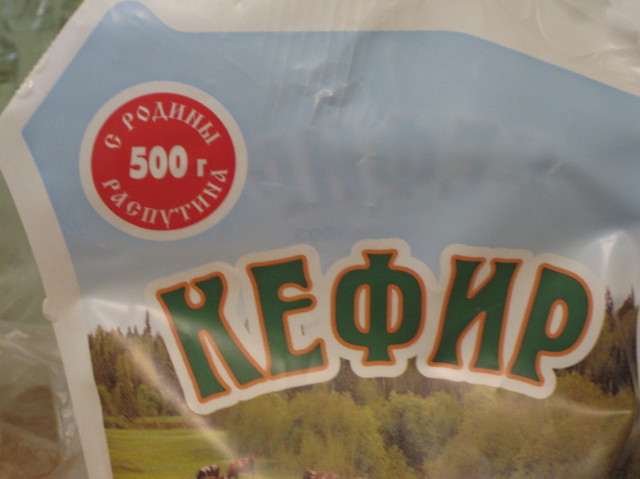 12. Yogurt from Rasputin's home town.
Alex Mumzhiu
Saint Petersburg, Russia
Aug 23 2012