Travel Notes from Puerto Rico, Nov. 2012
My Dear Readers,
10 days ago I returned from my trip to the country, where every window, every balcony and door is covered with iron bars, see pictures. Going through the street, you feel like you are going through the zoo or prison. Guess, what country is this...
Country is not particularly dangerous, they just have such a tradition. These grills often are very nice, sometimes beautiful, see more at:
https://picasaweb.google.com/101154906182453107352/WroughtIron?authkey=Gv1sRgCMTFse_xvrD09gE
I am sure I will come back to that place again and again. For more information see my Travel Notes, which I will sent you few days later.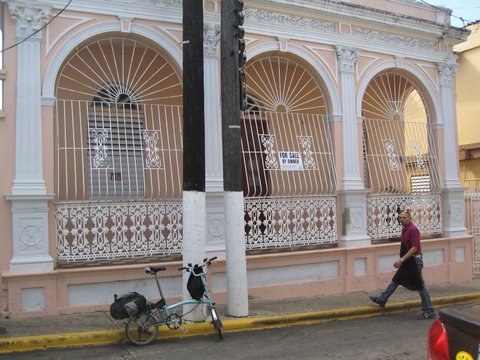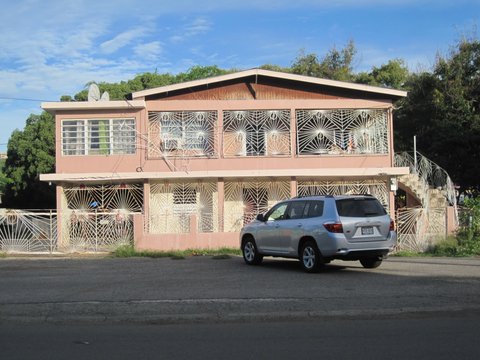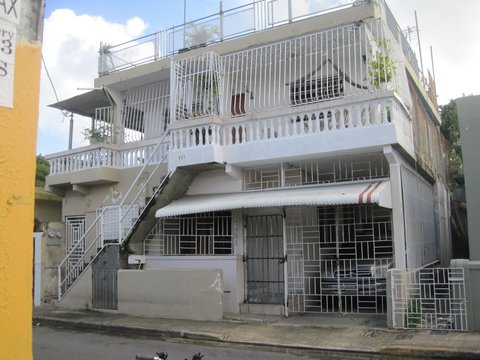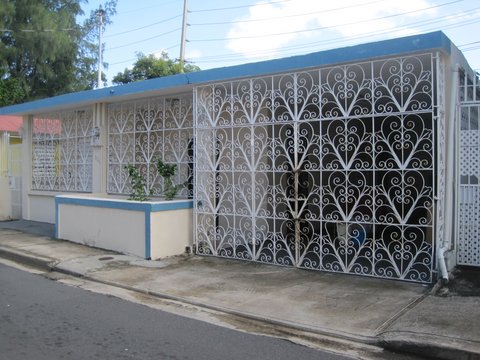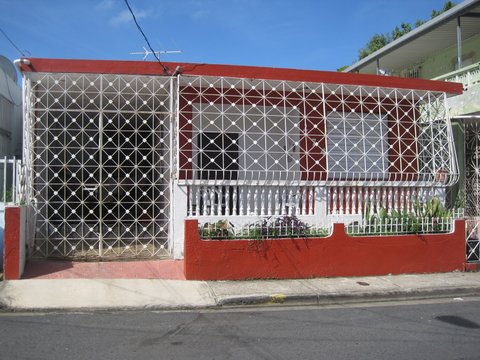 Alex Mumzhiu
Washington DC
Dec 16 2012
Travel Notes from my aborted trip in Puerto Rico
Pictures shown in my last TN were from Puerto Rico

It never happened to me before to abort a trip because the trip was too difficult or too risky. It happened this time and not in Central Asia or Africa. It was in the American Territory of Puerto Rico. But let me describe everything chronologically.

I decided to go around the island on bike and public transportation starting from Ponce, the second largest town in the territory, located on the Southern coast of Puerto Rico Island. I came to the monumental San Juan public transportation terminal to get a bus to Ponce. I was told that public transportation to Ponce had been discontinued. People advised me to find a private car at the end of street, which will drive me to Ponce. Indeed I found it, price was reasonable $60, for a car. And it will be shared by the passengers. I waited and waited and waited, no one arrived. I decided that it is probably because it was election day Nov 6 and went back to my hotel.

Next day it was the same, nobody came. So I decided to hire the car by myself and asked the driver to take me to the top of the mountain ridge, from which I will go down to the Southern coast by bike. When we reached the top I said bye to my very nice 91 year old driver Almando and started riding down. The road goes down steeply in beautiful mountain scenery. Then, I noticed, that there is something wrong with my rear tire. My tire swells up and it was ready to blow up. Usually I use thorn resistant tires and tubes and never had a flats. These thorn resistant things are heavy, but reliability is more important for me than speed. Flat tire in wrong place can have deadly consequences.

I tried to hitchhike. Nobody stops. Hitchhiking is not known in Puerto Rico. I tried to fix a problem by enveloping inner tube in piece of fabrics. It worked but not very well. Eventually with help of a stray public van I got to the town of Salinas on the shore. I tried to find a way to get back to San Juan or find a hotel to stay till next morning. My inner tube blew up and I was unmovable. I was in the baking sun in the center of town full of cars and people, and I was helpless. There were no hotels, no taxis, no buses there. As somebody told me later, in PR you have to have a car. If you don't, it is you problem.

I fixed the tube and tried to reach the only hotel in Salinas. It got flat again. I walked to the sea. I was exhausted and as night approached I found a place to sleep on a bench near the sea. I cannot walk to hotel and nobody would give me a ride. In a while, it started to rain and I moved under the roof of a nearby establishment, I do not know what it was. Soon I was discovered and people started coming again and again to look at me. Eventually I told one of them that my tire is flat and I cannot get to my hotel. He probably was a guard and he allowed me to stay till morning.

Early in the morning I manage to get to the only public bus which goes to Guayama and from there on taxi again for the same $60 I got back to San Juan.

I did not expect to find the special Brompton tires in San Juan. However, such a luck, next to Renaissance Concha hotel I found a Bropton dealer, Gabriel Olmo (787-616-3749), the only Brompton Dealer in the entire Caribbean region http://goalternativo.com/ He gave me a tire for free.

So, with my new tire I decided to repeat my attempt to circle the island. This time, I learned that most of island public transportation system, called "publicos" had collapsed. It is strange, as price for gas goes up, public transportation goes down. As I learned, the only reliable long distance transportation is private van company "La Sultana" traveling only between San Juan and city of Mayagues on the West Coast. So the next day I got to Mayagues and started to circle the island counter-clock wise. At Cabo Rojo I spent the night in a decent hotel "Mar y Cielo" for $40. I was the only person staying in the hotel

.

The next day I continued my counter clockwise movement and visited a popular beach resort Boqueron. It is a very busy place. Hordes of people were walking along the food stalls and trying different food. They sell small local oysters, three pieces per dollar, and different seafood salads: lobsters, conchs, shrimps and octopus. In other places it would be called ceviche, but these salads are better then ceviche. They are not so spicy and usually have more olive oil. Especially good were octopus salads called puplo. I did not consider spending night at Boqueron, not my style.

As I continue to ride, I came up to Boqueron Refugio. It struck me right away that it is right place to spend the night. The gate was closed, as working hours are from 7:30 am till 4 pm, but small opening near the gate was enough for me and my bicycle. I was alone in the huge refugio and visited on bike all its paths and trials. For sleeping I selected a big picnic table under the roof. All night I heard voices of different birds and frogs. In the middle of night it became chilly, and I have to put all my clothes on. Anyhow it was a wonderful night. When I left the refugio around 7:30 I met couple of employees who shout to me that it is not allowed... blah blah blah.

Next day I went to the most South Western corner of Pueerto Rico to Los Morrillos Lighthouse. This place is far away from any villages and towns, and I decided that it is safe to leave my backpack with all credit cards, money and documents in the bushes and go for a long swim. It is excellent place with left side of bay covered with sand and right side with rocks. It was plenty of fish there. I shot a big lobster, see a picture. When I got back to the shore few hours later I found lots of people, most of them were concentrated on sandy side of bay. My stuff was OK. But now I had a problem, how to boil my lobster. It is a National Park territory and fire is strictly prohibited. I rode a little bit away from all these cars, went to the shore, in mangrove bushes, and made a small fire. Lobster was so big that it did not fit in my mug. So, first I boiled the tail and next the rest of it. Lobster was great and I even got some lobster bisque.

The area around lighthouse is famous for its salt evaporating flats. Salt is not produced anymore, but all area is National Park, where everything is prohibited, as usual. I went behind the salt evaporating flats to the ocean shore and put tent there. I put my tent a few feet away from the ocean shore in order to escape from mosquitoes. But on the other hand it was dangerous as storm or big waves will wash me away. I even put knife nearby to cut tent if I will be flooded. Rain started in the middle of night. Fortunately my tent survived it.

My next destination was La Parguera. I went through the area which is considered to be the best place for bicycling in PR, see map. I arrived somewhere away from the center of La Parguera and asked people with a truck to show me where the centro is. They offer me to follow them. I grab the tail-gate of their truck and rode after them. But they did not understand that bicyclist has less power then a truck. They accelerated fast and braked hard. Eventually I fell and badly injured my knee and hands.

The truck left and I covered my bloody wounds with band-aids and went to look for a hotel. From dozens of hotels listed in the book, only three were open in La Parguera. One big good hotel on the sea shore "Villa Parguera" $65 per night and two smaller and less fancy hotels inside the town for the same price $65. It looks like people here do not have any business sense, or may be even common sense. Town of La Parguera is obviously in a big down-turn. There was only one restaurant open. There were a few small shacks selling empanadas and coke. But no one sells coffee.

The next morning I could barely walk. I asked at reception desk about transportation. The same answer: no public transportation, nearest taxis are in the capitol San Juan, 5 hours away. Car rentals are also in San Juan. What a country!!!

Then, I decided to abort my trip, stay another day in Parguera and try to ride bicycle back to Mayaguez. And from there on La Sultana van back to San Juan.

So, in my opinion PR is the most difficult country for travelers (without car).

The next morning I was able to ride my bike again. I tried to reach "Mar y Cielo" hotel in which I stayed before. It was permanently closed. This country is falling apart in front of your eyes! Fortunately, soon I found another hotel in which I again was the only person to stay. And the next day I got back to Mayagues and then to San Juan.

This country is going through painful transformation. It was relatively wealthy, especially compared with its Caribbean neighbors, such as Dominican Republic, Jamaica and Haiti. They had a good life. They like their siestas. They did not work on weekends. Most of establishments including public transport are still closed on weekends.

Now, thanks to the GLOBALIZATION they have to compete with Chinese and Indians. They cannot. They do not have entrepreneurial spirit of Asians. They were not raised in a rice growing culture. Tomatoes in supermarket were imported from Canada, as most of other vegetables and fruits.

Like younger brothers and sisters who want to be greater then their older siblings in everything, Puerto Ricans want to be greater then the USA in everything, but mostly in the wrong things.

America is made for cars, but it has at least some (not very good) public transportation systems. PR has practically none.

American shopping malls are big, but San Juan Las Americas shopping mall is monstrous. It is as huge as O'Hara International Airport but without its transportation and information system. After couple attempts I gave up on efforts to orient myself inside of it.

After handicapped president Theodor Roosevelt, America has developed a descent system for handicapped people. PR handicapped system is excellent and often looks like it is too much.

Europeans use common sense in enforcing laws. I rode bike in Paris metro in morning hours when it was empty and nobody stopped me. It would be impossible in USA. Puerto Ricans are even more strict then Americans in enforcing all these often unnecessary formalities. It is probably the most bicycle unfriendly country. There are a lot of places where bicycles are prohibited. And even when I was the only person in the street, it was always guards there who chased me away.

However in spite of all negative things, I mentioned, I should tell you that I have quite warn feeling toward this country.

People are very nice and friendly and eager to help.

They have highest proportion of good looking women per capita.

I love their capitol San Juan. It may surprise somebody. But I really like it. It is huge diversified city, like New York. It is not always safe. But it provides great possibility for exploration on bicycle.

Part of Great San Juan, tiny town of old San Juan is nice and cozy. You can drink coffee on Plaza de Armas, then walk slowly to your hotel at midnight. It is absolutely safe. It is the unique place where I found good snorkeling and spearfishing! within 10 minutes from my hotel. It is one of my favorite places on the planet and I will come here again and again.

My Dear Readers I would like to congratulate you with surviving Apocalypses and also I would like to wish you

MARRY CHRISTMAS
and
HAPPY NEW YEAR

Alex Mumzhiu
Washington USA
Dec 21 2012

Attachments: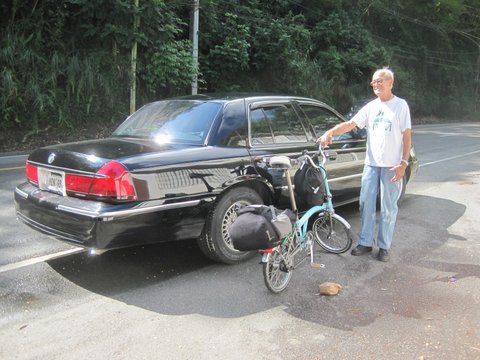 1. My 91 year old driver Almando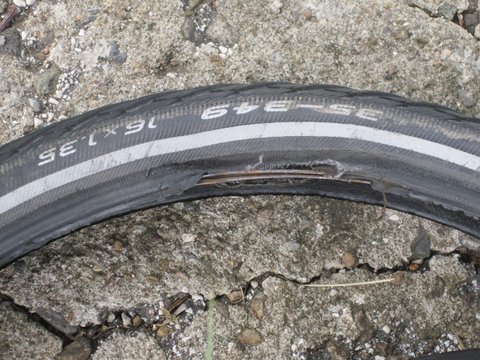 2. Bad tire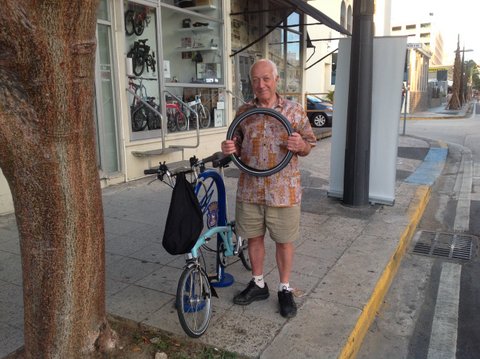 3. Brompton Dealership in San Juan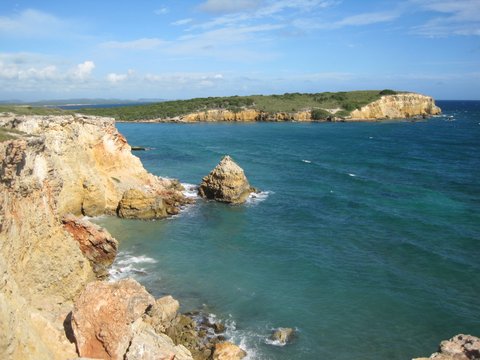 4. View from Cabo Rojo Lighthouse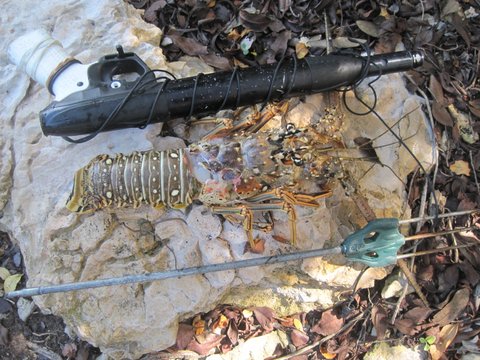 6. Langustino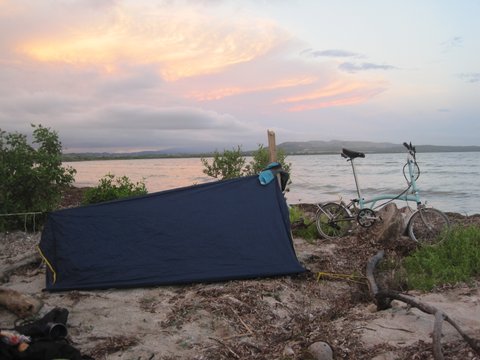 7. Camping on the ocean shore.
See more photos at: https://picasaweb.google.com/101154906182453107352/PuertoRicoNov2012?authkey=Gv1sRgCMDRtIP37daOZw#