Travel Notes from Puerto Rico. Apr. 2012
My knowledge about Puerto Rico before this trip was mostly limited by knowing the song "Chico Chico from Puerto Rico". I thought this country is something like other Latin American countries, poor, overpopulated and inhabited by Hispanic (Latino) people, something like El Salvador or Nicaragua.
Nothing can be more wrong. First of all, there are no Hispanics there. Local "Indians" called Taino, who lived there before the Europeans' arrival, were exterminated very quickly and it was no intermarriages with Spanish invaders. People who live there now are white, Spanish people, heirs of the conquistadors. Sometimes faces which you can see in the streets amazingly remind you of portraits of old Spanish painters like Diego Velazquez.
So, Puerto Rico obviously is not a Latin American country. On the other hand, this USA un-incorporated territory (official term) is very different from the mother country, the USA. Puerto Rico, in my opinion, is unique, and it is one of the most interesting place to visit in the entire Caribbean region.
The capital of Puerto Rico, city of San Juan is a great city. It is big and very diversified. It reminded me a little bit of New York. It even has quite decent Tren Urbano (metro). The best place to stay in San Juan is Old San Juan, a small medieval town surrounded be fortress walls. It seems to be too small for gigantic cruise ships, moored to its piers. It even has its own miniature but famous slum called La Perla. All tour books strongly do not recommend to visit La Perla. I visited it, however. It is such a contrast to Old San Juan, filled with cars and hordes of cruise ship tourists. There are no tourists in La Perla and no cars. Chickens walking the streets and rare locals greet the tourist, who is brave enough to visit their ghetto.
The Old San Juan is not cheap. You can find a small room with A/C and bathroom for $100, but without windows. There are two descent hostels in Old San Juan, even not mentioned by LP. Through extensive research I found a better place to stay in the center of Old San Juan: the San Juan Guest House, Tanga 205, tel 787-722 5436, price $21. As it is written in the Internet, this hotel is not for everybody. It is true, if you will take a look at the picture in attachment, you will see that 2/3 of Americans, who are now overweight, will not be able to squeeze through this door. Best are rooms # 7 and # 6.
It took only 10 minutes from my hotel to reach pretty good places for snorkeling and spear-fishing right under the Fuerto San Filipe del Morro and Fuerte San Cristobol. So, I had my own sushi, ceviche and fish soup, which I prepared in my hotel room using electrical spiral as water heating device. Sushi and ceviche are even easier to prepare. You need only kikkoman soy sauce and lime.
From San Juan I went to Culebra and Vieques islands. Public transportation in PR (Publicos) is quite good, however it is a little bit awkward, like everything in PR. For example, they do not have a schedule and depart when they are full. Both islands are quite expensive and near Memorial day weekend they were completely booked.
In Culebra I stayed in "Culebra International hostel" tel 787 502 9711 email: affloving@gmail.com, price $25. Owners, Tommy and Annie Loving just started this hostel and they do not completely understand how to run it. But they are nice people. Then I complained about not fully operational kitchenette, they invited me for dinner. Next day I made one of my best fish soup and invited them. Snorkeling and spearfishing in Culebra is quite good. In Punta Soldado there is plenty of fish, it swims there like in fish tanks.
Vieques was completely booked and I stayed in campground ($10), which the tourists share with the wild horses and wild chickens. It is a lot of wild horses on the island and I saw many islanders riding horses. It looks like anybody can take any horse in his or her possession. It was like this in USA 15-20 years ago, when decent running used cars were almost free, few hundreds dollars. It is quite good snorkeling near Cayo Afuera, right in front of the town Esperanza. Bahia Mosquito two miles from Esperanza has the highest concentration of phosphorescent dynoflagellates in the world. I took kayak tour in Bahia Mosquito. It was amazing, every oar splash caused a storm of cold white fire in the water.
Attachments: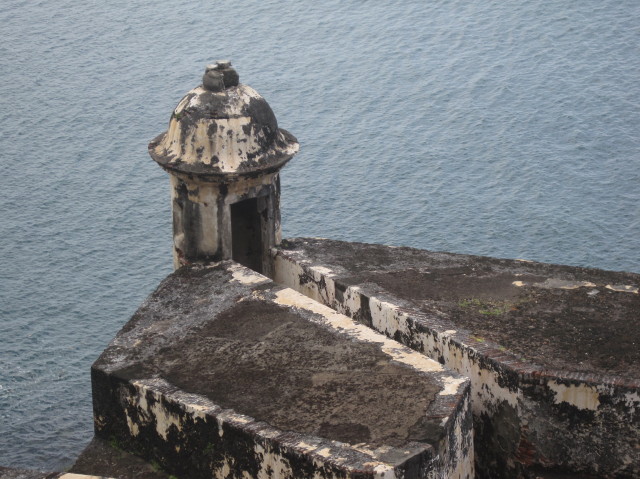 1. Spanish "Garita" at the Fuerte San Felipe del Morro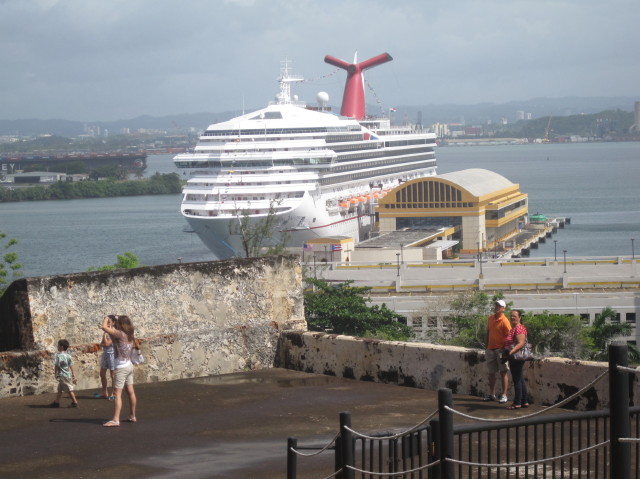 2. Cruise ship is too big for San Juan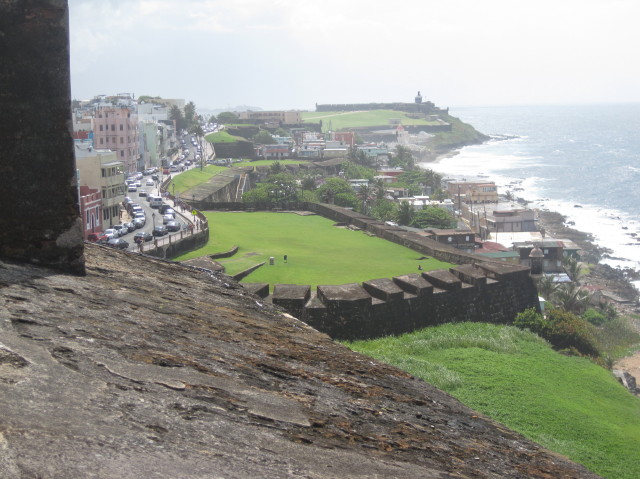 3. La Perla, San Juan slum, behind the city walls.
4. My guest house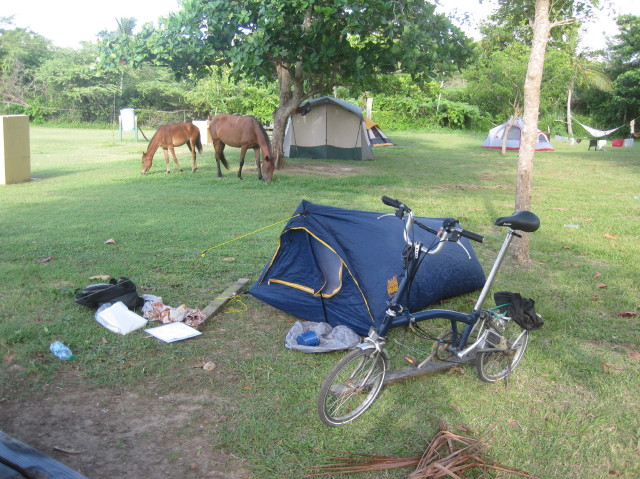 5. Camping at Vieques campground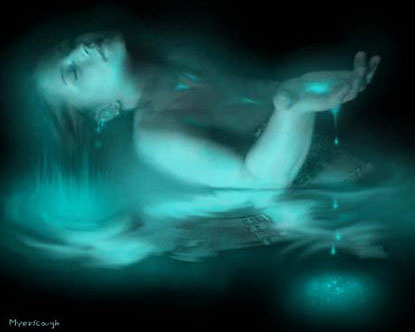 6. Bioluminscent at Mosquito bay. Photo is not mine.
Alex Mumzhiu
Washington DC USA. June 9 2012
PS: Three days ago I turned 75, still cannot get used to this.