Travel Notes from Portugal
My Dear Readers
Portugal was one of two last countries which I did not visit in Europe. The other one is Ireland. Portuguese people, while they are definitely European, are slightly different. It also became clear soon why Portugal, but not for example Germany gets in financial trouble.
My experience was only with tourist industry, but problems which I noticed probably exist in other spheres of life also. It is inefficiency, irrationality and lack of business sense. Often you can see a long line to the single cashier in museum. A cashier with no rush writing tickets. It is always complicated process, writing tickets. Checking tickets in trains is also not a simple matter. A ticket checker took my ticket and looked through several lists of paper then wrote something in his booklet. In Spain, by contrast, the checker punch my ticket in a split of second, that?s it.
Portuguese people however, are nice and friendly. I was in Lisbon and Porto. Both cities are full of architectural wonders. Dominating style in Lisbon is Manueline, a Moorish influenced architectural style introduced by king Manuel I. Porto is full of azulejos, also Moorish influenced style of hand painted ceramic tiles. Despite such heavy Moorish influence, the Moors, descendants of North African Muslims are not visible in the streets of Portugal, a big contrast with London and Paris.
From Porto I took a train to Santiago de Compostela, Spain. Santiago de Compostela is the final point of popular the Camino de Santiago pilgrimage. My friend Yurii K. told me about this route a year ago. I decided to try it. I travel on bike only for two days on this route from Santiago to Palas do Rei, about 100 km. The pilgrimage route on this portion consists of an array of pedestrian paths along the major highway 547. On bicycle it is obviously better to ride on highway. Highway however was quite busy with car traffic. There is no difference between being on a pilgrimage route or just riding on any other busy highway. However, this pilgrimage was known for centuries and probably full of significance for religious people. I slept in a tent and prepared my dinner of instant noodle soups on campfire. I exited the pilgrimage route at Palas de Rei and took the bus to Lugo. At Lugo I rewarded myself for noodle soups diet with an elegant dinner with scallops, see picture. From Lugo I went by bus to wonderful Bilbao.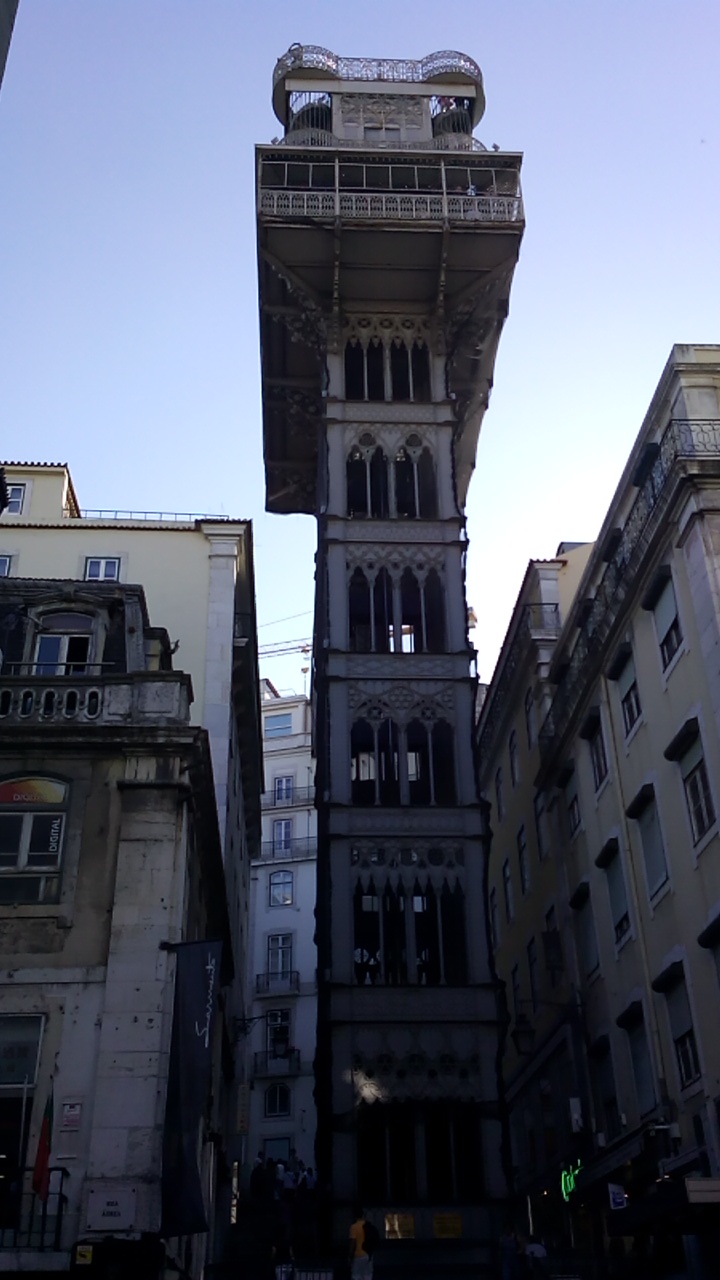 1. Elevador de Santa Justa in Lisbon.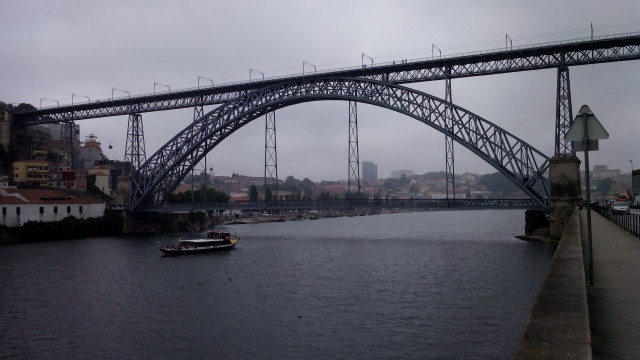 2. Ponto de Dom Luis I completed by a student Gustave Eiffel in 1886, Porto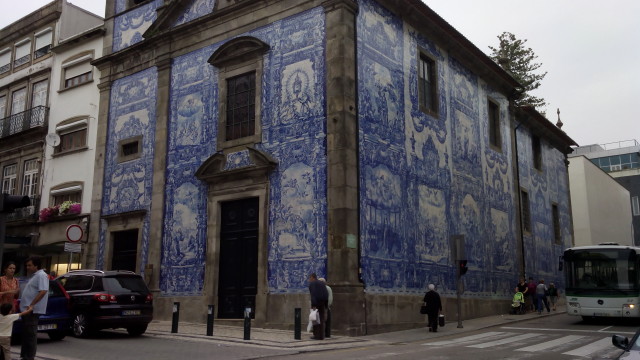 3. Azulejo wall of church in Porto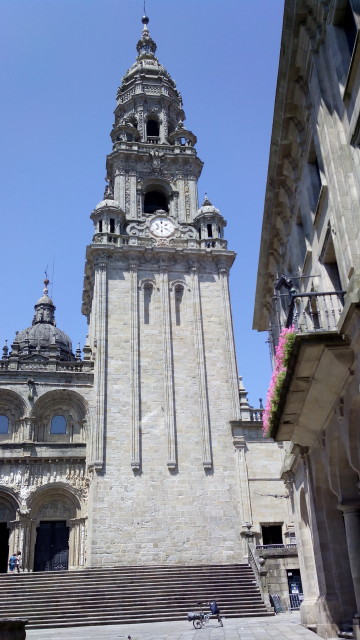 4. Cathedral of Santiago de Compostella, Santiago de Compostella, Spain.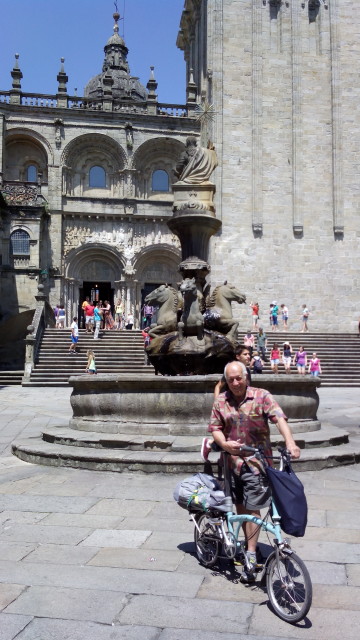 5. Me at Cathedral, beginning my pilgrimage.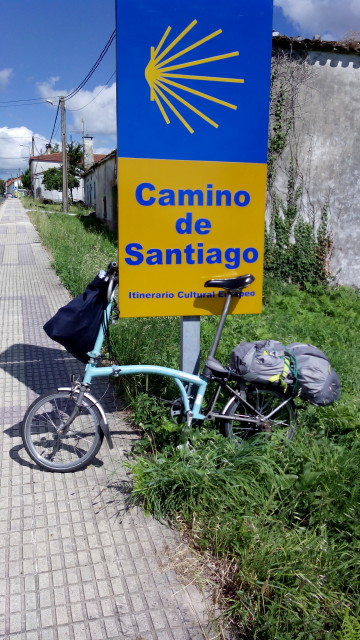 6. Camino de Santiago the pilgrimage sign.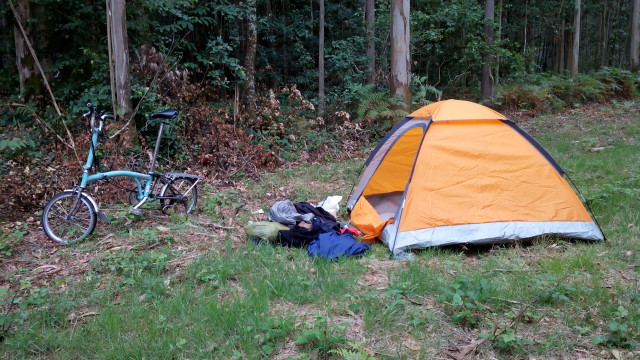 7. Camping at pilgrimage.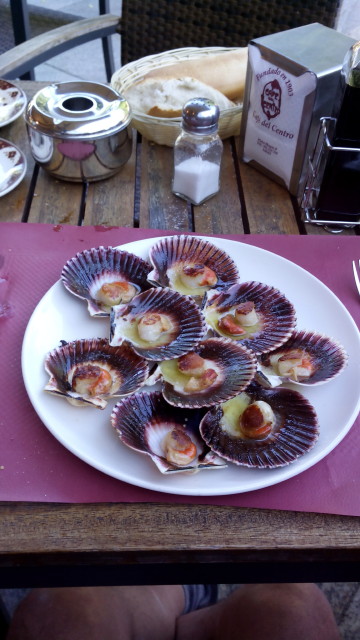 8. Dinner of scallops at Lugo.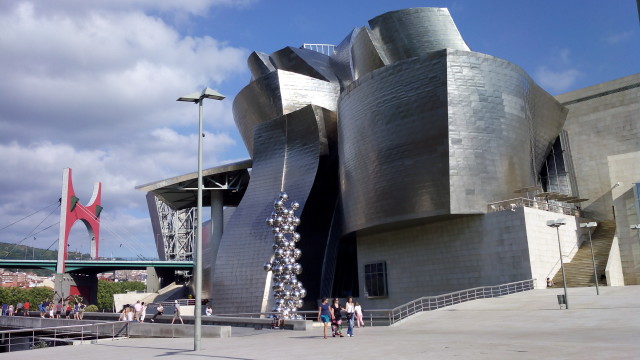 9. Gugenheim Museum at Bilbao
Alex Mumzhiu
2 August 2014
Bilbao, Spain
mumzhiu@yahoo.com
My Dear Readers,
Bilbao is full of wonderful buildings, ultramodern and not, see pictures. However the engineering facilities seem to be lagging behind revolutionary architects' concepts. Some spaces in the Guggenheim museum lack of adequate air conditioning. My favorite building in Bilbao is however train station. After Bilbao I took the bus to St. Sebastian. I stayed at hostel and made some daily radial trips, usually one way by bike, another one by bus or train. In such mode I travel by bike from Bayonne through Biarritz in France to Spanish border and along the shoreline through Irun, San Sebasian, Orio, Zarautz, Getaria, Zumaia to Deba, altogether about 200 km.
Again I got into the Camino de Santiago pilgrimage, as Northern branch of it starts on French border at Irun.
My favorite part was from Zarautz to Getaria where there is long bikable boardwalk along the shore. At Zarautz. I observed as local people dug for fruitti di mare during low tide. I am quite experienced with different kind of seafood, but at a bar in St. Sebastian, I saw types of seafood that I had never seen before, see picture. Price was 13 euros per 100 grams, minimal order 200 grams. Does anybody know what it is?
Talking about food, it is the major night entertainment in St. Sebastian and Bilbao to consume pintxos and txikiteos. Pintxos are small open sandwiches, see pictures. Txikiteos are small drinks accompanying pintxos. Quantity of pintxos and txikiteos were not always in proper proportions, according to my standards. So I prefer to buy a bottle of wine in the supermarket, which is cheaper then water, and pour it into the innocent-looking water bottle. So I can always have wine and food in proper proportions. To finish with food, it was mushroom season and all markets sell beautiful porcine mushrooms, see picture.
St. Sebasian is not large but is a very cozy place. I found my own hidden sanctuary in St. Sebastian. It is little shady park located below street level at intersection of Tolosa and Trento. It is good place to have a bottle of wine from nearby supermarket or have an afternoon nap on comfortable stone benches. Nobody came to this park except of few dogs and their owners.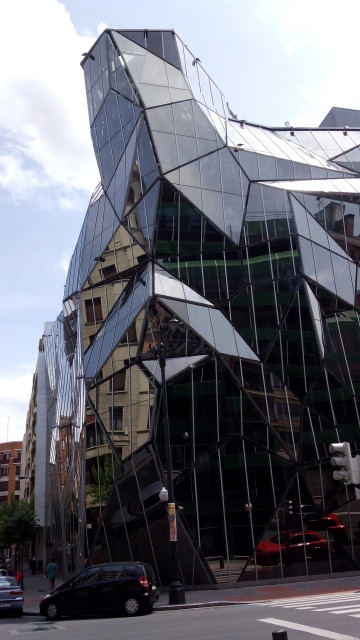 1. Another ultramodern building in Bilbao.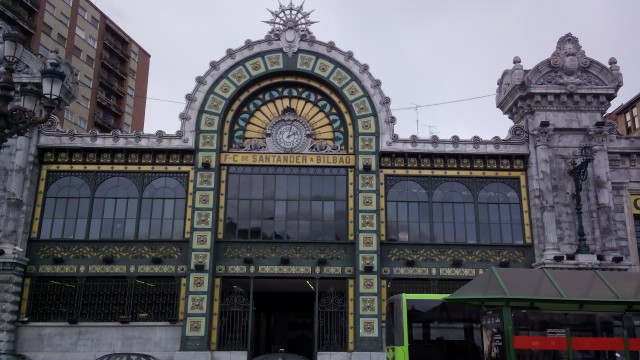 2. Bilbao train station.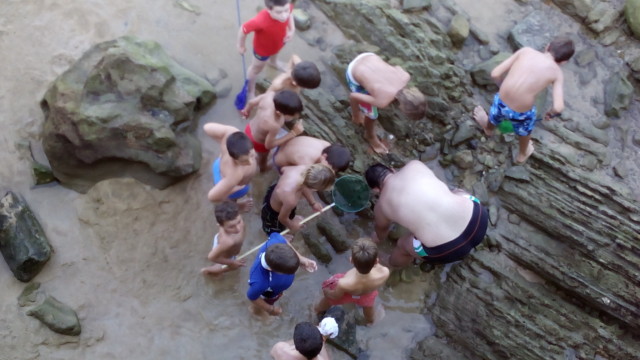 3. Digging for frutti morre at Zarautz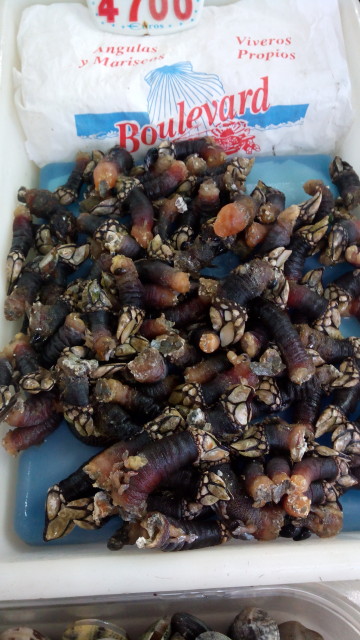 4. Unknown sea food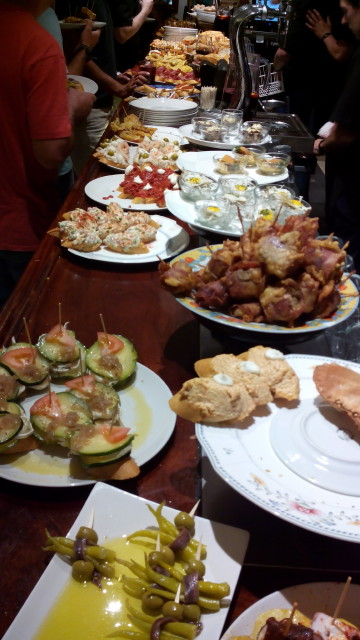 5. Pintxos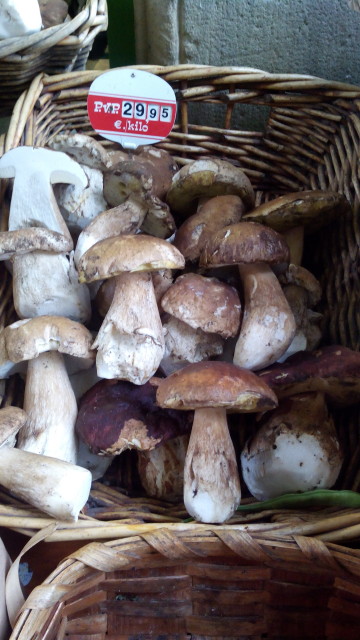 6. Mushrooms.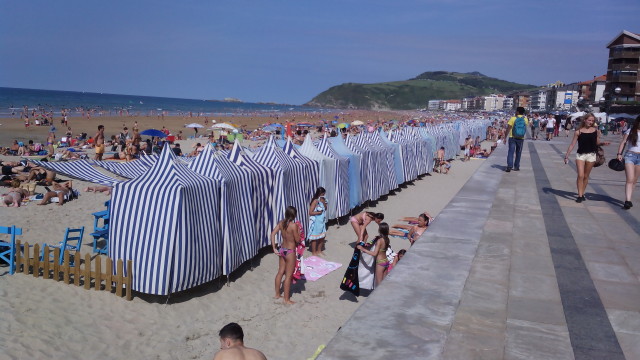 7. Beach cabins at Zarautz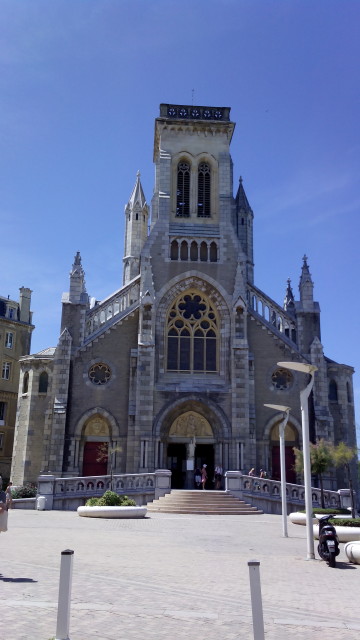 8. Temple in Biarritz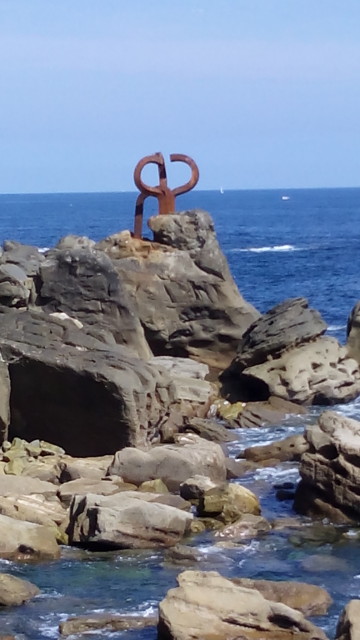 9. St. Sebastian symbol ?The Wind Comb?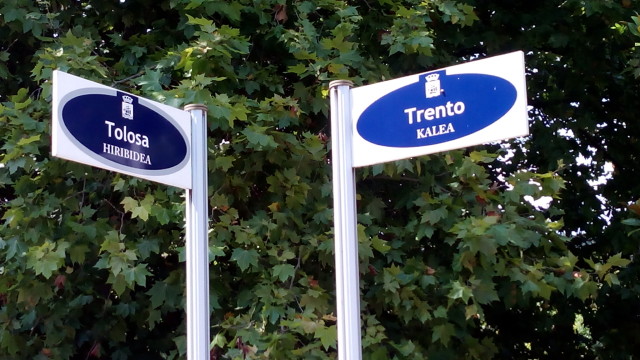 10. My secret place in St. Sebastian.
Alex Mumzhiu
Bilbao, Spain.
11 August 2014.
PS: TOMORROW SOMETHING IMPORTANT WILL HAPPEN!!!!
ADVERTISMENT
I never put advertisements in my Travel Notes, but I will make an exception here because the advertiser is my daughter. She is on the Board of the Piedmont Farm Animal Refuge. It's a wonderful place for animals and they are raising funds to build their next barn. If you can, please help them make a difference in the lives of animals.... Donations are tax deductible. If you would like to donate or get more info about the animal refuge, please follow the link below.
http://igg.me/at/goatandsheepcampaign
TRAVEL NOTES
On Aug 13 I left Bilbao, Spain. I went to Pamplona, a place famous for its yearly Pamplona running of the bulls festival http://running-of-the-bulls.com/ see pictures. From Pamplona I went to Barcelona. Barcelona was full of tourists. Long line was formed to Sagrada Familia and to all other attractions. All hotels were booked and I decided to ride bicycle to Sitges, 12 km South-West of Baercelona along the shore, where some camping places are supposed to be located. The only road along the shore was a freeway B-10 squeezed on narrow sliver of land between Mount Montjuic and the sea. There were no shoulders on the freeway. So riding bicycle there was not a very pleasant experience. Suddenly I spoted a nice place for camping. I jumped across the metal rails and got to a really very cozy place
. It was a large glade covered with tall, never cut grass and surrounded by white flowered palm trees. There were no sings of human presence. It was triangle in shape. One side of triangle was formed by 4 lanes of highway, another by railroad and vertical wall of Montjuic cemetery. Third side was rear wall of Montjuic Funeral home. So to get where was not easy. My tent was not visible from the outside and I did not see anybody. I spent five happy nights there. Amazing place, also quite close to the center of Barcelona. These who want detailed directions of how to get there please send me Email. My trip is now finished I am at home.
Alex Mumzhiu
Sept 20 2014
Washington, USA
mumzhiu@yahoo.com
http://foldabikes.com/CurrentEvents/Story/TravelStories.html
PS: There was a lot of talk about new Russian law requiring to report dual citizenship. It has to be reported to Federal Migration Offices. Local immigration offices may be very picky. But at central office in Petersburg at Zakharievskaya 10 procedure was quite straightforward, and fast. The only requirement was no remarks and redmarks in the application form. It was not a single computer there by the way, everything was done in handwriting. Immigration officer gave me a copy of document which I have to present at border crossing, she told me. It is interesting what will happened with a person which does not have such document and has boarding pass on airplane leaving soon...
PPS:
My readers had identified seafood, the picture of which was in my last TN. It was barnacles. Some barnacles are considered edible by humans, and goose barnacles (e.g. Pollicipes pollicipes), in particular, are a delicacy in Spain and Portugal, (Wikipedia)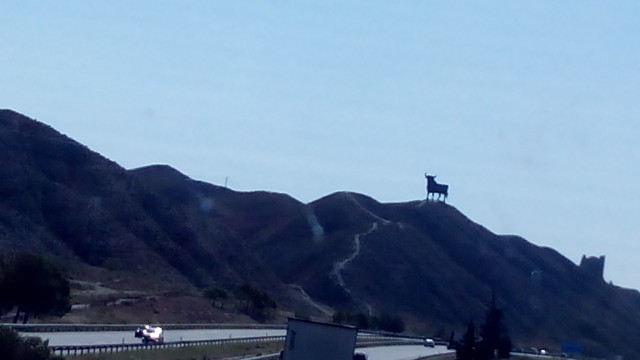 1. A sculpture of bull on the road to Pamplona.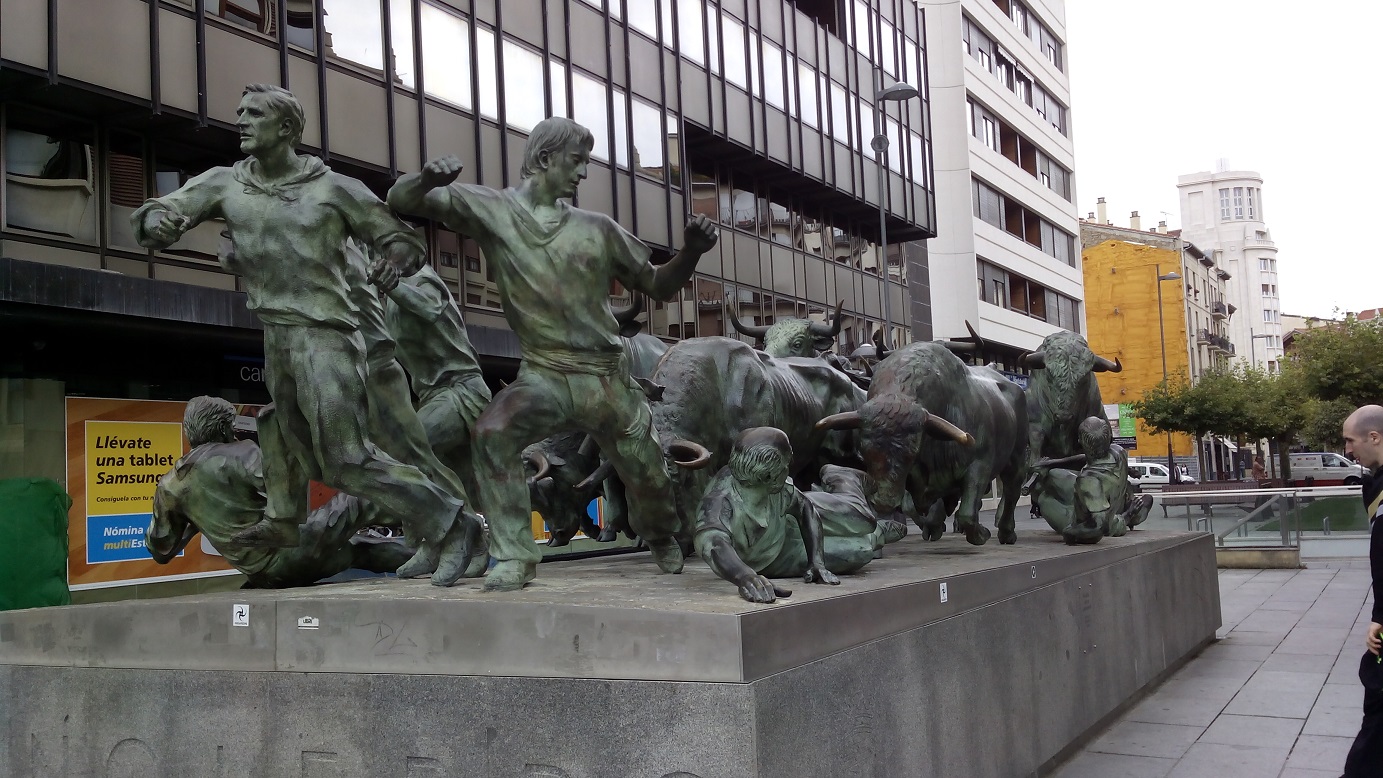 2. Pamplona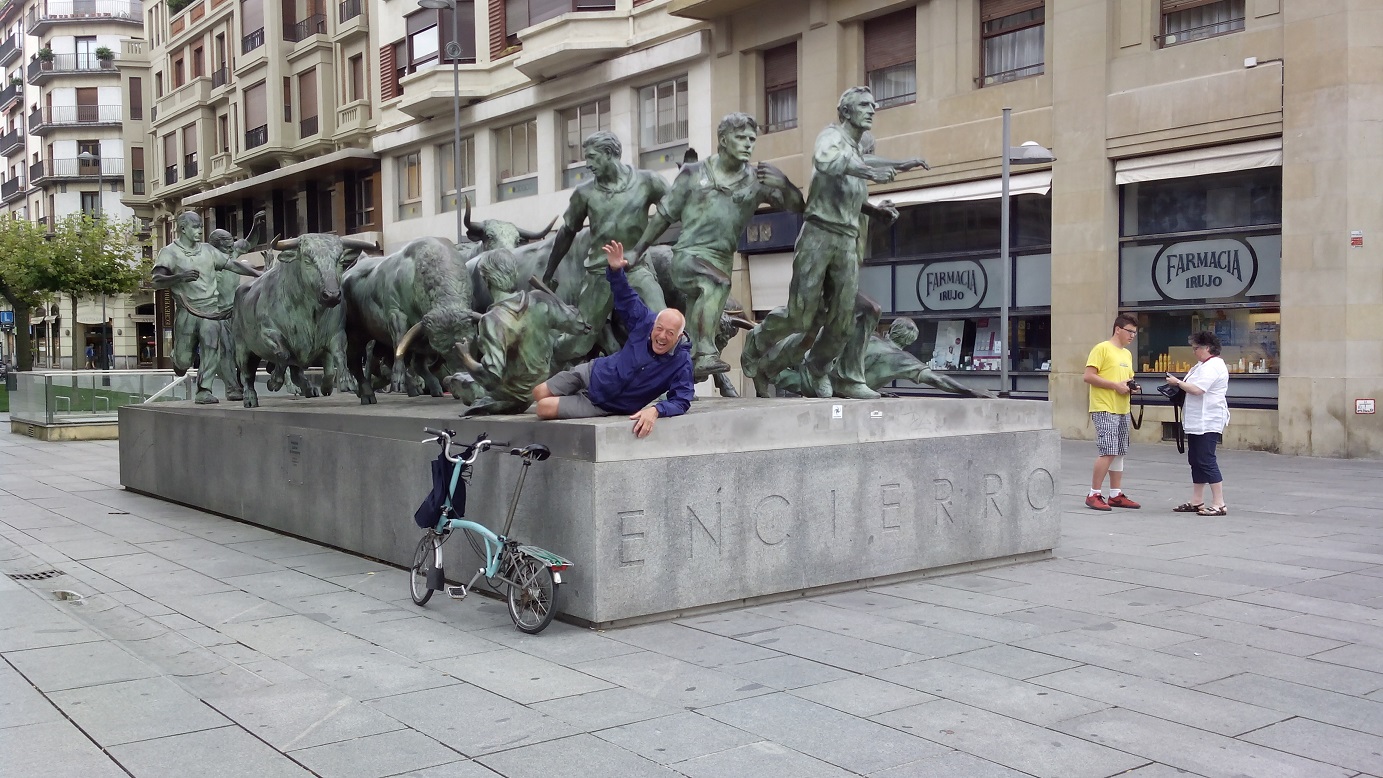 3. Pamplona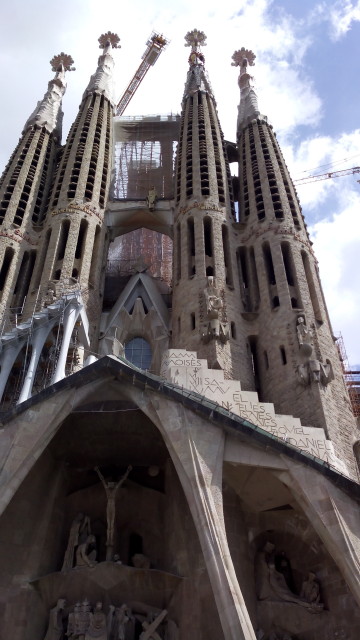 4. Sagrada Familia, Barcelona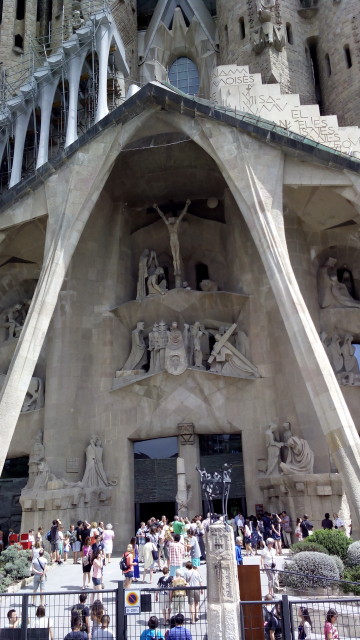 5. Sagrada Familia, Barcelona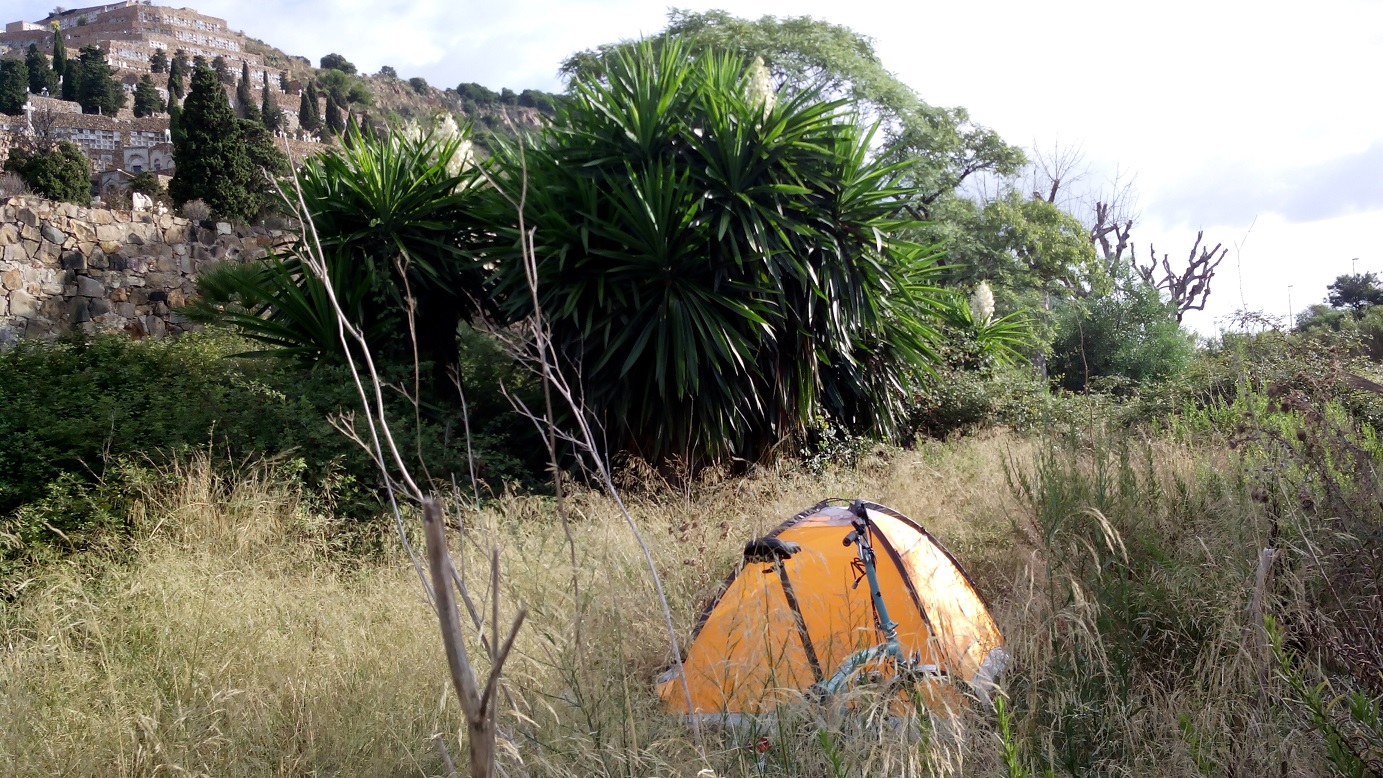 6. Camping in Barcelona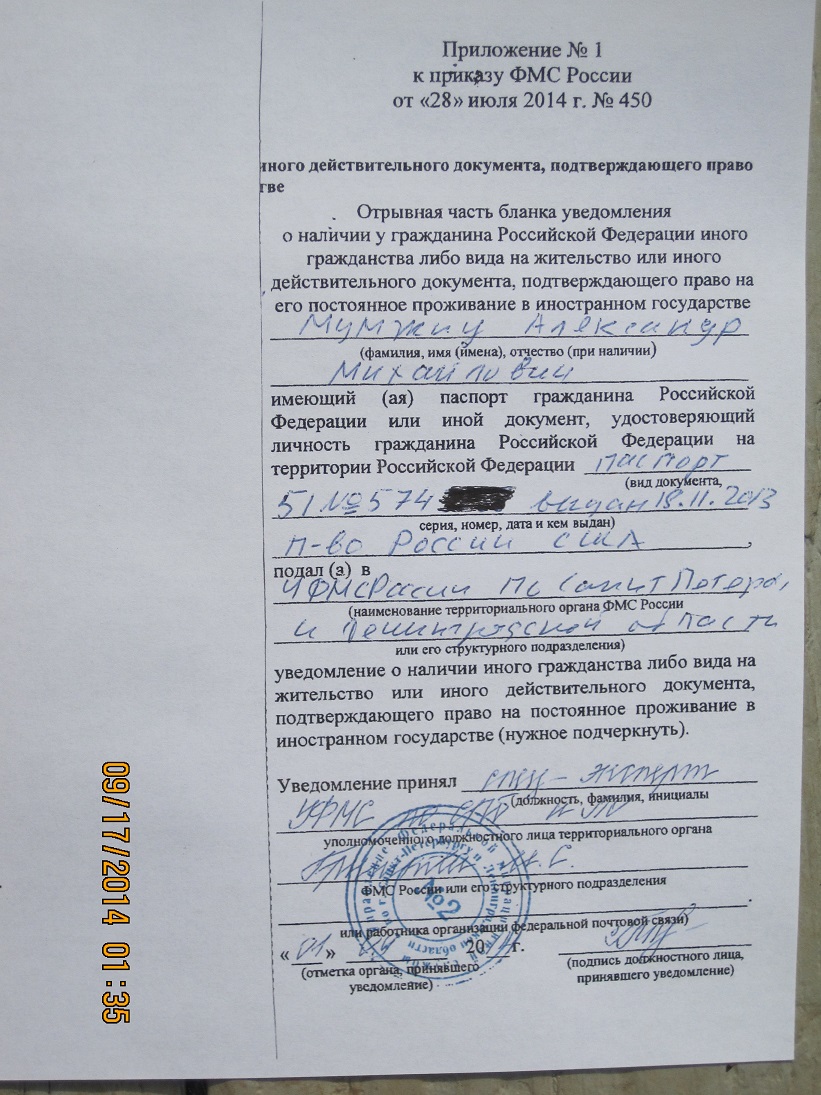 7. Notification of second citizenship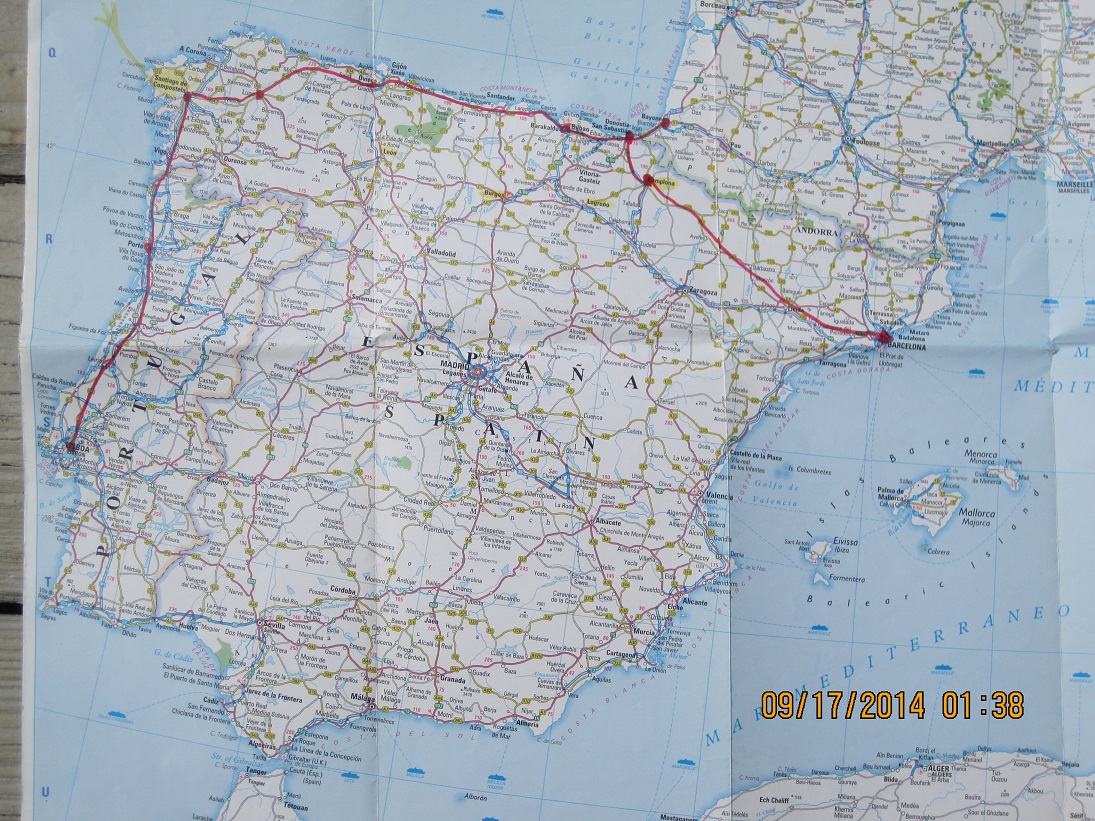 8. Map of my trip