Travel Notes from Philippines
My Dear Readers,
I am in Manila, Philippines. I am traveling again and I am very happy because of that. I read in tour-books that it is better to skip Manila altogether as Manila is polluted, noisy and filled with terrible traffic. It may be true, but I have a different approach to travel. I am looking not only for pleasure, but also for challenges. For me Manila is a gigantic puzzle, which I have to unscramble. I arrived at midnight in different airport, then I anticipated. Actually I did not expect that it is more then one airport in Manila. It was too late to look for hotel and I slept at airport. With therm-a-rest sleeping mat, which I always carry, it is quite comfortable. In the morning I rode bike to the town. It is always the most exiting part of a trip - the first encounter with the new unknown city. Big streets are really heavy with traffic, but maze of small streets which are just few meters away from the main arteries are closed to traffic and filled with chickens, ducks, dogs, cats and naked small children riding their tricycles. This is where you got submerged in local life. As it is usual in hot climate, people spend their time in the streets. There are plenty of small shops and restaurants with one or two tables. Price is about one dollar per dish. People are friendly and greet me with "Hi Joy"
Tourists traveling with tours groups and visiting only tourist designated areas, do not get there. While I travel I do not rush to see landmarks, museums and monuments. It is more interesting for me to find out how ordinary people live. Like cartoon character "Big Mouthed Frog" I would like to find out "Who are you and what do you eat." On my way to the center I noticed Airport Backpackers Inn, price $18. Hotel was surgically clean. I stayed there. My first impression from Philippines is that they are the most European-ized of all Asians. So on scale, European - Asians they are half way toward European from all people of SE Asia, such as Thais, Vietnamese and Malaysians. They are friendly, not aggressive, not annoying, but their main problem is that there are too many of them. Streets filled with people, cars, motorcycles and jeeps. Sometimes it looks like Hell. Surprisingly street are quite clean, almost no garbage on the floor.
One day I went to the area where former ruling family Ferdinand and Imelda Marcos built monumental structures devoted to promote the time they were in power for centuries to come. Stalin's high-rises in the Moscow look like masterpieces of architecture compare with these gigantic concrete boxes. Some of them are closed or abandoned. One is a functioning - Film Center, showing daily popular with tourists, show called "Amazing Show" performed only by transvestites and transgenders, see picture. It is promoted as family show! I did not go. Something inside me sees man dressed in woman lingerie as a conflict of interest. There are a lot of lady-boys here. You can see them working at McDonald's or Seven Eleven stores. They are easily recognizable by their flirty behavior. But people do not have negative feeling toward them, probably considering them as funny and not harmful freaks of nature.
Philippines are fighting with Muslim separatists on the Southern island Mondanao. Every establishment in city has a policemen or two or thee. Everybody entering metro or shopping mall gets searched. Bureaucracy is terrible here, not better then in Russia. It took me an entire day to extend visa. But unlike Russian bureaucrats, they are smiling. Actually everybody is smiling. A cashier in supermarket, pretty young girl singing and smiling while doing her job. It is most smiling country I have ever seen. Manila is difficult city to travel inside. Even taxi sometimes do not take passengers, as traffic is just stalled The only way to get from A to B is on folding bike and metro, which is also overcrowded. I later moved to Makati, which is best place to stay. I visited many areas of Manila including slum areas. They are safe. Poor people who live there are not criminals. Criminals hunt in the areas where wealthy tourists congregate I finished with Manila.
Tomorrow I will fly to Palawan island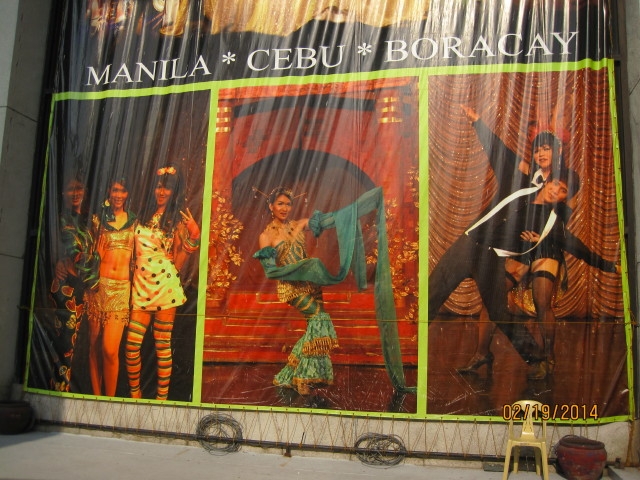 1. Amazing Show advertisement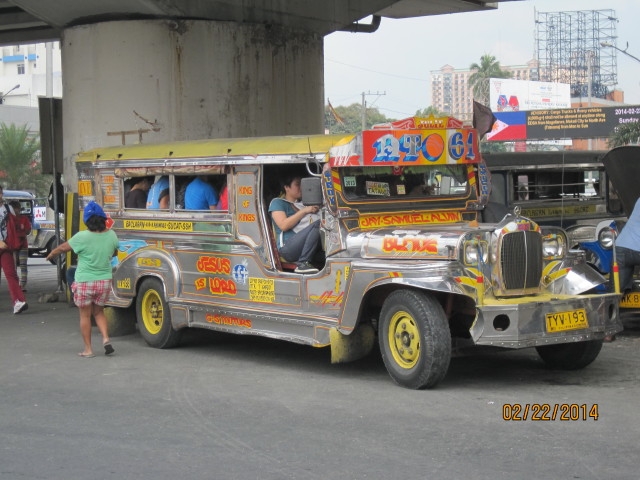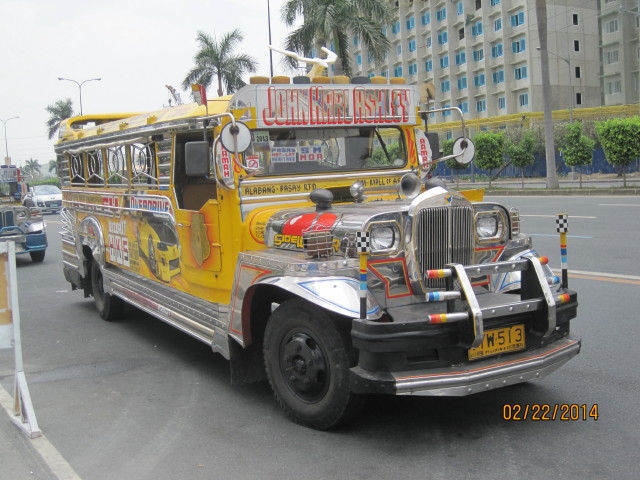 2. Jeepney, most common transportation means in Manila,
Alex Mumzhiu
Manila, Philippines
Feb 26 2014
PS:
1.I found one more traveler on folding bike. This is famous one: http://www.davidbyrne.com/art/books/bicycle_diaries/
2. Most ugly food sold here as a snack is boiled duck eggs with half developed baby duck inside.
Travel Notes from Palawan
My Dear Readers
My major attraction in Philippines was Bacuit Archipelago. Why? Because it is similar to Southern Thailand landscape at Ko Phi Phi and Halong Bay in Vietnam. It is formed by limestone, heavy eroded by the sea. This type of landscape creates uncontrollable tremble in my soul. However gateway to archipelago - the town of El Nido, according to many tourist reports had some problems: too touristy and too expensive.
I found it touristy but not in a bad way. No group tourists and no mega hotel- resorts, like Sandals, I hate them!!!
As for a price - the folding bicycle is always helps to find decent places.
I found Tres Verdes hotel 10 minutes from the center 20 meters from the shore for $10 per night.
First day I went to an official tour to see most photographed places in Palawan. They were nice, but it was crowd of bangkas (small boat with balancers) and tourists were forming a line to enter the main attractions with such names as "secret beach" or "hidden beach".
Next day I took a swim from village Coron (where I stayed) - to El Nido town 8 km away. It took me 5 hours to swim, with snorkeling and stops at the beaches along the way, see map in attachment. But it was nobody there, only me, and the underwater scenery was much better. Places to which they brought tourists year after year, may be were good initially, but after years of heavy traffic they definitely got degraded. Encouraged by my first success, I rented a kayak and decided to sail around biggest island here - Cadlao Island in two days. When night approached I reach Cadlao (Ubugon) Lagoon, the most beautiful sea lagoon I ever seen. One of the walls of this lagoon looks like gigantic stylistic Gothic temple.
I spent night there alone. It was nobody in lagoon except for me. I made a fish soup on fire and slept on the sand. Next day I paddled back to the town. It was tough. When I reached my hotel I barely was able to walk. Local guides with whom I talk, did not believe me. Because it was impossible, they said.
Only when I shown them pictures taken along the way they started to trust me, and said that nobody did it before.
From El Nido I took big bangka to Coron town at Busuanga Island, 8 hours North from El Nido. This is where accident happened. Boat ramp, from the ship to the ground was long steep and shaky and it was no rails. As the most of people of my age I have problem with vestibule apparatus. It does not mean that I cannot keep balance. I easily climbed Maya pyramids using three points of support. Here it was no third point of support and I felt and injured my legs. While my wounds did not looked seriously, blood was flowing like stream with pulsations. Fortunately trained sailors from nearby coastal guard ship arrived in a minute with medical kit and covered my wounds with bandages. I refuse to go to the hospital and rode to the town by bike. When I left dogs came to lick puddle of my blood. Everything is OK now, but people still frequently stop me in the streets and ask how I am doing.

1. View from my $10 hotel room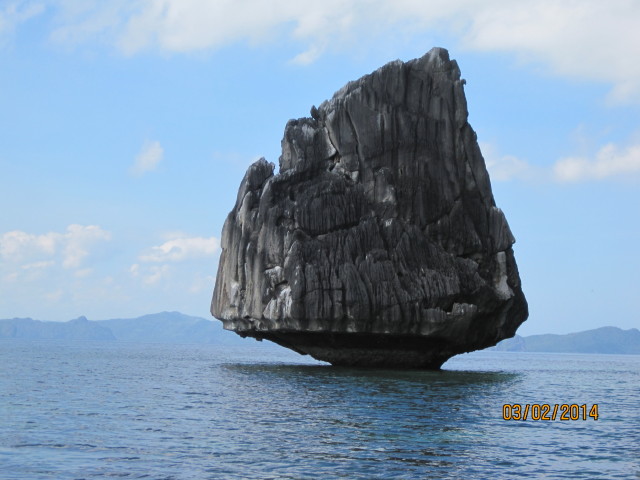 2. Sea rock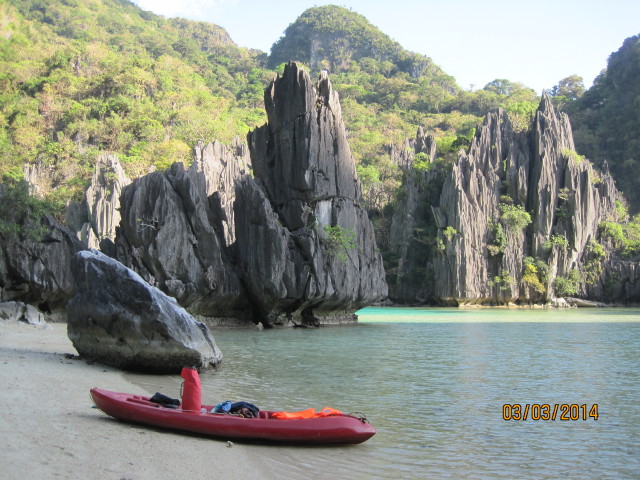 3. Caldao Lagoon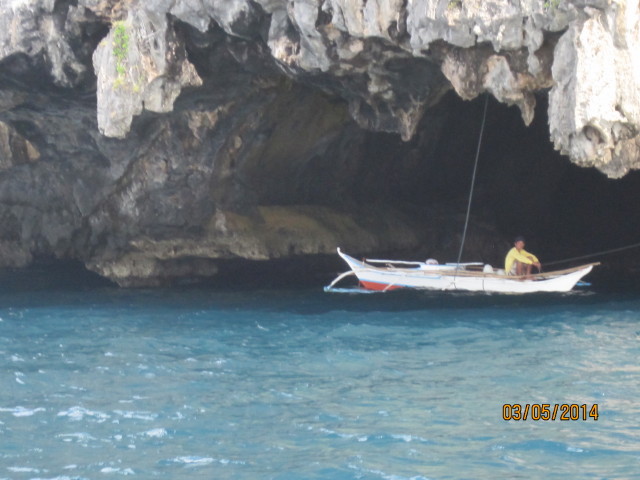 4. Bird nests gatherers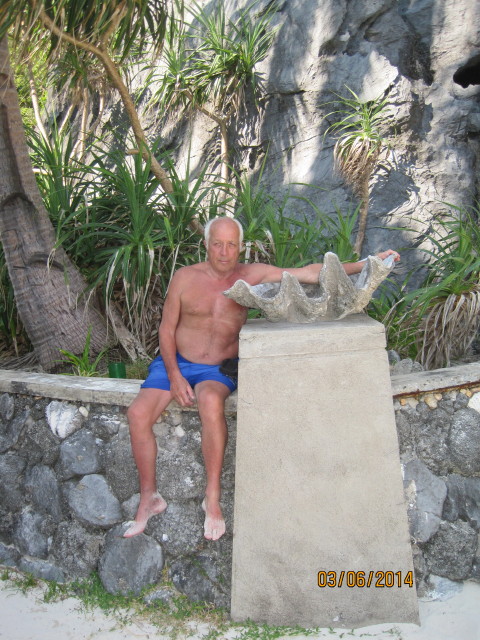 5 Tridakna (Giant Clam)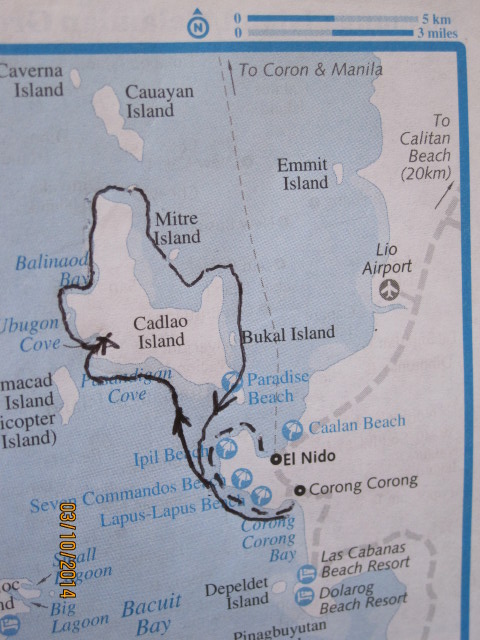 6 . My routes, swimming (dotted line) and kayaking (solid line)
Alex Mumzhiu
Coron Town, Palawan, Philippines
March 11 2014
PS: Tomorrow I will sail from Coron to Mindoro. Will try to ascend/descend ship carefully.
My Dear Readers
My trip in Philippines is finished, see map below.
From Manila I went to Puerto Princesa, Palawan, then continue to El Nido and then to Coron.
Then sail to Sablayan at Mindoro Island, visited Apo Reef and continued to Puerto Galera
Then I traveled to Panay Island and visit Borocay
Then I sailed to Ceby City at Ceby Island, visited Oslob and took a day tour to Bohol.

Most impressive was El Nido limestone cliffs, second were the whale sharks at Oslob. I was surrounded by these amazing creatures. Sometimes three of them were at arm's length from me. They stayed almost vertically and skimmed small shrimps which boatmen fed to them. They open their huge mouths and the ocean flows inside them with bits of shrimps. I touch them sometimes, unintentionally, and they touched me. These three time longer then man creatures look absolutely harmless and innocent things. Snorkeling is better then diving and much cheaper, $25.
At Coron I took a diving trip to two Japanese ships Tangat and Olympia Mary sunken by US navy on Sept 24 1944. We swam and squeezed through piles of rusted iron in the ship's belly. And I understood that in order to enjoy wreck diving somebody should have a very good imagination. Also I saw Seite Pescados at Coron, the excellent, very accurately manicured (by nature) coral garden. From Coron I sailed to Sablayan on Mindoro Island. Everything which can be broken on public bangka was broken. But it was also soundly fixed. It brought to mind many stories of sunken Indonesian and Philippine ferry boats. Sablayan is the jump-off point for famous Apo Reef. I dove near Sablayan and snorkeled at Apo Reef. Diving at Apo is ridiculously expensive- $250. Apo is very much blown out of proportion, in my opinion.
From Sablayan I went to Puerto Galera on the same Mindoro Island. Puerto Galera - Sabang shoreline offers excellent opportunity for my favorite sport - long swim. I started doing this when I was 15 on Vuoksa Lake in Karelia. I usually started to swim in the morning with a bottle of water, matches and some money in waterproof enclosure. I stopped on the shore during my swim, had lunch from "fruti de mari" and finally return to my starting point by public transportation. Two routes I did here are in attachments. Route from Sabang to Puerto Galera is helped by strong tail wind. Route from Coral Cove should be done in early morning when waves are not so big.
Borocay was selected by Travel and Leisure magazine 2011 as 4th best beach in a world. After this, tourists swarmed on it. Now green algae spreads in the water of this famous White Beach. I did not risk putting my head in the water. However beach still looks quite nice
From Ceby I took a day trip to Bohol an see famous chocolate hills and our smallest relatives - primates called tarsiers, the most cuddly creatures in the world.
Attachments: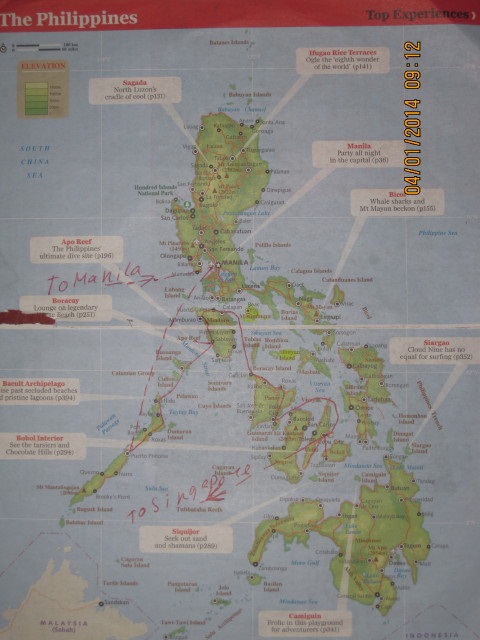 1. Map of my trip in Philippines

2. "Realto" bridge at Coron.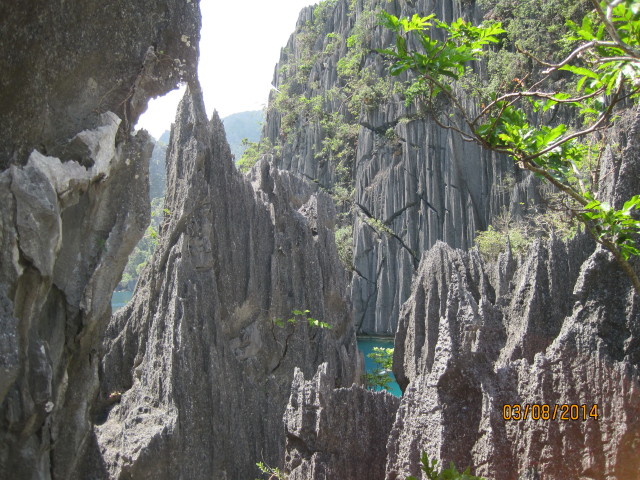 3. Barracuda Lake at Coron

4. Bangka

5. My swimming routes at Puerto Galera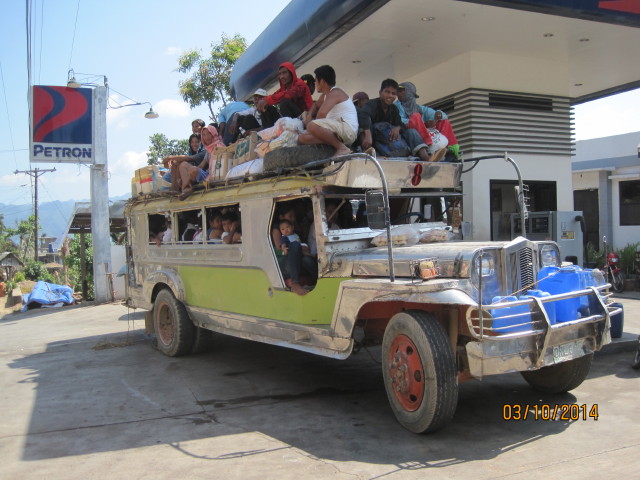 6. Public Transportation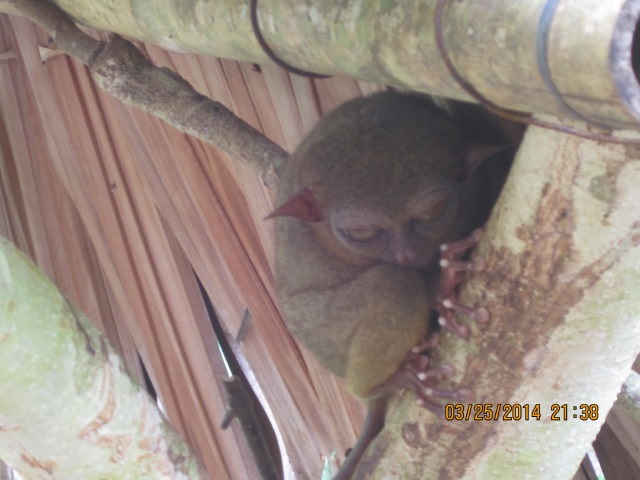 7. Tarsier
Alex Mumzhiu
Singapore
Apr 2, 2014
PS: I lost my entire Travel Notes two times. New Yahoo Mail is TERRIBLE!!!!!!!!!!!!!!!!!
Travel Notes on Singapore
My Dear Readers,
Singapore is amazing, magical city!
I plan to stay for 2 days, but stayed for 10.
Rumors of expensiveness of Singapore are not true. It is plenty of decent hostels in Little India in price range of $15-25.
Food is very cheap and very good. Best are Chinese food centers. You never understand what you ordered and never know what did you eat. But it is always very tasty.
Attached are some pictures from Singapore: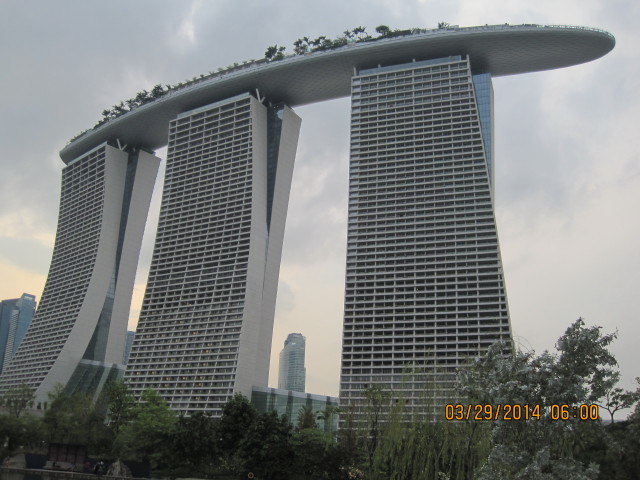 1. Marina Bay Sands Hotel. I climbed on the top of it without ticket.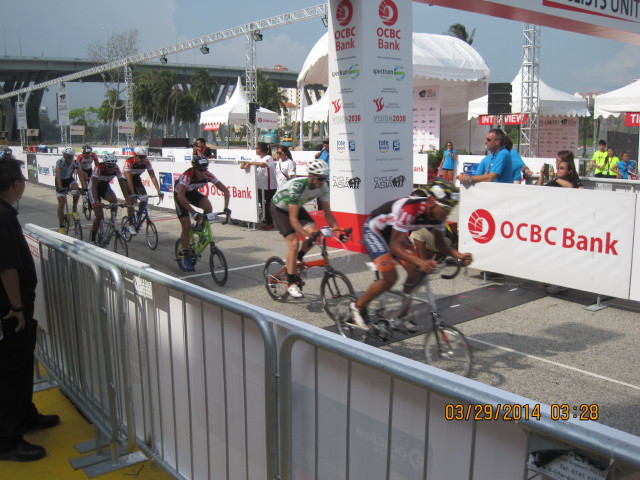 2. Folding bicyclists competition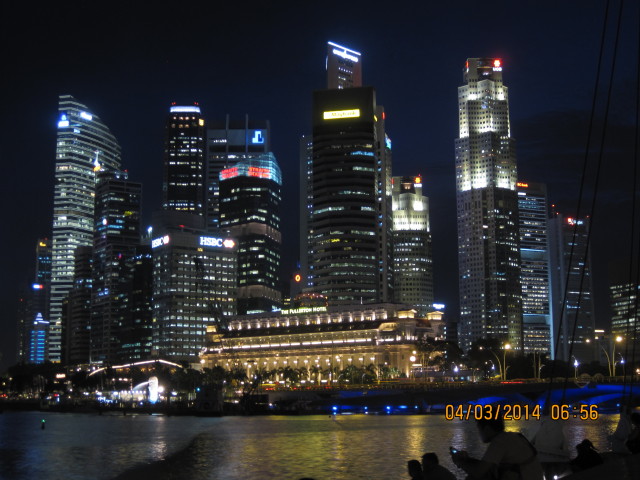 3. Night Singapore

4. Fullerton Hotel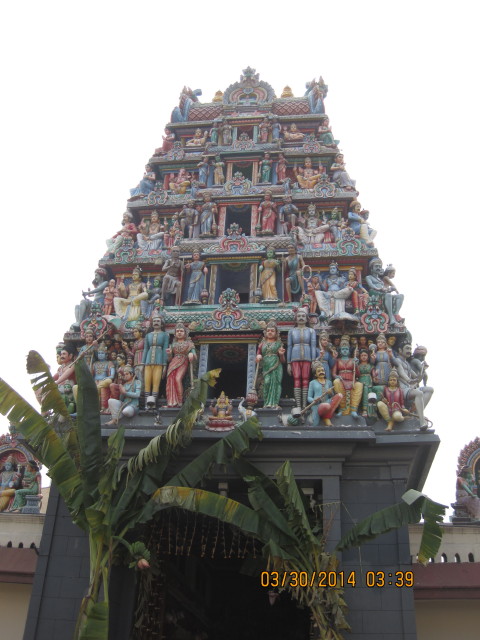 5. Indian Temple in Chinatown.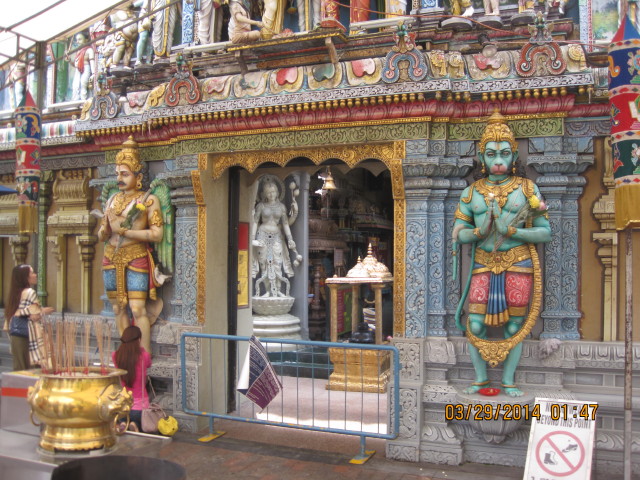 6. Indian Temple details.

7. Sultan Mosque in Kampung Glam

8. Marina Bay Sands Hotel at night.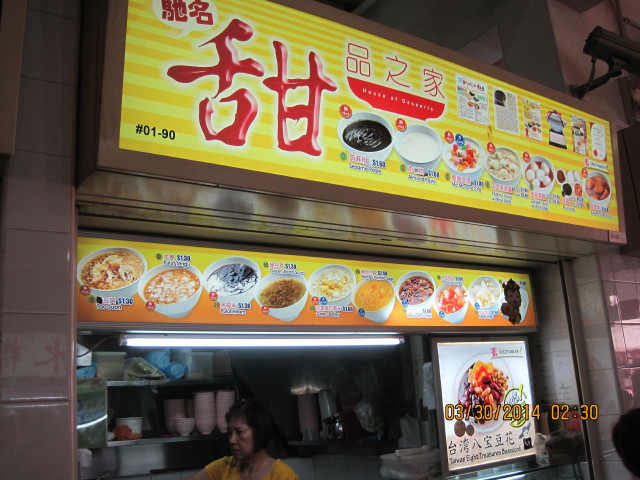 9. Different vegetarian soups price under $2
Alex Mumzhiu
Singapore
Apr 5 2014
PS: Attention of readers who got my TN through AlexTravel YahooGroup. As my readers reported pictures are not available to these who are not in Yahoo. I cannot do anything about it. You may get free subscription on Yahoo in order to see my TN with pictures.
Indonesia 2014
My Dear Readers
I did not send my Travel Notes for a long time because I thought that it would be stupid to send my little funny travel story in a time when the world is going through such terrible times. I am traveling again. This time I am in Portugal and I am missing your letters, your responses. They are very important to me. So in-spite of all odds, I decided to resume sending Travel Notes. Below is my last Note from Indonesia, which I left Apr 30. Soon I will sent you my Notes from Portugal.
Travel Notes from Indonesia
After leaving Singapore, I planned to spend a couple days in Medan, Indonesia. But after Singapore, the misery and ugliness of this average Asian town disgusted me so much, that I returned from Medan in the same bus in which I entered it and went to Lake Toba.
Lake Toba is interesting place. It was formed in the place where Earth's largest volcanic eruption happened, 50,000 years ago. Six year long volcanic night covered the Earth after this and almost all humans died, only 15,000 were left. This event left a gap (bottleneck) in our DNA, I found this information in the Wikipedia,
I stayed in hotel on the lake shore. My Russian readers would call it "high energy" place. I am not adept of these mystical things, But even I, when I stand in the morning on the lake shore feel that this place is a magnificent one. People who live here, bataks, surprised first Europeans, because they had highly developed culture and system of writing, but in the same time they were cannibals, Cannibals with some twist, however. Cannibalism was part of criminal punishment system. For example if a tenant did not pay his rent, then landlord can eat him! Cannibalism was abandoned in 1816, but unique batak culture and architecture is left, see attached examples of batak architecture,
If you are completely broke or you know somebody who is completely broke, then Toba is the place to be. Toba was popular tourist destination a decade ago. But now its fate has changed and most hotels stay empty. Everything here is incredibly cheap, Single rooms cost $4. I stayed in a big double room in traditional batak home for $8. My hotel, Bugys Bay Homestay, stands right next to the pier. Food is also cheap and good. but vodka $10 per 250 ml. So you can live here on $200-300 per month, if you do not drink. After I left lake Toba I went to Bikitingi by bus, 17 hours. Bus crossed equator in the middle of night, but it was extremely cold in bus and I got sick. I did not risk another long bus ride and flew from Bikitingi to Jakarta.
In Jakarta I stayed in backpackers ghetto in hostel Blomsteen, recommended by Lonely Planet. Backpackers ghetto was fine. Rest of Jakarta was quite difficult. It is no pedestrian walks and no pedestrians. Everybody is on motorbikes. People were friendly and helpful however. Next was Surabaya. On the main plaza the Soviet submarine presented by Nikita Khrushev is standing. He was a generous man. Another one of his now famous gift was the Crimea peninsula, given to Ukraine. I finished my trip in Bali, which is always nice.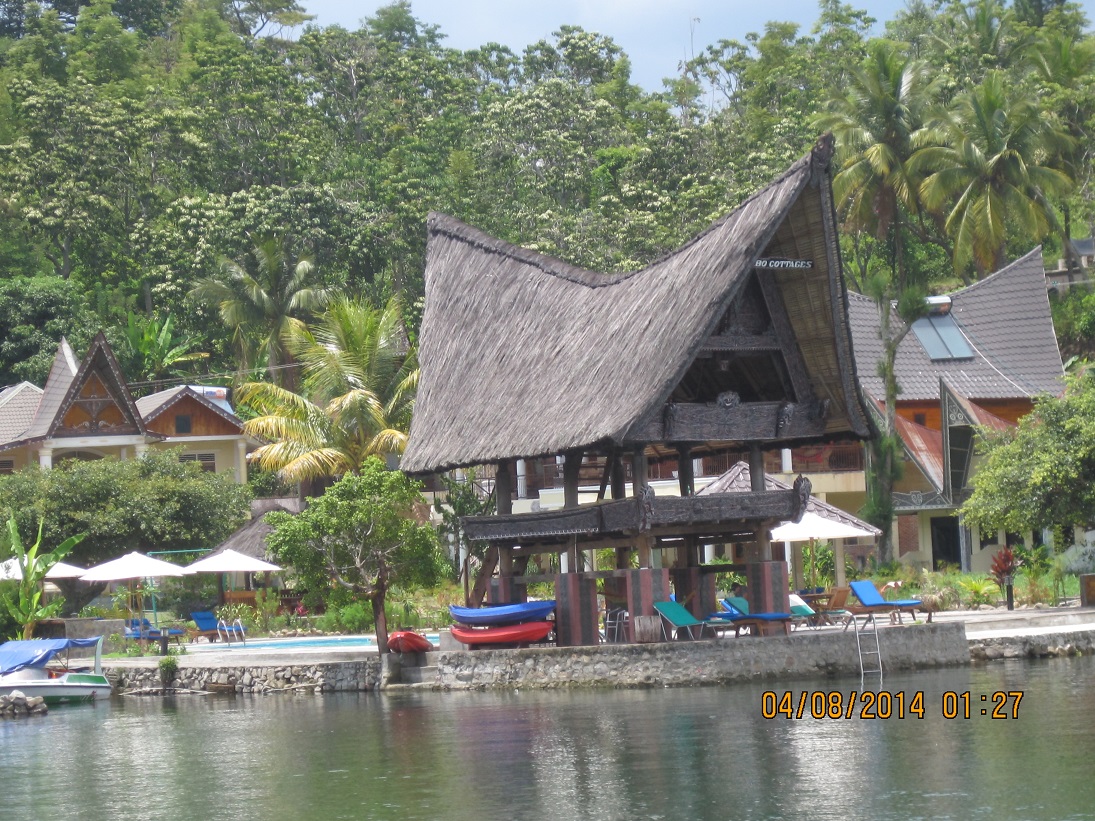 1. My hotel at Toba lake.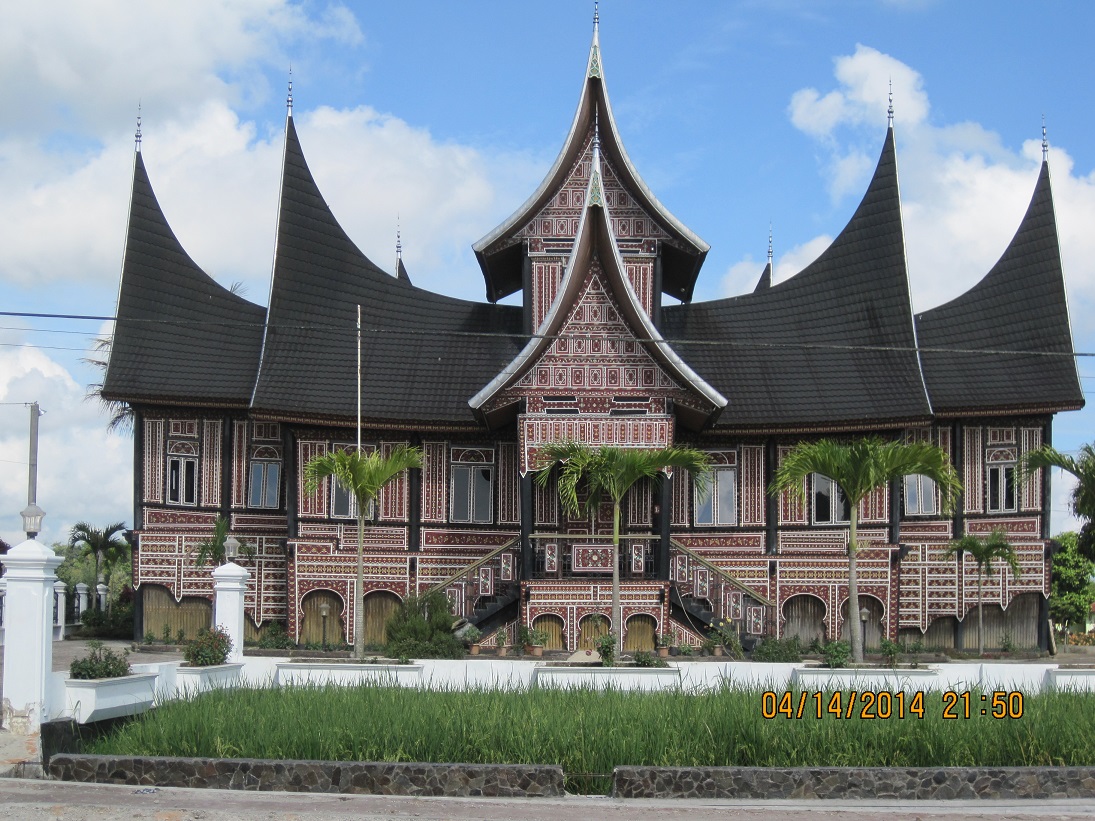 2. Kings Palace near Bikitingi.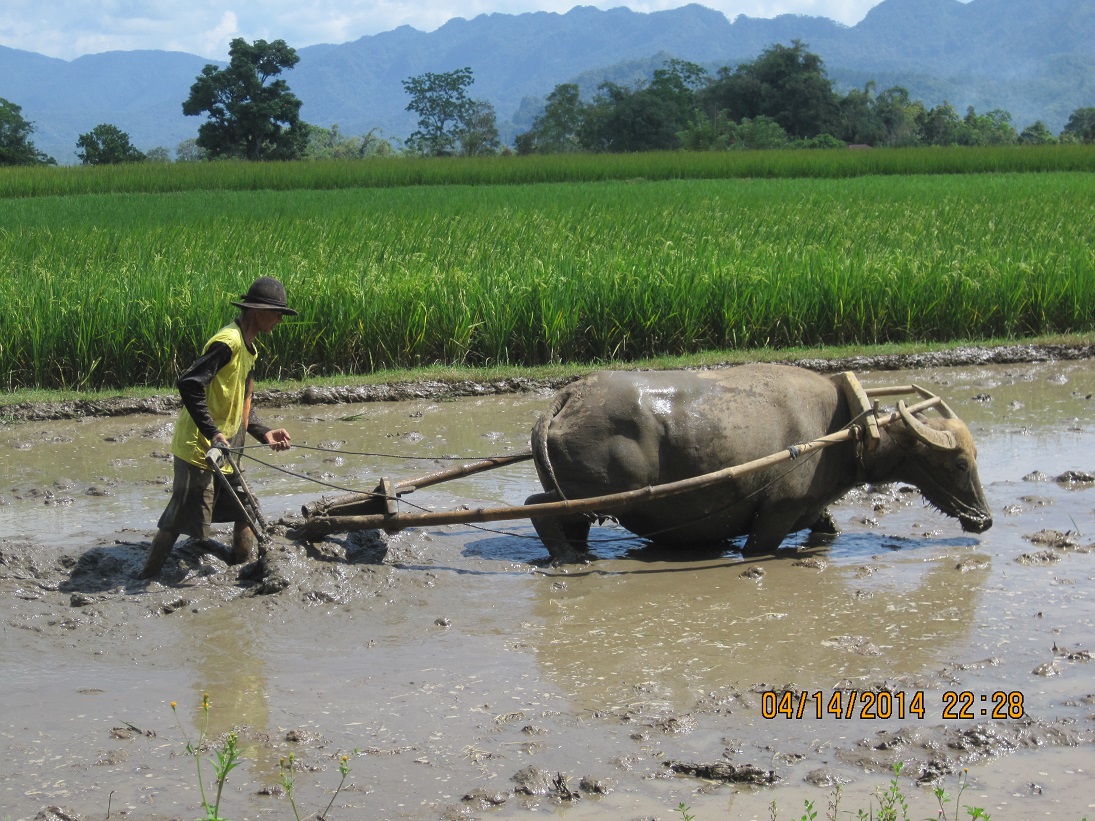 3. View from contemporary highway, Bikitingi.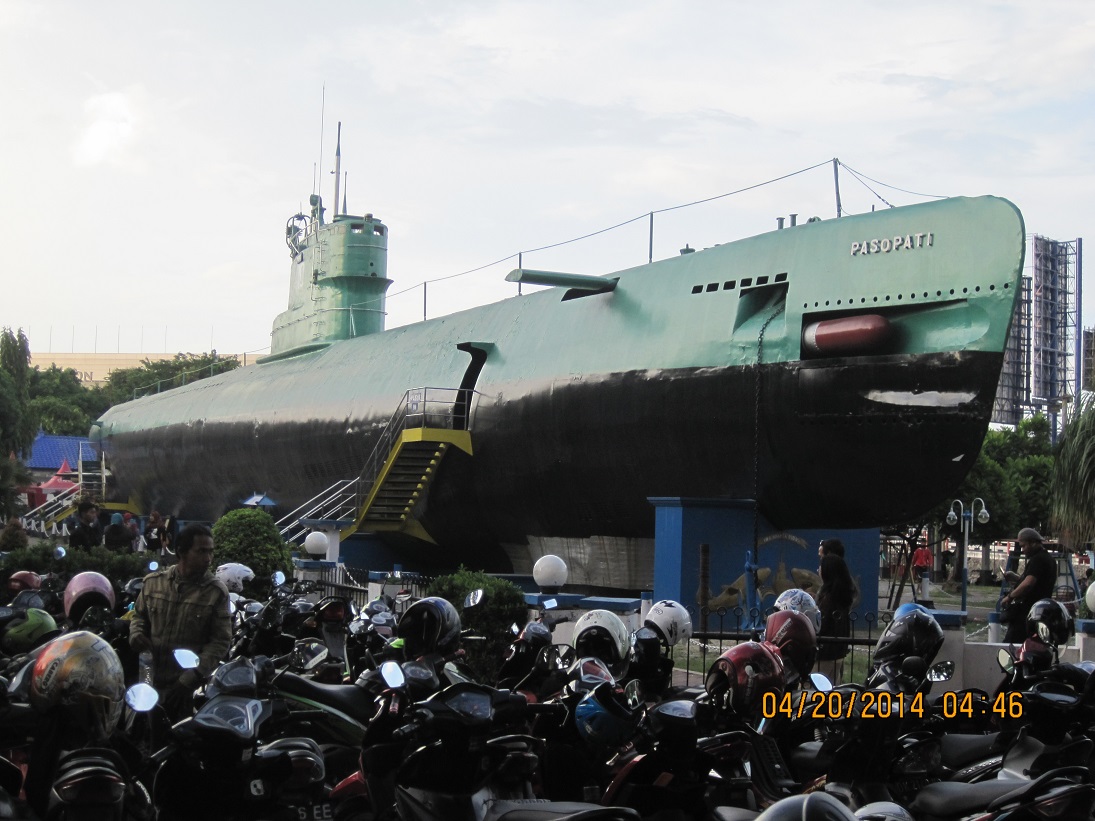 4. Soviet submarine presented by Nikita Kryshev, Surabaya.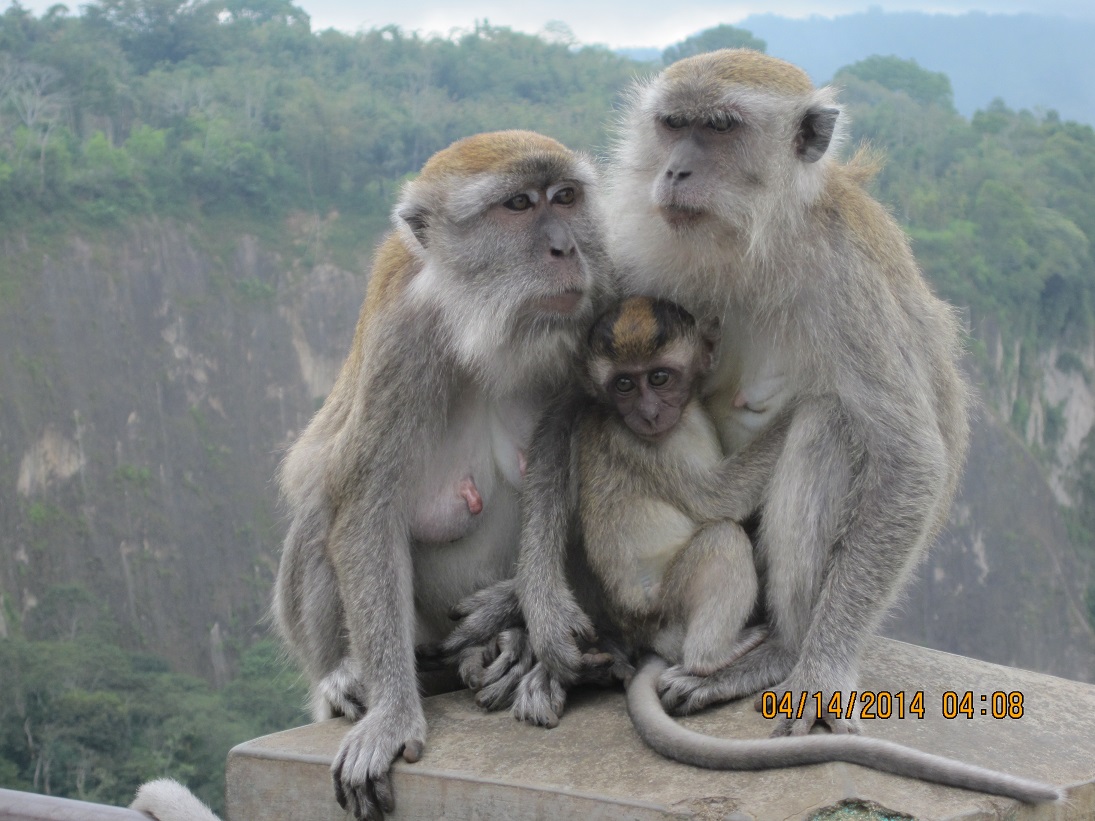 5. Monkeys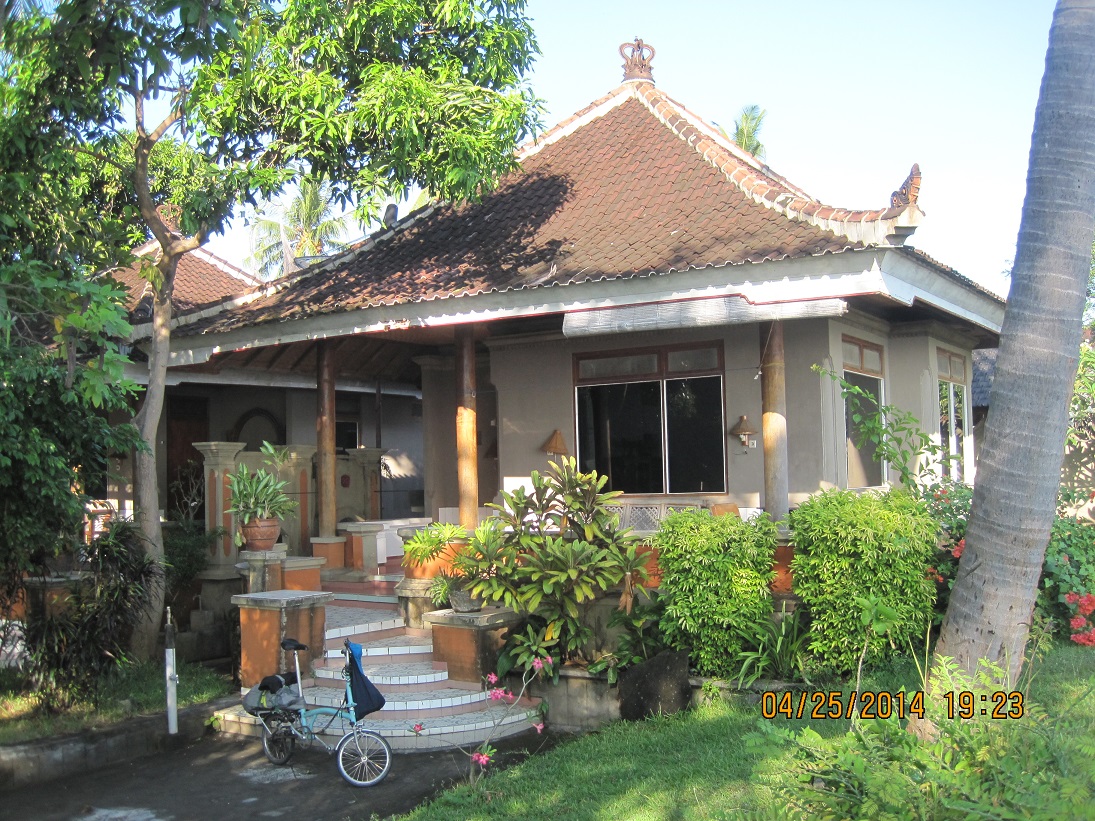 6. My hotel at Bali $12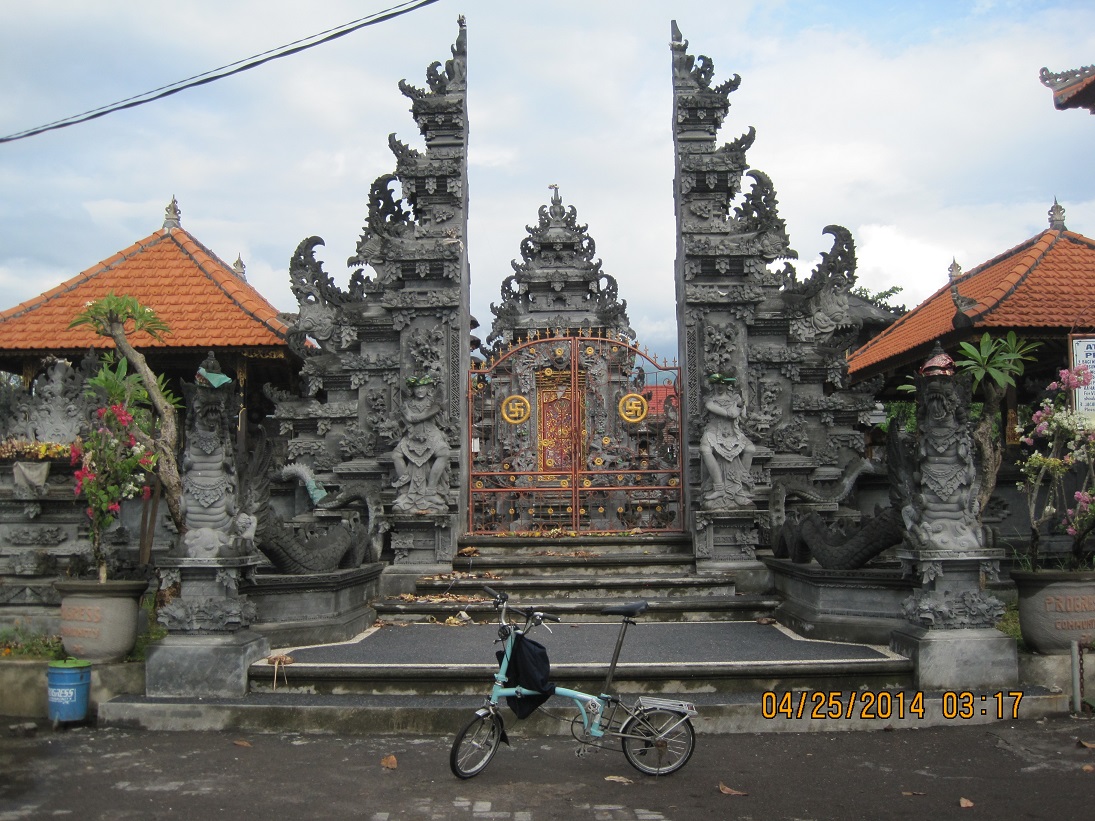 7. Bali
Alex Mumzhiu
Porty, Portugal
23 July 2014
PS: My political comments:
Media news outlets and Social Networks rush to the prediction of Putin?s failure similar to Qadaffi and Saddam Husein. But what will be next? If Russia will fail in a such a way as Iraq and Libya did, then in the hands of terrorists (separatists, or whatever) not only land-air missiles will fall, but also atomic and hydrogen bombs. I am not admirer of Putin or Saddam or Qaddafii, but such scenario looks quite possible.