Travel Notes from Mexico
My Dear Readers
I am traveling again. Life without travel is torture for me. This time I travel through these places, through which I traveled before Yucatan, Guatemala, Belize
So, I even did not announced my travel, as I did not expect to report anything interesting or useful to you.
Hovewer now I have something to write about. First I realized that it is not wise to fly to Cancun. It is much better to fly to Cozumel. There is practically no access to the sea from Cancun. These mega hotels standing shoulder to shoulder on entire Zona Hotelera physically blocked access to the sea. Even if you find a narrow slit between them, the sea is boring there. No corals, no rocks, no fish; only sand. Also the waves are huge.
Cozumel is different. Seven years ago, Hurricane Wilma destroyed several structures located too close to the sea and threw huge peaces of concrete into the water. They formed an artificial reef now inhabited by fish and other sea critters. It is close to the town San Perdo, around second lighthouse if you go South from the ferry peer. I found it is a good place for snorkeling and spearfishing. I was alone there. Most people go for snorkeling with snorkeling tours. But I hate all sorts of organized activities. However, snorkeling there is not for novices, as there is concrete reinforcement steel cables and some barbed wire.
When I was in Cozumel, there were five cruise ships in port, and crowd of ship passengers flooded the town. However in the evening passengers return to the ships for their all inclusive dinners and the town became again charming nice little Mexican town. I stayed in recently open hostel,
http://www.cozumelhostel.com
quite nice with swimming pool and good kitchen where I made my favorite fish soup. Price $12 for a dorm bed
From Cozumel I went to Merida. Merida is so nice. Not surprisingly some people have came here year after year. In the evening couple of major streets are closed for traffic, and restaurants put tables in the roads. Across from my table there was a church with pompous Mexican wedding in it. Unusually tall for Mexican, ladies dressed in light blue dresses escorted the bride to the church. When the ceremony was finished, the happy bride exited the church and kissed everyone who was around, even me!
Several orchestras are playing Mexican melodies. All evening happy people stroll the streets. There are no drunks. Nobody behaves aggressively. I could compare Merida nightlife only with Old San Juan, Puerto Rico. But San Juan is much smaller.
I stayed in Nomads hostel www.nomadastravel.com in single room for $19. Single room in hostel is best accommodation in my opinion. You have some privacy. But if you want some company it is always there. Hostel is not only shelter for poor students as some people think. One New Zealand guy here traveled through Alaska, Canada and Western USA before entering Mexico. He bought a big sleeping van (mobile home) in the beginning of his trip and sold it in LA for about the same price for which he bought it, about $40,000.
I visited Mayapan, which I remember from my last visit 4 years ago. It is interesting what criteria the people who rated Maya ruins for tourist brochures used. Mayapan in my opinion is one of best, but it is considered as not a major ruin. There were few visitors, and sometimes I was alone. They also allowed me to came with my bike, which is strictly prohibited in Checen Itza.
Attachments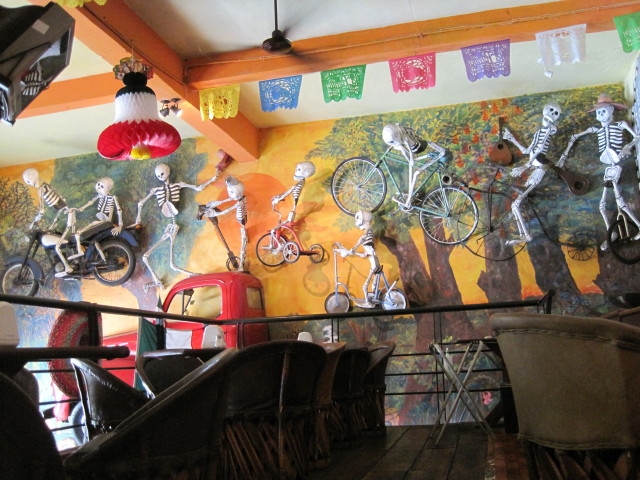 1. Mexican bicycle club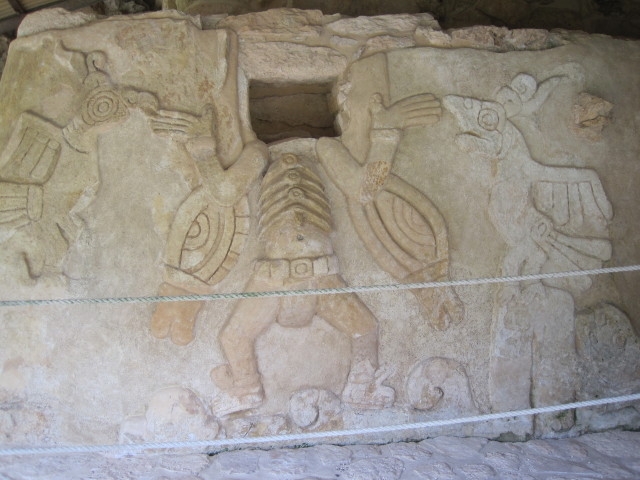 2. Mayan guillotine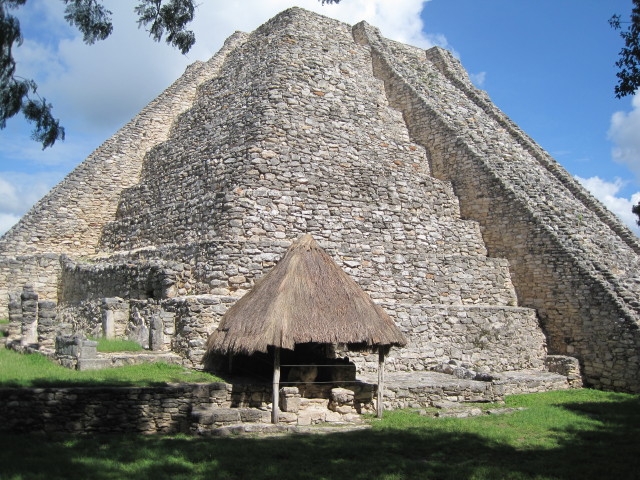 3. Mayapan pyramid
Alex Mumzhiu
Merida Mexico
Nov 12 2013
My Dear Readers.
I often receive letters from my readers and from other people who got my Notes through Google. They sometimes find better words for our common passion than mine. I copied a couple phrases from one of such letter below:
...phrase to succinctly explain a subject long realized by inveterate travelers, especially those feeling the acceleration of age:
THAT TRAVEL IS THE BEST, IF NOT ONLY, MEANS TO COMBAT THE MELANCHOLY PASSAGE OF TIME
This attribute is almost impossible to convey to those who have not traveled.
All in all, we live in a world continuously traveling inside a universe which is also traveling itself. And TRAVELING IS THE ONLY ANTIDOTE TO VANQUISH THE FUGACITY OF TIME
...continuation of my TN.
From Merida I went to Campeche. Campeche is nice and it is on UNESCO?s list of World Heritage sites. But I came to Campeche not because of this, but for a rendezvous with its Cathedrale. For the first time I saw the Cathedrale 4 years ago (http://foldabikes.com/CurrentEvents/Story/mayan.html). I stayed in Monkey hostel. It was lively hostel with people preparing food, eating, drinking and socializing in large communal room. But few people always were sitting in lawn chairs on a balcony and endlessly starring at the Cathedrale. The view was hypnotizing, especially at night. The Cathedrale with zocalo below, and with surrounding zocalo fine buildings are perfectly proportional, architecturally, like Taj Mahal or Eiffel Tower. It is perfectly scalable. I was in all countries of Central America and I saw many cathedrals, but I had never seen so perfect site full of old Spanish spirit. It looks quiet, mysterious and timeless! You can sit and look at it with a glass of wine endlessly. It should be wine, not beer or vodka!
This time I stayed in the same place, but it is called now Balcha Boutique Hostel. Monkey Hostel moved out. Boutique Hostel is quite a strange idea. Price for dorm bed is outrageous (for Mexico) $23. I was the only paying guest in the entire hostel. So now I was sitting and starring at the Cathedrale alone. And I felt sorry that such outstanding view was practically taken away from the public by wrong decision of one person. I talk with the owner of the hostel, an old but very self confident business lady. She probably never stayed in a hostel in her life. She did everything wrong in her boutique hostel. She opened hostel half a year ago and probably already lost a lot of money. I doubt it will survive for another half a year. Then may be the Monkey will return.
Four years ago Campeche fish market was full of exotic fish. Even pieces of beautiful spotted manta ray were for sale. This fish is the dream of underwater photographers. Now it was no spotted rays, probably they caught all of them. However they still sell baby hammerhead sharks. If they grow they will become one of most strange and mysterious sea creatures. But fisherman caught them young. These guys are really cutting the branch on which they are sitting.
Next was Palengue. I visited Palenque Ruins. It is difficult to call them ruins. Palenque Palasio, in which king Pakal lived and ruled his kingdom for 68 years, 1000 years ago is in a pretty good shape. If it would be in Rajistan, India they would completely restore it and make a luxury hotel. Only bathrooms should be redesigned. In 1000 years the standards of toilet facilities has changed.
From Palenque I took a 3 days, 2 night tour to Flores, Guatemala ($100 without food). Tour goes through Mayan ruins Bonampak and Yaxchilal and through Lacandon Jungle. How quickly things get changed! Lacandon Jungle used to be mysterious and dangerous place. Now endless numbers of tourist buses and minibuses plow through it stopping at dedicated restaurants where tourists form long lines for set menu food. People who took tours in jungle did not see much animals. My companions in this tour were all Mexicans, It is not many foreign tourists here. These Mexicans were very touchy. They noticed that I do not eat and offered to share their food with me. Well, it was difficult for me to explain to them why I do not eat. I should admit that intensive tourist traffic was well organized. My trip was not standard and at every transfer point somebody waited for me and advised where to go next.
Eventually we crossed the Mexico Guatemala border on a small boat and climb on a slimy steep river bank to the Guatemala side. Then another minibus took me to Flores on Lago de Peten Itza. I was there 3 times before. Why? because it is one of only 3 ways from North to Central America. Other two along Pacific and Atlantic oceans and not so convenient. Flores is a tourist town, but it is nice. No big hotels and mega resorts, no busloads of packaged tourists. I stayed in the same hotel on lake side and for the same price as before $12 . I changed money in bank - $50. It took 20 minutes for two clerks to do this operation, typing my data, printing, getting approval from supervisor, entering to different form and a lot of signings. Now I understand why most of illegal emigrants in Washington are Guatemalans.
Attachments: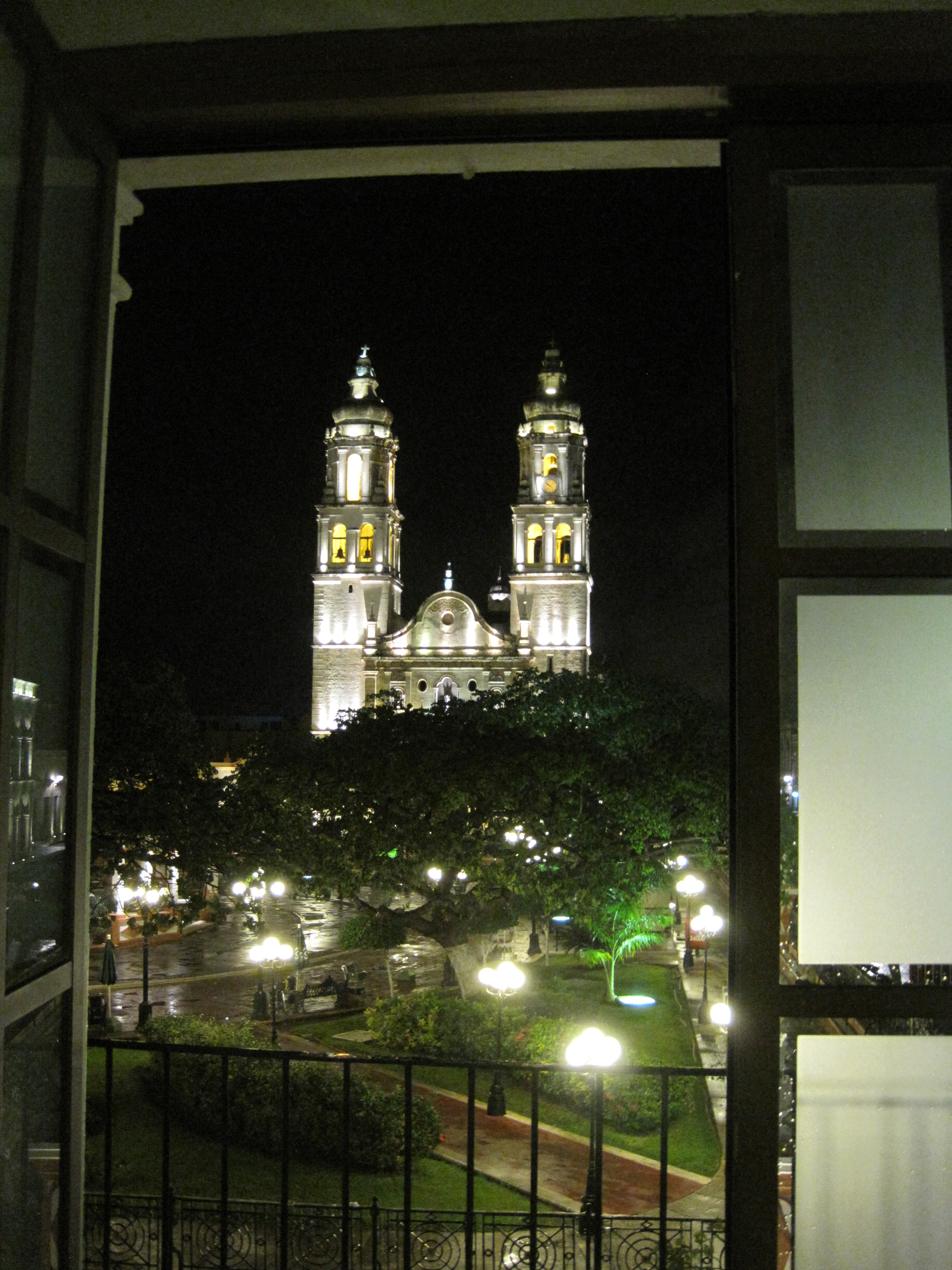 1. Campeche Cathedral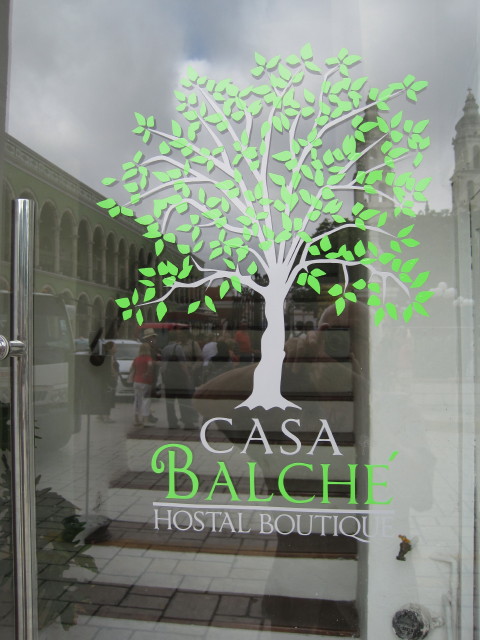 2. Boutique Hostel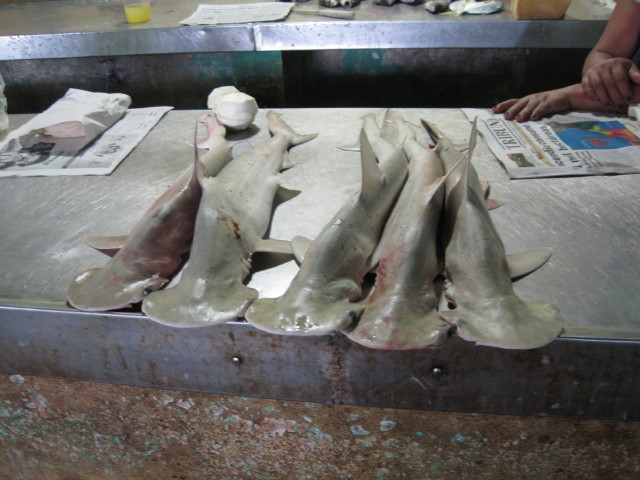 3. Baby hammerhead sharks on Campeche fish market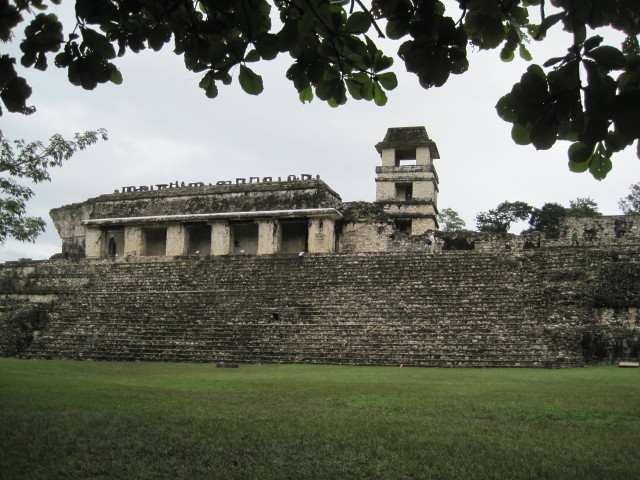 4. Palace of king Pacal, Palenque
Alex Mumzhiu
Ambergis Key, Belize
Nov 27, 2013
Travel Notes
From Flores, Guatemala I went to San Ignacio, Belize. I stayed in the same hotel as always, Hi-Et Hotel. Owner even recognized my bicycle. While I prefer to travel to new places, there are also some advantages of traveling through the same places: you know good spots and people remember you. I took self service ferry across the Makal river (see picture) to get to Xunantunich Maya ruins. Most of Mayan structures are more or less the same, built from the same blueprints. So, when visiting sites it is equally important to know the conditions of viewing, how many restrictions are imposed on visitors. Xunantunich in this sense is perfect, no limitations. You could climb where you want, photograph what you want and ride bicycle, not like in Chechen Itza.
After San Ignacio I went to Ambergis Key. Even before my trip I set the specific goal for this visit: to gain an understanding of what is going on at the Northern portion of Ambergis Key island. The reef located to the west of Western Coast of Ambergis Key is far away from the shore at the Southern part of island. As you go North, the reef became closer to the coast. At the Northern part of the island the reef is practically touching the island.
It reminds me of another place where the reef is touching the shore - Soliman Bay http://www.foldabikes.com/CurrentEvents/Story/CA.html It was a wonderful place. You can actually walk to the reef from the shore. Unfortunately this place is fenced now and is not accessible. I expected that North of Ambergis Key will be something similar to Soliman bay
Entire Northern portion of Ambergis Key is occupied by Bacalar Chico National Park and Marine Reserve. It is unique national park in some sense: there is no information of how to get there and no information on how to stay there. There are two companies with dummy names in San Pedro which run boat trips to Bacalar Chico National Park: sea_duced (seduced) and sea_rios (serious). Price is $105. They stop at mediocre visitor center at the bay side of Ambergis Key and at another place on the ocean side of it for lunch. They also have 3 stops for snorkeling. Visitor center has an interesting object laying in its yard. The pedal powered boat in which team of 3 men planned to cross the Atlantic Ocean, see picture. They abandoned boat at the beginning of their trip at Canarias Islands on Feb 10, 2012, and half year later empty boat amazingly reached Ambergis Key.
It looks like the only place to stay in this national park is the Tranqility Bay Resort http://www.tranquilitybayresort.com/index.html There is no roads to that resort, so I decided to ride my bike to this resort along the beach, practically along almost entire length of Ambergis Key coast. Small wheels of my Brompton are not very good for riding on sand. When I reach Tranqulity Resort I was absolutely exhausted. Reef is close to shore here, but not touching it. It is about 300 meters from the shore. The only way to reach Tranquility Resort is by private boat.
The north of Ambergis Key is kind of a Wild West territory. It is where illegal drugs from South America cross to Mexico for further delivery to the USA. In the local San Pedro newspaper "The San Pedro San" of Nov 22, 2013, it was article about Coast Guard boat which was fired upon from the shore near Old Fisheries Department base (South from Tranquility Resort). Coast Guards return fire, killed one and captured two San Perdo men. When I crossed that area on bicycle I was attacked by fierce dogs. Tranquility Resort residents told me that they were not able to cross that place.
After Ambergis Key I vent to Orange Walk Town, Belize. This small town has one unique feature, huge monstrous trucks riding in narrow main street of this town. One of these monsters followed me and signaled impatiently. I tried to keep on right as far as I can to give way to him. Eventually I hit a parked car, broke off its side view mirror and fell, injuring my hands and knees. Truck proceeded few inches from my limbs and did not stop. Next day car owner found me and asked me to pay $75, which I did to achieve mutual satisfaction and even made a picture with broken off mirror, attached.
Alex Mumzhiu
Dec 19 2013
Washington, USA
Attachments: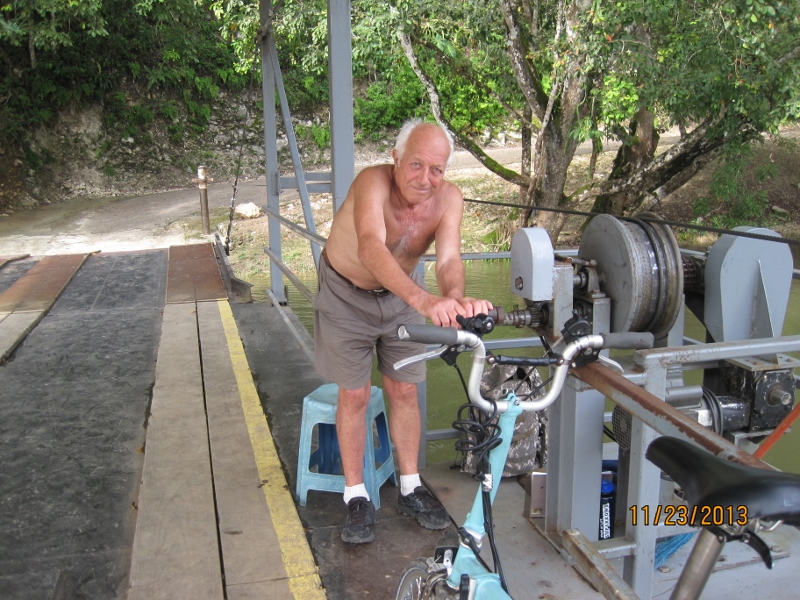 1. Ferry across Makal river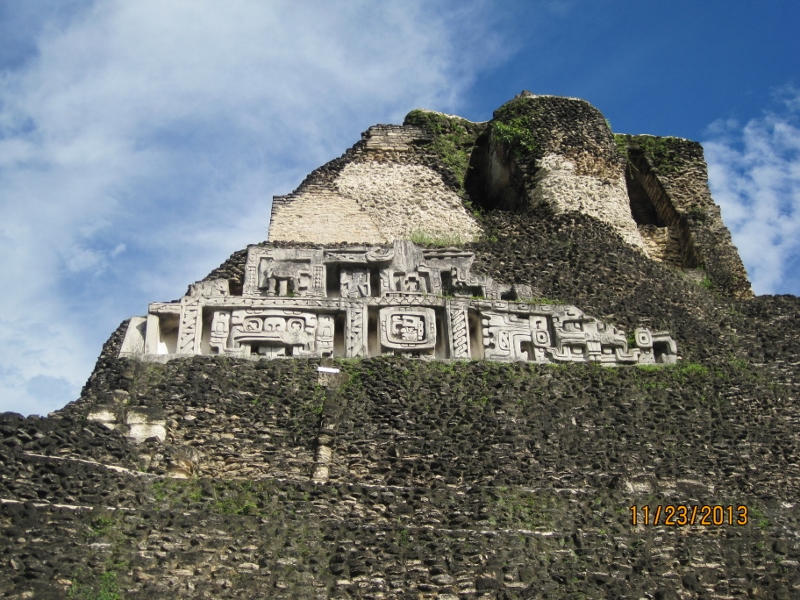 2. Xunantunich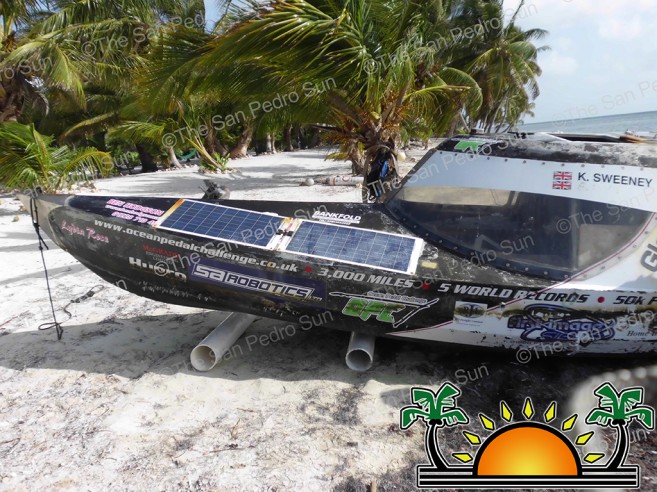 3. Pedal boat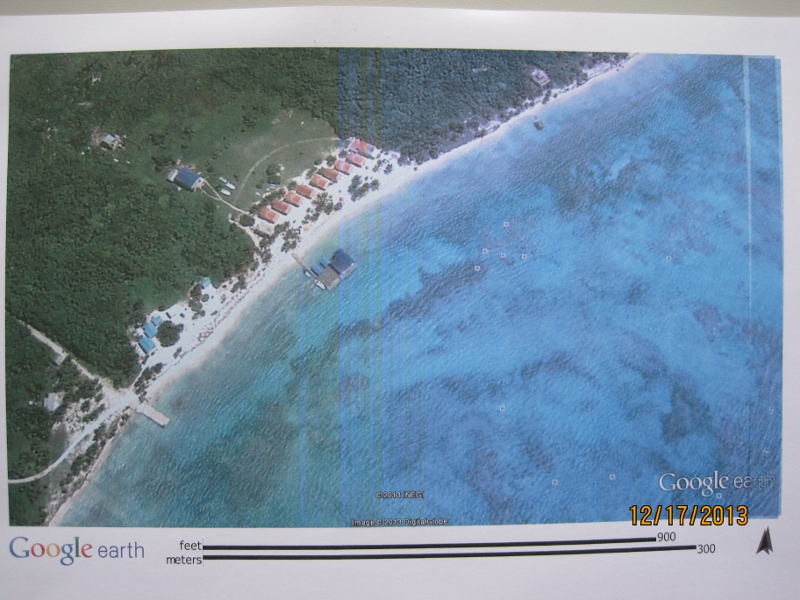 4. Tranquility Resort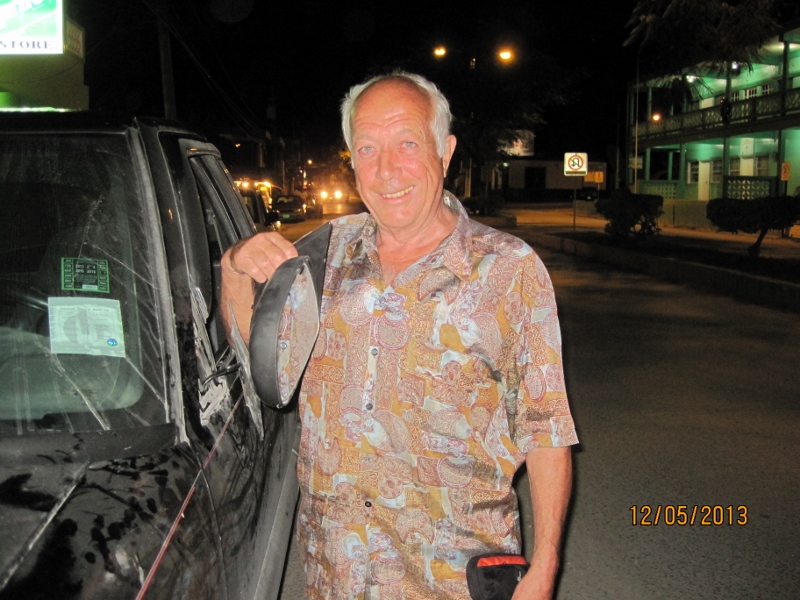 5. I break off this sideview mirror with my chest.
MERRY CHRISTMASS AND HAPPY NEW YEAR to you my Dear Readers