From Maldives to Andaman Islands
My Dear Readers,
Tomorrow I will fly to my next trip. Guess to where... to Maldives. Maldives are not very expensive place anymore. It is plenty of affordable guesthouses there in $30+ price range. From Maldives I will fly to Sri Lanka and then to India. In India I will follow East Coast through Madras to Calcutta. From Calcutta I will take a train to Darjeeling and then to Sikkim. I plan to visit Northeast states of India. Especially I am interested in visiting Tawang Gompa second largest Buddhist structure after Potala in Lhasa. I may visit Bhutan and Bangladesh, not decided yet. I was in India two times before, but never visit this part of country, so I will appreciate advices from those who know something about it.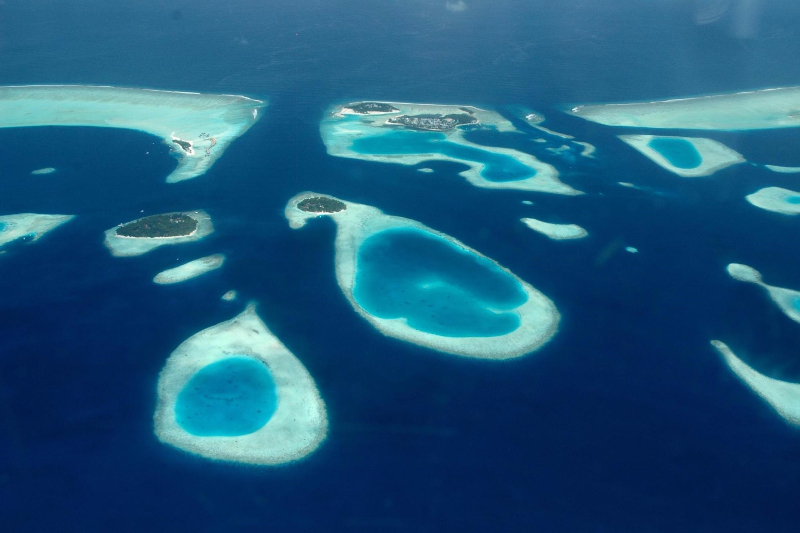 Maldive atolls
Alex Mumzhiu
Washington USA
Jan 28 2016
Travel notes on Maldives
Maldives are difficult on logistics. You have to travel from island to island by the boats, schedule on which is not clear, and you have to reserve hotels, price on which are jumping back and forth.
Atolls are actually very similar to each other. Bottom of lagunas are covered with very white coral sand. Rim of atoll surrounding laguna is a wall of dead corals with few alive ones. Small colorful fish fly above them like butterflies above flowers. Water is crystal clear and intensively blue. It is like beautiful natural picture. However there are not much to excite a marine biologist, no big fish, no shellfish, no crustaceans. If you saw one atoll or two, you will not find anything new on third. Expensive resorts are usually located on small uninhabited island, which you could swim around in less then a few tens of minutes. Other atolls can be reached only by the private boat, which is probably not a problem for the guests of these resorts. I stayed on Hulhumale island, from which it was impossible to snorkel from the shore believe me, I tried. Commercial snorkeling trips were $45 with only one stop and looked quite fishy. Fortunately I found a good alternative with www.diveclubmaldives.com as one of snorkeler on diving boat, $35 for three diving/snorkeling stops. One stop was near fish canning factory. It was tons of skates, morey eels and other big fish there. I have PADI diving certificate, but I prefer snorkeling. Especially on Maldives, snorkeling is more enjoyable as most enjoyment came from the color, which is dimming as you go down. I generally do not like organized snorkeling trips. I prefer to do it by myself, which was not easy on the Maldives. Eventually I found a way to do it. I moved to a hotel at Viligili island. I rented hotel not far away from the shore, so I could walk barefoot to the sea. Not to disturb Muslims sensitivity I wear shirt and long swim pants, specially purchased for this purpose. It took me three hours to swim around the island. It was pretty good and sometimes challenging due to strong current. Nice thing about Maldives is that water is always fresh and clear, as they are in the middle of Indian ocean. The only other place to do something like this would be from the island Maafushi, South of capital Male.
Maldives are home to a conservative Sunni Muslim population. They sent more fighters to ISIS, proportionally to size of country, then any other country. Why? I could only guess. They see, especially on these high end resorts, these sinners walking almost naked, drinking alcohol, sleeping with different women and breaking the law imposed by Allah and Muhammad. And they want to punish them. They do not do it in their own country, as tourism is main business of Maldives, but they go to Syria and Iraq instead.
Every woman is dressed in traditional clothes and head-cover which is absolutely inappropriate for hot climate. Especially hard suffering sales ladies in supermarkets. In the morning some of them looks pretty good. By the end of the day spent in non air-conditioned store their faces became red and covered with sweat. What should they think about this religion, condemning them to such everyday torture. And why? Because women's hair detracts a man's attention from thoughts of God! They would better shave their woman, as religious Jews do. By the way one of main celebration is Id Ul Alha, commemorating event when Abraham prepared to kill his son Ismael to prove his obedience to God...
Several general notes: Maldives are not very expensive destination anymore. I stayed at TLM Retreat and Fuana Inn for around $30, booked from agoda.com. Price for walk-in is two times more. Food in local eateries is not expensive, but dull. There is no alcohol on Maldives, except for high end resorts located on uninhabited islands. The local people are always very polite and friendly. However couple times I noticed dirty look at me from old ladies, as I wear too short shorts, slightly above the knee. There are constant remainders in airport, in hotels and so on, to wear conservatively, do not bring alcohol, pornography and any religion symbols offensive to Muslim, like Cross or Star of David, I presume. Those who completely ignore them are Chinese ladies. They wear very short pants. They consider themselves a great nation and ignore stupid limitations enforced by barely 300,000 people strong country.
I flew to Maldives on Qatar Airline with 8 hours stopover at Doha. It was a good flight, they serve alcohol and food was good also. I rode bike from airport to the Doha city at night and had a chance to observe local life, a little. Men, only men, sitting in cafe with one bottle of water in the middle and playing cards, some smoke hookah.
I am not sending any pictures as there was nothing interesting above the ground/water. And I do not have underwater camera.
Alex Mumzhiu
Colombo, Sri Lanka
Feb 20 2016
Travel Notes on Sri Lanka
My Dear Readers,
I have to clarify my report on Maldives. It was difficult place for me, as I do not like to stay on the same place. For a normal person who would prefer to stay in the same hotel and go to the same beach, Maldives would be a perfect choice.
I spent 25 days in Sri Lanka and I love it. Peoples of Maldives are always friendly and polite, but these constant warnings written everywhere: "Do not do this and do not do that", takes a toll. Unconsciously I was always concern that I could accidentally do something wrong from the point of their Muslim sensitivity and will be punished like Griboedov was...
On Sri Lanka there is no such feeling. Some men go bare-chest, like Mahatma Gandhy me too. It is hot here. I was unable to find in tourbooks place, which I vaguely dream about. Accidentally I found it myself. It is located here: http://ge0.me/sxcDflACsn near hotel Ozone in Hikkaduwa. Hikkaduwa is very touristy, it has terrible traffic, but there is an rocky island in front of Ozone hotel, about 500 m from the shore. It is protected from the tourists by the complicated and scary waves pattern, so nobody swim there. Whenever I swim where, I was alone. It is descent corals there and lots of fish and turtles. Amazingly, nobody swim to this island. Fighting rough water it is my favorite sport, and I am constantly working on improving my skill. By the way small coral reef in Hikkaduwa which was even named National Marine Sanctuary few years ago, was completely destroyed, as it was accessible from the shore
Another my good finding in Sri Lanka is Galle Fort 30 km South from Hikkaduwa. It is charming Netherlands town having nothing to do with India like Sri Lanka. No on street markets, no traffic, no noise, no bad smell. Actually it is nice smell in the streets from flowing trees and bushes. It is such a contrast with New Galle, located 500m away. There is no Hollanders there, the same Srilankans live in both towns, but it is such a difference. Galle Fort is surround by impenetrable stone walls and the ocean. It is UNESCO site. There are several small islands around the Fort and nobody swim to them except for me. There are some corals and lots of fish. On fish market at Fort it is a lot of tuna sold. Price is small fraction of price in Tsukiji fish market in Tokyo $2.55 per lb. I even bought small piece and boiled it in my hotel room
Sri Lanka has 7 Unesco world heritage sites, the same as Egypt. I visited 5 of them. First was most popular holy city Kandy with its golden Pallas containing tooth of Bhudda. The city located in a bowl, and this bowl filled with thick exost from myriads of motorcycle, tuk-tuks and buses. It is much worse than Deli. Next day I escaped to Sigiriya. The Sigiriya is nice village. No traffic, no pollution, an elephant is washed every evening in nearby creek. Sigiriya is famous due to 200 meter thick boulder on which king build palace in 5th century AD. I also visited Polonnaruwa, ancient capital of Sri Lanka I did not visit hilly central Sri Lanka, because I afraid bicycle will be not allowed to their famous walks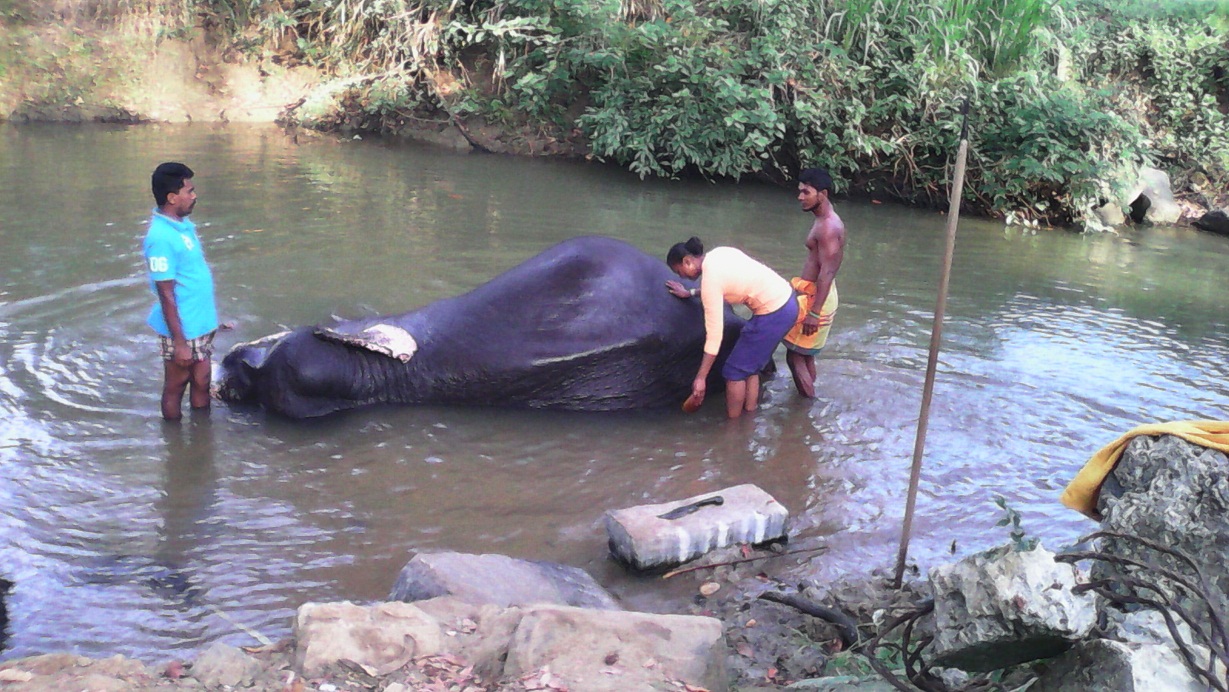 1. Elephant washing in Sigiriya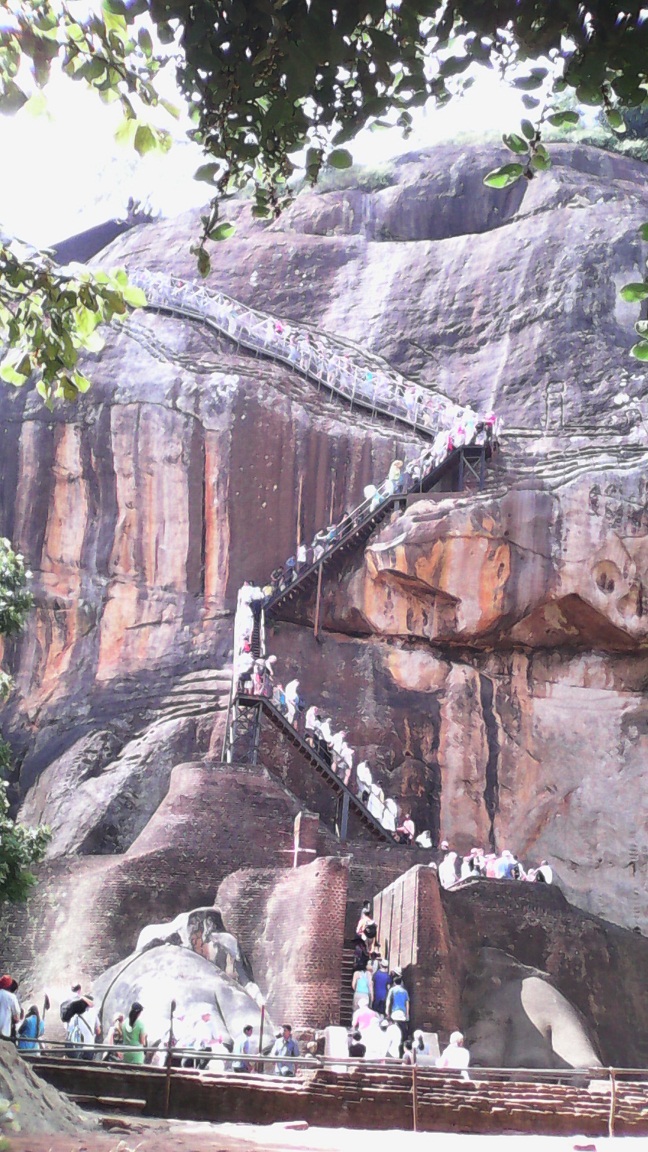 2. Sigiriya Rock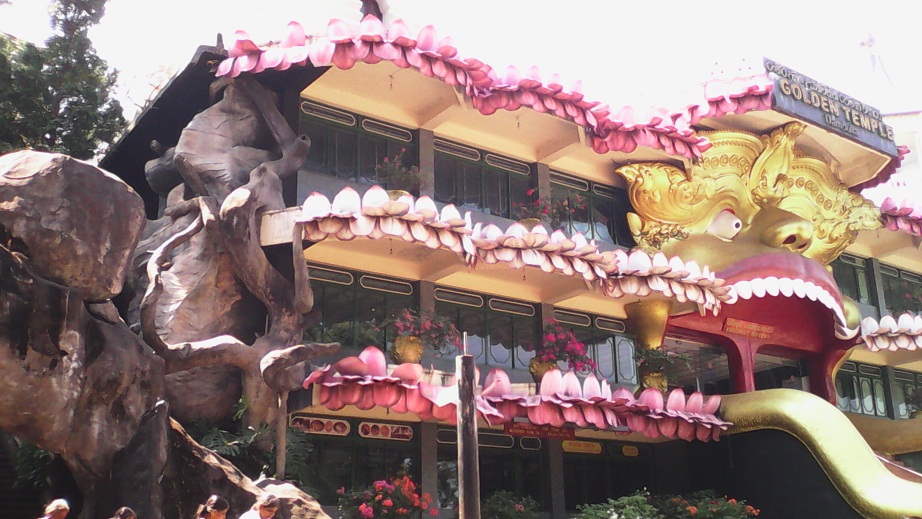 3. Dambulla Palace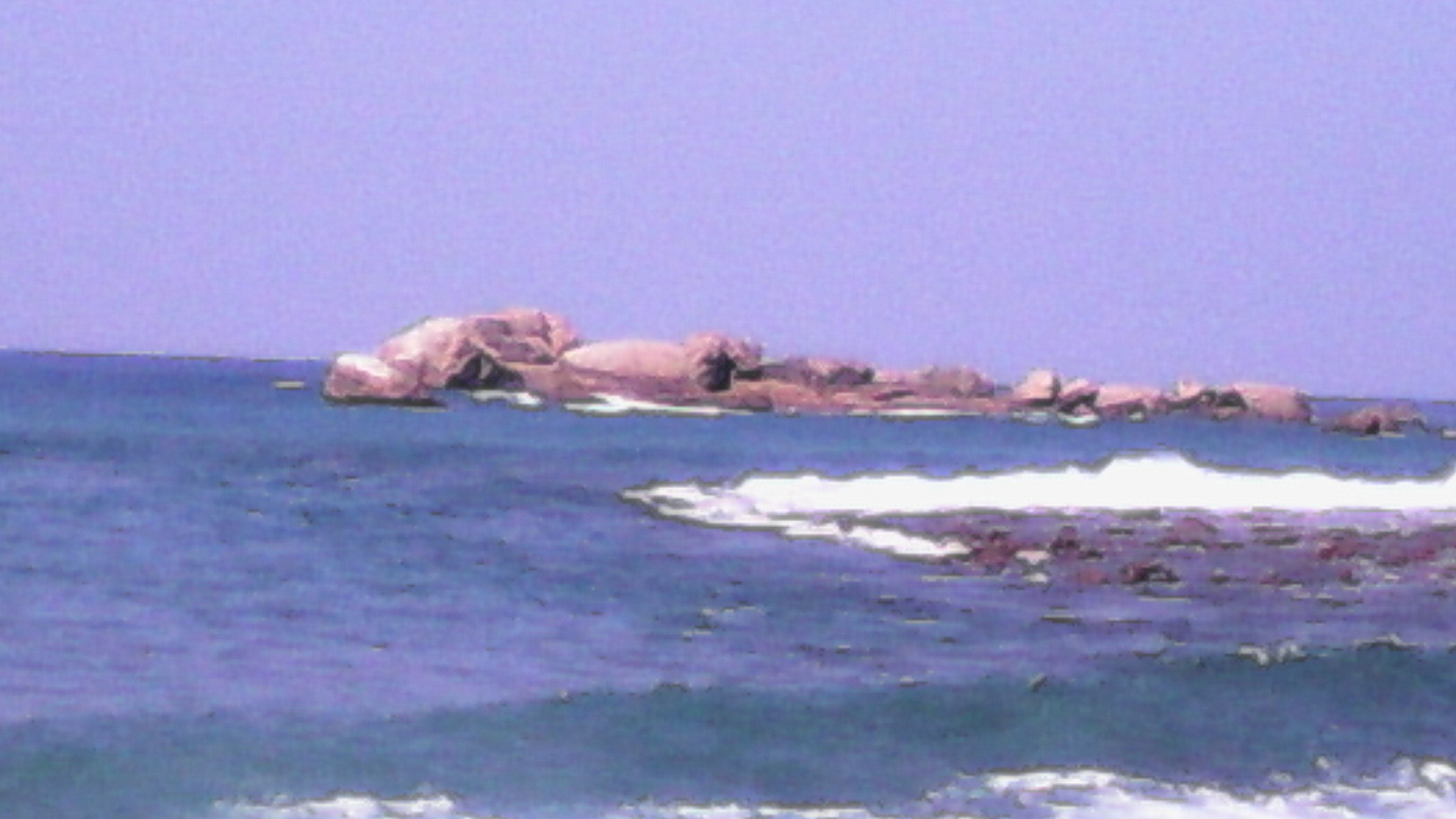 4. My Rocky island in front of Ozone Hotel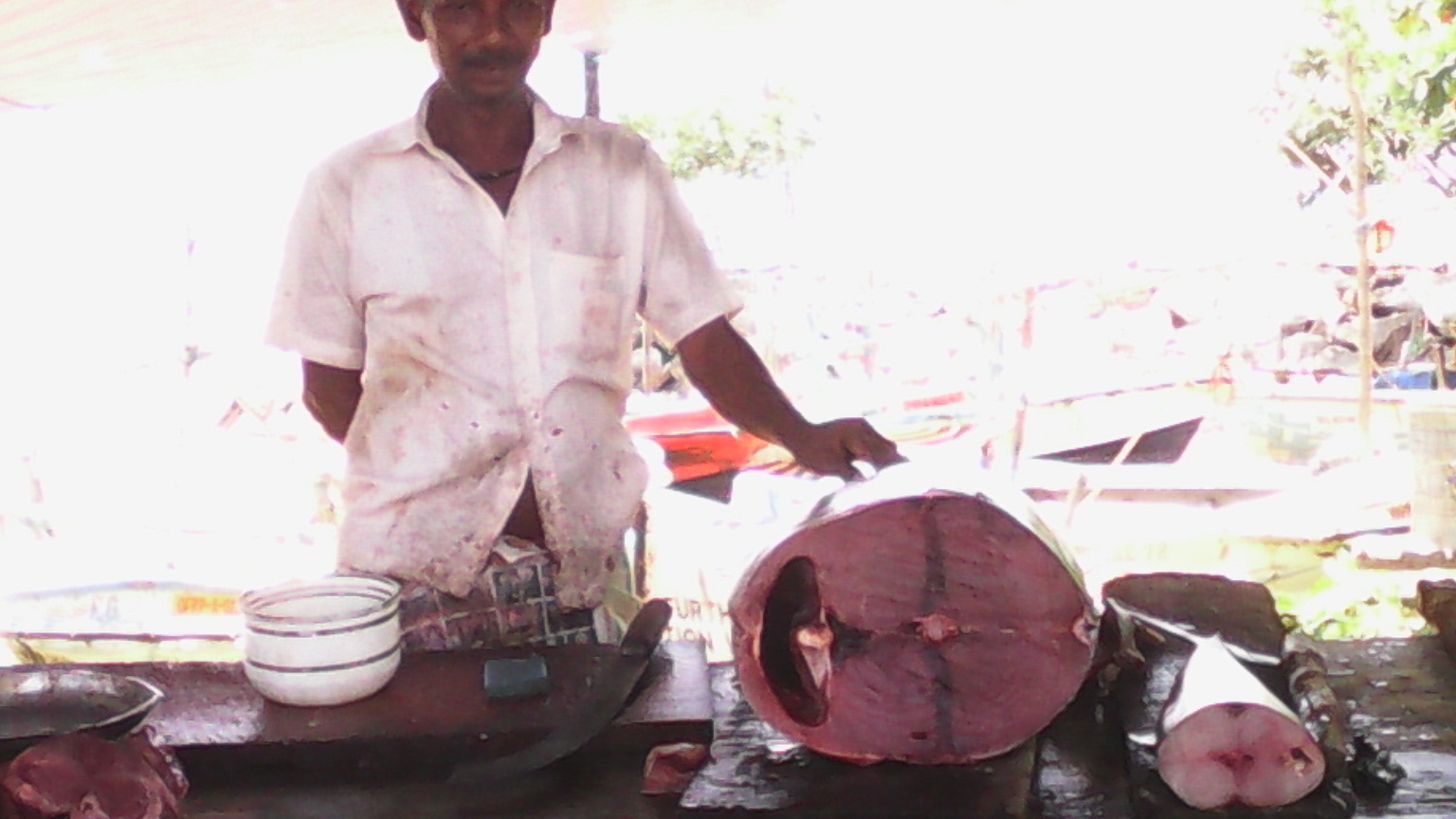 5. Tuna market in Galle Fort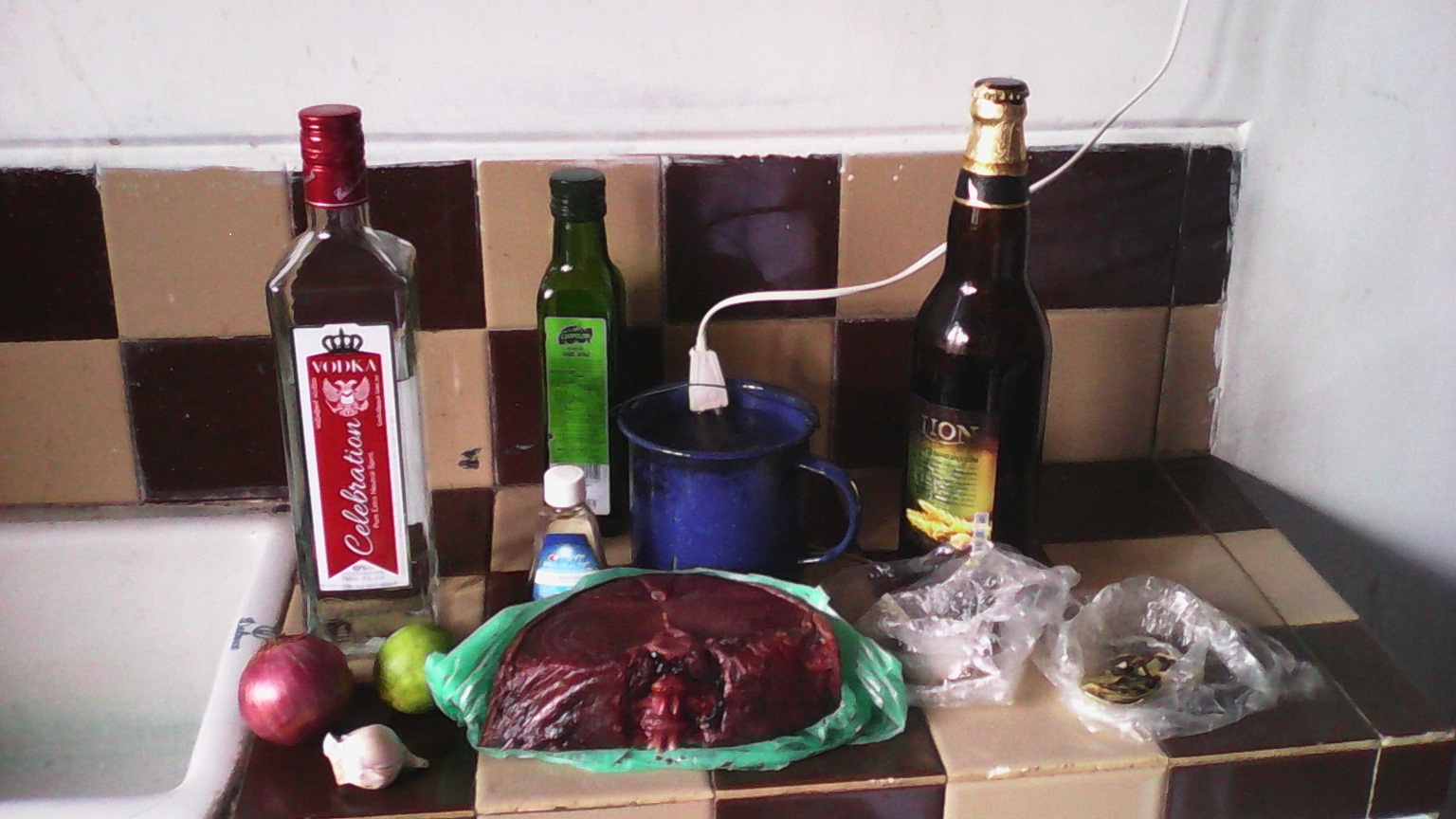 6. Tuna preparation in hotel Ozone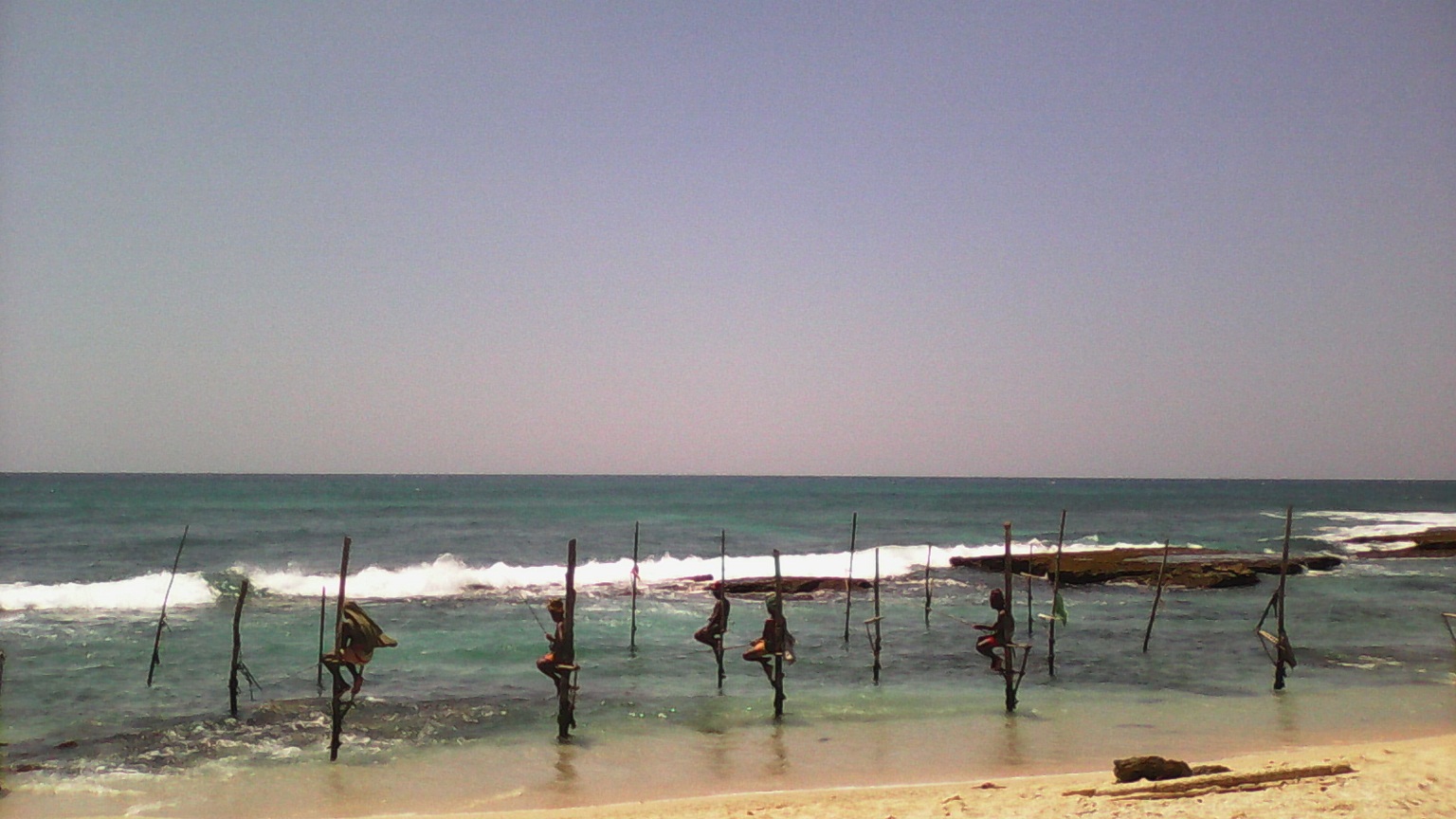 7. Stork Fishers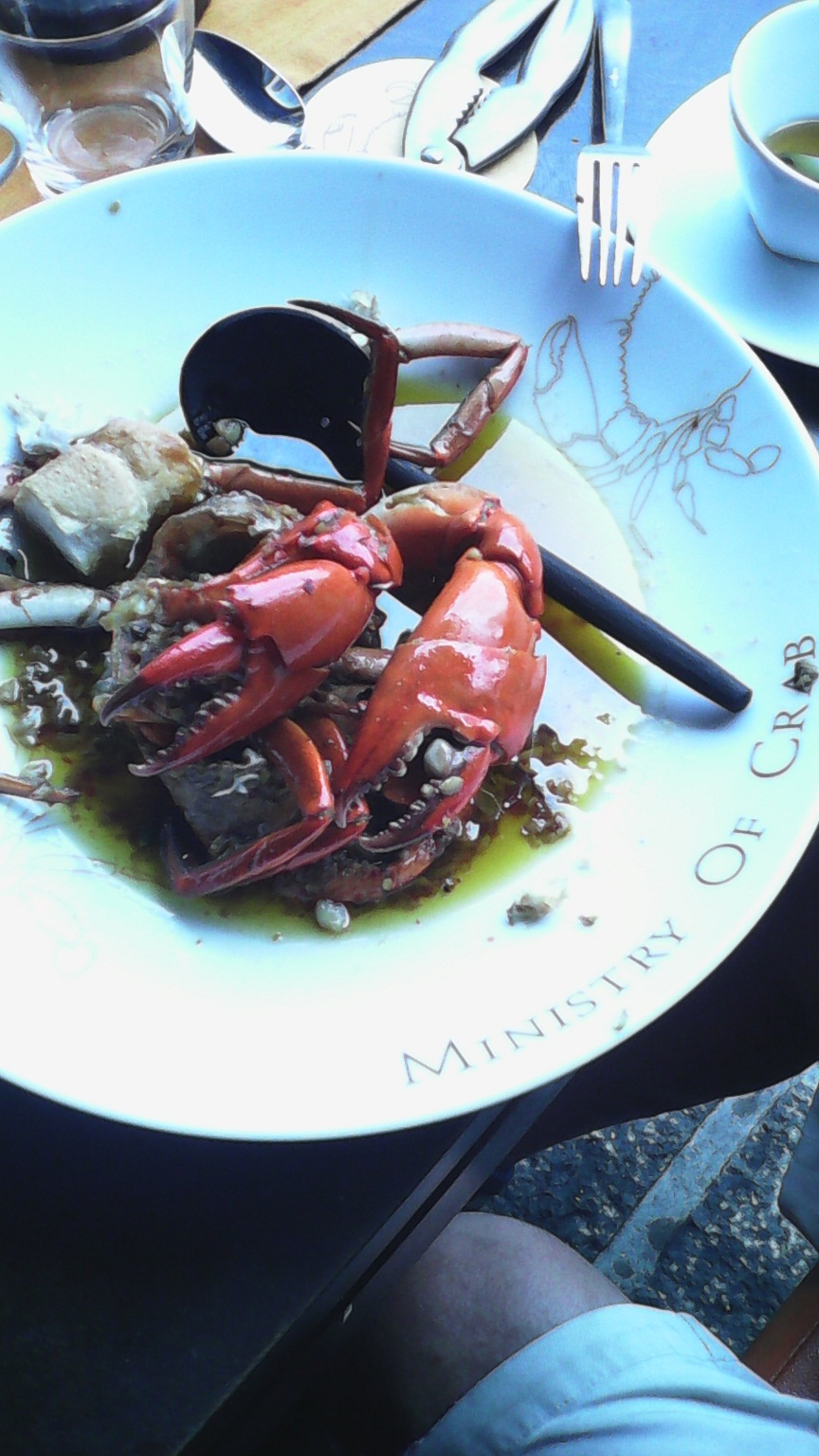 8. Ministry of Crabs restaurant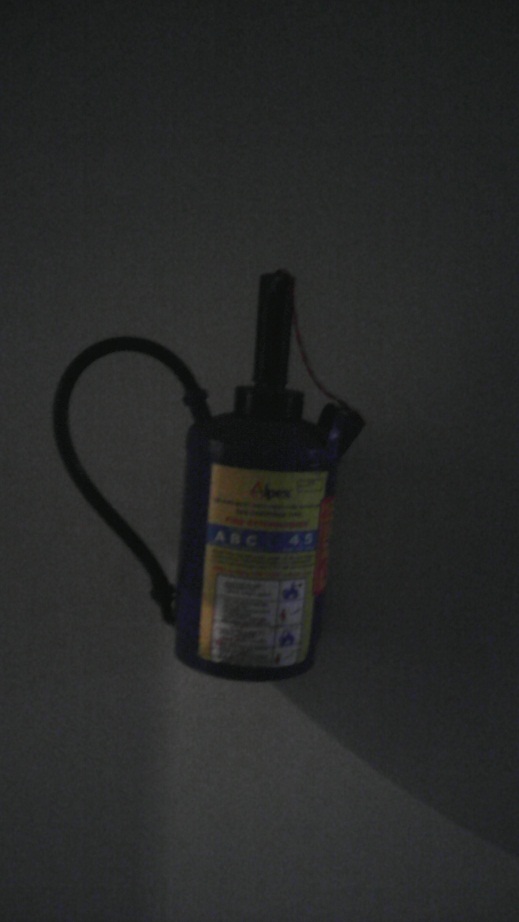 9. Ancient Fire extinguisher in Colombo hotel
Alex Mumzhiu
Alleppey, India
March 6 2016
One of the most annoying things in India is absence of pedestrian (side) walks. They theoretically exists, but they are in state of constant repair or covered with piles of garbage or taken by traders selling different junk on them. Also dogs and people lie on sidewalk, it does not clear are they sleep or dead.
So pedestrians are forced to go on automobile part of road already filled with myriads of cars, motorcycles rikshas and tuk-tuks. They zoom in millimeters from each other and from pedestrians. However so far I saw only one accident. I rode bicycle of course, but it was not fun. Most of Indian wounds are self-inflicted. It would be understandable for other developing country. But it is a shame for country with such remarkable and long history. Picture worth 1000 words. Take a look at picture 'welcome to India" in attachment
Indians have unbelievable patience to a dirt. Operator of small food stall can poor unused portion of soup onto the street, right under the feet of passing people, and nobody protest. It is often considerate that tolerance is good thing, but Indian are too tolerant. Actually I never seen them getting angry, what is this, Hindu religion or what?
As you travel on train it seems that all country is covered with garbage, as they through junk from windows. It is difficult to get most expensive train tickets. Once, the best I can get was second class non AC. It was unbelievable trip. People were laying on a floor in tambur in corridors everywhere. Spaces too small for adults were filled with myriads of children. Amazingly it was no arguing, no fight for place, very peacefully. Indian are amazing nation, I could imagine how it would be in Russian train
Sometimes from train I saw functioning and very busy villages, with manicured green fields, which instantly remind me Russian villages, which are mostly half dead. Indian women are always very elegantly dressed. India is very cheap. I bought unlimited sim card with entire country roaming for $9 for one month. Hotels are also quite cheap around $10. India is very safe for tourists. I usually leave my bike and smartphone in the bag hanging on handlebar unattended. Nothing happened.
India is the best country to loose weight. Food is served and prepared mostly by the men, often dirty overworked young boys. I remember my trip of 2006 where I went from India to China, it was such a contrast. In China food usually served by pretty neat girls. I hate Indian food, it is always too spicy and also entire surrounding is so un-hygienic, that I often prefer to prepare my own dinner with electrical spiral in my hotel room. So I lost 15 bl, which is good. Many people have stomach problems in India, I did not so far. They eat with bare hands. Exactly with one hand, right one, as left not clean because it is used in toilet. No paper in toilets. How this nation survive? Probably all we were taught about hygiene is not true
I arrived from Ceylon at Thiruvananthapuram and visit Southern Tip of India at Kanniyakumari Then I took 8 hours long boat trip through Kerala backwater. We sail through pastoral villages seems to be frozen in time, growing bananas and cocos and fishing with Chinese nets, These pictures nets are also a symbol of Kerala State. Then to Modurai, Chennai (Madras) and then to Calcutta.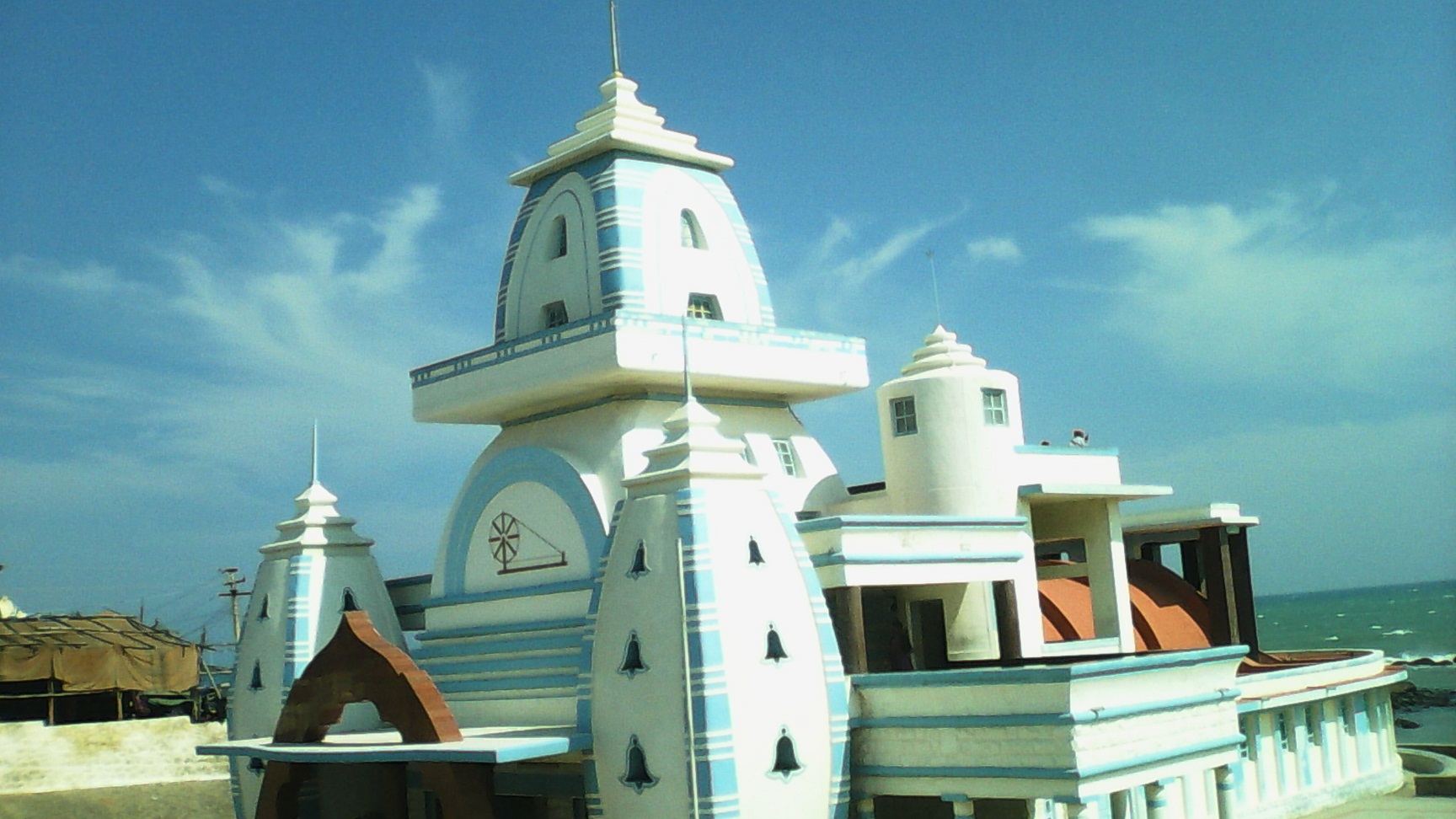 1. Southern tip of India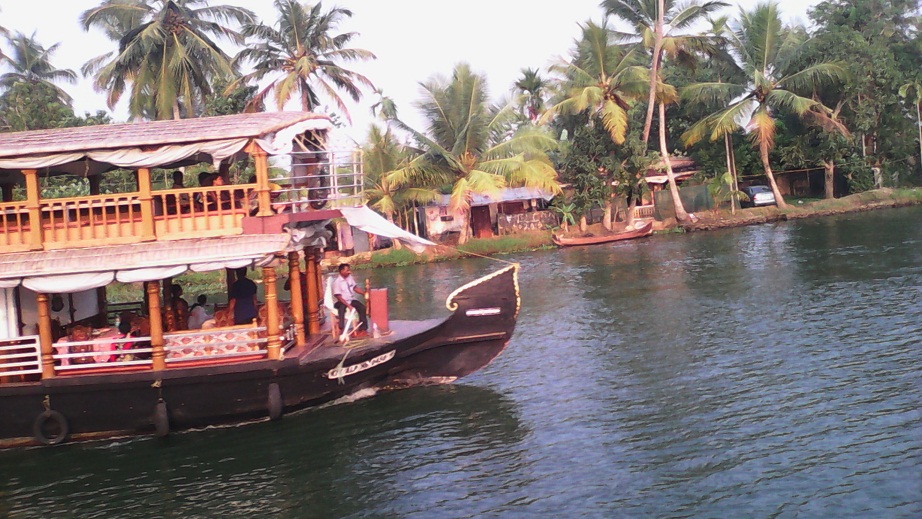 2. Kerala boat trip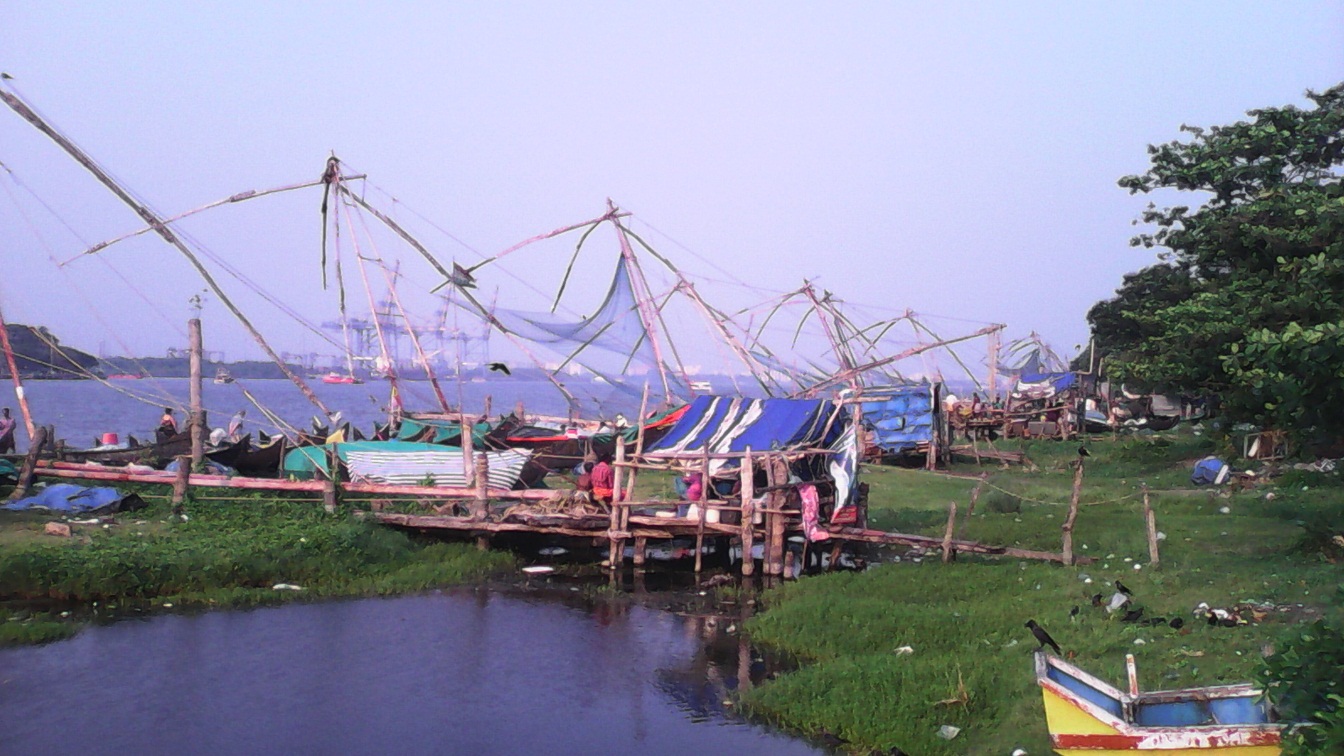 3. Chinese nets, state symbol of Kerala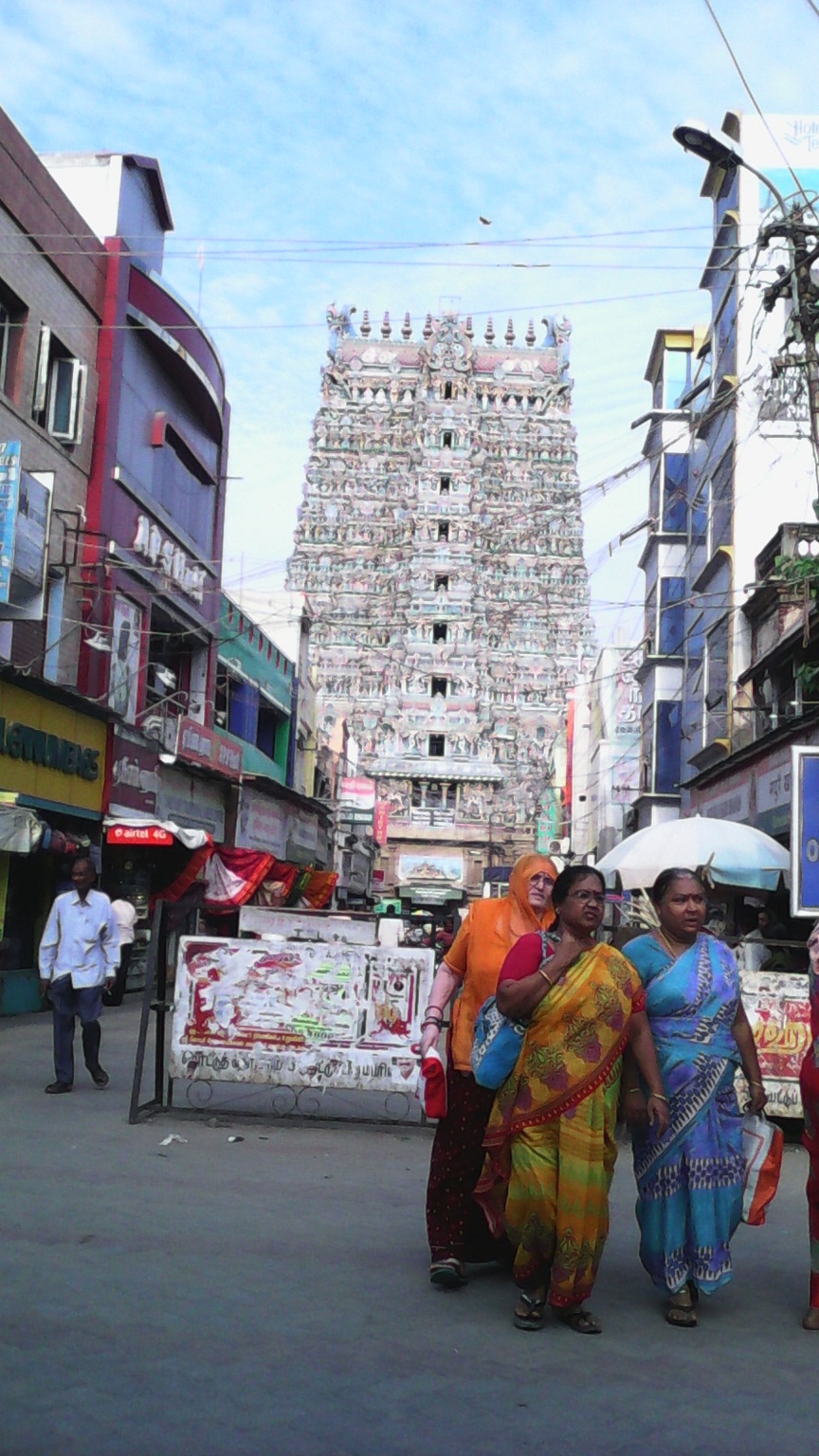 4. Modurai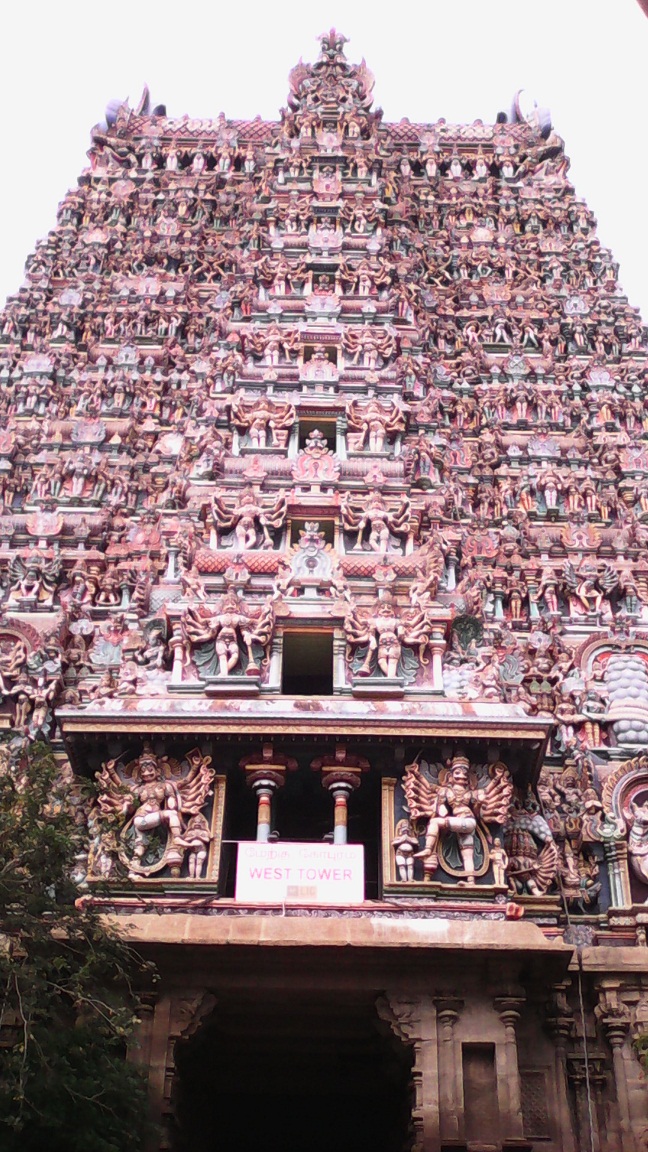 5. Modurai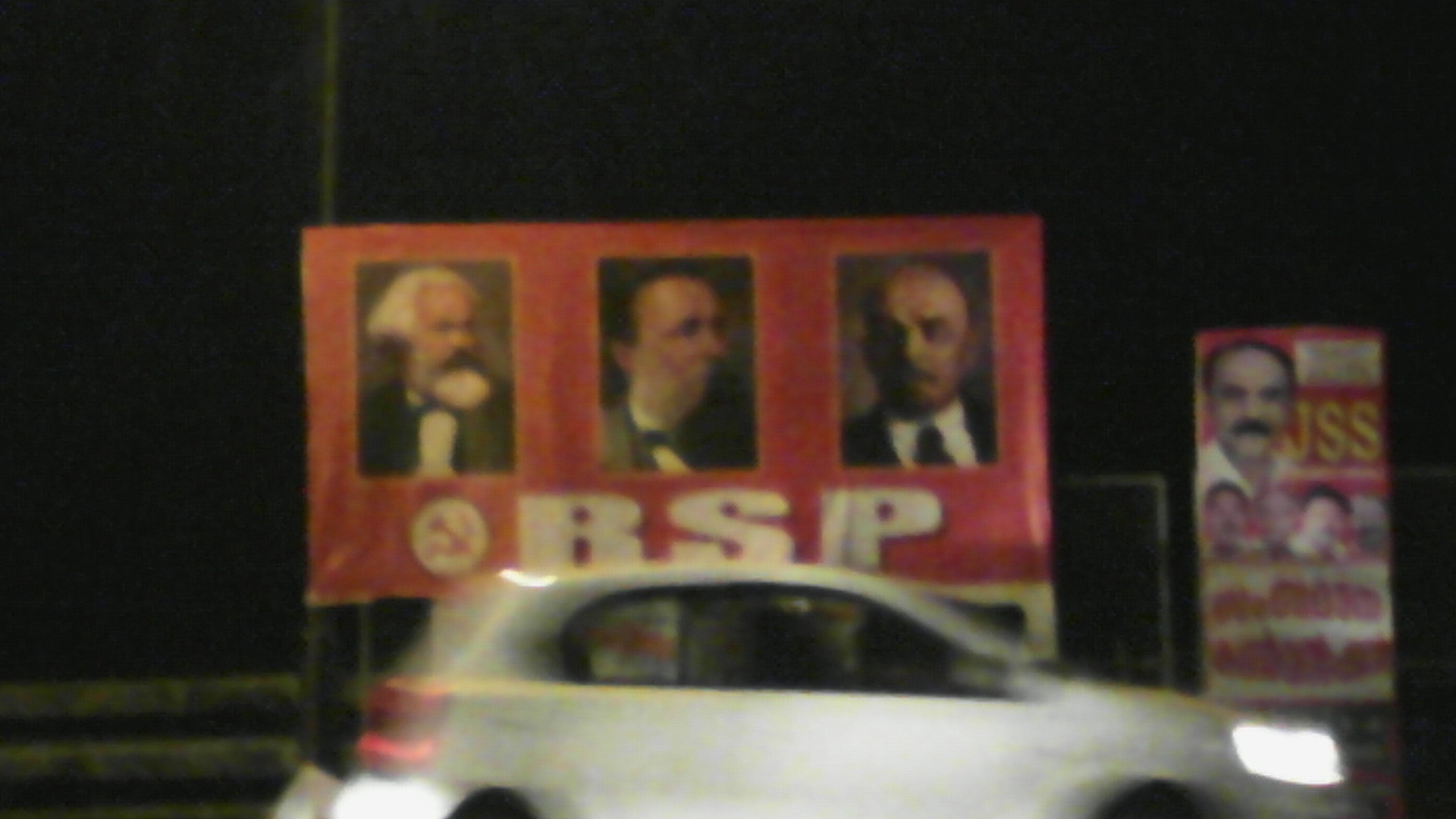 6. Familiar faces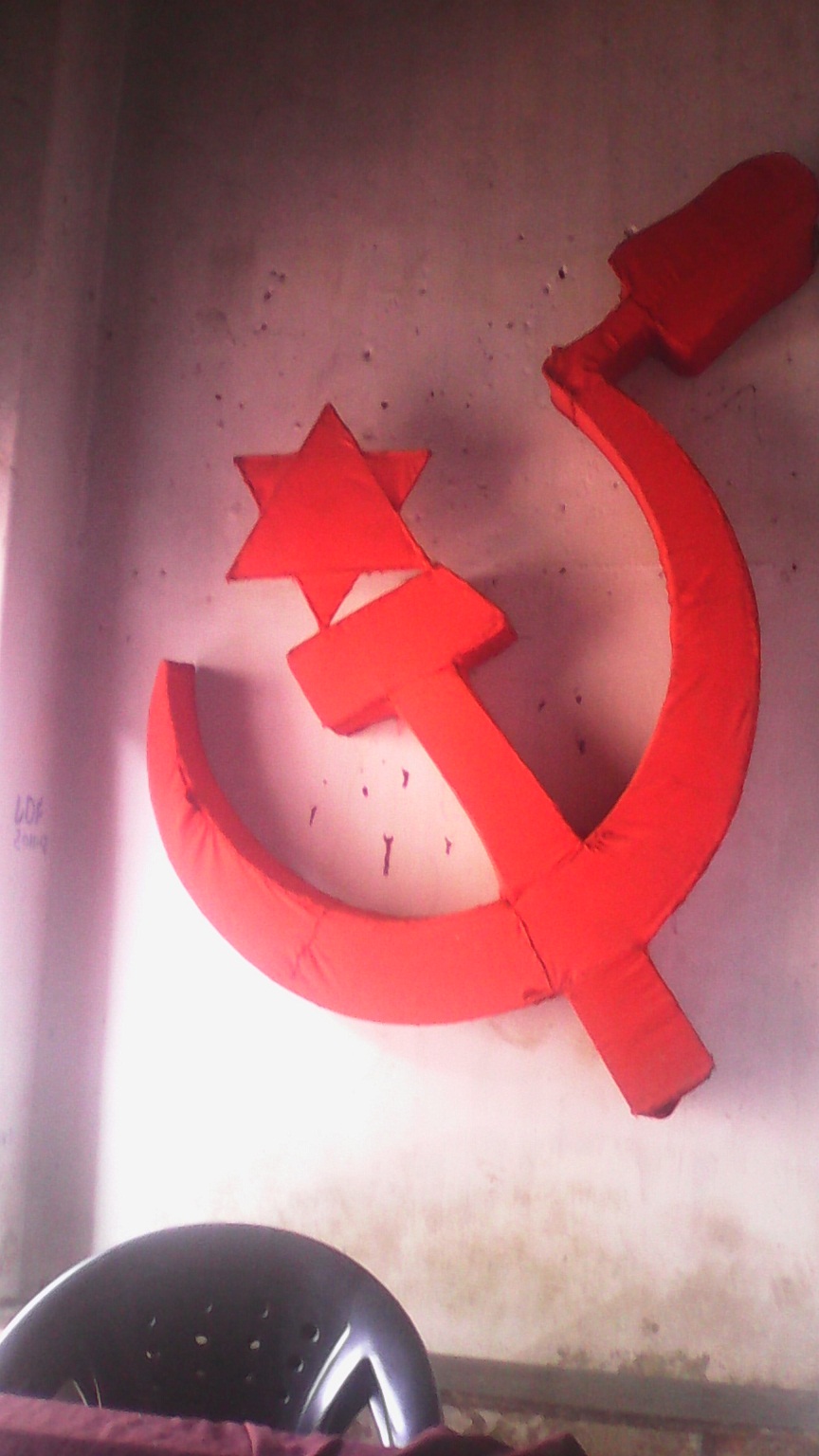 7. Interesting combination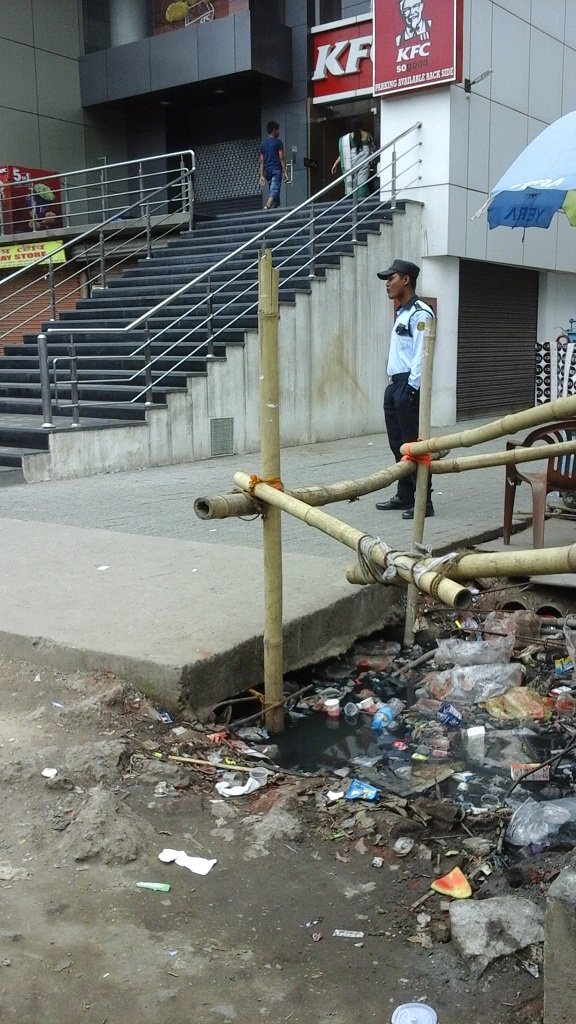 8. Welkome to India
Alex Mumzhiu
Guwahati
Assam
India
Apr 5 2016
Travel Notes on India
My Dear Readers,
I received many letters in response to my last TN, but I value most the letter from my friend and former co worker RP, who is an Indian himself: "Hi Alex, Thanks for the true and unvarnished account of your experience. You just took the words out of my mouth"
This trip is my third trip to India. Previous ones were in 2000 and 2006. Travel through India is not leisure, it is rather a challenge. But every trip has its highlights. In first it was Rajasthan and Taj Mahal. In second Ladakh and Leh - Manaly tour. In this trip the most enjoyable parts were Sikkim and Arunachal Pradesh in North-Eastern and also the Andaman Islands.
From Kolkata I took an overnight, overcrowded train to Shiliguri, then a bus to Darjeeling, then I traveled through Sikkim by shared taxi and bike. Kolkata is the third largest city in India after Delhi and Mumbai. But it is the first in terms of overcrowdings, noise, traffic and pollution. It is known to be a shocking experience for the tourists, but it is safe. You could walk at night through the empty streets, I did, it is not Harlem. It is safe, not due to policemen on the streets. There were none of them. But it is due to the peaceful nature of Indian people.
Main attraction of Darjeeling is a panorama of Himalayas with Kanchenjunga in the forefront. I was in Darjeeling for a few days on my way to Sikkim and few days on my way back. I never saw Kanchenjunga from Darjeeling. It was fog. I was there in the beginning of the season, probably too early. But I saw and rode the adorable toy train in Darjeeling, 100 years old and fully functioning rail road. I also saw a tremendously strong hail storm, which covered Darjeeling with a thick layer of ice. Darjeeling is at the longitude of North Africa, by the way.
Sikkim is very clean, compared with the rest of India. The main means of transportation there is shared taxi. I traveled through Sikkim on shared taxi to Gangtok, Pelling, Jorethang and Namchi then back to Darjeeling. It was ridiculous... local people always occupied relatively comfortable front seats and sleep or play computer games on them, but tourists who flew thousands of miles to see and photograph these dramatic landscapes were cramped in rear seats from which they do not see anything. Why? Government regulated shared taxis are dirt cheap. Local people buy tickets in advance from taxi companies which they know and from guys which they know. Seats are numbered, but all seats cost the same. So obviously locals reserve better seats. Tourists who cannot reserve well in advance are getting what is left. There are few tourist there by the way. The government is trying to make things more tourist friendly. But like elsewhere in the world, the government is dumb, and Indian one is probably more dumb then others. Another example of good intentions of government turned bad was the railroad ticket counter for foreign tourists in Kolkata. The 95% of foreigners were Bangladeshi men wearing their Muslim uniform. My best day in Sikkim was when I was riding shared taxi from Pelling to Joretang as usually cramped in rear seat. Road was going down. I exited the taxi and rode bike down the road to Joretang. There was beautiful panorama of Kanchenjunga, which I photographed for the first time, in attachment. Other then that transportation nuisance, Sikkim is nice. It is more Tibetan then Indian place with many beautiful Buddhist temples. My smartphone camera died in Sikkim but you could find good pictures if you google "Sikkim"
From Darjeeling I took a bus back to Siliguri, West Bengal, then train to Guwahati, Assam. Guwahati is starting point for trips to North Eastern States, far away part of India connected to rest of country by a narrow strip of land squeezed between Bangladesh and Bhutan. This part of India always intrigued me. Also, fellow Polish traveler, whom I met in Bahamas, told me about hidden remote Buddhist enclave Tawang Gompa located in the far end of this land. Obtaining government permit for North-East was not a simple matter. Those who want detailed instructions, please send me an email to: mumzhiu@yahoo.com. Road to Tawang Gompa is considered to be the most difficult in North West, see picture. It took two days. High altitude also takes a toll. Tawang town is first really not crowded place I saw in India. It is not touristy at all. As they told me in Tourist bureau, there are 400 tourists per year. Like for many other remarkable places, the location plays an important role. It is very atmospheric place. Like Machu Picchu, Tawang Gompa is located at the end of a ridge, surrounded from three sides by deep and wide valley. Pass to Tawang Valley - Se La Pass is located at the altitude of 4176 meters. From there I rode bike down to village Dirang, 1600m. 2,5 km vertical drop. It was fun. My permit allows me to visit only small part of Arunachal Pradesh State, permitting to visit Tawng Gompa and village Ziro, famous for their nose plugs and facial tattoos. I do not like these human zoos and was satisfied with images from Internet, in attachment,
From Tawang I returned to Guwahati and flew to the Andaman Islands. From unimpressive capitol, Port Blair I took a ferry to Havelock and Neil Islands. Neil surprised me as a materialized dream. My bungalow at Kalapani Beach Resort ($4) was 50 meters from the empty rustic beach, shaded with big palm trees. In the sea a multilayer alive coral reef was full of colorful fish. Kalopani Resort was almost empty- 4-6 people, all backpackers. Everywhere in the world such places already disappeared. Such companies as giant monster Sandals bought entire shoreline in Jamaica, Dominican Republic, Costa Rica and so on. They fenced it, destroyed the natural environment and built their standard luxury cottages there. How did Neil survive? I found answer in one day when I came to the beach at low tide. For hundred of meters from the beach to the open water, ugly sea bottom consisting of spiky volcanic lava, eroded by sea water was exposed. It would be impossible to walk on it bare foot. In fins it will be questionable, as falling on these sharp needles will be life threatening. So if you do not know the tide schedule, you have to carry with you every time you go to swim a old pair of tennis shoes or something like this. I guess this is why this place still is not swallowed by mass tourism. The Andamans are an interesting place. There are some tribes there which never were in contact with our civilization. Bus from one part of the country to the other goes through the territory of some aggressive tribes. It is guarded by heavy military escort. Unfortunately my time in Andamans was limited. I flew back to Kolkata, then to Doha and then back home on Cathay Airlines. We flew above Teheran, Donetsk, Groznyy in Chechnya, Moscow and St. Petersburg. During flight I watch moving map more then the movies and felt sorry that I did not have a parachute.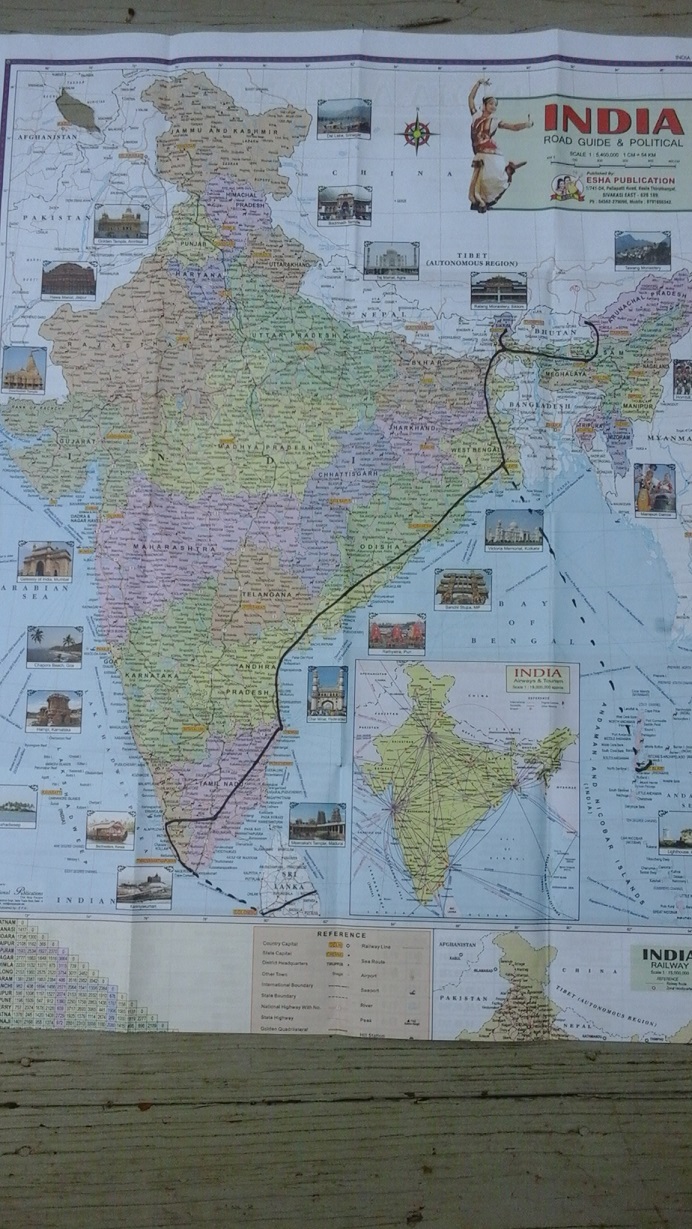 1. Map of my trip.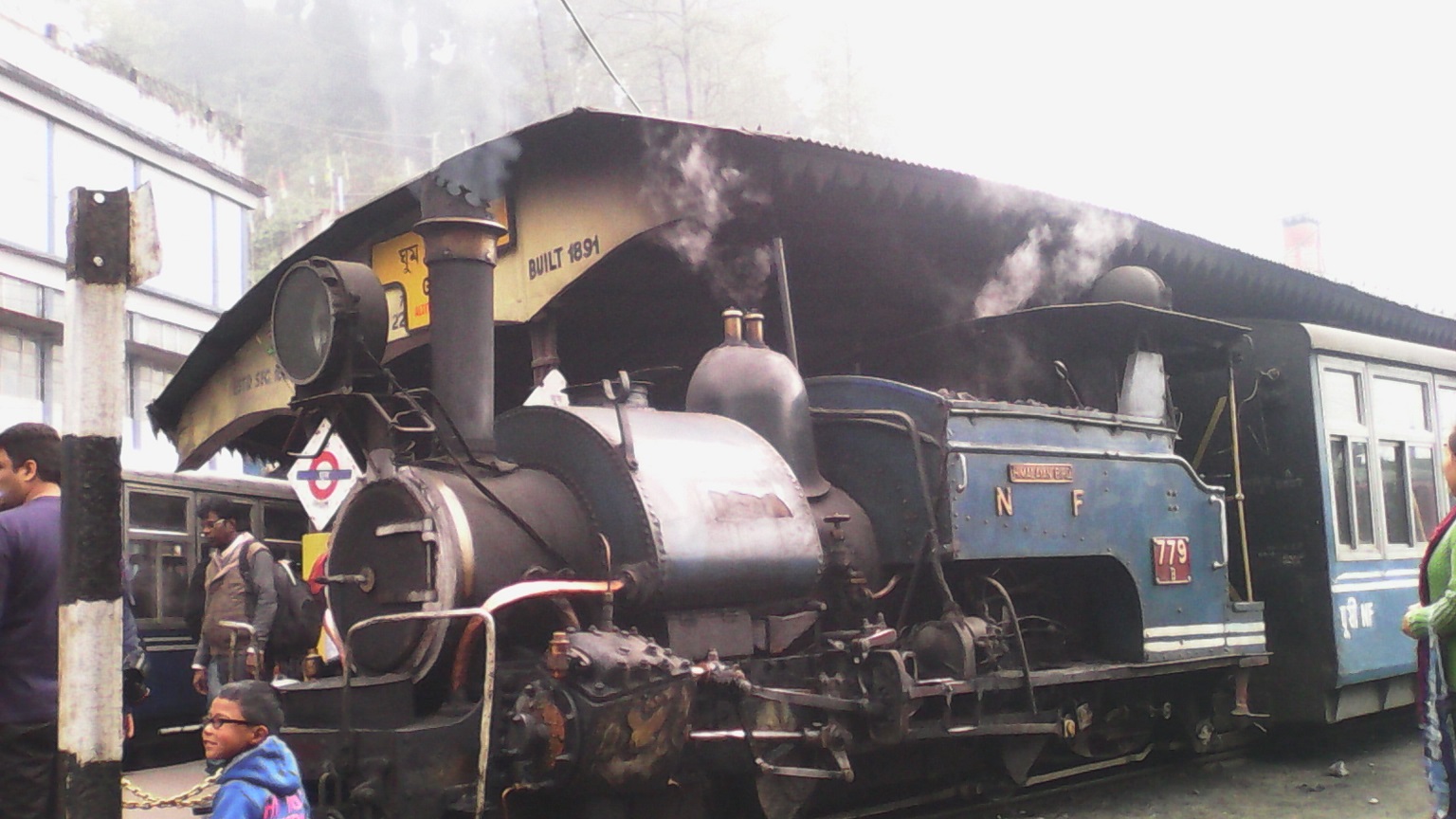 2. Toy Train, Derjeling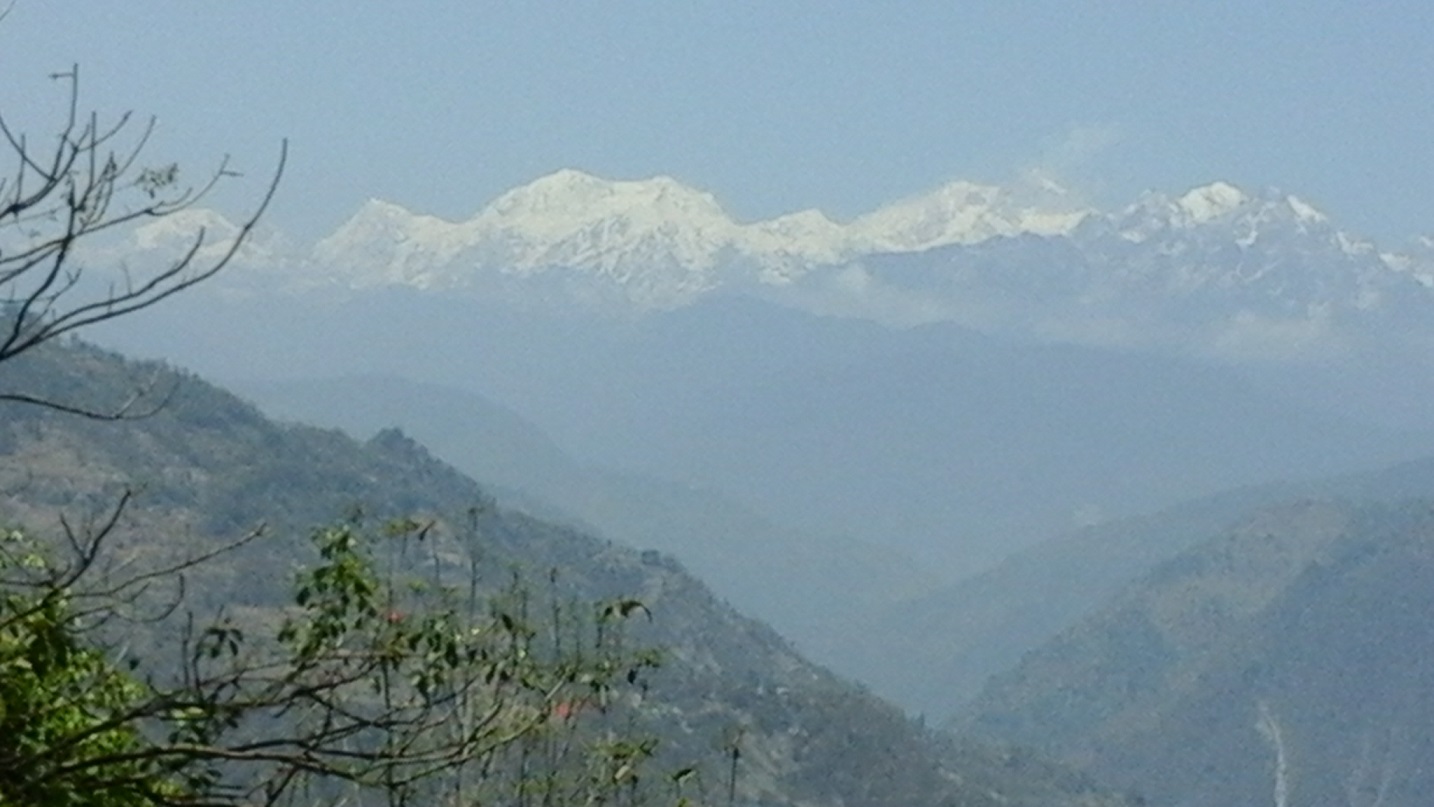 3. Kanchenjonga, 8,586 m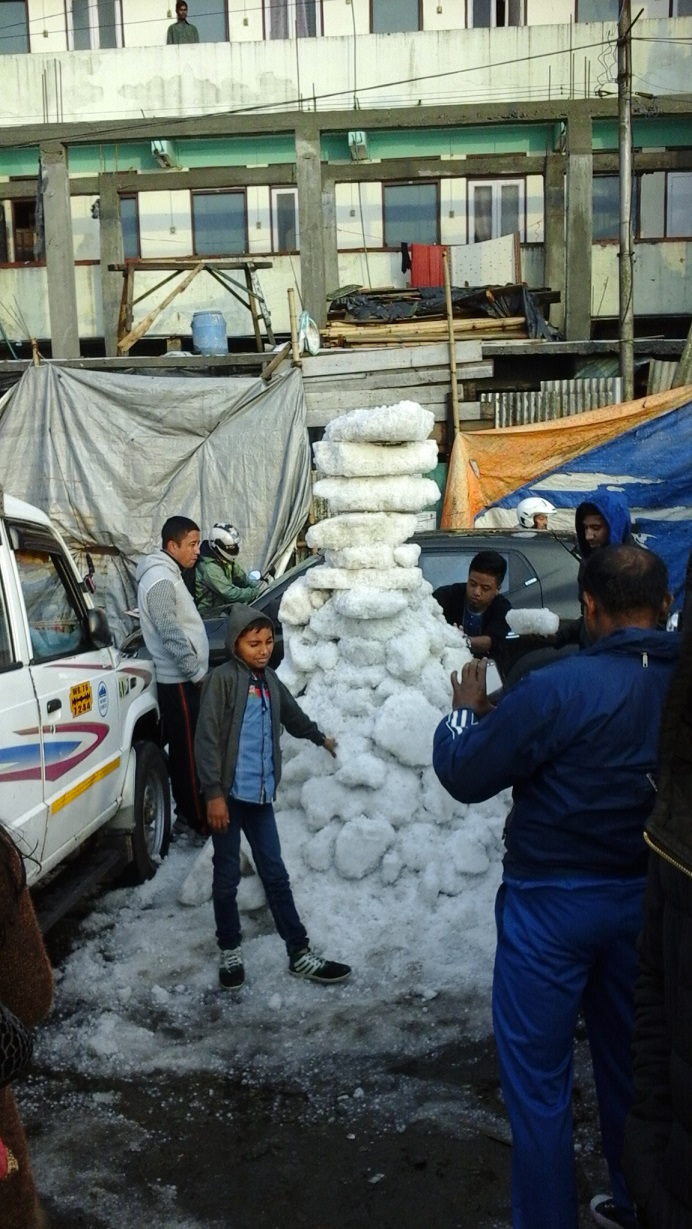 4. Snow in Darjeling.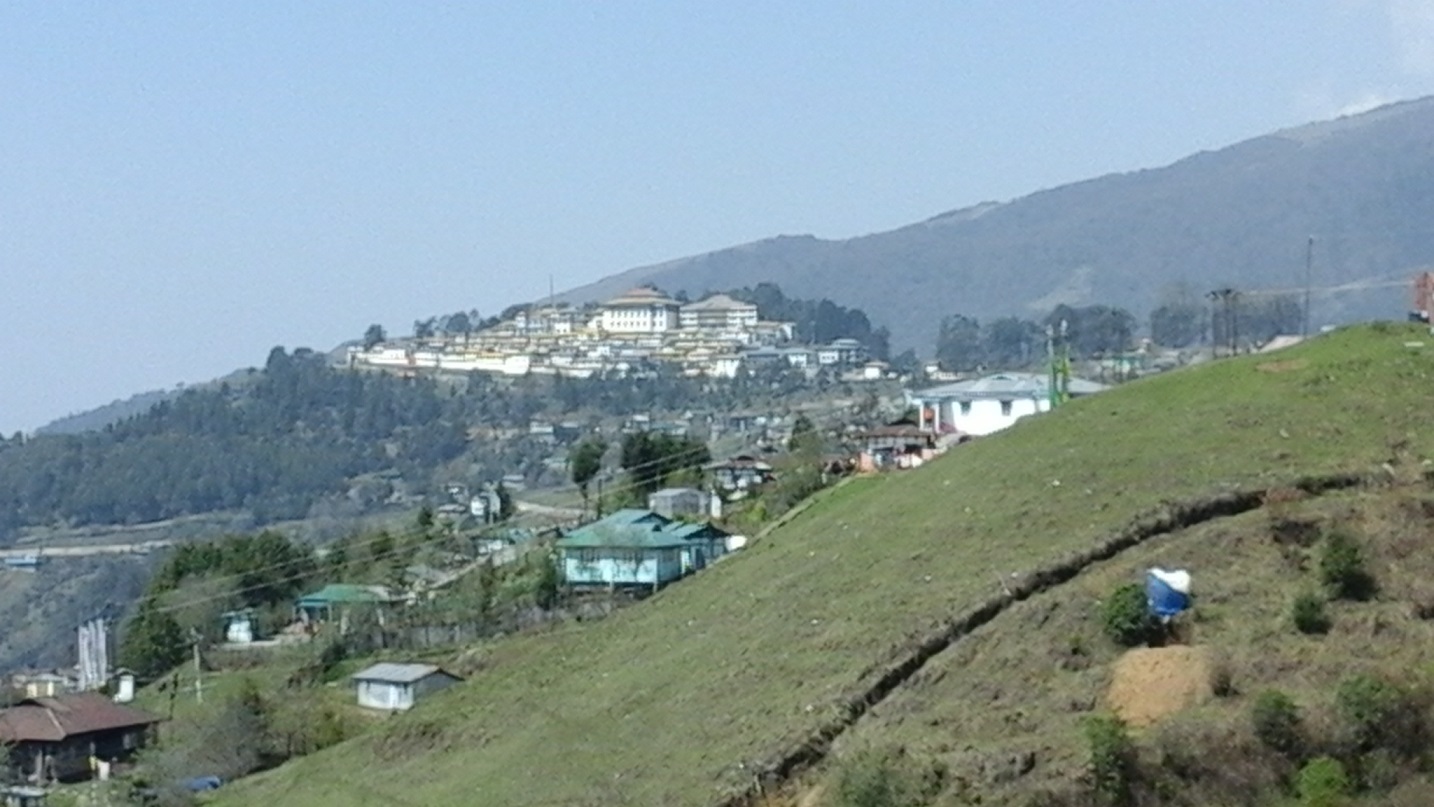 5. Tawang Gompa view.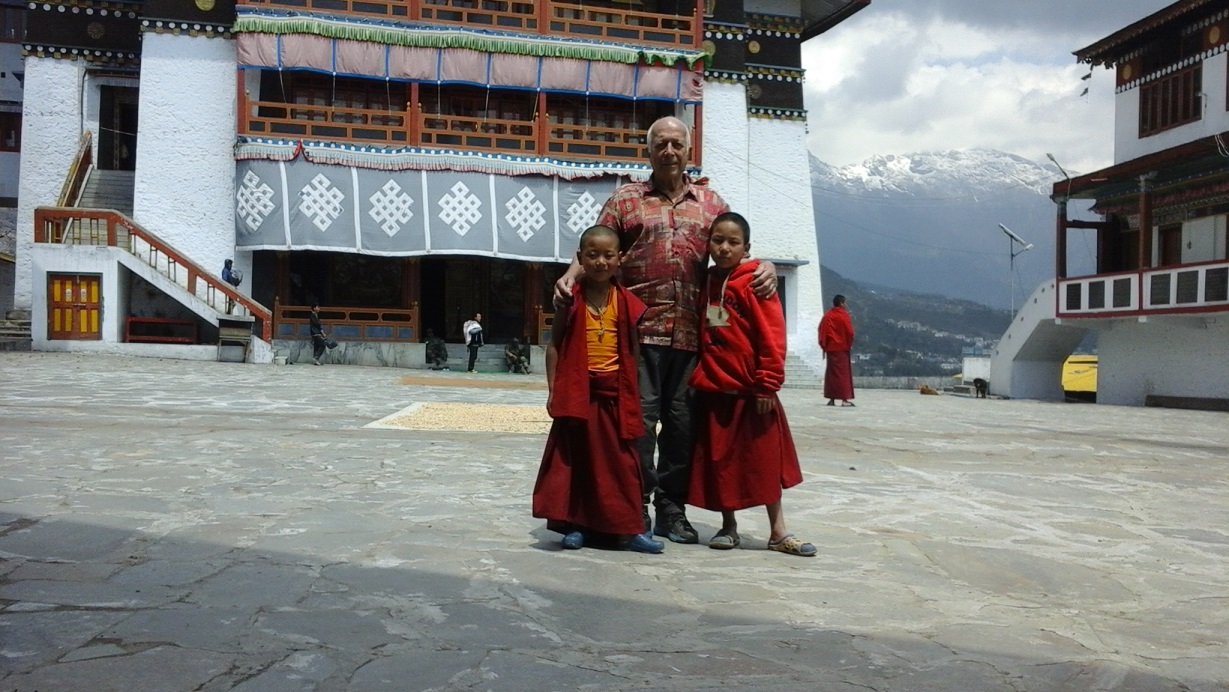 6. Tawang Gompa monastery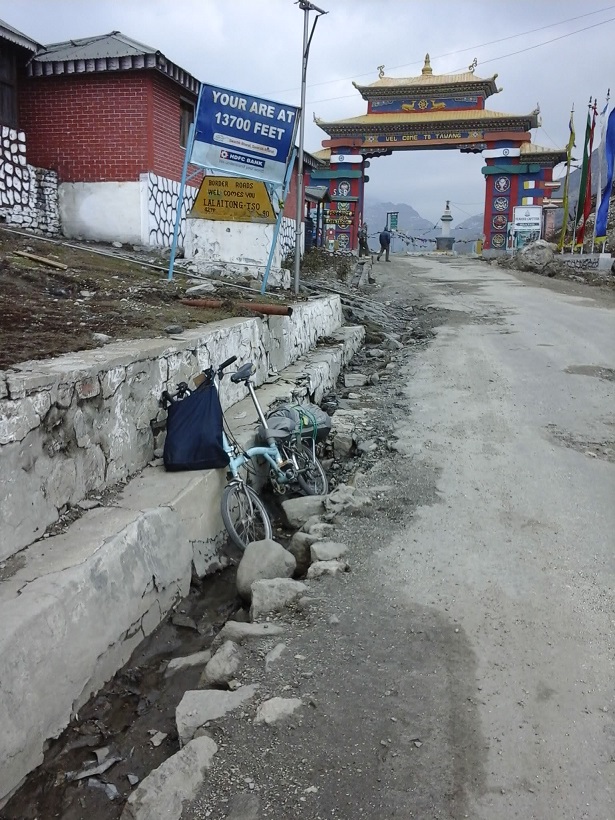 7. Pass to Tawang valley 13,700 ft.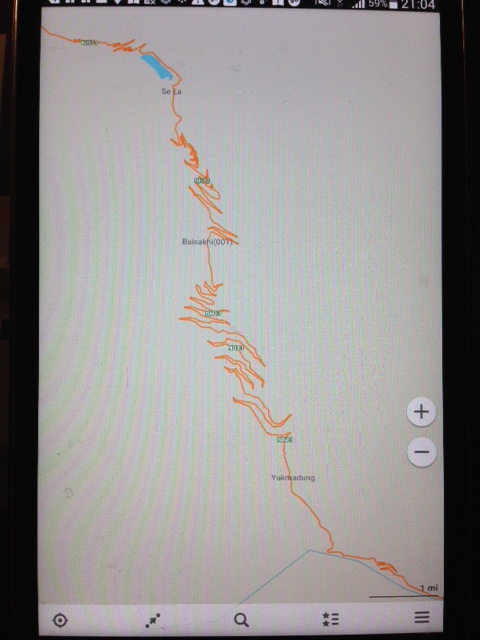 8. Road to Tawang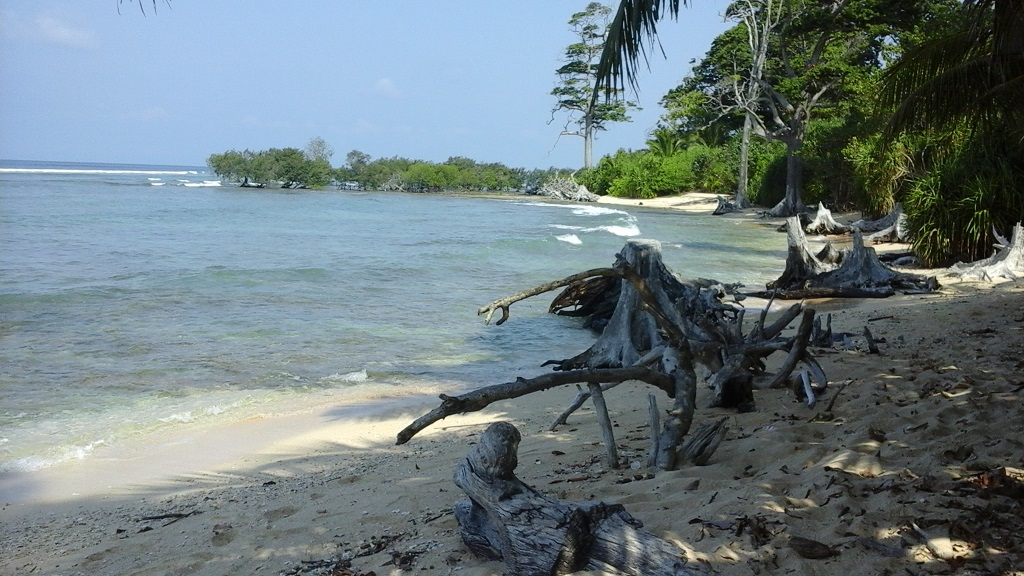 9. Kalopani beach.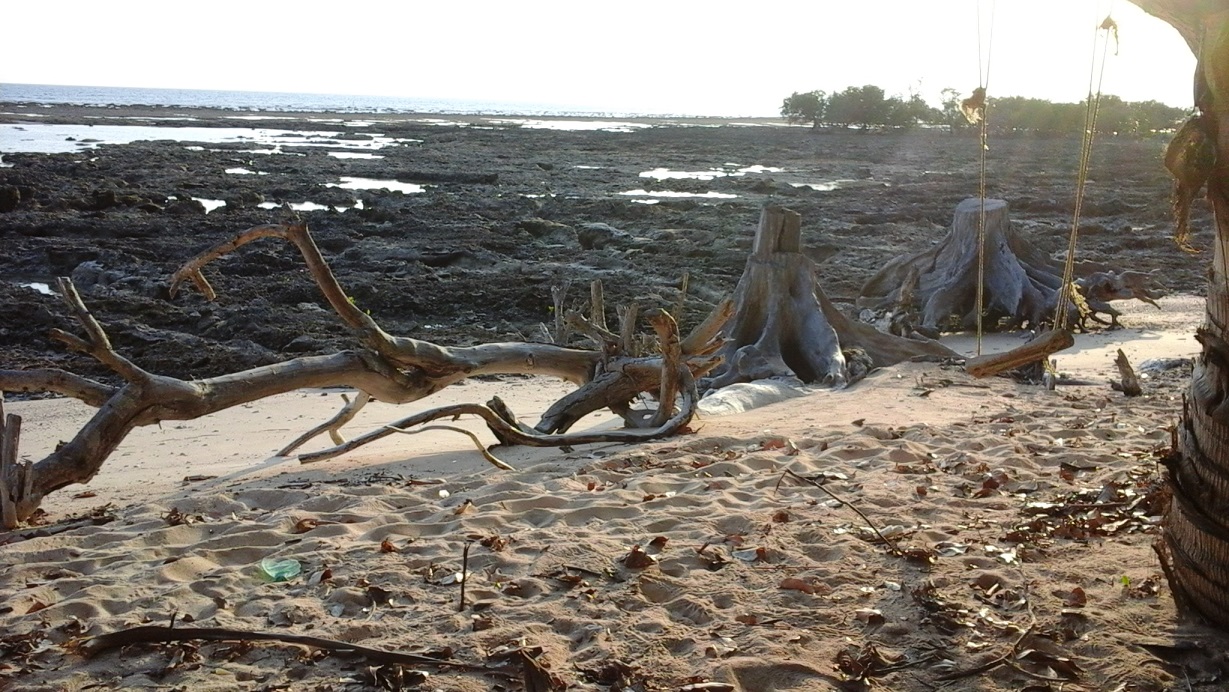 10. Low tide at Kalopani beach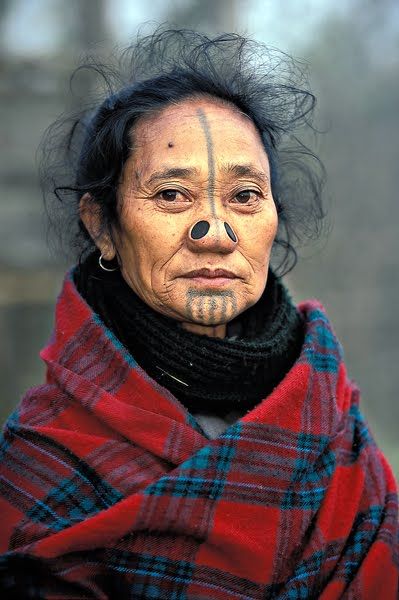 11. Apatani woman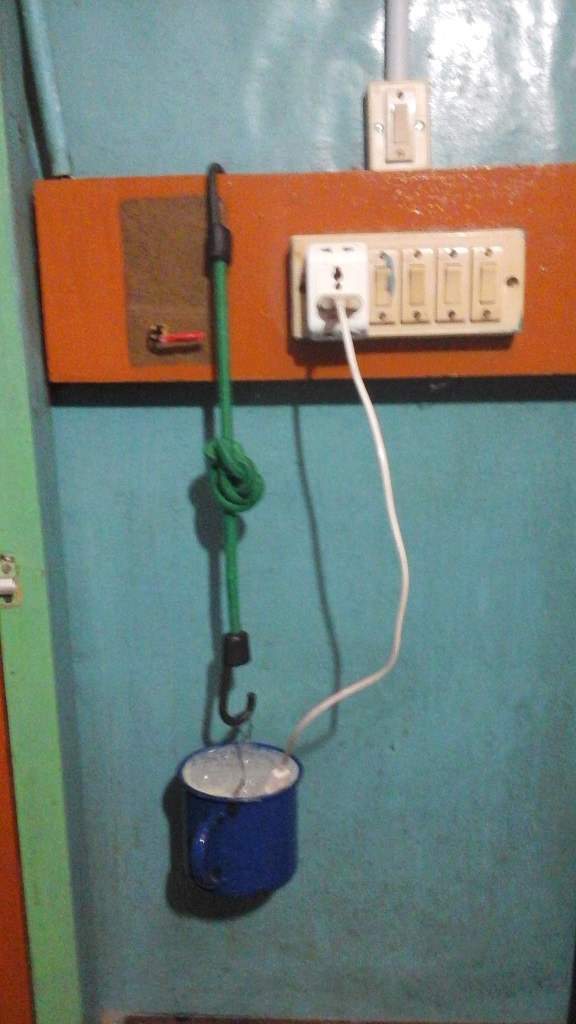 12. Food preparation with electrical spiral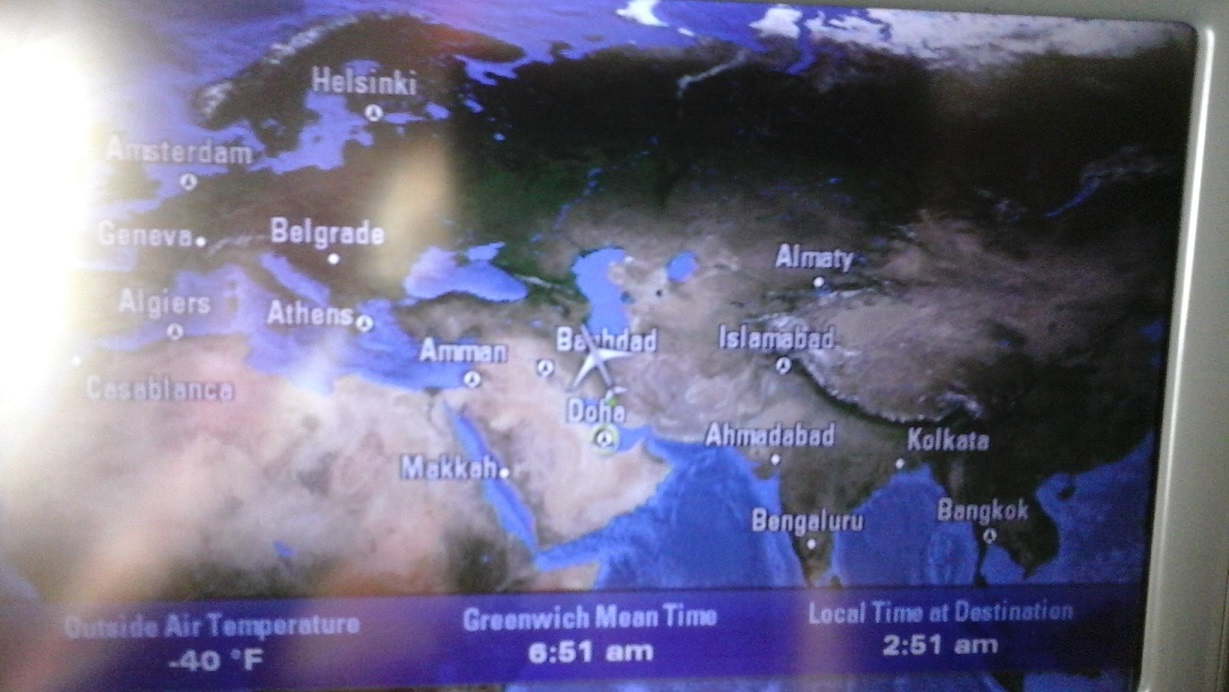 13. Flying over Bagdad
Alex Mumzhiu
Washington,USA
May 18 2016