Travel Notes from plagued Madagascar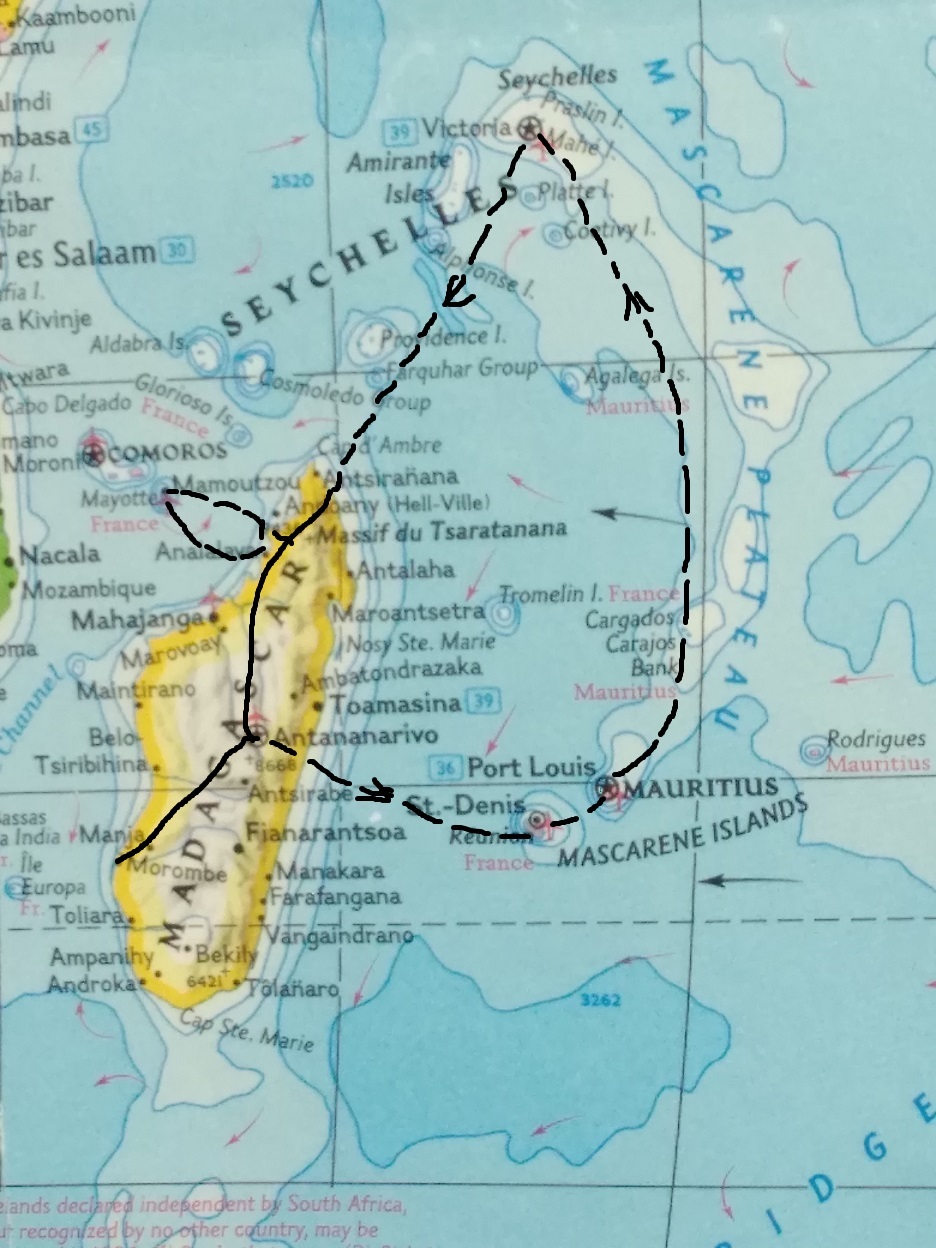 Dear Readers,
Madagascar is not so far away, as we used to think. It requires only 40,000 frequent flyer miles on American Airline to fly to Seychelles Islands and then $210 on Kenya Airways to Madagascar. My flight was on Oct 17. I planned stay on Madagascar for month or so, then visit Comoros, Reunion, Mauritius and Seychelles. Return flight is from Seychelles on Dec 15.
Only a week before the departure I learned that there is an outbreak of plague in Madagascar. News were quite scary: Seychelles Airline stopped flying to Madagascar, Mormon Church removes its 70 volunteers from country. England advised their citizens not to visit country. 1000 infected. 100 died. While it is not much from 25,000,000 people of country. 40 medical workers were infected because unlike black bubonic plague which devastated Europe in 14th century, this outbreak is pneumonic plague. This form is easy to be transferred by sneezing and coughing.
After some oscillation I decided to go. Flight Washington to Doha on Qatar airline 13 hours was perfect. Plane was not full and I slept on 4 middle chairs and watched 3 screens. Food and drinks were good. In Doha it was 10 hours stopover. Employees of airport treated you like close relatives. They put me in silent room where you could sleep horizontally. Next was stopover in Seychelles 6 hours. An unfriendly woman put me in transit room and said "wait". I expected to wait a little. In 4 hours another, but friendly woman brought me boarding pass. It was short stopover in Nairobi also. Plane from Nairobi to Antananarivo was almost empty. In Antananarivo airport at 2am I was met by hotel employee, who took me to Gassy Country Hotel near airport. Most scary moment was in airport when I started sneezing uncontrollably. I expected that they will put me in plague ward along with other plague patients, but nobody cared.
Next day I rode my bicycle a little. Life looks quite normal. Nobody wears surgical masks, like it was shown in newspapers. Small shops and local bars all open. In my hotel all employees, cleaning ladies, reception, restaurant staffs all are present, but no customers. For how long businesses will survive without customers in this county heavy depended on tourism. I think more dangerous for Madagascar then plague is Western media hysteria.
Today I will fly to Nosy Be island at North of country, as it is best place for snorkeling and diving on Madagascar. There was also no plague there yet. Next plans will depend on situation.
Alex Mumzhiu
Antananarivo, Madagascar
Oct 21 2017
mumzhiu@yahoo.com
PS: Today is Oct 26. For technical reason I was unable to sent my email earlier. I am already at Nosy Be island. It is one of few tropical paradises saved on Earth, warm ocean, shore covered with jungles, sea curved grottoes and caves from volcanic rock of shore. And main thing. It is no mega resorts here, no these dumb Sandals, who occupied entire seashore in Caribbean. I took my spear gun, waterproof lighter and swim along the share, having picnic in these grottos, feeling like Robinson Crusoe.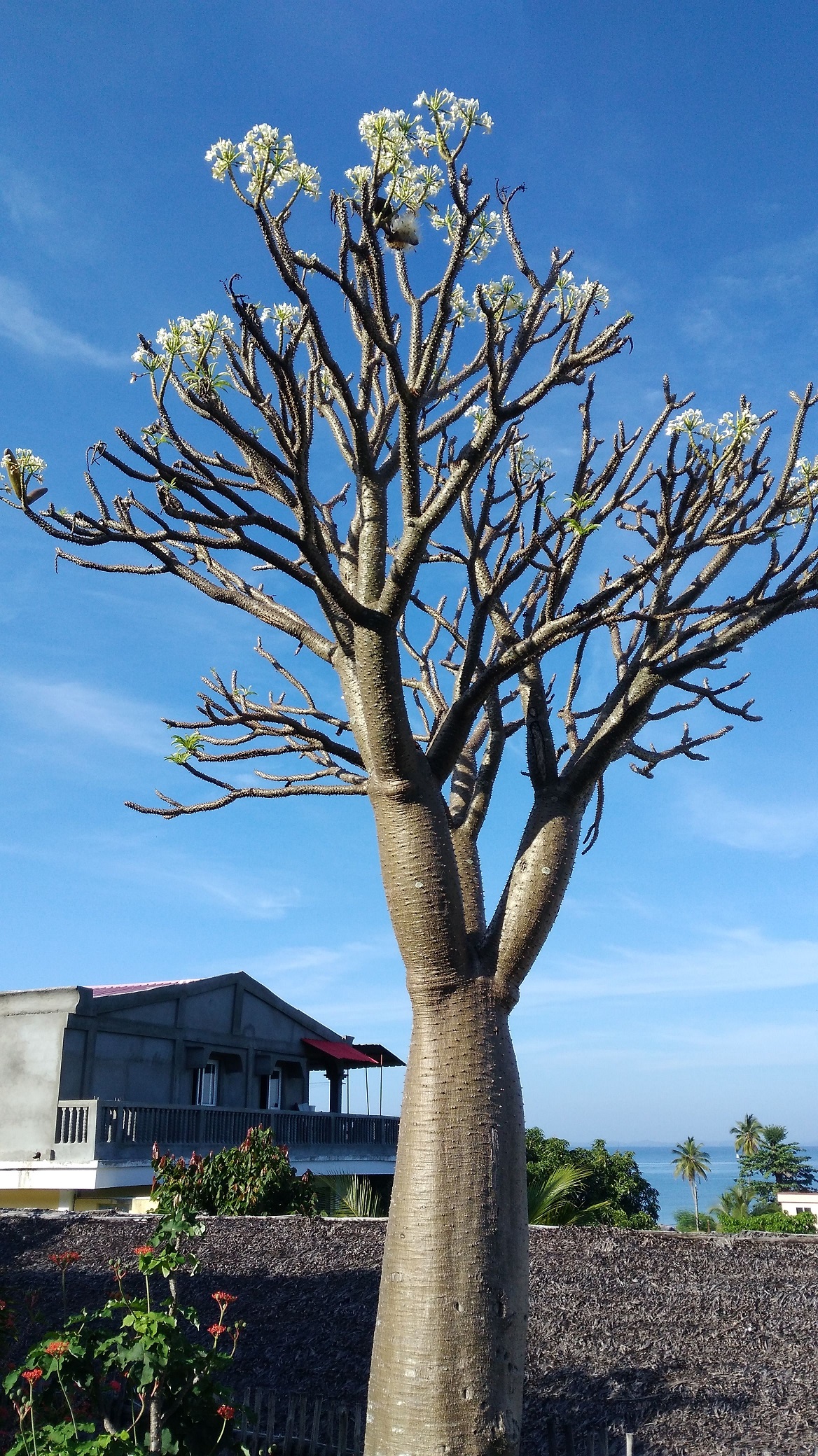 Picture of baobab.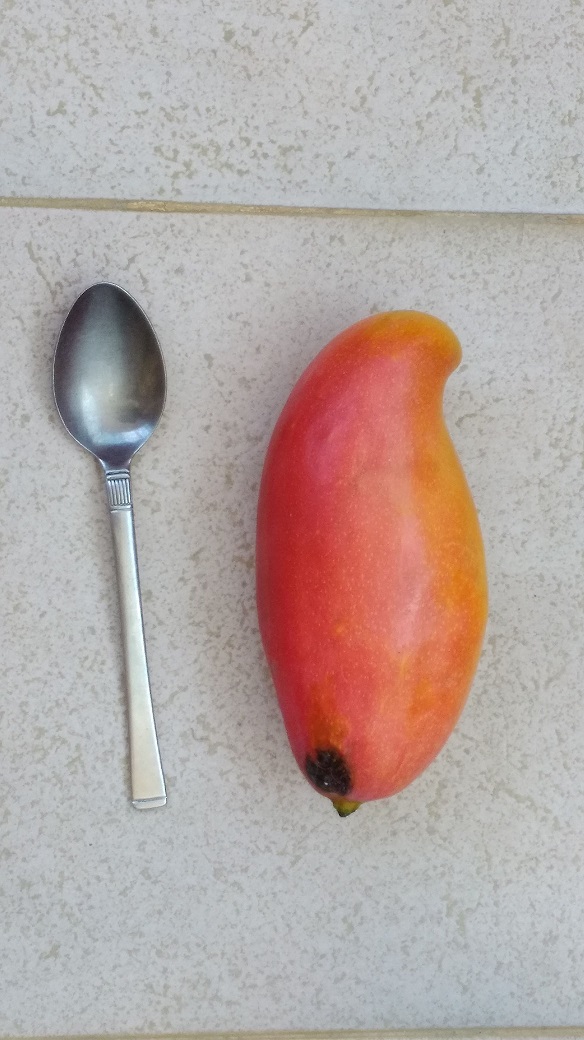 Travel notes on how I got the plague
Let me tell you how I suffered from the plague.
Initial symptoms of plague are similar to flu.
I got runny nose, scratchy throat and coughing.
Symptoms grow very fast. Then I got fever and chills, which never happened to me with just a cold.
It was no doubt that I had been infected with the plague!
I have to be prepared for coming events.
With trembling hands I packed my rucksack, prepare all documents and prepared surgical masks for me and for somebody who will transport me. Pneumonic plague is easy transferred by sneezing and coughing. I found French word for plague - peste. They do not speak English here. The thought that I was going to die soon did not bother me as much as all the uncertainties of immediate future. I have lived long enough. After all, you have to die of something. At least it is quick. It is recommended to seek medical attention as soon as possibly, but where? Antananarivo is far away. I looked in Lonely Planet. Medical center was in Hell Ville, not too far. I can get there on bike. I found in on my map. After this, when everything gets under control my symptoms became better and better. I even rode bike to Hell Ville and found medical center, but did not enter.

Quite similar story happened in Seychelles, small country near Madagascar. A local guy came to Seychelles from Madagascar and feel the same symptoms as me. BUT HE WENT to medical center . As a precaution measure 9 screw members and 41 passengers of flight Madagascar -Seychelles along with all people they contacted and medical stuff were put in quarantine at Seychelles. All together 1223 people. Flights Seychelles - Madagascar were suspended. All now released as they were found negative on plague. More interesting details in article. Seychelles – Suspected Plague (Ex- Madagascar)

Madagascar is experiencing a large outbreak of plague affecting major cities and other non-endemic areas since August 2017. This outbreak carries a moderate risk of spread to neighbouring Indian Ocean islands which is mitigated naturally by the short

After this scary story let me tell you about my life at Nosy Be. There are two places to stay on Nosy Be island: small, but busy town Hell Ville, named after first governor and tourist village Ambatoloaka. The main attraction of Ambatoloaka for me is this: if you swim along the shore to the East for about an hour you will get into sort of perfect coral garden with lots of live, undamaged corals, plenty of fish and no people at all. It is possible to exit to the shore, to make a fire and bake on it your catch. However it may be difficult to get back to Ambatoloaka in the eventing, due to strong front wind and current. I would say it is one of best places of this sort I know.

My hotel Barracuda is on small tourist mall with restaurants and shops. It is 50 meters from the shore. Price is 25 euros per night. For awhile I was the only guest. Now tourists scared by plague are returning. Local people offering you different stuff on mall, like in all other touristy places in the world, but they are not so annoying like SE Asian or Middle Easterner. But they are sloppy. They do not give receipts or change. They speak French. So it is difficult to explain at reception desk that you are paying for next night, not for past night for which you already paid. So always ask for receipts. Restaurant food is good and cheap, but I still prefer to make my own food using electrical spiral and to consume it on my big balcony with view on the sea. Yesterday it was fish soup, today it is boiled potatoes with tomato salad. It is strange, the more I exercise, less I want to eat.
Good way to loose weight

Alex Mumzhiu
Ambatoloaka, Madagascar
Oct 29 2017
mumzhiu@yahoo.com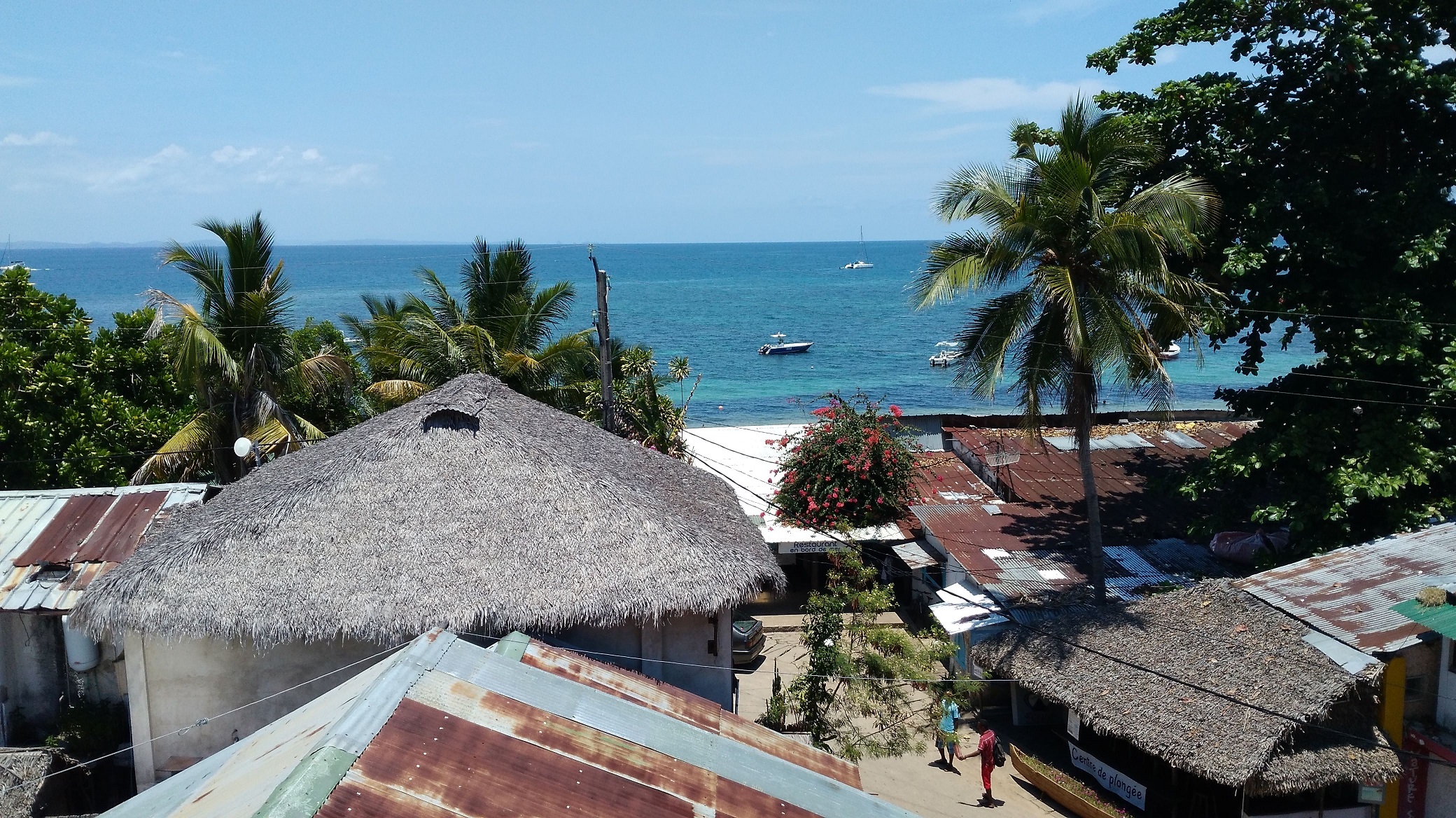 View from my hotel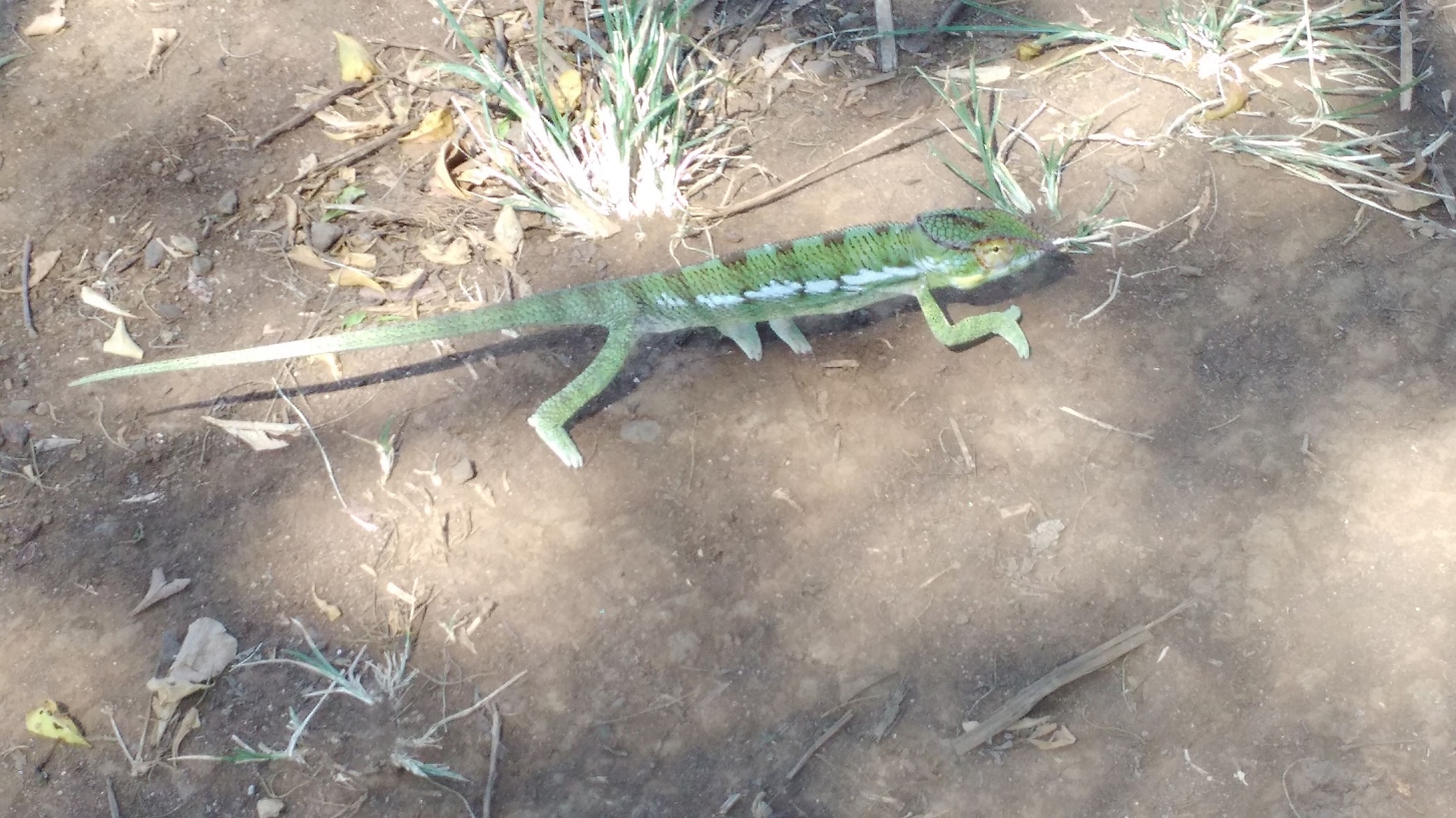 Chameleon, is such a funny creature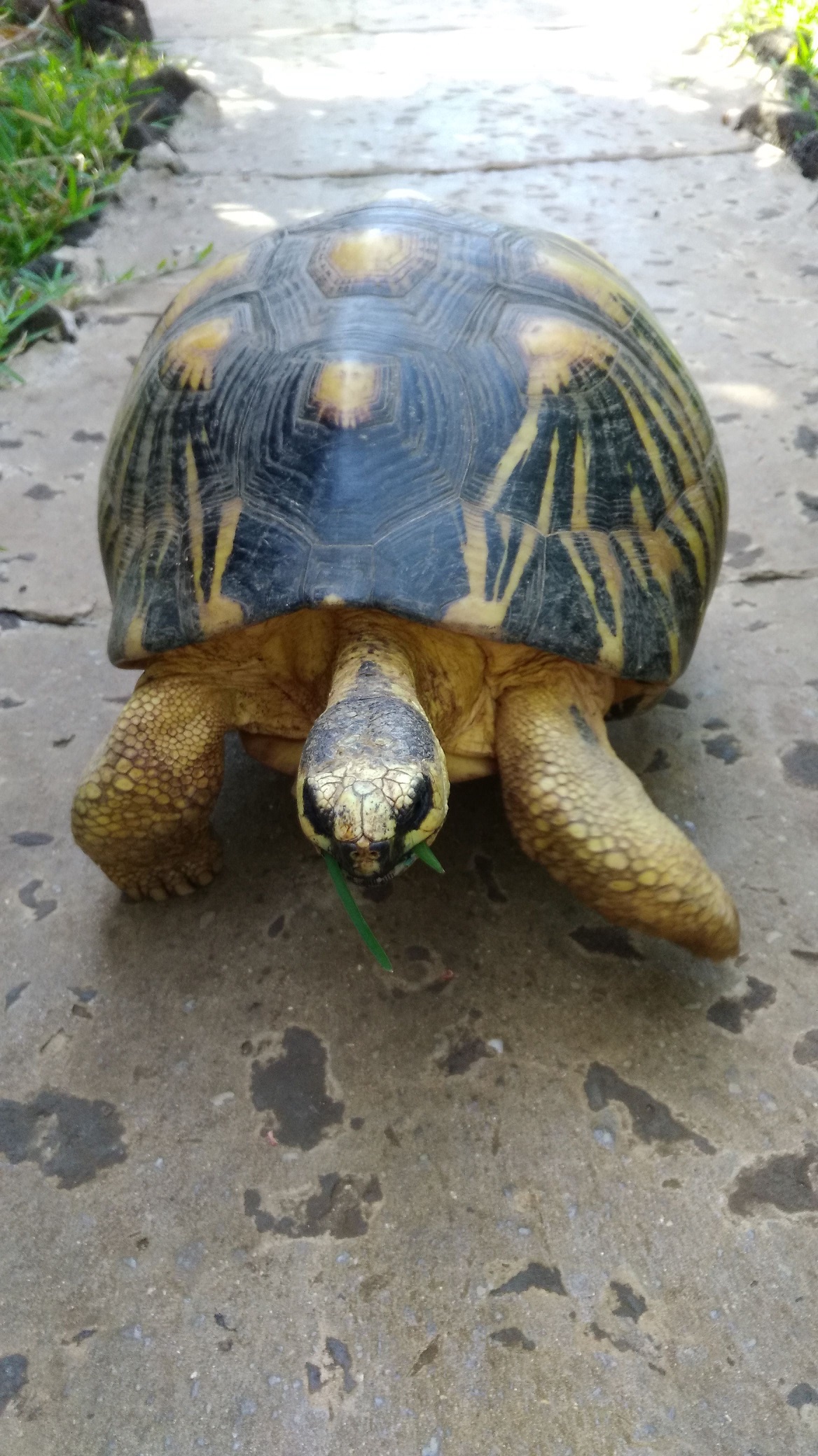 Gigantic turtle
Travel Notes on plague
My dear readers,
I was surprised to learn that many of you took my words on plague literally. Sorry guys for misleading you, I was not infected by plague. I had some flu symptoms, which are similar to the symptoms of the beginning stage of plague. I described to you my feeling when I suspected that I was infected. But in the back of my mind I still had a hope that this is not the case. After symptoms became severe a person infected by plague dies in 24 hours. My symptoms diminished after awhile and I decided not to report to medical authority.
Another guy, who returned from plague ridden Madagascar, to Seychelles, had the same flu symptoms and he REPORTED to medical authorities. This is what happened next: All airplane screw and passengers were quarantined along with people whom they contacted, all together 1223people. Flights were cancelled. 8 persons who were in close contact with him, developed symptoms. Samples were sent to Pasteur Institute in Paris. Only after Pasteur told them that there is NO plague in all samples, this madness stopped and all quarantined people were released.
I should add that Seychelles peoples had some reason for panic. A month ago a manager of Seychelles basketball team dies in Madagascar from plague.
All this spectacular Seychelles flop had inexpectable result on me. I was kicked out of my hotel Barracuda. I paid day by day. But as tourists returned to their favorite Nosy Be island, the hotels prefer the guests with long commitment. But I found even better place, but not close to shore, see pictures, for the same 25 euro.
WHO report on Seychelles case is attached:
http://outbreaknewstoday.com/seychelles-no-confirmed-plague-contacts-discharged-23544/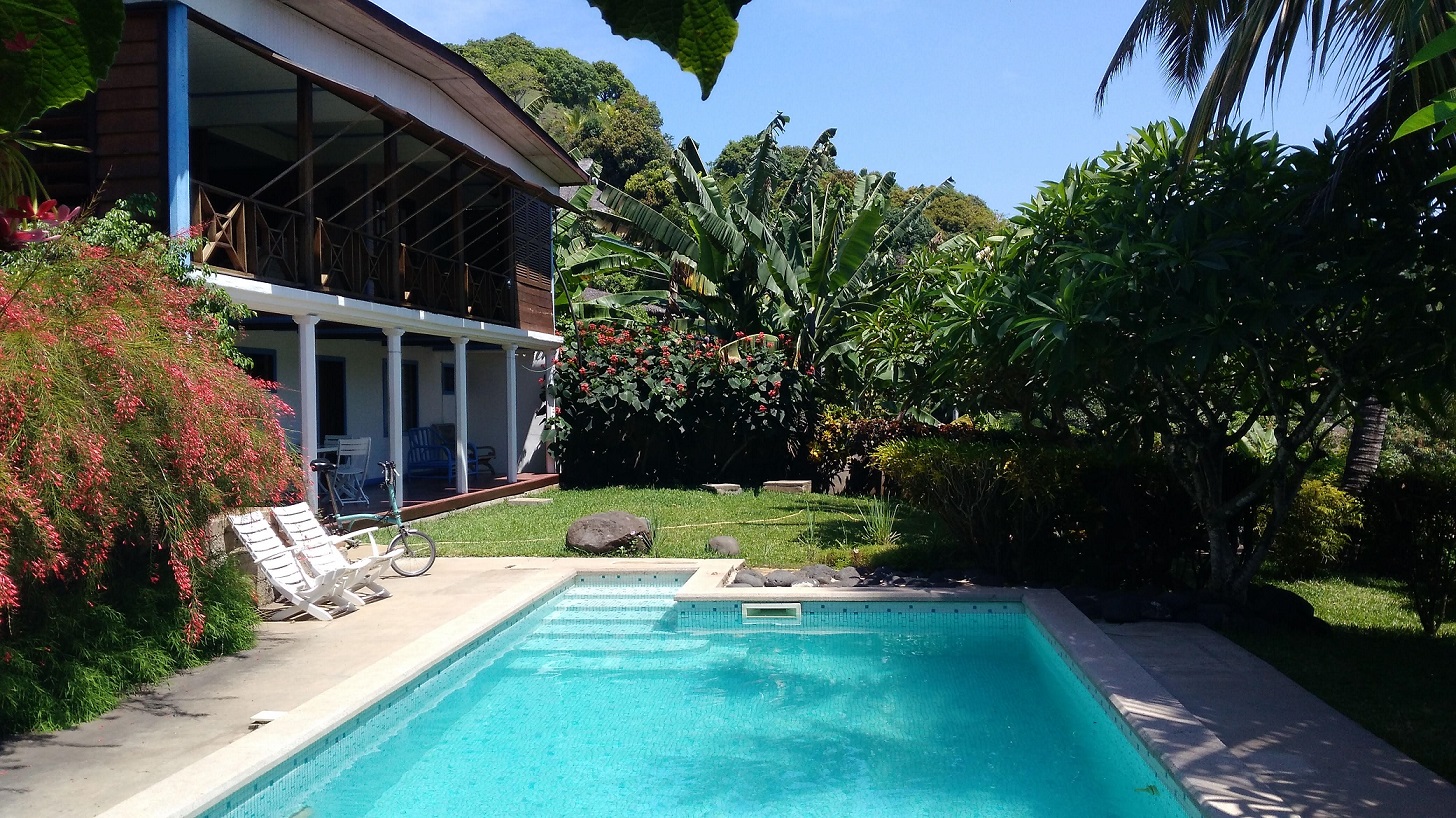 My new hotel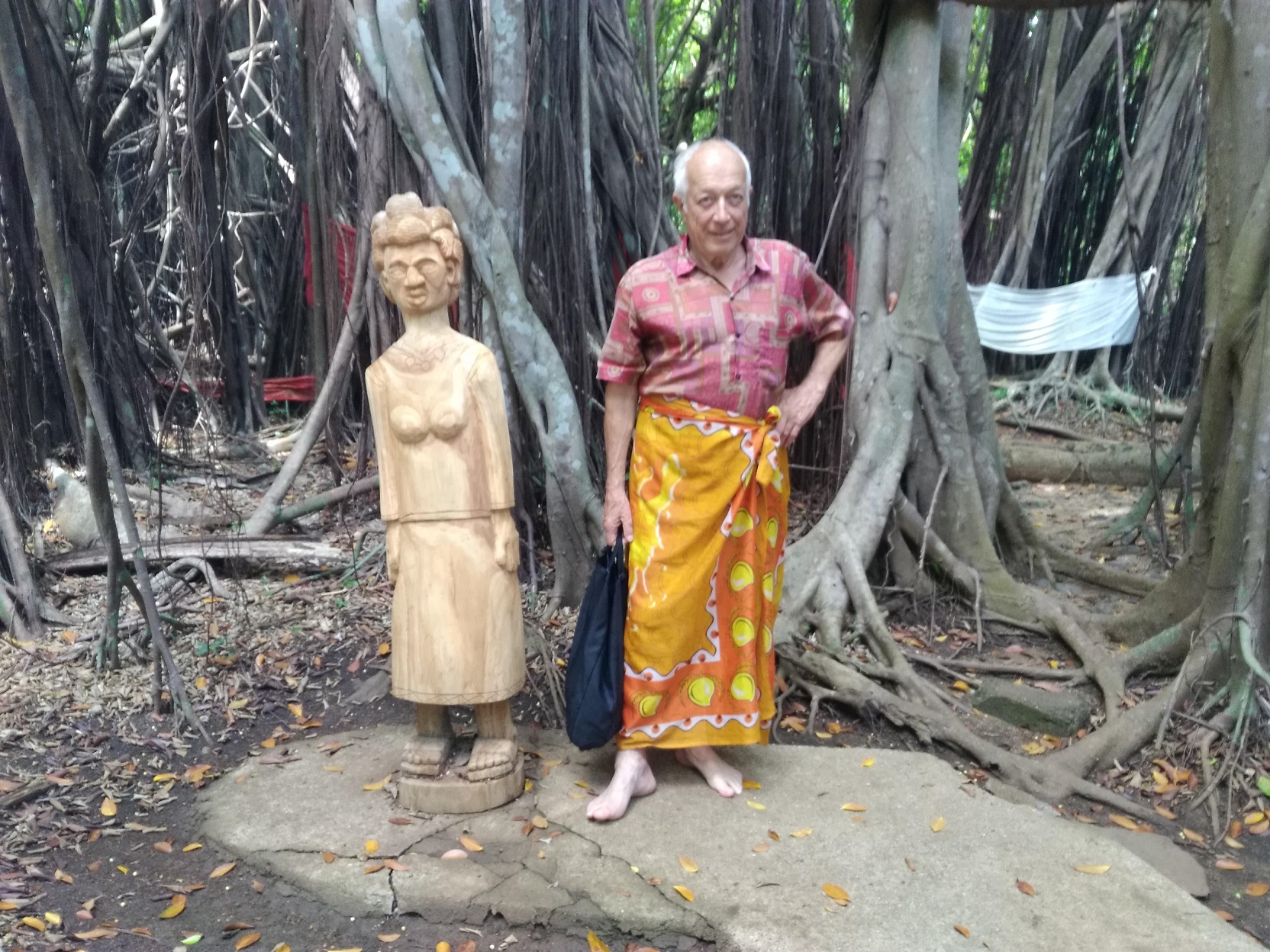 Me at sacred banyan tree at Nosy Be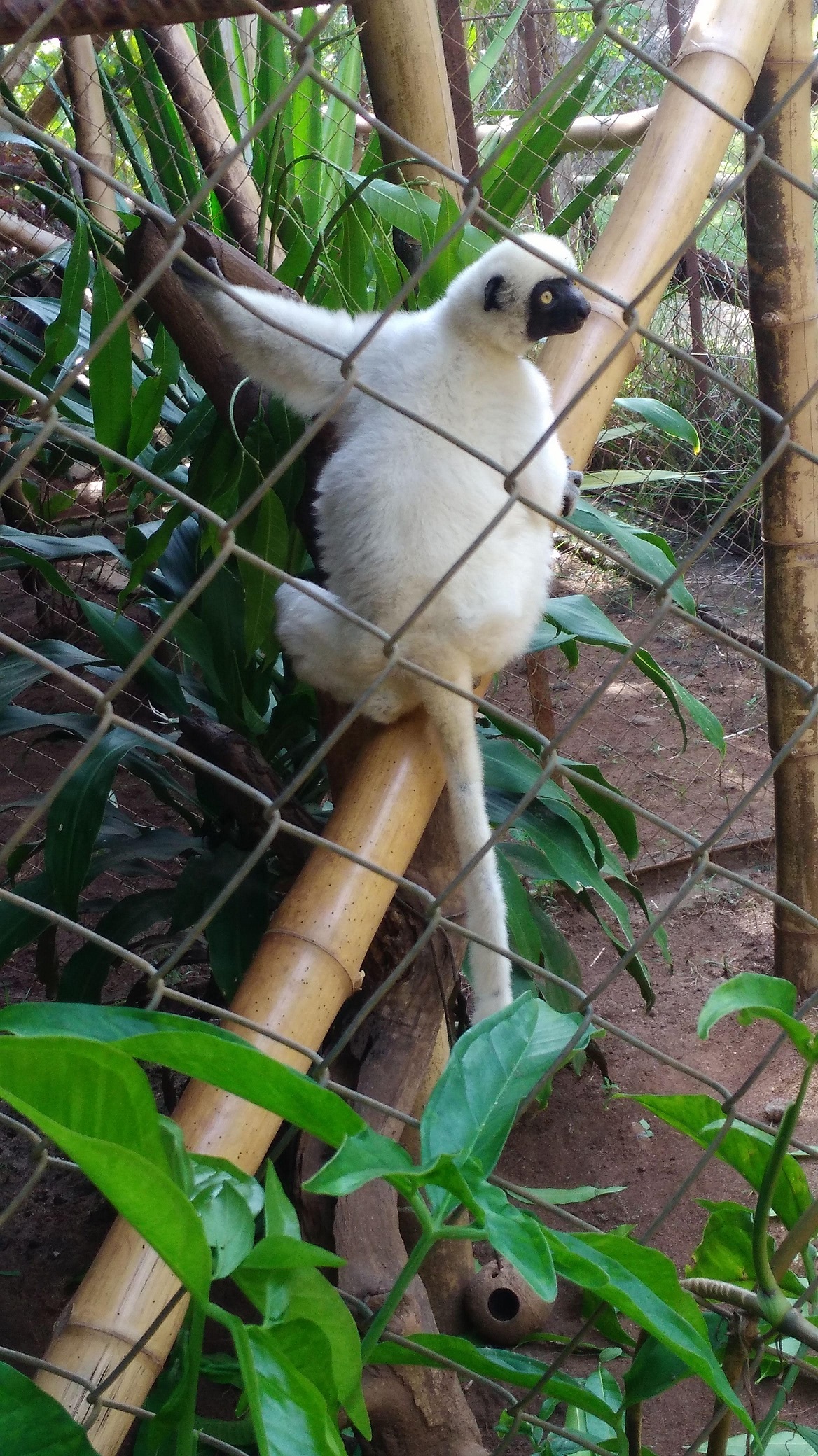 Lemur
Alex Mumzhiu
Ambatoloaka, Nosy Be
Madagascar
Oct 31 2017
mumzhiu@yahoo.com
http://foldabiketravel.com
PS: By the way, do not think that I am so careless person.
I carry with me some levofloxacin tablets, the only antibiotic, for plague approved by FDA. But it has terrible side effects.
Travel Notes from Mayotte
My Dear Readers I am in the town of Mamoudzou, the capital of Mayotte. Mayotte is one of the islands of Comoros Archipelago located between Madagascar and Africa. As I wrote to you before, my son printed book of my Travel Notes and named it: "Behind Lonely Planet limits". This is exactly where I am now.
When Comoros declared independence in 1975, Mayotte wanted to stay with France. It still have kind of uncertain status. I did not find much information on Mayotte. It has few hotels and they are expensive. I managed to make a reservation for studio with Airbnb for $30 far from capital in village Kangani.
My flight from Madagascar arrived in darkness. My dumb taxi driver twice tried to kick me out in the middle of nowhere. Eventually BnB owner went to the street and stopped us. BnB turn out to be quite decent with hot water, AC and kitchenette. Three generations of owners live in nearby big house. They have 3 decent cars and speak good English. Mayotte, however is still third world country with a little French twist. It has excellent supermarket with freshest French baguettes and cheese, which I enjoyed tremendously.
I tried to find a boat tour to famous Mayotte lagoon. All the companies doing this have no customers. They will not go for one customer, me. I spotted little island off the shore, looking promising and I left my clothes and bicycle at the seaside restaurant near the town Port of Londoni and snorkeled to this small island several hundreds meters away. It turn out to be great place, lots of corals and big fish relaxing under huge umbrella corals. There is solar powdered lighthouse on this island. View from lighthouse is amazing. There was nobody there, and only my footprints on the sand. I spent entire day on this island, exploring, making fire and having lunch with seafood.
Mayotte is poorest from all French departments, but richest from its African neighbours. Mamoudzou has terrible traffic problem. This African town, with associated infrastructure jumped into 21 century with large car ownerships. My folding bicycle was the only moving transportation sometimes.
I initially planned to return to Madagascar from Mayotte. But when I learned that it is possible to fly directly from Mayotte to Reunion, which is my next destination, I decided to skip Madagascar. I already spent 2 weeks there. I saw baobab and giant turtle at my hotel grounds. I saw lemurs in two naturel reserves and I had very personal experience with chameleon. I helped him to cross a busy highway. They are such comical creature. You cannot stop laughing watching how it moves. And honestly I get tired from third world countries. Also plague is not finished. It increased 8% every week, according to WHO. Also as I realized Madagascar is difficult for individual traveler. You have to go with tour, which I do not like, or you should hire driver with car and guide, which is expensive.
To finish with Madagascar, country of Madagascar was founded by the person with longest name:
Andrianampoinimerinandriantsimitovisminandriampanjaka
All Nosy Be island covered with strange looking trees. Trees are pruned low to make harvest of their flowers easier. It called ylang-ylang and used for perfume. Half of population is younger then 15. I remember quotation from one of African officials: "Stop making so many babies. We do not have school to teach them, do not have housing for them, then they grow, it is no jobs for them. Stop making babies!"
So I escaped the plague at Madagascar. Guess what is waiting for me at my next destination: "Shark attacks on suffers and swimmers have been a major issue in Reunion in recent years" Tomorrow I am flying there.
Alex Mumzhiu
Mayotte
Nov 11 2017
www.foldabiketravel.com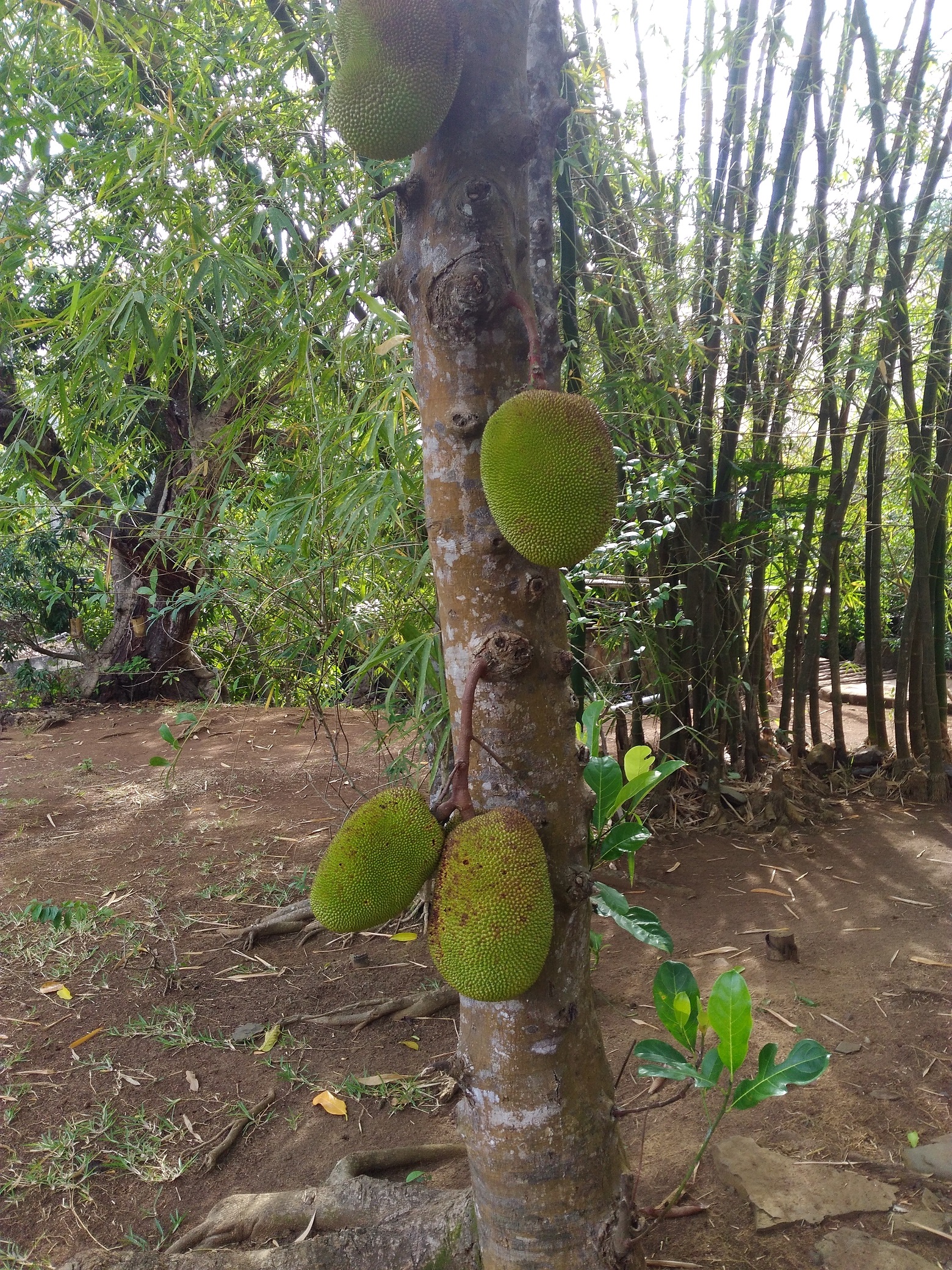 My favorite fruit, jackfruit, weight up to 35 kg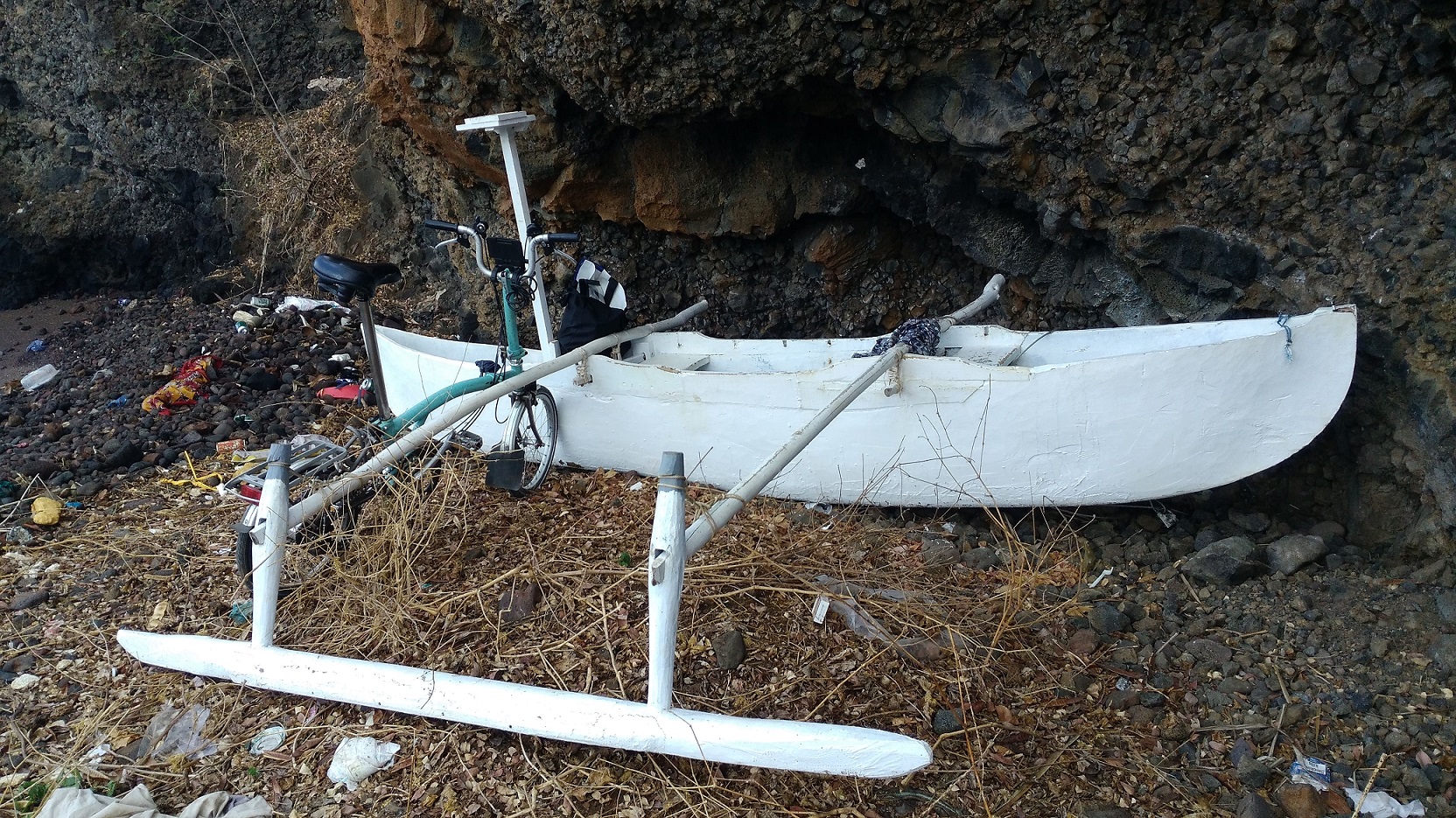 Local small boat with counterbalance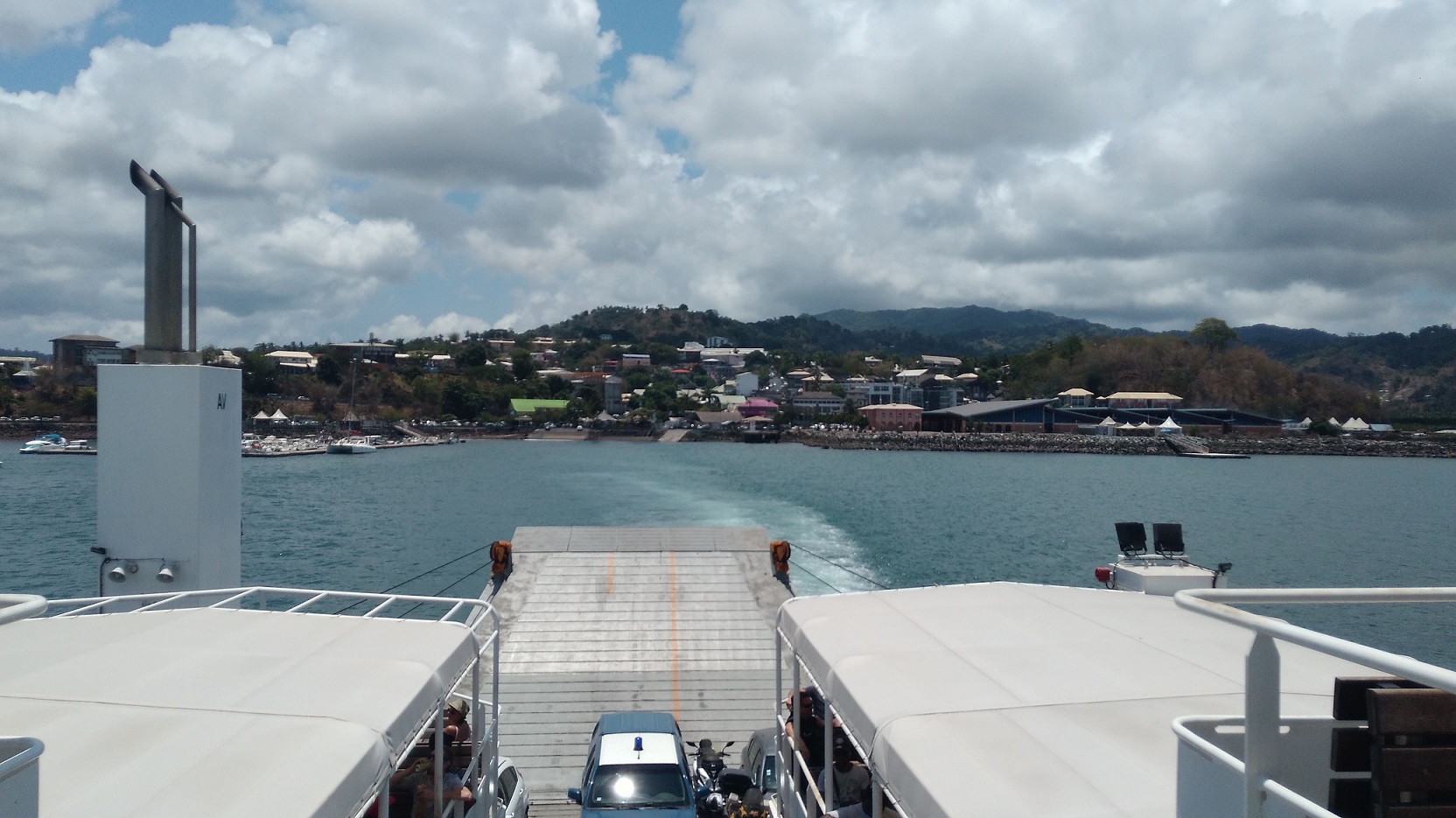 Mayotte, view from ferry to airport
Travel Notes on Reunion, Mauritius and Seychelles islands.
I already wrote about shark attacks in previous TN.
Swimming and surfing have been banned around the Reunion island in all but a few places due to shark attacks. I was attacked by sharks before, in 2005 and 2006 http://foldabiketravel.com/shark_attack.html http://foldabiketravel.com/WestIndies.html, so I decided do not snorkel at Reunion, especially because the main attractions of Reunion is not in the sea, but is in the mountains.
Three cirques (Cilaos, Salazie and Mafate) eaten out from the middle of island by erosion. And they are the main attraction of island, see picture. Incredible steep and well maintained roads lead to these cirques. I took buses up to there and rode bike down. It was hilarious. Another attraction of Reunion is volcano Piton de la Fournaise. It erupt quite often, unfortunately not during my visit. On one of recent eruption, the lava stopped right at the feet of Virgin Mary at church Notre Dame des laves in Santa Rose. Emerald forests and tumbling waterfalls make island looks like Hawaii, and it is called sometimes mini Hawaii
Réunion is one of the overseas departments of France, and it is quite civilized, especially good are roads and bus systems Hotels are not cheap. I stay most of the time at Les Sables Noirs hostel recommended by LP at the town of Etang-Sale-les-Bains. Efficient bus system allow to return to my hostel for overnight from any place on Island.
I had bicycle incident on Reunion. I rode my bike in between two rows of stopped cars. Suddenly somebody opened the passenger door right in front of me. I pressed on brakes hard to avoid collision. The bike stopped abruptly but I kept going and almost flew over the handle-bars. The bike stood up on the front tire with the back wheel rising into the air. Then person which opened the door, quickly closed it. I then released the brakes and the bike fell down. It all happened in split of second. When it fell down it badly scratched the side of another car with my bike rear wheel axle. I continued to ride. Furious driver of the scratched car tried to catch me, but I escaped. I know, I do not supposed to leave, even it was not my fault. But nobody speak English here. It will be difficult to explain what happened.
From Reunion I flew to Mauritius and stay there at the town Mahebourg. Local pronounce it Maebu. Mahebourg is nice not hurried provincial town. I planned to visit different parts of county by bus and returned to Mahebourg for overnight, like I did at Reunion. I took bus with folded bike to capitol Port Louis, which is offull. When I tried to enter bus for my return trip. I was told that bikes are not allowed, even folded and even in the bag. The only other transportation available was taxi. Buses here are probably made on special order for mostly small Indian people, who are majority in Mauritius. There is 3 not 2 seats on each side of bus and very narrow passageway. And it is absolutely no place for luggage. In every bus they have driver, conductor and controller, which resemble Indian bureaucratic traditions. I somehow sneaked in one of next buses for return trip, but decided not to explore country, especially as it was described not favoritely in LP. I choose hotel close to shore in order to be able to go to swim in swimwear right from the hotel. But the sea was shallow. I took two commercial snorkeling trips, which were average. Lonely Planet always tried to find something attractive in any place they write about. In Mahebourg they promote local market for Creole ind Indian food. But it was no sitting there. Everybody eat standing, like at American party. Unfortunately I cannot stand for a long time due to arthritis in my back. So I should admit that I did not explore much of Mauritius, but town of Mahebourg was nice.
Plane from Mauritius to Seychelles arrived after sunset, so I slept in the airport. It was quite comfortable. Early in the morning I rode bike from airport to capital of Seychelles, town of Victoria. Main feature of Seychelles landscape are the huge granite boulders. Houses, the same size as these boulders, are squeezed between them. My ferry to island of La Digue was at 1 pm. So I had plenty of time to explore Victoria, which is nothing to brag about. The Island of La Digue is a quintessence of Seychelles. This small island has highest concentration of these famous Seychelles boulders. And the beaches of finest white sand and turquoise water, framed by these boulders, sculptured by nature are best in the world. Unfortunately water is shallow. So snorkeling is quite limited. There is no cars on island. Bicycle is the only means of transportation. Most noticeable animals are the giant turtles. They walk on asphalt roads and beg passersby for treat. I tried to help the turtle stuck in the intersection of two roads but without success. It weight at least 100 kilograms.
Price for accomodation, advertised in Booking.com and local tourist booklets are quite high, mostly far above $100. But when you walk in from the street, not through the reservation systems, then the prices are much lower- 30 euros. I stayed in guesthouse Vanila, which was quite good. Nearby La Passe Guesthouse was at the same price 30 euros. I guess reputation of Seychelles as expensive destination scared off many potential visitors. As a result lots of accommodation stay empty. La Digue do not have airport. The only air transportation is helicopter ($900) to Victoria. Small harbour has quite tricky entrance for ships. Day before my departure a huge ship was stuck there. I walked to this ship from the shore. And I was afraid it will interrupt movement of the passing ships. But next morning ship was towed away in high tide. On my way back to Victoria I spent few hours on Praslin island. This island position itself on the market as place for people who love luxury stuff (not like me). Beaches are good there. But not as many boulders as at La Digue.
Summary
I visited 5 countries in 60 days, which brought number of all visited countries to 135. This trip was one of my most difficult trips. In every country I travel, I tried to find the most appropriate way of traveling from the position of cost, convenience and safety. For independent travelers two issues are most important: accommodation and transportation In some countries like SE Asia you do not have to worry about this issues at all, because all options are plentiful. In New Zealand, on the other hand, the best way to travel is in the rental car with provision to sleep in the car, because everything there should be reserved well in advance.
Here is short summary for countries I visited in this trip:
...,...........................accomod........transport


Madagascar..............+...................-
Mayotte....................-...................-
Réunion....................-..................+
Mauritius..................+..................-
Seychelles ...............+..................+
In Madagascar it is plenty of affordable accommodations, but the only feasible way of travelling is shared taxi. However the drivers squeeze as much as possible people in the car and this was the main way of transferring plague in resent pneumonic plague epidemic. Roads are pretty bad, so the other option is to hire car with local driver.
In Mayotte both accommodation and transportation was not easy. So I have to ride folding bicycle or hitchhiked
In Reunion, there is shortage of good, affordable accommodations, but it has good bus system. So you can stay in the same place if you found good one, and return to it from all corners of island on the bus.
In Mauritius there is enough of good accommodations, but buses are very cramped. Bicycles are not allowed even when folded. It is real chance to get stacked in some remote corner of country with the only option to get out is to hire a taxi.
In Seychelles it is plenty of empty accommodation due to reputation of country as an expensive place, which scared off many potential visitors. So, the best way at least in La Digue is not to make advanced reservation, but just visit few guest houses from the street and ask for price.. Bus system on main island Mahe is good according LP, but I did not try it.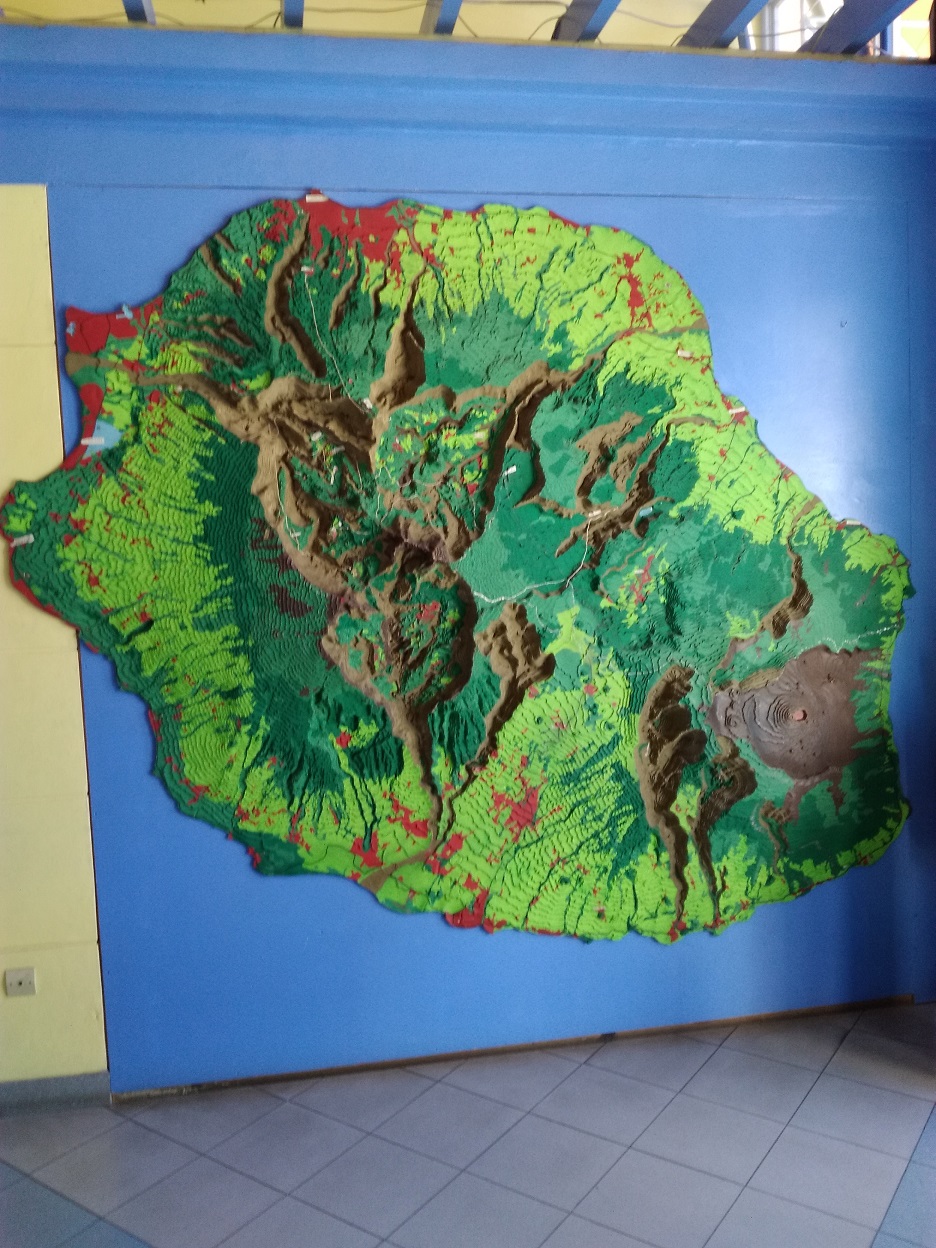 1. Relief map of Reunion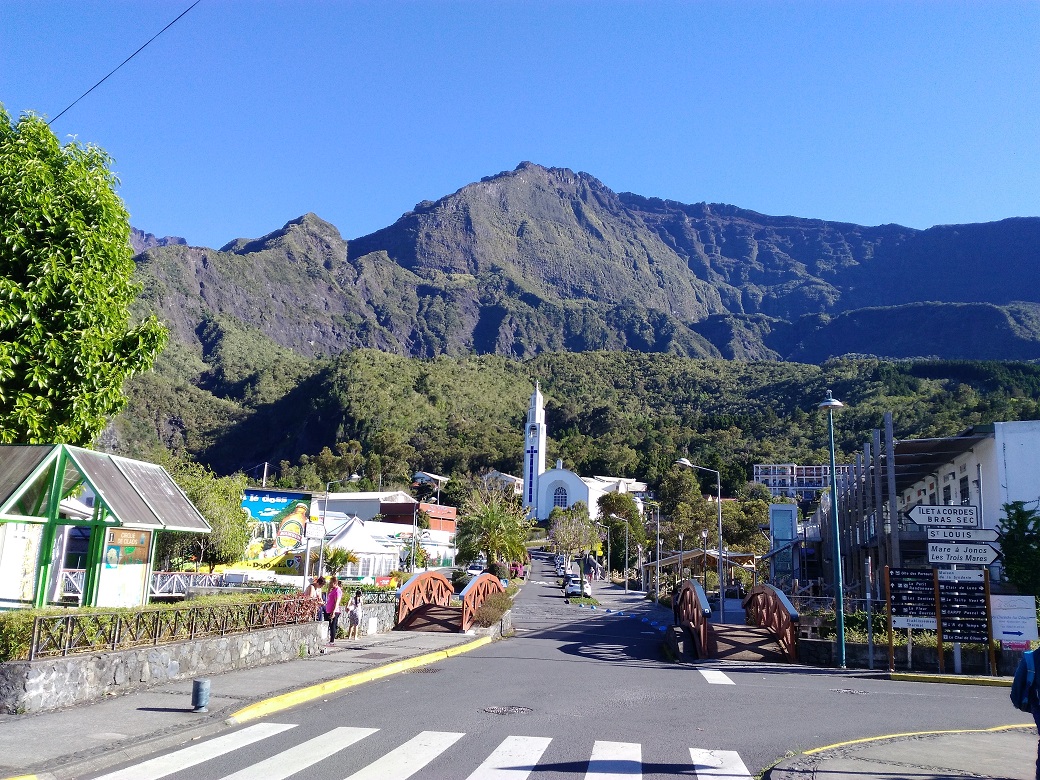 2. Cirque de Cilaos, Reunion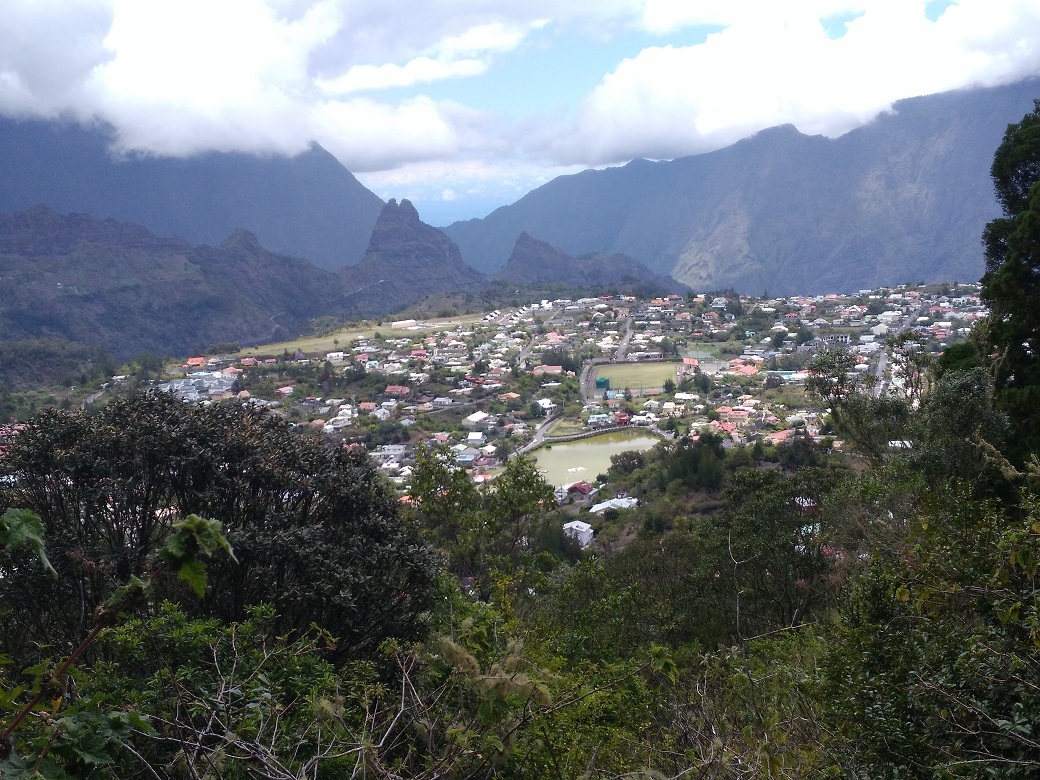 3. Town Cilaos, Reunion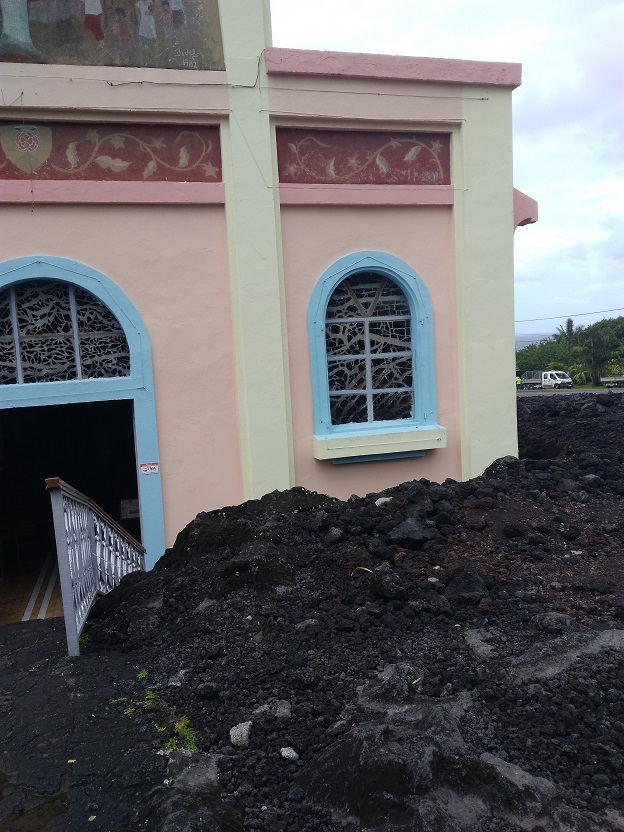 4. Church Notre Dame of Laves, surrounded by lava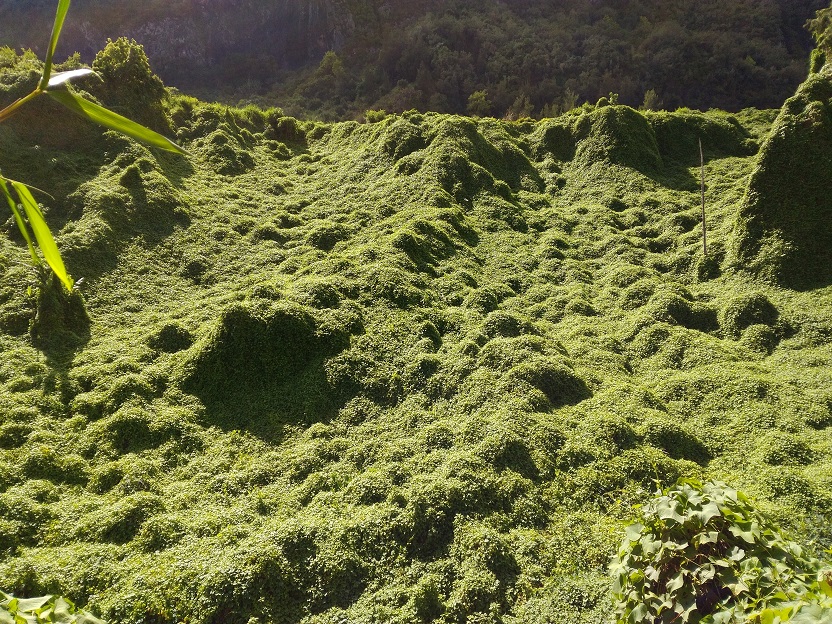 5. Road to Cirque de Cilaos, Reunion.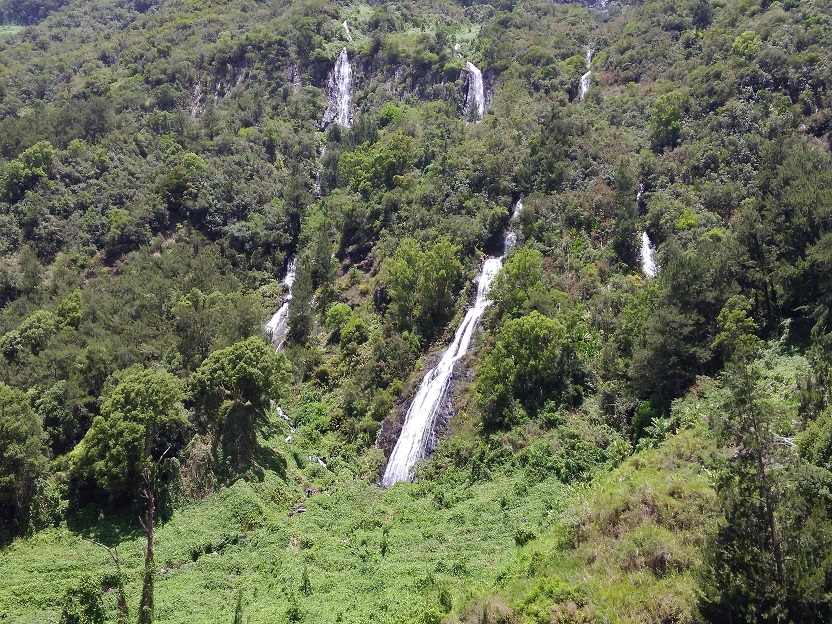 6. Road to Cilaos.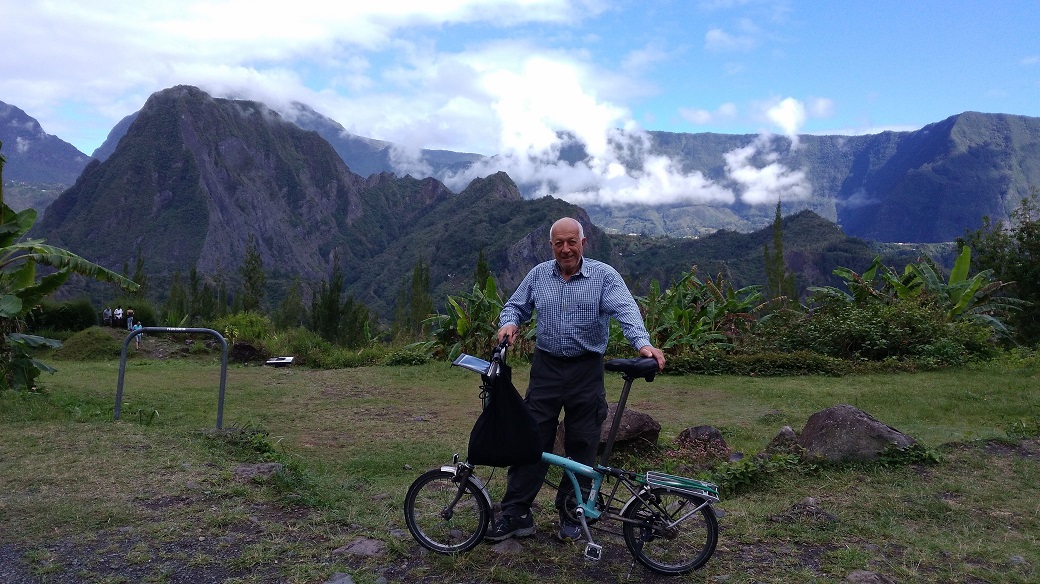 7. On the road to Cilaos.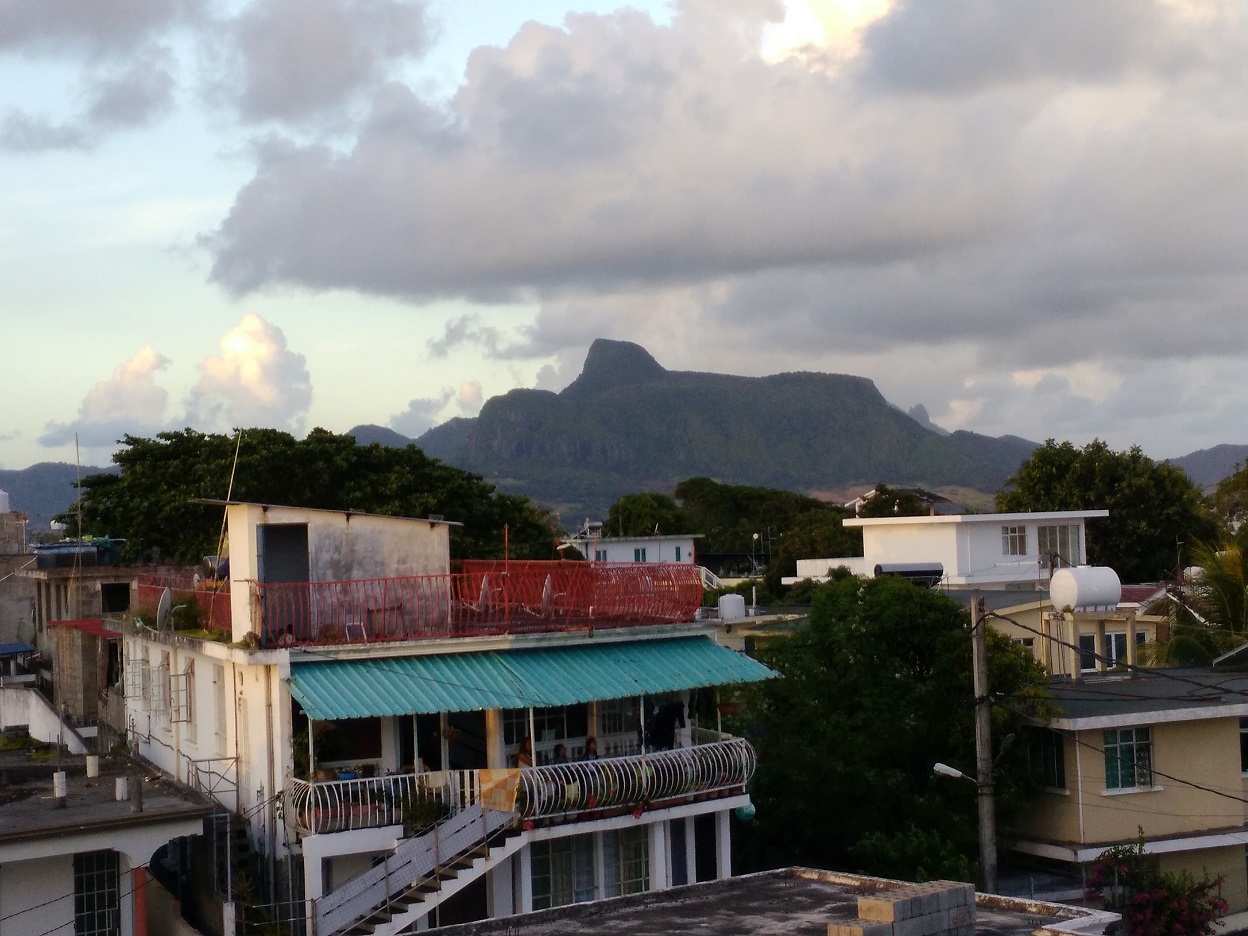 8. Mahebourg, Mauritius, with Lion mountain on background.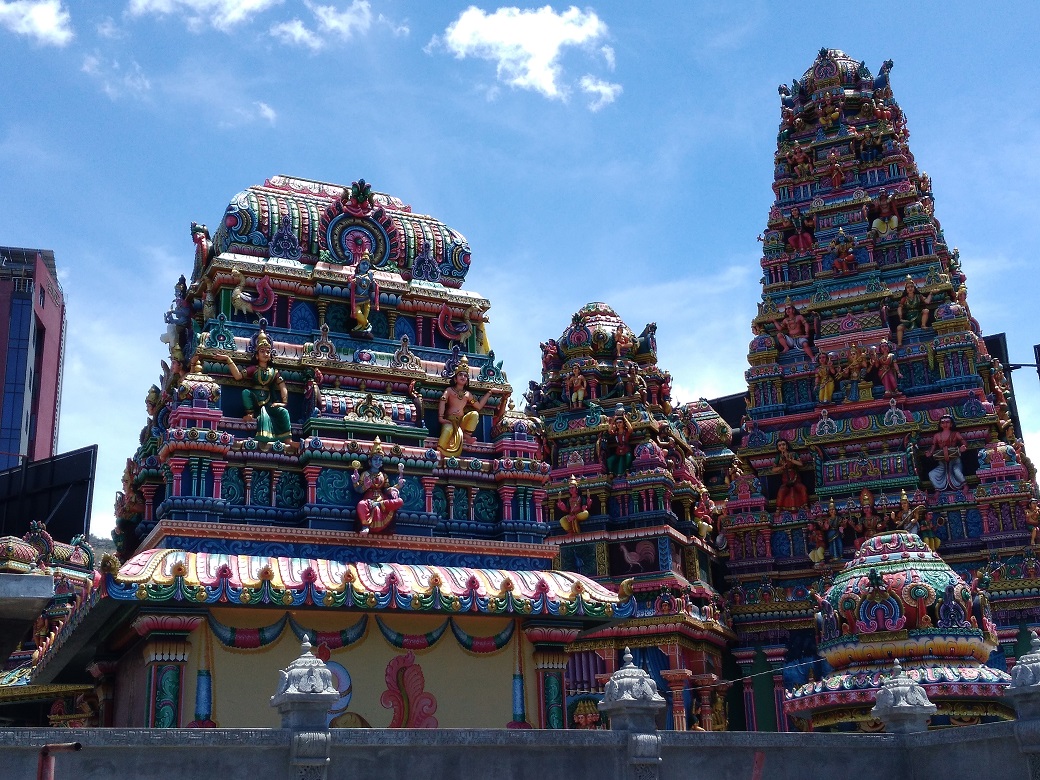 9. Indian temple, Mauritius.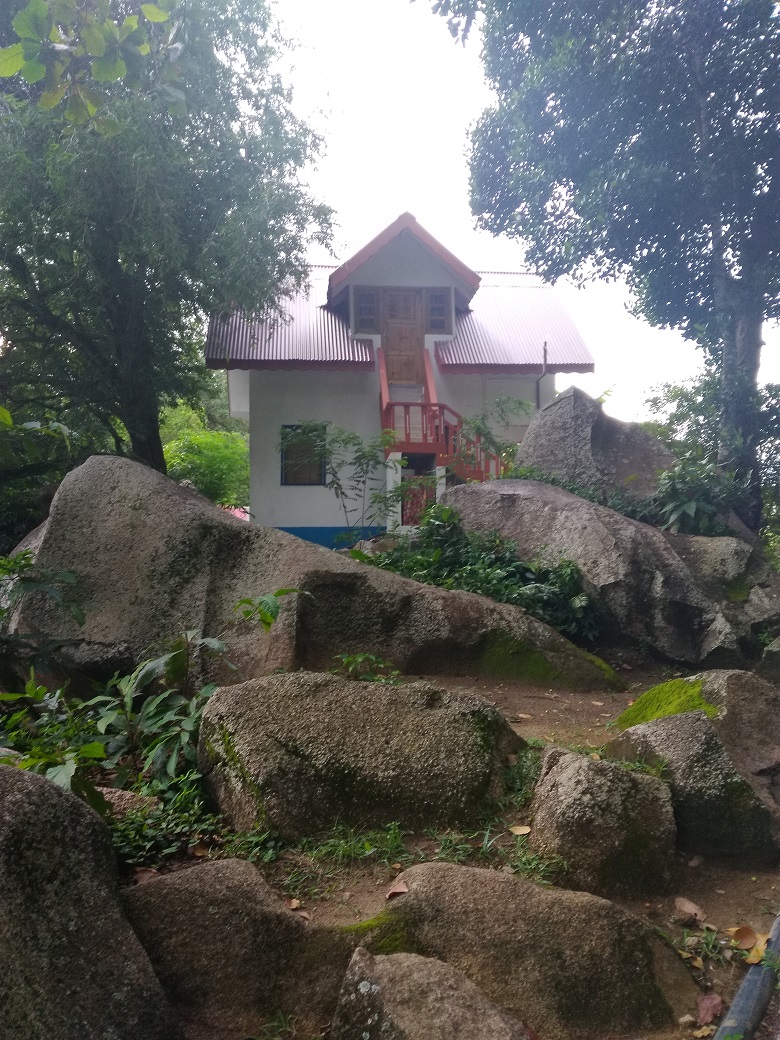 10. Seychelles boulders.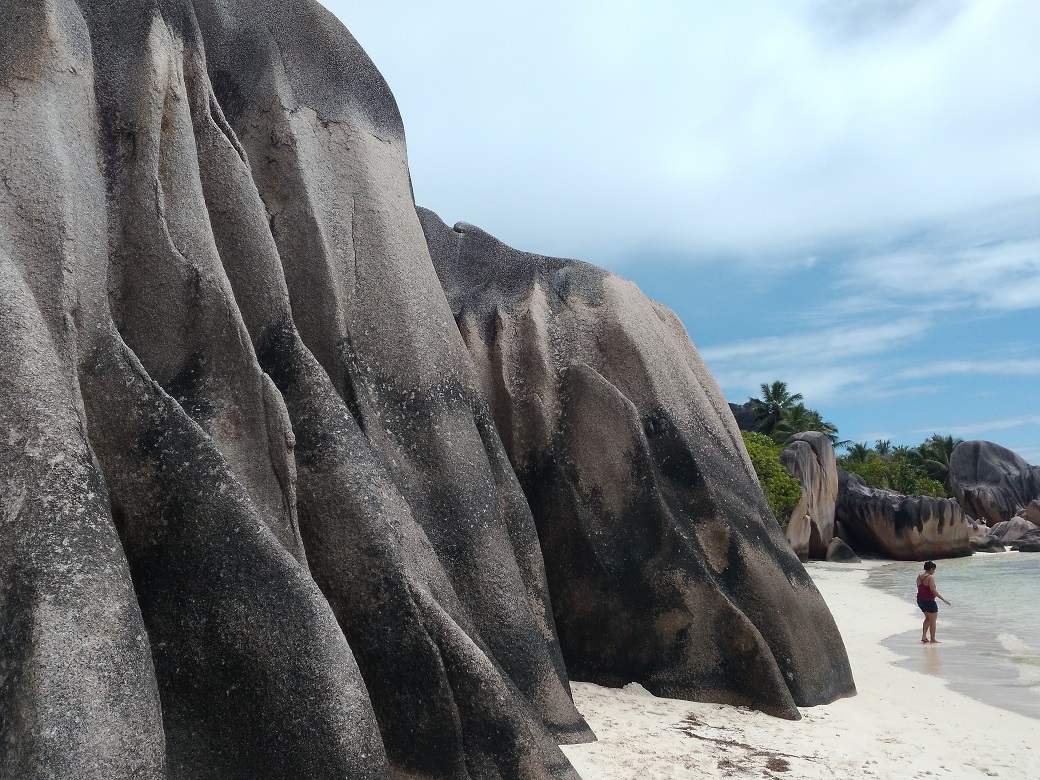 11. La Digue, Seychelles.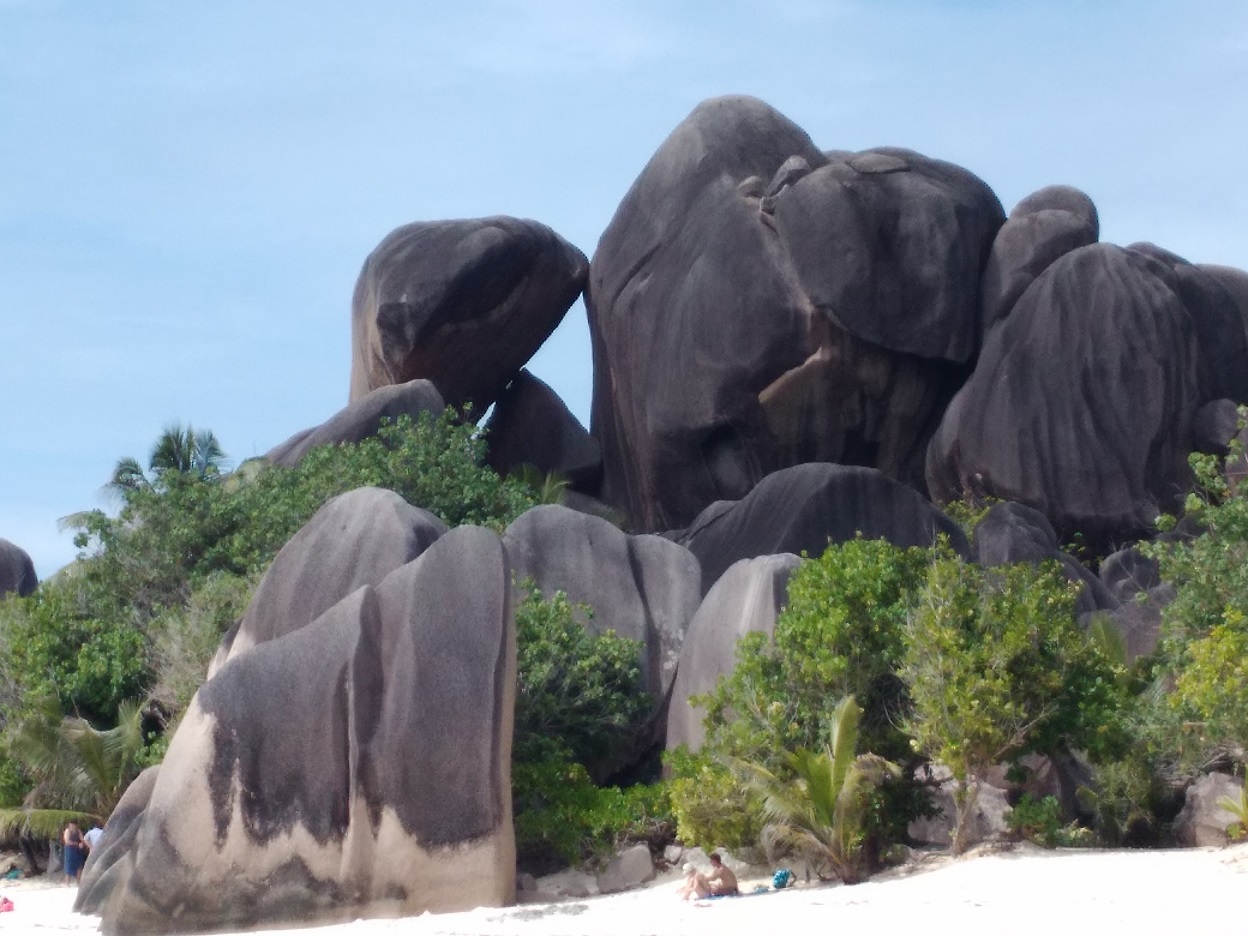 12. La Digue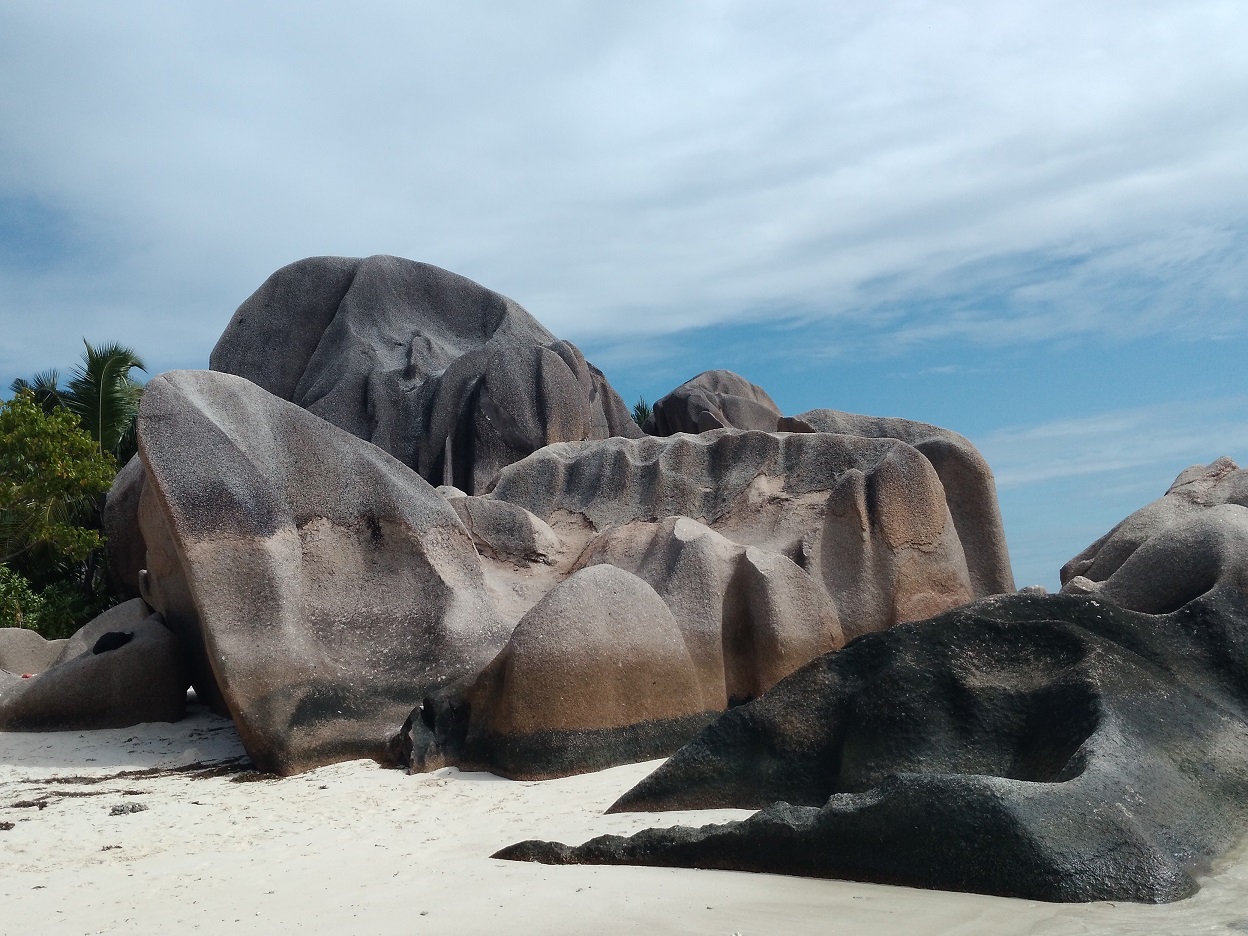 13. La Digue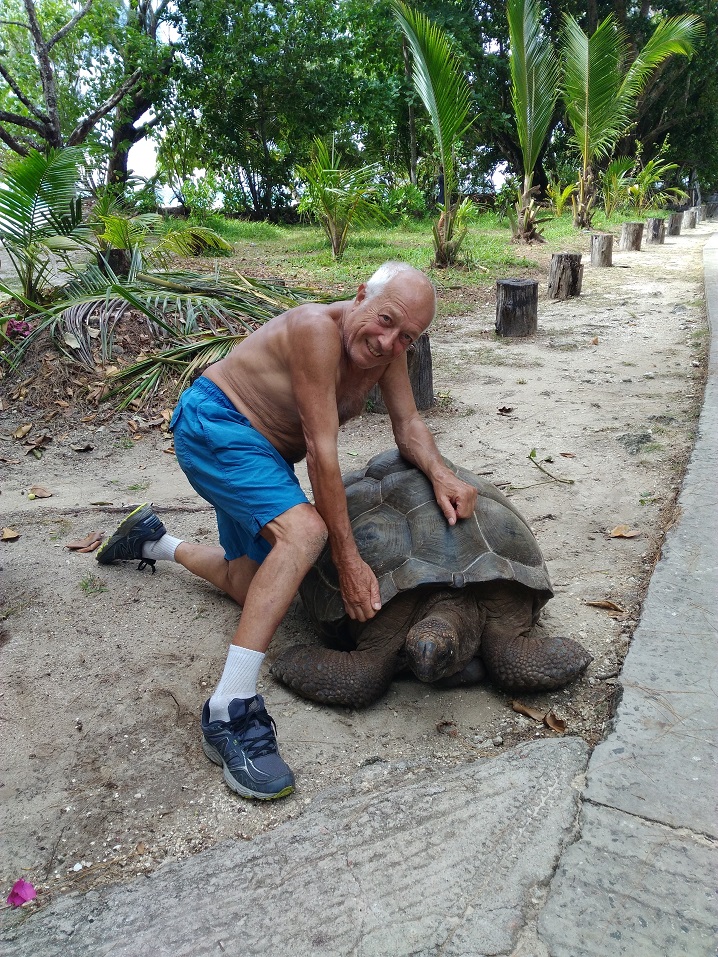 14. I try to help tortle to get out of corner.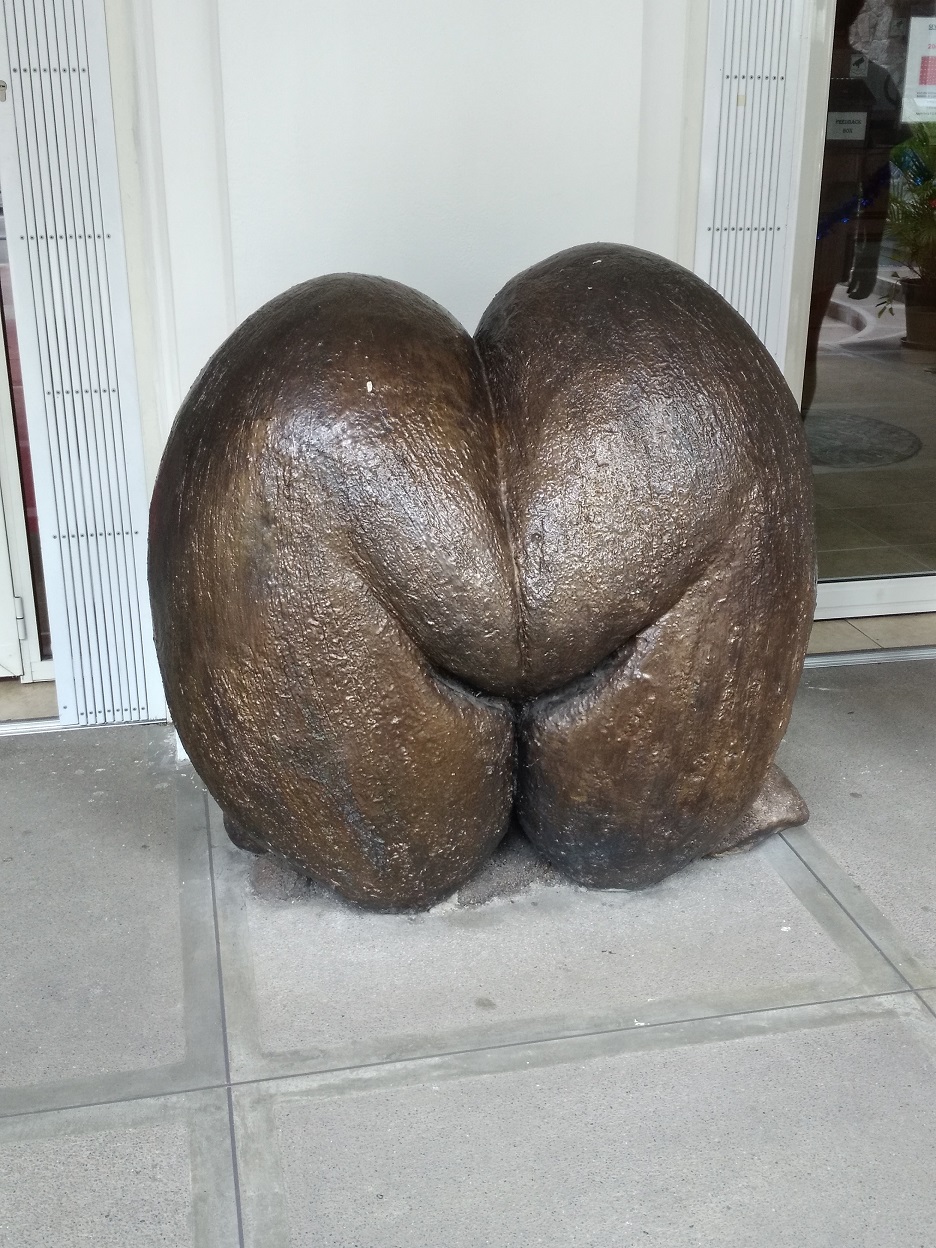 15. Seychelles famous double coconut. Does it remind you something?
Alex Mumzhiu
Washington, USA.
24 Dec 2017
PS: I would like to thank my reader Anthony H. for the idea of this trip.
MARRY CHRISTMAS and HAPPY NEW YEAR my Dear Readers.