Travel Notes from Jamaica
My Dear readers.
I planned long trip to Philippines and Indonesia, but I cannot be absent from home for so long this time. I also cannot live without travel. So I switched to a shorter three week trip to Jamaica. My passion for travel is not only mental. I have also physical, health reasons for travel. I have three inter-vertebral discs in my lower back collapsed, which cause the symptoms of sciatica. The only way to prevent these symptoms is bicycling, nothing else works. So long hours of bike riding in proper "lower" bicycling position is a form of physical therapy for me.
Jamaica almost did not changed in the seven years that passed from my last trip. It probably became a little bit worse. People prefer to get as much as they can from visitors whom they get right now. They do not care to provide conditions for these people to come again. While physical danger probably is not high, the number of hustlers in Montego Bay are quite high. You constantly get approached by them or hear "Hey Joy" or "Hey you" Bicycle is the only way to escape. As a result most of visitors prefer to go to isolated all inclusive resorts and limit their contact with local population to the bus ride from airport to their resort.
As a result of this phenomenon, half of independent hotels are closed, others are ridiculously expensive. I stayed in one of these former luxury hotels, Calabash at The Queen's Dr, not closed yet but probably will be closed soon. Everything in the hotel is broken. Few second after I flushed the toilet, water flowed from the pipe on the side of building to the slope and then down through the luxury hotels at Gloucester Avenue below to the beaches of Montego bay. This is why water is a little bit murky there. View from my hotel is magnificent however and price is only $30. This is the only modestly priced hotel in tourist area of Montego Bay.
From my last visit I remember good places for snorkeling NW from the airport. I went there. Pollution from downtown does not reach here. It goes in opposite direction. I left my stuff in a fish restaurant and went snorkeling. Water is perfectly translucent. Coral and deep canyons between them are quite pretty, but no fish. When I exited water I understood why. Several guys with powerful spear-guns brought fish to the restaurant. They brought even small fish, which usually is left in the sea. I did not have chance to use my pneumatic spear gun. And next night I accidentally destroy it. As I told, everything was broken in my hotel, including door locks. At 5 am I was woken up when somebody opened my door and shout name of somebody, who probably lived in this room before. So next night I found a way to lock my door and put charged spear gun near my bad. Next morning I discovered that the valve in my gun got ruptured from excessive air pressure.
In spite all bad things which I wrote about Jamaica, I would prefer Jamaica to more tamed Dominican Republic because Jamaica has a character! Jamaica is difficult. It is not for everybody, especially it is difficult for independent travelers. There are almost no backpackers here. But some people come to Jamaica year after year.
After Montego Bay I went to Negril. Negril is much better then Montigo. It has few decent and inexpensive hotels. I stayed at Judy House, listed in LP. It is rare backpacker oasis in Jamaica. I met there couple from Switzerland traveling for 1.5 year and German guy traveling for 2 years. In the evening it was lobster feast for all guest for only $12. My single room costs $20. Unfortunately Judy had a reservations and I stayed only one night. Next three night I stayed at excellent German place right at the ocean shore http://www.german-bar.com/indexen.html for $40 Snorkeling on West End of Negril is quite good. It is even some fish there I am traveling counter clock-wise. Tonight I will come to Treasure Beach
Alex Mumzhiu
Black River
Jamaica
Feb 18 2012
Attachment
1. My hotel manager with her adorable one year daughter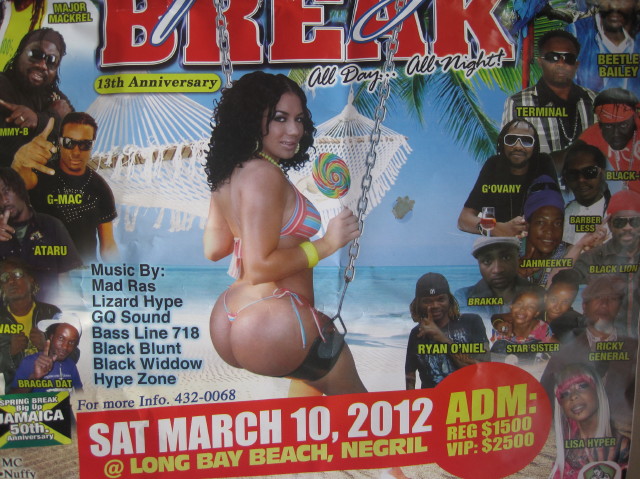 2. Jamaica beauty
My Dear Readers,
My trip is finished. I am at home. After Negril I went to Treasure Beach. Many people consider Treasure Beach as the nicest place in Jamaica. As I already said Jamaica is not an appropriate place for ordinary backpackers. So people whom I met there were the extra-ordinary ones. In Treasure Beach I stay in the Shake-speare hotel, which is another backpacker's oasis, and people who stay there were also extra ordinary: There was one Japanese girl who has traveled for 3 years and another Indian/English lady who traveled for 4 years. People who travel for so long are obviously not poor, but they always stay in cheapest, but safe and clean hotels. This is where you will meet most interesting company. There was also a large proportion of Eastern Europeans, who probably are more adventurous than Western Europeans.
I met there two Slovakians with whom I traveled together for a few days. see picture, and it was the best part of my entire trip. Despite their unwillingness to rescue Greeks, Slovaks are quite nice people. We traveled together to the Blue Mountains, which makes sense, as there is no public transportation there. You have to hire a taxi. On our way to the Blue Mountains we went through Kingston's slum, which is terrible, but the worst slums are in India. From Blue Mountains I rode bicycle down to the North Coast, 1700 meters vertical descent downhill. The road was quite picturesque, see picture. It is heavily promoted bicycling trip:
http://www.bmtoursja.com/ which cost $150. Mine was free, thanks to the folding feature of my bicycle.
In Port Antonio I stay in the same Draper San Guest House, http://www.go-jam.com/drapersan-e.html in which I stayed 7 years ago. It is very Italian place in the middle of Jamaica, run by Carla Gullotta and her daughter Francesca. Now they have an addition in the family, 4 year old Jamani with whom I had numerous bicycling races, see picture.
My last day I spent in Montego Bay before my flight home and this is where I eventually found an excellent place for snorkeling. I hired a taxi to take me from my hotel to the Dead End Beach near airport and swam toward concrete structure in the ocean holding lights for navigating the airplanes approaching the airport. There is a terrible noise when airplanes are flying a few meters above you. This is probably why this place is not popular with tourists and locals. It was a lot of fish under these concrete structures. From there I swam to Montego Bay and exited the water at one of the luxury beach resorts located on the shore. To big surprise of receptionist I went through the lobby to the Gloucester Ave and across it to my hotel, Caribic House, dressed only in swim suite and with fins, mask and snorkel.
Attachments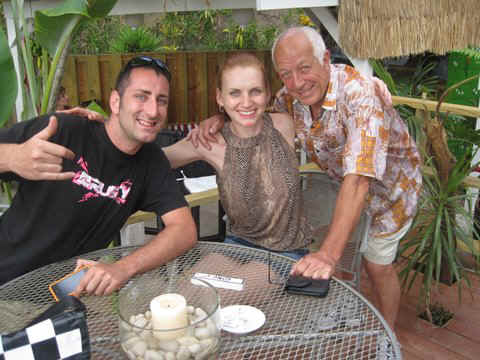 1. My Slovakian friends Silvia and Peter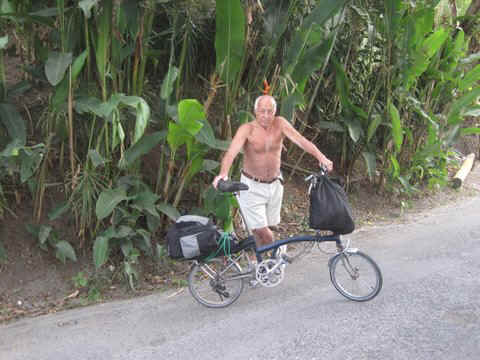 2. On the road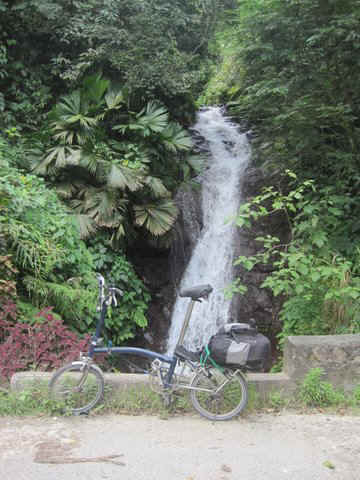 3. Blue Mountains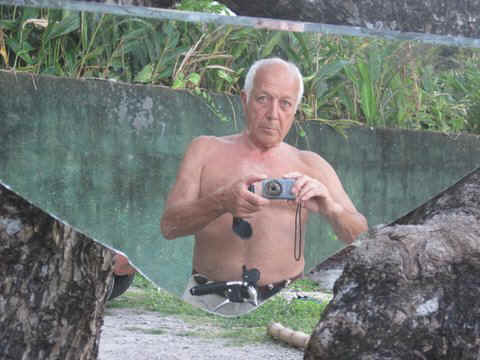 4. Unexplainable optical phenomenon at Blue Lagoon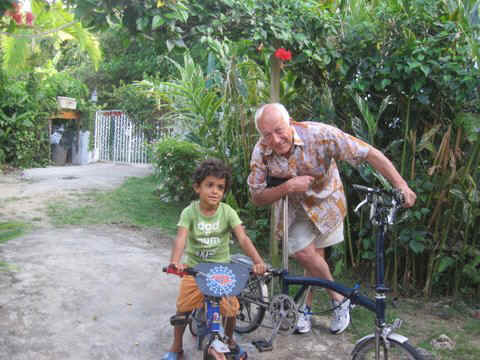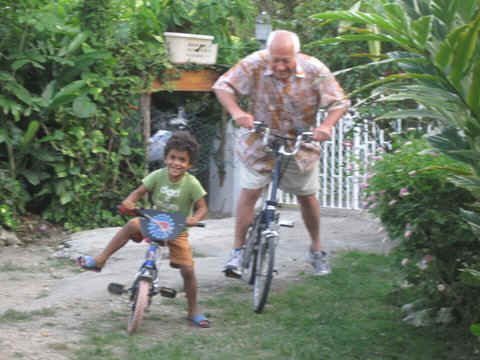 5 6. Bike race with Jamani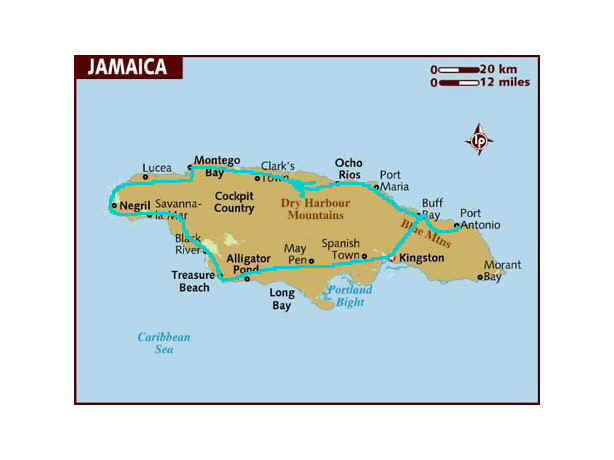 7. Map of my trip
Alex Mumzhiu
Washington USA
March 7 2012