Travel Notes from Guianas Mar 19 - Apr 12, 2019
My last trip was in Guianas, region on North-Eastern corner of South America. I visited three countries:
Guyana, former British Guiana
Suriname, formerly Dutch Guiana
French Guiana, overseas department of France
Those of you who are tired of hordes of tourists should go here. There were almost no tourists there. Temperature is 30 degree C all year round and terrible humidity. Feels like 34C. No reliable tourist infrastructure. I tried to join some tours, mentioned in tourbooks, but I was not able because they need at least two people to participate, but it was only me.
I flew to Georgetown, the capital of Guyana from Washington for $360 with overnight stop in Port of Spain, Trinidad and Tobago. I slept in airport followed recommendation from The Guide to Sleeping in Airports. Guyana, used to be English colony. But in 1664 under treatment of Breda, English exchanged it for Dutch town New Amsterdam in lower Manhattan and later renamed it to New York. Another significant event in Guyana history was the 913 people suicide-murder of Jim Jones cult followers in 1978, known as Jonestown Massacre.
In Georgetown I stayed in Julian Guest house for $25. It had good reviews on booking and in fact was good. There were no Western style restaurants in Georgetown except for few Burger Kings and KFC. So I survived on beer and salt fish sandwiches, which I bought on nearby market and brought to my hotel. In the evening after you take a shower and switch on fan, it was comfortable enough. After African slave revolt in 1796, foreign workers from China and India were brought to work on plantations. Many of their whimsical temples peppered town.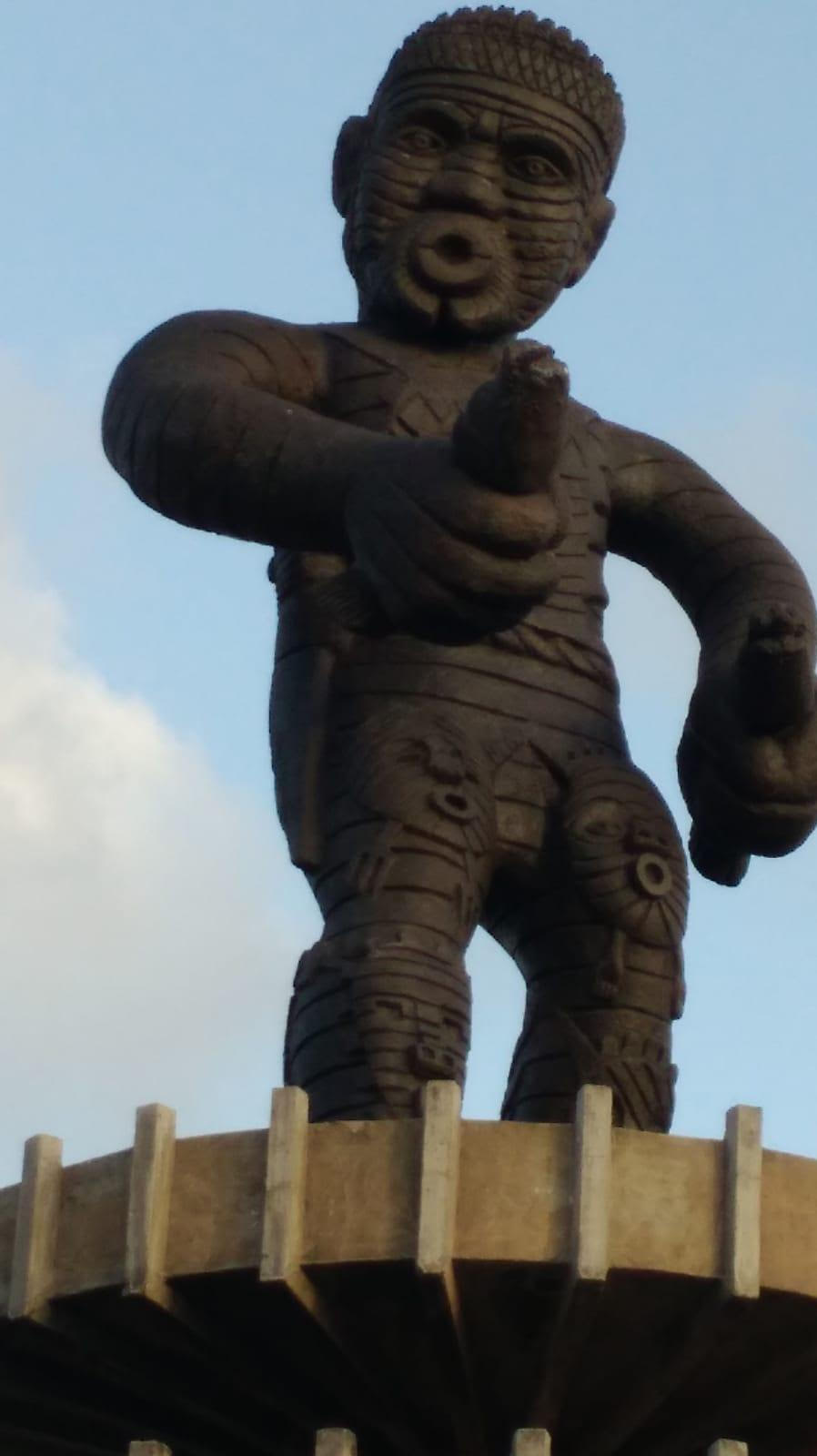 African slaves revolt monument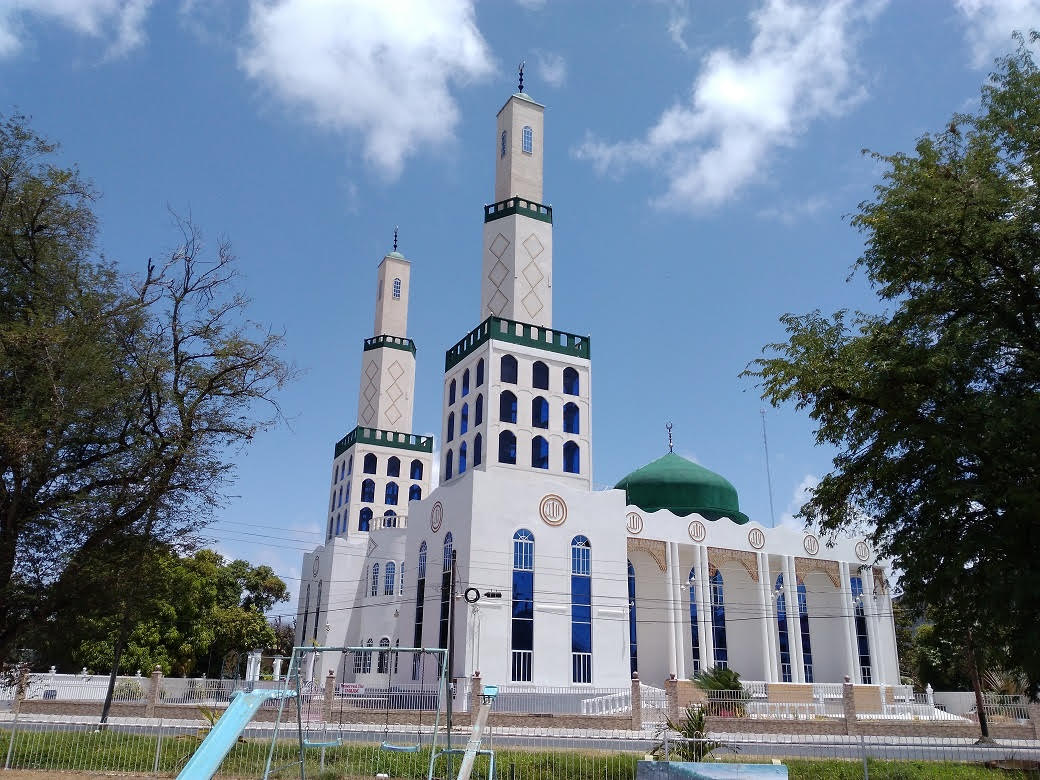 Georgetown mosque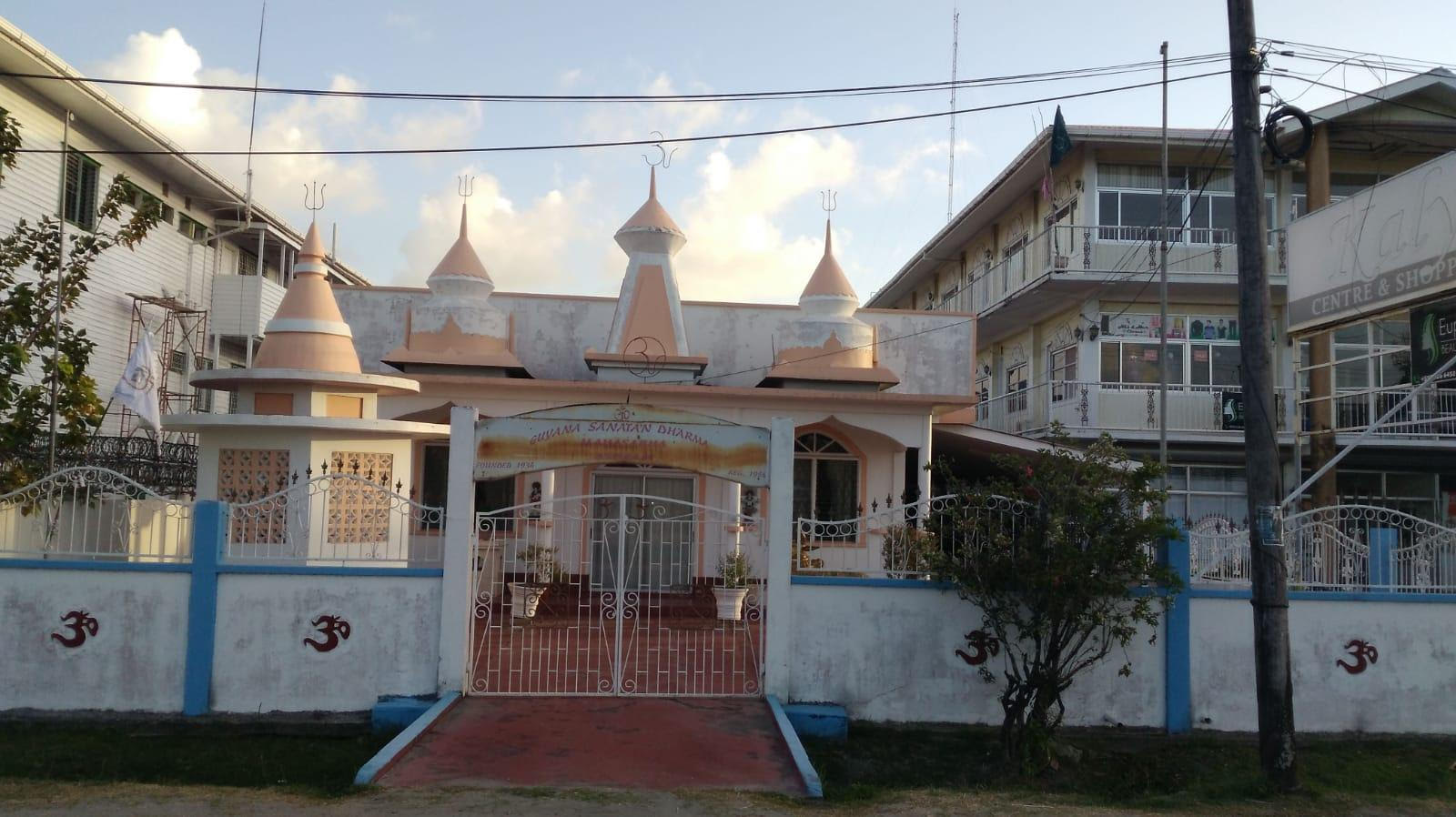 Georgetown Indian temple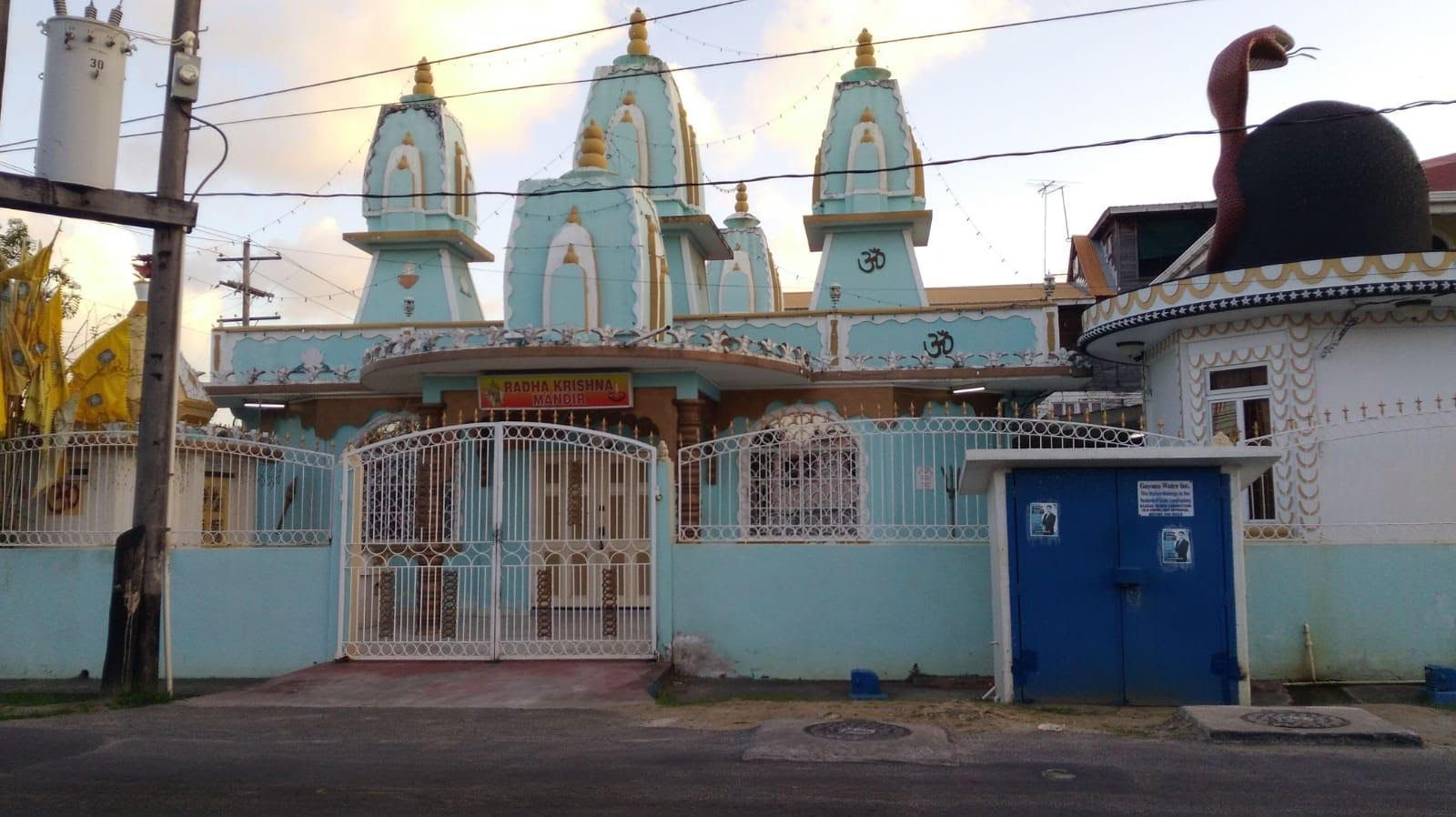 Georgetown Indian temple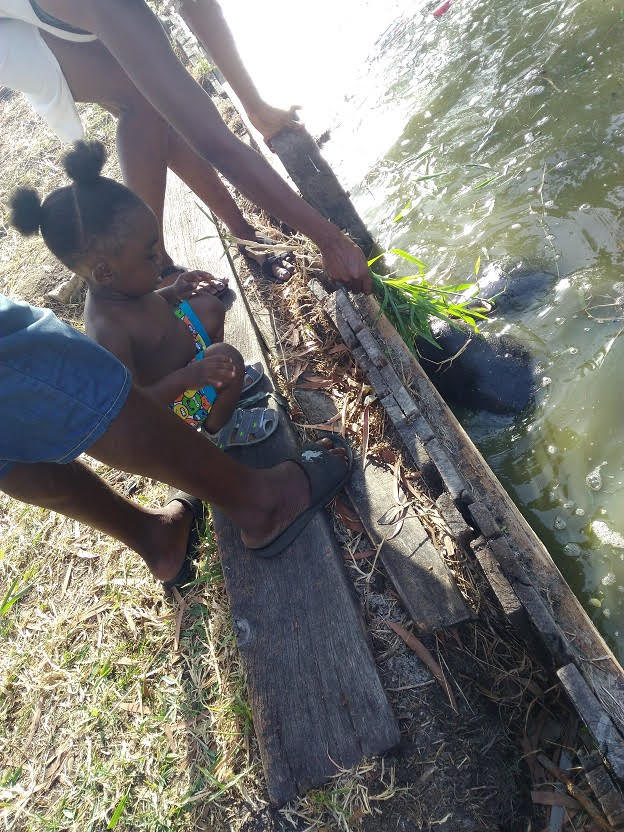 Feeding manatee in city park
I took overland trip to Suriname. Paramaribo, the capital of Suriname appeared as a big surprise. It was clean. Very clean, especially compare with Georgetown, and it was definitely Dutch town with statue of fat man on Onafhankelijkheidsplein (independence square).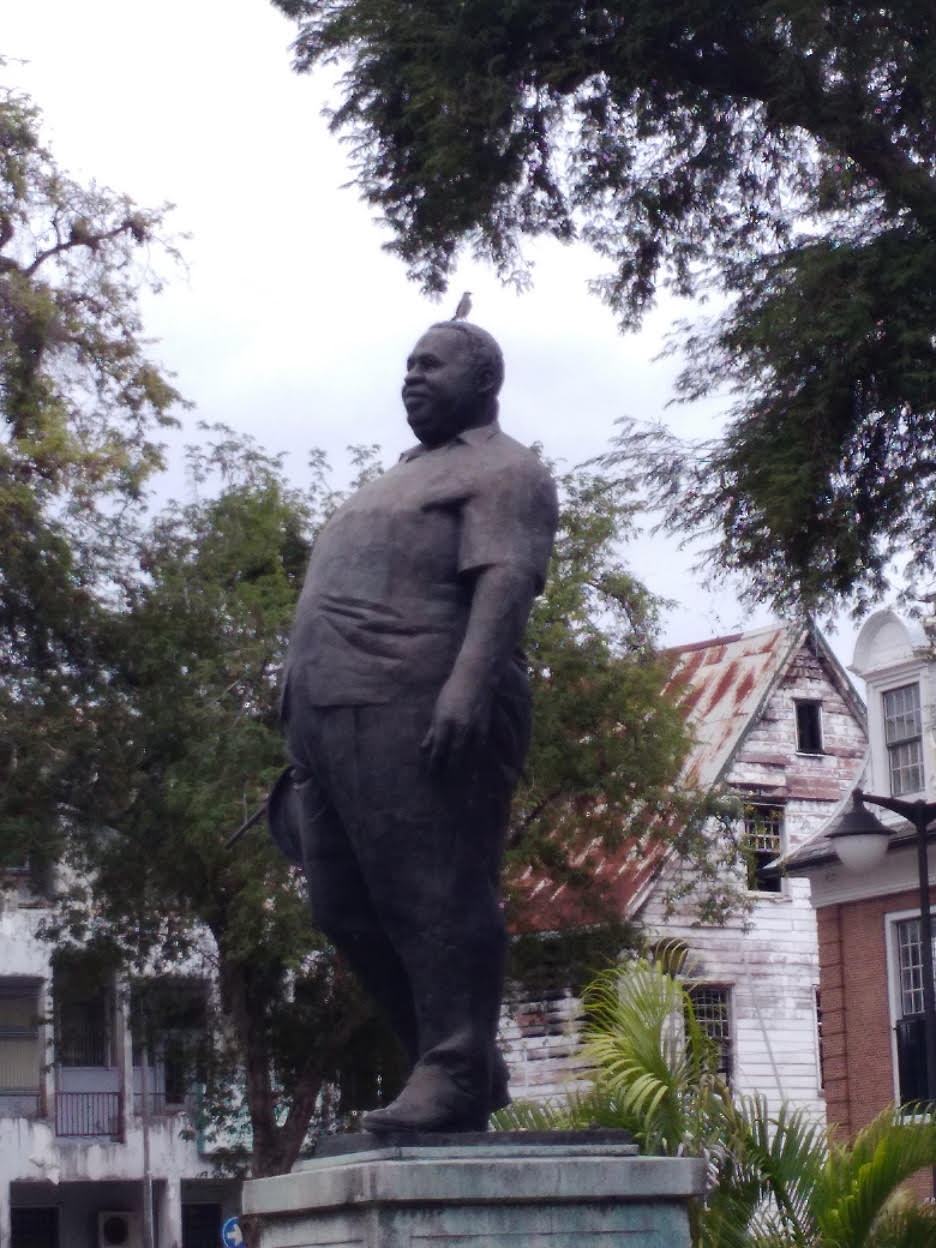 All signs are in Dutch. Paramaribo is proud of its religious tolerance. Synagogue and mosque standing side by side in city center.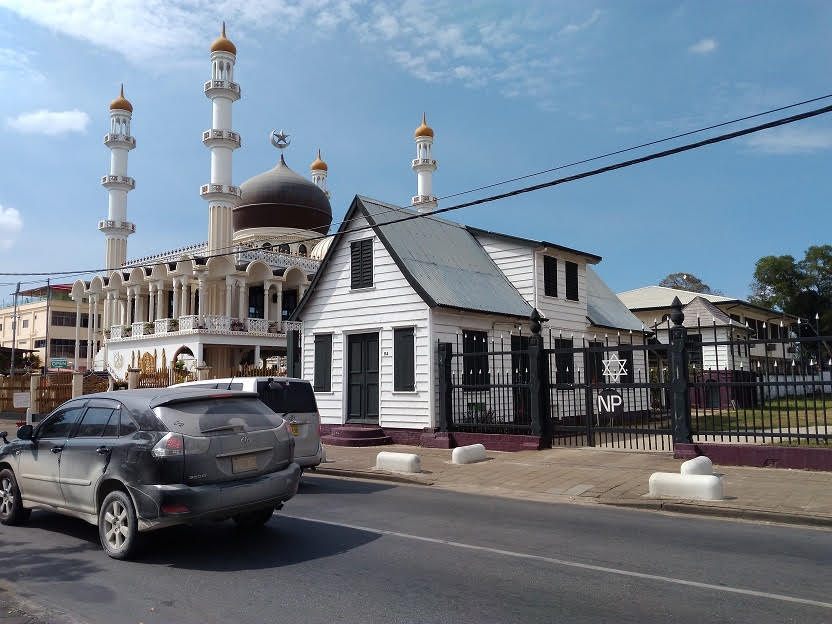 Paramaribo is nicest of three Guianas capitals and in keeping up with Dutch traditions, it is more or less bicycle friendly. There are few bicycle routes here. I took one, but instead of going back by ferry across the river I rode bicycle across huge and tall bridge, on which bicyclists normally do not go.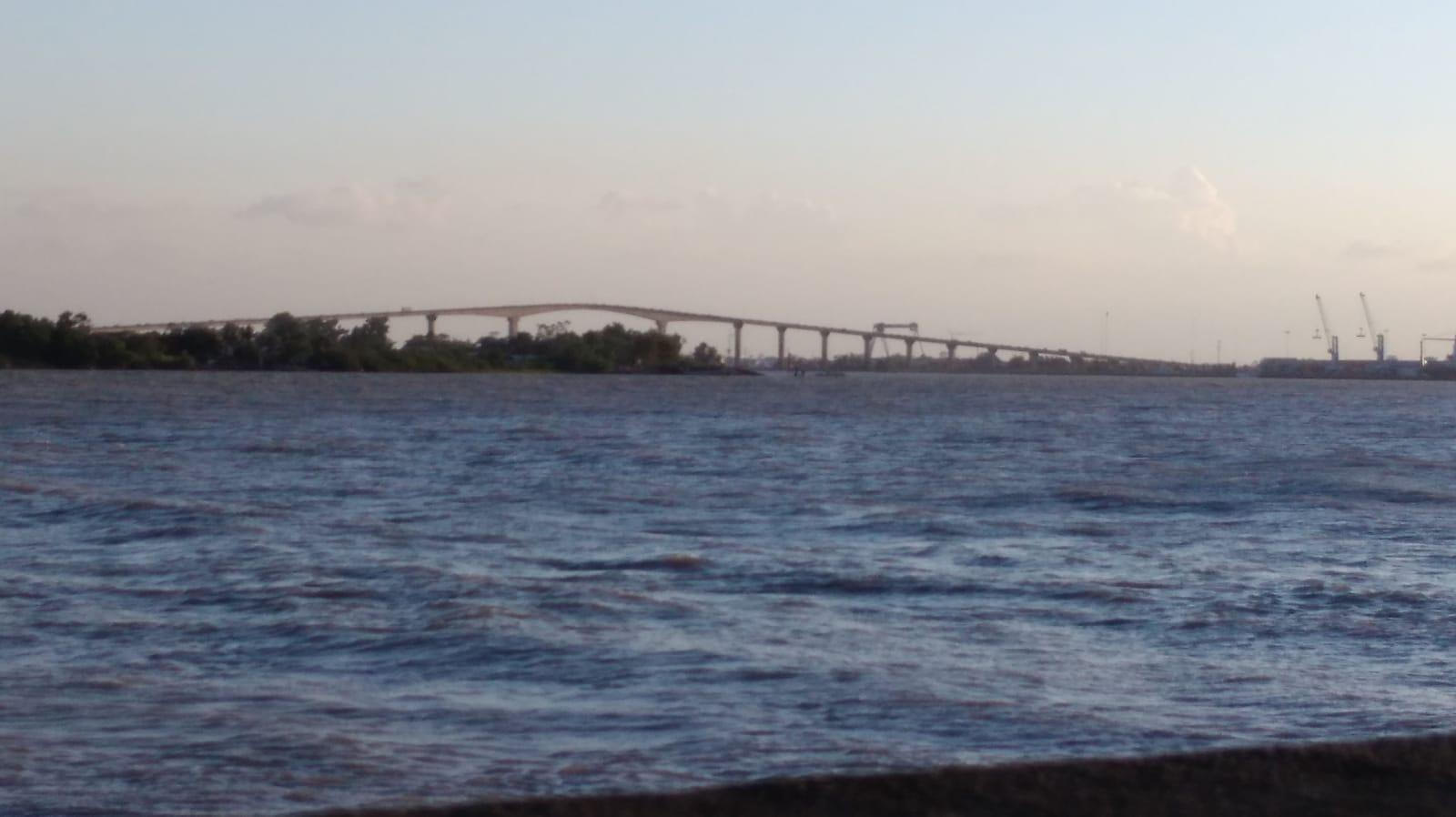 It was no shoulders on bridge, but because the traffic was slow, I was able to do maneuvering around slow moving cars. All drivers were cheering me. I stayed at hostel TwentyTy4 in single room for $15. It was OK.
According to tourbook overland trip to French Guiana was not easy. So I decided to fly. But to my surprise it was no flights between two these neighboring countries. You have to fly through Paris... Tourbook said that it is no public transportation between border and capitol Cayenne. To my luck it was shared taxi, which brought me to place where my Airbnb supposed to be. It was no Airbnb. I did not have local sim card, so I could not call host. It was evening and I was somewhere on outskirts of the town. It was hot. Not a pleasant situation. My navigator barely work there, so by using map and compass I found hotel Central for 79 euros and stayed there for two nights. Cayenne failed to my expectation, no French bistro or French bakery. Absolute majority were typical Chinese eateries. Main attraction of French Guiana is space station, half of the world commercial satellites have been launched from there.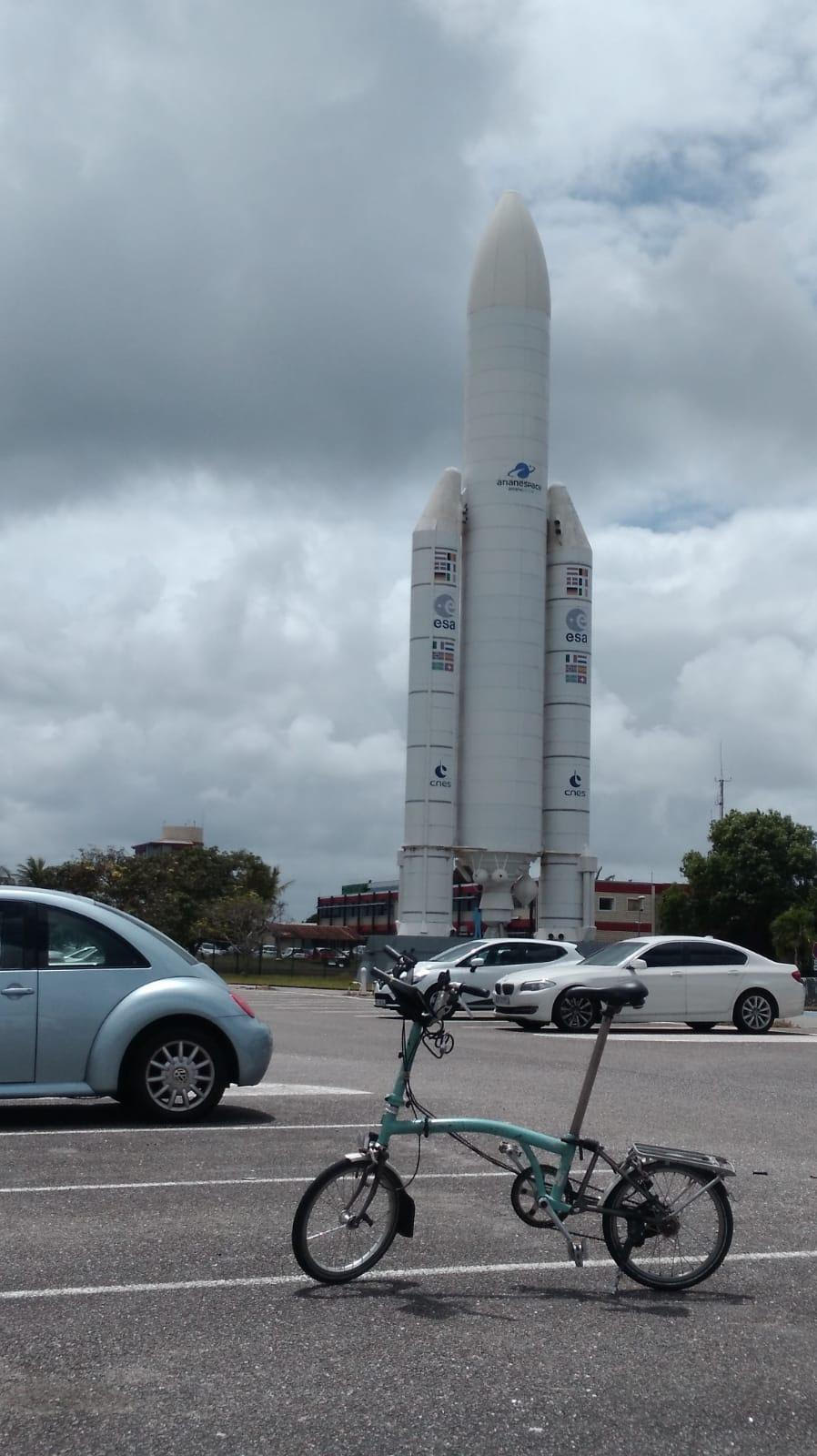 Kourou space center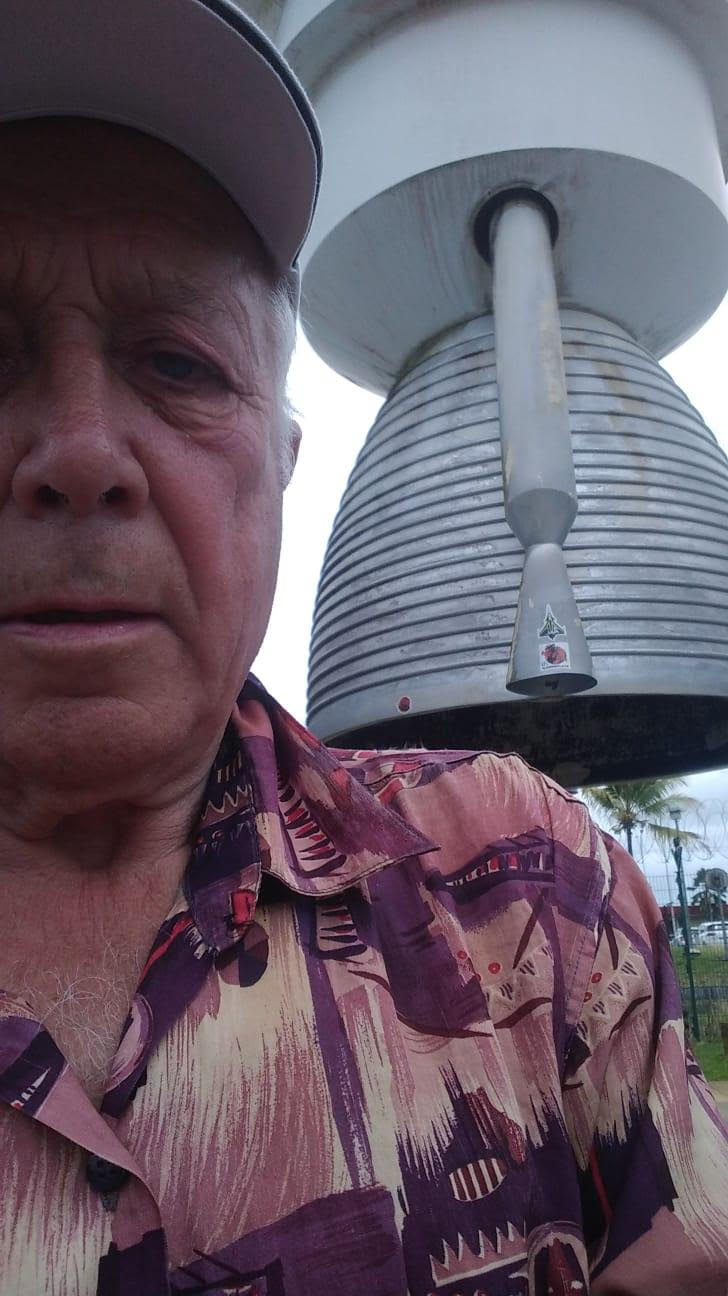 Alex under nozzle of satellite main engine
It is located in town of Kourou, 50 km from Cayenne. I attended Russian Soyouz launch. Observation point was 18 km away from actual starting platform, so we did not see much. But it has a canopy, to protect observers from baking sun and video of launch was projected on large size screen. I also visited excellent space museum. I was the only visitor there.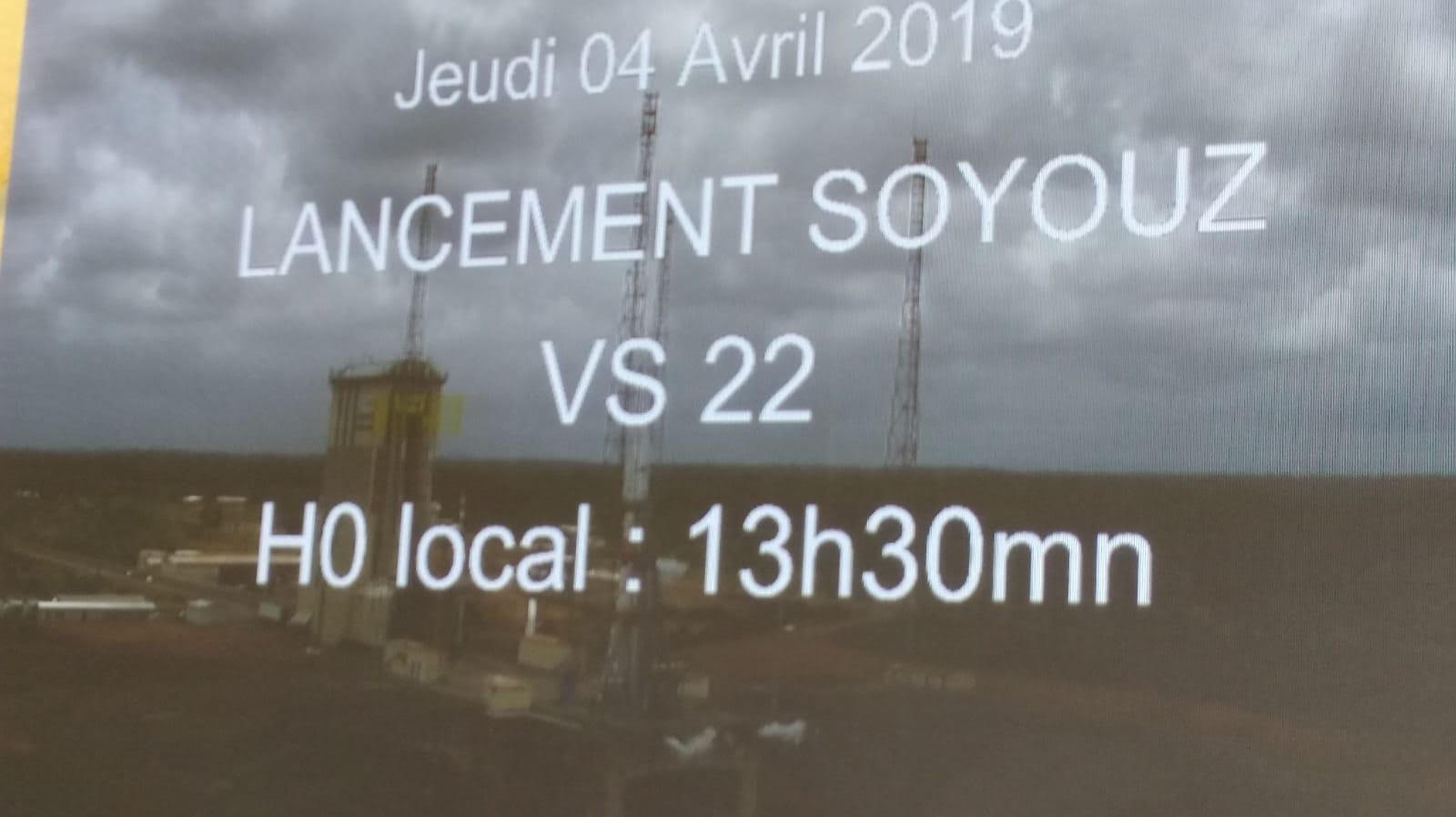 Another main attraction of French Guiana is former penal colony on the Iles du Salut, one hour boat ride from the shore. It became famous due to book Papillon written by Henri Charriere and movie with the same name. All tourbooks warn that there are no swimming beaches at all three Guianas, but they did not explain why. Now I know why: Several affluent rivers flow into ocean here and because of this ocean water is intensively brown. Only 50 km from the shore at Iles du Salut you could see you hands, but not feet in water. Island definitely has some charm, but on big catamaran named Promaritime which sail here it were few locals and no tourists.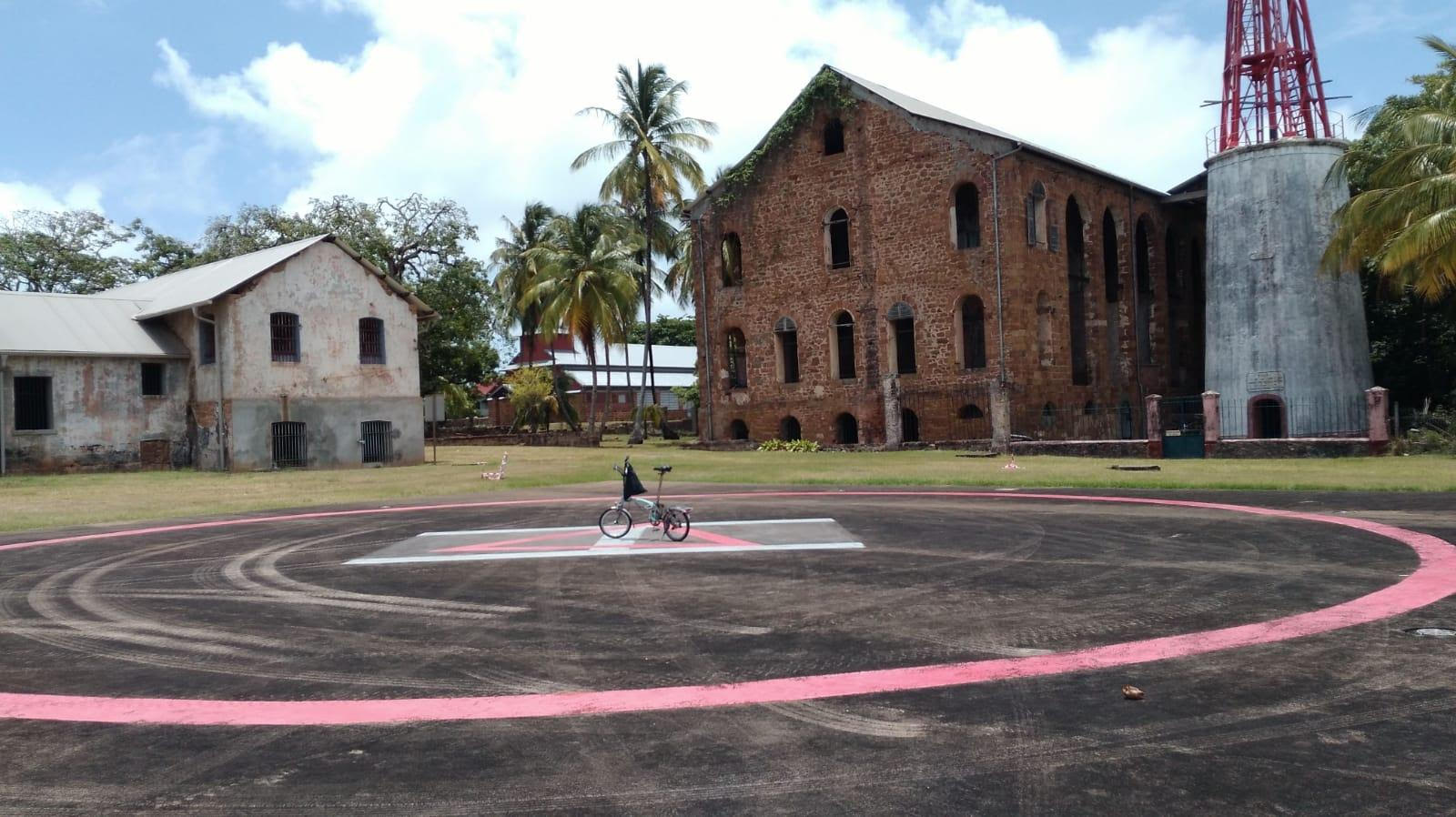 ormer penal colony on the Iles du Salut
Next challenging task was to return to Suriname. My return flight was from Paramaribo, Suriname. As police and my host affirmed me, it was no public transportation from Kourou to the border, 150 km. The only way to hitchhike. In the morning of Saturday Apr 6 I went on highway and started hitchhiking. Nobody stopped. Sun was incinerating. I tried to display 50 euros banknote. No reaction. I took my walking stick, which I carry for walking long distance, like in airports. I tried to move to pity, these stony-hearted drivers. No reactions. I realized that I cannot survive for long under this burning sun. But what can I do? My Airbnb was already rented to next person. Try to return to Cayenne, but it is big chance that nobody will stop again. Terrible situation. Eventually shared taxi, of which nobody knows, stopped and saved my life. Lonely planet recommend to rent a car in French Guiana. It will be cheaper, they say. Definitely it will be safer.
I returned to Paramaribo. My flight out of Suriname was at 5:00 in the morning on Apr 11. And airport is 50 km from Paramaribo. So I decided to spent couple nights in Palulu camping located in jungles, five km from airport. http://palulucamping.com/ I carried tent, but it will be too hot in tent in such hot climate, so I rented two store villa for 40 euros. It was surrounded by jungles and was stunningly silent with some cicadas breaking this silence. Excellent place, run by nice Suriname/Holland couple. My plane arrived at Port of Spain, Trinidad and Tobago at 6 am. And my flight out was at midnight. So I decided instead of sitting in airport, to ride bike to city Port of Spain. I arrived in city at lunch time. It was typical business lunchtime situation. Ladies, mostly ladies, in business suites were having their lunch in indoor and outdoor cafes, like in DC. But all of them (almost) were black ladies. I returned to airport by bus, thanks for folding feature of my bike. And I cannot believe myself that I went through this difficult terrain by bike few hours ago.
My trip is definitely cannot be quailed as pleasure or leisure trip. It was survival trip. I do not feel sorry what I took it. I lost weight and get in shape. But I definitely will not go to Guianas again.
I would like to thank Tony H. whom I followed in this trip, as well as my Madagascar trip. Thank you Tony for inspiration.