Browsing the Internet I discovered at one Russian site, that I am not a Georgian, but an African American and also grandfather. See attached quotation below. Another mentioned person is hithhacker Grigorii Lapshin, I know him.
Alex
---
Сейчас вместе с отцом бродили по сетевым запискам эквадорских путешественников. Вроде весёлого дедушки Мумжиа (это не грузин, а американский негр), прошедшего 95 стран, или безбашенного нашего соотечественнка, легко находящего общий язык с местными при помощи русского, жестов и отдельного вкрапления английских и испанских слов. Автостопом по латинсокй америке. пешком через Анды. Сердце тихо запело-заныло... Путешествия - лучшее, что может быть в моей жизни.
Full text is at:
http://search.rambler.ru/srch?words=%EC%F3%EC%E6%E8%F3&hilite=DC2C2BE4
Alex Mumzhiu
North America on shoestrings
I call this report "North America on shoestrings" by analogy with famous Lonely Planet (LP) series. LP does not have book called "North America on shoestrings", it sounds ridiculous, but my friend Vladia and I proved that it is possible. You may remember Vladia, from the trip to Mongolia of 2003.
We went to Florida Keys on Feb 21. The entire trip was possible due to the generosity of my daughter Jennifer who gave to Vladia her bonus ticket on Independence Air Airline, where my daughter works. We arrived at West Palm Beach about noon of Feb 21. We assembled our Brampton bikes and we rode them to the bus station. When we took bus to the Leiton, a small town 67 miles North from the Key West. It was a complete darkness when we arrived. We rode our bikes to the Long Key State Park and took the only available campsite at the campground. I called this campground in advance and I have learned that all campsites were reserved, (the price is $30 per simple tent site). In the morning we did not wait until the ranger would kick us out and left campground. The campground is located on the ocean side of Long Key Island. We went on the Bay site. It was the same sea and the same bushes, but it was nobody there, while state campground was filled with sweeeeeeetest American retirees. They are nice people, but Vladia and I definitely did not belong where. We erected tents and went for snorkeling and some under-water hunting. I was eager to try my new under water gun. Most of people, especially Americans, hate the under water hunter, but admire fisherman. It is unfair, we shot many times less fish than fisherman and we risk our lives sometimes, while tricky fisherman are sitting at the safe shore and are cheating the poor, simple minded fish. Soon we get enough fish for dinner. The under-water gun proved to be much more efficient than the sling which I used before.
On my last dive I saw a piece of large fish under the stone. I did not have air anymore and I even had no chance to investigate what kind of fish was it. However hunter's instinct was stronger than the voice of wisdom and I fired my gun and immediately went up to the surface. Fish went in the opposite direction from the under the stone and it pulled my gun through the attached string with such force that I have to drop my gun. When I surfaced I found angry wounded shark who pulled my gun through the attached string to the open sea. I cannot afford to lose my gun and I grabbed the shark's tail.
Shark turned out on me and bited my breast and started to tear my flesh off, like sharks always do it in the movies.
It was terrible, even I did not feel any pain. In a few moments I realized that until I will let shark's tail go, the creature will continue to tear my flesh away. I let shark's tail go. At the same moment the one of prong from my three prongs arrow, which was stick into the shark's tail brook away. So, my gun fell down to the ocean floor and shark swim away.
When I came to the shore my breast was heavy bleeding. Vladia tried to help me, but thinking of you, I asked him to make the picture first, see attachment. Next day we went hunting to the same site. My wound looked bad but was not bleeding. I found the same stone and dived there. My shark was there. This time I fired to its head and Vladia and I pulled shark to the shore. One prong from my arrow, lost yesterday, was still sticked into its tail. We ate different shark's meals for two days. I know some of you will condemn us, but fisherman do it all the time and nobody condemn them.
We spent four happy days at that illegal camp site. In the morning of fifth day we made a fire to prepare our morning buckwheat serial. Our fire was too large and it was noticed by rangers. They came to our camp site and threaten to arrest us or/and fine us with large fine for trespassing on Florida State property, for making fire and for damaging trees. I know that in the situation like this you have to cooperate with authorities in order to avoid harsher punishments. And I helped to put fire down with buckets of ocean water. My friend Vladia is the most kind and gentle person in the world, but he has one dangerous hobbit. He likes to argue with authorities. At one moment when I came from the shore, I found Vladia fighting with the ranger who wanted to use our bottled water to put out the fire.
Ironically our punishment was ridiculously small. We was ordered to collect one bag of garbage from our camp site. That's it. As we learned later Vladia's Russian passport probably was the reason. The ranger who stayed with us until we finished the collecting thrash, told us, that it is many legal and illegal Russian emigrants working there and all of them are proved to be hard working and law obeying people. And all Russian women who work here are so beautiful that any of them can be a model, he told us. He became very emotional at this moment. So Russian women saved us again!!!
Alex Mumzhiu
Saint Petersburg, Russia
Marth 17 2005 11pm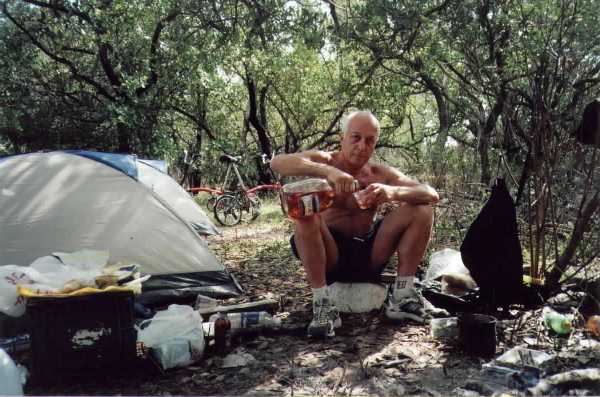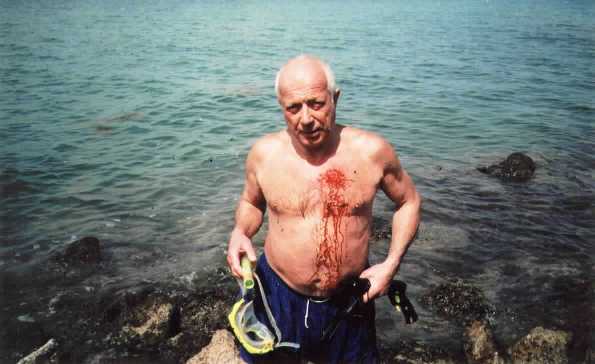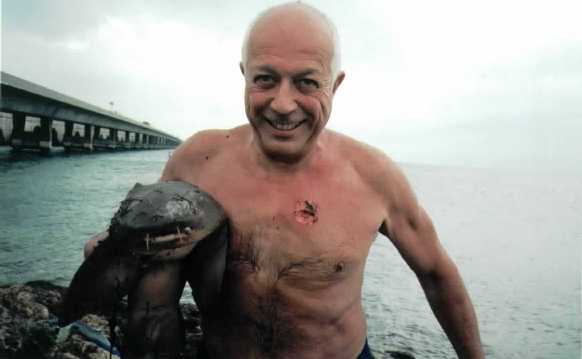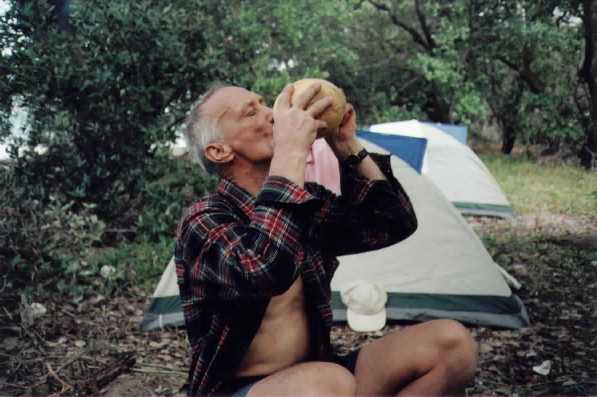 ---
Hello my dear readers.
My son Daniel just finished his 8 month round-the-world trip. Below is his final report, which some of his readers have started calling "The Mumzhiu Manifesto."
The rest of his reports are at the archive of his Yahoo Group: "dmumzhiu" Those who want to see them should contact Daniel directly at his email address dmumzhiu@yahoo.com.
Here you could see some of his pictures from Africa. http://pg.photos.yahoo.com/ph/dmumzhiu/album?.dir=/9796&.src=ph&.tok=phV7BzCBzO8BW2A0
Alex Mumzhiu
---
Hey Everyone
By the time most of you get this, I'll be 35,000ft over the North Pole en route to New York and then home. My time in Hong Kong was short but fairly productive. However, the purpose of this e-mail isn't to give you more travel details but to answer some of your more frequent questions about my trip and the effect it has had on me... i.e., have I changed.
First, let me give you a few interesting facts about the trip. I have been on the road for 230 days, only 7 or so of which I have worn actual shoes instead of sandals. I have taken 29 flights and spent hundreds of hours on trains, buses, motorbikes, tuk-tuks, boats, ridden camels, elephants, donkeys and horses. Around 12 hours were spent underwater on 15 SCUBA dives. I read a lot of books, at least 300 hours were spent sitting in internet cafes and over 500 pages were written in my journal. I've eaten 3 crickets, 1 snake, several game animals and fell in love 3 times (with 2 girls and 1 continent: Africa).
To answer the most common question, and from the previous statement you may have guessed the answer, my favorite place was Africa... BY FAR!! Africa is a wild, beautiful place but it goes beyond that. In a way I don't even know why I picked up the "Africa Bug," a common term used by people who have fallen in love with the place. I'm sure its a mix of the reasons I already mentioned but also the friendships and good times I had there as well as the amazing people and cultures I encountered.
These friendships I refer to as well as many others go beyond just friendship but form a bond that is so integral to the backpacker trail. Backpackers stick together and pride themselves on being independent and figuring things out on their own. They help each other in more ways than one. Its this camaraderie that I will truly miss. I was shocked to feel a repulsion to the package tourists being led around like sheep that I joined on my half day tour of Hong Kong. I subconsciously found myself hoping backpackers wouldn't spot me with "those people." Hopefully I'm not giving you the impression that I chastise these people or the way they travel, each to his own. Its just that I have grown so accustomed to the backpacker style of travel that anything else just seems foreign to me.
Am I ready to go home? Yes. I discovered only a couple weeks ago that I had lost that feeling of adrenaline and excitement when I got to a new city that came from my "mission" of having to quickly find a hostel and orientate around the city. I have done it so much that it seems the same everywhere. I suppose that is a clear sign to go home. At the same time, I wish I could stay out another 3 months and go to S. America but as of yesterday, my bank account is down to zero... good timing huh?!
There are a lot of things I'm going to miss: the constant newness of travel which is the essence of it; trying new foods, meeting new people, etc. I'm not going to miss living out of a backpack with the same old clothes, carrying my passport 24/7, having to sniff my pillows at every new hostel to determine if its clean, being asked, "you want motobike... where you from," and nobody understanding me. Aside from the obvious, friends and family, I can't wait to have good steaks, cook, sleep in my own bed, drive my car and have everybody understand what I'm saying.
So, the big question... have I changed? Before I answer that, I'll remind you that in my first travel note I said inner-self discovery and change weren't specific goals of mine and that I'd leave that to the hippy poets. Rather I just wanted to have fun and if I discovered something about myself, so be it. An experience such as this inevitably leads you to discover things about yourself. For instance I've learned how to deal with loneliness (in those very few rare moments when I felt it). I've also discovered that I don't need luxury but am happy to just be surrounded by good people in shabby hostels.
To be honest, I don't really know if I've changed since I've lived with me for the last 230 days, and change, as with aging is only noticeable by others after some absence so I'll leave that conclusion up to you. I don't think my personality is different from when I left though I've certainly become somewhat of an adrenaline junkie. To be sure, I view the world in a new way. I have a far better understanding (as opposed to just factual knowledge) about world events and conflicts than I could get from the news. For example, the conflicts in the Middle East and what drives the people involved makes much more sense after you've talked to a few Arabs and Jews. Sadly, you also get a clear picture of just how much and why America is hated by so many around the world. Many of those reasons are misconceptions of America and I'm often happy to correct them. Other times I've had to say, "well, you may be right but..." and argue the virtues of our great nation.
Without a doubt I can never view my life and privileges in the shelter that is Northern Virginia and the USA as a whole the same way after seeing the tremendous poverty of Africa and Cambodia, the misfortunes of war torn countries and the generally poorer quality of life in nearly every country I've been to. I'm not saying I'll wake up every morning and say, "thank goodness I'm not living in a grass hut and starving" but its something that stays in the back of your mind and reminds you of just how lucky you are when things do go bad.
Most importantly, I've found that I want to live my life differently. On my last day in Phu Quoc with only 9 days left on the trip, I woke up early at 7am to go read on the beach. I was in a fairly contemplative mood so instead of reading I reflected on my trip. So much so that in an hour and a half I had gone through only half my trip day by day and remembered almost every detail of every day. I was shocked by this because at home I usually don't remember what I had for lunch the previous day. I asked myself why this was and the answer was simple. Every day of the last 8 months has been exciting. I was suddenly determined that I have to strive to make everyday life exciting. Sure, its easier said than done when you spend your days behind a desk (even though I love what I do). Either way, the thought lit a fire that will compel me to make life an adventure rather than a routine. Whats the point otherwise? I guess you can say I've changed my priorities. We all know that happiness is key, not career, not money etc. Sure, I still want a great career and money, etc., but now I REALLY understand that its not enough to just say it and then forget it as many of us do. I know that its not always going to be as exciting as chasing cheetahs in the Serengeti and I'm not going to quit my job every two years to travel because even that gets old. I'm just hoping that I can keep in mind that if life gets "stale", then my priorities are out of whack and need to be adjusted.
I'd even venture to say that this trip could benefit me professionally. Eventually I want to work in emerging market asset management. Before, I thought that I could get a good understanding of a country by reading as much as possible about it and crunching the numbers. Now I realize that you can't ascertain the potential of a country until you understand the culture, the people and their desire for progress. I wouldn't invest a penny in Egypt because by understanding the cultural mentalities there, I can see that progress and particularly education (the engine of change) aren't a priority. On the other hand, countries like Jordan, Thailand, S. Africa, Tanzania and even Cambodia show promise.
Finally, I couldn't be completely honest as I've tried to be through all of my travel notes without saying that a significant part of who I am, my faith, has suffered though not in principal but in practice. I guess its just a product of neglect and at times this change which I find to be negative has given me pause. I suppose that this change as much as its hopeful reversal are just another part of the personal growth and self discovery that I never sought but experienced nonetheless on this amazing adventure I've been taken on.
Well, I'm sorry that this may have not been as funny as previous travel notes but I hope that its given you some insight as to what this trip has meant to me. Several of you have said I've motivated you to do a similar trip. Every traveler I've encountered has experienced very unique variations of what I've mentioned but now you know what to expect.
Has it really been 8 months? It went by so fast that it now seems like a dream I'm quickly waking up from. Well, its time to hang up the traveling sandals. It has been my utmost pleasure to have you along with me for the last 8 months through my travel notes and your replies... until next time, good bye :)
Dan Mumzhiu
Hong Kong, China
March 29, 2005
---