Travel Notes on East Africa
My Dear Readers,
oon I will go to my next trip to East Africa. Why East Africa? Take a look at the map of countries I visited, in attachment. It is last large piece of Earth surface which I have not visited yet.
For statistics, after termination of my employment, I visited 100+ countries in 10 years. I traveled on average 6 months per year. Entire length of my trips, excluding air travel is equal to 1.7 times the length of the Equator.
Where did you get money for all these trips many people ask? My modest pension is enough for the most of my trips. I travel backpacker style, stay in hostels or in my own tent. I often prepare my own food using electrical spiral or on fire. It saves money and sometimes saves my life. As a result, for many years I have not been sick, even in places like India or West Africa. For long distance I mostly use public transportation, for short bicycle.
Actually, the main saving and convenience came from using folding bicycle. For example I never make hotel reservations. Having my own transportation, it is always better and cheaper to find a hotel on the spot. Folding bicycle is also the major contributor to the safety of my trips. Experienced travelers usually have stories to tell about being mugged, harassed or robbed. I have nothing to brag about. Nothing happened to me in-spite of my habit of visiting places not recommended to tourists, like favellas of Rio or Caracas slums.
Jan 26 I will fly to Nairobi Kenya. I will visit Serengeti and Ngoro-Ngoro. Then I will go to Dar-es-Salaam and Zanzibar, Tanzania. Then, through Malawi and Zambia to Victoria Falls. After this to Botswana, to visit Okavango Delta. Then through Namibian Skeleton Coast to South Africa. My returned flight is from Cape Town on Apr 30
As always I will appreciate your advice and suggestions
Alex Mumzhiu
Washington USA
Jan 17 2009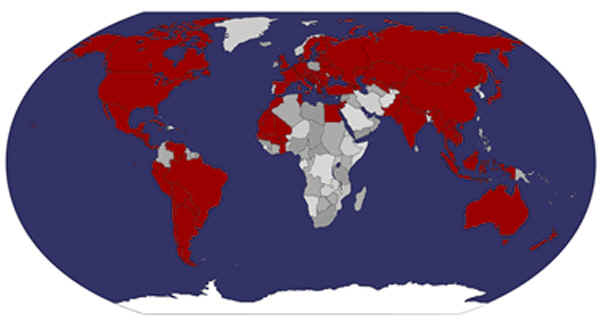 1. Map of countries I visited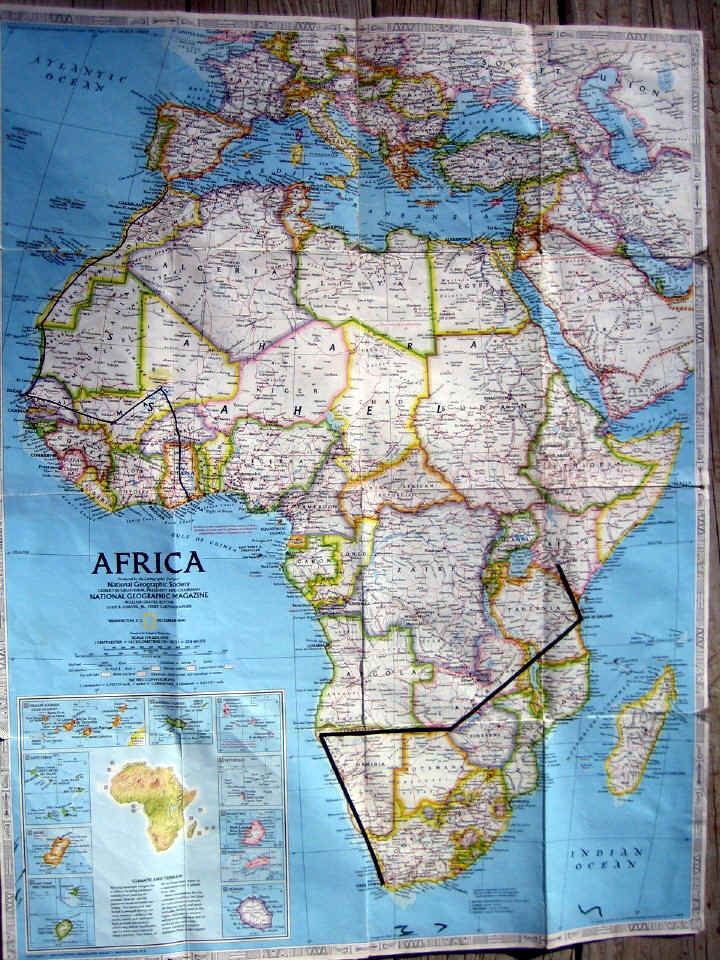 2. Map of proposed trip to East and South Africa
PS: I apologize for repeating same things about which I wrote before, but I still receive questions from my readers, especially about money. Do not trust shiny tourist catalogs. You don't have to be rich to travel, but you have to be creative.
Travel Notes from Nairobi
My Dear Readers,
I am in Nairobi, staying in Nairobi Hostel in a dorm for $7. Dorm room may be not as comfortable as a single room, but it has one great advantage - you meet other interesting people, especially in places like Nairobi. I met four men. One is a 70 year old Welsh man, retired diesel engineer. He devoted his entire life to his addiction - travel. He never was married and never had a family. He still enjoys travel, but compare myself with him, I think how lucky I am to be able to combine my addiction with family life.
Another is a 20 year old German boy Stephan who went to travel through East and West Africa, right after graduating from the high school. Thanks to him I changed my plans and instead of buying tour to National parks like most of tourists, I will follow his example and go on my own trip using bike and public transportation in order to reach the places of interests.
Third man is Emmanuel, 30. He stays in Nairobi for 2 months, doing some volunteer work for local churches. But his own interests are quite different. He is kind of amateur anthropologist. Areas of his interests are the most dangerous places in the world. Do you remember the book with the same name written by Robert Pelton? Emmanuel has in his head the complete map of greater Nairobi with deep knowledge of locations of different tribes and cults existing here.
One cult is mungiki. They are vampires, believe it or not! Drinking human blood is not far away from Masai cultural traditions. During difficult times Masai survive on cow's blood and milk. They should have terrible constipation on such diet, I guess.
You can find tons of information on mungiki in Goole, such as: Mungiki sect has decreed codes of conduct for areas under they control, forcing bus drivers to pay protection money and barring women from wearing pants. That last point I also support.
Forth man is Alex from Switzerland. He teaches residents of biggest slum in Africa - Kibera, how to purify water. You should put plastic bottle with dirty water on the roof and by the end of the day, due to ultraviolet radiation, water will be appropriate for drinking.
I have never seen so many formally dressed man with ties, like in Nairobi downtown. Their skin is very black, but facial features of many are not African. If you bleach them and put them on the street of a European town, nobody will consider them blacks. They rather will look like citizens of some obscure part of Europe like Albania or Andorra.
My own experience with local people is rather pleasant. I stopped in the street and tried to attach my backpack on the rear rack of my bike. Immediately two formal men in business suites and ties stopped and started helping me. Could you imagine business man helping bicyclist in New York or Washington?
There are some local "long term" residents staying in my dorm room. A couple of them possess a capability of unusually good public speaking. It immediately bring the memory of our president. Maybe he gets it from his Kenyan father.
In an hour I will ride bus and later bike to Hell's Gate National Park, then to Nakury Lake Park and after this to Victoria lake. From Victoria I will visit Masai Mara National Park and then return to Nairobi.
Alex Mumzhiu
Nairobi Kenya
Feb 1 2009 10 am
PS: In order to keep with traditions, next day after my arrival it was great fire in the shopping mall in the center of Nairobi. Remember, tsunami in Thailand and earthquake in Pakistan also coincided with my visits
Hello my Dear Readers
My encounter with Africa eventually happened. I was alone in a forest full of amazing animals: gigantic giraffes, striped zebras, all sorts of deers and gazelles, warthogs, buffaloes, hippos and myriads of pink flamingos on a nearby lake. These animals were not really scared of me. They did not run away from me, just stepped away and stared at me with their big wet eyes. They have probably never seen a folding bicycle. It was tremendously exiting. It was like in a childhood dream of Africa or like in Biblical Eden. This is THE REAL AFRICA. It cannot be anywhere in the world except for Africa!
Where was it, and how did I get in that magical forest, not listed in any tourist guidebooks? Let me describe everything chronologically. After Nairobi I went to lake Naivasha. I visited the recommended Hell's Gate National Park and Crater Lake Park. It was OK, a bit overpriced compare with similar attractions internationally. Kenya recently jumped-up fees to all national parks. As I rode my bike from Crater Lake Park I noticed a small lake full of pink flamingos. The lake was separated from the road by a strip of forest and by fence sometimes with barbed wires, sometimes not. There were signs there: No Trespassing, Private Property and so on. One sign said: Wild Animals. I crossed under this sign. So I technically did not even break any rules. Lake Naivasha, which was known for it's pink flamingos is too polluted now. So flamingos relocated to small lake called "Small Lake", located just South from lake Naivasha.
The lake and ground around it belongs to Oserian Flower Growing Company. There is no human presence on that lake. I spent the entire day there and did not meet anybody. Concentration of animals is incredible, much more then at famous Masai Mara Park which I visited later. The lake is full of flamingos and hippos. Hippos were sleeping in water near the shore. I went toward them through shallow water. Biggest hippo stood up, turned toward me and said "go away". I said OK, OK.
My discovery of this lake was not completely accidental. The German tourist whom I met in Nairobi Hostel, Stephan, told me about it. Also in my campground I asked locals about the lake, and they told me that there are no lions there. The campground where I stayed "Fisherman Camp" is located on Naivasha Lake and is very good. One of best campgrounds I have ever seen. Especially nice were birds songs in the morning. Approximately 1/4 of camp's territory is fenced with electrical fence and hippos came there for a walk in the evening. In the morning different kind of monkeys try to steel anything from the tourists.
I bought a three day safari to Masai Mara National Park for $235. I'm glad I did it. I saw that many times filmed place where wildebeests cross from Serengeti to Masai Mara during yearly mass migration. I saw many lions. They came so close to tourist vans that you almost can pet them on their heads. Sometimes up to 25 vans with tourists get together. So poor lions have to maneuver around them. I saw all animals I have seen at Small Lake plus many elephants, cheetah, haina... It was great. But we travel in van along with many other tourist vans. My individual encounter with African animals on Small Lake was much more intimate and emotional, and free of any charge by the way.
I am now in Jinja, Uganda, the place where the Nile starts its way from lake Victoria. It is important place. Mahatma Ghandi wanted his ashes to be spread here.
Alex Mumzhiu
Jinja, Uganda
Feb 12 2009 6pm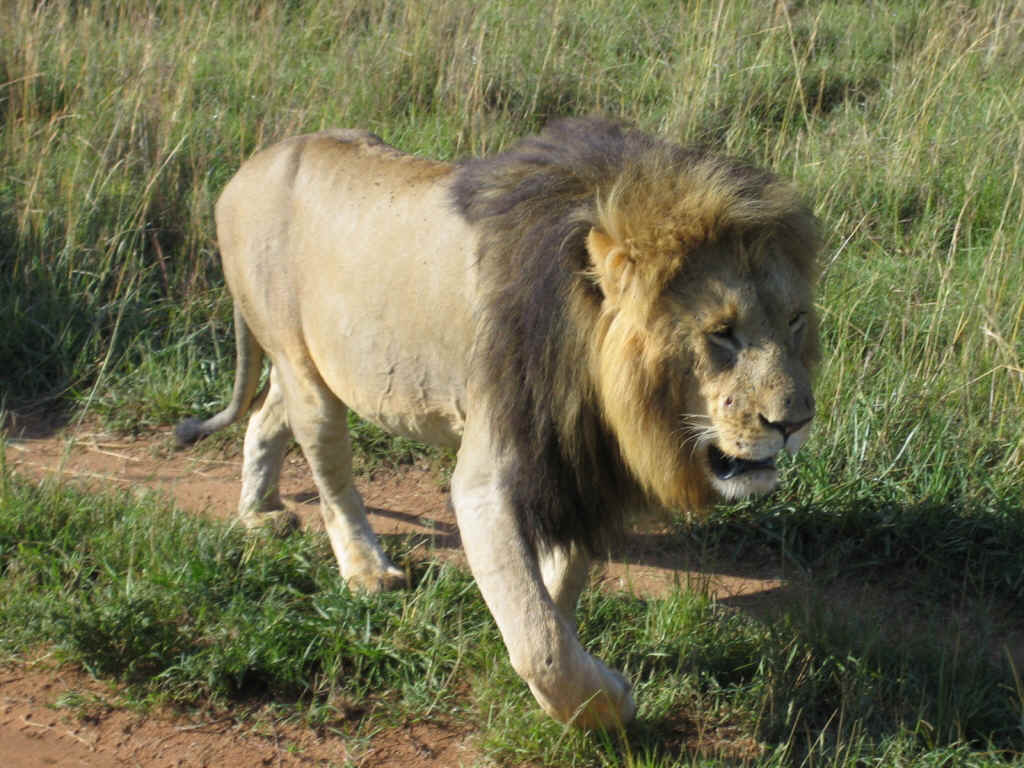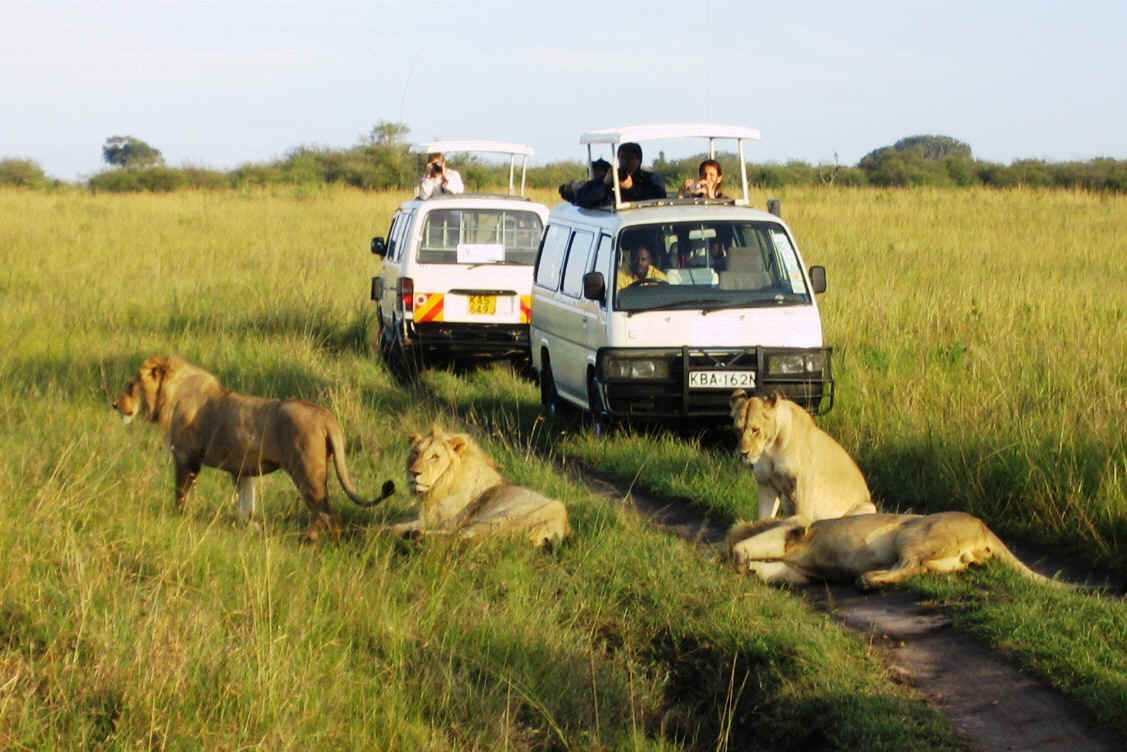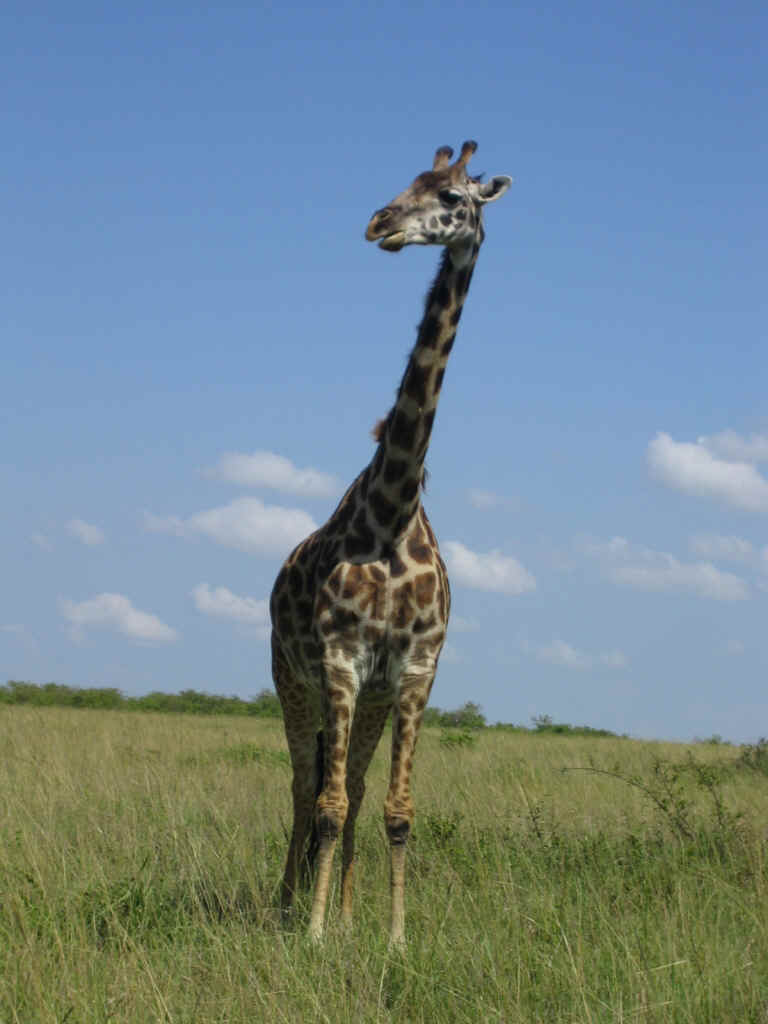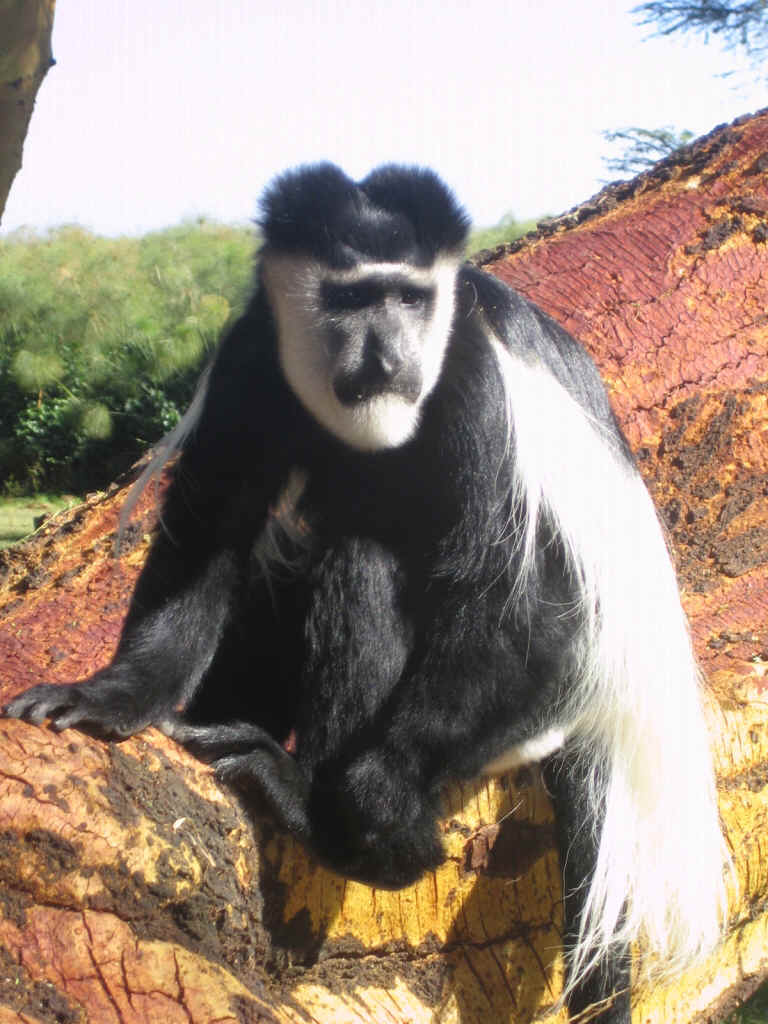 My Dear Readers,
My last TN was from Jinja, the place from where the Nile river is starting to flow from Lake Victoria to the Mediterranean sea. This place is known as a world capitol of white water rafting with category five rapids. Many companies offer one day white water trips for around $120. I used to do a lot of rafting, so I cannot resist temptation to try category five rapids, which I never did before. Rapids are really category five, see picture, but after each rapid, it is a pond of quiet water, where the guides turned back overturned rafts and put people thrown in boiling water back to the rafts. They invite people with no experience, not swimming... and evidently nobody dies here. White water rafting used to be a tough and dangerous sport of real man. They transferred it to a Disney type entertainment, quite confusing!
After junja I went to Kampala, the capitol of Uganda. I stayed in a popular Backpackers Hostel in dorm for $6. One morning I found two soldiers with antique rifles standing at the door of next dorm. What happened, I asked. The Uganda king Omusinga is sleeping in this dorm, they told me. Why king is staying in hostel? I asked. Because his friend John staying here. See also on king Omusinga: http://www.rwenzururu.com/king.html
One major feature of Kenya and in less degree Uganda is terrible red dust. Roads are bad and every car produces a thick cloud of red dust. Many cars also produce black clouds of smelly poisonous exhaust. It results in respiratory problems. In trip to Masai Mara all three of my companions, young Brits and myself constantly sneezing coughing and had runny noses. So instead of going overland to Arusha, Tanzania I flew there.
Roads are sealed in Tanzania and there is not much dust there. Tanzania is much more civilized, but up to a point... All newspapers are writing about the albino killings. Sometimes people of black race give birth to people with white skin. They are called albino. Albinos are hunted for their body parts like sharks for their fins and rhinos for their horns. Albino body parts, especially hands and feet are considerate to be magic medicine. During the past year a 45 albinos were killed in Tanzania for their body parts. Who are customers? Chinese and Yemenites old man. They believe albino body parts will increase their sexual capabilities. Why Chinese? Is 1.300.000.000 is not enough?
A while ago I read a book on Human Genome Project. According to their findings the founder of white race was a single albino woman born on territory of current Tanzania hundreds of thousand of years ago. Her name was Luci not Eva. She traveled with her children to Europe and where the white race was started. It is not easy travel even nowadays. Politically correct book on Genome Project did not provide any explanation of why she traveled so far and left all her black cousins in Africa. Now, I can see the possible reason of that. May be albino hunting was very old African tradition. See more on albino slaying at: http://www.shvoong.com/medicine-and-health/1846969-albino-slaying-continues-africa/
In Arusha I bought four days three nights safari to Serengeti and Ngoro Ngoro for $600. It was complete failure, wasted time and money. It is many companies organizing safaris in Arusha. All of them go through the same route and charge approximately the same price. They work mostly through the touts and they resell tourists to each other. So you never guaranteed with which company you will go. Actually I don't think that company with which I went to safari was especially bad. It was an average I think. However it were several negative circumstances
Serengeti and Ngoro are National parks, unlike Masai Mara, which is Game reserve. In National parks cars are not allowed to leave roads. In Game reserve they are allowed. So dozens of cars ride through the field to be close to the animals. It is not fair for animals. But it allows tourists to see animals at close range. In Masai Mara guides also tip each other on animal location in Serengeti they do not.
It was heavy rain. Big cats as well as small (domestic) ones do not like wet environment and they went in hiding during rain.
I was extremely lucky with my first experience on Small Lake. And as a result unlike my companions, I was not happy to see endless giraffes, zebras and other deers.
During 4 days of safari we saw a rope hanging from far away tree. Guide told us it was a leopard tail. We saw few yellow spots far away. Guide told us it was lions. Another day we saw few more yellow spots far away. Guide told us it was cheetahs.
That's it. So for these going to Serengeti and Ngoro Ngoro I would recommend to do very serious home work.
Alex Mumzhiu
Zanzibar, Tanzania
Mar 2 2009 9 pm
Attachments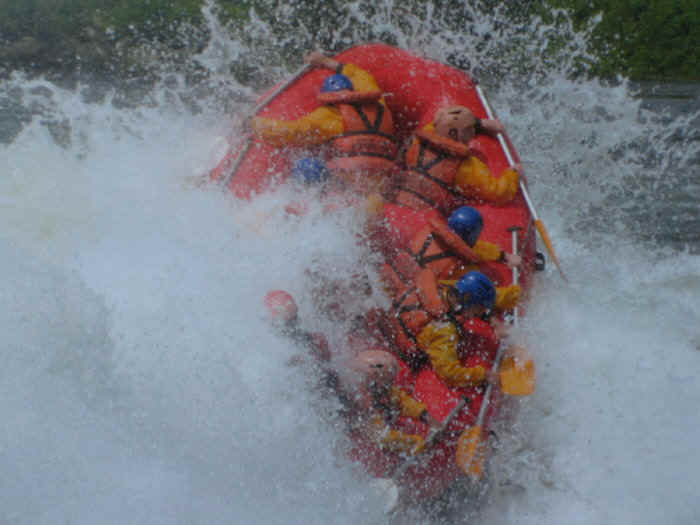 1. Nile rapids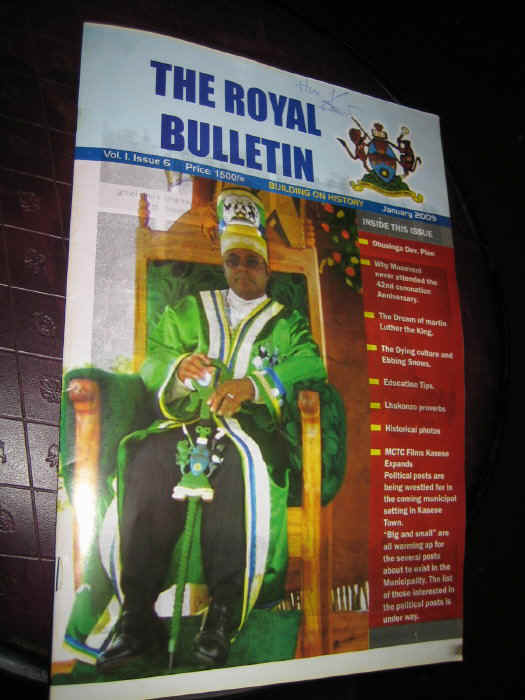 2. King Omusinga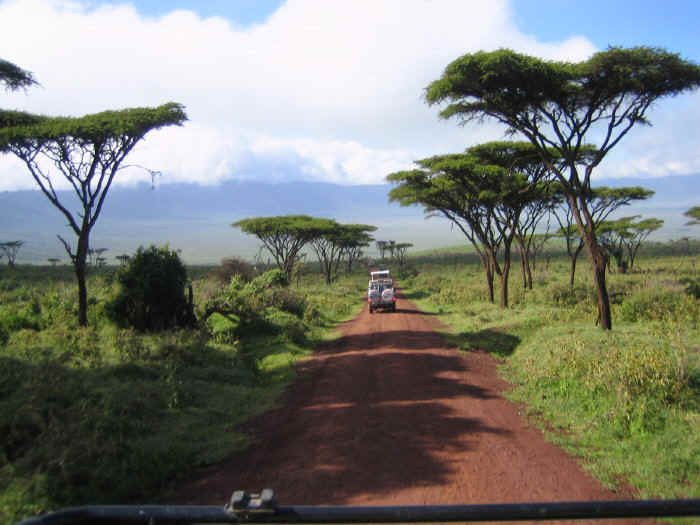 3. Serengetti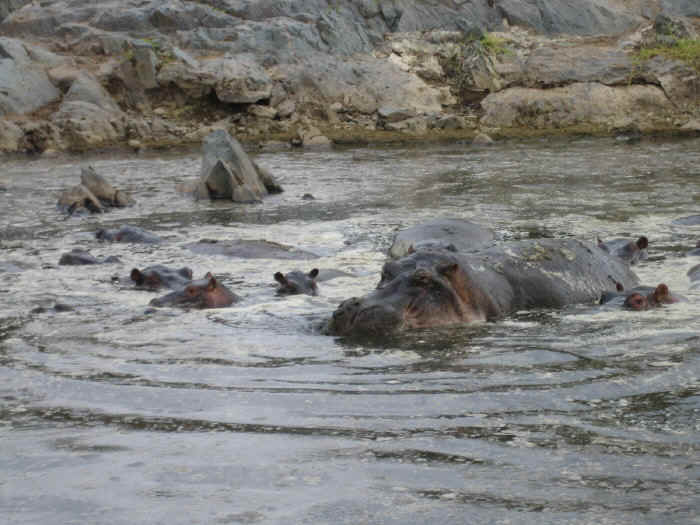 4. Hippo pond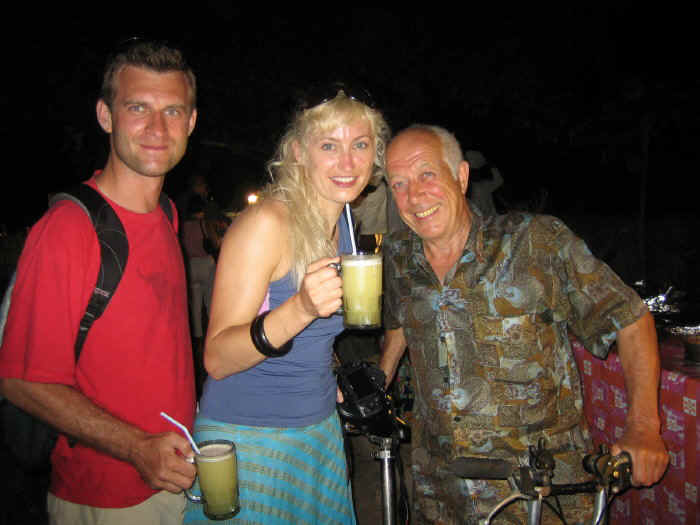 5. Nice Polish couple I met
My Dear Readers,
From my not very successful safari in Serengetti and Ngoro-Ngoro I went to Dar Es Salam and ZanZiBar. Dar is hot as hell. Zanzibar is nice medieval town with labyrinth of narrow streets with no street signs. I do not understand how people without bicycle and compass can find a way there. You can ask locals. But it is a good chance that guy, you asked for, will be willing to became yours permanent (paid) guide. Dozens of those free-lance guides waiting for you at the entrance to ports of both in Dar and Zanz. They will accompany you to cashier window and demand ridiculously high payment for their service. Here, as well as in most of Mid-Eastern countries, commission is king. Guy who is willingly or unwillingly accompany you to a hotel, a train station or any attraction, feels he deserved a commission for his service. Bicycle is the only way to get rid of these assholes. This is why, I guess, many people prefer to fly to Zanzibar instead of
taking nice 1.5 hour ferry.
From Zanz I rode bike to Nungwe, a village at the North of Zanzibar Island. I took a snorkeling trip to nearby atoll Mnemba. I always wanted to see the atoll. As you can see from attached picture it is not much too see there -- white sand and some vegetation. Atoll has a hotel with 10 rooms each cost $1500 per day. Bill Gates and Naomi Campbell (supermodel) are some of guests. Some guests complain on body odor from servants. Even with ocean so close they prefer not to wash themselves!
At the entrance to the Nungwe you can see a sign, in attachment. They definitely do not like to see Western beauties in bikini. They prefer to see their smelly, dirty girls enveloped in layers of dark clothes in this hot tropical climate.
I went to Sultan Place at Dar Es Salam museum. It soften my opinion on Sultans. They, sultans, designed special coaches to be able to see their (favorite) wives while sitting together. How nice!
I took a train from Dar to the border of Tanzania and Malawi/Zambia. I met Finnish people on train. We both share the love for the same piece of Earth - Karelian Peninsula. I spent my childhood on this peninsula in pioneer's camps, mostly on Mannerheim line. It was a lot of unexploded shells there, and some boys lost their limbs to them. I love Karelian Peninsula. I think it is the most beautiful place on Earth. My Finnish companions also like it. But it was violently taken from them during short, but very bloody Soviet-Finnish war of 1939. I feel some guilt to them. They said it is OK. It is a reality.
I exited the train at Mbeya. The Lonely Planet unfairly downgraded this town. It is pleasantly cold, compare with burning Dar. It is located at the altitude of 1000 meters. It has standard set of attractions: a natural bridge, a waterfall and crater lake. But it also has outstanding attraction: the eight largest meteorite in the world, weighting 12 tons. I rode bike to the meteorite site. It is amazing. It went millions of light years through the space to make relatively small crater in this Tanzania countryside. The most attractive thing of it was the fact that it was made from our Earth familiar elements: Iron and Nickel. While I worked at the National Bureau of Standards in Russia, every day I went by The Periodic Table of Elements designed by Dmitri Ivanovich Mendeleev. This table was imprinted in the wall of of this building.
My dental bridge fell apart and I went to local dentist in Mbeya for help. Black dentist cut the broken part of my bridge. Later I found some rough edges. I bought file in hardware store and smoothed them. See picture. In my trip to Kamchatka Peninsula five years ago I tried to make stitches on my cut finger with ordinary needle. It was tough. From that time I carry curved needle. Now I will carry small file
Alex Mumzhiu
Mbeya, Tanzania
March 14 2009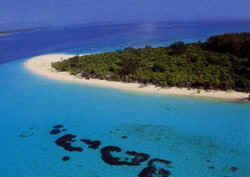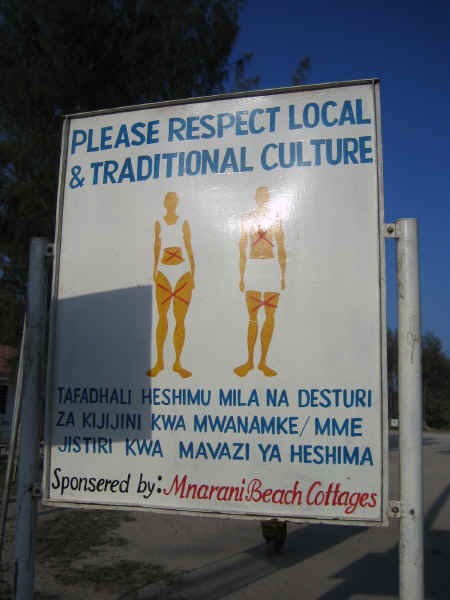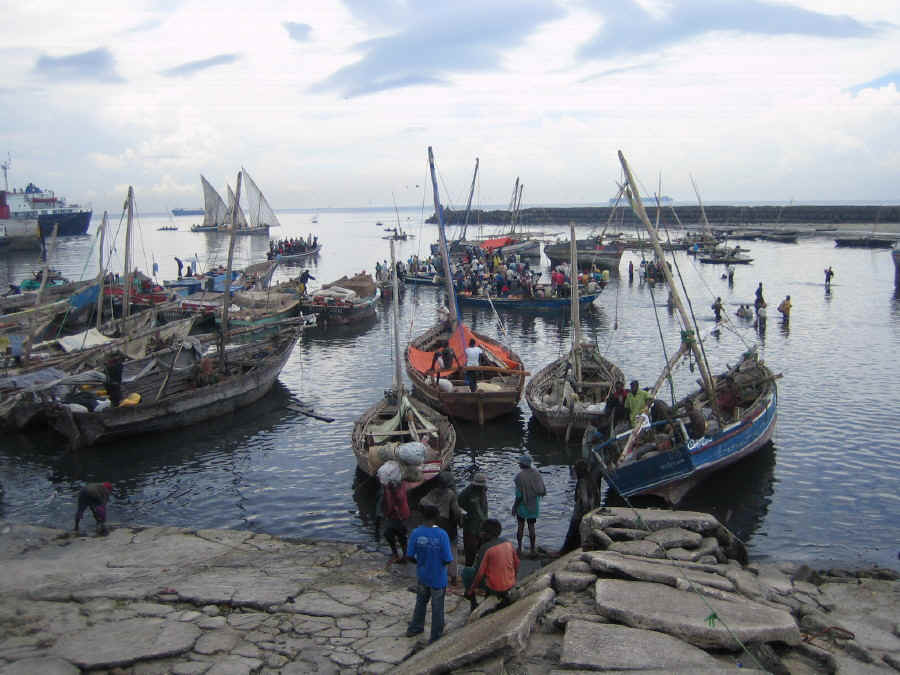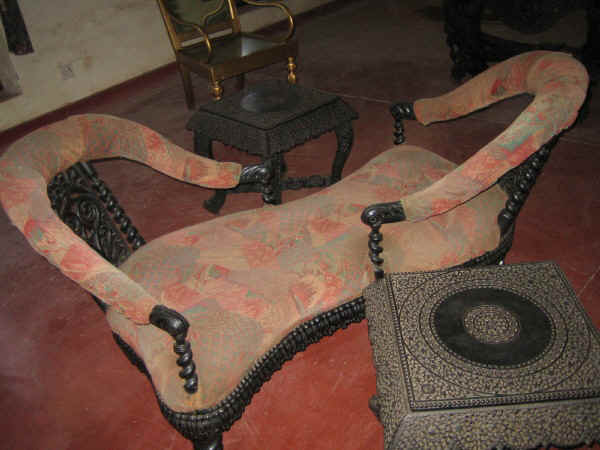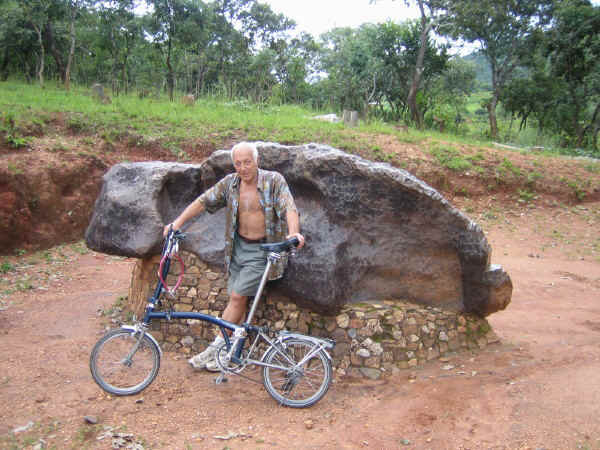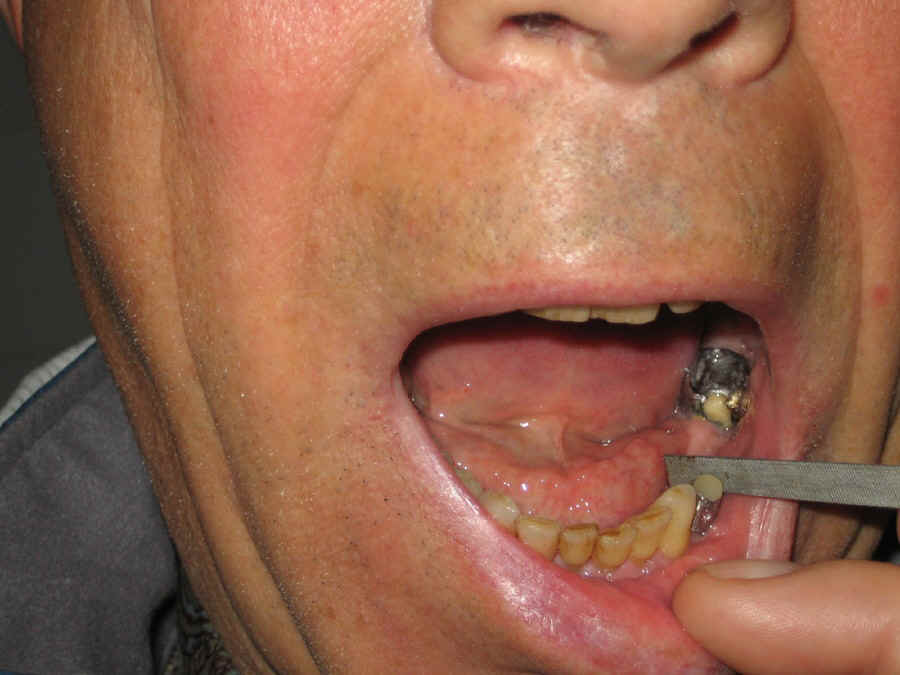 TRAVEL NOTES ON MALAWI
My Dear Readers,
I was very glad to come to Malawi. Muslim countries get on my nerve after awhile. Why do they wake me up at 4:30 every morning? I do not have to pray to Allah at this time. It is especially ridiculous in touristy places where locals depend heavily on tourist money. Why don't they supply every Muslim with an alarm clock. And why do I have to cover all my limbs in this tropical heat. If they do not want to see human body parts, they do not have to look at them.
Malawi is nice, especially its lake. It is 500 km long, 80 km wide and 700 meters deep. It has crystal clear intensively blue warm water and colorful fish. It is the only fresh water lake having colorful fish. It is surrounded by picturesque mountains with their tops in clouds. It is a natural treasure of world-magnitude scale. Immediate comparison will be lake Baikal.
You have to experience the lake by boat. The road along the shore is not functioning. Coincidentally I was lucky to get on a ferry, which travels once per week. This ferry is something! It is very old with ancient machinery. But this machinery is quite efficient. I traveled on the first class deck (means just a place on upper deck) along with a few white tourists. A lot of black passengers were in the hot second class room downstairs. Segregation was made by price. My half a day ticket costs $35 which is not cheap, especially for local people.
On advice of my knowledgeable companions I exited at Nkhata Bay and stayed in Mayoka Village. This lodge was built 25 years ago by a group of enthusiasts who worshiped the lake. The place is very nice. Everything is done with such love and attention to details. It is a kind of non profit place. Snorkeling equipment and kayaks are free. Free dinner on Wednesday, and the price is only $15 per day for my nice chalet right on the shore, see picture. However it was less than a dozen of guests there.
Those who want to see that wonderful lake should not postpone it for a long time. Just recently the shores of the lake were mostly empty. Now every beach is inhabited, with human and animal waste going directly to the lake. Dirty, dusty village of Nkhota Bay is not far away from Mayoka lodge and has crowds of people.
Population explosion is the main problem of Malawi. I read an article in the local newspaper written by one of the local administrators. It was full of hatred and anger. Stop making babies! he exclaimed. Every woman has 6-7 children. We do not have money to educate these children. When they grow, there will be no jobs for them. Every effort of administration to improve life and reduce poverty is ruined by population explosion. Previously the growth of population was controlled by hunger and diseases. It is not anymore. Western help has not helped to stop the population explosion since the concept of saving human lives is sometimes in conflict with the concept of saving the human race. What Africa really needs, is a program of artificial sterilization of these woman who do not want to have more children. Such program should be combined with substantial monetary compensation to those who will participate.
Malawi has the highest rate of AIDS in Africa. And as all things in the world it is not without the reason. Malawians do not make much fuss about having sex. Mothers and grandmothers send their daughters and granddaughters to buy fish from traveling fisherman knowing that the fisherman will not sell fish to girls without having sex first. He will not sell fish at all to older women. It is just a tradition. Fisherman travel along the Malawi lake for months away from their family. They distribute fish as well as AIDS. I know that Western imagination, especially puritanical American imagination, will draw a picture of horny, violent, monster people. Not at all. Malawians are known as a most friendly people in Africa and they are. Just their sexual traditions along with lack of hygienic habits made them so vulnerable to AIDS.
On the same topic: Uganda and Kenya along with some other African countries enforced government paid circumcisions of all new born boys. It reduce the probability for man to get AIDS from infected women by 50%
Alex Mumzhiu
Maputo, Mozambique
30.03.09 7 pm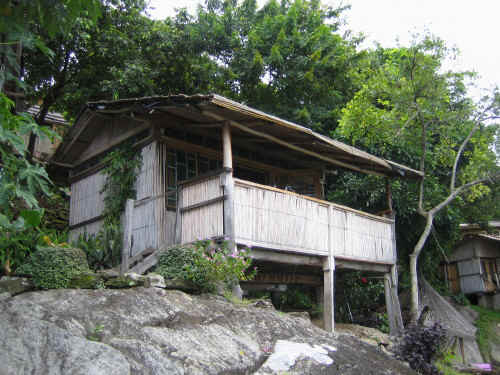 1. My bungalo at Mayoka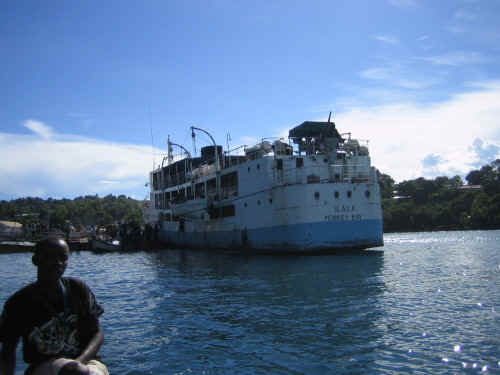 2. Ferry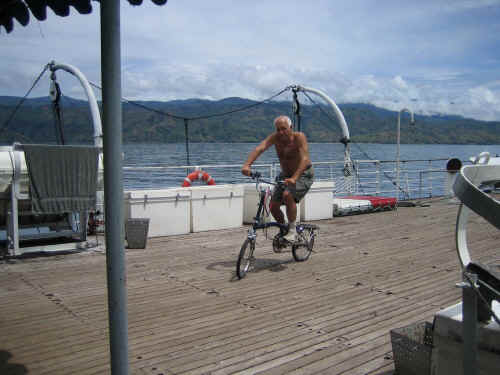 3. Riding bike on ferry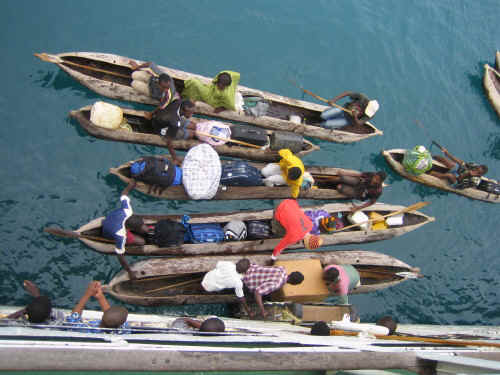 4. Dugout canoes deliver pasangers to ferry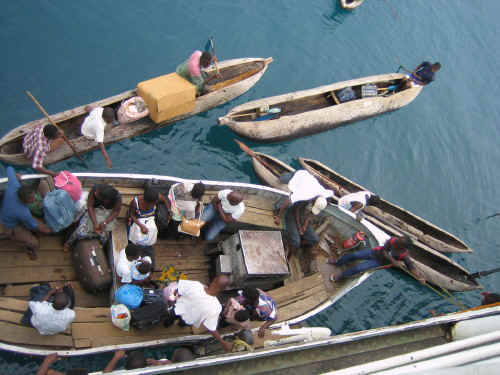 5. The same with ancient motor boat
Travel Notes on rest of my trip
Hello my Dear Readers
After Malawi I went to Mozambique. As Malawians are considered to be the most friendly people in Africa, the others should be not so friendly. The difference is small, but noticeable. Especially awful are Mozambique police. For the first time in my life I was stopped by police and asked to present the receipt for my bike. Police has right to do it in Mozambique!
Mozambique is very long country. It is as long as width of USA from Canadian border to the Gulf of Mexico or as the distance from White sea to Black sea in Russia. Roads are bad and buses are not comfortable. It was torture to travel through this country. Tour books copy from each other the same fictional stories. "Beira is famous for its steamed crabs and prawns". I found only chickens there.
"Beautiful Bazaruto Archipelago has wide variety of 126 birds and 156 mammals." They did not tell you, that the only way to see them is to stay in one of Bazaruto lodges. Price starting from $300. There is no passenger's boats to Bazaruto
Beginning of my trip was characterized by tremendous luck. I found a Small Lake, which was the best thing I have seen in Africa. And I was very lucky to get on "once per week" ferry on Malawi lake. In accordance with probability law, the second part of my trip was characterized by bad luck. At Vilankulo across the strait from Bazaruto I went on scuba diving trip. The dive master promised to show a lot of big fish. When we came back he told me: "Believe me, these big fish are there! We just did not see them." Unfortunately this refrain was repeated many times later during my trip. Snorkeling at that area was quite good, many different corals are there and all of them alive.
After Bazaruto I went to Tofo. Tofo is the only place on Earth where you are guaranteed to see and swim with the whale sharks. Boats for snorkeling trips equipped with high platforms from which the captain could locate these biggest fishes in the world. The problem was that there should be at least 4 participants. At time I arrived no one was willing to go on the trip. Upset with my previous experience I left. It was a big mistake. I have to wait for these necessary 3 people, day, two, three... I missed a unique opportunity! Sea floor near Tofo also has "a cleaning station" to where big manta rays come for cleaning. Specially trained fish clean them from parasites. Situation with scuba trips to this cleaning station also was not clear during my visit. And it was one more reason why I left.
Eventually I came to the capitol of Mozambique Maputo. The minibus dropped me somewhere far from the center, and I was not sure where I am. I take a look at the street sign ... it was Vladimir Lenin street. They also have Karl Marks street, Fredric Engels street, Patrice Lulumba street. It was like in deep Russian province, where street names have not been changed from Soviet Union times. Mozambique was on Socialistic way for about 20 years. It puzzled me why many undeveloped African countries took 2 dozen years to realized that Socialism is not as good as it seems. But for much more developed Russia it took 70 years. Socialism gets strength from fighting with enemies. When it is left alone it quickly crumbles under the weight of its own irrationality and inefficiency. Maputo is quite nice, by the way. It even has one building designed by Eiffel.
From Maputo I went to Nelspruit, South Africa and then to Kruger National Park. I was relatively lucky. I saw a lion, very close, two leopards and rhino also very close. It is all matter of luck. Some people were much less lucky. Later I will give you my summary on all parks I visited and my advice on choosing them.
From Kruger Park I went to Johannesburg, South Africa. During first part of my trip I was usually surrounded only by black people. In the beginning it was uncomfortable. This uncomfortably was based on my American experience. In America if you surrounded only by black people, which usually happened in black ghettos, you may be in trouble. In Africa, I soon realized that it was not dangerous at all. So in the streets, on buses, in markets, where I was the only white person, I felt absolutely safe. Johannesburg is different. I had to buy a bus ticket to Botswana at the central bus station. A taxi from my hostel dropped me far away from the station due to a traffic jam, and I had to get through the area around bus station, which is strongly not recommended for tourists. If I were not on bike I probably would be mugged, like many other tourists. Folding bike is magical means of transportation!
In my next destination, the capitol of Botswana, Gaborone I arrived at 9pm, an hour before the departure of train to the North of country. Taxi brought me to the train station only to find out that passenger trains were discontinued 3 days ago on Apr 1. I have to continue my trip to NE corner of Botswana on different buses and last portion even by hitchhiking. After half a day of unsuccessful attempts I eventually was lucky to squeeze in the back of a pick-up truck along with six African girls. It was not as nice as some of you may think. But it would be worse if they were guys.
I came to Kasane, the place where four countries Botswana, Zambia, Zimbabwe and Namibia connected. I chose to go to Zimbabwe to see Victoria Falls. Finally, I made the right decision! I went from the most rich African country Botswana, having three most productive diamond mines in World, to poorest country Zimbabwe. There is a Russian saying: "Za odnogo bitogo dvyx ne bitix daut", which roughly means that the person who experienced some suffering is a better person then that one who did not. Zimbabweans suffered a lot under dictatorship of Mugabe. After years of hyperinflation, the country officially discontinued its own currency. The only money accepted are South African rands, dollars and euros. You also probably heard about cholera epidemic in Zimbabwe. As a person who lived under even more rough dictatorship of Stalin I feel sympathy to Zimbabwean people.
I came to the city Victoria Falls and stayed in a hostel in a big dorm with kitchen and toilet - alone. Tourists are afraid to go to Zimbabwe. By contrast on the Zambian side of Victoria Falls all hotels are booked. Victoria Falls is quite unusual phenomenon. For a considerable distance, the Zambezi river flows over a level sheet of basalt, in a shallow valley. The falls are formed as the full width of the river plummets in a single vertical drop into a transverse chasm 1708 meters (5604 ft) wide, carved by its waters along a fracture zone in the basalt plateau, see picture. Zambian portion of Victoria Falls occupies only a small portion of the Falls. It is impossible to observe the entire falls from Zambia. From Zimbabwe you can see the entire falls and canyons below the Falls. It is really Great Natural phenomenon, one of seven wonders of the Natural World.
From Victoria Falls City, Zimbabwe I went to Livingston, Zambia. As I said, all accommodations were booked. However place for tent was available. My tent is quite small and not very comfortable, but it weights only 600 grams and I used it many times in Africa, as hotels were booked or too expensive.
I skipped Chobe Park and Okowango delta. Why? When I was in Kasane I tried to get on Chobe river trip or on safari. All without success. As I already wrote Botswana has 3 best diamond mines in world. May be because of this, they are quite unreasonable and irrational with business and money. Every hotel has its own boat for river trip and its own safari. If they do not have enough people, they cancel the trips and safaris. They do not cooperate with others. Most of lodges are empty but they keep price very high. Tent site however was reasonable. Also, Northern Namibia and Botswana were flooded. I was not sure how good or bad it was for seeing animals. And lastly organizing mokoro (canoe) trip for alone tourist seemed to me quite logistically difficult.
So from Livingstone I took a Intercape bus to Tsumeb, Namibia. I arrived at 2 am and the only place to sleep I found was in booth of kind night guard. Next day I rented a car and went to see largest meteorite Hoba and Etosha National Park. Meteorite was great -- 60,000 kg. In Etosha three lioness came right to my car. I hectically closed windows. While traveling in safari alone, without guide, you obviously see less. But you definitely have more emotions when you met lions alone and not in big jeep with six other people.
I visited 5 parks in Africa: MasaiMara, Serengetti, NgoroNgoro, Kruger and Etosha and I would like to share with you my findings. Most of information presented by tourist brochures about amount of animals and size of parks is irrelevant to the most important things for you, a visitor-- how many animals YOU will see. All parks I visited except for MasaiMara are National Parks and visitors are not allowed to drive on grass. This is why you mostly see animals through powerful binoculars. Also only in MasaiMara drivers/guides constantly communicate with each other on radio and tip each other on animals location. It may be encouraged by park administration or just a tradition. This may result in ugly picture when 20+ cars pursue a pride of lions. But it allow you, a visitor, to see many animals. In MasaiMara I saw more then 50 lions. In Serengetty/Nroro - none, in Kruger one, in Chobe three. Everywhere you will see tons of zebras and giraffes. But you do
not have to go to park in order to see them in Africa
I returned my car in Tsumeb. Roads in Namibia do not have shoulders. Also I do not feel car's size while driving on wrong side of road and having steering wheel also on wrong side. As a result I periodically went on shoulder (grass) and then returned to the road crossed the dividing line.
I took tour to famous Namibian dunes. Namibian Dunes are the most photogenic thing on Earth. Nature did its best here in meticulous perfectionism. Made from red sand, dunes grow sharply from flat clay and gray sand floor. Width of area of mixed material is a few centimeters only, after this only perfect red sand left in dunes. Perfectly flat surface presents unique background for rare bunches of small grass and for traces left by surprisingly large number of small critters. When sun is low famous Namibian pictures of shadow and light appears. It is impossible to take a bad photograph there. I sunk my camera in Indian ocean. But I am not so eager to have my own pictures. World best photographers photographed Namibian desert thousands of time. Most important to see dunes with your own eyes in order to be able to superimpose photographs with your own memory of dunes. I finished my Namibian trip in Swakopmund, nice meticulously accurate German town,
which is quite unexpectable in the middle of Africa. Seafood, especially oysters are pretty good here and very cheap $0.50 per oyster.
Every country I visited has its own smell. Usually this smell is not pleasant and deviated probably from micro flora parasitic on organic materials and on human skin. Namibia is different. Most of country is covered by desert with some bushes and shrubs growing there. These bushes produces quite nice scant and all country is saturated with this smell. Excuse me for naturalism, but even your own excrements smelled this way.
My trip is finished I visited 10 countries:
Kenya
Uganda
Tanzania
Malawi
Mozambique
South Africa
Botswana
Zimbabwe
Zambia
Namibia
Alex Mumzhiu
Swakopmund, Namibia
04/21/2009
9pm
Attachments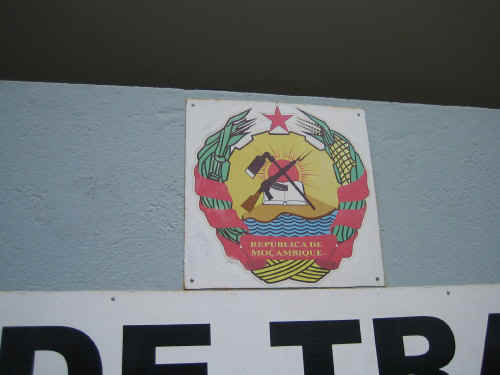 1. Mozambique Gerb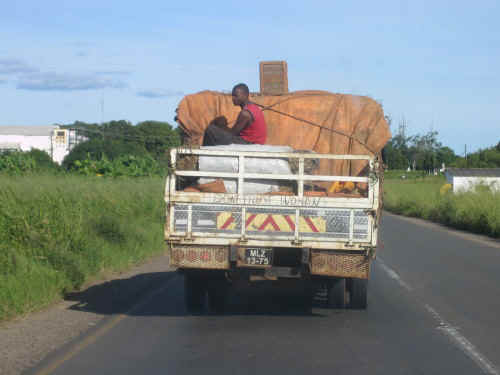 2. Mozambique bumper sticker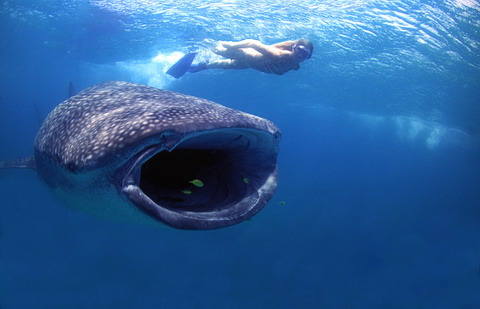 3. Whale shark which I did no meet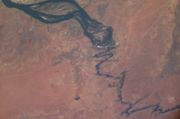 4. Victoria Falls design