Travel Notes from Cuba
After Obama opened the door to Cuba many expected that it will be flooded by American tourists rushing to see Cuba. There is no flood. In my plane from Ft. Lauderdale to Havana there were only about 30 passengers, and they were not typical Americans tourists. None was overweight. There are several reasons why Americans do not rush to Cuba.
First, it is not 100% clear till the last moment that you will be allowed to fly to Cuba from America. Tourism to Cuba officially is still STRICTLY PROHIBITED. There are 12 category of travelers allowed to visit Cuba from the USA: religious groups, educators, scientists and others, each with their specific requirements. Only at the boarding gate at Ft. Lauderdale airport did the attendant give me an application form and told me to mark category 5 or 8 in application form (education and helping Cuba peoples) These category of travelers do not have to provide any supporting documents.
There is no official information on price of Cuban visa. Lady at that gate asked me to give her $100. I did. There was no receipt.
Second, American bank cards are not accepted in Cuba. It means you have to carry all money you need in cash.
Third, Cuba is still at the beginning of the Internet age. Internet and telephone connections with home are not easy from Cuba. I used an unlocked phone with international SIM card "Goodline" for sending SMS. For internet, you have to buy a card from the national telecom company Etecsa for $1, which is good for 1 hour of using Internet. There are several WiFi spots in the center of town, where you can use this card.
Tickets to Cuba are ridiculously cheap. On some dates, it is only $86 round trip from Washington on Spirit Airline. Spirit has very strict requirements on luggage and other stuff, but they are not enforced. So, it looks like Spirit has to keep its prices very low in order to attract customers who otherwise would be scared off by Spirit's strict restrictions.
In Habana, I stayed at Mendoza hostel for $12 per night. It was cramped, but in hostels it is easy to obtain useful tourist information. My hostel roommates gave me internet card and explained how to use it. They also advised where to change money.
Socialism in Cuba is in its most orthodox form. Everybody has the same salary $25 per month. Everything is under strict governmental control. Slogan of Cuba under Raul Castro is: "Control, disciplina, effishensea". They reach great success with first two, but effishensea does not work very well with disciplina and control. Inefficiency is tremendous. Tourists have to stay in line for hours to exchange money in a few banks which do it. Procedure is long, as cashier has to write manually all information about tourist in different booklets. Buying bus tickets is just as long. They have computers, but they do not work, and cashier writes tickets manually. Long lines are everywhere. Shortage of food products is amazing. Sometimes the only food available in stores were beans. Rationing (êàðòî÷íàÿ) system still is in place. See picture below showing store shelves with products sold without questions asked "liberados"; and rationed (íîðìèðîâàííûå) products, "normados", which sold only in quotas and only to these who are authorized.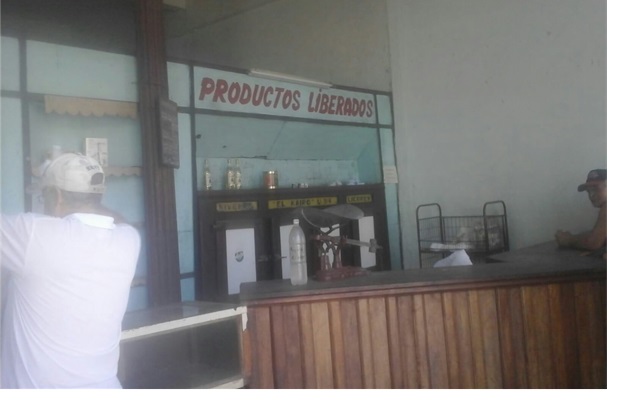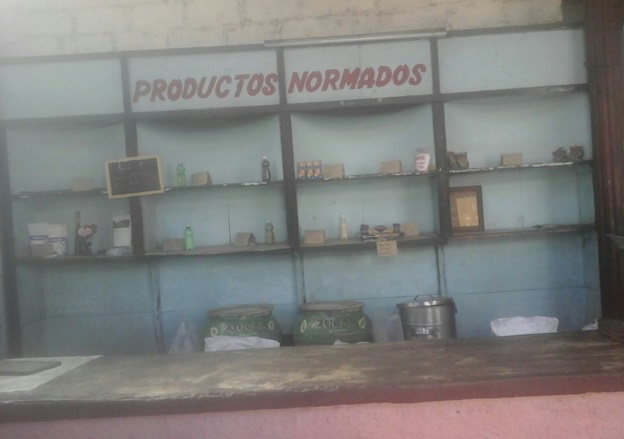 Restaurant are just as inefficient as everything else and people mostly buy sandwiches with sausage for 20 cents from street booths and eat them while walking. I did the same. Sandwiches were OK, at least they were fresh, as many people constantly buy them. There was some more exotic food on the streets also, see pictures below.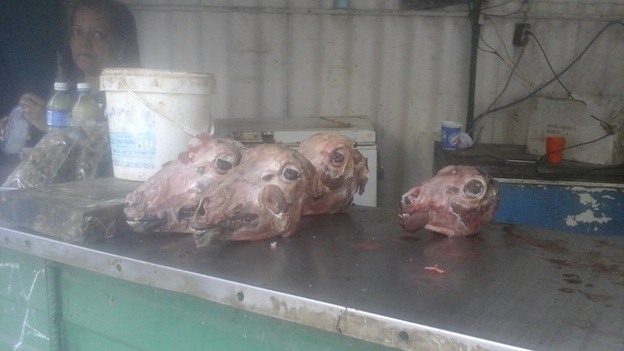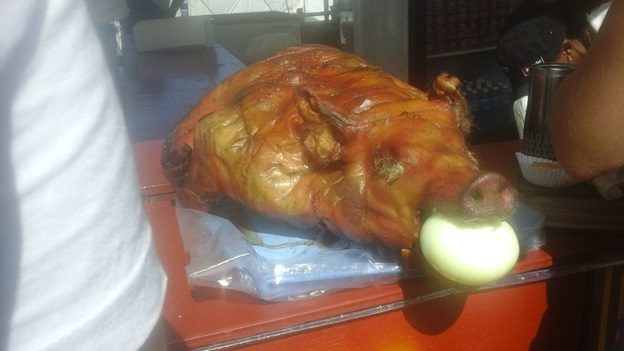 Three quarters of Havana downtown is a slum. But it is not a dangerous slum. Children are playing on broken pavement. There are no air-condition so windows and doors are open, allowing bystanders to observe the simple life of inhabitants.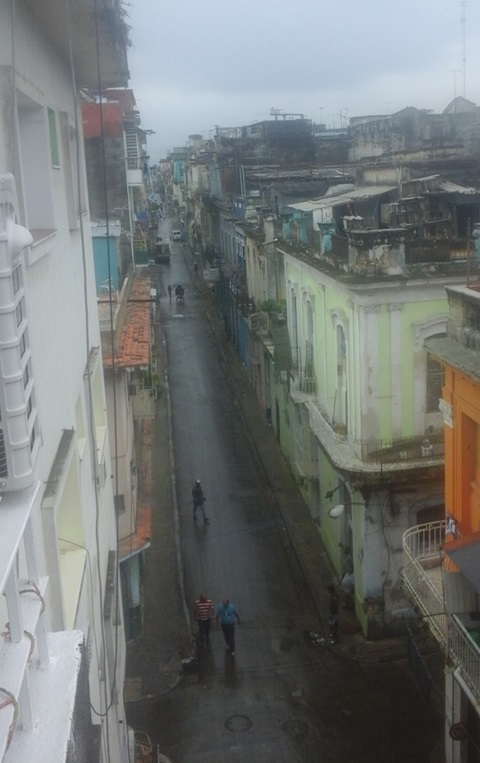 But Habana certainly is not without romantic flair. The Malecon is beautiful in spite of half ruined palaces built by Italian-American mafia, who choose Habana to be their playground.
Malekon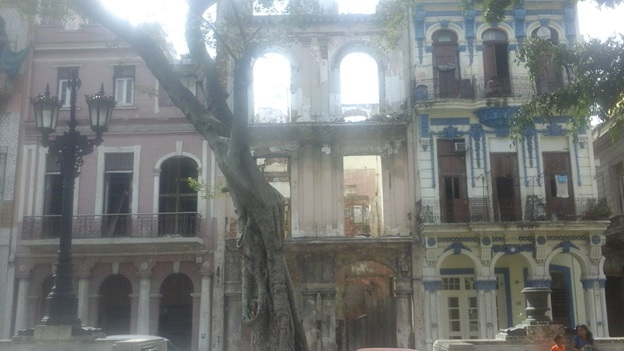 Half of transportation in Cuba, especially in provinces is horse-drawn. You constantly hear cheerful clatter of horses' hooves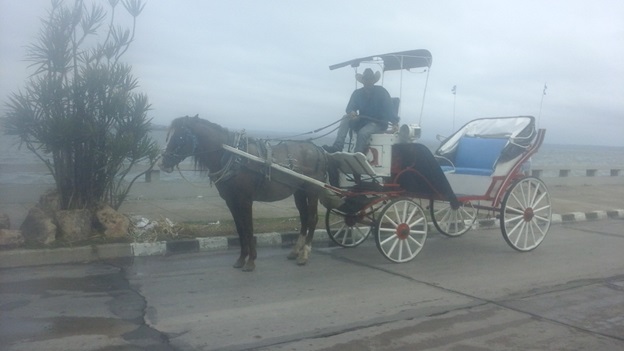 There are also tons of beautiful old cars perfectly restored.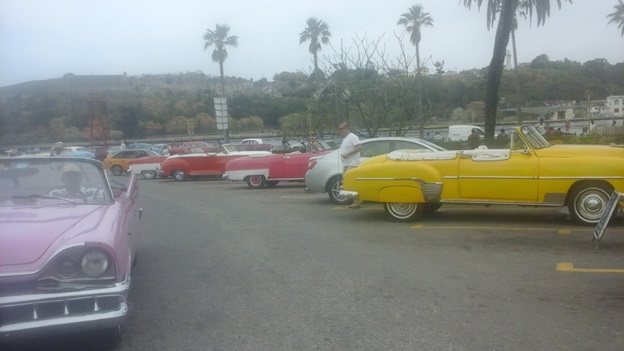 After Habana I visited Cienfuegos, Trinidad, Santiago de Cuba and Baracoa. Cienfuegos pleasantly surprised me after Habana by its absence of slums and its French architecture. Trinidad is well preserved Spanish colonial town, but it's rough cobbled streets are impassable for my bicycle. 4 kilometers South of town, the ocean shore is good for snorkeling. But even better Playa Siboney near Santiago de Cuba. I stayed there in casa particulare located just above this bridge on the picture below (tel 399610). So, it was possible to walk barefoot from home to little river and swim to the ocean. It was decent corals there and some fish. I found tiny cove with little beach accessible only from the ocean and baked couple fishes which I speared with my portable spear gun. Felt like Robinson Crusoe.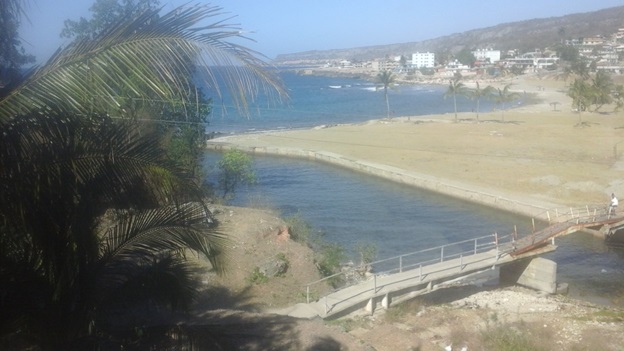 Cuba is an interesting place. You feels like you are in a time machine that transported you to a life, which disappeared everywhere else 50 years ago – old cars, horse-drawn transportation. It is like a museum under open sky. This is why tourists go to Cuba. But you have to remember that employees who suffered in this museum are real people. I remember many years ago, foreigners visiting Soviet Union told us: "You are lucky people because you do not understand how bad your life is". The same relates to the Cuban people. Long lines for everything. Absence of most normal things. For example, it is no bicycle pumps in Cuba. Not at all. Cuba is living example of realized dream of full blown socialism, socialism in even more idiotic form then it was in the Soviet Union. Everybody who like socialism have to be sent to Cuba for free to see socialism with their own eyes. It is interesting that Soviet leaders did not teach Cuban comrades to be inefficient, to have shortage of everything, to have long lines. All of these hallmarks of socialism grow the same in cold Siberia and on tropical island of Cuba.
Young pioneers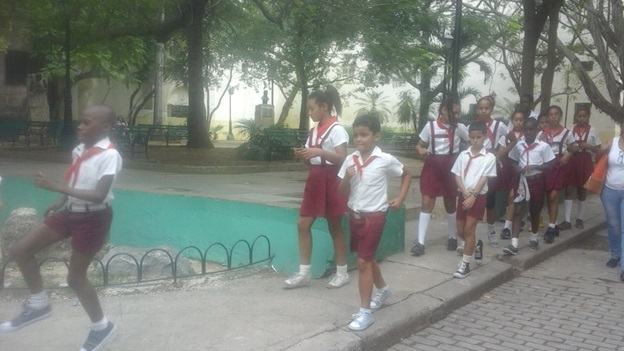 Leaving Habana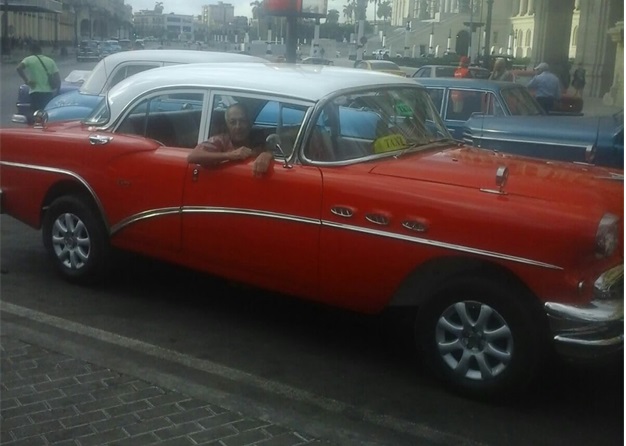 Alex Mumzhiu
mumzhiu@yahoo.com
http://www.foldabiketravel.com/
Washington, USA
Apr 12 2017