Travel Notes from Costa Rica and Panama
Oct 31 - Nov 29, 2018
I flew to San Jose, Costa Rica on Spirit airline for $163. Spirit scares away potential passengers with additional charges for luggage, for seat reservation, and for other stuff, which are not enforced, by the way. As a result, in spite of low rate, the flight was half empty. I was surprised how they can stay in business with such a stupid policies.
I have been in San Jose 8 years ago. My favorite hostel Tranquillo is closed now. I stayed in Costa Rica Backpasker hostel, which is nice, but far from the center of the city. I went three times to Costa Rica Nationl theater, which I admire. It is classical opera theater, older style. The same way as in St. Petersburg, I leave my bicycle in a bag at cloak room. I also visited volcano Irazu and went down on bike.
After San Jose I took bus to Playa del Coco and stayed in hostel M&M Garden house. I arrived in late afternoon and had time for some snorkeling. In-spite of sun been low I saw some fish. Nothing prepared me to what happened next day. The entire sea was brown/red. I can not see my hand in water. And the sea smelled like garbage. It was "red tide", algae bloom, which produce natural toxin harmful for marine life and people. Next days I visited nearby playas. It looks like red tide covered all near-shore areas of ocean.
Well, I left Pacific ocean and went to Atlantic one in hope to be more lucky there. I went to Cahuita. Again, I went snorkeling before sunset. It was barely possible. Next day waves were too big and even dive shop at Parque Nacional Cahuita was closed. I went through infamous Puerto Viejo, where my friend was drugged and robbed in 2007 to Manzanillo and stayed in the wonderful room with loft in Beachfront Playa Manzanillo hotel for $7. It was nonstop rain. Manzanillo is nice place. I will came here again one day, but will check weather condition in advance with local dive shop "Bad Barts" tel 506 2750 3091.
Next day I went to Bocas del Toro, Panama and stay in Selina Hostel. The Panama now requires all visitors to have return ticket to your country. I saw tourists stopped at the border for not having return tickets. I bought in advance the ticket from Panama city to Washington for $144 to ensure Panama border guards that I have no intention to stay in Panama forever,ha ha.
In older edition of Lonely Planet it was written that Bocas del Toro is town of friendly black people. It would be not very politically correct to say so, according to newest standards, but it is still true. Black people are friendly here. They are a little bit sloppy, but not everybody could be a German, anyway. I took snorkeling trip with local company, which was quite good. But I do not like these organised excursions. I prefer to find good places myself. So next day I rode bike along the eastern shore of Isla de Bocas del Toro and found excellent snorkeling place. One of best I ever seen, located at: http://ge0.me/skLNiBY3Na/Big_Creek
It is soon after wadable creek. If you reach house on the right, it is too far. You have to return back 100 meters. Under water deep crevices and small grottoes were full of fish. Some sharks were curios and came to inspect the newcomer in their own domain. I kicked them off with my speargun, did not shoot, just kicked. No reactions. They go away only after they satisfy their curiosity. Next day I went to this place again and was unable to reach it, due to different tide/waves configuration.
From Bocas del Toro I took boat/bus trip to Boquete. Again it was non stop rain. Boquete town was in a middle of the road repair project, and it was deep in mud. I hired taxi to take me up to volcano Baru and rode bike down. It was fun. From Boquete I went to Santa Catalina on Pacific ocean. And I took a snorkeling tour to Isla de Coiba, which is hour and a half boat ride from Santa Catalina. It cost $80, but it worth the money. Snorkeling was perfect. Unfortunately snorkeling directly from Santa Catalina is not possible.
Next, I took a bus to Panama city. I stayed at Hospedaje Casco Viejo in single room for $25. The Casco Viejo is in historical center of Panama city. In daytime endless tour groups roaming the place. The Presidential palace is located here. Two blocks from palace is high density slum. Two policemen standing on every intersection. Panama is struggling on keeping balance between growing middle class and still large majority of poor people living in slums. There are plenty of things to do in Panama city for civilized tourist: watch movement of ships through canal locks, visit tropical forest within the city at Parque Natural and so on. But I found different entertainment for myself.
In my KGB file, back in Soviet Union, it was phrase: Interrupted the movement of foreign ships in the sea of Azov. "мешал проходу иностранных судов по јзовскому морю". This time I interrupted the movements of cars on Pan-Americana highway on the bridge across Panama canal. Actually, I rode bicycle across this very long and tall bridge, see picture. I did not know that it was prohibited. There were no signs. Police van came from opposite direction to catch me. In order to reach me they have to stop traffic on the Pan-American highway in both direction.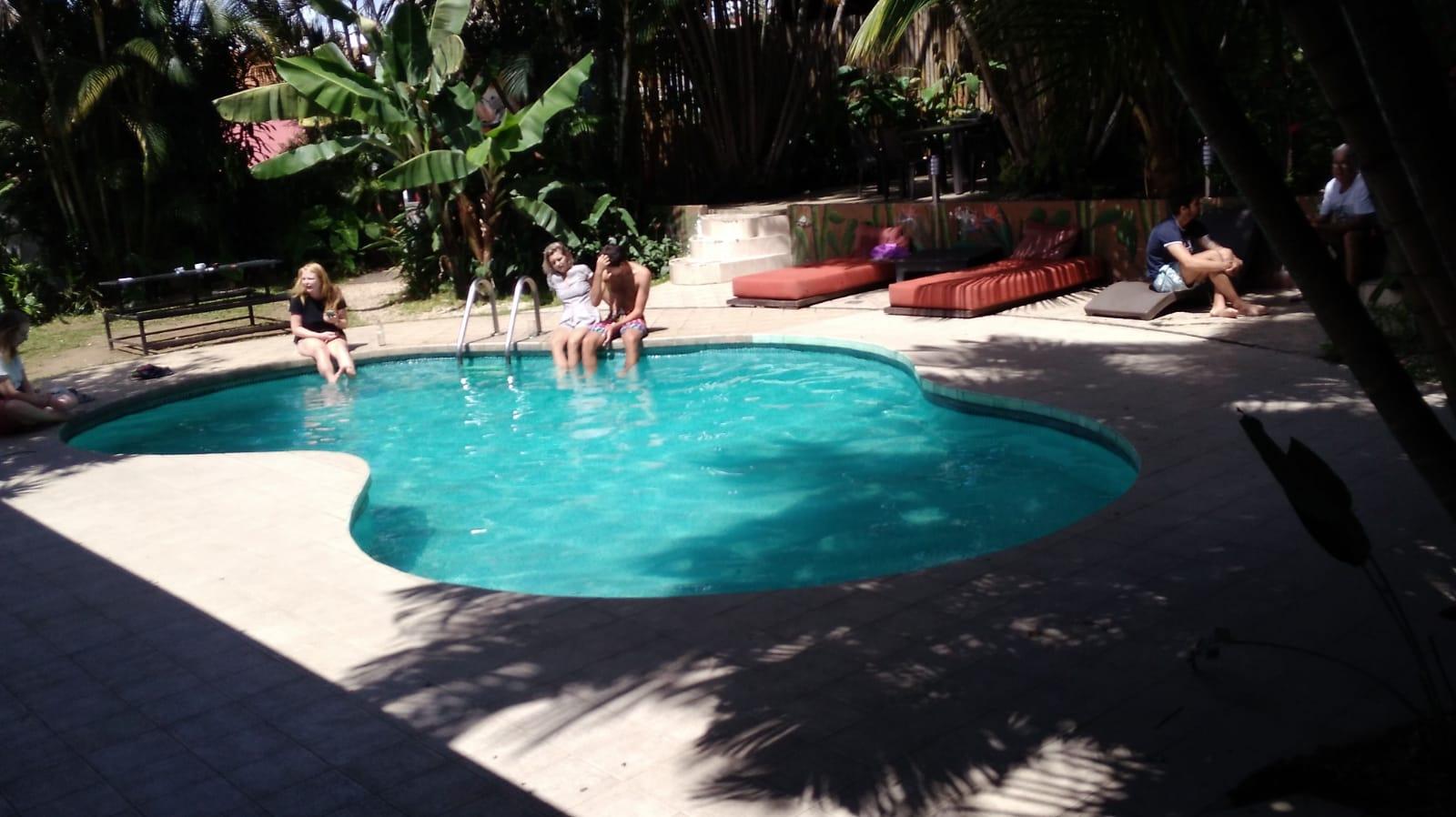 1 Swimming pool at Costa Rica backpackers hostel, San Jose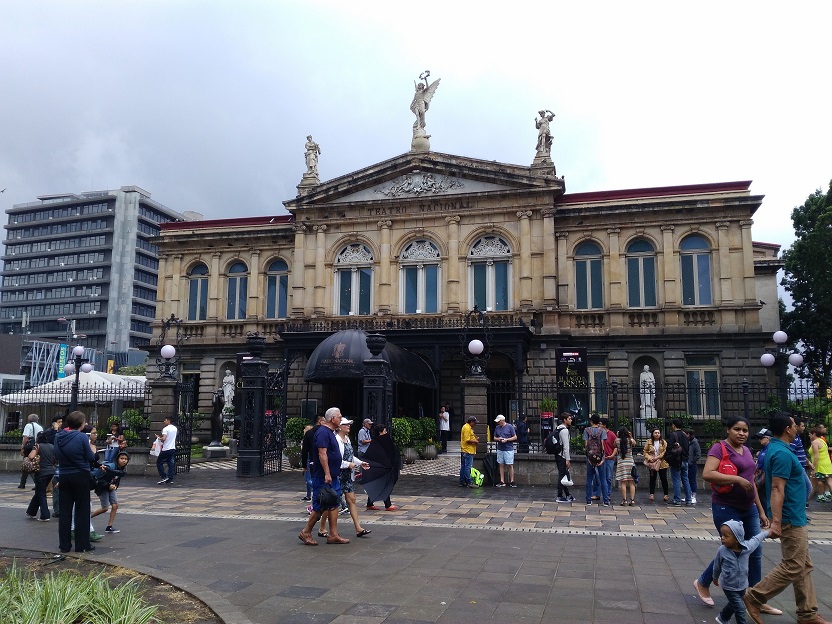 2 Costa Rica National theater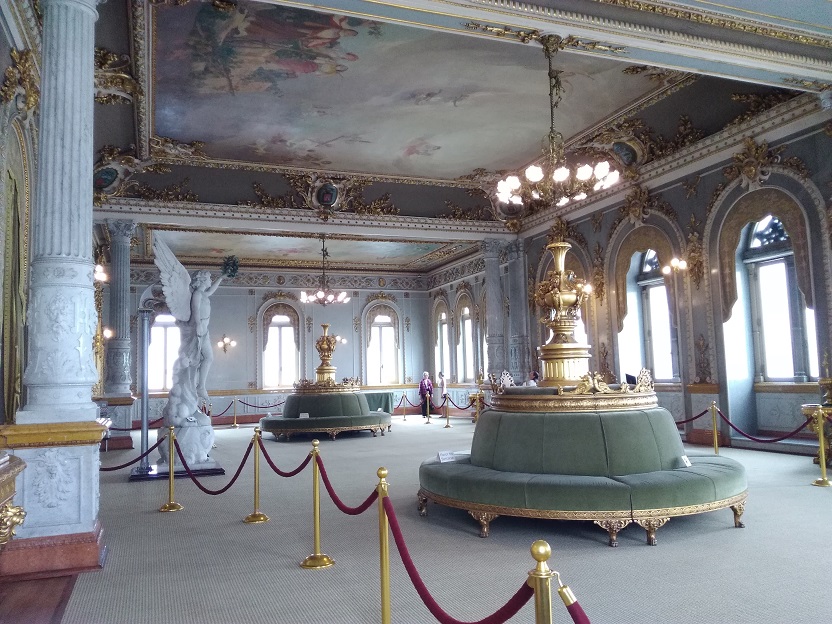 3 Costa Rica National theater, interior

4 Volcano Irazu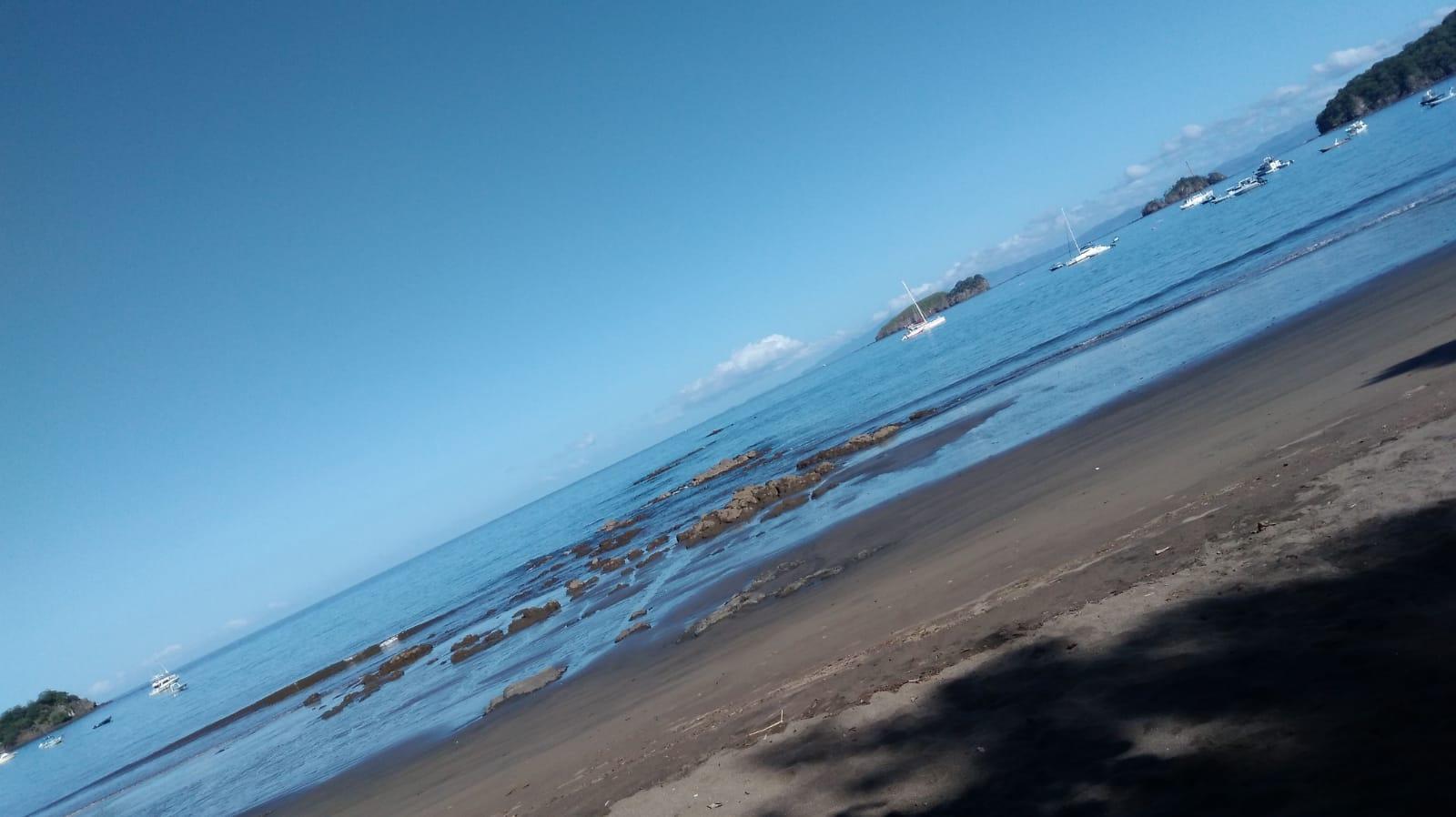 5 Playa del Coco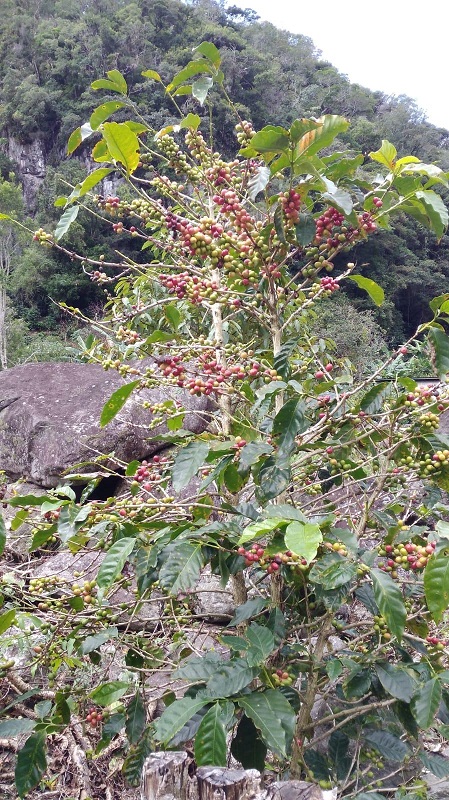 6 Coffee bush, Boquete

7 Colorful landscape near Boquete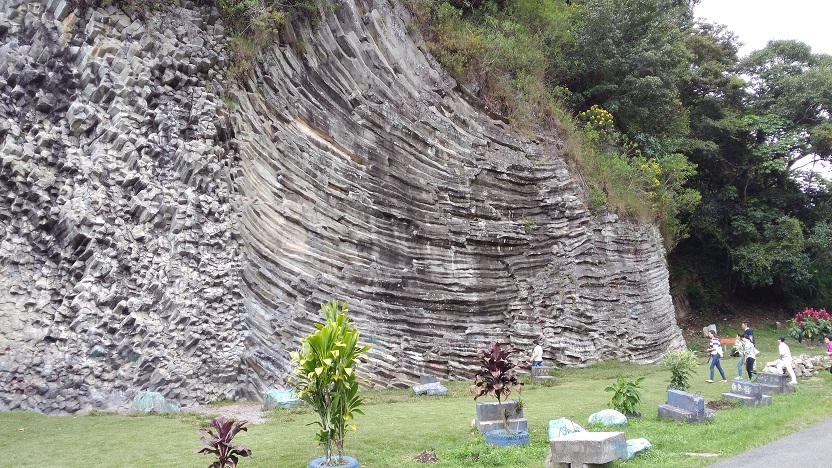 8 Basalt crystals near Boquete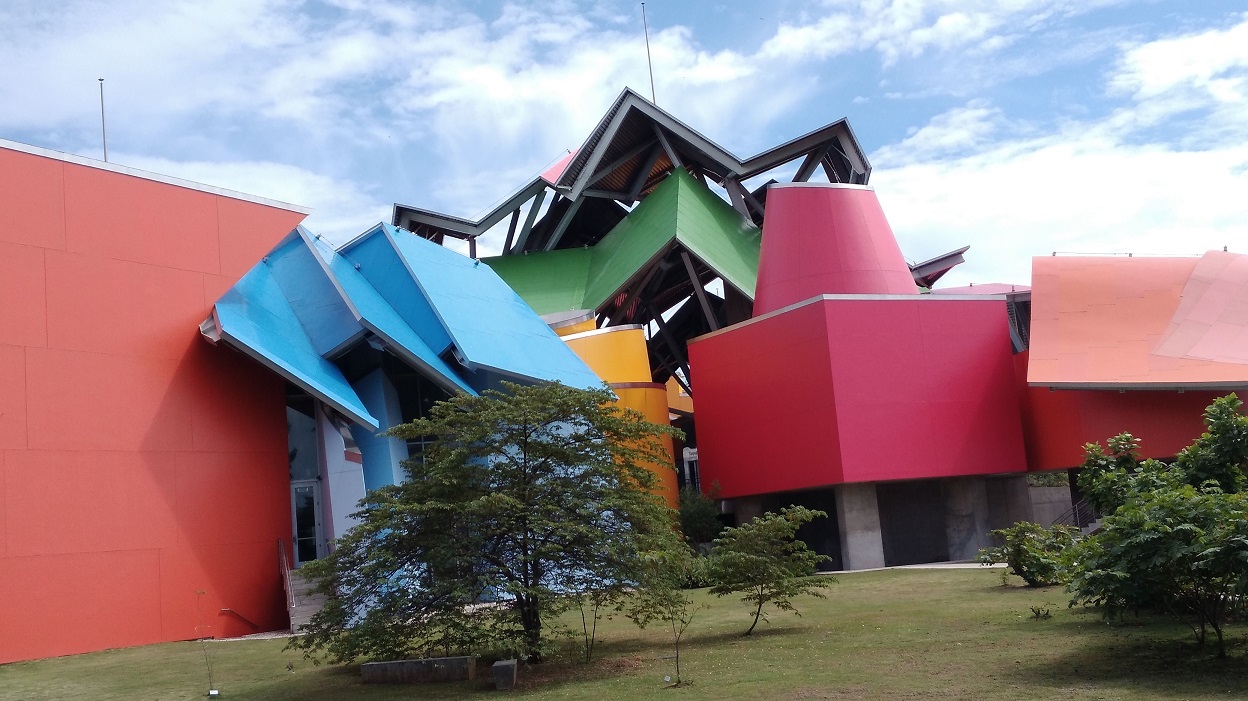 9 BioMuseo in Panama city, designed by the same architect who designed Bilbao, Frank Gehry

10 Bridge across Panama canal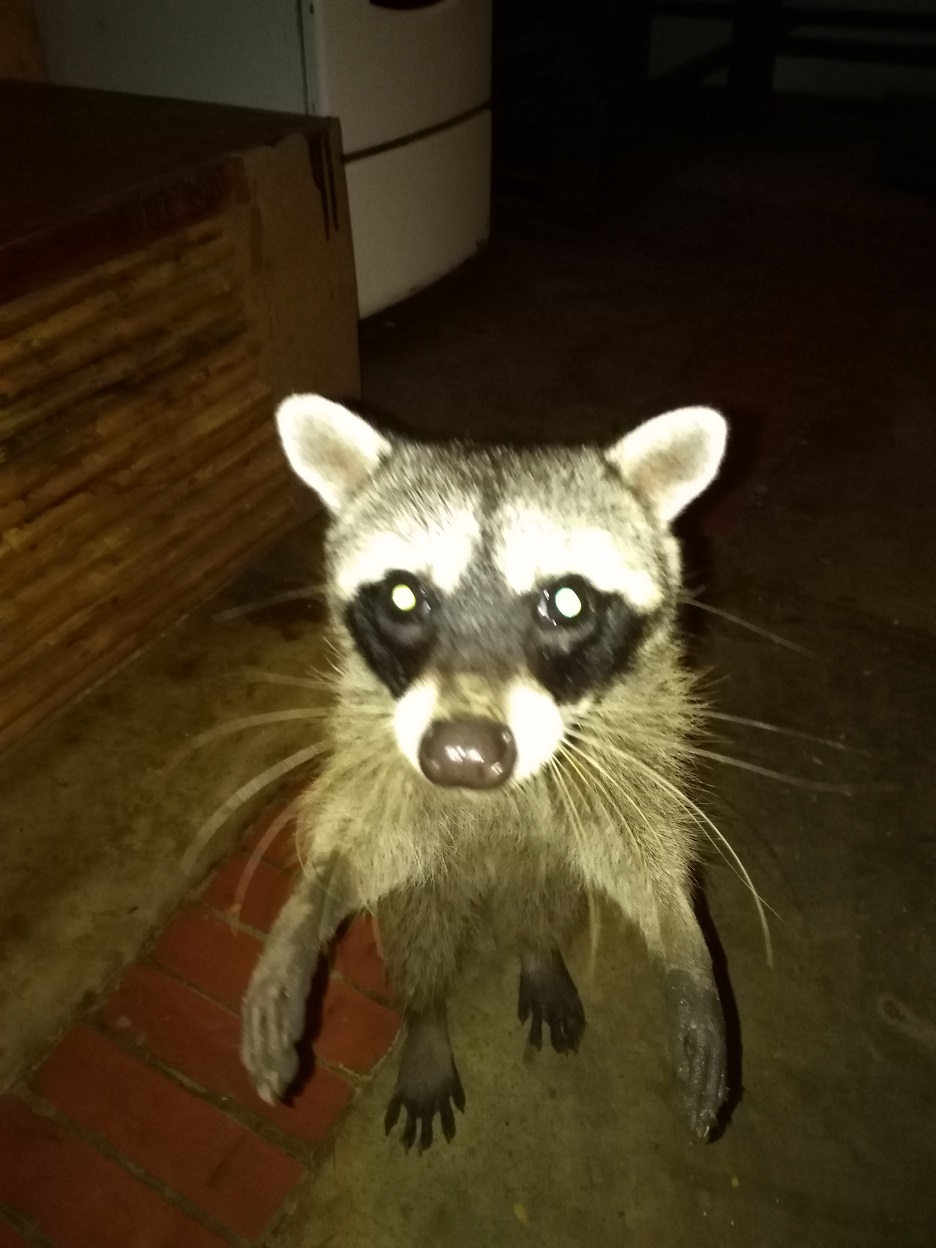 11 Racoon wants to share my dinner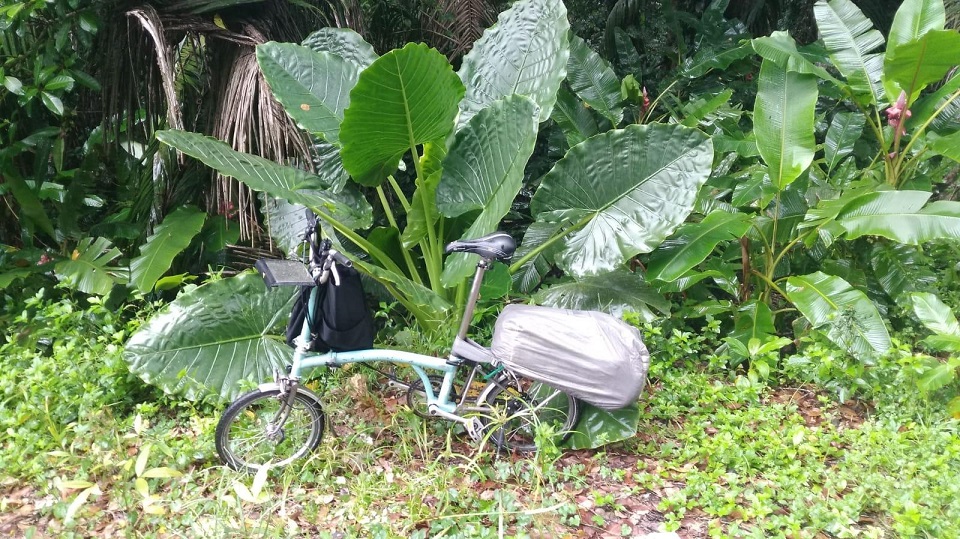 12 Huge tropical plant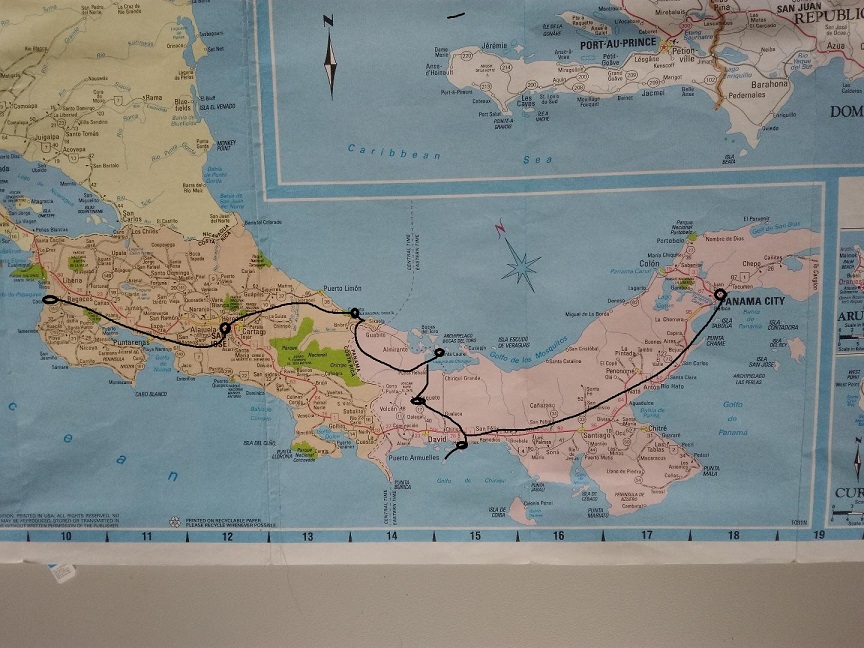 13 Map of my trip
Alex Mumzhiu
Washington USA
20 Dec 2018
mumzhiu@yahoo.com
http://foldabiketravel.com/
MARRY CHRISTMAS and HAPPY NEW YEAR my Dear Readers