Travel Notes from California
My Dear Readers,
I recently returned from my short, but quite interesting bicycling trip to California. During my flight from Washington to San Francisco I had a window seat. To my amusement the Western part of country look more like Central Asia.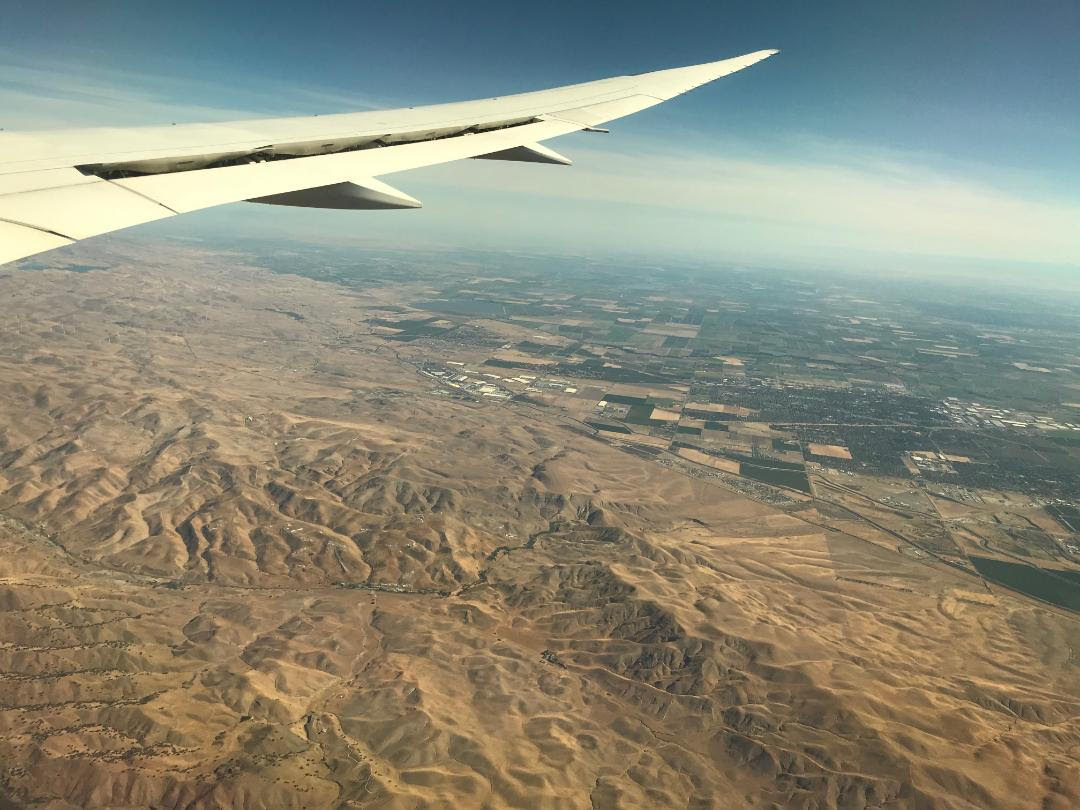 I started from town of Guerneville 120 km NW from San Francisco. I bought a couple packets of Nissin noodles, loaf of bread, stick of hard salami and couple heads of onion and garlic, all food I need for my trip. Town of Guerneville is located on Russian river. This place has interesting history. The river takes its current name from Russian Ivan Kuskov of the Russian-American Company, who explored the river in the early 19th-century and established the Fort Ross colony, 16 km northwest of it's mouth. Ivan Kuskov was born in the town of Tot'ma (Тотьма), Russia. Coincidentally two years ago I travel to Tot'ma, and visited house-museum of Ivan Kuskov. Fort Ross is a former Russian establishment on the west coast of North America in what is now Sonoma County, California. It was the hub of the southernmost Russian settlements in North America from 1812 to 1841.
When Fort Ross was no longer needed to supply the Russian Alaskan colonies with food, the Russian-American Company sold it to John Sutter, a Mexican citizen of Swiss origin, Although the settlement was sold for $30,000 to Sutter, some Russian historians assert the sum was never paid, therefore legal title of the settlement was never transferred to Sutter and still belongs to the Russian people. From Guerneville I rode bicycle on Rt 116 along the Russian river till intersection with Rt 1 on Pacific shore. At the intersection of these roads the Russian restaurant is located, with Russian flag flying over it.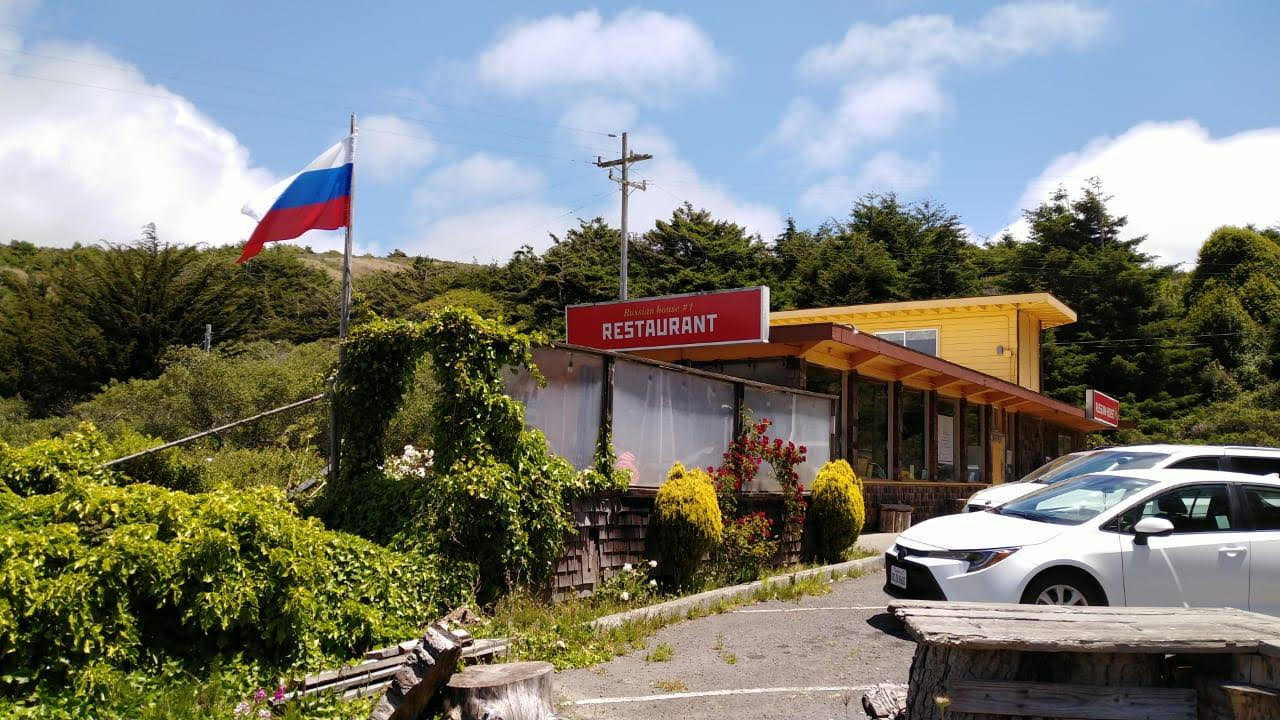 Route 1 brought me to Bodega Dunes Campground in Sonoma Coast State park. Campground was full for campers. But bikers/hikers site was empty. I was the only person on this big site. I erected tent and started to collect firewood to cook noddle soup on fire. It was some dead wood on the border of my site and neighbor's site. As I started to collect dead branches, my neighbor started to shout something to me. I do not hear very well now, so I did not understand what he was saying. But I guess he was telling me that this tree is his. Soviet mentality sits deeply in my brain! I returned to my site. Soon this neighbor came to my site with big bunch of firewood. Then another neighbor brought me some coal and fire starting fluid. Then another neighbor brought me piece of hot omelette with bacon. And another lady brought the mug of hot coffee. I guess these folks travelling in huge campers/motor home feel some kind of guilt toward the guy who travel on small bicycle and with small backpack. I am not a green movement aficionado, but I definitely made less harm to nature then these huge camper/motor homes. Campground is surrounded by magic, "witch" forest of huge trees with multiple thick branches.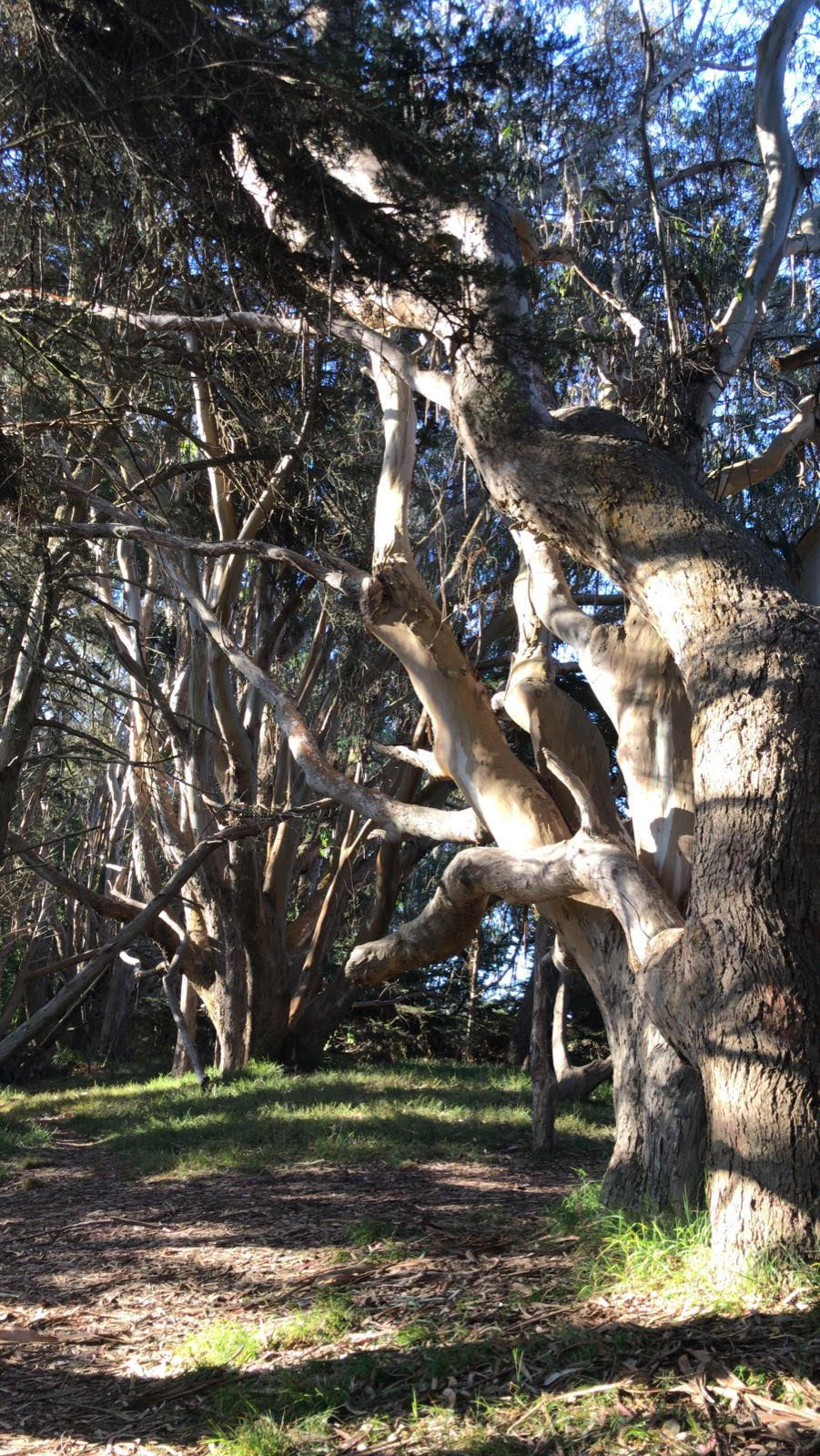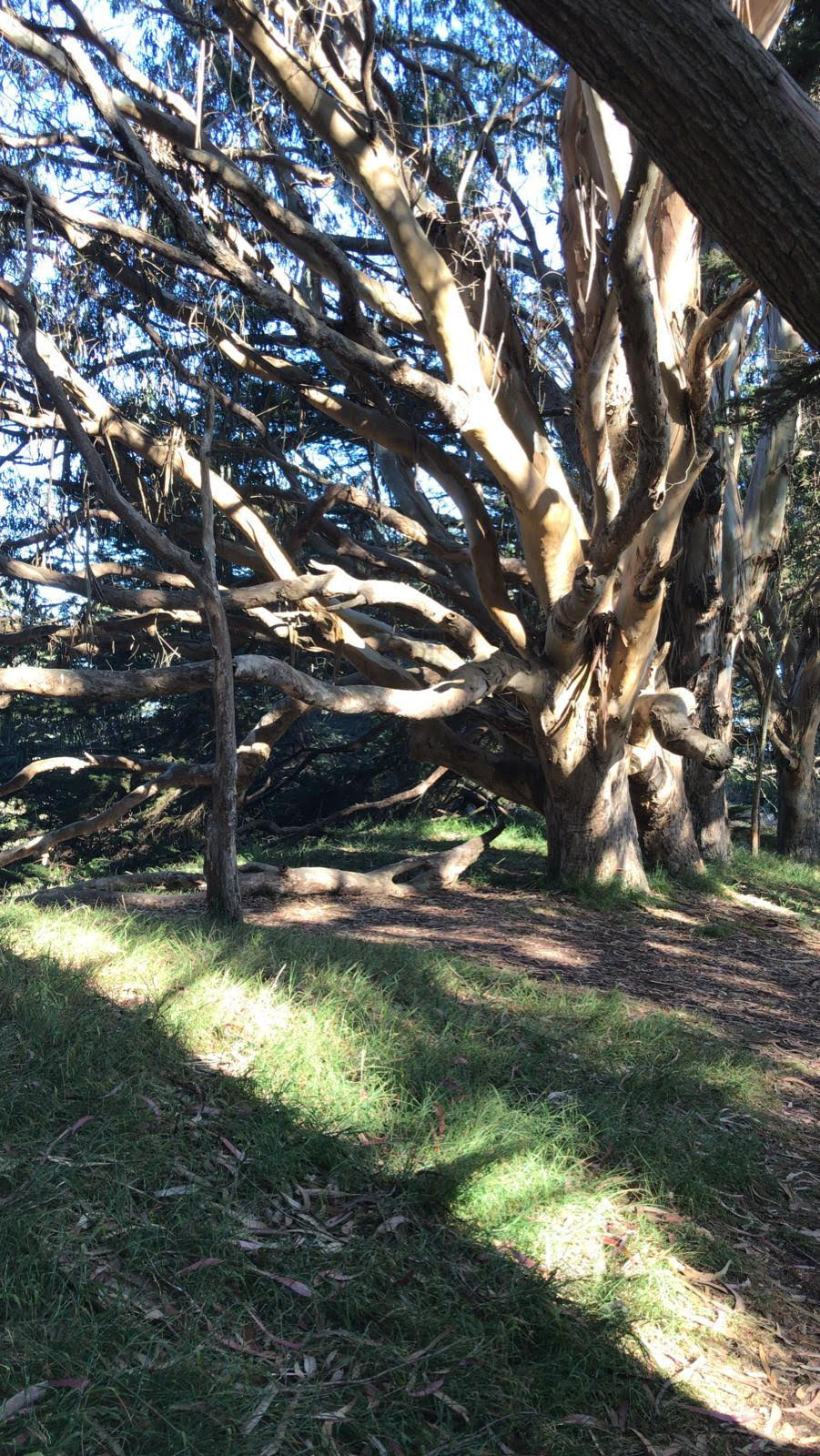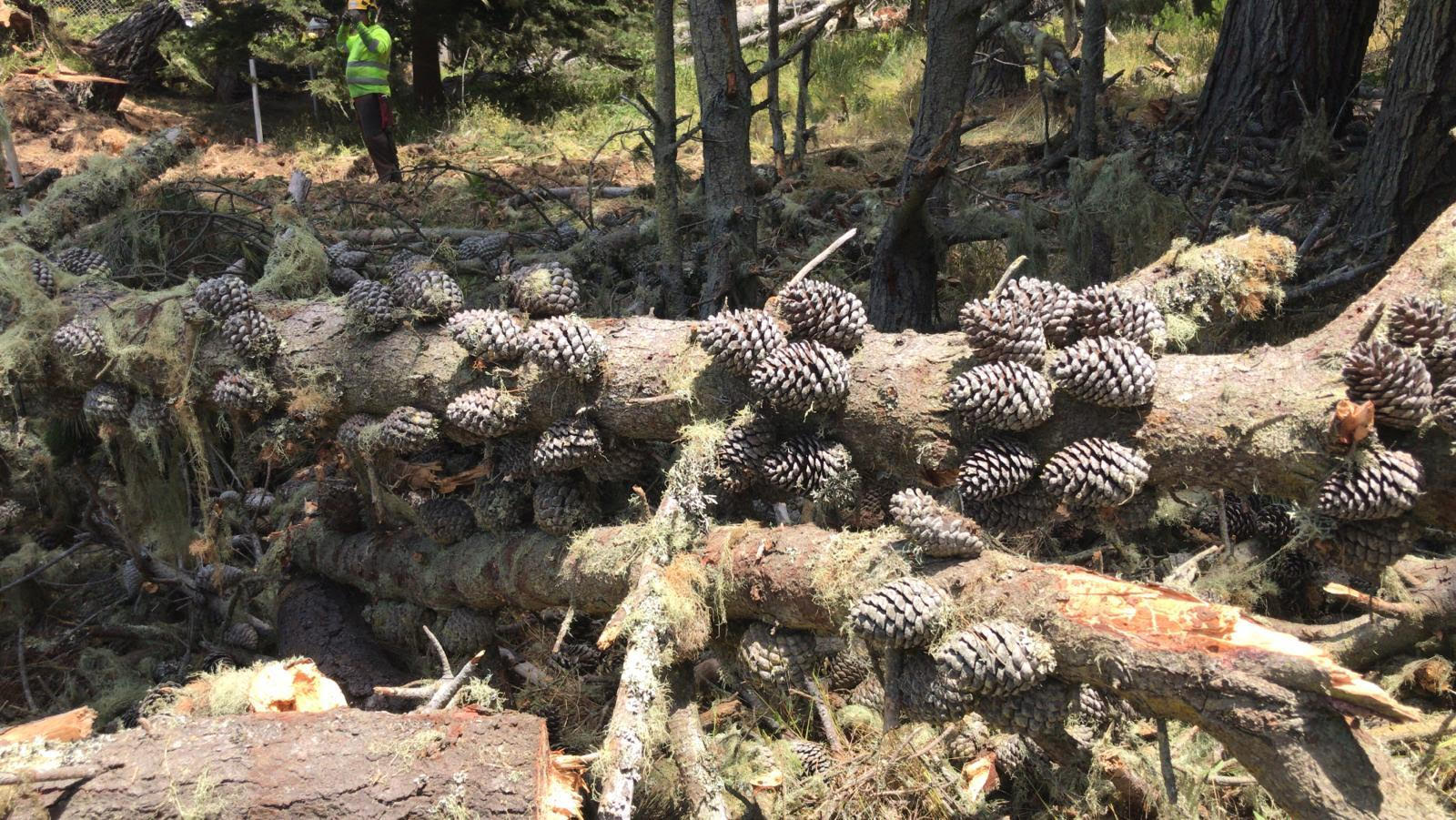 I stayed there for another day and went to Bodega Bay town. Early history of Bodega Bay indicates heavy Russian involvement. Previous name of Bodega Bay was Rumiantsev (Румянцев) Bay. I visited Bodega Bay town and tried local specialty barbequed oysters. I prefer them raw. I also visit some beaches, water was not as clear as I expect to see it at Pacific ocean. Price for stay in biker/hiker site was $5.
Road to my next campground - Olema was relatively flat. Biker/hiker site of campground was full of country (folk) music admirers celebrating their yearly gathering. They arrived on bicycles and with their musical instruments. They invited me to their table and fed me with fresh empanadas, chicken soup and beer. I had shown them my card with my routes through 139 countries I visited.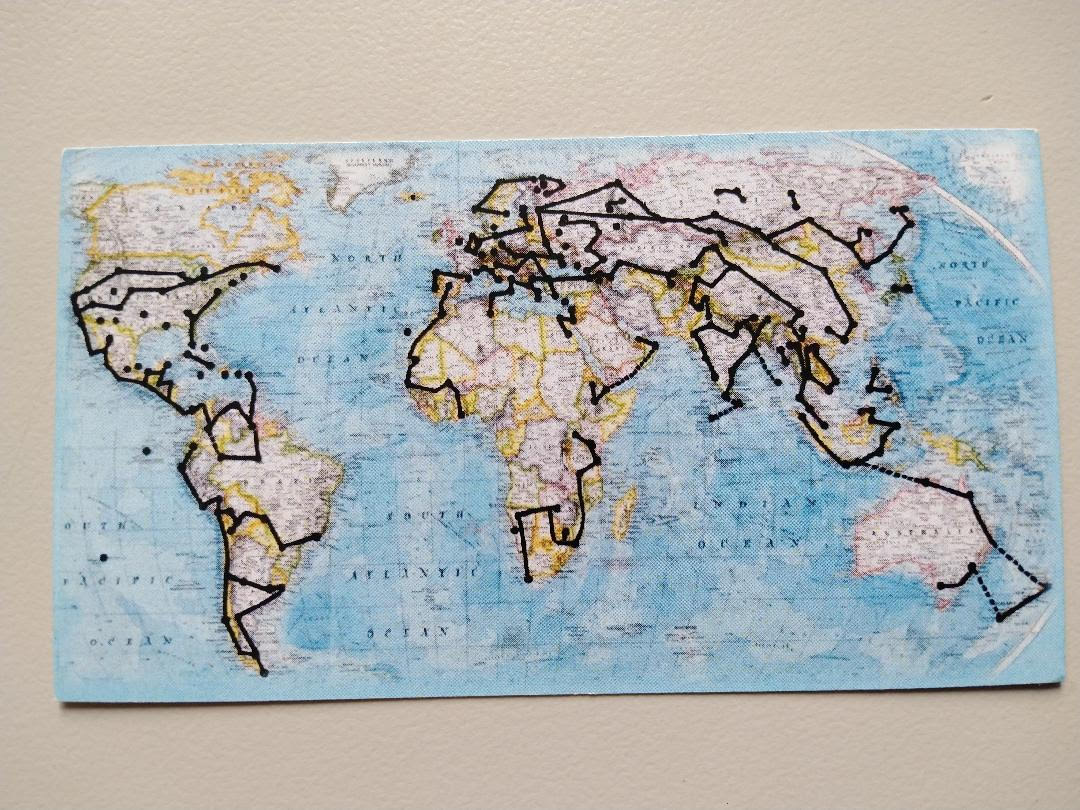 They gave me their card.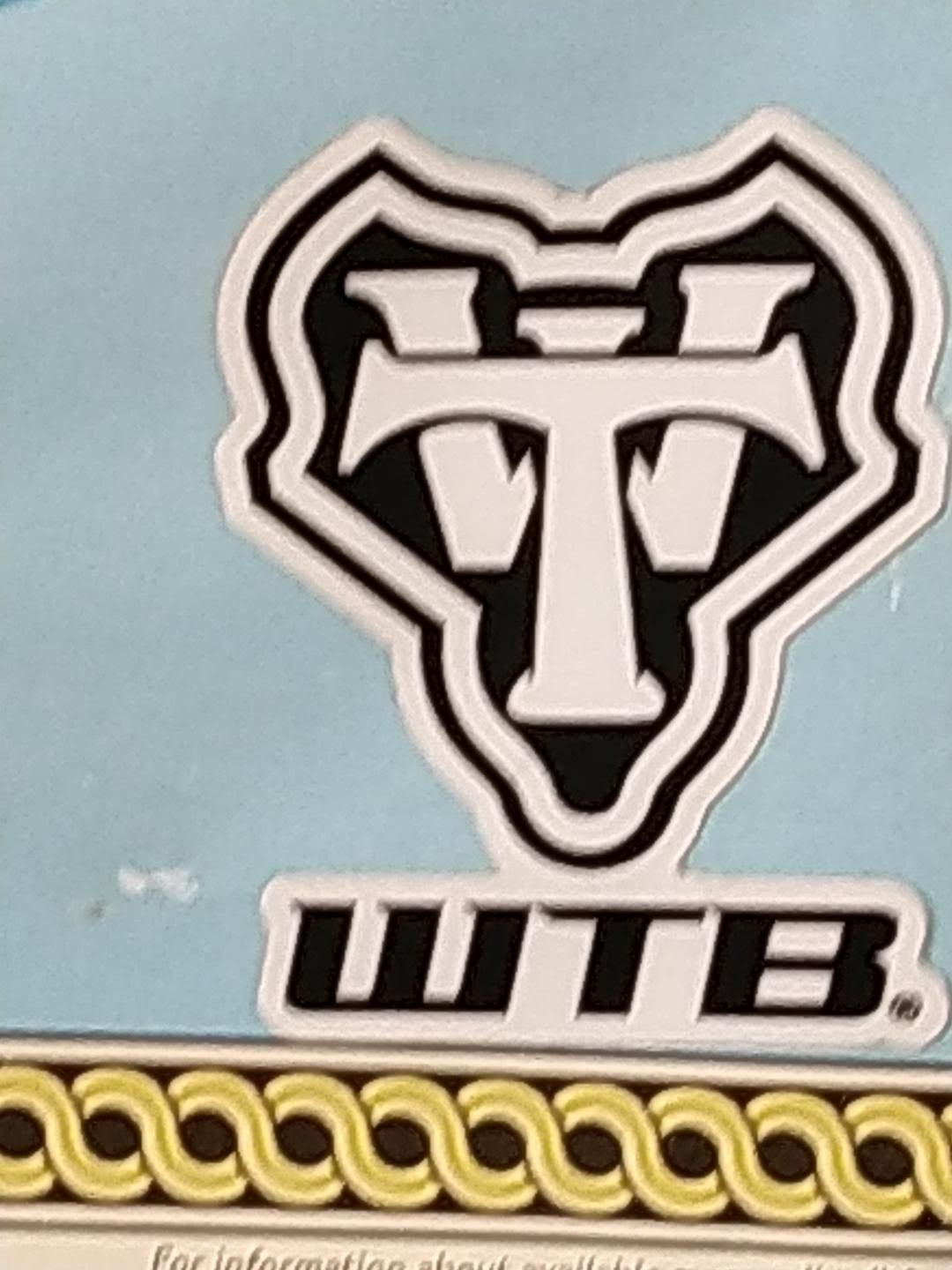 It was a lot of questions on my method of travel by folding bicycle. Interestingly enough some of them presented an opinion similar to one expressed in popular Soviet song "We do not need foreign sun, as well as foreign land..." (Не нужно мне солнце чужое, чужая земля не нужна..) I think there are more people in America then in Russia who share this mentality. I put two my smartphones in the bathroom to charge. It was no electrical plugs on the hiker/biker site. It is common practice in campgrounds to charge telephones in bathroom. Why I carry two smartphones? In every country I visit I buy sim-card in airport for few dollars and insert it into my large, convenient Android smartphone. In every country except for America. In America you have to buy subscription. This is why I carry second small Apple phone with subscription to AT&T network. My telephones disappeared. Lady who witness it said that they (who are they?) promised to bring telephones to the office next day. Office was already closed. Nobody brought them to the office next day at 9 am. at the office opening. Nobody brought them at 10 and 11. At 12 I was ready to call to police. I told my problem to my bicyclist neighbors. They camp in this campground for years and know everybody. They brought telephones in minutes. How they found them I still do not know. The telephones were password protected, so it did not made any sense to steal them.

Road from Olema to San Francisco started with steep ascent which looked endless. It was impossible to ride bicycle there. I have to walk with bicycle. But I cannot walk for a considerable time due to arthritis in my right ankle. So I fold bicycle and started to hitchhike. Good man stop in about 25 minutes and took me to the beginning of Martin Trail Bike Path through red wood forest. Riding through forest of magnificent 100 meters tall trees is like going through cathedral. Campground was located in Samuel P. Taylor State Park. Hikers/bikers site was empty. Camping in the forest of such majestic trees was a privilege.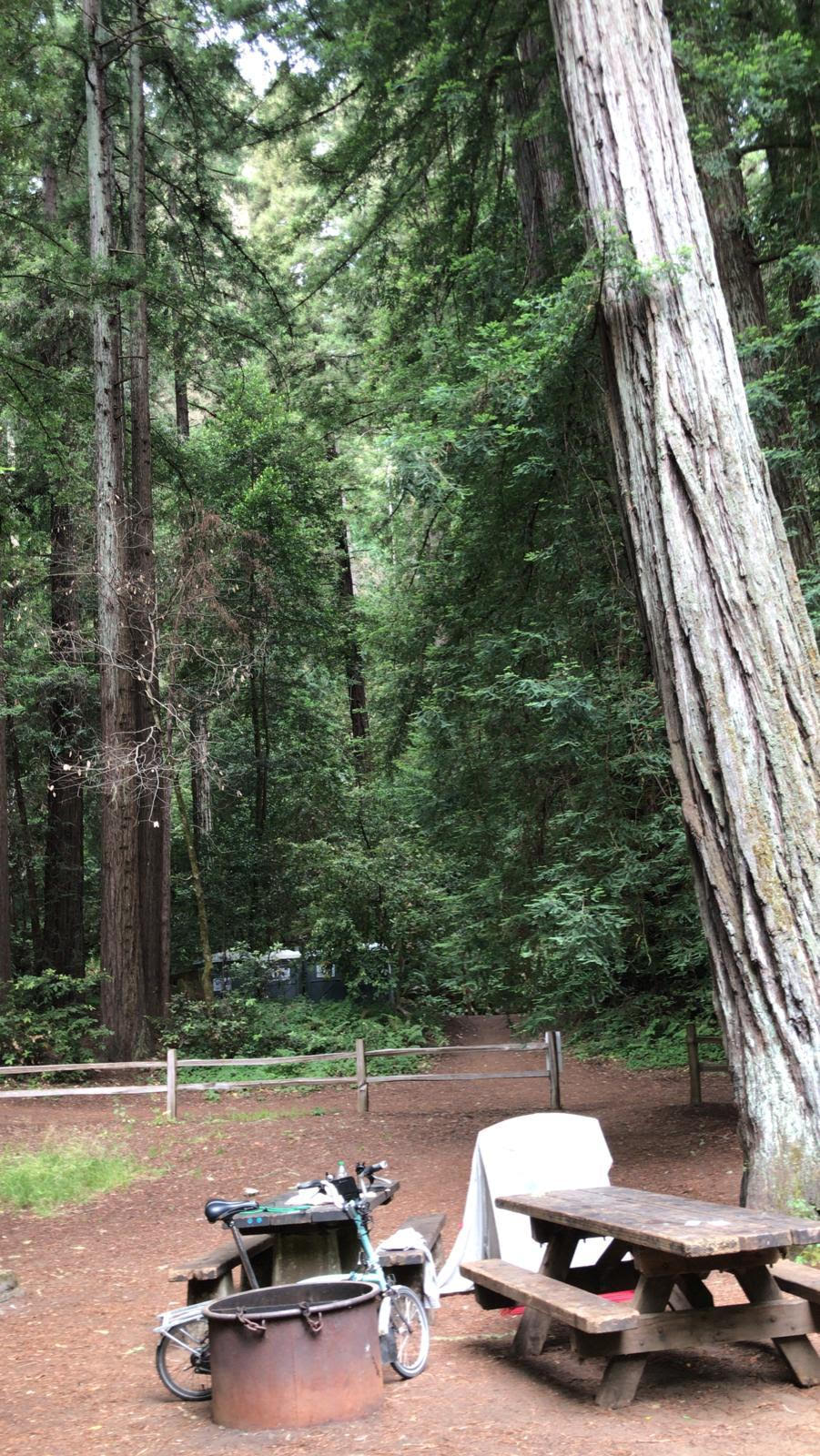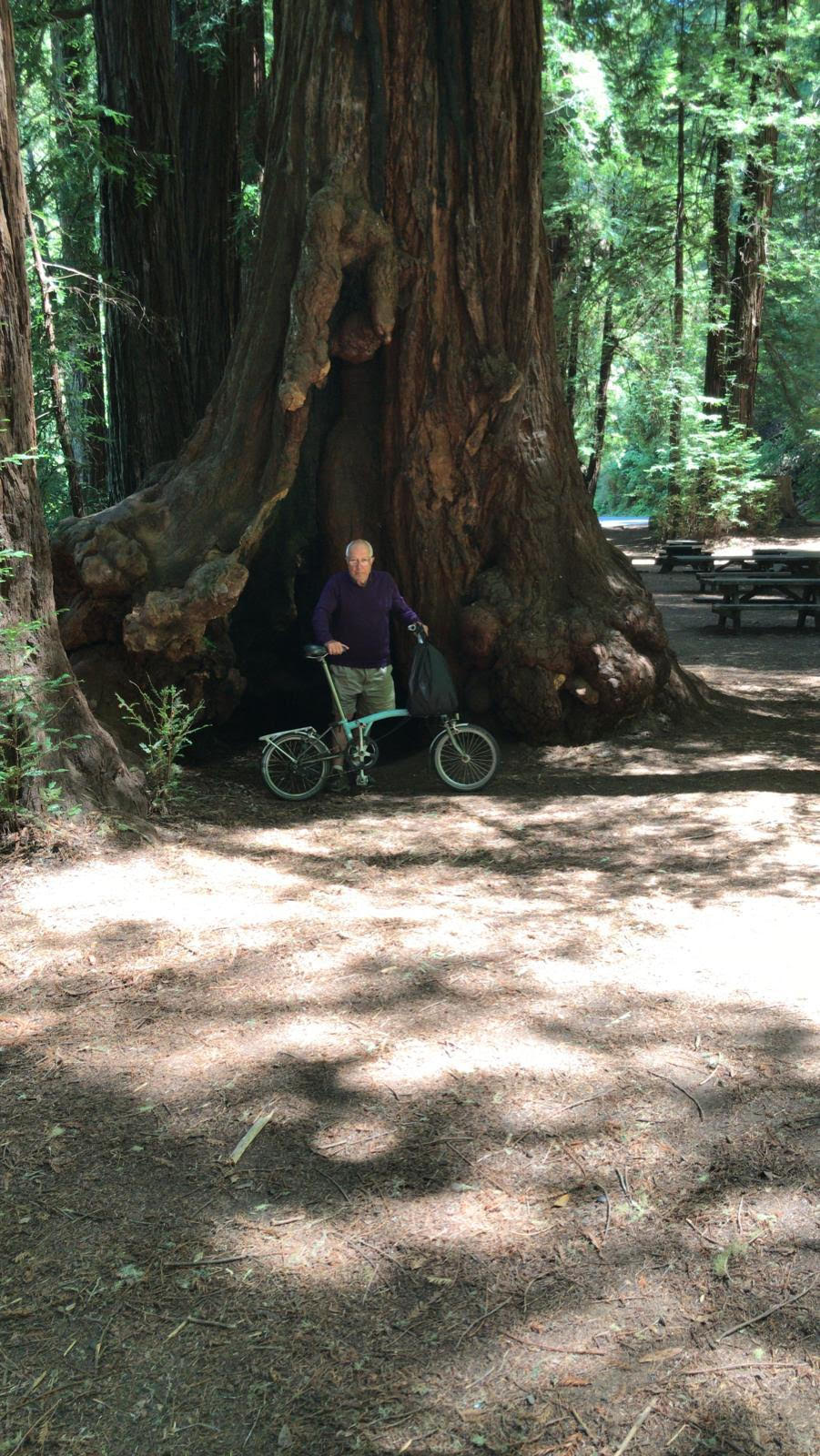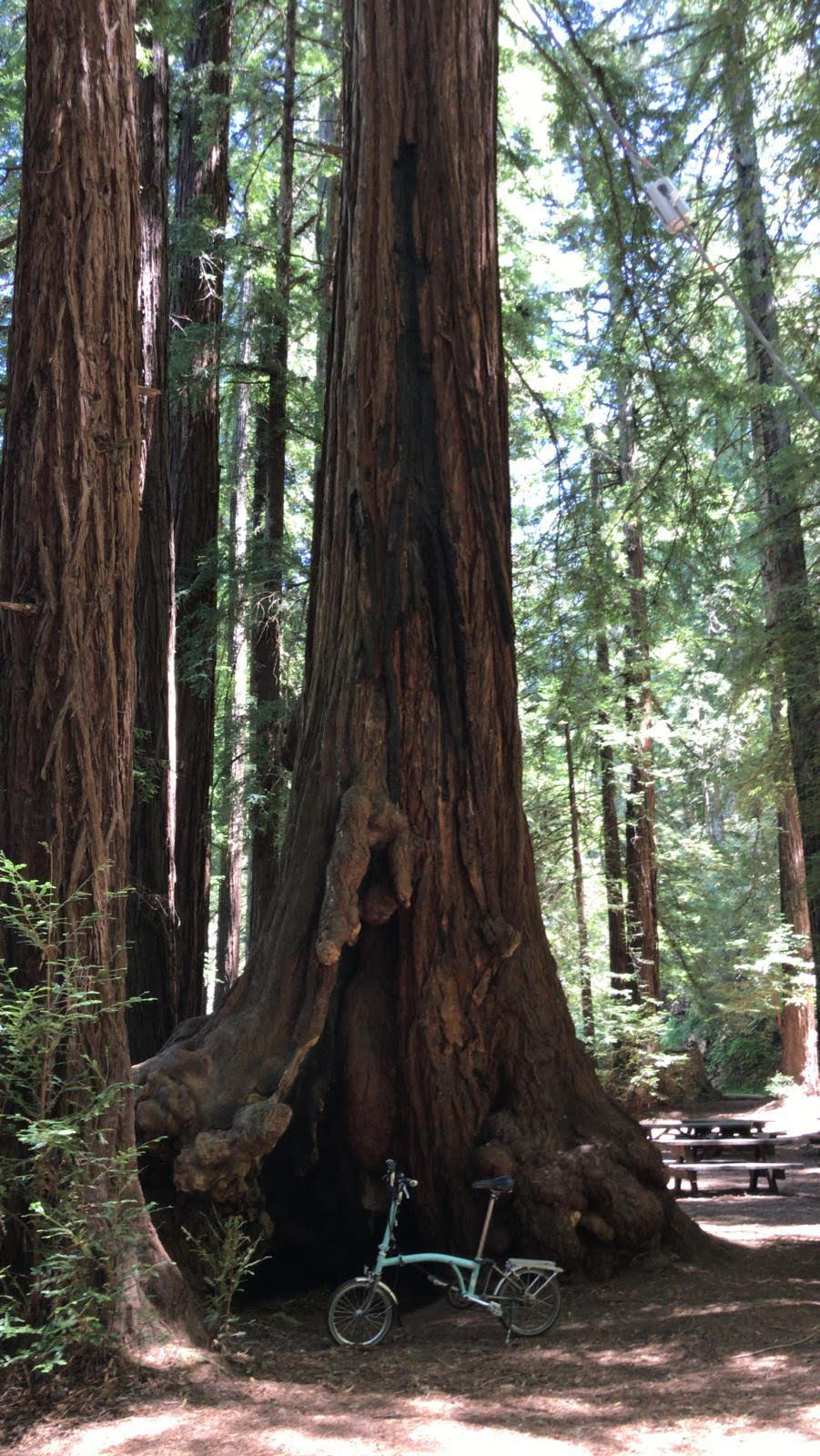 So I decided to stay for second night, but ranger discovered me and demanded me to leave. Maximum stay is one night! There were no other campers on the site, and it was 3 pm, too late to ride to San Francisco and there were no other places to stay. He was unmoved. Rule is one night! In undeveloped and corrupted countries such situation may be resolved by bribe, but not in America. This is, by the way, in the root of conflicts with police in America. Police require strict obeying of all rules and enforce it by all means, including guns. As a result a person who was guilty in even small infringement can be killed. By contrast, Russian policemen take bribes, but they do not kill people. Eventually ranger called to his supervisor and he allow me to stay for one more night. My previous route was mainly on Rt 1. This time my route to San Francisco was through small towns and was not very well marked on the ground. In this sense very useful was map of Pacific Coast section 3, which I bought from Adventure Cycling Association, adventurecycling.org
I use to love San Francisco. In every business trip to West Coast I tried to include San Francisco. But the city has changed. Golden Gate bridge is still beautiful as before, but town is different.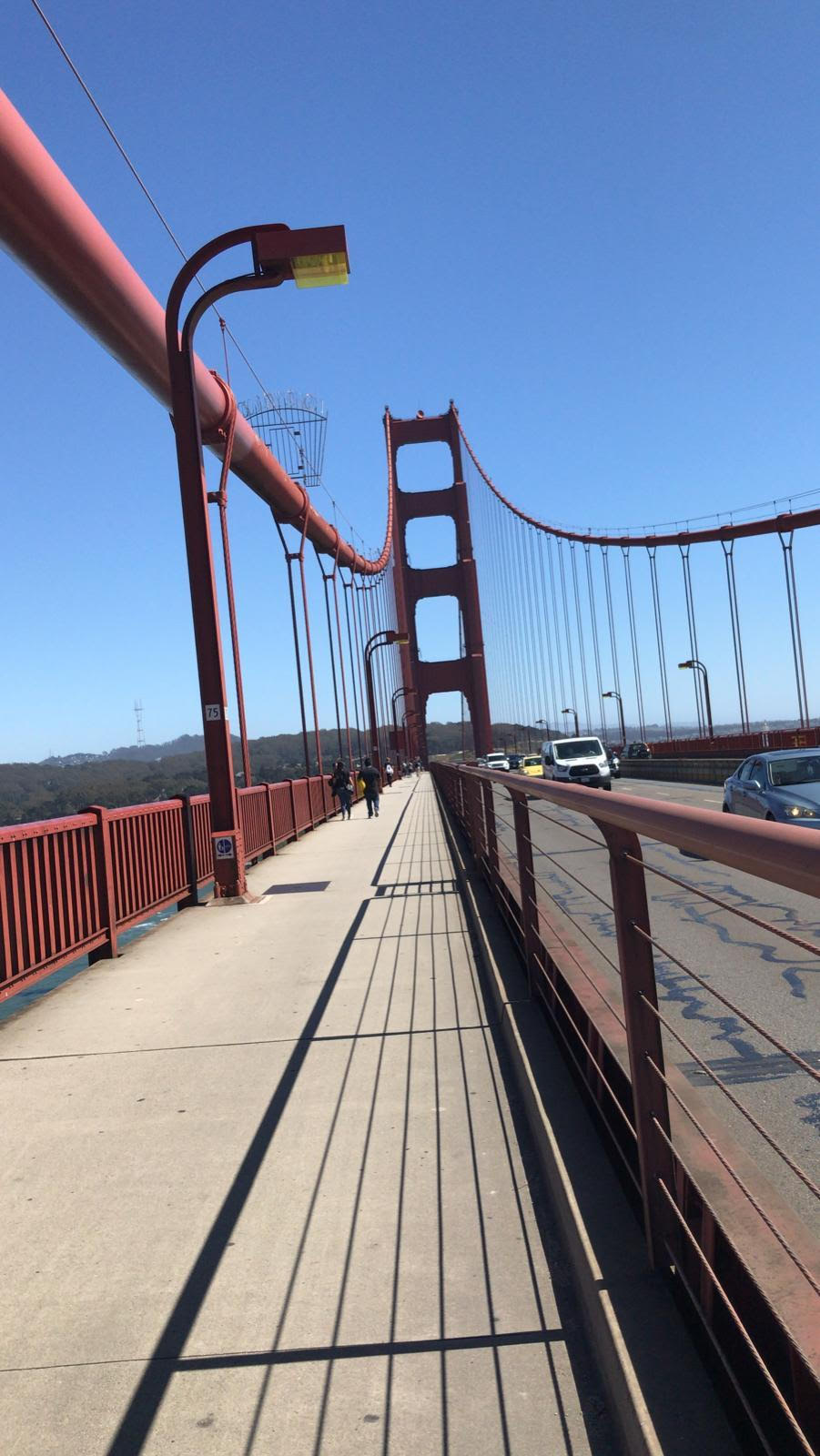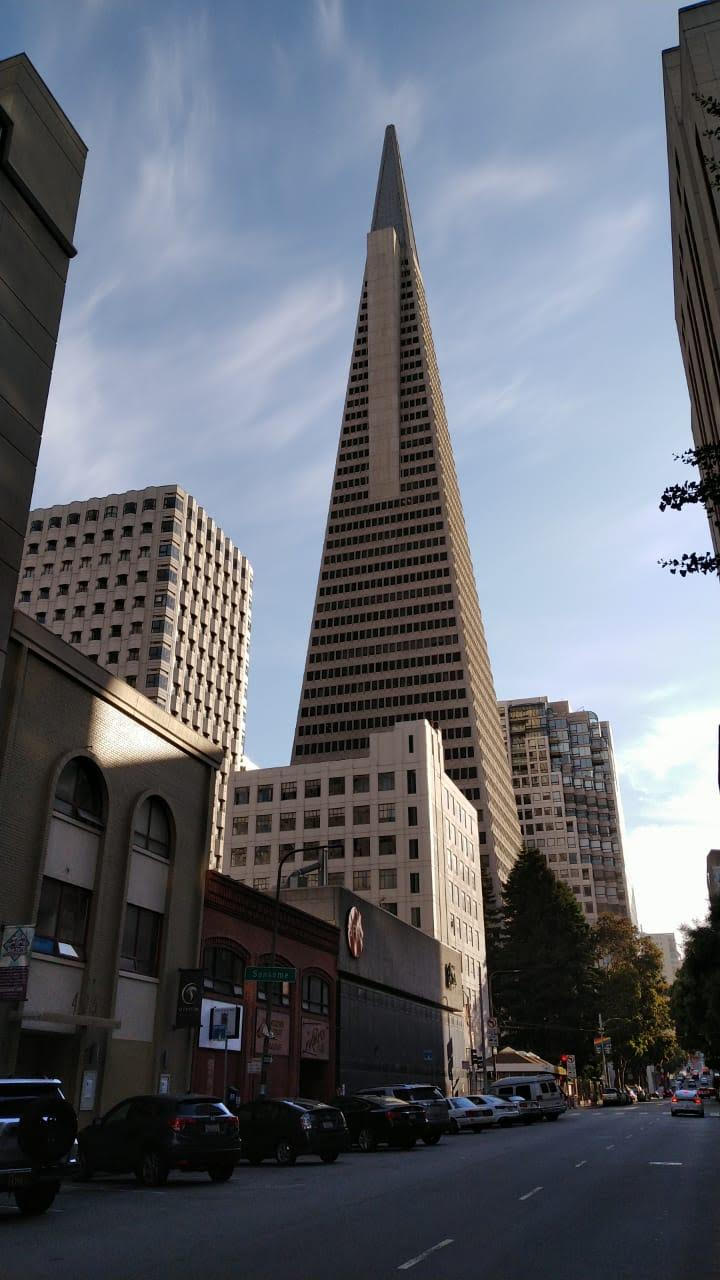 Bums sleep in bus stops booths. They put tents on pedestrian part of roads, forcing pedestrians to go into the car traffic. Under California law, theft under $950 is considered a misdemeanor. Drugstores chain Walgreen recently closed all it's 17 stored in town as a result of widespread shop theft. Why are so many San Francisco Walgreens locations closing? (hoodline.com) And now Target too.
Almost half of San Francisco residents are planning on moving out of the city due to rising crime and a deteriorating quality of life, according to a recent poll. I am afraid San Francisco will encounter the same fate as Detroit did. This opinion is shared in many comments on above articles. Sorry for ending my travel notes on a such pessimistic note.
Alex Mumzhiu
Washington USA
July 5 2021
mumzhiu@yahoo.com
www.foldabiketravel.com