Travel Notes from Bahamas
My Dear Readers,
I just came back from my recent trip to the Bahamas. The C was the last place on my list of countries which I would like to visit. Bahamas are definitely not a backpacker destination and not good for individual tourists. It is a cruise ship destination. Only a year ago, the first hostel was opened in the Bahamas http://orchardhotelbahamas.com/ and I stayed there. It is not typical hostel, but it is OK. It costs $35 per dorm bed. I was mostly alone in my four bed dorm. But when I had somebody else, they were quite interesting people, like it usually happens when you stay in unusual places. One guy was a Polish traveler who is an even more crazy travel addict than I am. He visited Transdniestria Republic and Nagornokarabakh. He advised me on few secret places on Earth which I did not know about. Another guy was an English man who travels around the world on ships. He is a diesel engine specialist and got hired by boat owners to maintain and repair their boat engines. This is how he travels around the world from country to country, from continent to continent. There are Internet sites, where boat people find engine specialists, helpers, cooks and just partners for their long trans-continental sails. It is an interesting travel idea, by the way.
Local population are mostly black people. They are quite friendly, at least more friendly then our African Americans. As I noticed it in Africa, black people in countries, where they are in majority of population behave absolutely adequate. Only in countries where they are in minority, like USA, they behave irrational, looks like they always try to prove something to these their past slave drivers... whites. They are also dressed quite normal, not like blacks in DC, no pants hanging below butt, no heavy golden chains, no weird hair style. There is nobody to show off, as cruse ships tourists does not count. They will leave tonight and never came back.
Bahamas are quite expensive. Some food are 8 times more expensive then in the USA, strawberries for example. But some stuff is quite cheap - conches. Conches which are sold in souvenir shops around the world are plentiful in Bahamas. Mountains of conch shells are dumped near the shores, see pictures. On every corner local men sell conches. In a few seconds he removes the conch from shell, strips the skin and gives you a big chunk of pure white conch meat for $2. It tastes delicious, best sashimi I ever had.
As I said everything is expensive in Bahamas, diving $200, wreck diving $400. But I found wreck snorkeling in the middle of Nassau, 100 meters from the cruise ship dock. It was a former lumber dock, destroyed by hurricane. There are several submerged and semi submerged boats and one completely rusted but still floating ship "Takis Leantarakis". Whenever I came to this dock I was alone. Amazing, it was hundred meters away from busy cruise terminals full of souvenir shops, restaurants and crowds of cruise ship tourists. I came every day to this, my own personnel dock for relaxing, sun tanning and snorkeling.
40 meters away from my dock on Elizabeth street is a free boat to Karma Yoga Retreat http://www.sivanandabahamas.org/. Retreat is located on Paradise island next to Atlantis hotel. It is full of happy karma yoga followers, mostly middle aged woman. And it has good beach next to Atlantis hotel beach, where for sure you can leave your belongings unattended. Every flat piece of land in yoga retreat is covered with tent, $69 per tent, dorm bed $100.
New Providence island on which Nasssau is located is small. I criss-crossed it on folding bike/bus combination in all direction. Bicycling however is not always comfortable because roads are narrow with no shoulders. I saw few other bicyclists there. Bahamas are made of 29 islands and it would be a good idea to visit other islands. Bahamas Ferry connects many of them. Ticket office is located in small wooden shack at Potter Cay in the middle of Nassau. There is no internet site. Ferry is cheap and they allow to put tent on desk. The problem is that hotels located on islands are expensive. They advertise their price as low as $110... Camping is prohibited.
There is quick ferry between Miami and Freeport, round trip $99. However they do not take passengers in Freeport, only in Miami. A 50 minutes flight from Nassau to Miami is $190. When I came to Miami it was very cold there, slightly above 0 C. For several days I was wearing all clothes I had, and I slept in them, because blankets are very thin there. In spite of this terrible cold Miami was full of tourists. On weekends hostels raised prices of bed in 12 bed dorm to $88. I stayed mostly in Miami Hostel http://www.miamihostel.net/ , which is decent and do not raise prices for weekends. You may have read it in newspapers; due to unusual cold, 20 manatees squeezed in drain pipes and got stuck there. A construction crew and biologists used heavy machinery to rescue them and empty drains. >/p>
My son Daniel came to Miami Feb 21, next day in the morning we had a reservation for scuba diving at John Pennencamp Coral Reef State Park. We dove there 22 years ago, soon after we got our divers licenses. For several days it was no diving in park due to bad weather. So our chances were slim. When we arrived at park, we were told that in spite of weather is OK, it will be no diving because it is not enough people. They need at least 6. But they advised us different dive shop. When we arrived there, boat was ready to go in 20 minutes. So we were extremely lucky. People with whom we dove waited for diving at this scuba resort for 6 days. We dove in the neighborhood of famous underwater statue of Christ. Diving was not spectacular, but OK.
One day, Feb 24, I rode bike to Little Havana in Miami. It was a big demonstration there. I asked a woman who was standing nearby about it. She turned out to be a daughter of chief of Police in city of Havana, before Castro. Her father died in prison and she emigrated to USA 6 months after the Castro takeover. Her story remind me a stories of Russian aristocrats. Her family also unpacked suitcases for several years waiting for Castro failure. Demonstrators were protesting Obama's decision to soften US stance on Cuba, see picture.
I asked in Miami information kiosk about snorkeling trip they advertised. They told me that it is in Key West, nothing is available around Miami. I swam with a mask in several places around Miami Beach and Miami. It was nothing spectacular, but under one bridge connecting Miami and Miami Beach I discovered a big colony of lobsters, some were quite large, unbelievable. It was practically in the center of Miami. I did not disturbed them, as next morning it was my flight home.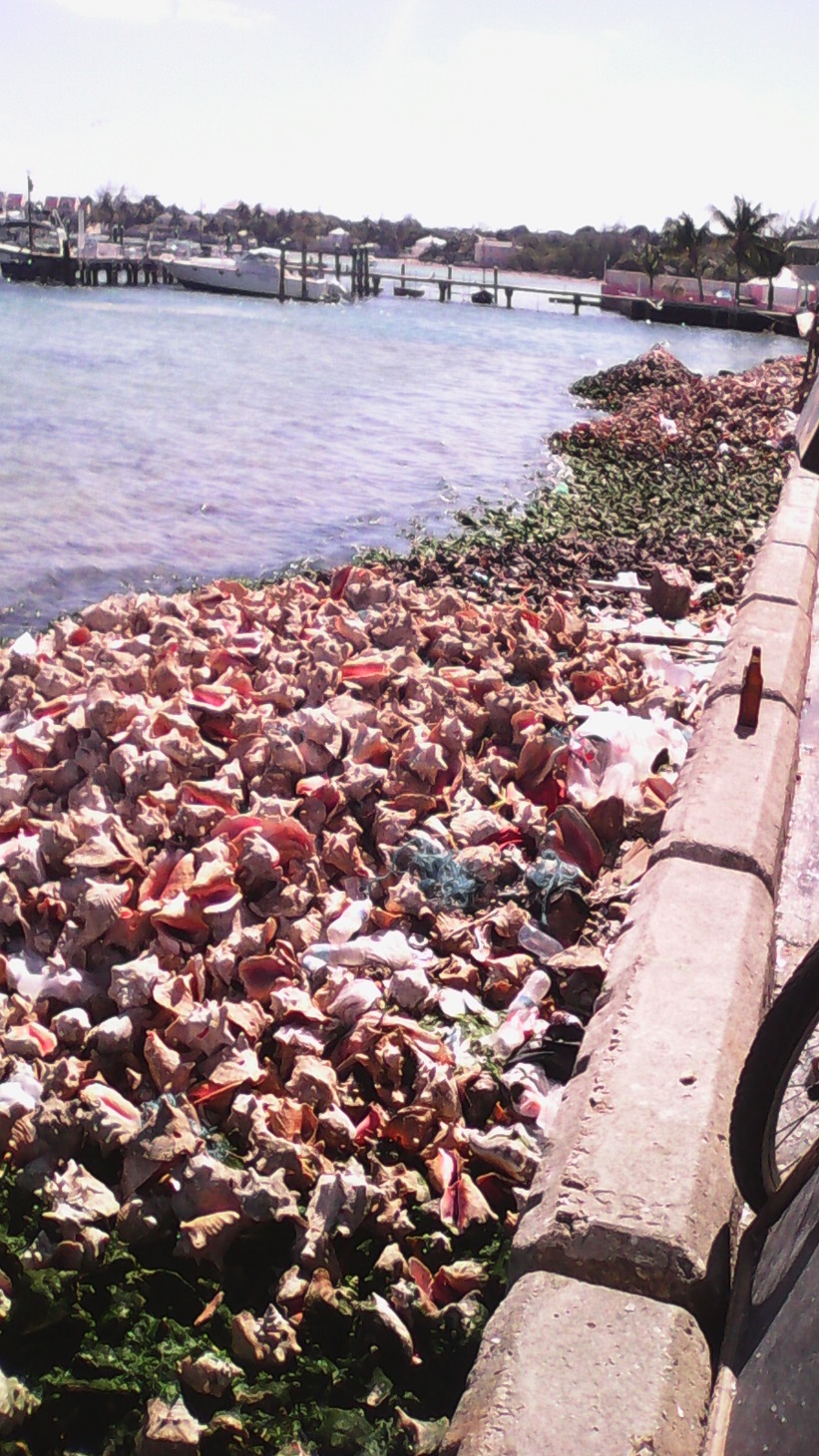 1. Pile of conch shells at the shore of Nassau.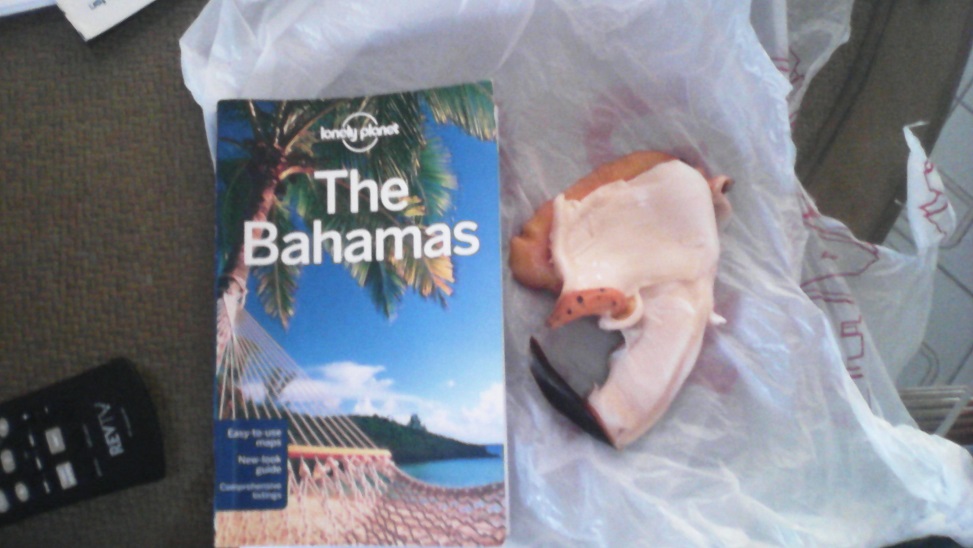 2. Conch meat.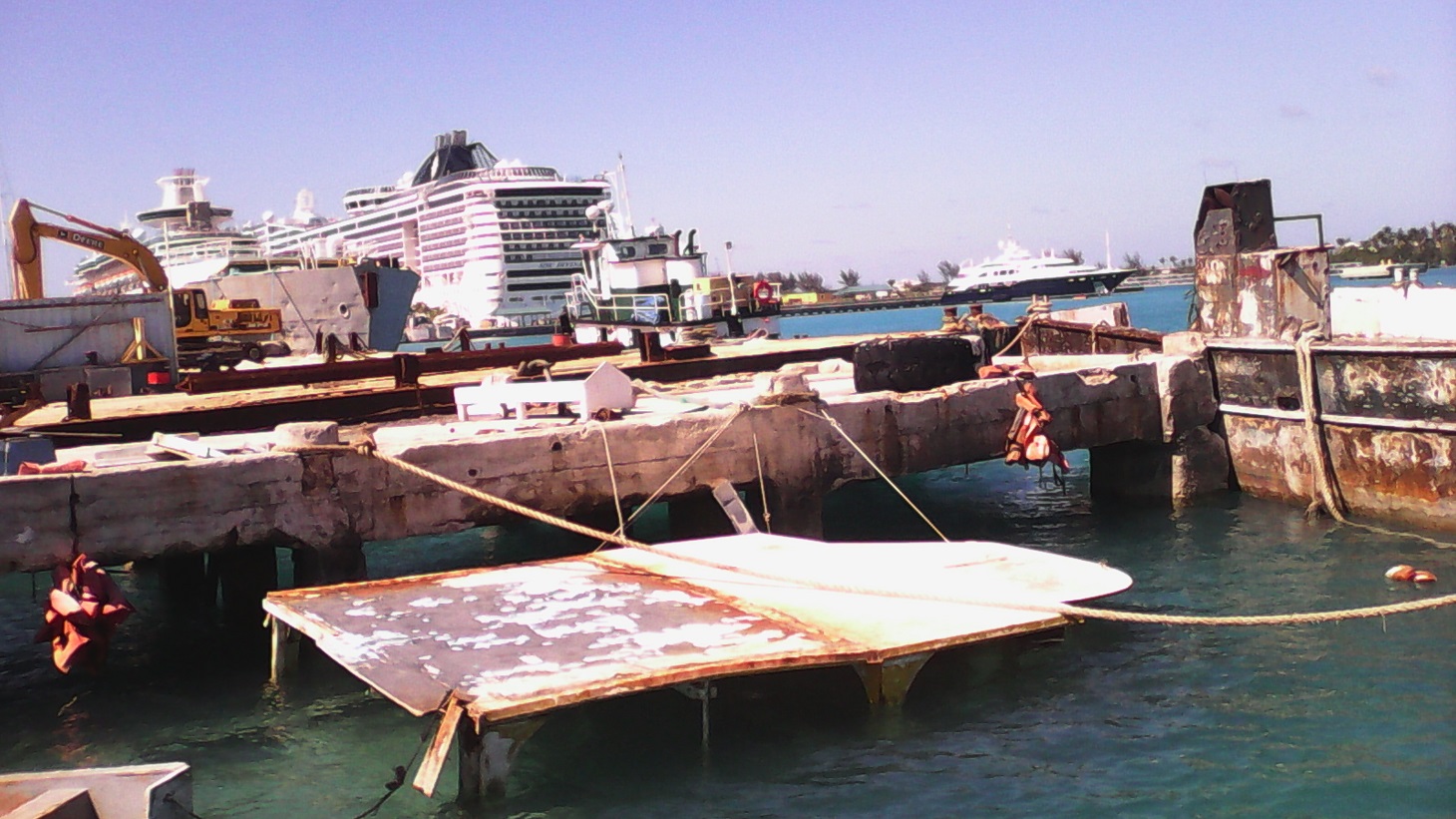 3. Abandoned lumber dock with cruse ship on background.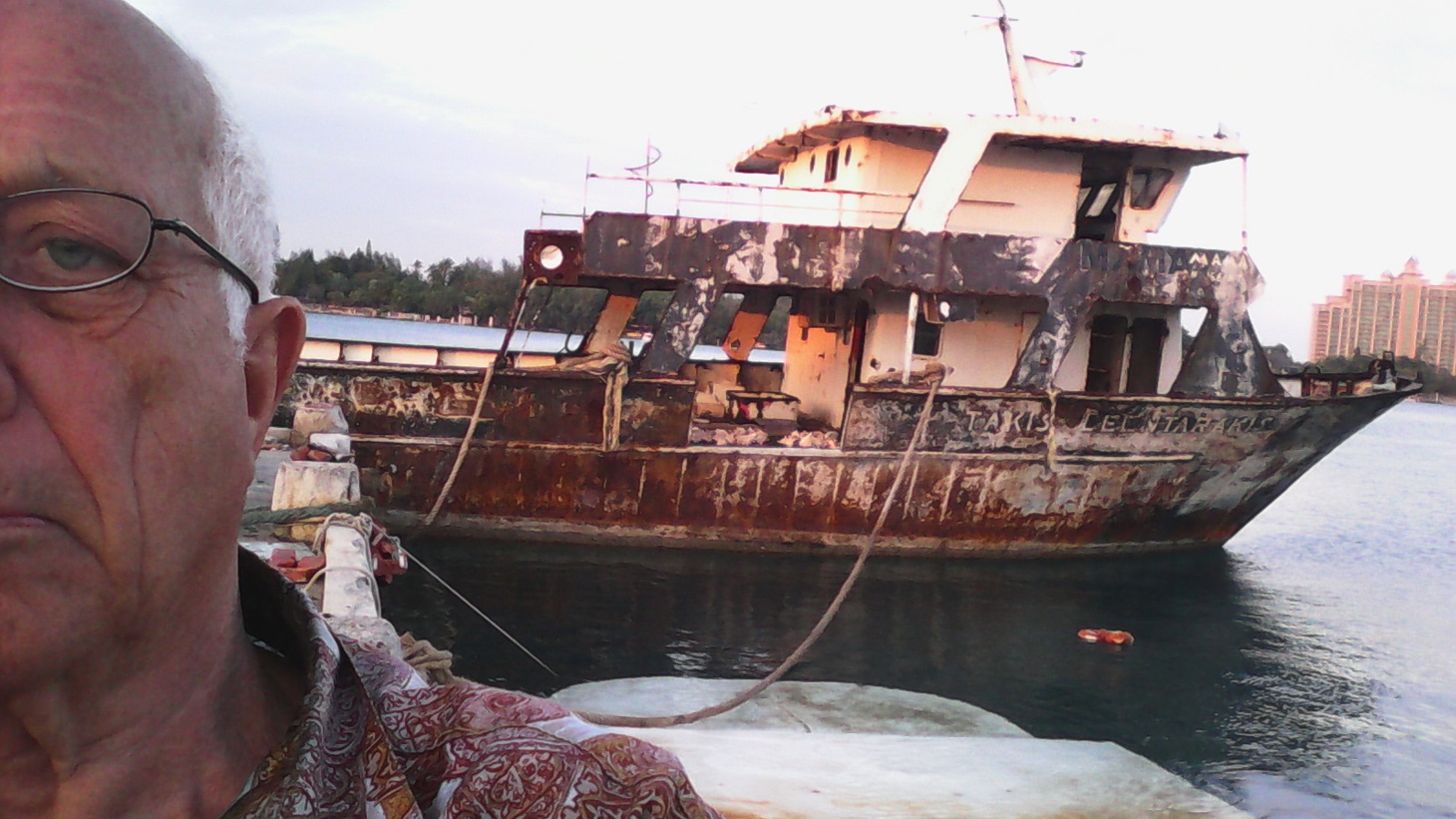 4. Takis Leontarakis with Atlantis resort on background.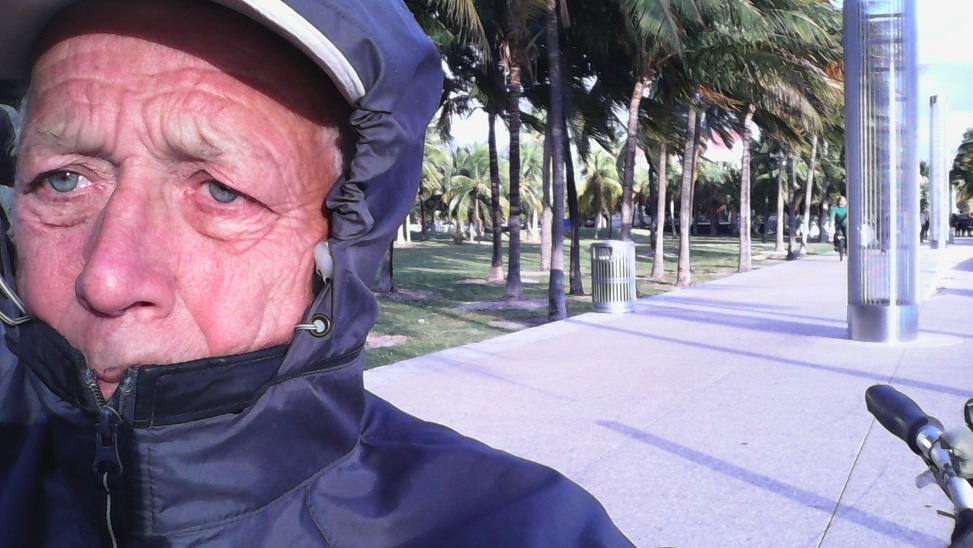 5. Freezing in Miami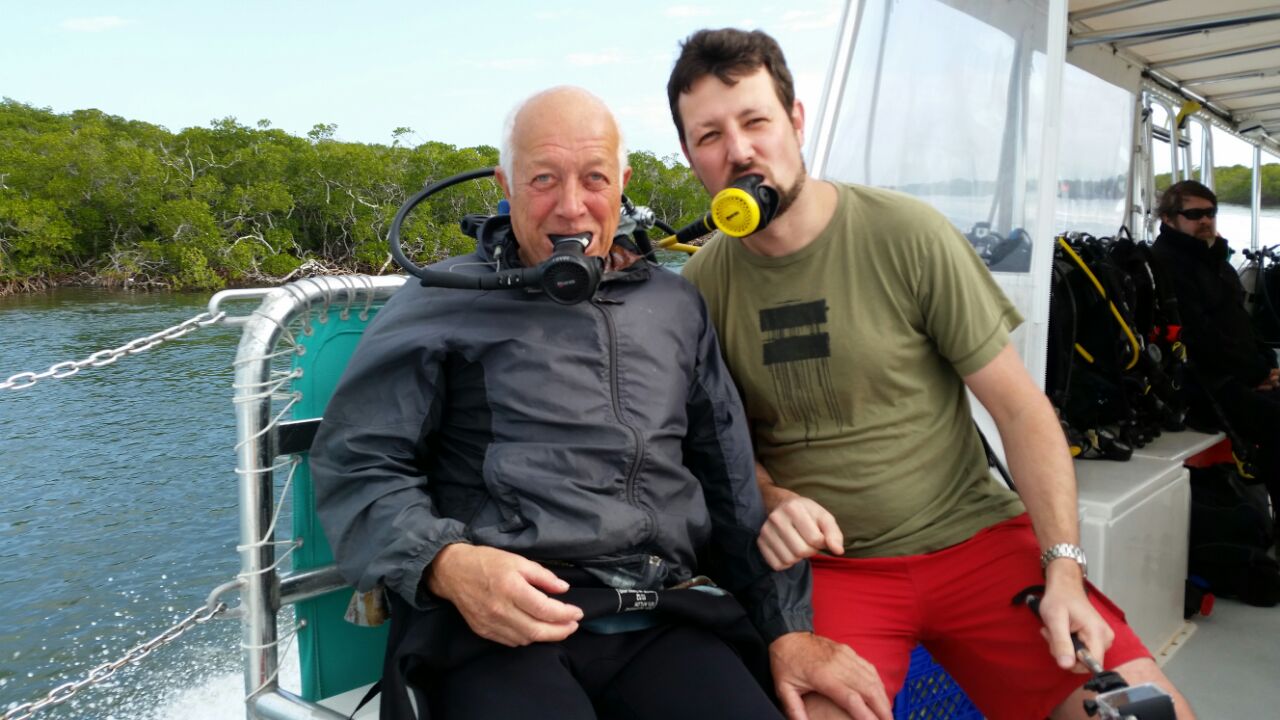 6. Alex and Daniel on scuba boat.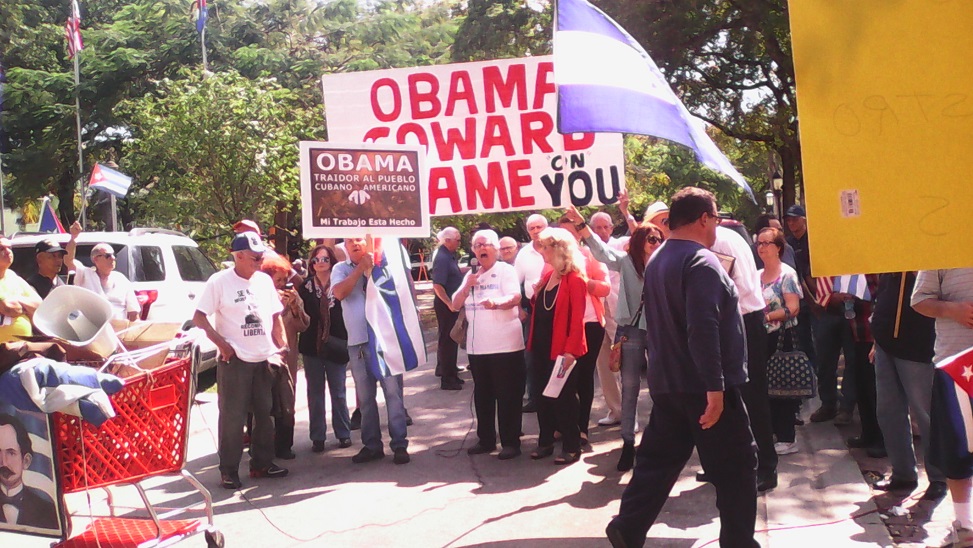 7. Demonstration in Little Havana
PS: Interesting article on genetics of travel addiction: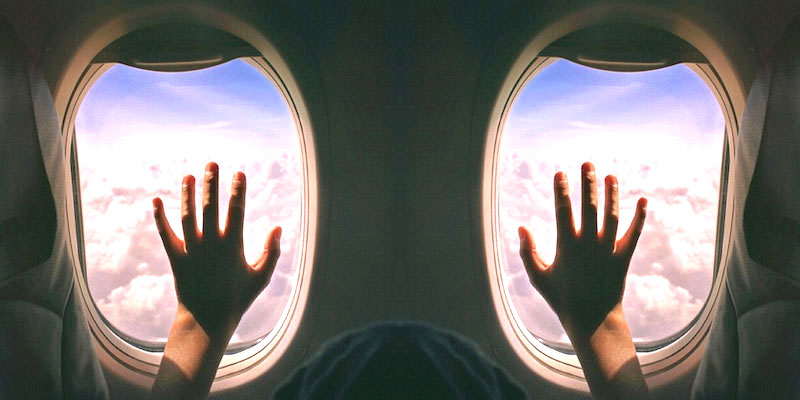 The Wanderlust Gene: Why Some People Are Born To Travel The Wanderlust Gene: Why Some People Are Born To Travel
Some people are just born with restless limbs.
View on elitedaily.com Preview by Yahoo
Alex Mumzhiu
Washington, USA
March 12, 2015